Today I am sharing a Czech pork with plum sauce recipe. In Czech this is known as vepřové se švestkovou omáčkou and it is a rather easy recipe which gives a wonderful flavor. I am preparing it with Czech style boiled potatoes on the side, for which the recipe is also below. You can also make this with dumplings, but this is the easy version.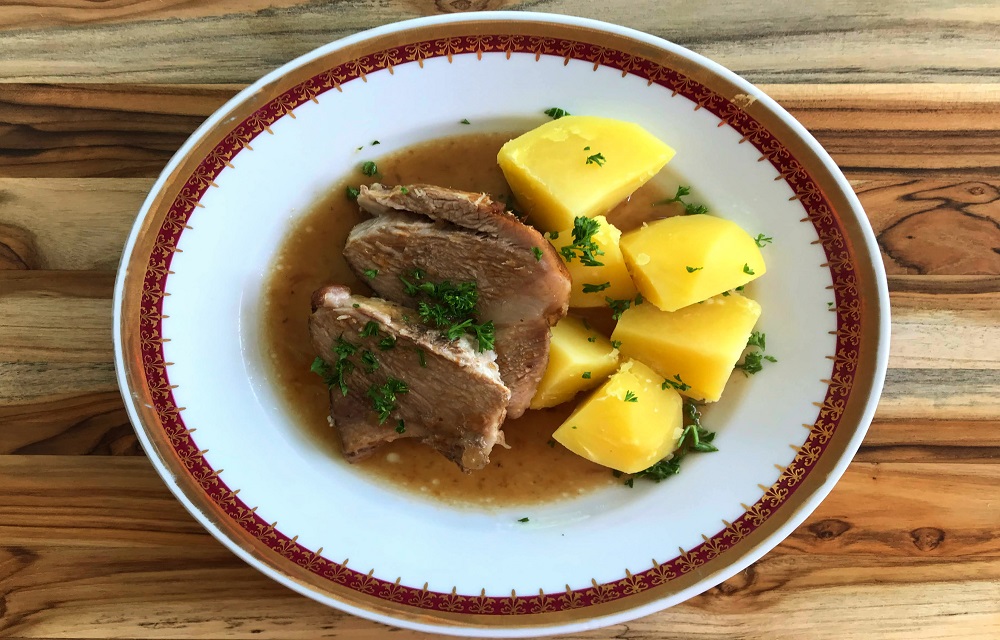 I hope you enjoy!
Ingredients
1.5 to 2 pound pork roast
2 small onions
2 small apples
1 bag dried prunes
2 cups chicken broth
1 cinnamon  stick
salt and pepper
1 Tbsp. butter
Directions
First, gather all your ingredients for this Czech p0ork with plum sauce recipe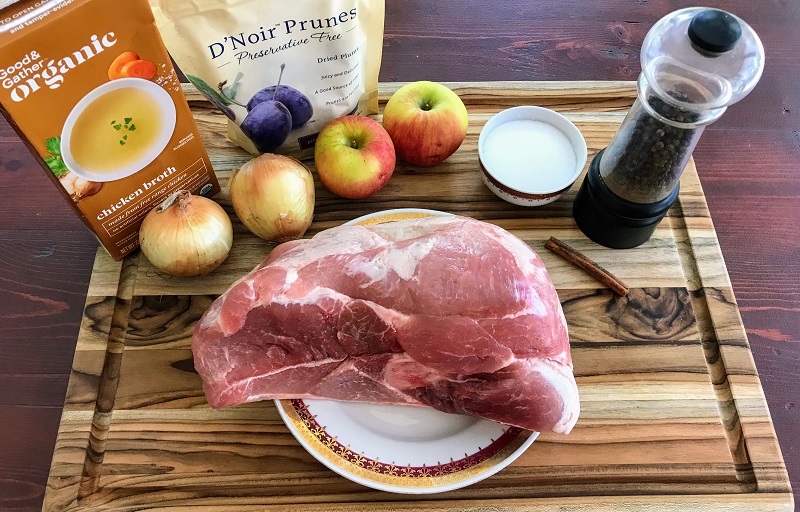 Preheat oven to 325° Farenheit. Get a baking dish which has a cover or a Dutch oven pan.
Peel and chop the onion and apples and place into a baking dish. Chop and add the prunes. Break apart and add the cinnamon stick.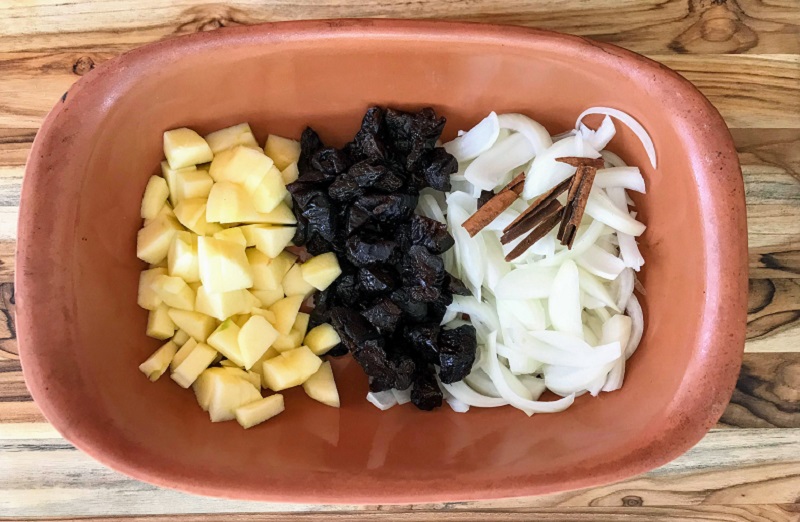 Mix all of the ingredients in the pan.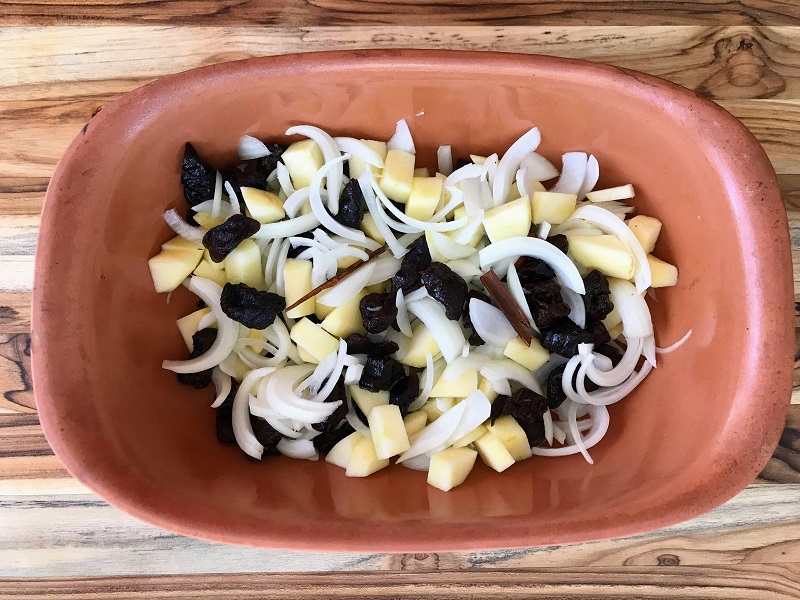 Salt and pepper the pork and lay it on top of the chopped onions, apples, and prunes.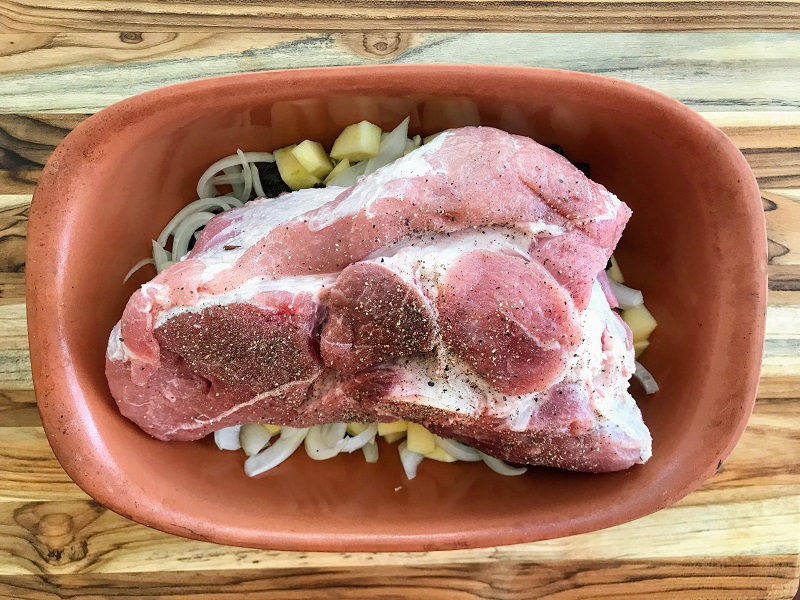 Add the 2 cups broth and cover.
Place into oven and set timer for 2 hours.
(Note – if you are making with the potatoes, set your timer for 1.5 hours and then begin the potatoes and set for 30 more minutes.)
When it is finished cooking, remove meat and set aside on plate. Place a fine mesh strainer into a bowl large enough to catch all the liquid and then empty pan into this sieve (and bowl).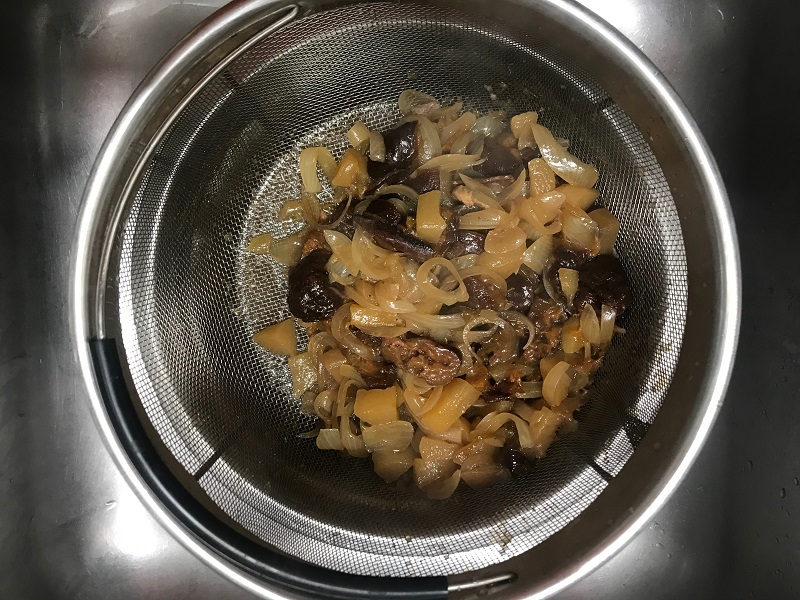 You will want to use a spoon to mash, push, and work through the mixture, scraping the bottom of the sieve to get the solids as well. This is my preferred way to do it.
Alternatively, you can fish out the cinnamon stick and use an immersion blender as well.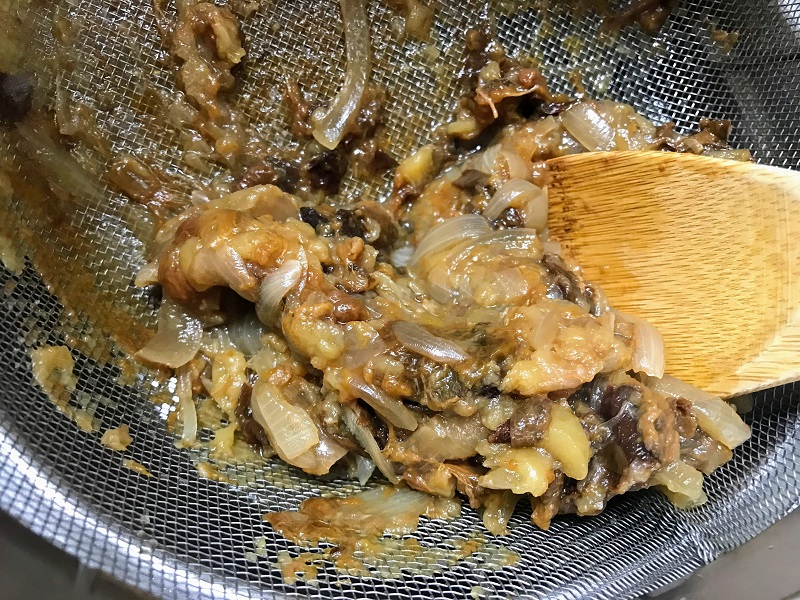 You should have a slightly thickened sauce in the bowl. If you are serving with dumplings and prefer a heavier gravy, you can make a rue with some butter and flour to thicken the sauce.
Add the 1 Tbsp. butter and mix well.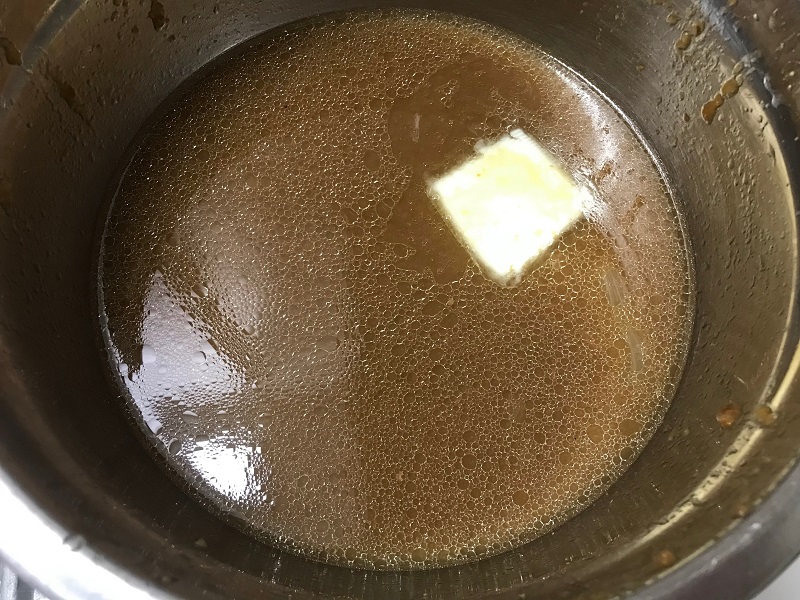 Some people like a wet sauce, others prefer a thicker gravy. It's really up to you as to how thick you like your sauce.
Slice the meat and you are ready to plate.
To plate, add some or the buttery parsley potatoes, a couple of slices of the pork, and cover with sauce. You can also garnish with some fresh chopped parley.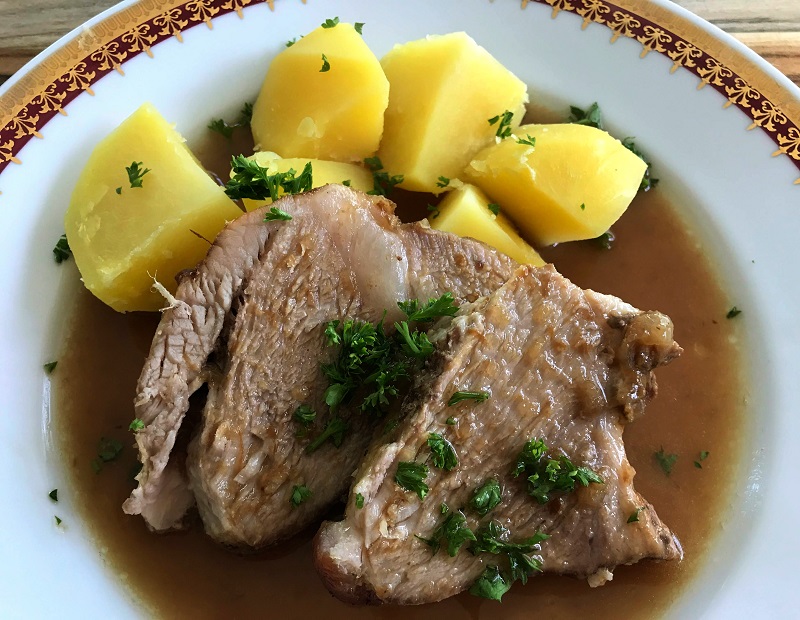 The apples and plums make this sauce somewhat sweet, and that pairs wonderfully with pork.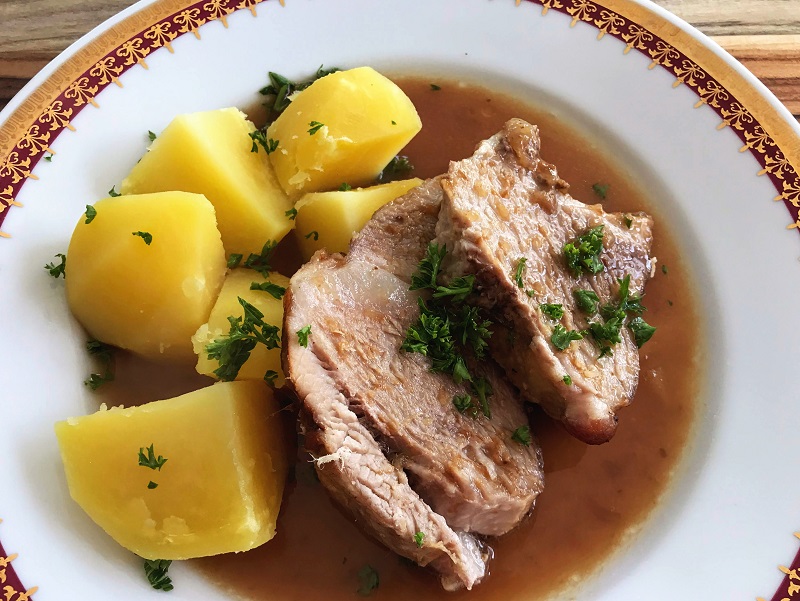 I know people who use 2 packages of dried plums or they use only 1 apple and 1 onion. Others use fresh plums. Like all recipes, you should try different measurements and adjust to your taste.
In any case, once you've made this Czech pork with plum sauce recipe, you'll certainly make it again. It's rather easy and packed with flavor!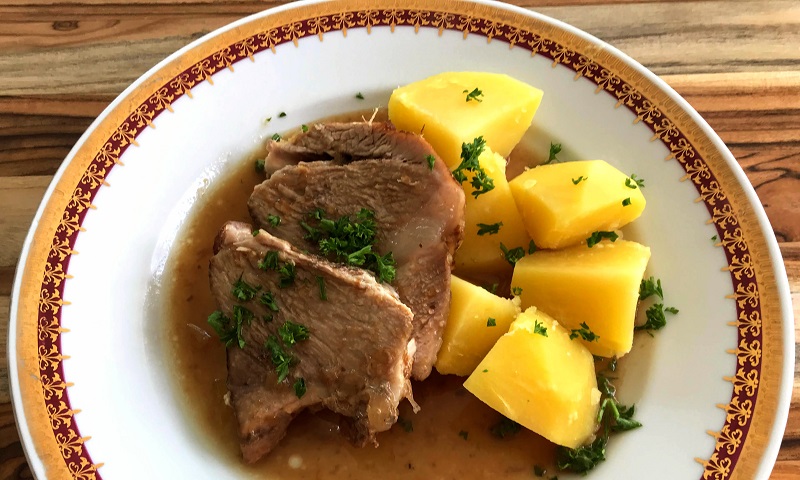 Czech Boiled Golden Potatoes
Make sure to buy Yukon Gold potatoes. These are closest in taste to the potatoes you get in the Czech Republic. Wash, peel, and cut them into large quarters. Boil in water for 20 minutes or fork tender. Drain and return to pan. Add 3 Tbsp. butter and some finely chopped fresh parsley and toss in pan to coat well. Season with salt to your taste.
These are a favorite accompaniment to many Czech dishes and are fast and east to make. Sometimes, I make them and just eat them like this alone!
Dobrou Chut!
Thank you for your support – We appreciate you more than you know!
We know that you could spend hours, days, weeks and months finding some of this information yourselves – but at this website, we curate the best of what we find for you and place it easily and conveniently into one place. Please take a moment today to recognize our efforts and make a donation towards the operational costs of this site – your support keeps the site alive and keeps us searching for the best of our heritage to bring to you.


Remember, we rely solely on your donations to keep the project going.
Thank you in advance!
If you have not already subscribed to get TresBohemes.com delivered to your inbox, please use the form below now so you never miss another post.