It's time for a classic Czech dinner and a movie. Today, I am sharing the recipe for Šípková Omáčka – Czech Rosehip Sauce and Pajfalský knedlík – Pajfal dumplings from Slavnosti snezenek / The Snowdrop Festivities film. A delicious recipe, a fun film, and a wonderfully spent Czech-inspired afternoon project to enjoy a great meal with a Czech movie for dinner! Šípková Omáčka or Rosehip gravy or sauce is a Czech accompaniment usually served with game meat. As far as I could research, it seems the recipe is completely Czech in origin and unknown outside of the country.
I love to mix some history with entertainment, taste with nostalgia, and make learning about your Czech heritage fun and a family project. Gather your ingredients, locate the film, and plan ahead for a Sunday fun day! That's what I did and my mom loved it.
Our ancestors were wise and they often kept up with nature. Especially in the kitchen, they were able to reasonably "benefit" from the prevailing season. The Czech game hunting season lasts from late autumn to mid-winter, and in olden days, it was only at this time that game meats appeared on tables. It is also no coincidence that game meat has become customary to be prepared with what nature has to offer at the same time of year. Root vegetables, cranberries, rowans, juniper berries, and nuts for pâtés and stuffings. Special to the autumn/winter diet were rose hips, which could be collected even when other crops were frozen over or not yet ready to be harvested. This is primarily why rosehip sauce was cooked in the autumn and early winter. I bet you didn't know that. Now you do! :)
Rosa Rugosa or Rosa Canina is a climbing rose species native to Europe, northwest Africa, and western Asia. It is a shrub normally ranging 3-15 ft in height. The stems are covered with small, sharp, hooked spines that aid it in climbing. The flowers are usually pale pink and mature into an oval 1/2-1 inch red-orange fruit, called the hip. Rose hips are used for herbal teas, jam, jelly, syrup, rose hip soup, beverages, pies, bread, wine, and marmalade. They can also be eaten raw, like a berry, if care is taken to avoid the hairs inside the fruit.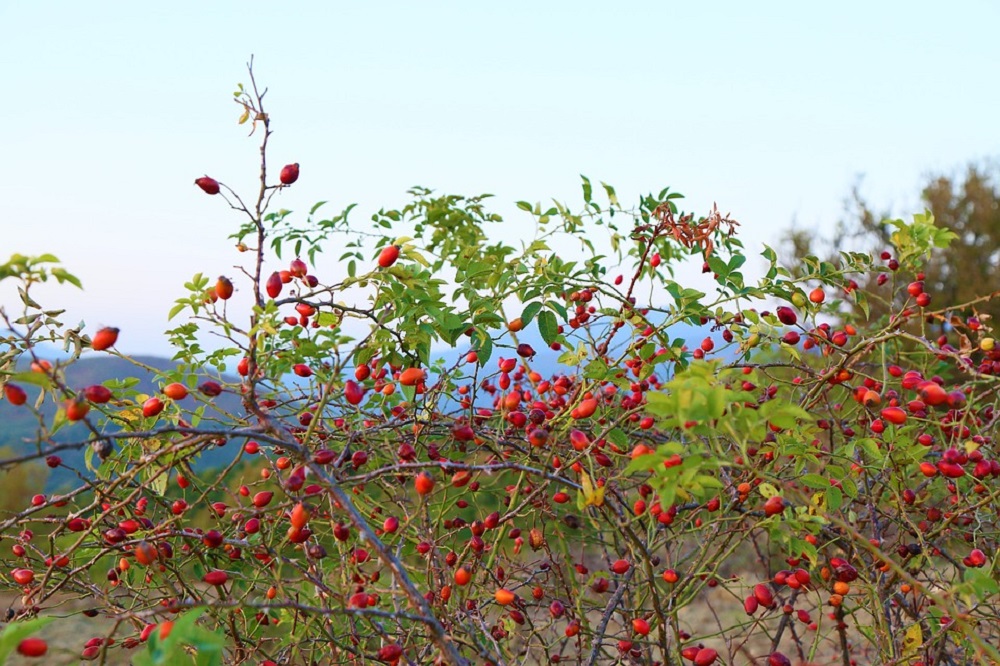 The fruit has a tangy, fruity flavor similar to that of cranberries. Rosehips are very rich in vitamins C and A and they also contain vitamins K, B1, B2, and B3. They have been used for medicinal purposes since the Roman times and have been very recognizable for hundreds of years as the stylized rose so abundant in Medieval European heraldry. I think they are the perfect ingredient for our Czech dinner and a movie recipe.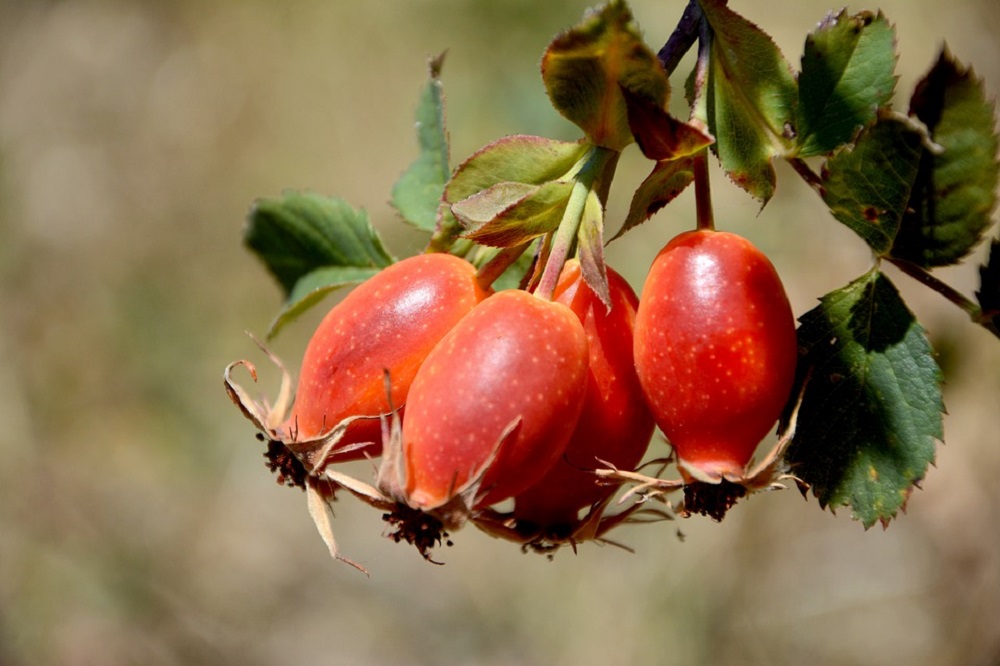 In Czech kitchens, this gravy was made to accompany wild boar and venison. Today, I am making it to accompany a nice pork roast. I will be using both dried rosehips as well as some rosehip jam.
Some Czechs may argue this sauce is difficult to make, but in truth, the hardest part is carefully making the actual base of the sauce. The secret lies in the gradual and careful roasting of individual vegetables and other raw materials. Always pour only a part of the total amount of wine over the well-roasted base, and then when you boil it and allow the base to caramelize, only then will you slowly add the remaining wine. Before mixing the sauce, do not forget to remove the whole spices (or bouquet garni aka a bunch of herbs). The flavor should be very subtle thanks to the wine, vinegar, lemon, and sweet jam. It should be pleasantly sweet and sour at the same time and should not need more sugar. But let's get on to a Czech dinner and a movie…
Slavnosti snezenek / The Snowdrop Festivities Film
The Snowdrop Festivities aka Slavnosti snezenek is a 1984 Czech comedy drama based on texts of Bohumil Hrabal, a world-known Czech writer. It's a story (in the form of a mosaic of short episodes) about the sadness and happiness of the inhabitants of Kersko, a small woody area full of cottages. The inhabitants are both simple and sensitive. They have their own pleasures but the greatest delight of all of them is hunting. Crude poetics of amateur hunting is screened by dreamy pictures of this area.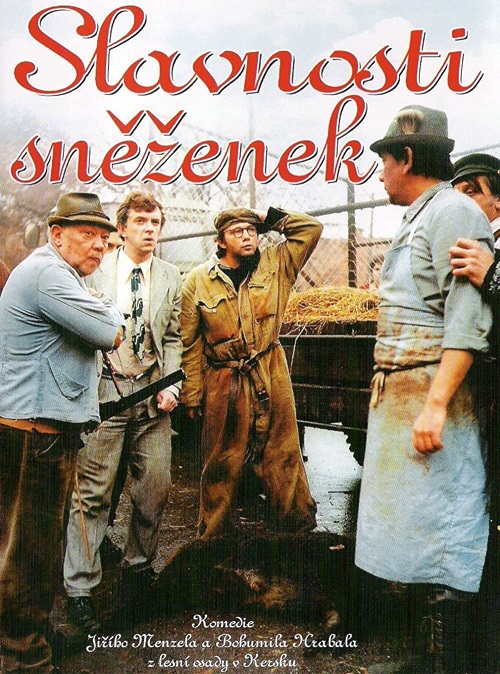 Menzel mixes sentimental lyricism and rough (but not vulgar!) humor and the outcome is the never-ending landscape of continuous life in the proximate nearness of nature. The performances of the actors are brilliant. Fans and those familiar with Czech cinema will, without a doubt, recall the scene where the two groups of hunters argue about whether to cook the wild boar they (accidentally) jointly shot with rosehip sauce, or with sauerkraut ("Se šípkovou?? Se zelim!") Here is that famous scene…
"Největší pochoutka pánové z divočáka, je hřbet a kýta na šípkové omáčce, k tomu pajflaský knedlík vařený ovšem v ubrousku…" ("The greatest delicacy of the wild boar, gentleman, is the back and leg with rosehip sauce, plus Pajfal dumplings cooked in a napkin…")
Are you ready for a Czech dinner and a movie? I know I am…
Ingredients for Šípková Omáčka – Czech Rosehip Sauce
3 to 3.5-pound pork shoulder (and yes, you can use beef if you prefer)
1/2 cup lard
1/2 cup butter
10 to 12 thicker strips of smoked bacon
4 carrots
3 parsnips
1 medium celery root (or 2-3 celery stalks)
2 medium onions
1/3 cup dried rose hips
2/3 cup rosehip jam
1/2 cup of red wine vinegar
3 cups of red wine
2 lemons (grate the rind and set it aside for the dumplings – you will only use the juice for the gravy)
lard
bouquet garni – 5 whole allspice, 12 whole peppercorns, 2 large bay leaves, 5 juniper berries, 2 thyme sprigs, (optional 1 rosemary sprig), all wrapped in flour cloth. (Some also add star of anise, cinnamon, or cloves – I prefer it without.)
salt, pepper
and sugar (only to taste if not sweet enough)
OPTIONAL – 1/2 to 1 cup heavy cream (only if you like the sauce creamier)
The meat and sauce will take approximately 3 hours to prepare. You will want to start making the dumplings approx. 1 hour before the meat is done.
Gather your ingredients.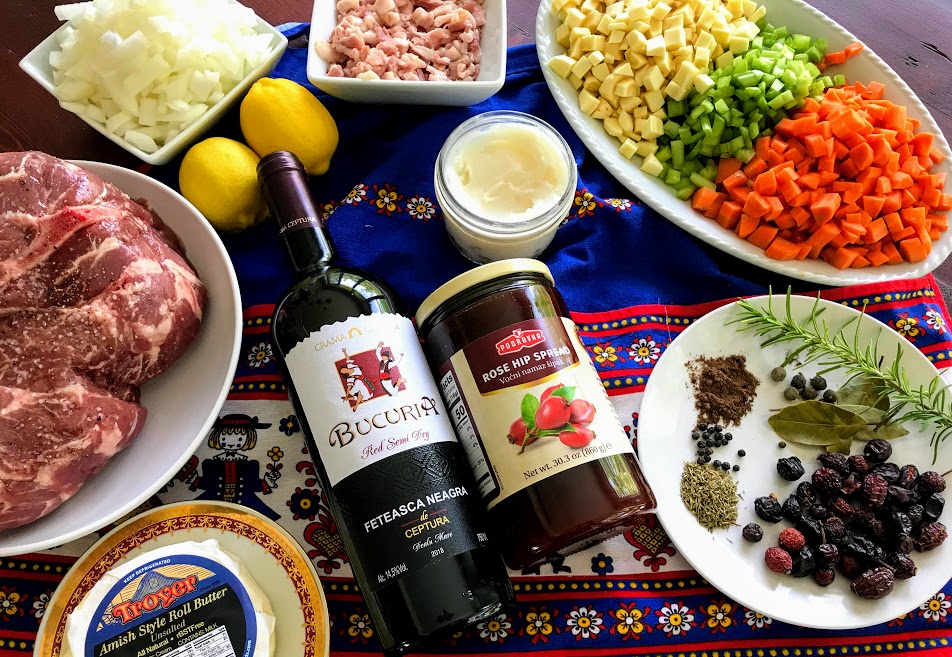 Wash, dry, and chop the carrots, parsnips, celery, and onions. Keep root vegetables and onions separate.
Salt and pepper the meat on all sides. On the stovetop, melt the lard on medium-high heat and fry the meat briskly until lightly browned on all sides.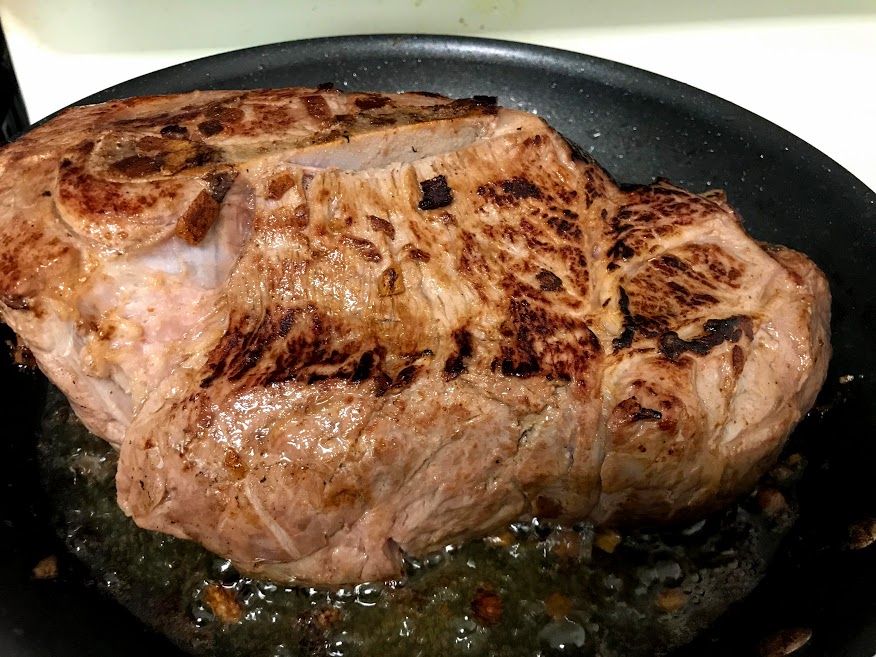 Side note: If you do not have lard, you can do the following. Scroll to the dumpling recipe. You will need to fry some bacon for that. Go ahead and prepare the bacon first and then reserve the bacon fat for your lard substitute. The bacon needs to be cooled before you make the dumplings anyway. This will add yummy flavor. I make my own lard by the jarfuls, as I grew up on it and nothing has that same taste. Remember eating delicious rye bread spread with lard? Sprinkled with salt and topped with some chopped onion? Delicious! Many European markets now carry lard. A decent substitute is the lard sold in the Latin section of your grocery store. Each time you make bacon, reserve the fat in a jar in your refrigerator, it will come in handy for recipes such as this.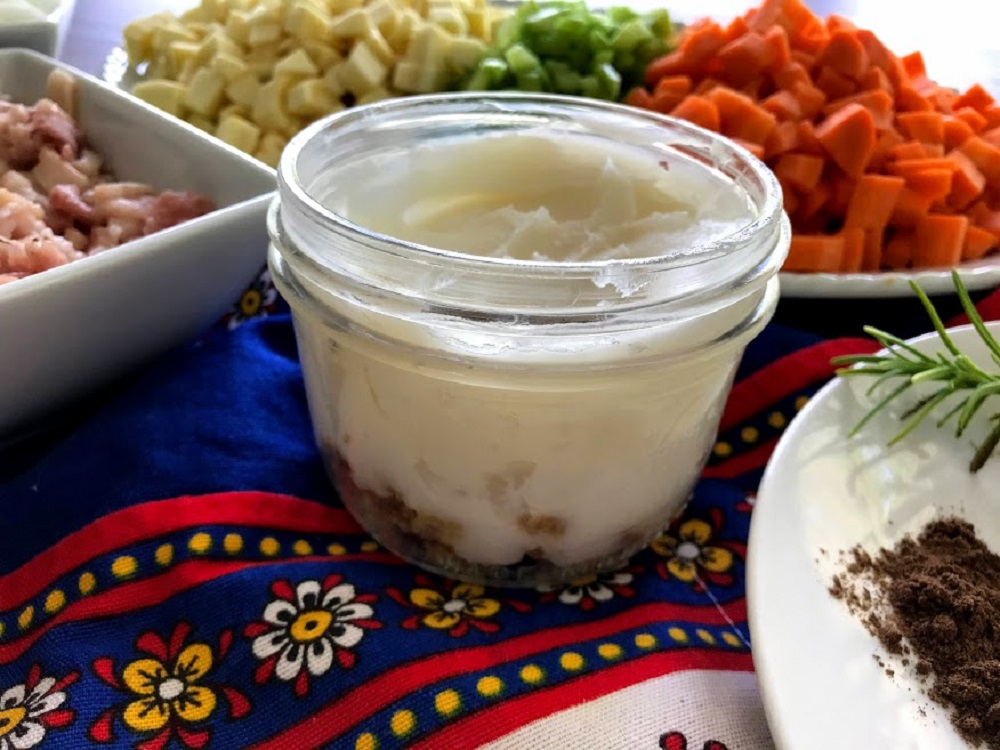 Remove meat from the pan and set it aside. Lower the heat to medium, add butter to the pan, and fry the vegetables until golden brown. This takes 12-15 minutes. Add the onion and chopped bacon and continue to fry and stir until caramelized (another 12-15 minutes). You do not want to burn this as it will ruin the taste. Add a little water or more butter if it begins to stick to the bottom of the pan. The secret is to get a nice caramelization on this mixture.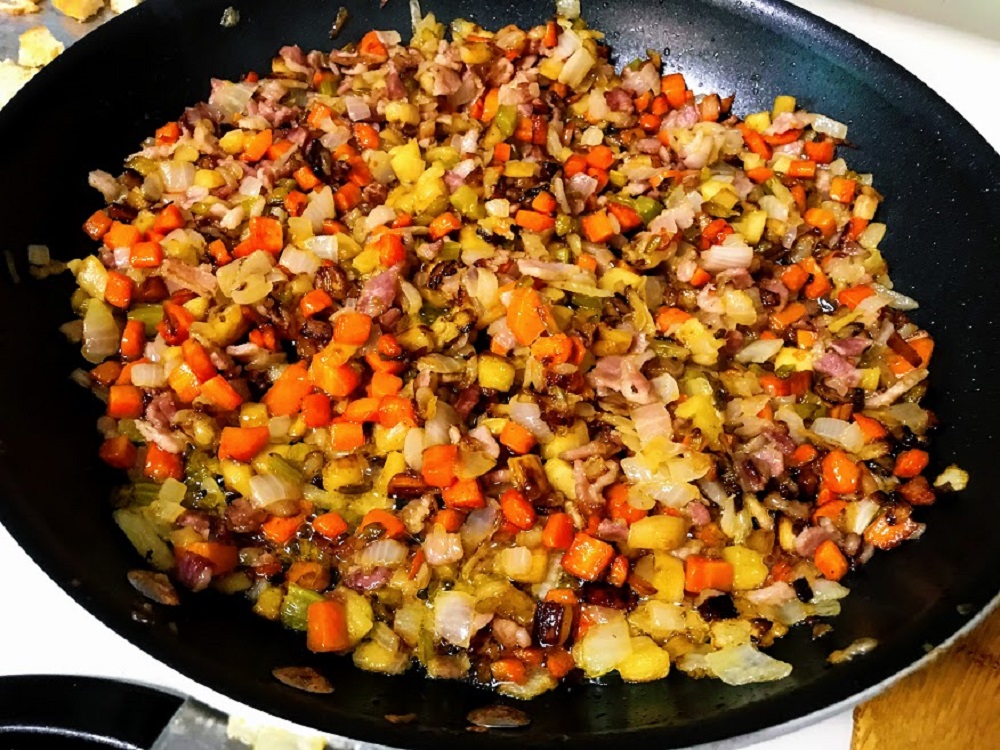 Add the vinegar and bring it to a boil. Then add half of the wine, again, bringing it to a boil. Then add the second half of the wine, and again bring it to a boil. This triple boiling brings out the flavors and is necessary to burn the alcohol out of the wine.. Finally, add the rosehip jam and mix well. At this point, I transfer this mixture to a large Dutch oven.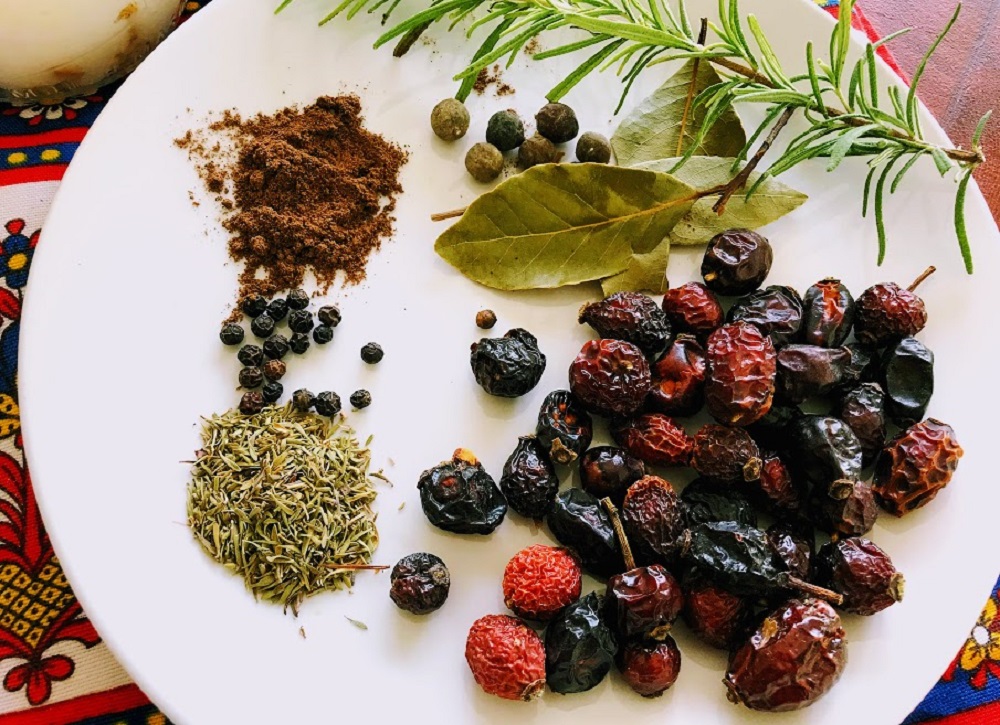 Add the dried rosehips and herbs and spices tied in a cloth. Also, add the meat to the pan. Reduce heat to medium-low and simmer gently for 2-3 hours (depending on how tender you like your meat and the fat content of the meat). I cover the Dutch oven and place it into the oven at 300 degrees for approx. 3 hours at 300 degrees, checking it each hour and spooning the liquid over the meat each time.
Remove from oven and take out the meat and the spices cloth bag and set aside. (You can discard the spice cloth.) Place the Dutch oven onto the stove top at medium heat. Add the juice of two lemons and gently stir the base until smooth, approx. 10 minutes. Next, you need to smoothen the sauce. I find that a hand-held immersion blender works best for all Czech gravies and sauces. Alternatively, you can use a strainer. Ladle the mixture into a strainer and then mash and strain the solids and then return the liquid to the pan. If you like a creamier sauce, you can add the cream at this point. I prefer to make it without. Bring to a boil and let it boil gently for 8-10 minutes. Then taste and season with salt, pepper, and sugar to adjust the taste to your liking. The final taste should be both sweet and salty. You can also soften it a bit with a tablespoon of butter.
Slice the meat into 1/2 to 1-inch slices and set aside.
Where did the recipe for these dumplings come from?
I am staying true to the movie and making it with Pajfal's dumplings, which are rightly called the 'king of dumplings'. When you taste them you will know why. It is believed that this recipe dates back to the times of Count Jan Frantisek Palffy (Pálfi) of Erdodu (1829 – 1908). He was born in Bratislava. He was the last owner of Bojnice Castle in Slovakia.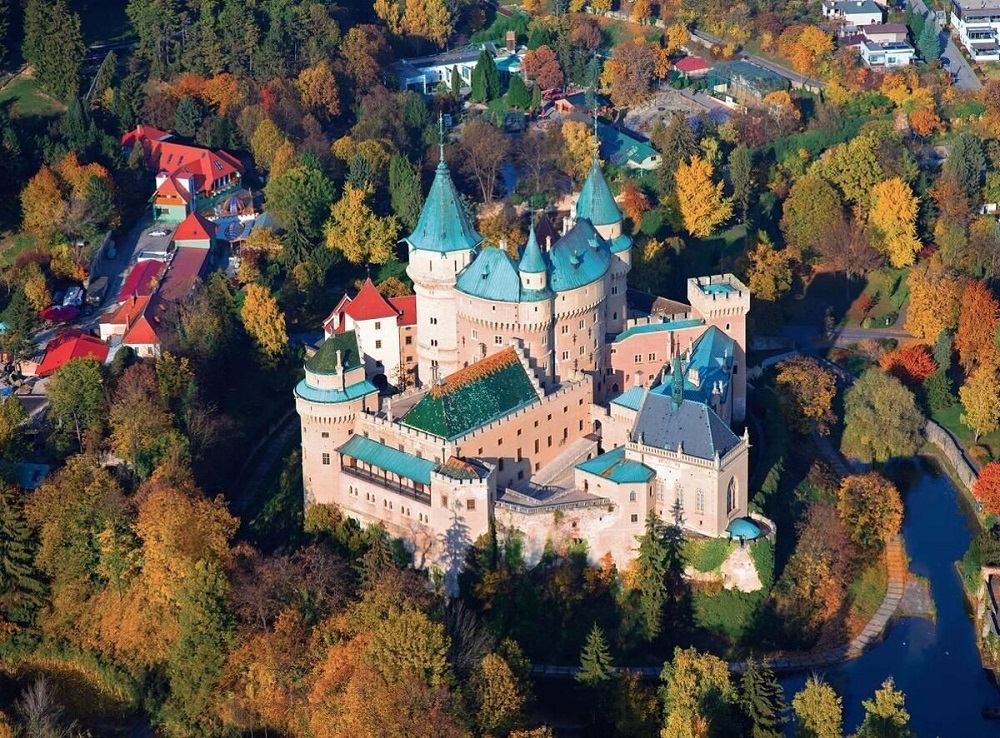 Bojnice Castle is a romantic castle with a partially preserved originally Gothic and Renaissance foundation of the castle. It is located in the Trenčín region and lies on the western outskirts of Bojnice. The castle is visible from most of the upper Ponitří. It is built on a travertine rock and consists of an indoor and outdoor castle with three courtyards. In 1970, it was declared a National Cultural Monument and is home to the very old and rare Linden tree of King Matthias.
The Count was a member of an important family, whose members were allowed to use the title of prince and many held important positions at the Viennese imperial court during the times of the Austro-Hungarian Empire. What we do not know is whether the nobleman liked this dumpling so much that they named it after him, or whether his cook was the creator of this recipe.
Pajfal dumplings are a bit like our popular Carlsbad Dumplings or Karlovarský Knedlíky, but prepared slightly differently with the addition of fried bacon, which smells wonderful and gives them a unique taste. There is also a difference in the final preparation. They are prepared in a cloth dishtowel* which is spread with butter. That's why they are not "slimy" on the surface. Finally, immediately after cooking and taking them out of the cloth, they are covered in a fragrant mixture of golden-fried breadcrumbs, finely chopped parsley, and, most importantly, wonderfully aromatic grated lemon peel. This combination of flavors is simply brilliant and definitely worth the time to make.
(*I use 100% cotton flour sack towels – and I have so many I reserve some just for making dumplings and herb bouquets. I usually cut them in half for this purpose. See the Amazon link below.)
Whether you are going to prepare this sauce or not, be sure to try this dumpling recipe for a delicious side dish to any Czech sauce or gravy!
Ingredients for Pajfalský knedlíky – Pajfal dumplings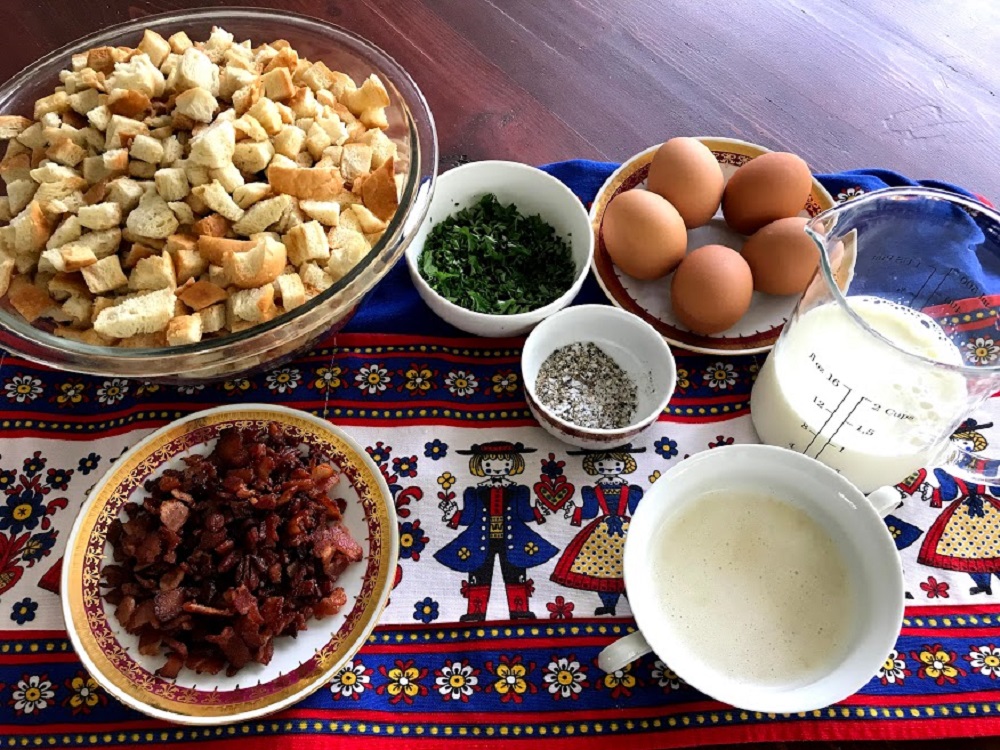 8 older buns or rolls (the better taste the bread, the better the dumpling. I use a baguette from our local Italian baker.)
6 to 8 strips of cubed bacon
2/3 cup butter
5 eggs
1 cup of milk
2 sprigs finely chopped smooth parsley (about 1/4 cup)
1 cup breadcrumbs
zest of two lemons
salt, and pepper to taste
pinch of nutmeg
Cut older buns/baguettes into small even cubes and fry them (like croutons) in butter until golden.
Cut the bacon into smaller cubes fry them in a pan and then set aside to cool down.
Put the cooled bread cubes in a bowl and add the fried bacon, eggs, milk, the rest of the melted butter, and salt, pepper and season with nutmeg. Mix the mixture thoroughly.
Make round or log-shaped dumplings from the mixture and wrap them in a clean cloth napkin soaked in cold water. Make sure you have wrung out any water from the cloth, that it feels almost dry to the touch and then smear with some butter on the inside. Tie around the dumpling to completely seal it in.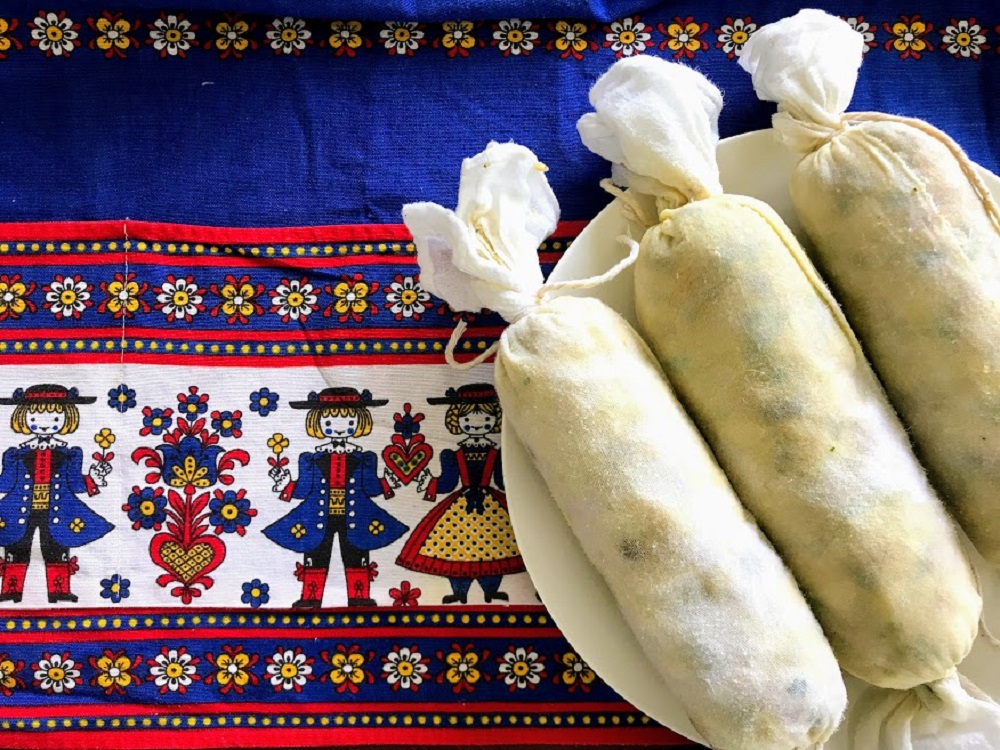 It is best to cook in steam, or in boiling water hanging on a wooden spoon. The time depends on the size of the dumpling, smaller round ones will need about 20 minutes, and larger ones approx. 30 minutes.
Traditionally, they are covered in a breadcrumb mixture after they have steamed or boiled. I personally like them plain, as they have so much flavor as they are. But if you want to stick with tradition, you can fry the breadcrumbs until they are lightly golden in butter. (Do this while they are boiling or steaming.) Set aside and season with the lemon zest, and salt, and add the finely chopped parsley.
Remove the cooked dumplings from the napkin, pierce them in several places with a skewer or toothpick (to let out steam), and then roll them – while they are still hot – in the prepared breadcrumb mixture. Otherwise, you can allow them to cool for approx. 5 minutes and then cut with a serrated knife.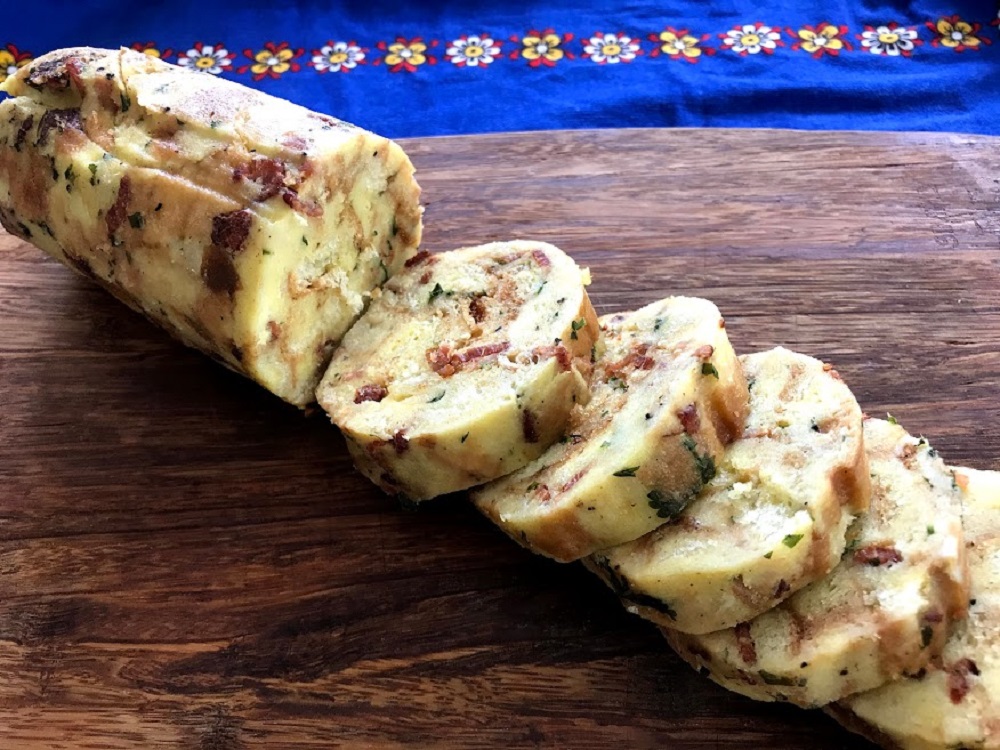 To serve, place a slice of meat on the plate.
Add a ladle full (or more) to fill the bottom of the plate.
Lay 2 or 3 dumpling slices on the plate to the side of the meat.
Garnish with parsley or a sprig of thyme and serve.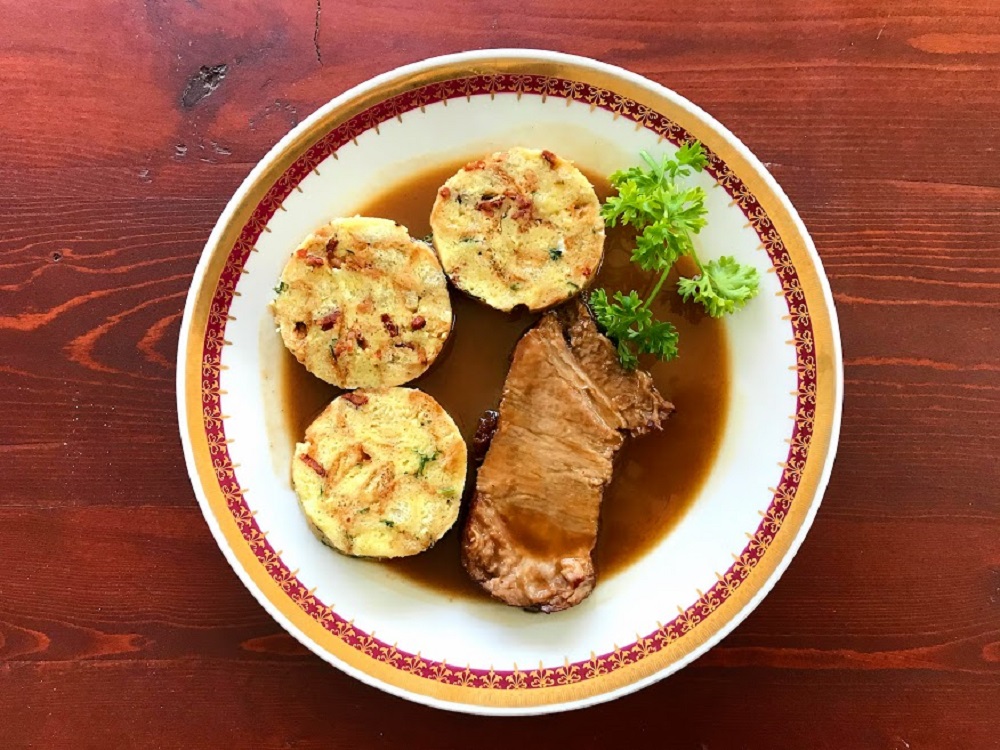 Oh my goodness… This is delicious and worth the work put into it.
It was a hit with the whole family. My mother especially enjoyed it!
You can see for yourselves…
Dobrou Chut!
Here is your shopping list of ingredients in case some of these are hard to find in your local grocery store.
And also the tools I use to make this, as well as so many other Czech recipes.
I also found this funny look at Kersko, then and now, with the backdrop of the film…
The film The Snowdrop Festival/Slavnosti snezenek is available with English subtitles at CzechMovie.com.
We hope you enjoyed today's post.
We certainly enjoyed this delicious Czech dinner and a movie.
Especially my beautiful mother who said it was fit for a king!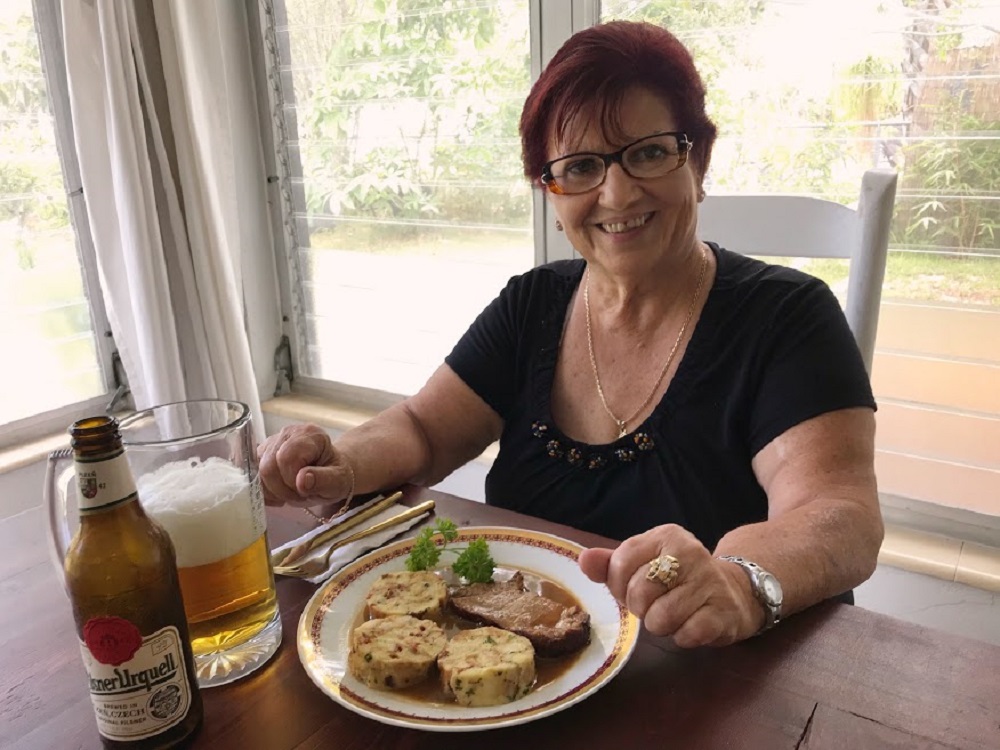 ** A very special thanks to my father who suggested this recipe for our readers. **
Do you like it? Do you love it?
Let us know in the comments section below!
* * * * *
* * * * *
Thank you in advance for your support…
You could spend hours, days, weeks, and months finding some of this information. On this website, we curate the best of what we find for you and place it easily and conveniently into one place. Please take a moment today to recognize our efforts and make a donation towards the operational costs of this site – your support keeps the site alive and keeps us searching for the best of our heritage to bring to you.


Remember, we rely solely on your donations to keep the project going.
We appreciate you more than you know!
If you have not already subscribed to get TresBohemes.com delivered to your inbox, please use the form below now so you never miss another post.