The Salvation Army in Czechoslovakia from 1919 until 1951 was largely due to the work of Josef Korbel (Order of the Founder) and his wife, Erna. Josef Korbel was born on January 17, 1907 in Prague. He grew up in the town of Prelouc, where his father owned a factory for agricultural machinery. He attended a textile art school and became a textile draftsman in Brno. Then, on November 25, 1925, he met people from the Salvation Army and believed in Jesus Christ as his Lord and Savior.
In the capital city of Prague, Josef met the Army at an open-air meeting in 1925. He was so impressed that he entered training school in 1926 and was commissioned a year later to Kladno, where he met and married Erna von Thun with whom he had three children, Boris Helmut, Alice Erika and Viktor Gothartt.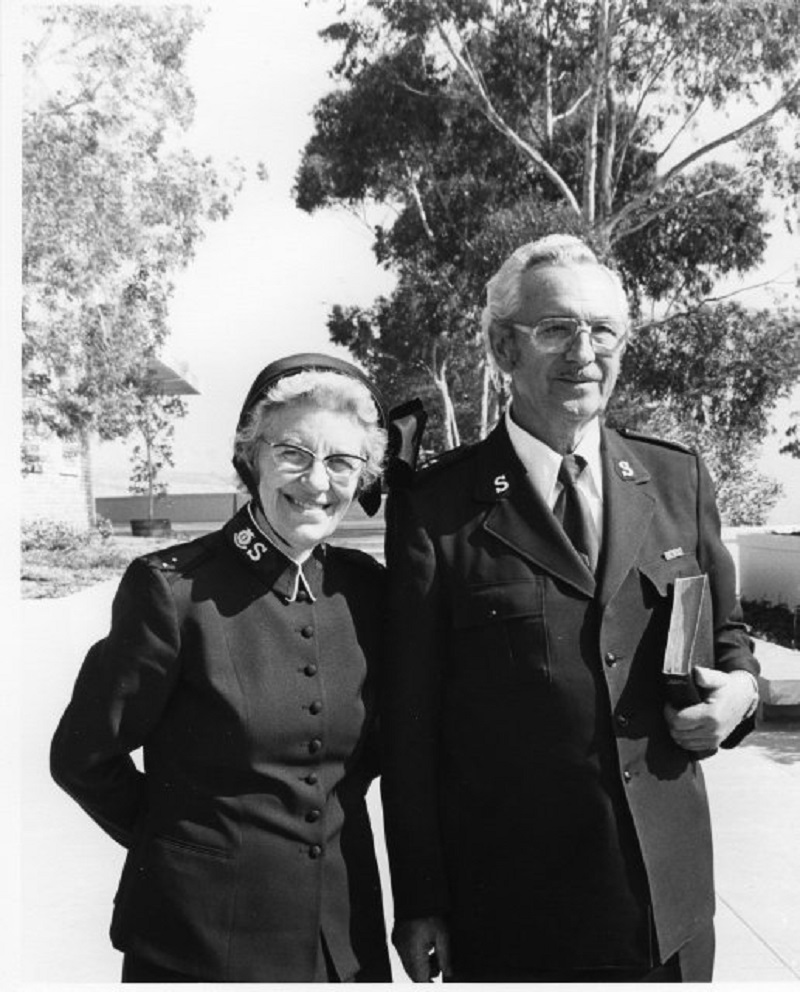 Besides spiritual activities, it ran homes for the homeless and other marginalized groups. After it survived the difficult times of German occupation between 1939 and 1945, the new Communist government restricted and eventually completely banned its activities in 1950 and imprisoned a number of its members and officers. The best known of those was Major Josef Korbel whose story is told in the book, In My Enemy's Camp.
The year was 1949.
The place, Communist Czechoslovakia.
In 1949—while still serving in Kladno—Josef Korbel was arrested. Accused of being "a very dangerous man for his strong religious influence, especially on young people and children," he was arrested, taken away from his family, and in a staged trial, he was sentenced to 12 years in prison / hard labor camp. In prison camp, he had to undergo brutal thrashing, solitary confinement in complete darkness, and constant bullying.
Today we learn about his story; the story of his family; and the story of life for persecuted Christians in Communist Czechoslovakia in the mid-20th Century through a series of the four videos (below) brought to you by Share Change.
Keep in mind that Salvation Army minister Josef Korbel was far from the only person imprisoned for alleged crimes against the Communist Regime in Czechoslovakia in the 1940s & 50s. His story is intertwined with the fates of many other men similarly persecuted, either for their religious or 'subversive' beliefs – including those in the Catholic Church.
As the family of a political prisoner, Erna Korbel and her children endured a seemingly never-ending stream of discrimination. Eviction, homelessness, poverty, separation, and ever-present harassment and criticism became facts of everyday life for them.
Meanwhile, in prison camp, Salvation Army minister Josef Korbel struggled to understand why a loving God would destroy his dreams, by banishing him to a miserable existence in a hard labor camp where he handled dangerous uranium on a daily basis.
After ten years, release from the Communist hard labor camps in 1959 was not the end of Josef Korbel's story. In fact, life somehow got even more difficult after his return – disconnected from his family, suffering from radiation-related sickness & crippling panic attacks, followed by his son's soul-crushing murder.
Josef Korbel's trials reached a boiling point in 1968, when the Soviets invaded Czechoslovakia, re-imposing strict authoritarian laws, including dispatching the State Secret Police to find and arrest none other than Josef Korbel himself.
Share Change is an initiative of the The Salvation Army USA (Western Territory) that produces video content infused with messages of transformation and hope. Each is designed to empower individuals to share the Gospel message with others via online and social networking platforms.
With very special thanks to my dear and lifelong friend, Erika Korbel, who brought these to my attention. This is the story of her grandfather and what he went through for being a part of the Salvation Army in then communist Czechoslovakia.
Video Part One
Video Part Two
Video Part Three
Video Part Four
A very special thanks to my dear friend Erika Korbel, granddaughter of Josef who shared these with me…
Shortly after the "Velvet Revolution" in November 1989, a group of Czech Christians sent a letter to the International Headquarters in London, asking The Salvation Army to consider re-starting its work there. The federal Czechoslovak government at the time was also very interested in the Army's professional and practical experience in dealing with the problems of the homeless. President Václav Havel met with General Eva Burrows and direct contacts were made with the Ministry of Labor and Social Affairs.
The Salvation Army in the Czech Republic was registered by the Ministry of the Interior on 17 May 1990 as a civic association. At the time, it was not possible to register as a church, because the Armáda spásy did not meet the legal requirements for a church registration. After some changes in Czech legislation and complicated administrative preparations, the Armáda spásy was finally registered as a church by the Ministry of Culture in September 2013.
Video Interview with Josef Korbel in 1989
Related Links
So, did you learn something of value today?
We know that you could spend hours, days, weeks and months finding some of this information yourselves – but at this website, we curate the best of what we find for you and place it easily and conveniently into one place.
Please take a moment today to recognize our efforts and make a donation towards the operational costs of this site – your support keeps the site alive and keeps us searching for the best of our heritage to bring to you.

Remember, we rely solely on your donations to keep the project going.
Thank you in advance!
If you have not already subscribed to get TresBohemes.com delivered to your inbox, please use the form below now so you never miss another post.