Do you ever wish you had something other than obložené chlebíčky to bring to a pot luck. Maybe something warm and that would share a taste of your Czech heritage… How about something that carries well, reheats even better and tastes great with beer? Well, today I'm sharing one of my favorite recipes for the best Czech pot luck dinner that's also very easy to make. Enjoy, and if you haven't already – make sure to subscribe and tell at least one friend about our site today.
The ingredients are enough to feed 16-20 people. If you'll be taking this to the game or social, go ahead and buy the large (turkey-sized) aluminium pan so you don't need to worry about carrying home any dishes.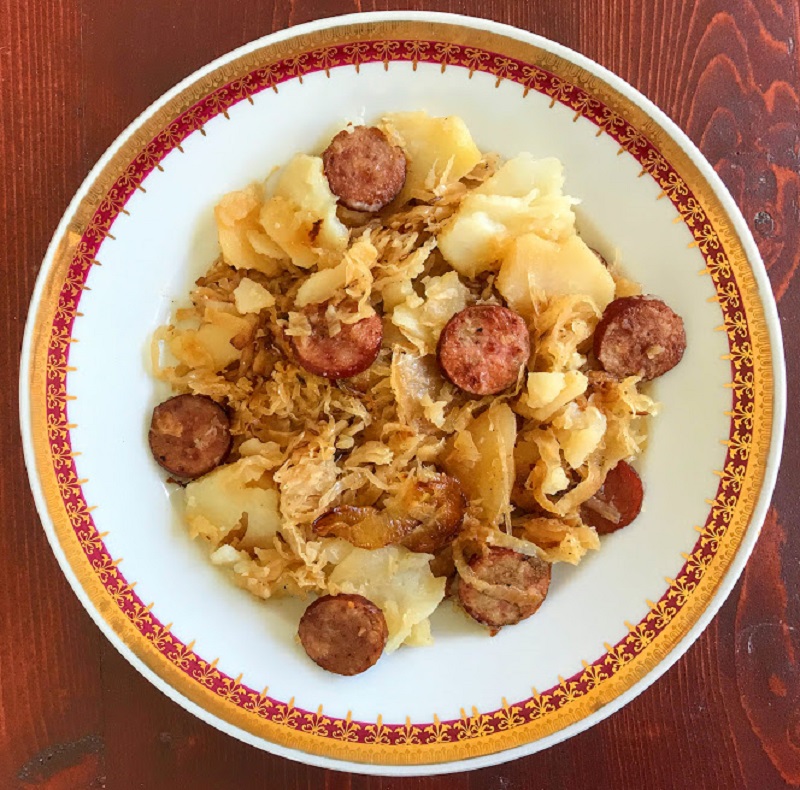 I promise you it will be a hit…
Ingredients
10 – 12 large potatoes
4 large onions
6 slices of bacon
2 packages of Hillshire Farms Polish Sausage (or any other brand you like – their Smoked Sausage will also work)
2 large jars (or cans or bags) of sauerkraut
Juice of 1 lemon
1 Tablespoon Caraway seeds
1/3 cup sugar
Salt and Pepper to taste
Preparation
It's important to prepare it in steps to squeeze every possible ounce of flavor from it. You can make it the night before and then warm it before you go or at the actual event.
Open the sauerkraut and place into a sieve in a bowl of water.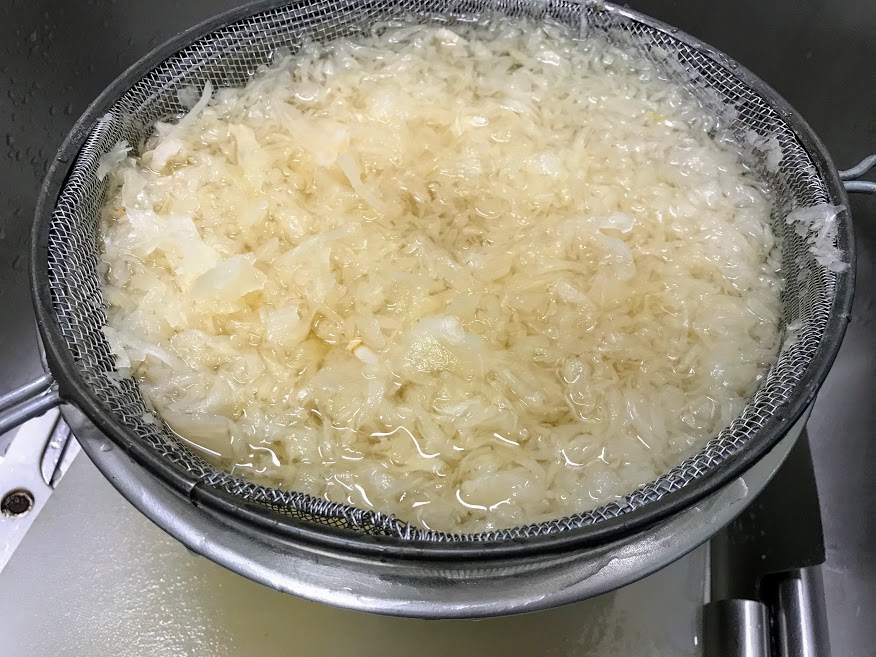 Let soak the entire time you are preparing the onions, potatoes and sausage. (This will take a lot of the sour out of the kraut.)
Slice the onions into thin rings and chop the bacon.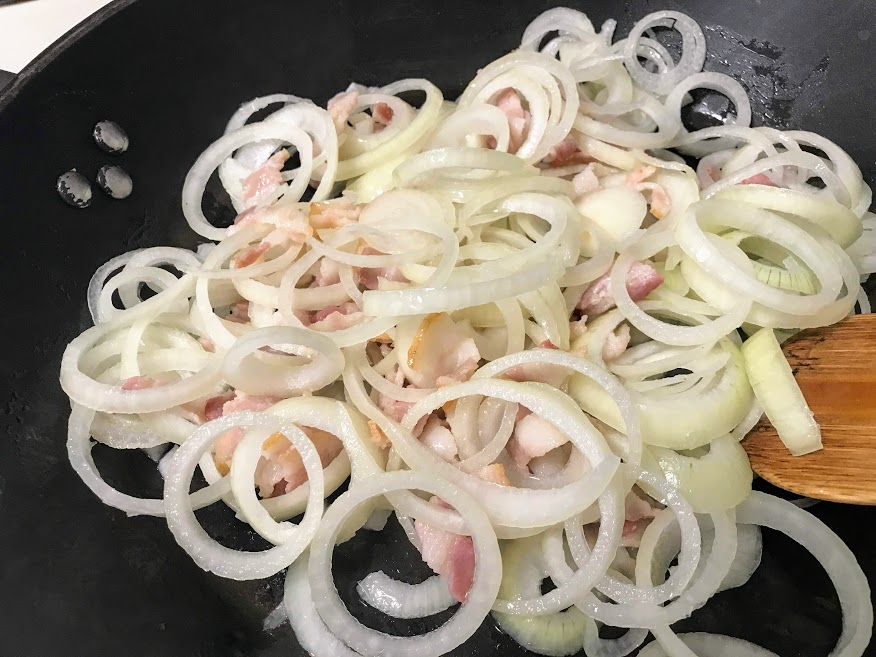 Place into large heavy skillet and cook on medium-high until bacon is cooked and onions are lightly browned.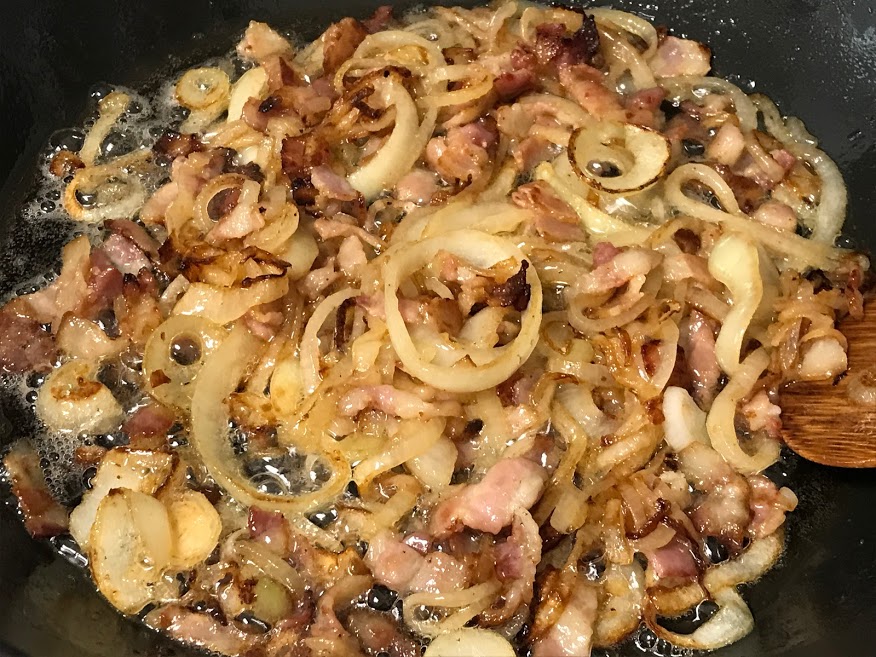 Meanwhile, peel and slice the potatoes to 1/4 inch slices and layer in a large stock pan. Rinse well by filling pot with water, swishing around with your hand and emptying 2 or 3 times (gets rid of the potato starch).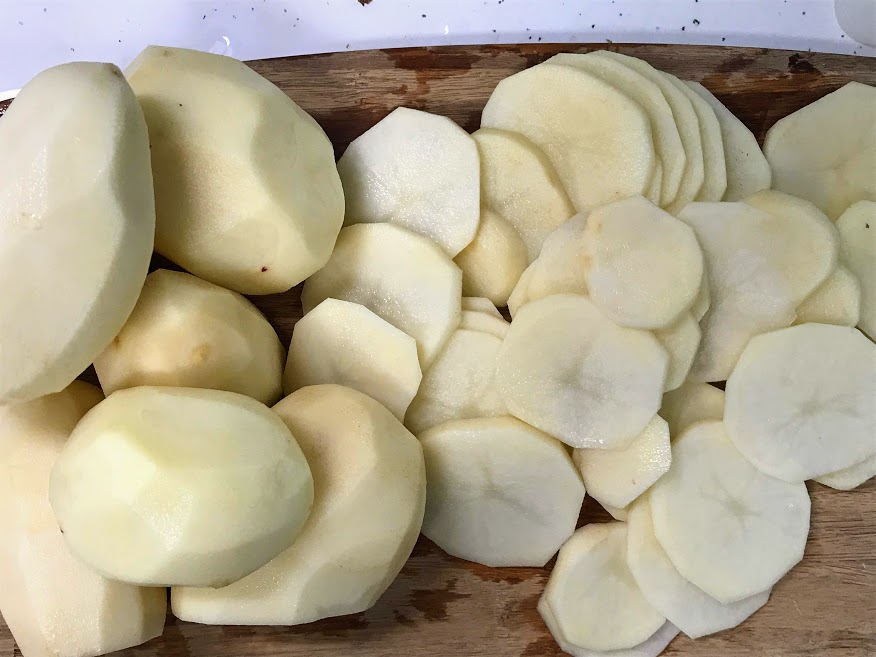 Cover with water and bring to a gentle boil. Boil for about 18 minutes or until potatoes are fork ready.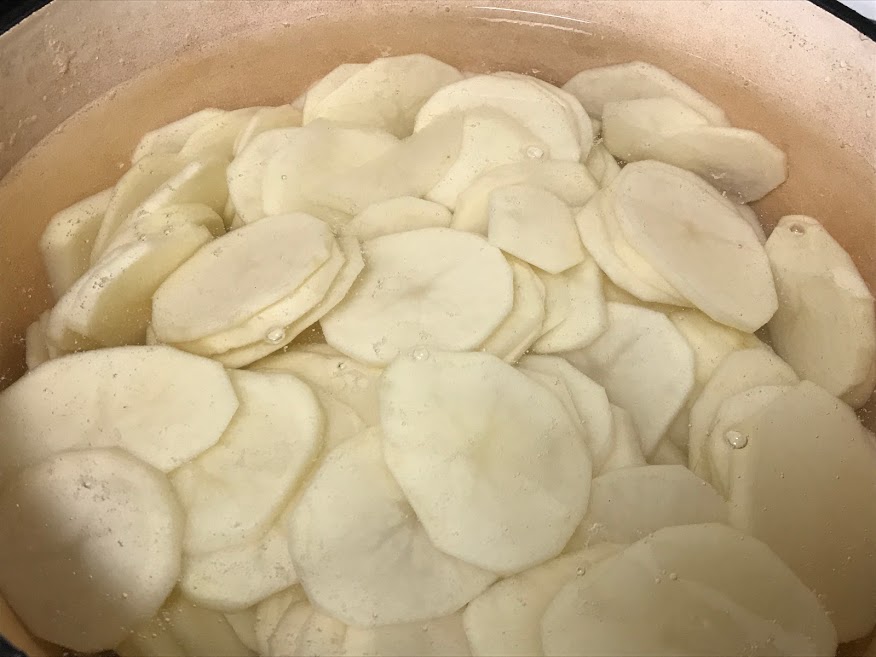 After the bacon and onion mixture is finished, empty entire pan into a bowl (delicious bacon grease too!) and set aside. Do not wash skillet – reuse for sausage.
Slice the Polish sausage into thin (1/8 inch) slices and place into skillet.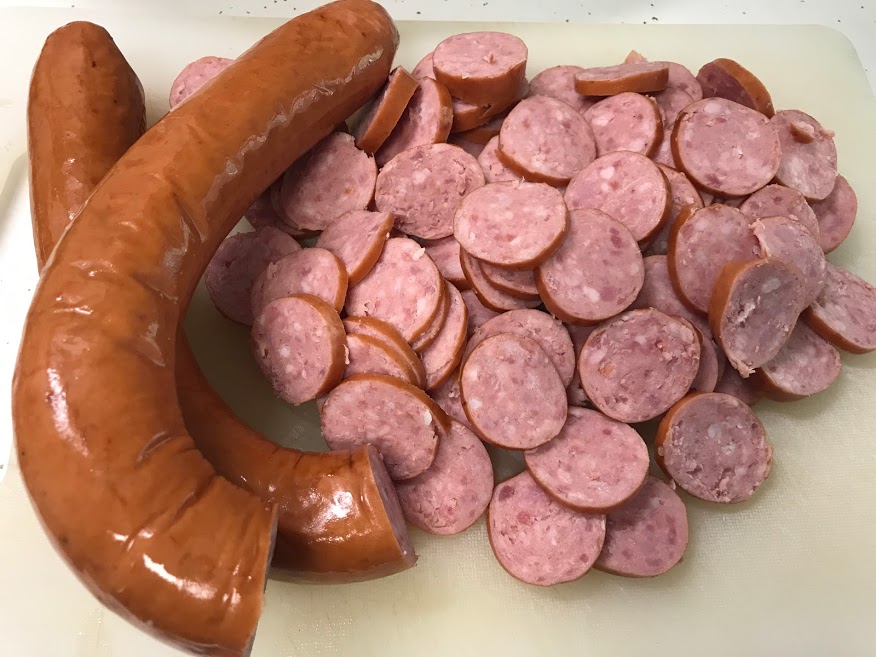 Cook for about 5 minutes, stirring often, until sausages have a slight brown crisp to them. Empty into bowl (delicious greasy drippings too!) and set aside.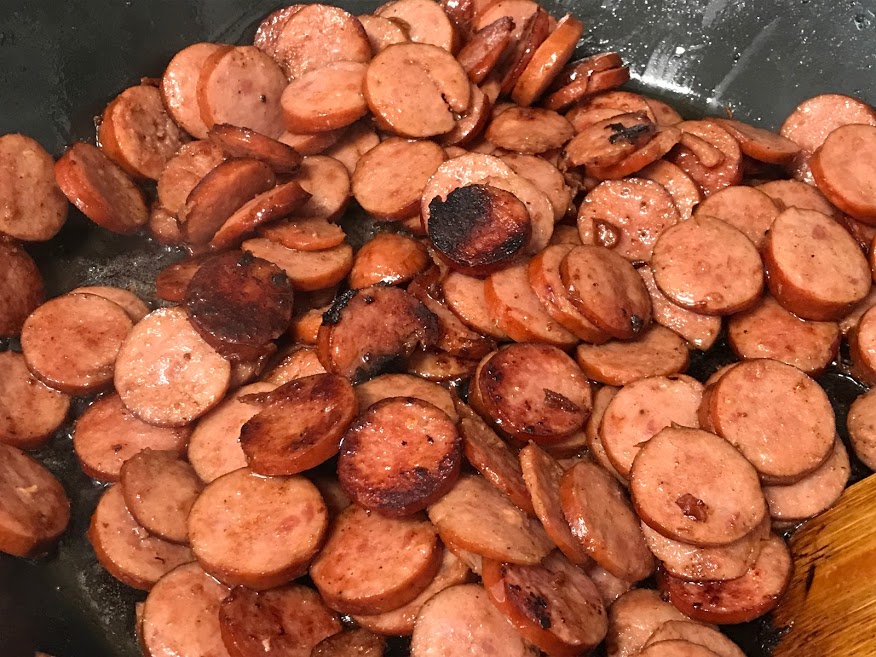 Reusing the pan yet again (and not washing it in between so you get all the flavor) squeeze out the sauerkraut and place into the large skillet.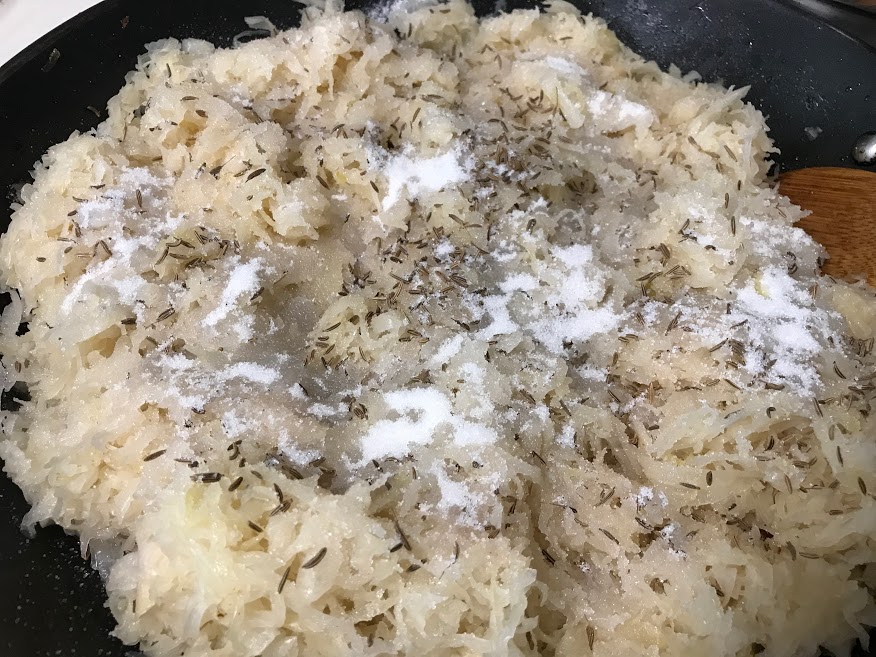 Add the sugar and caraway seeds to the sauerkraut and cook on medium high, stirring almost constantly for 5-8 minutes – until all of the sugar melts and caramelizes a bit. It will turn a little light brown from picking up the leftover goodness from the bacon, onions and sausage you cooked.
You can also salt and pepper to taste. If you want to add yet another dimension, you can put 1/2 cup of unsweetened applesauce into the mix. (Make sure it doesn't have cinnamon!)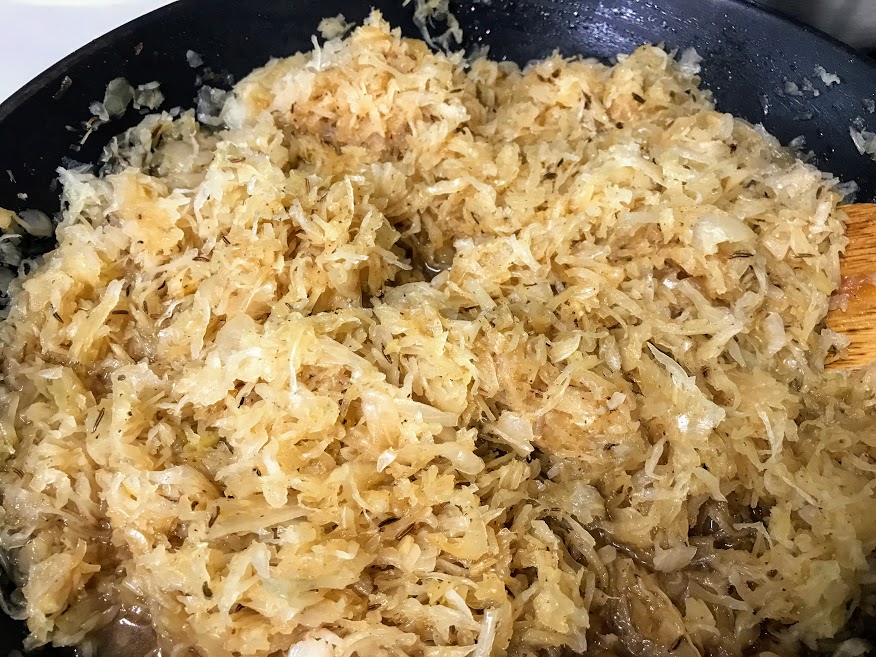 At this point, you should have a bowl with cooked bacon and onion mix, a bowl with cooked Polish sausages, and finished sauerkraut in the skillet.
Now strain your potatoes into a colander. They will break. It does not matter. It will taste so delicious, no one will care. If you are a perfectionist, you can take the extra time to remove them with a slotted spoon to maintain their shape, but that is not important.
Now the layering begins. In your large turkey pan, place half of the cooked potatoes and spread or layer evenly to cover entire bottom of pan. Salt and pepper to taste. Add half of the bacon and onion mixture, distributing evenly all over. Add half of the sauerkraut, spread all over the pan. Now place half of the Polish sausage rings all over, evenly.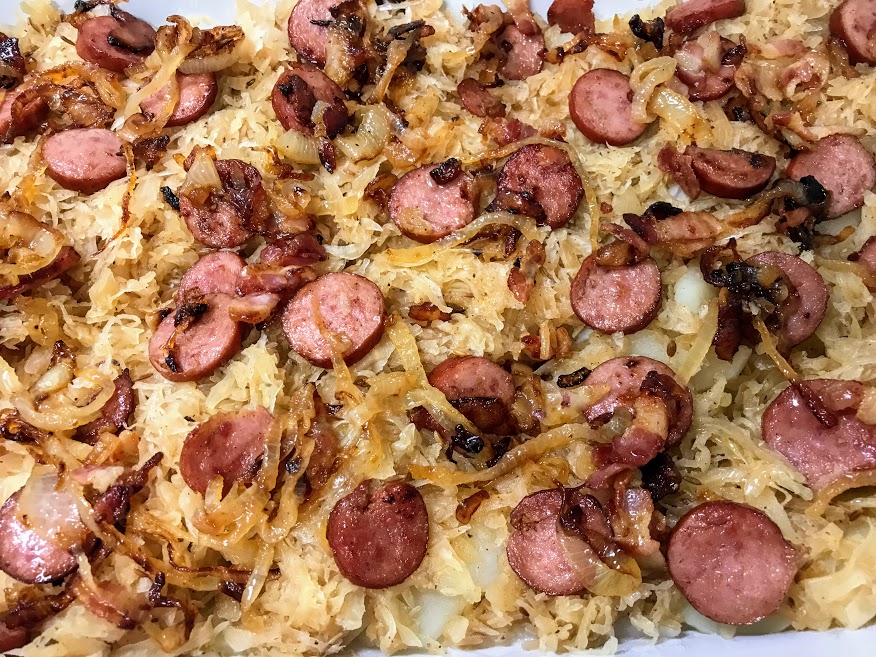 Then repeat the steps with a second layer. Use the drippings from the sausage as well as the bacon and onions and drizzle all over.
If you will be eating it now, cover with aluminium foil and back 30 minutes on 350 degrees. If you will be eating later, cover with foil and place in fridge. When you are ready, place into over for 45 minutes at 350 degrees. It will not burn or stick to the bottom because of the kraut still releasing juices.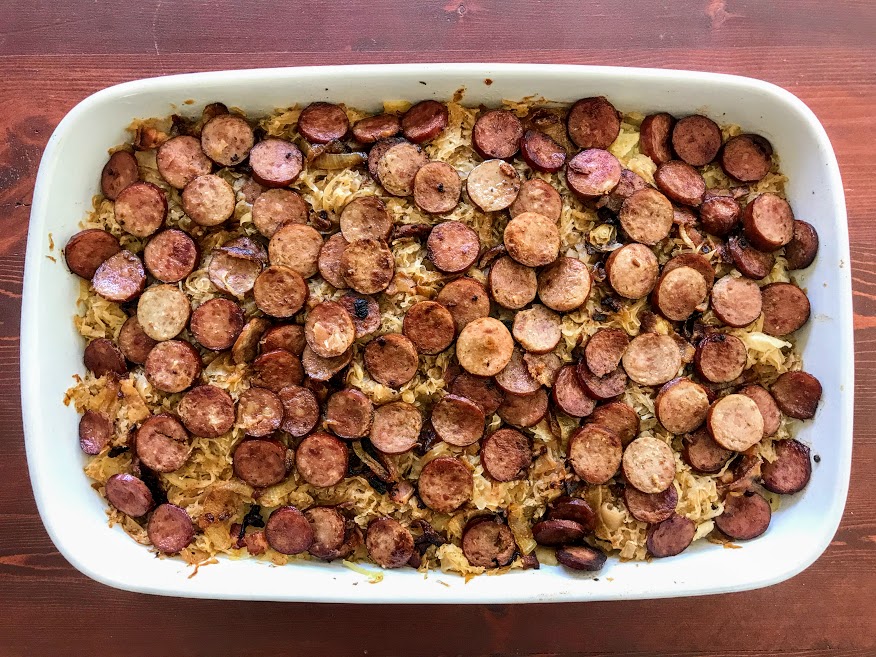 Carefully peel off the foil and use a large spoon to pile it onto plates.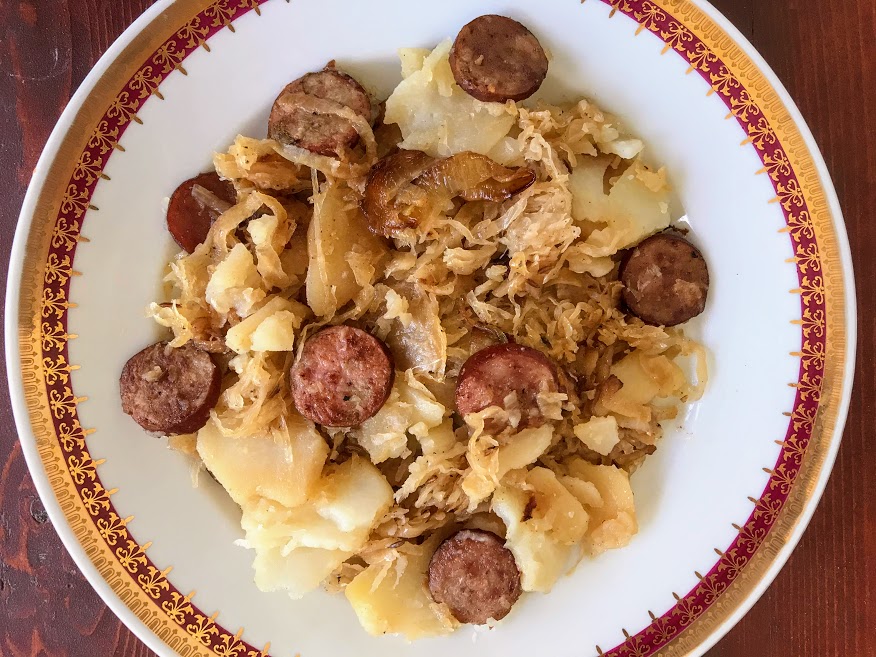 Tastes great with a hearty slice of rye and a cold Czech beer! We hope you enjoyed our 'Best Czech Pot Luck Dinner Recipe'.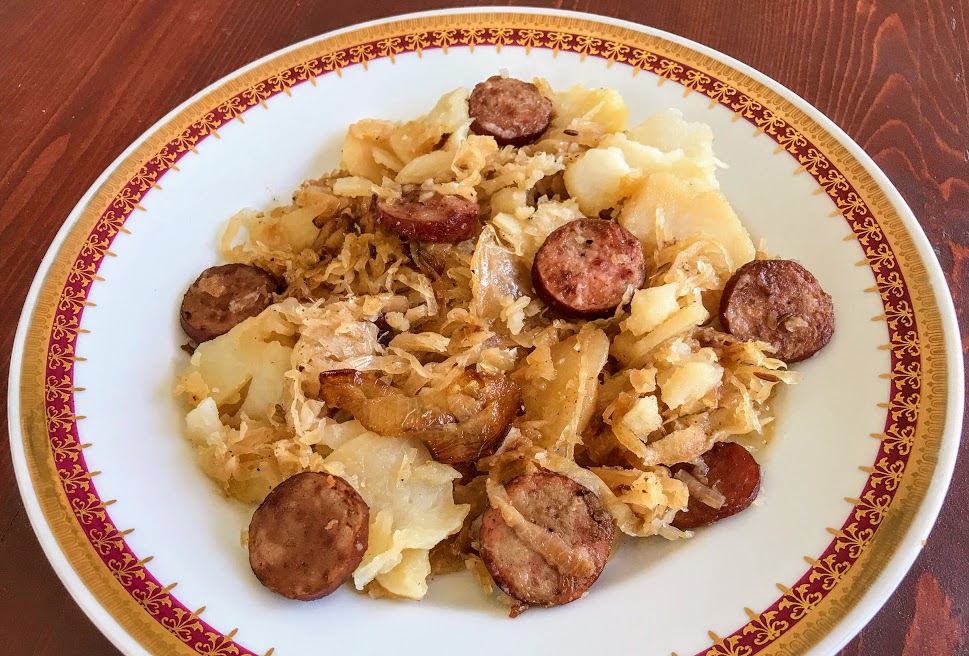 Dobrou Chut!
Thank you for your support – We appreciate you more than you know!
We know that you could spend hours, days, weeks and months finding some of this information yourselves – but at this website, we curate the best of what we find for you and place it easily and conveniently into one place. Please take a moment today to recognize our efforts and make a donation towards the operational costs of this site – your support keeps the site alive and keeps us searching for the best of our heritage to bring to you.


Remember, we rely solely on your donations to keep the project going.
Thank you in advance!
If you have not already subscribed to get TresBohemes.com delivered to your inbox, please use the form below now so you never miss another post.