Today we are sharing a delicious recipe for a classic Czech sweet braid or plait, known as a pletenec in Czech. This recipe will make two, so when considering filling, make sure to either double up or use two different ones.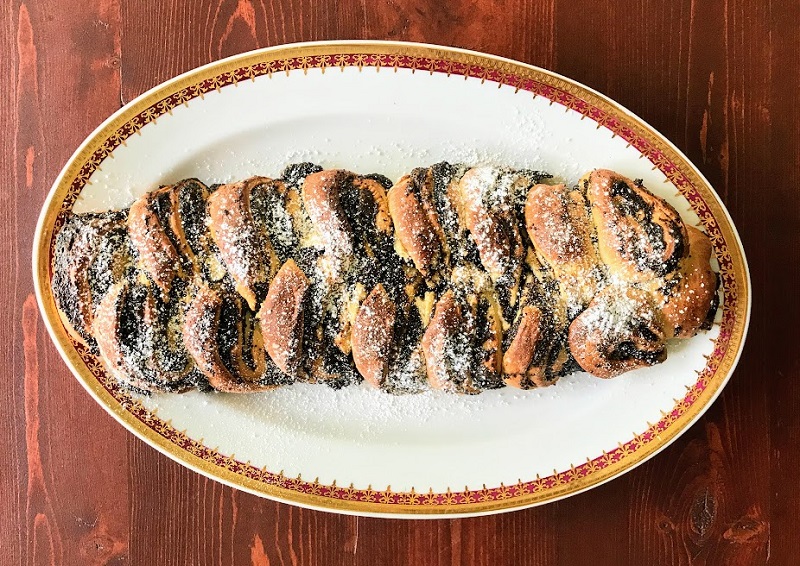 The trick with a Czech sweet braid is in how you "braid" it, which is not braiding at all but rather cutting the dough and laying it in a unique way. Photographs below illustrate how this is done.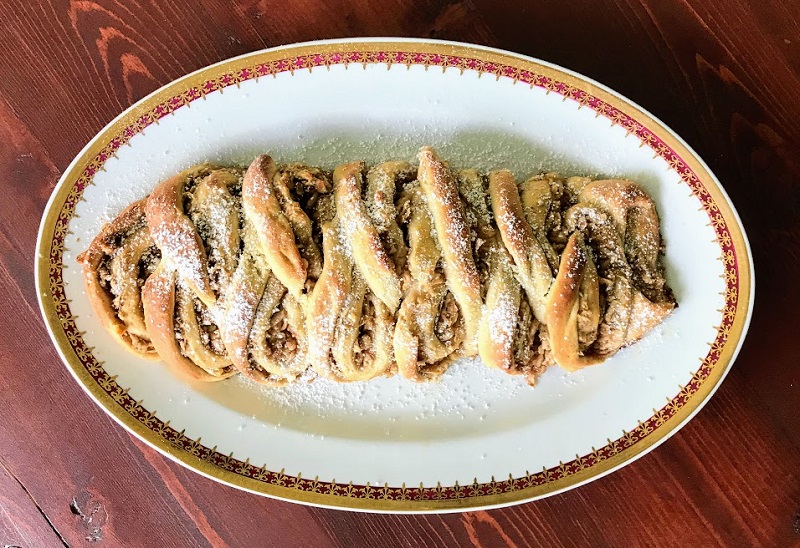 Ingredients
Dough:
1 cup whole milk
1 package dry yeast
1 tsp. sugar
1 egg
1/2 cup sugar
3 3/4 cups flour
grated rind from 1 lemon
3 Tbsp. butter, melted
pinch of salt
Filling: (Use any of the below)
1 can poppyseed mix (you can buy it here)
1 cup Lekvar or Prune Butter (you can buy it here)
4 peeled and grated apples with 1/4 cups nuts, or raisins, or both and 1/4 cup sugar and 2 tsps. cinnamon
Directions
Proof yeast by warming the 1 milk and 1 tsp. sugar and adding the package of dry yeast. Stir and set aside to proof for 10 min. Break egg into large mixing bowl and whisk with a fork. Add yeast mixture and remaining ingredients and work into a nice dough. Cover and let rise until doubled in size, approx. 1 1/2 hours.
Meanwhile, prepare your fillings. As I mentioned, today we are making a poppyseed and prune butter mix and an apple filled. I say poppyseed and prune butter mix because I have a half can of poppyseed left over from another meal, and I always have a large jar of prune butter in the fridge. I will mix the 1/2 can poppyseed with a 1/2 cup prune butter. You can get creative and mix and match ingredients or come up with your own fillings.
When the dough is ready, cut in half and roll each half out into a rectangle. It does not have to be perfect.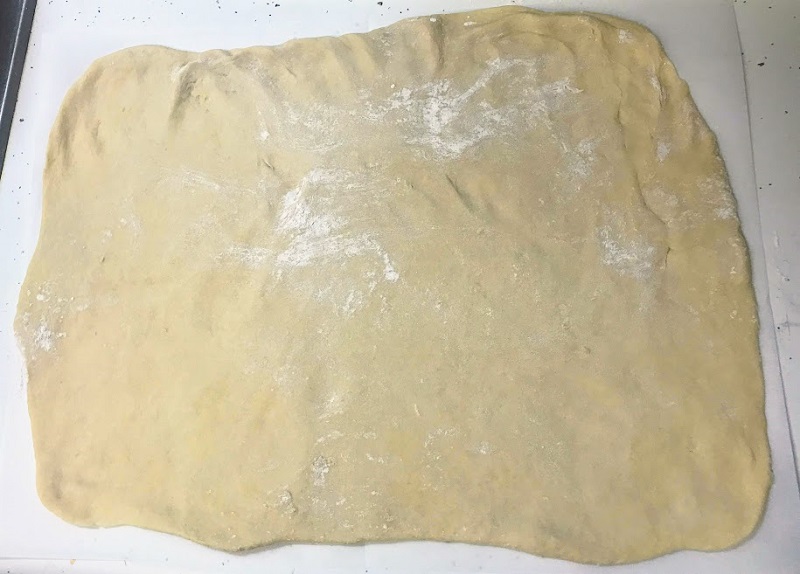 Spread the filling over the entire rolled out dough leaving about 1/2 inch from all sides.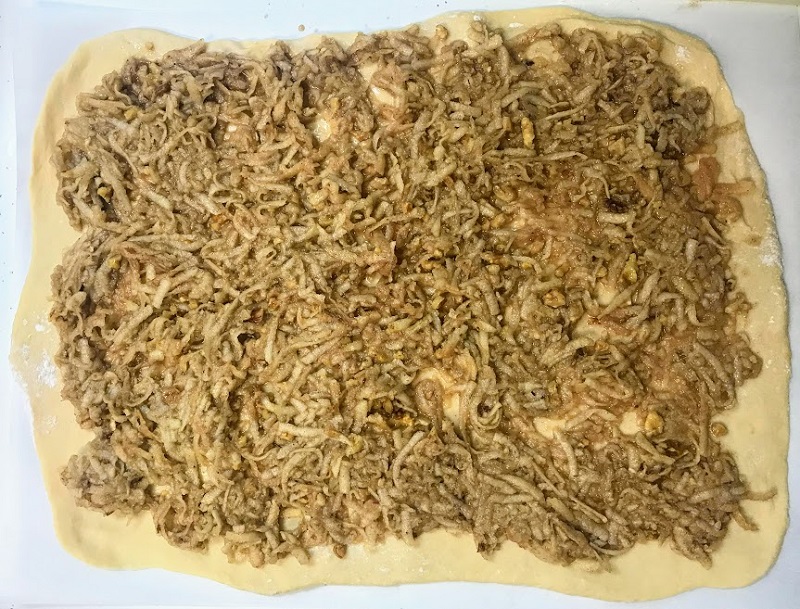 Working from one end, roll into a log and transfer to large baking pan or cookie sheet lined with parchment paper.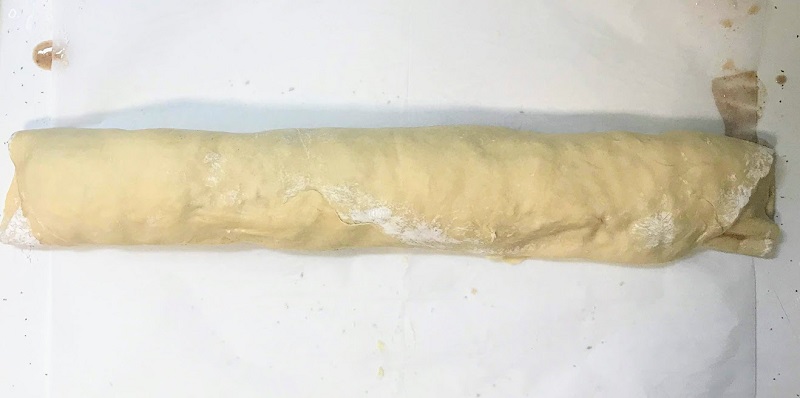 Using a sharp knife, cut almost all the way through into slices about 1 inch wide and lay alternating left and right.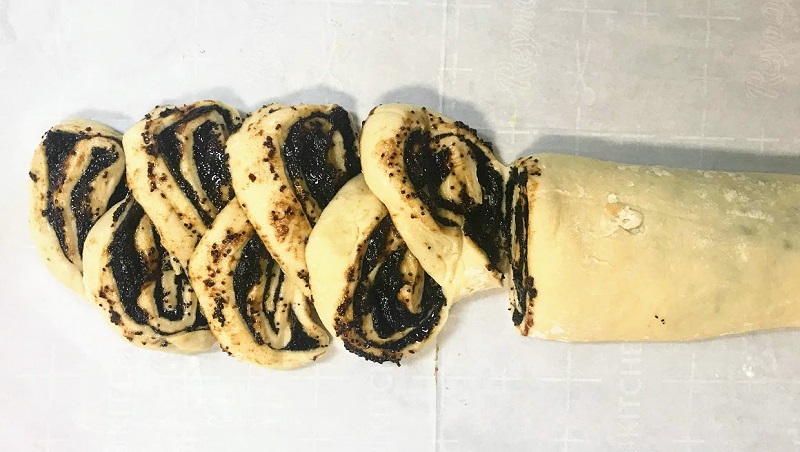 Poppyseeds are sticky. Apples are wet. Whatever filling you work with, it'll be messy – but don't worry – it will bake out. Once you transfer to a nice serving tray, no one will ever know the mess ever existed. ;)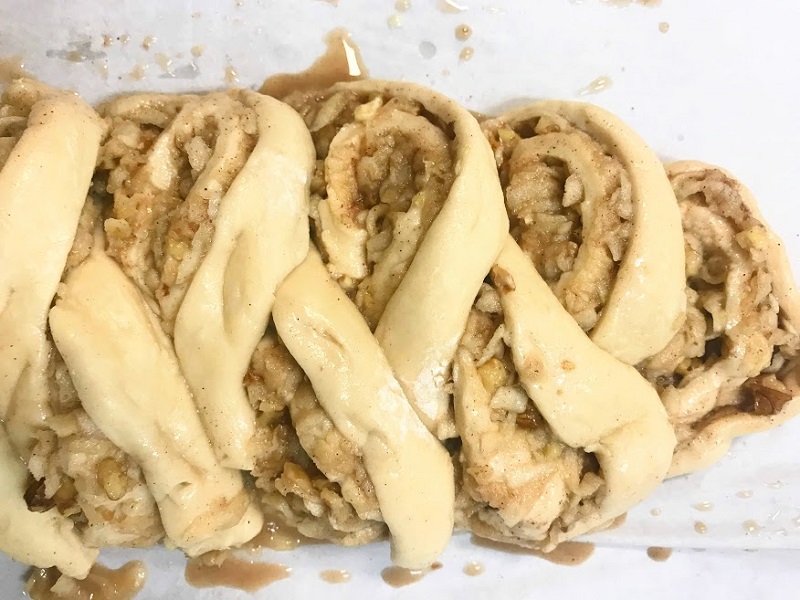 You can press down the cut pieces to "shape" the braid a bit more. It's not that fragile – don't worry – move it around as you wish. The dough will rise around all of the "mess" as it's baking so it does not need to be perfect. You can see in the image, some of it melts out. Use a spatula to loosen the entire braid from the parchment before moving to serving dish.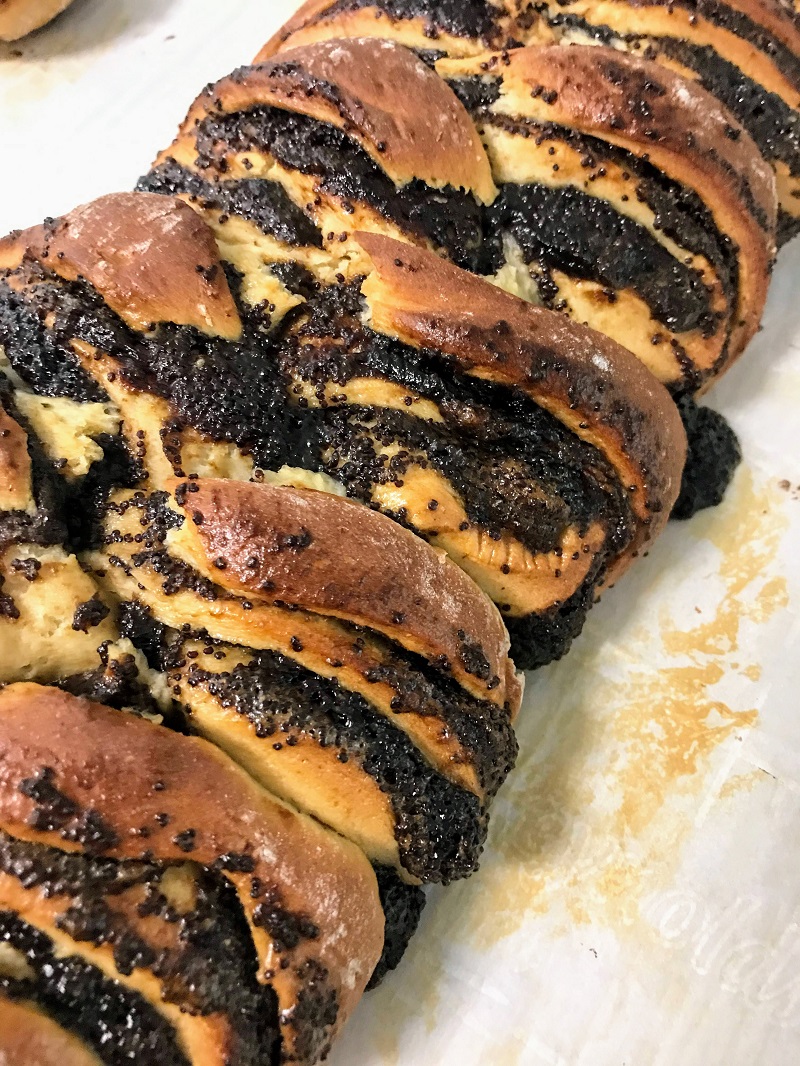 My mother and grandmother both told me that cooking and baking should be organic and fun. Our kitchen was always a mess during preparation time, but no matter… Artists' studios are also messy, but it is where masterpieces are created, like this Czech sweet braid!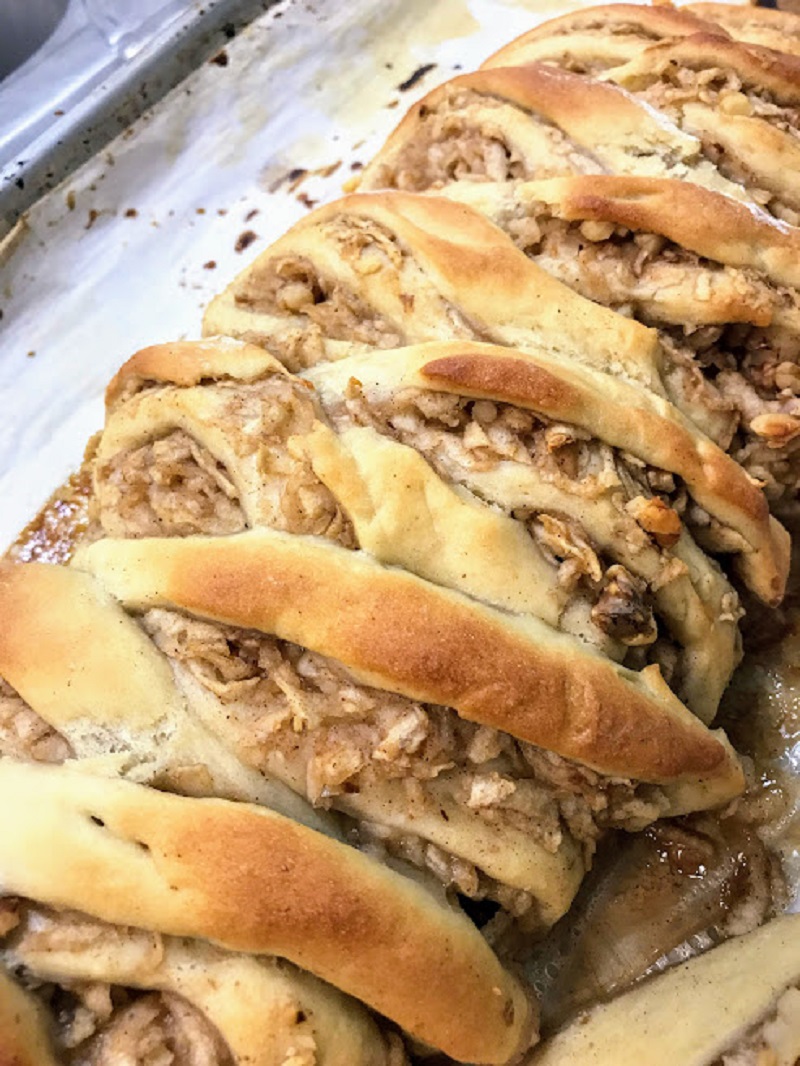 You can brush with a beaten egg to give the dough a nice shine if you wish. Bake at 350 for 25 minutes. Let cool at least 15 minutes before serving.
Prior to serving your Czech sweet braid, you can sift some powdered sugar on top or make a quick glaze from 2 cups powdered sugar, 3 Tbsp. water or milk and 1/2 tsp. vanilla extract. (To make glaze: In a medium bowl, combine all ingredients and mix until smooth and then drizzle over the braids).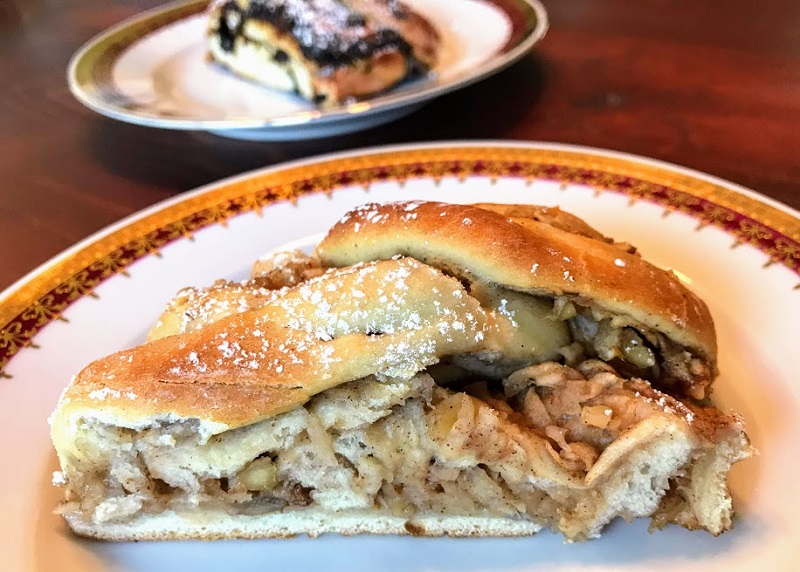 So delicious!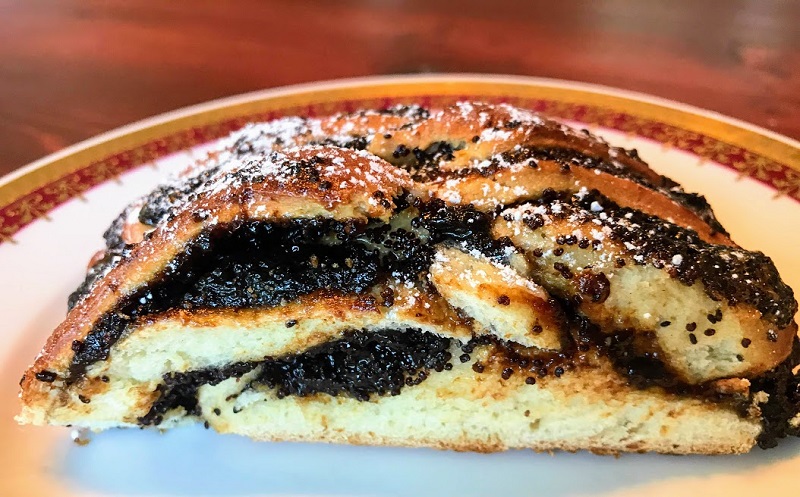 Make sure to share this Czech sweet braid with your friends…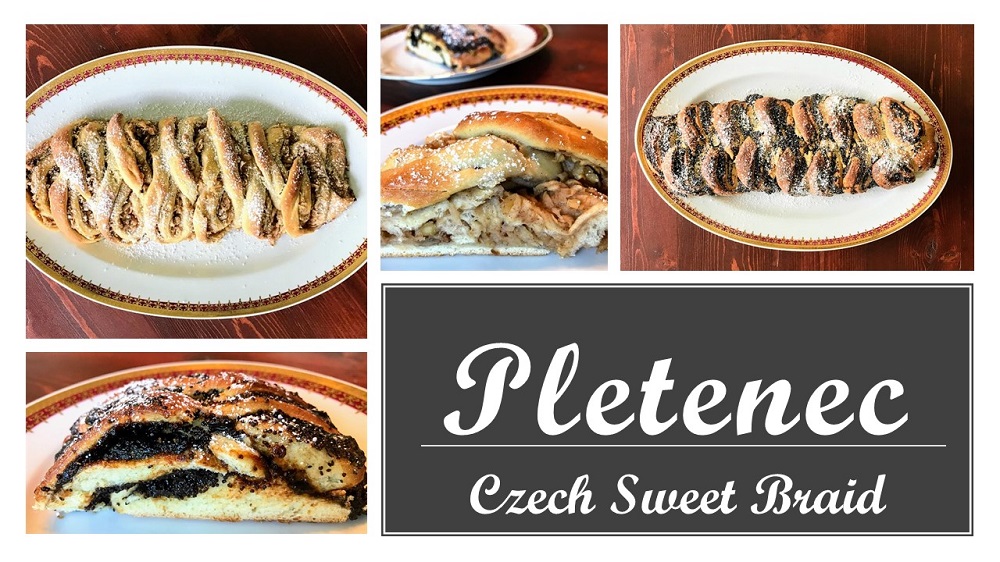 Dobrou Chut!
We know that you could spend hours, days, weeks and months finding some of this information yourselves – but at this website, we curate the best of what we find for you and place it easily and conveniently into one place. Please take a moment today to recognize our efforts and make a donation towards the operational costs of this site – your support keeps the site alive and keeps us searching for the best of our heritage to bring to you.

Remember, we rely solely on your donations to keep the project going.
Thank you in advance!
If you have not already subscribed to get TresBohemes.com delivered to your inbox, please use the form below now so you never miss another post.