Picture a tiny village in Eastern Europe, surrounded by forests and vineyards. Roses and daisies riot in front of small white-washed cottages. A tall-steepled church dominates the dusty village, and the road to the church is filled with blazing colors. It's the matrons of Ratiskovice, Czechoslovakia, on their way to church in their richly embroidered finery.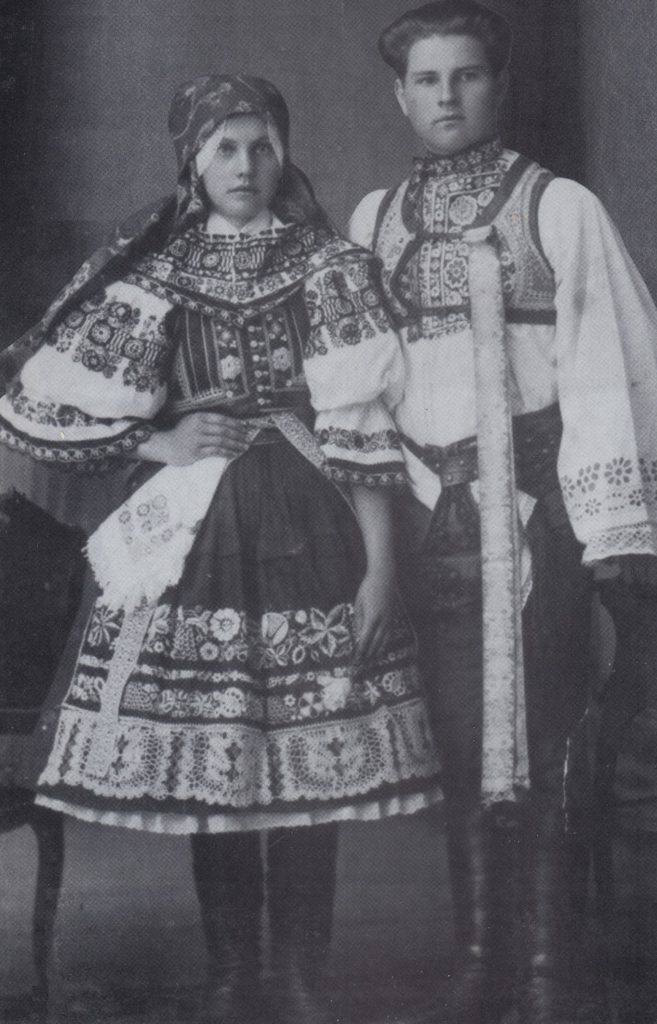 Helene Cincebox's great-aunt Anna Zemek Husak, in Ratiskovice folk dress, with her brother, taken approx. 1920.
Ratiskovice (ra-tish-ko-vit-seh) folk dress is renowned for its rich layers of embroidery and lace, for the beaded and sequined headdresses that shine in the sun, and the crisp lawn neckerchiefs alive with ancient symbols. The blouses, protective motifs embroidered at every opening, have huge, puffed, embroidered sleeves finished with fine bobbin lace. Vivid red wool skirts are embroidered with roses. Vests are pieced from bits of brocade and embellished with embroidery. Even the accordion-pleated "stovepipe" boots, handmade by the village boot maker, are decorated with delicate stitchery.
But in Ratiskovice, a woman's glory is her apron. It is the highest expression of her skill with the needle. According to my great-aunt Anna Zemek Husak, a woman worked the whole winter long making an entire outfit. Village women vied to make the most elaborate folk aprons. And then they vied to stuff the most petticoats underneath to make the apron stand out for full appreciation of their handiwork.
Mrs. Husak's folk aprons are exquisite. The fine embroidery is almost as perfect on the reverse as on the front. Every year for the past 20 years, my mother, Helen Zemek Bame, and I have traveled back to Ratiskovice. So far we've collected over 100 aprons spanning 100 years from this tiny village on the Moravian-Slovak border in central Czechoslovakia; all the folk aprons shown here are from the Baine-Cincebox collection.
Beginning with the apron created by my great-grandmother, Rozina Barina Zemek, we can trace styles from the 1800s. Her apron, probably made for her dowry, like so many pieces of folk dress, is stitched in simple three-colored motifs of red, white, and green, worked in wool on inexpensive black chintz. The ancient motifs she chose appear again and again, especially in the older aprons.
Fashions in Aprons
Village women learned fine embroidery to please the royal and noble families who moved to Czechoslovakia during the thirteenth century and later, after the Black Death and the Thirty Years' War had ravaged the populace. Embroidery for church cloths and vestments was also of great importance in this era. Until the late 1800s, village clothing was quite simple. As life became more comfortable, people had the time to create more elaborate folk dress, and what they created was modeled on images of aristocratic fashions frozen in villager's memories from far earlier times. Puffed sleeves, neckerchiefs, full pleated skirts, lace-frilled caps, and of course the endless decoration, all suggest Renaissance and Baroque influences.
The "Golden Age" for aprons made by the Ratiskovice women is the period from 1900 to 1925. The simple band of embroidery characteristic of the 1800s had grown much more complex, and finally crept right up the apron to the waistband. As the more elaborate aprons came into fashion, two wide bands, featuring an intricate nee­dle lace joining, were embroidered up the center of the apron, as you can see below.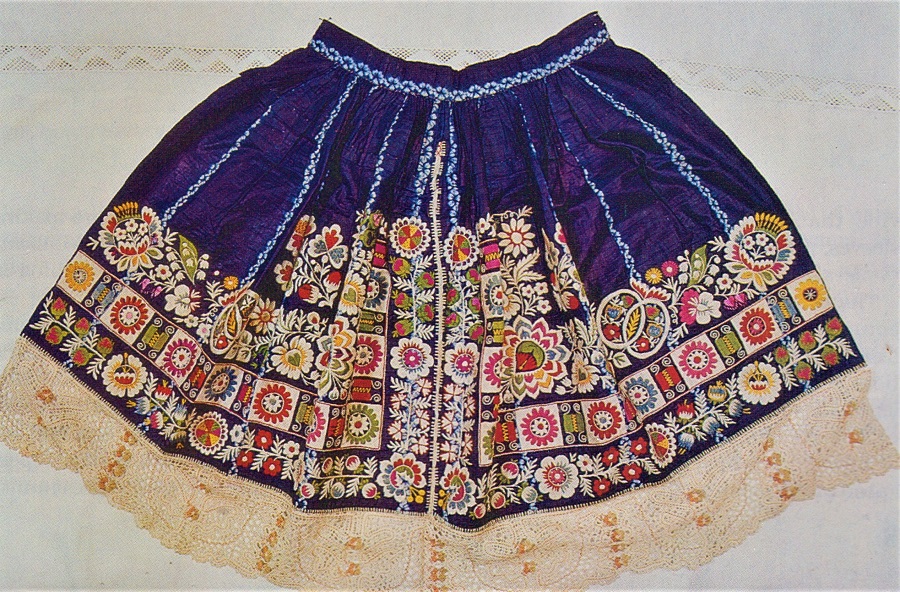 At the height of their glory (1900-1925) the fashion in Ratiskovice folk aprons called for a center slip of needle lace joining two wide bands of embroidery that turned upwards at the center, all stitched on a dark blue fabric, tie-dyed with rows of tiny hearts.
During the 1930s, bright blue aprons became popular. These were decorated with wide bands of lifelike flowers that, in time, shrank again to just one narrow band. When I first visited Ratiskovice in 1969, the village church was filled with women in traditional dress; most were kneeling in the aisles to protect their starched petticoats and to spread out their treasured black aprons for the best view. Today, just 20 years later, you might find only one or two women wearing the glorious, heavily embroidered dark aprons. The other women would probably be wearing modern, simple versions of folk dress, with little or no embroidery.
Traditional Folk Motifs
The most desirable aprons were called "vyvazovane," those embroidered on a locally dyed dark blue fabric with vertical rows of pale blue hearts, either resist-dyed or tie­-dyed. Tradition also decreed that a 4-in. band of coarse, cream-colored bobbin lace with red and green inserts, be added to the apron's edge. Such lace appears only in Ratiskovice and a few neighboring villages.
A curious edging goes along the lower border of most of the aprons and partway up each side. It looks like ric-rac, but in fact it's a design of small triangles, meticulously embroidered. This is the "wolfs teeth" motif, an ancient warding or protective device that is also embroidered on the sleeves, neck, and front facings of women's blouses and men's shirts.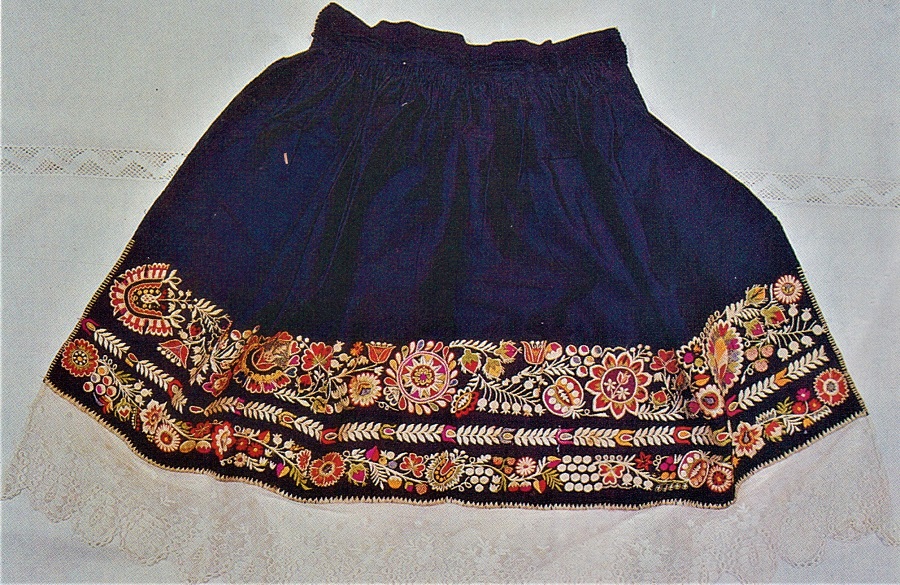 Another early folk apron from Ratiskovice with an entirely different version of the same floral motifs.
The motifs used in the older Ratiskovice aprons show stylized hearts, pomegranates (called "love apples"), tulips, roses, carnations, and a much-loved flower that the village ladies call "penny rose," depicted as 4 or 5 hearts arranged to form a flower.
Grapes were also a popular motif in this ancient wine-making region. Especially beautiful are the delicate traceries and leaf tendrils incorporated in the designs.
In more recent times, the designs became more realistic. The grapes, daisies, roses, and forget-me-nots which grew around the simple one-story cottages in Ratiskovice also bloomed on the aprons. The embroidered designs are orderly, but without strict repetition, lending credence to my great-aunt's contention that the artists never drew design on the material, they just sketched on paper and then started embroidering.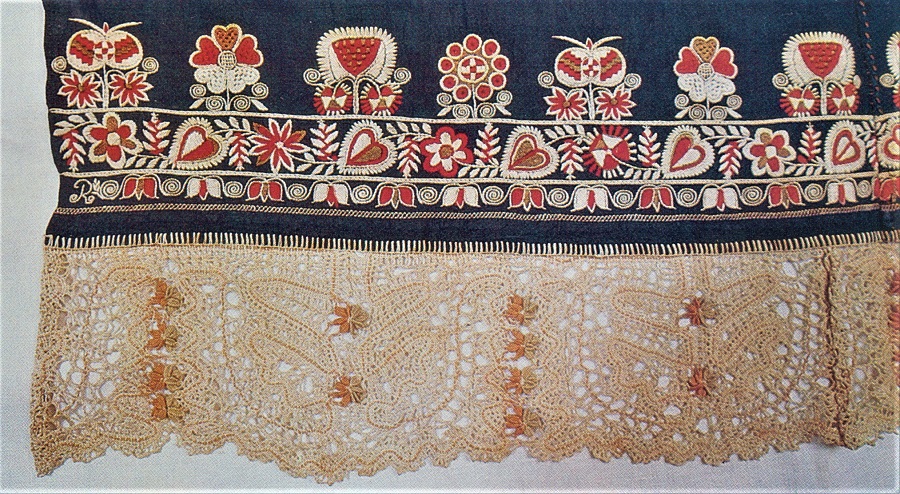 Cincebox's great-grandmother, Rozina Barina Zemek, stitched her initial into the corner of this example of the simple late-1800's-style folk apron. From left to right the motifs on the top row are: pomegranate (or love-apple), pennyrose, tulip and carnation.
I've watched another great-aunt, Julia Kral Zemek, sketch similar motifs on painted eggs. She never planned the design; it just flowed according to the shape of the egg. Of the thousands she created, she never made the same design twice, except for the one motif which appeared in every dozen, a pattern of twining leaves she called "eternity".
Labors of love
To choose the most beautiful apron is impossible since each one is a maker's masterpiece. The most touching one in our collection is one made during World War I. Embroidery thread and traditionally dyed
material were difficult to obtain, so roses and "wolf's teeth," and even the tie-dyed designs, were meticulously hand-painted on the fabric with oil paint.
The women of Ratiskovice may have been unlettered, but the motifs and designs and the needle skills they learned from their mothers reveal technical artistry of the highest order.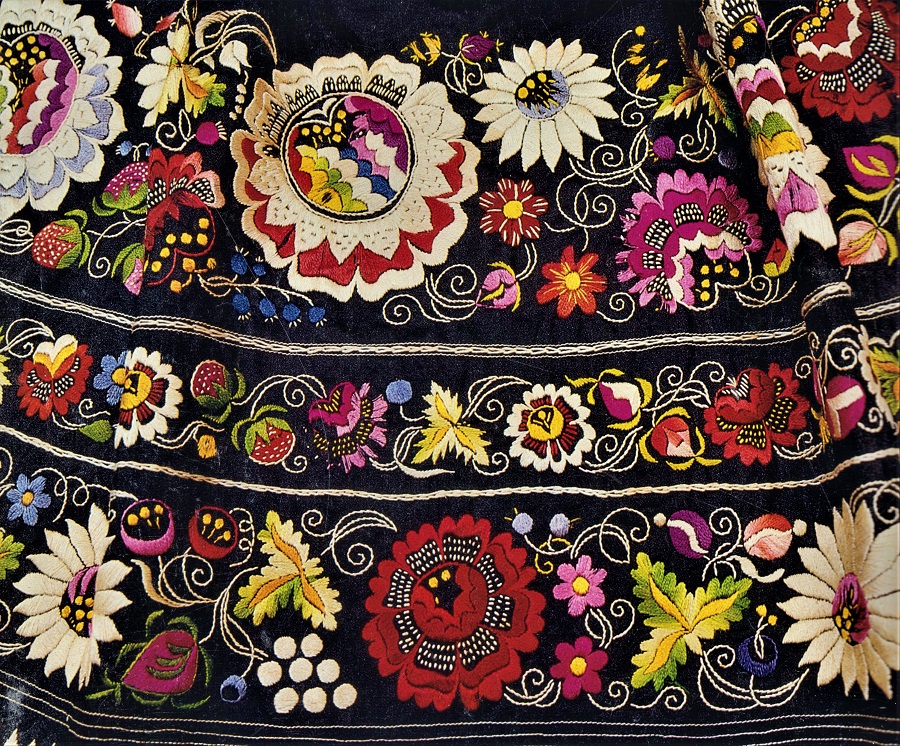 I am sure that the lives of these hard-working peasant women who lived in one-or two-room houses with dirt floors and, as my grandfather recalled, "ate potatoes all winter long." In addition to demonstrating their skill with the needle, the aprons of Ratiskovice brought the glory of summer flowers and a glimpse of waning sunshine into the long winters, and they continue to bring beauty, joy, and inspiration to all who see them today.
This article originally appeared in Threads Magazine, December 1990/January 1991. It was written by Helene Cincebox who for a long time edited and published Slovakia: A Slovak Heritage Newsletter, and has led craft and folk-art tours to Czechoslovakia. The last contact information for Helene was c/o Slovak Heritage Society, 151 Colebrook Drive, Rochester, NY 14617.
Yes, we know that you could spend hours, days, weeks and months finding some of this information yourselves – but at this website, we curate the best of what we find for you and place it easily and conveniently into one place. Please take a moment today to recognize our efforts and make a donation towards the operational costs of this site – your support keeps the site alive and keeps us searching for the best of our heritage to bring to you.

Remember, we rely solely on your donations to keep the project going.
Thank you in advance!
If you have not already subscribed to get TresBohemes.com delivered to your inbox, please use the form below now so you never miss another post.