Czechs are known for their comfort foods. Many of these are simple to make and yet very satisfying and delicious in a stick-to-your-ribs kind of way. One personal favorite is Česnečka, or what we could call a traditional Czech Garlic soup. With just a few ingredients, this is like the Czechs' version of French Onion soup but takes much less time.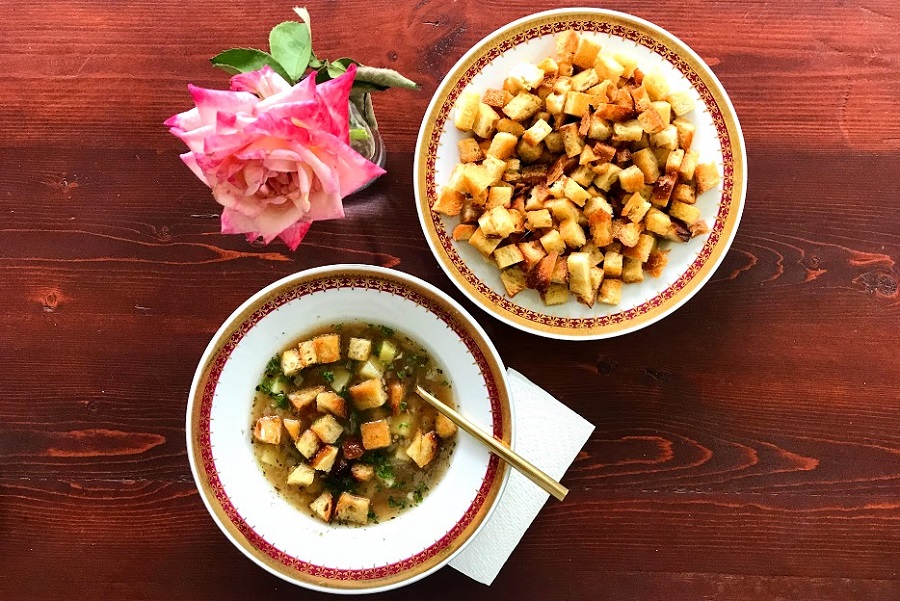 My mother would always make this when anyone in the house felt a cold coming on and guess what?
We never got sick!
This delicious soup is also known to work another kind of 'magic'…
Did you know that Czech Garlic Soup is also famous as a "hangover cure" for Czechs?
It is.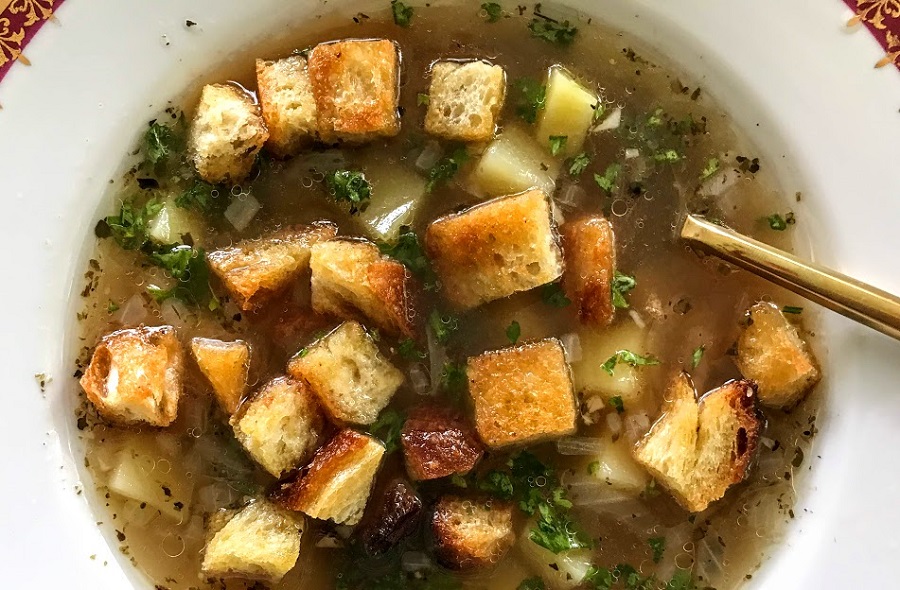 In fact, this soup is sworn by mothers and grandmothers alike to be the cure for whatever ails you.
Ingredients
2 Tbsp butter (or lard, bacon fat or duck fat)
1 onion, finely chopped
8 cloves garlic, minced (we use 10 or 12!)
6 cups stock, beef, chicken or vegetable (your preference)
2 large gold potatoes, peeled and chopped into very small cubes
1 tsp marjoram
1 tsp caraway seeds
salt and pepper to taste
Optional Garnishes: toasted rye bread croutons, finely chopped parsley and/or grated cheese (we like Emmental, Guyere or Swiss).
Directions
Mash together the garlic and salt, either with a mortar and pestle, or use a garlic press to crush the garlic and then mix in the salt.
Melt butter or lard in a medium saucepan over medium heat. Add garlic and onions and cook, stirring frequently, until softened, about 5 minutes.
Add broth and bring to a boil over high heat. Add potatoes, marjoram, and caraway seeds.
Reduce heat and simmer for 30 minutes or until potatoes are tender. Meanwhile, preheat oven to 350°F and place cubed bread pieces on a baking sheet. You may drizzle with some fat or olive oil to taste. Bake until they are a nice golden brown color, approx. 8 to 9 minutes. Remove from oven and set aside until the soup is done.
Ladle soup into a nice wide bowl.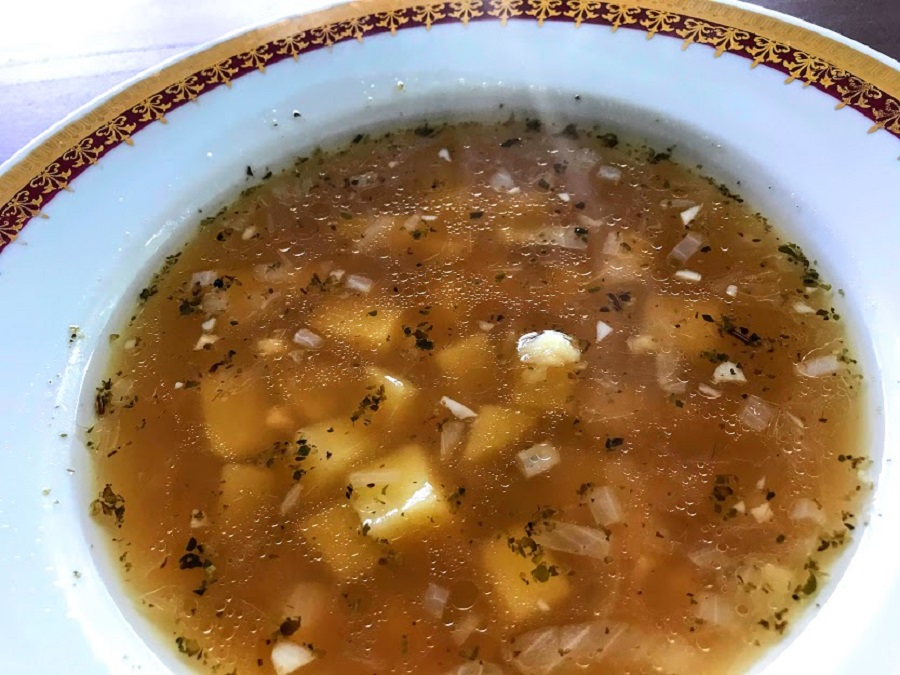 Add salt and pepper to taste.
Place croutons in to float and sprinkle with parsley and/or cheese and serve.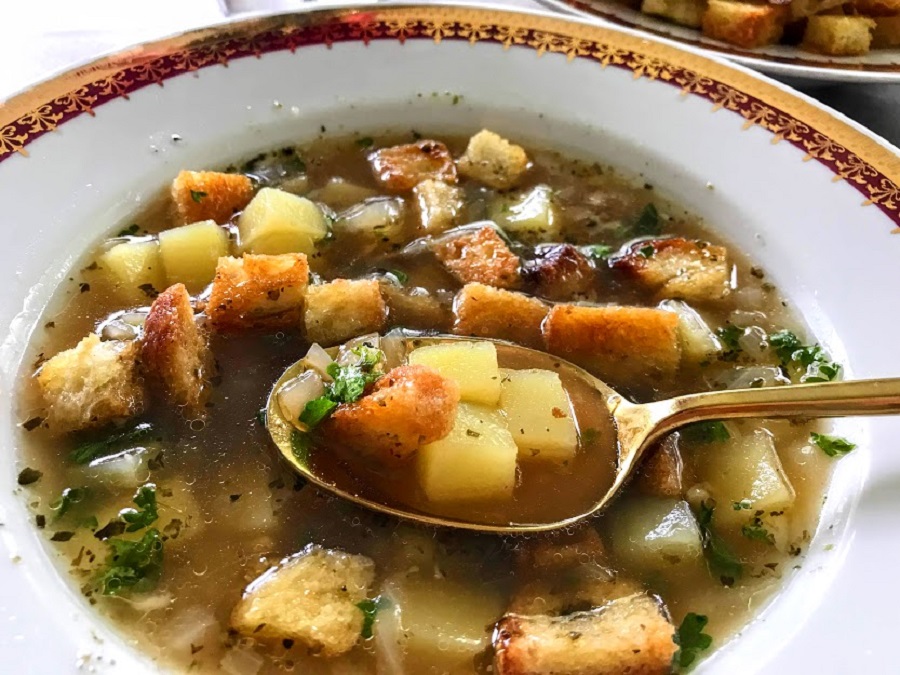 Meanwhile, if this is not garlicky enough for you and you like lots of garlic, you can also add add 3 or 4 crushed garlic cloves into the pot of soup just before serving.
The recipe for our Czech Garlic soup is light and yet very filling and yet it certainly tastes rich and comforting.
Ah… the best kind of soup! A cure-all and you'll probably keep the vampires away as well.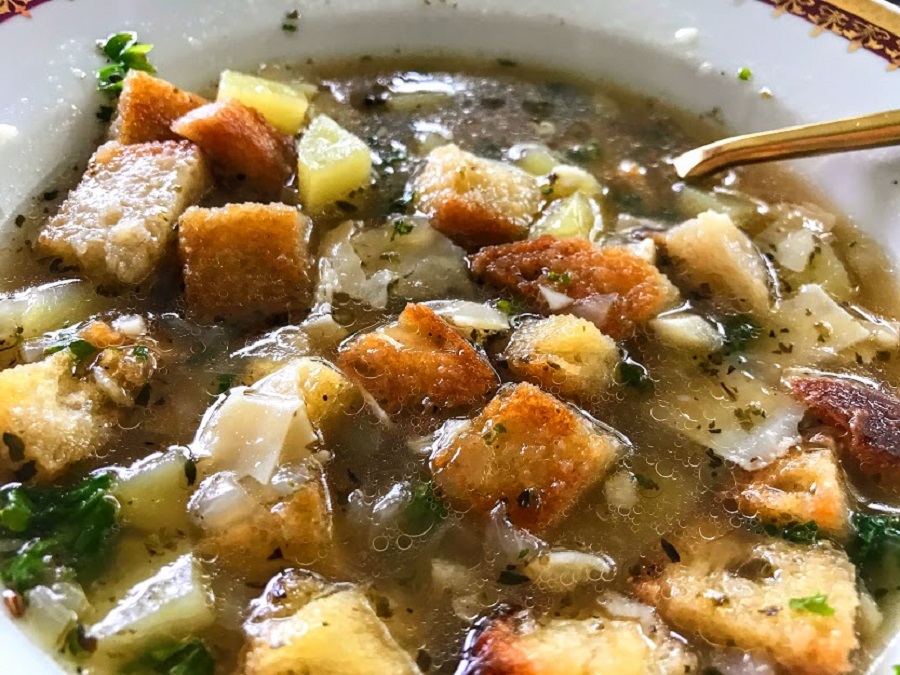 Dobrou Chut!
Thank you for your support – We appreciate you more than you know!
We know that you could spend hours, days, weeks and months finding some of this information yourselves – but at this website, we curate the best of what we find for you and place it easily and conveniently into one place. Please take a moment today to recognize our efforts and make a donation towards the operational costs of this site – your support keeps the site alive and keeps us searching for the best of our heritage to bring to you.


Remember, we rely solely on your donations to keep the project going.
Thank you in advance!
If you have not already subscribed to get TresBohemes.com delivered to your inbox, please use the form below now so you never miss another post.