A větrník is a delicious traditional Czech dessert. Similar to the French eclair or the Italian profiterole or even a St. Joseph's Zeppole, this small rich and creamy treat is at the heart of many people who have had the chance to taste it.
Made from a Choux pastry which is a light and airy dough that originated in the sixteenth century in France under the reign of Queen Catherine de' Medici, this light and airy dough is also used to make popular desserts such as beignets, churros, and French crullers.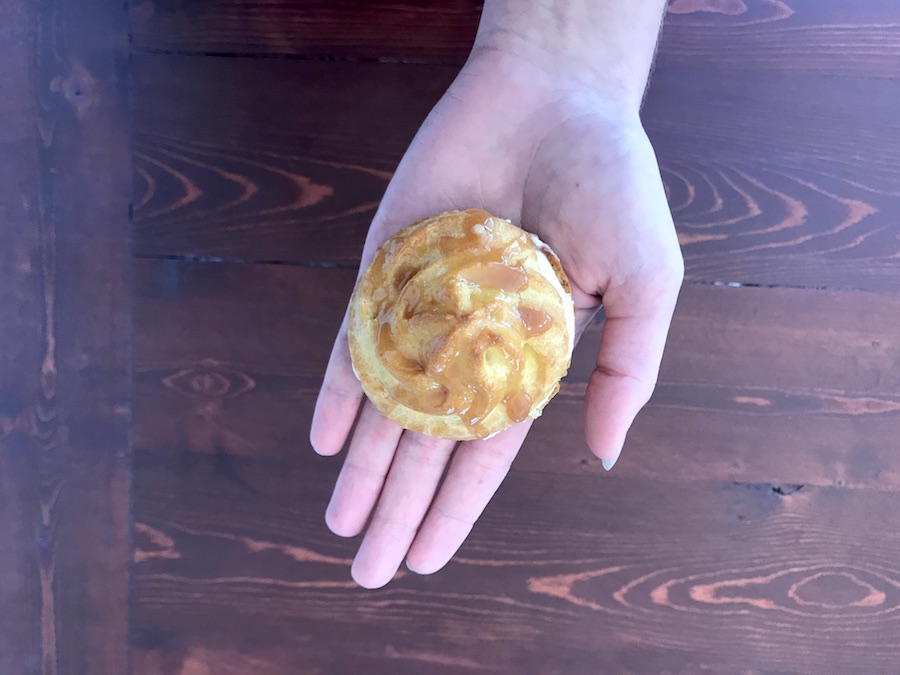 The French version of the original pasty made by the Queen's chef was recreated, and evolved through the years to make many different kinds of French cream-filled choux pastries. And just as with many great things, the choux pastry spread across Europe like wildfire, with different variations in each country.
They became especially popular in Italy, Germany, Slovenia, and the Czech Republic.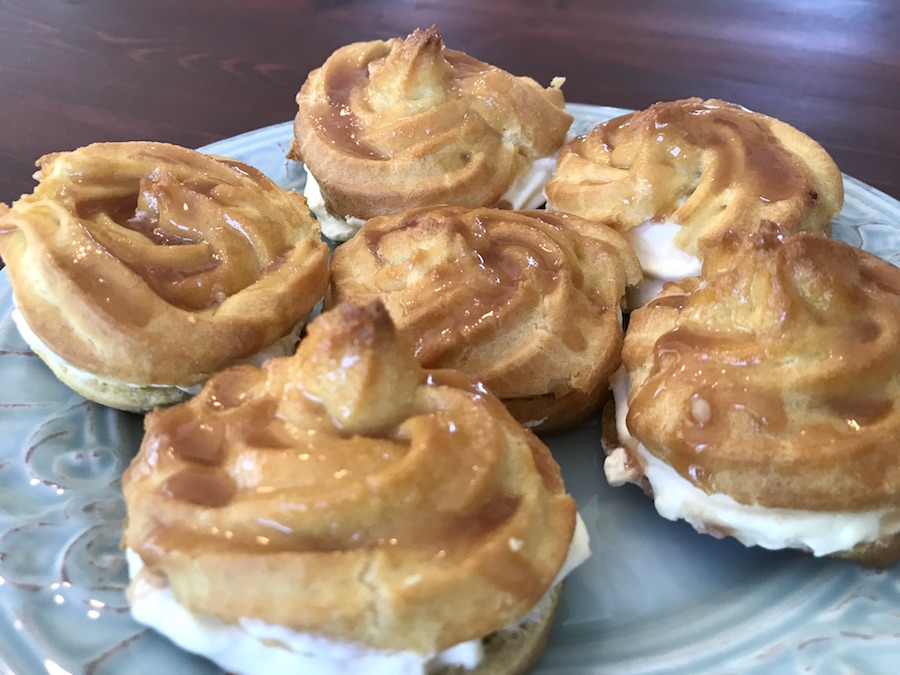 The větrník is the Czech take on a any of the desserts mentioned above.
It is delicate, and with a mixed filling, it has just the right amount of lightness with creaminess. We love pairing our větrníks with berries or fruit to give them an even fresher taste.
Inside, the větrník is filled with a vanilla and caramel cream. Some versions of the větrník substitute caramel with a coffee or rum cream, but caramel is classic. On top, the pastry is dipped in a caramel glaze and sometimes garnished with a spot of whipped cream.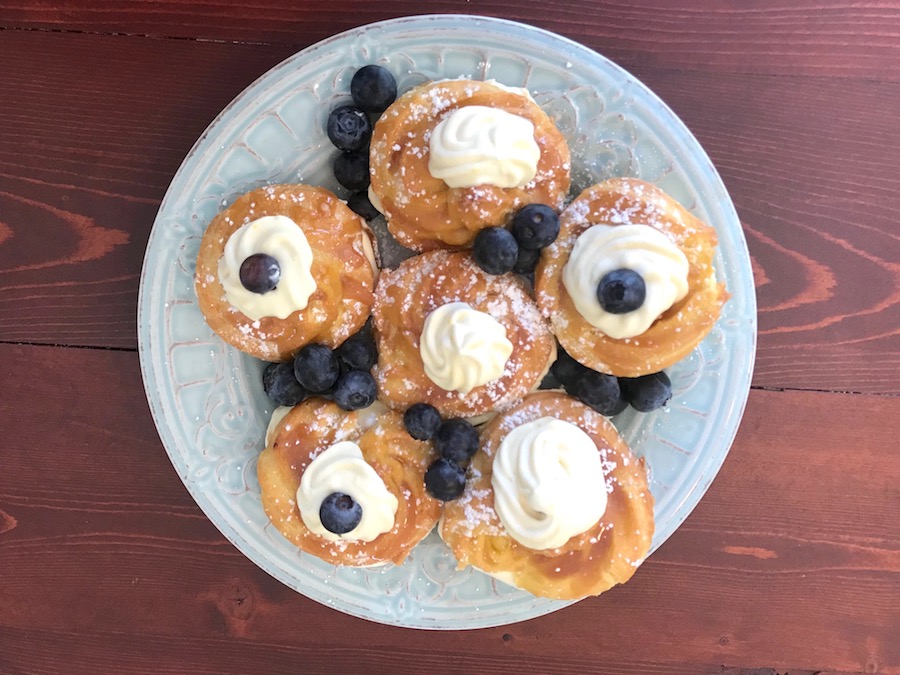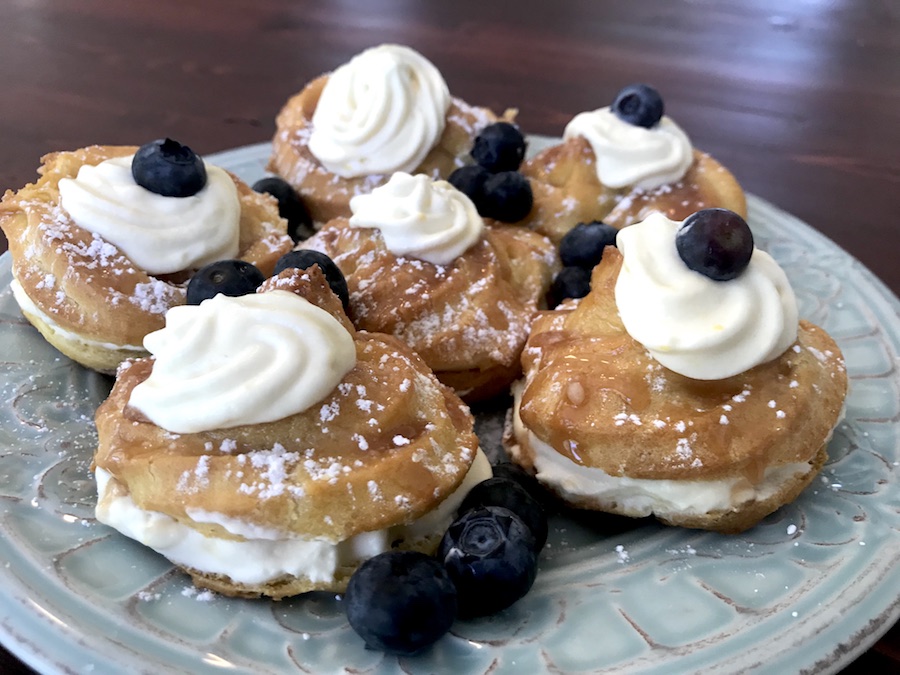 Větrníks sometimes go mistaken for a simple creampuff because of their cone shape and cream filling, but their unique filling and unmistakably Czech flavor makes for probably one of the most authentic and delicious traditionally Czech pastries sold at most pastry shops in Prague.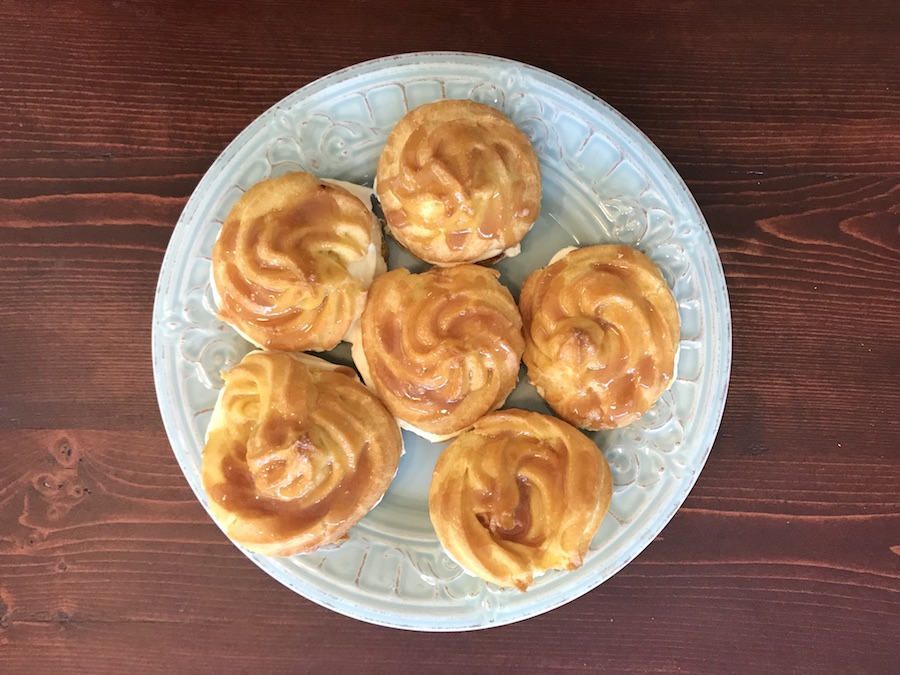 Ingredients
For the Pastry:
1/2 Cup Water
1/2 Whole Milk
2 1/2 Cup Sifted Flour
1 Stick Butter
4 Large Eggs
For the Filling:
1 1/2 Cups Vanilla Pudding
2 Cups Heavy Whipping Cream
1/4 Cup Sugar
1/4 Cup Powdered Sugar
3 Tbs Whole Milk
Directions
For the Choux pastry:
Before starting the recipe, sift your flour into a bowl, prepare a baking sheet with parchment paper and preheat oven to 450F.
Bring water, milk, and butter to a boil in a small saucepan. Remove from heat and add all flour, mixing with a spatula. Then return the pan to the stove and cook on medium heat until the mixture starts to stick together and detach from the pan, but not long enough to burn.
Transfer mixture into a bowl and mix with the spatula, adding in one egg at a time until all of the eggs are combined. Immediately transfer your dough into a piping bag with a star shaped tip and begin forming circular cone-like shapes.
Once you put your Choux in the oven turn the temperature down to 350F and let bake 25 minutes (do not open the oven in this time). After 25 minutes open the open to release any moisture and then close and let bake 3 more minutes. Allow your Choux to cool fully before cutting.
For the filling:
Warm 1/2 of the heavy whipping cream. In a pan, put equal parts sugar and water and caramelize, remember to mix otherwise sugar will stay granulated. Once an amber color occurs, add the hot cream and mix well. Refrigerate this mixture overnight.
The next day, whip the remaining 1 1/2 cups cream until it becomes stiff. Divide the whipped cream in half. Fold one half into the caramel you made the night before, and the other with the vanilla pudding which you can either buy from the store, for make homemade (which is what we did). Just make sure the pudding has a strong vanilla favor.
For the glaze:
Caramelize the sugar just like you did for the cream, but instead of using heavy whipping cream use the 3 Tbsp. milk. Remove from heat and mix in the powdered sugar until smooth.You might have to add more water.
Slice the pastries in half and pipe the pudding mixture onto the bottom half. You can be as generous as your palette allows here. Then, once you are done with the pudding, pipe a smaller amount of the caramel whipped cream into the center. Close the pastries and use a pastry brush to evenly distribute caramel to the top.
If your caramel hardens while you are preparing your pastries, just heat it over low heat to re-melt. Make sure to fill your pan with water after to avoid hardening and sticking of the sugar.
After this, you can top with powdered sugar, more whipped cream, fruit, or anything your heart desires. But a true Czech will tell you that you need nothing more than the sweet caramel topping. Keep refrigerated until ready to enjoy!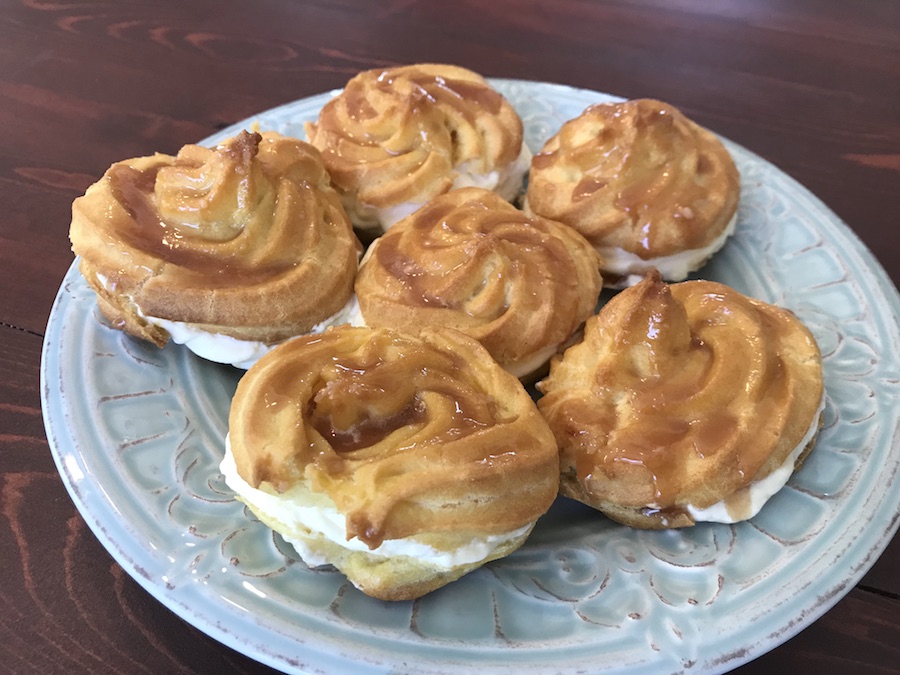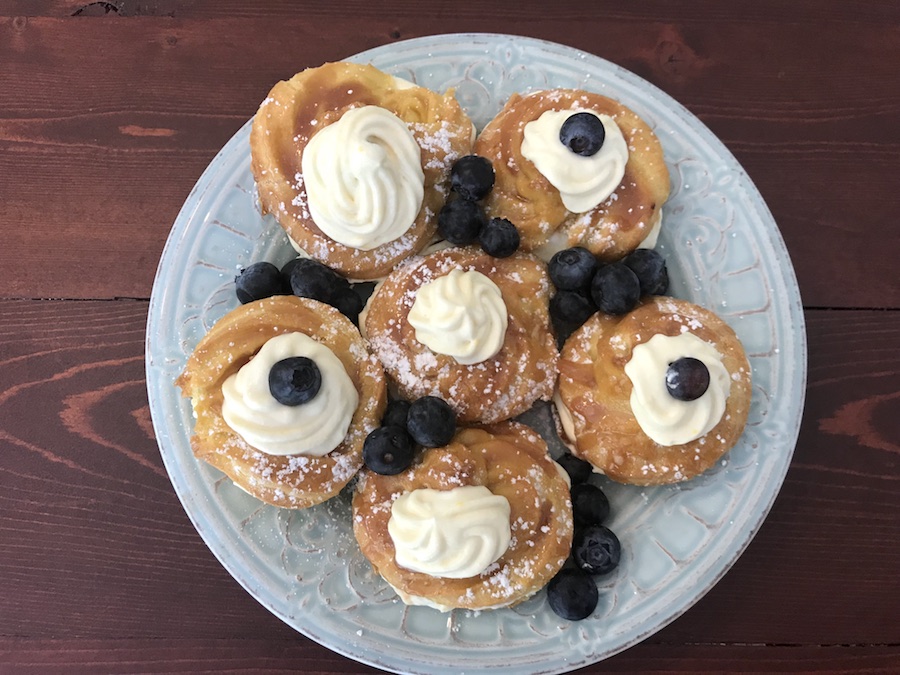 If you have not already subscribed to get TresBohemes.com delivered to your inbox, please use the form below now so you never miss another post.
---
Remember, we rely solely on your donations to keep the project going.
Become a friend and get our lovely Czech postcard pack.