Yes, it is true. Talk to any old Moravian grandmother and she'll tell you that the Wallachian delicacy known as Valašský frgál was originally an unsuccessful koláč, a mistake.
Europeans are proud of their gastronomic heritage and culinary jewels across Europe are distinctly married to their citizens; Russia has its caviar, France has its champagne, Italy has its pasta, and the Wallachian region of the Czech Republic has its frgály.
Moravian Wallachia is a mountainous region located in the easternmost part of Moravia in the Czech Republic, near the Slovak border. This is where the Valašský frgál originated. These days, the delicious pastries are exported all over the world.
(Note: My attempt always ends up like my koláče, higher in the middle than on the sides! But it still tastes good. Anyone have any insights for stopping this from happening? If so, leave them in the comments section below.)
A baker of frgály, Jana Kasalová says, "We export them to Slovakia, they like to have them in Poland, Germany and Austria. But people have also tasted frgály in Asia, and even in Australia or America. And they have always been successful."
In Wallachia, frgály began spreading their sweet aromas about 200 years ago, when they were prepared for the years biggest holidays, feasts, festivals and weddings.
Their name came about completely as a new term for a well baked mistake. Milena Habustová of the Wallachian Museum in Rožnov pod Radhoštěm says, "When I first carried out my first research into the Wallachian heritage many years ago, I asked the local women about the frgály. They told me with indignation that what was prepared was koláče or vdolky…"
Which, by the way, translate in English to pies and muffins, but that is not even close. A koláč is more like what Americans know as a danish and a vdolka is more like what Americans would recognize as a filled donut.
But back to the frgály…
The word itself denotes a form of slang that something is deformed, mangled, messed-up, a mistake. In other words,  frgály were orginally the koláče and vdolky whch didn't turn out right and did not make the cut for the holiday table. It was a badly baked pie, or did not have a nice round shape.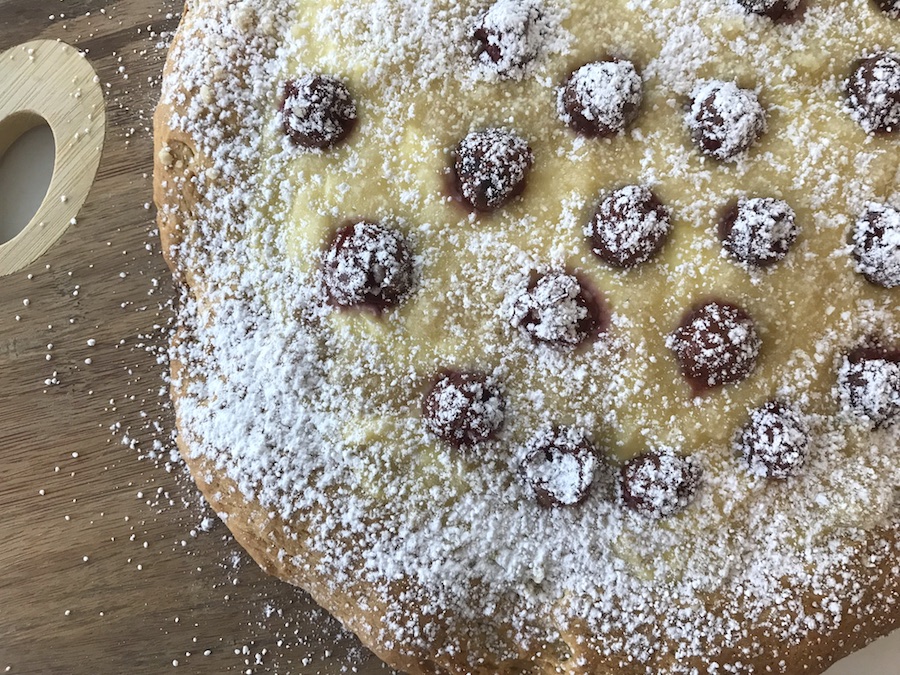 Originally, this Wallachian pastry was also called a pecák or lopaťák.
They used the name lopaťák because it is a "Koláč velký jako lopata", That means a pie (think Danish) as big as a shovel and thus their name is derived from the wooden shovel that puts the cakes into the furnace.
And perhaps the name of the "pecák" is derived from the oven since a pec translates to oven. They are so big, they fill the entire pec!
These days the cake is always made in a large round shape and customarily with just one filling, though a search on Pinterest will show hundreds of photograhs of people getting artsy and making them from a varied cornucopia of combined flavors in the cylinder.
The oldest one was reportedly made with dried pears. But soon plums, and poppy seeds also became common. As this was a special food, you needed quite a bit of time to prepare the dried fruits and it was a demanding job. It required not only locating the high quality dried pears, but also enough time to soak, cook, cleanse, smooth and soften them. Tvaroh or curd(a type of farmer's cheese) was harder to come by and was not as common as the fruit varieties.
In Wallachia, they were also made with cabbage. But the pastry was never made salty. Instead, it remained a sweet dough with a sweet-filled filling, and covered with a sweet crumb over a sweetly cooked cabbage blend. When seasons were harsh and harvests limited, at times when fruit was not produced, then carrots, sugar beet or turnips were used on the frgál.
These days they can be made with the finest of blueberries and apricots, and locals will say that those two make them taste at their best. But blueberries were a rare delicacy back then when peasants had to wait for the times when the forests would abound with blueberries. (So much that the other animals were not so straved they ate them all!)
And 200 years ago, apricots did not grow at all in the region, so those are also a new addition, as are nuts. These days they can be made with a variety of different fillings, and there is always a rich, crunchy, crumbly mess on the top.
The dough needed that strong arms of farm working women because it needed to be processed well. And after the initial rise, it required a talented set of hands to form out to the sides while maintaining a strong middle section.
Of course, back then they also had wonderful clay ovens that made a difference in how they came out. Think of a pizza baked in a pan versus a pizza baked in a wood fired oven and you'll know what I mean.
All of that makes me wonder how this ever came about as a mistake!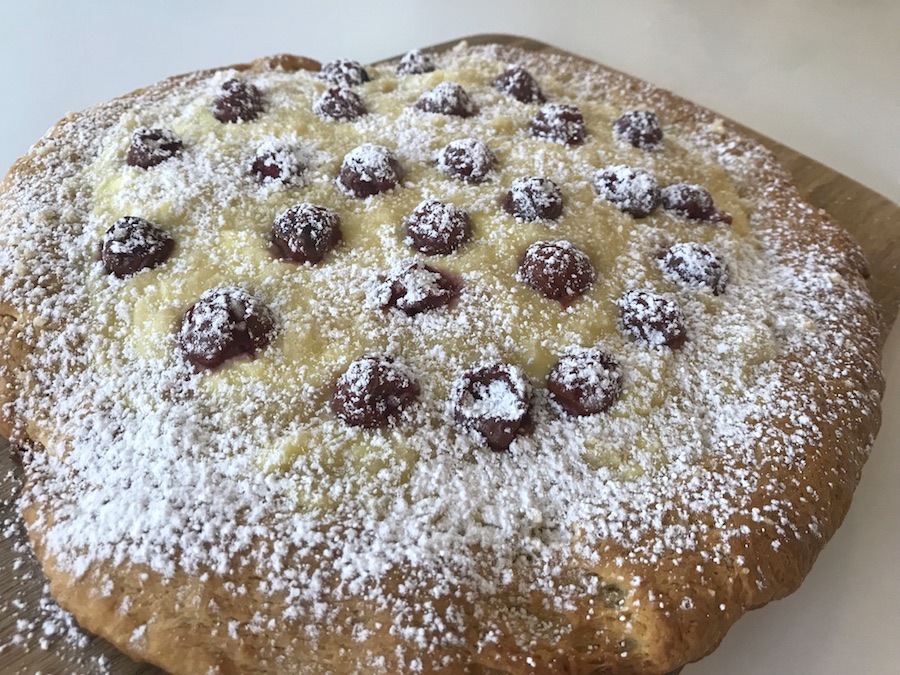 Ingredients
Dough
1 cup milk
1 packet instant yeast
1 stick melted butter
4 cups flour
2 tablespoons vanilla sugar
3/4 cup sugar
3 egg yolks
Filling
3 cups ricotta
1 egg
2 tablespoons sugar
Fruit
Directions
In a small sauce pan, heat milk till it is just warm, put into a bowl with 2 tablespoons vanilla sugar and one package of instant yeast and mix.
While you wait for the yeast to rise, you can make the filling. For this all you have to do is combine the ingredients (except the fruit) until smooth. You can use more or less sugar depending on how sweet you would like your Frgál to be.
After that you combine the flour and sugar in a large bowl, mix in the risen yeast and 3 egg yolks, then lastly the melted butter. Knead the mixture for about 15 minutes, the dough should be pretty wet but not so sticky that it is unmanageable.
Set the bowl aside in a warm area and let rise for 1 to 2 hours. Once the dough is done rising, place it on a flour dusted surface and cut it in half, roll each piece into circles. The circles should be as smooth around the edges as possible and be about half an inch thick.
Transfer the circles onto baking sheets lined with parchment paper and using your fingers, press down the center of each to create a rim around the edge. Starting from the middle, fill the dough with the ricotta filling and garnish with desired fruit.
If you'd like you can also add a crumble, for this all you need to do is combine about 1 tablespoon butter with equal amounts flour and sugar and mix until crumbly texture is produced, then sprinkle across the top of the Frgál.
Bake on 350 for 20 to 25 minutes. Top with powdered sugar.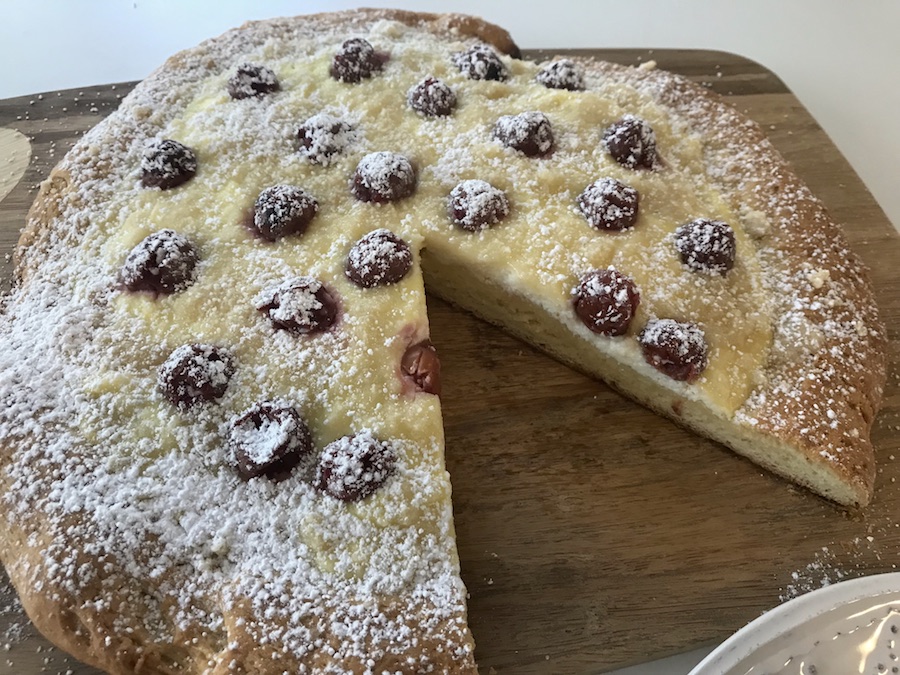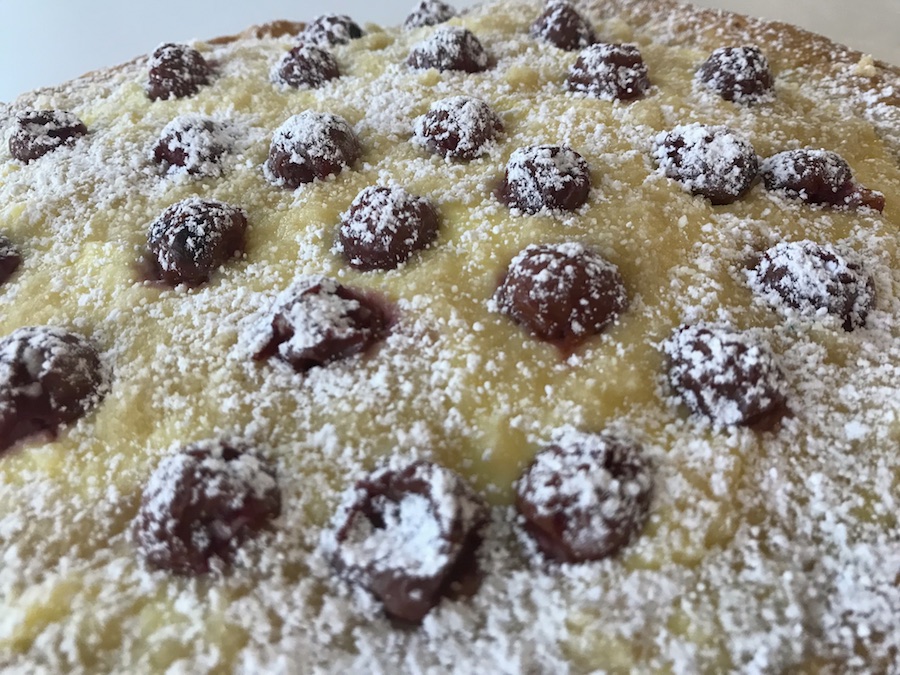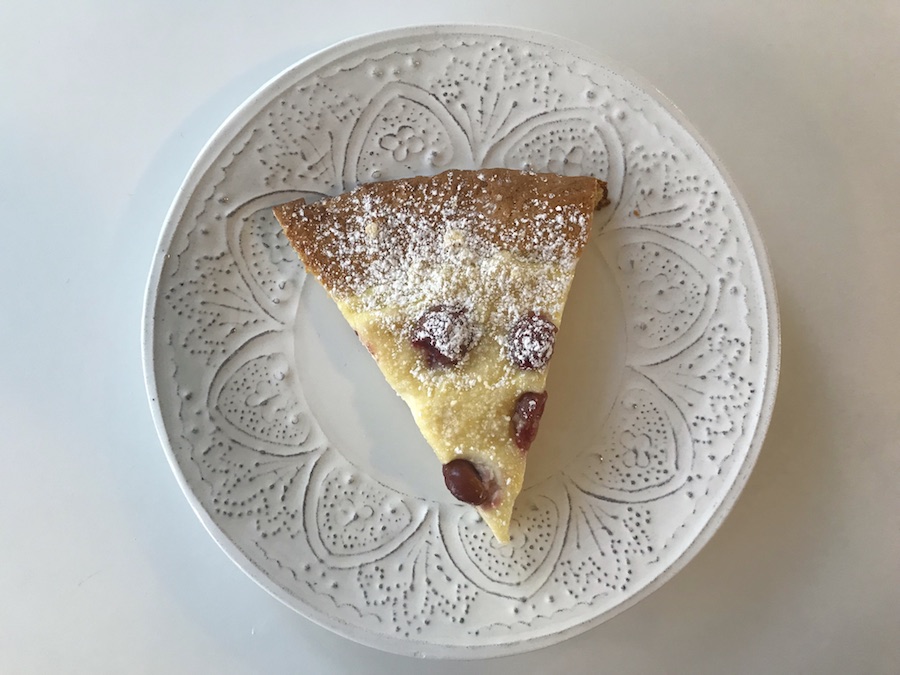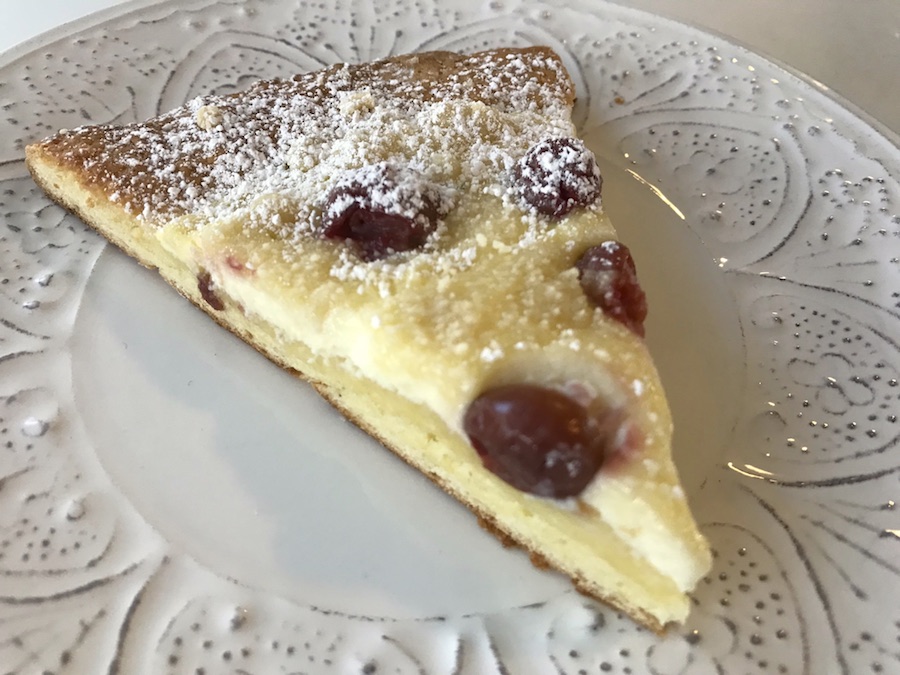 If you have not already subscribed to get TresBohemes.com delivered to your inbox, please use the form below now so you never miss another post.
---
Remember, we rely solely on your donations to keep the project going.
Become a friend and get our lovely Czech postcard pack.