Because we posted about the numerous benefits of horseradish not too long ago, we have decided to make and share his old Bohemian horseradish soup recipe with you today. Called Staročeská křenová polévka in our native tongue, it is quite simple to make.
Obviously, one of the main ingredients is horseradish.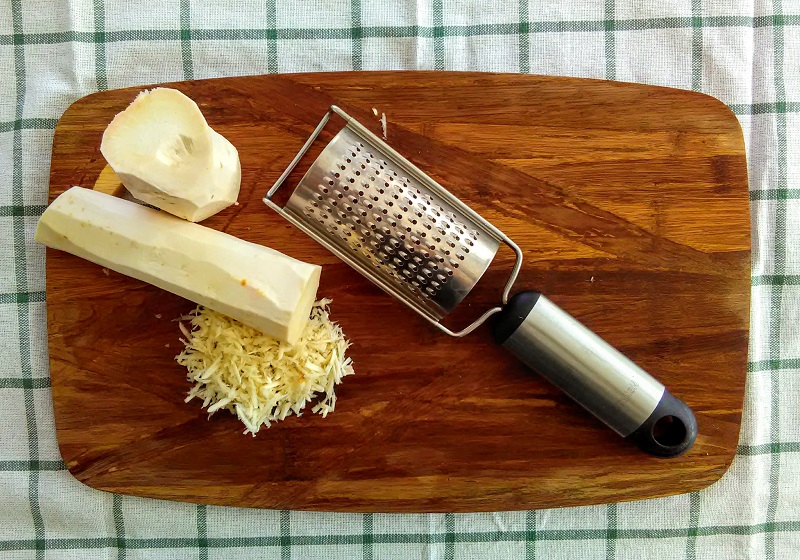 Ingredients
1/2 pound sliced smoked pork shoulder or 3 large smoked ham hocks
4 large potatoes, cut into small cubes
1 carrot, sliced
3 Tbsp. grated fresh horseradish (or to taste)
1/2 cup sour cream
1/2  cup heavy cream
2 tsp. marjoram
salt and pepper to taste
A roux made from 1 Tbsp. of unsalted butter and 2 Tbsp. of plain white flour.
Directions
Make the smoked stock by placing the pork (shoulder or hocks) into a large stockpot and adding 8 cups of water. Bring to a simmer over medium-high heat. Reduce the heat to medium and let simmer, partially covered, until the stock develops a strong, smoked pork flavor, usually 2 to 3 hours.
Strain pork and set aside. You will be adding this meat back in later. Or if you prefer, you can reserve this meat for another use and slice 1 Kielbasa aka Polish sausage into the soup instead. It looks nicer with the Polish sausage, but tastes better with the smoked pork shoulder. The ham hocks I personally prefer in split pea soup. In other words, it is a matter of personal taste.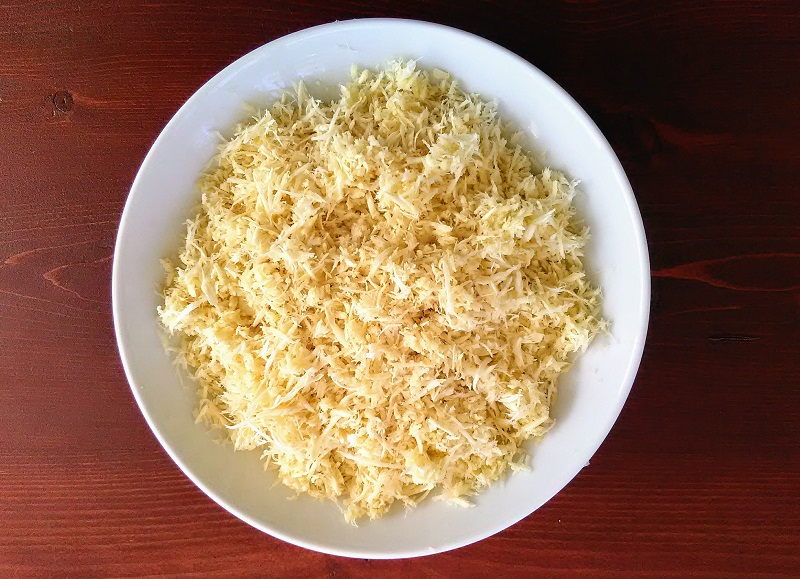 Add the potatoes, carrots and horseradish to the smoked broth and cook for 30 minutes.
Then add the chopped smoked meat or sausage, and marjoram.
Make the roux and when it is done, stir in the sour cream and heavy cream, stirring constantly.
Add this mixture to the soup, cover and simmer for ten minutes.
Salt and pepper to taste and serve with a hearty bread or good crusty baguette.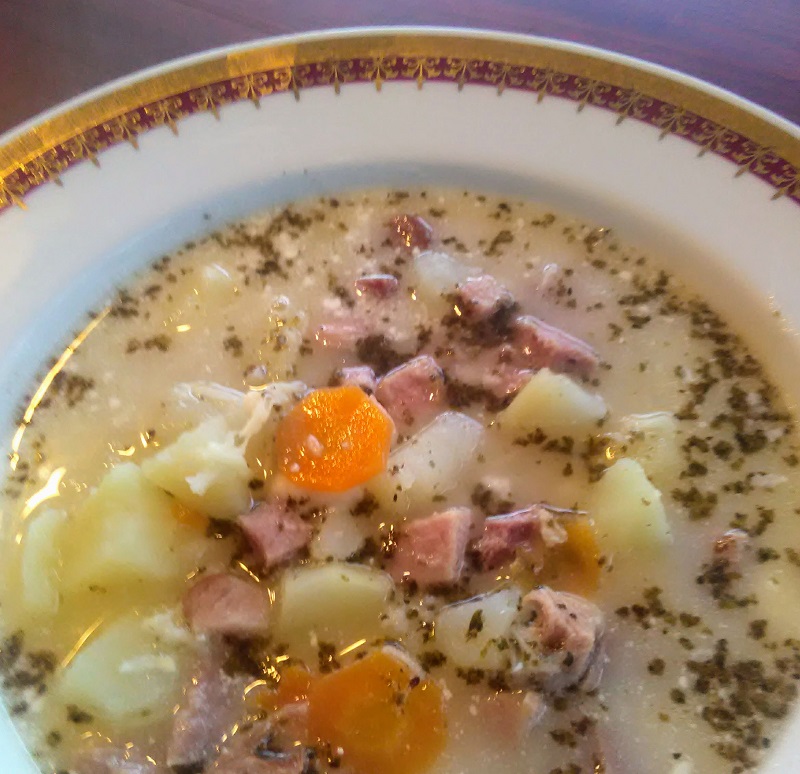 This soup is very tasty, especially if you like horseradish!
A side note, the longer the horseradish cooks, the milder the flavor.
Next time, I will put it in about 15 minutes before the soup is done to get more health benefits and spicy taste!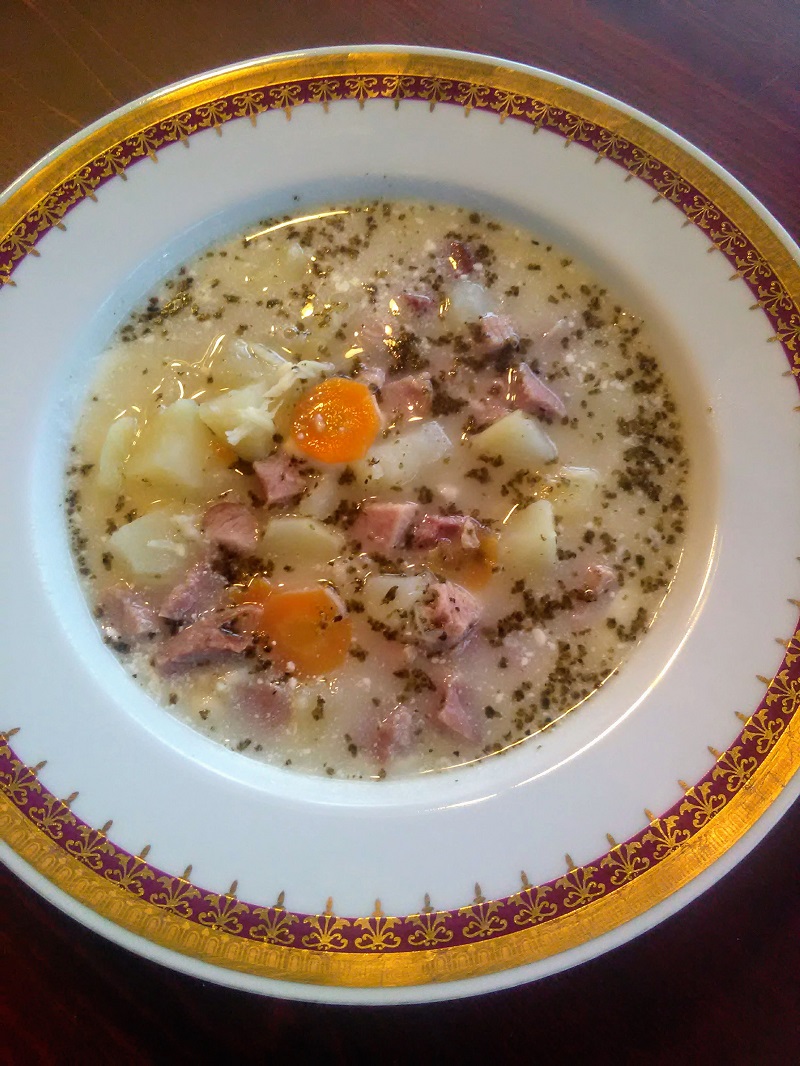 Dobrou Chut!
* * * * *
Thank you in advance for your support…
You could spend hours, days, weeks, and months finding some of this information. On this website, we curate the best of what we find for you and place it easily and conveniently into one place. Please take a moment today to recognize our efforts and make a donation towards the operational costs of this site – your support keeps the site alive and keeps us searching for the best of our heritage to bring to you.


Remember, we rely solely on your donations to keep the project going.
We appreciate you more than you know!
If you have not already subscribed to get TresBohemes.com delivered to your inbox, please use the form below now so you never miss another post.