Today I am proud to introduce you to 31 Bohemian, Moravian and Slovak writers you (probably) never knew existed. I was inspired to write this based on a book entitled České Album Spisovatelé which translates to Czech Album of Writers published in 1919 in Prague. Each of these individuals were born in the late 1800s and I was so amazed by their accomplishments and achievements I just had to share them with you.
1) Viktor Dýk
Viktor Dyk (31 December, 1877 – 14 May, 1931) was a nationalist Czech poet, prose writer, playwright, politician and political writer. He was sent to jail during the First World War for opposing the Austro-Hungarian empire. He was one of the signatories of the Manifesto of Czech writers. Dyk co-founded a political party and entered politics. He died at age 53, leaving his many poems, plays and writings.
Dyk's book Krysař (English: Rat-catcher) was the basis for a 2003 film of the same name by director F.A. Brabec. The film was shot in under 24 hours, leading to producers of the film claiming it to be a world record for the fastest-ever film shooting. The same book was also used by Jiří Barta in creating the base story for his 1986 animation The Pied Piper. Barta notes that it is Dyk's book which is the basis of the average Czech's understanding of The Pied Piper story.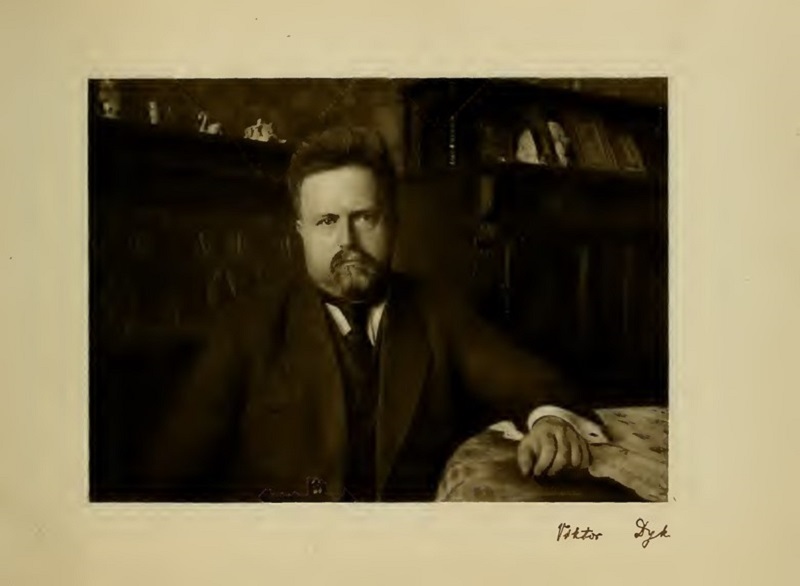 Source: https://en.wikipedia.org/wiki/Viktor_Dyk
2) Dr. Jiří Guth
Jiří Stanislav Guth-Jarkovský (January 24, 1861 – 8 January, 1943, Náchod) was a Czech sports promoter, secretary general of the International Olympic Committee (1919-1923) and co-author of the Olympic Charter. In the years 1900-1929 he was the chairman of the Czech and after the founding of the Czechoslovak Olympic Committee, co-founder and first chairman of the Czech Amateur Athletic Union, the chairman and editor of the Klubu turistů, Club of Tourists. He is particularly well-known as the author of publications about correct and decent behavior.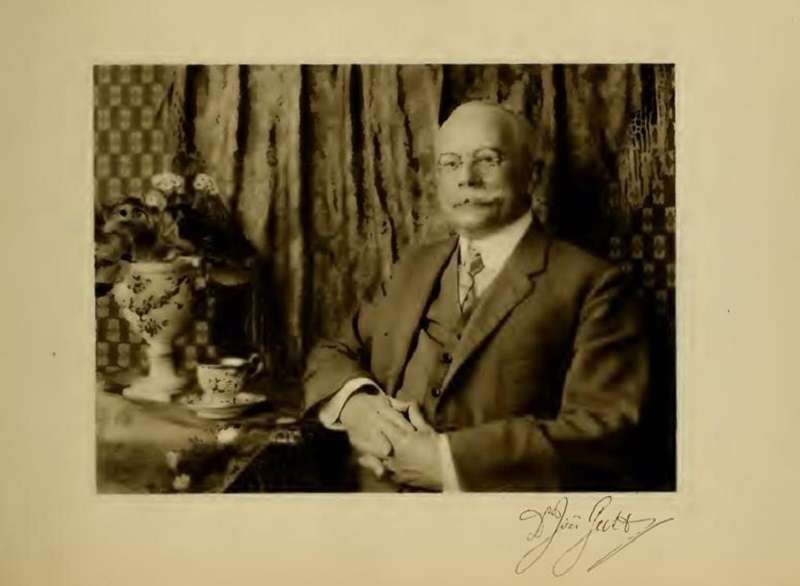 Source: https://cs.wikipedia.org/wiki/Ji%C5%99%C3%AD_Stanislav_Guth-Jarkovsk%C3%BD
3) Ignát Herrmann
Ignát Herrmann (12 August, 1854 – 8 July, 1935) was a Czech novelist, satirist and editor. He sometimes used the pseudonym Vojta Machatý, Švanda. The thirteenth child of a solicitor's copyist, he attended school in Hradec Králové, then in 1868 traveled to Prague to begin a career in retail. He worked for several companies, from 1873 for the publisher Otto-Verlag, for whom he became a courtroom reporter. From 1876 to 1878 he edited the satirical magazine Paleček; in 1882 he founded his own, Švanda dudák, which he edited almost continuously until 1930.
He worked for several years at a law firm before becoming, in 1885, editor of the Národní listy, for which he had been an administrator. From 1888 he was chairman of the "May Society" of Czech authors (Májovci). He edited the first edition (1892-4) of the complete works of Jan Neruda. His literary work was closely tied to his journalism, and mostly dealt with the personalities and life of Prague.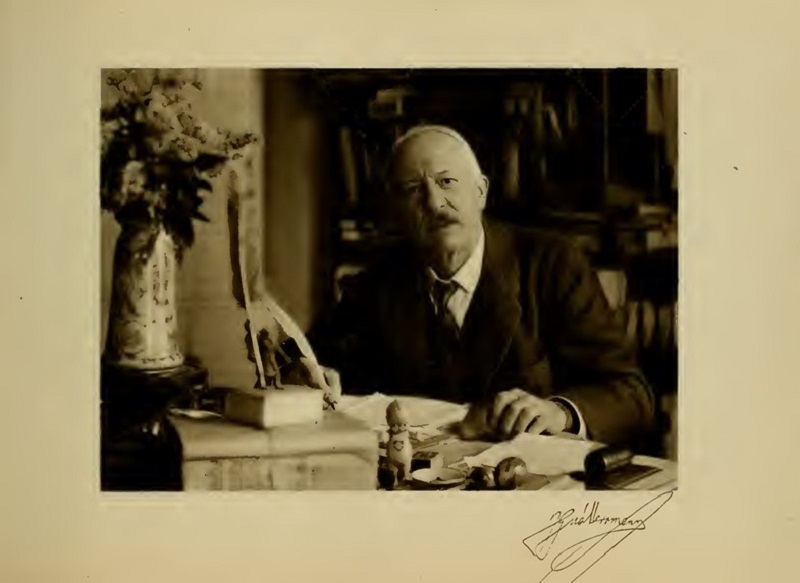 Source: https://en.wikipedia.org/wiki/Ign%C3%A1t_Herrmann
4) Adolf Heyduk
Adolf Heyduk (6 June, 1835 – 6 February, 1923) was a distinguished Czech poet and writer. Many of his poems were later adapted by Antonín Dvořák. By far the most well known and widely performed is the poignant and tender Songs My Mother Taught Me with its hauntingly exquisite setting, long considered a masterpiece in the repertoire of many renowned artists.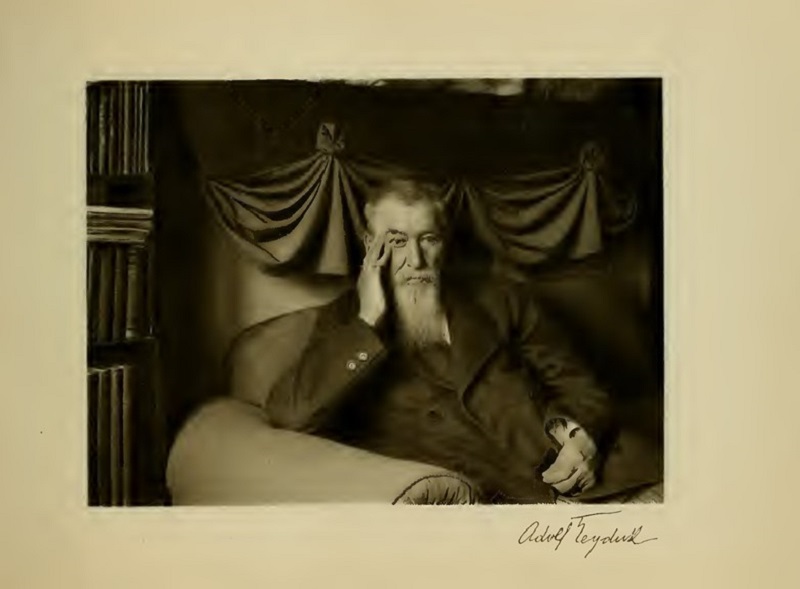 Source: https://en.wikipedia.org/wiki/Adolf_Heyduk
5) Hviezdoslav
Pavol Országh Hviezdoslav (2 February, 1849 – 8 November, 1921) was a Slovak poet, dramatist, translator, and for a short time, member of the Czechoslovak parliament. First, he wrote in a traditional style, but later became influenced by parnassism and modernism. Born as Pavel Országh in Vyšný Kubín (Felsőkubin), Orava County, Kingdom of Hungary, Austrian Empire, Országh became a Slovak patriot and then continued wroting his poems in Slovak until the 1860s. He was of noble origin. Hviezdoslav (a Slavic name, meaning approximately "celebrating the stars" and/or "Slav of the stars") was his pseudonym from 1875. His earlier pseudonym was Jozef Zbranský.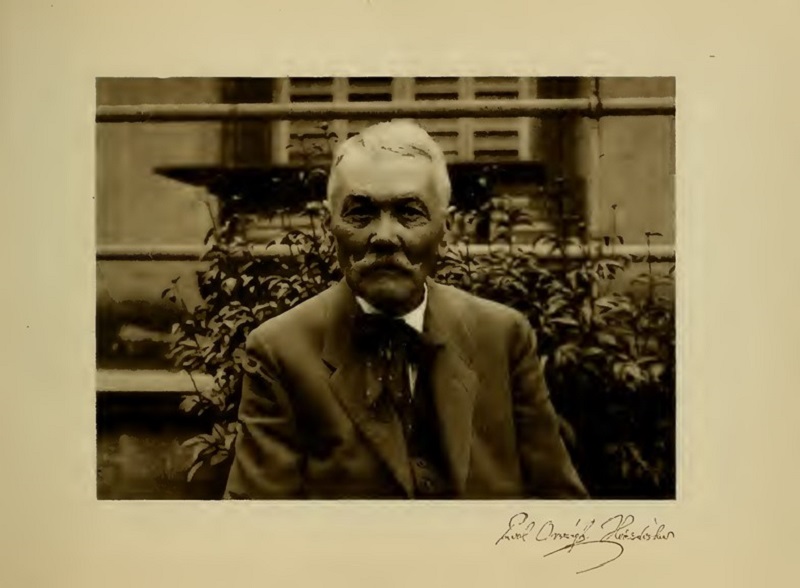 Source: https://en.wikipedia.org/wiki/Pavol_Orsz%C3%A1gh_Hviezdoslav
6) Alois Jirásek
Alois Jirásek (23 August, 1851 – 12 March, 1930, Prague) was a Czech writer, author of historical novels and plays. Jirásek was a high school history teacher in Litomyšl and later in Prague until his retirement in 1909. He wrote a series of historical novels imbued with faith in his nation and in progress toward freedom and justice. He was close to many important Czech personalities like M. Aleš, J.V. Sládek, K.V. Rais or Z.J. Nejedlý. He attended an art club in Union Cafe with them. He worked as a editor in Zvon magazine and was nominated for the Nobel Prize in Literature in 1918, 1919, 1921 and 1930.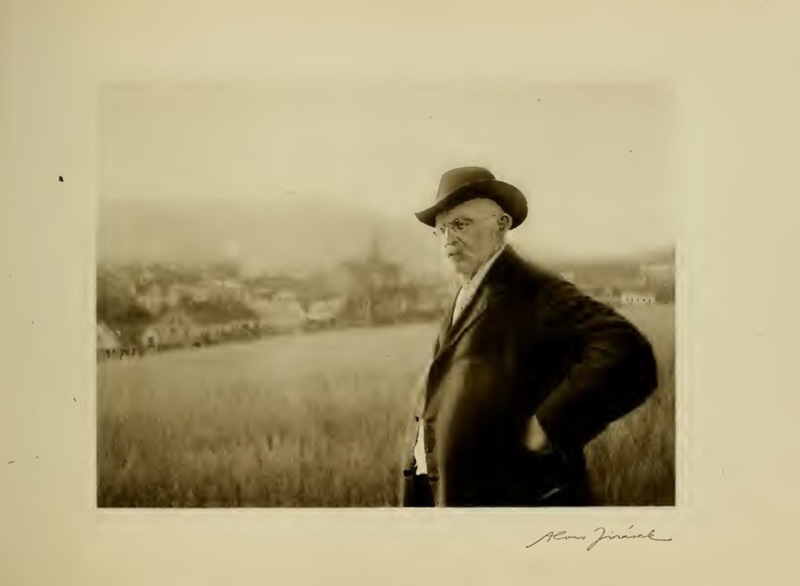 Source: https://en.wikipedia.org/wiki/Alois_Jir%C3%A1sek
7) Karel Klostermann
Kar(e)l Faustin Klostermann (13 February, 1848 – 17 July, 1923) was a Czech and Austrian writer. He wrote under the alias Faustin. He first wrote his works in German; later he turned to the Czech language and wrote novellas about the inhabitants of the middle Bohemian Forest (Czech: Šumava, German: Böhmerwald). This can be found in the collection V srdci šumavských hvozdů (In the heart of the Šumava). Some of his novellas are set in and around the town of Kašperské Hory. Some of his more popular works include The son of the free judge and Fist in stories.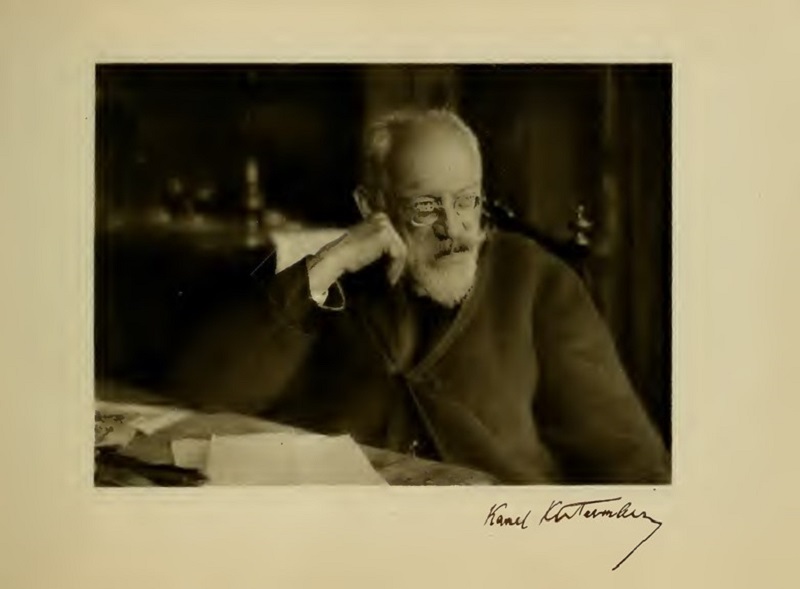 Source: https://en.wikipedia.org/wiki/Karel_Klostermann
8) Eliška Krásnohorská
Eliška Krásnohorská (18 November, 1847 – 26 November, 1926) was a Czech feminist author. She was introduced to literature and feminism by Karolína Světlá. She wrote works of lyric poetry and literary criticism, however, she is usually associated with children's literature and translations, including works by Pushkin, Mickiewicz and Byron. Krásnohorská wrote the libretti for several operas by Bedřich Smetana: The Kiss, The Secret, The Devil's Wall and Viola. In 1890, Krásnohorská founded the Minerva School in Prague, the first gymnasium for girls in the Austro-Hungarian Empire. Its language of instruction was Czech.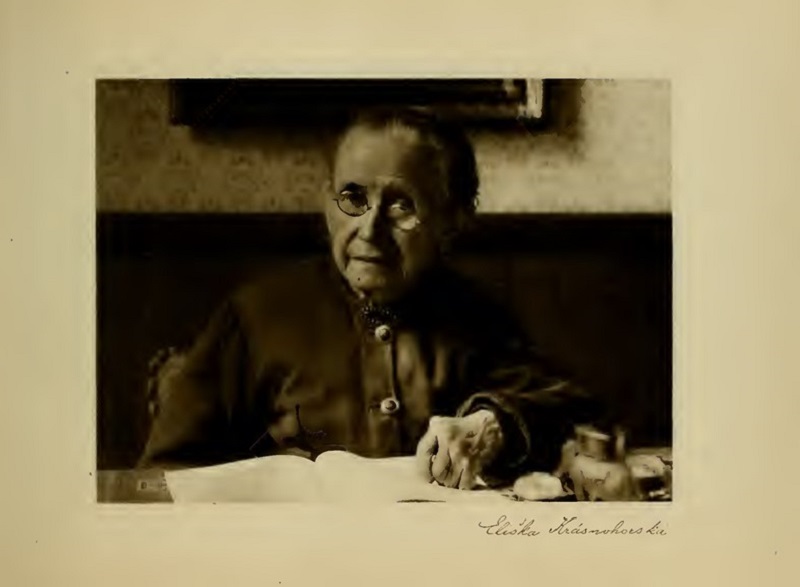 Source: https://en.wikipedia.org/wiki/Eli%C5%A1ka_Kr%C3%A1snohorsk%C3%A1
9) Frant. Kvapil
František Kvapil (15 February, 1855 – 19 October, 1925) was a Czech clerk, poet and translator, especially from the contemporary Polish literature. He studied philosophy at the Philosophical Faculty of Charles University in Prague, but did not complete his studies and later was educated in Paris. During his student years, he intensively devoted himself to translating from Polish authors, such as József Ignác Kraszewski's short stories and poems, or theater plays and the creation of his own poetry. In 1880, he married Božena Justová. In 1895 he became Secretary of the Czech Land Museum, after his retirement he devoted exclusively to literary and translation activities. He has also published a number of journal articles on Slavic literature.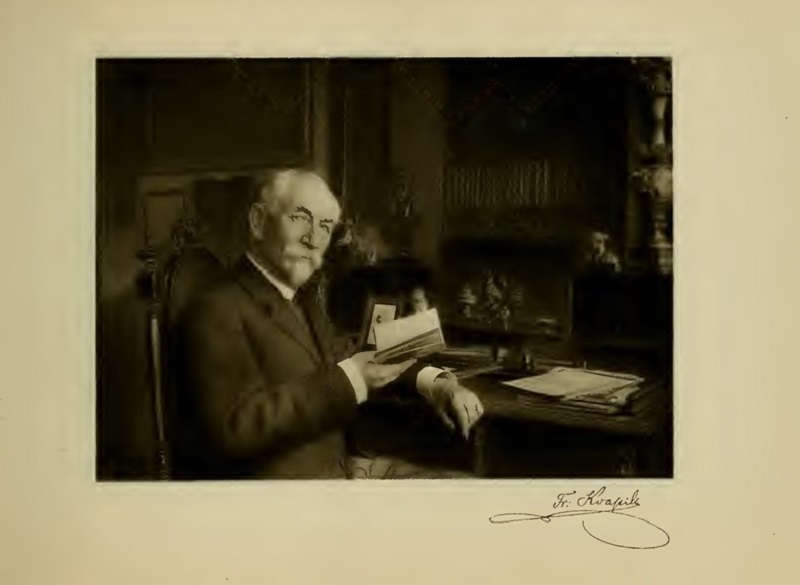 Source: https://cs.wikipedia.org/wiki/Franti%C5%A1ek_Kvapil_(b%C3%A1sn%C3%ADk)
10) Jar. Kvapil
Jaroslav Kvapil (25 September, 1868 – 10 January, 1950) was a Czech poet, playwright, and librettist. From 1900 he was a director and Dramaturg at the National Theatre in Prague, where he introduced plays by Anton Chekhov, Henrik Ibsen and Maxim Gorky into the repertory. Later he was a director at the Vinohrady Theatre (1921–1928). He wrote six plays, but is today chiefly remembered as the librettist of Antonín Dvořák's Rusalka. Kvapil was the principal author of the Manifesto of Czech writers of 1917, signed by over two hundred leading Czechs, favoring the concept of Czech self-government.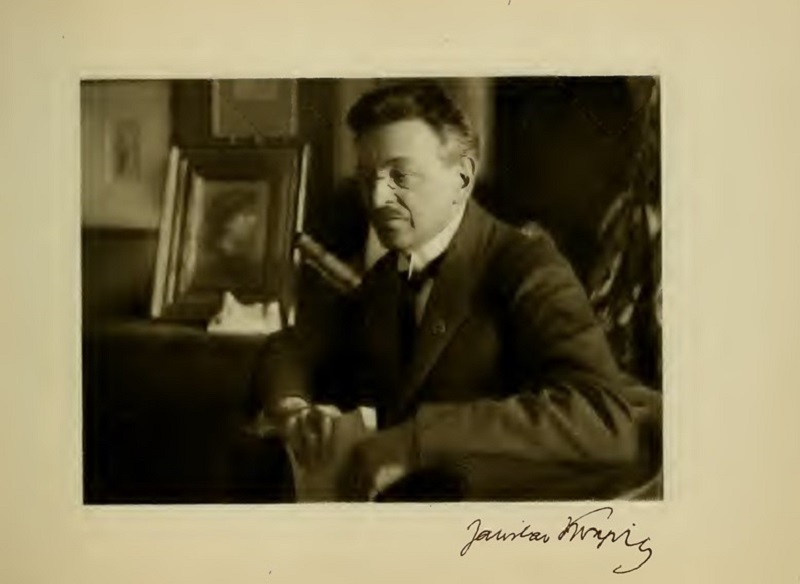 Source: https://en.wikipedia.org/wiki/Jaroslav_Kvapil
11) Karel Leger
Karel Leger (21 September, 1859 – 6 April, 1934) was a Czech poet, writer and playwright, civilian landowner in Kolín. He was famous for his epic poems and versed stories, set in his native land, in which he expressed his love for the homeland and the satirical critique of the small-town environment. He wrote prose as well as drama plays with little success. He is ranked among realists, with elements of romanticism and fantasy. Some works have been published under the pseudonyms Karel Lenský, Kryštof Červíček, Vlasta Veselá and Verus.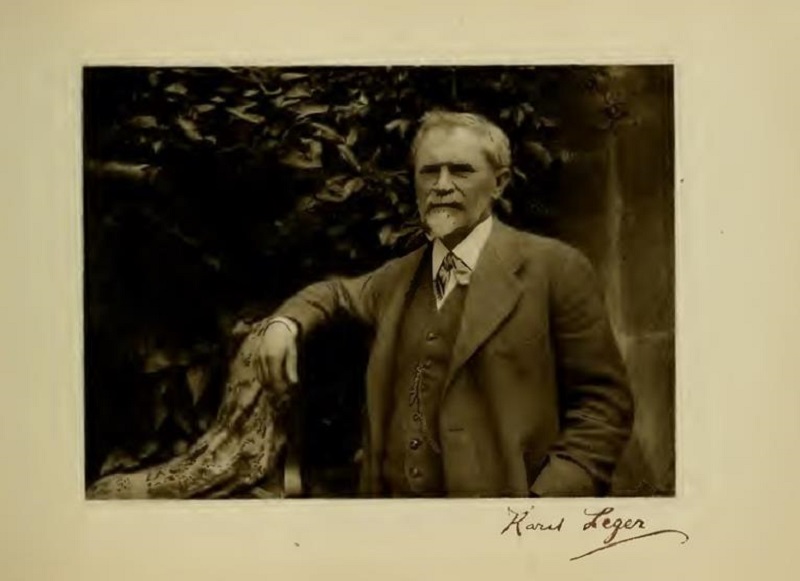 Source: https://cs.wikipedia.org/wiki/Karel_Leger
12) J. S. Machar
Josef Svatopluk Machar (1864 – 1942) was a Czech poet and essayist. A leader of the realist movement in Czech poetry and a master of colloquial Czech, Machar was active in anti-Austrian political circles in Vienna. Many of his poems were satires of political and social conditions. In the poetic cycle The Conscience of the Ages (1901–1921), of which Golgotha was the initial volume, he contrasted antique with Christian civilization, favoring the former. His Magdalena (1893, translated into English by Leo Wiener, 1916), a satirical novel in verse, concerns the treatment of women. Both Machar's use of colloquial diction and his skepticism greatly influenced Czech literature and public opinion. He was the father of Sylva Macharová, one of the first Czech nurses and first head of the Czech School of Nursing.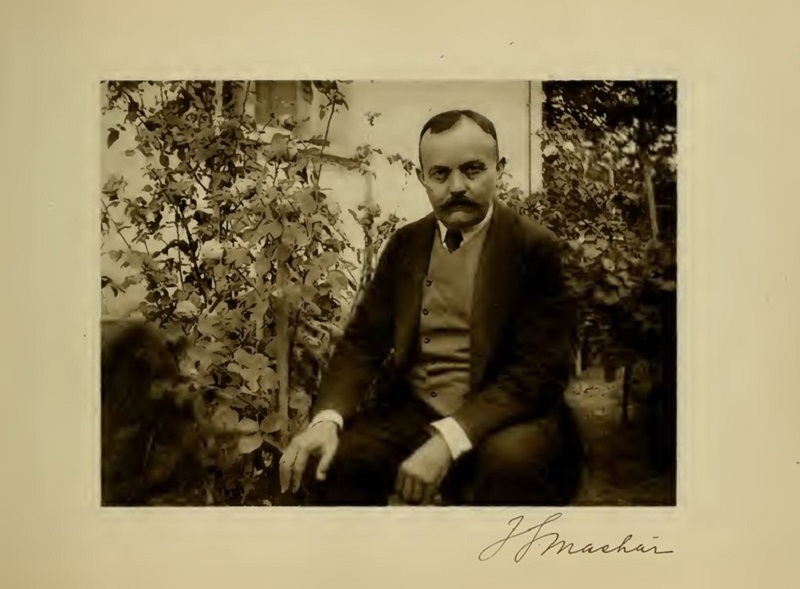 Source: https://en.wikipedia.org/wiki/Josef_Svatopluk_Machar
13) Gabriela Preissová
Gabriela Preissová, née Gabriela Sekerová, sometimes used pen name Matylda Dumontová (23 March, 1862 – 27 March, 1946), was a Czech writer and playwright. Her play Její pastorkyňa was the basis for the opera Jenůfa by Leoš Janáček, as well as a film by Miroslav Cikán. His earlier opera The Beginning of a Romance was also based on one of her stories. Preissová mostly wrote stories full of optimism and the joy of life idealizing village life. Her stories first appeared in the early 1890s. The more significant appeared in a three-volume collection. Her books, written in the 1920s, were about the tragic rural life of the Carinthian Slavs, usually with a strong woman as a heroine. These dramas didn't achieve the artistic spontaneity of her early work. Themes of her stories were mostly the affairs of young lovers and the obstacles to their consummation. Some tales were set to music, such as Eva by Josef Bohuslav Foerster and Jenůfa, an opera by Janáček.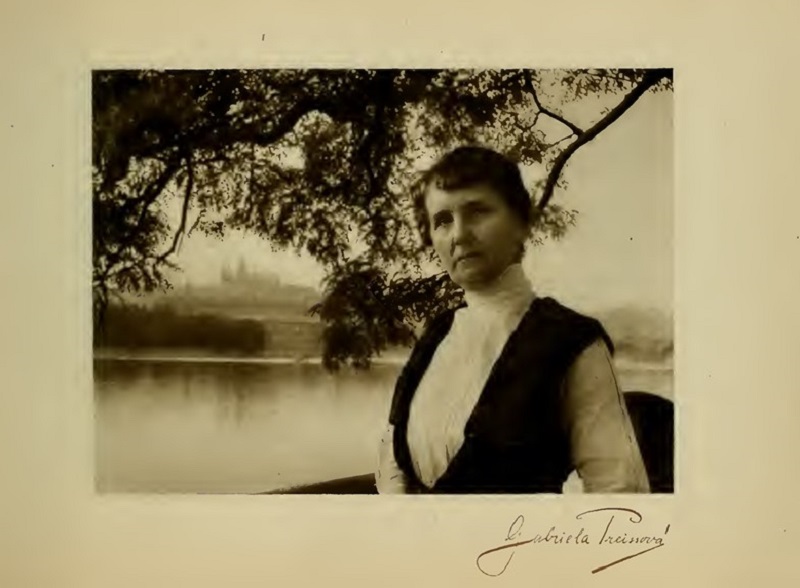 Source: https://en.wikipedia.org/wiki/Gabriela_Preissov%C3%A1
14) Fr. S. Procházka
František Serafínský Procházka (15 January, 1861 – 28 January, 1939, Prague) was a Czech editor, poet and writer. In 1873-1881, he graduated from the Slavonic Gymnasium in Olomouc, then joined Olomouc in a priestly seminary. After two years he went to Prague to study philosophy, Latin, Greek and Czech at Charles University. After graduating he was a teacher at several places in Prague. Since 1891 he worked in the publishing house of Vilímkov as editor of the Malého čtenáře. Since 1900, he had been running the Prague Municipal Library in Královské Vinohrady. From 1901 he became an editor of the  České grafické unie and in the years 1913-1939 he managed the Zvon magazine. He was involved in a number of cultural organizations at that time – the Moravian forum, Svatobor, the Society of Maj, the Society of Youth Literature, the Masaryk People's Institute in Prague. He became a member of the Czech Academy of Sciences and Arts. The main focus of his very diverse work was on children's art.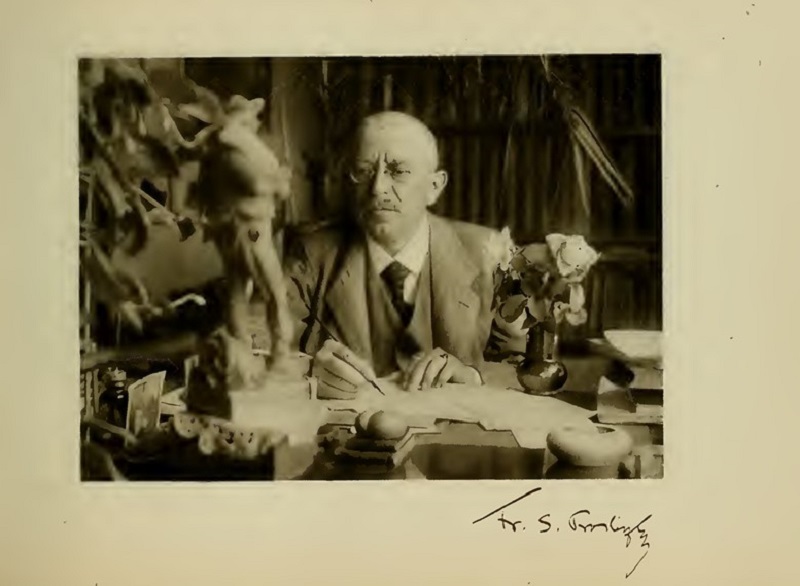 Source: https://cs.wikipedia.org/wiki/Franti%C5%A1ek_Seraf%C3%ADnsk%C3%BD_Proch%C3%A1zka
14) Karel V. Rais
Karel Václav Rais (4 January, 1859 – 8 July, 1926) was a Czech realist novelist, author of the so-called country prose, numerous books for youth and children, and several poems. Rais was born into the family of a simple farm laborer and weaver. He studied in Jičín and Prague. In the latter one, since 1899, he was director of the citizen school in Vinohrady. During his life in Prague he kept in touch with many Czech artists, including Alois Jirásek, Zikmund Winter, Josef Václav Sládek, Ignát Herrmann, and Josef Thomayer. He was one of the editors of the magazine Zvon, and wrote contributions to numerous other magazines as well. He was a member of the board of the literary company Máj and the society for national education Svatobor.
Source: https://en.wikipedia.org/wiki/Karel_V%C3%A1clav_Rais
15) F. X. Šalda
František Xaver Šalda (22 December, 1867 – 4 April, 1937, Prague) was a Czech literary critic, journalist and writer. In Prague, he studied at the Academic Grammar School, he then lived with his older brother in Vlašská Street in Malá Strana. After three years he moved to the real gymnasium in Žitná Street in Prague II. He studied law, but did not finish his studies. In 1906, however, he defended a doctorate in arts and history at the Faculty of Philosophy (taking into account previously published texts from literary and artistic criticism). Since 1919 he was Professor of Roman Literature at the Faculty of Arts of the Charles University in Prague. Serious neural disease (myelitis traversa) plagued him since the 1880s; The constant pain was also influenced by his critical relationship with people and reality. Since 1899, partial paralysis also restricted his movement. Therefore he lived alone, besides a love affair with Růžena Svobodová, he did not have any closer relationships, he died single and childless.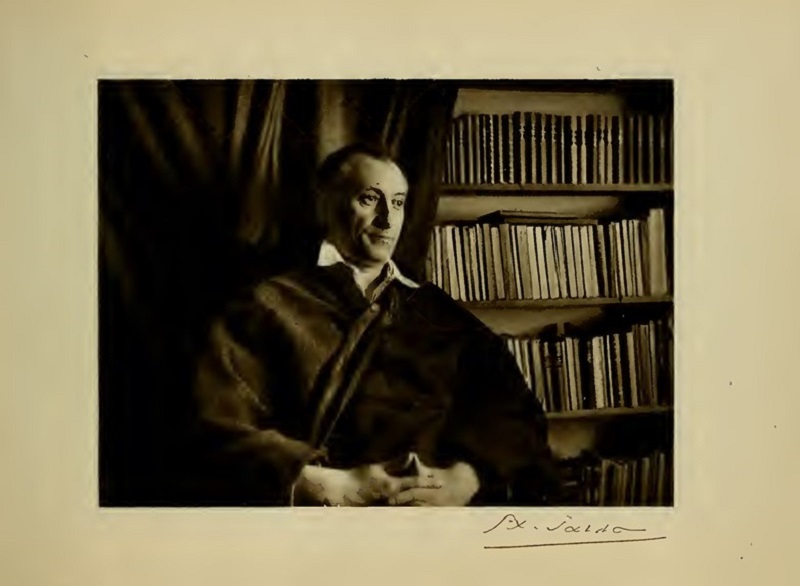 Source: https://cs.wikipedia.org/wiki/Franti%C5%A1ek_Xaver_%C5%A0alda
16) Václav Štech
Václav Štech (29 April, 1859 – 27 February, 1947) was a Czech teacher, theater director, writer, playwright and journalist. He devoted himself to the theater. He was born in Kladno, but because his father died soon, his mother moved to Slaný. He graduated from the Piarist gymnasium in Slaný and Prague, then studied pedagogy. In 1879 he became a teacher in Slaný, since 1894 in Prague. In Žižkov he was the administrator of the municipal school until 1905, when he retired early. He traveled a lot in Europe, he worked his travel experiences in travelogues. He had organizational talents, was a manager in Sokol, Beseda, he founded a cultural company in Slaný, such as the association of fiction writers May, where he opened a office for protection of copyright and contracts. He founded the publishing house of the same name. He revised the local library, led by the Amateur Society. He began his literary career with humor, continued with novels and novels. He wrote a number of dramas for the theater, some of which were also featured at the National Theater in Prague. From his professional work, the teacher drew for writing a number of school educational instruction manuals. He contributed to Květy, Osvěta, Zlatá Praha.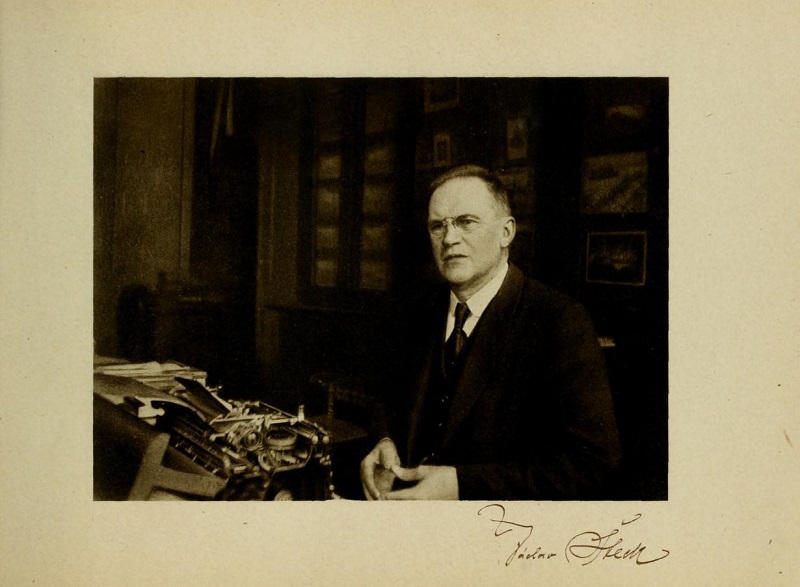 Source: https://cs.wikipedia.org/wiki/V%C3%A1clav_%C5%A0tech
17) F. X. Svoboda
František Xaver Svoboda (25 October, 1860 – 25 May, 1943) was a Czech poet, playwright and writer, author of extensive poetry, prose and drama. Literary work began with poetry as the epigon of Jaroslav Vrchlický, later he formed an impressionist lyric with meditative and memory positions. The rhythm of his excitement came from: Rozkvět (1898) and Řeka (1908-1909). Rozkvět is partly autobiographical, it tells of the spiritual rise of the family of the Sudeten family in the next generation. The theme of the Řeka chronicle is the search for ethical norms for the relationship between man and woman in the bourgeois family, the decisive force is the purity of the woman's love, the regenerative power on man's soul has the effect of nature. He was also a dramatist, a critically realistic and naturalistic drama, in his plays he pursued a disability of a human character determined by the environment – for sxample Směry života and Rozklad. He also wrote cheerful plays which hold up to the test of time: Směry života and Rozklad.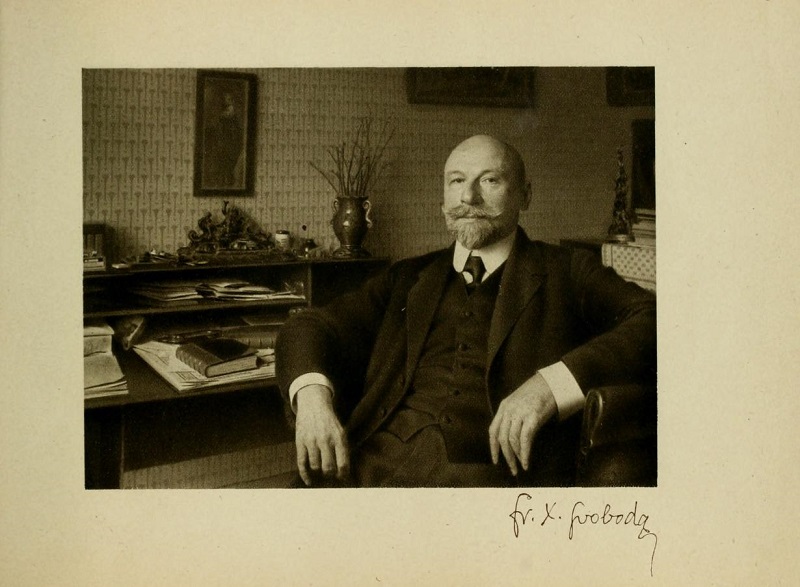 Source: https://cs.wikipedia.org/wiki/Franti%C5%A1ek_Xaver_Svoboda
18) Frant. Táborský
František Táborský (16 January, 1858 – 21 June, 1940) was a poet, writer, translator, historian, critic, teacher and collector of art. From his youth he focused on literature and the art of Slavic nations. He began writing poetry at grammar school. Under the pseudonym František Hostivít, he belonged to the leading contributors to the almanac Moravian Zora. He belonged to the so-called Mladá Morava circuit, he cooperated mainly with Hynek Babička. He also wrote prose, various contributions to magazines. He also took over the translation of Slavic, especially Russian authors, and he also performed the work of the editor of the ethnographic magazine Our Walachia and became a co-organizer of Smetana's company in Radhošť. He visited Russia twice (1896, 1909-1910) for the purpose of acquiring literary backgrounds that he used in his prose and newspaper articles.
He became a regular, and later correspondent member of the Association of Russian Architects. In Moscow, he organized an exhibition of Czech art, an opportunity he won with the help of the Prague Mánes Society. In Prague and concurrently in his native Moravia, he joined the Central School Matrix, was a member of the Radhošť, Svatobor, the Czech bibliophile and founding member of the Moravian Matice. In 1908, Professor Táborský became the first president of the Society of Czech Bibliophiles as a member of the Society of Art and Industrial Museums in Prague (SČB exists today). He was the author of monographs and articles of professional literature. For his lifetime efforts Masaryk University in Brno awarded him an honorary doctorate in 1938. He died as an old bachelor at the age of 82 in Prague, in the luxurious apartment of No. 602 / III in Újezd, but was buried in the hometown of his birthplace, in the tomb of his parents.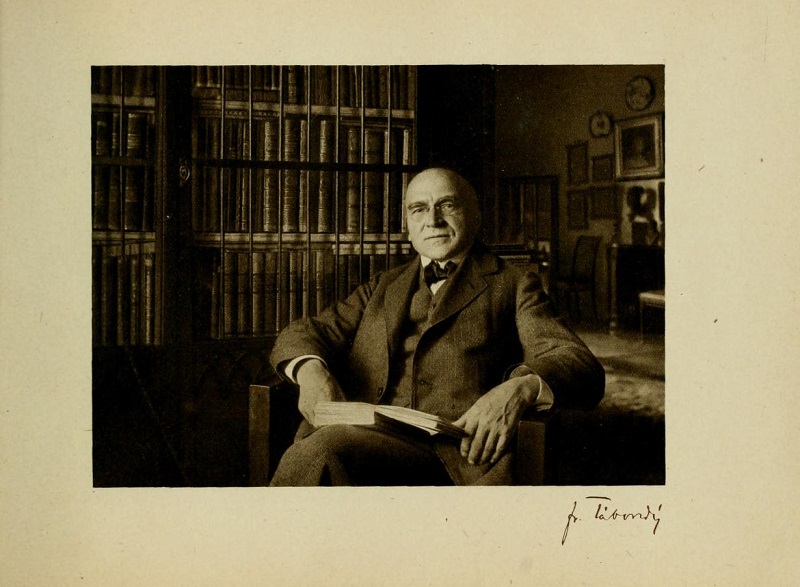 Source: https://cs.wikipedia.org/wiki/Franti%C5%A1ek_T%C3%A1borsk%C3%BD
19) Dr. Jos. Thomayer
Franz Joseph Thomayer (3 March, 1856 – 18 February, 1938,) was an important Czech garden architect and brother of the physician Josef Thomayer. He was one of the greatest experts of his time in the field of garden architecture, who at the end of the 19th century worked as the director of Prague parks and gardens and kindergartens in Říčany u Prahy. Besides Prague, he worked very often in other towns in the Czech lands – Nymburk, Mariánské Lázně, Chrudim, Přerov and others. He also worked on modifications of some castle parks and private gardens.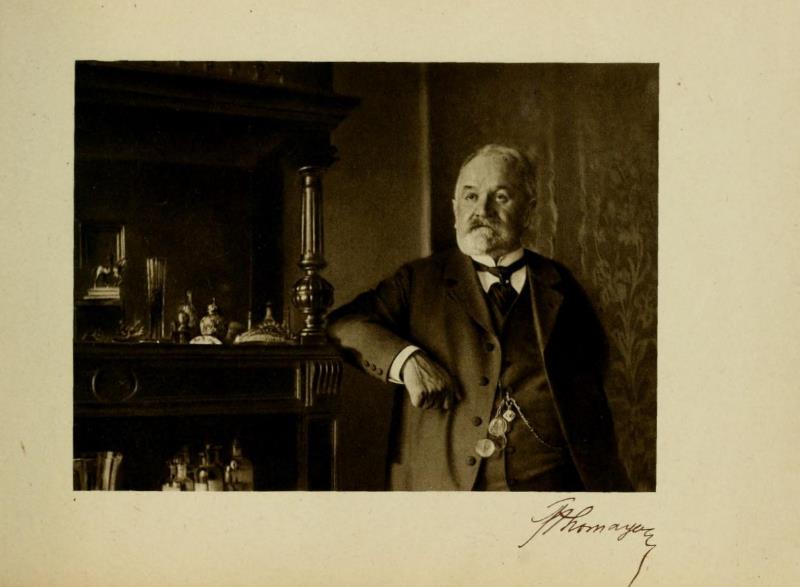 Source: https://cs.wikipedia.org/wiki/Franti%C5%A1ek_Josef_Thomayer
20) Božena Viková-Kunětická
Božena Viková-Kunětická (30 July, 1862 – 18 March, 1934) was a Czech nationalist politician, writer, and feminist. Born in Pardubice, in the Kingdom of Bohemia (present-day Czech Republic) she was the first female member of the Czech diet. (In politics, a diet is a formal deliberative assembly. The term is mainly used historically for the Imperial Diet, the general assembly of the Imperial Estates of the Holy Roman Empire, and for the legislative bodies of certain countries.) She spent her last 12 years in Libočany where she died in 1934. A novelist, her work is stored at the Literary Archive of the Museum of Czech Literature.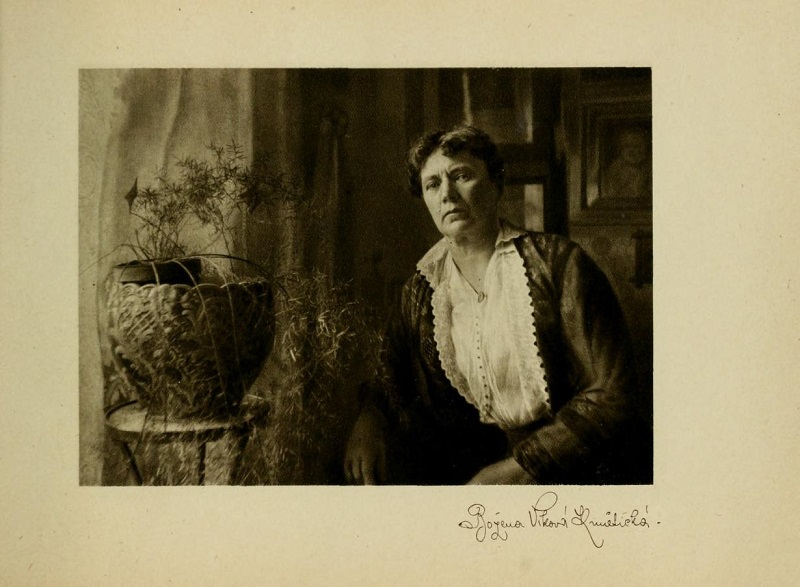 Source: https://en.wikipedia.org/wiki/Bo%C5%BEena_Vikov%C3%A1-Kun%C4%9Btick%C3%A1
21) K. M. Čapek-Chod
Karel Matěj Čapek-Chod (21February, 1860 – 3 November, 1927 ) was a Czech naturalistic writer and a journalist. In 1879 he graduated at the gymnasium in Domažlice. He was a long-term cooperator of the Národní listy journal, and after Karel Čapek began to work in the editorial office (in 1918), Čapek accepted the nickname "Chod". He is the author of numerous Czech novels.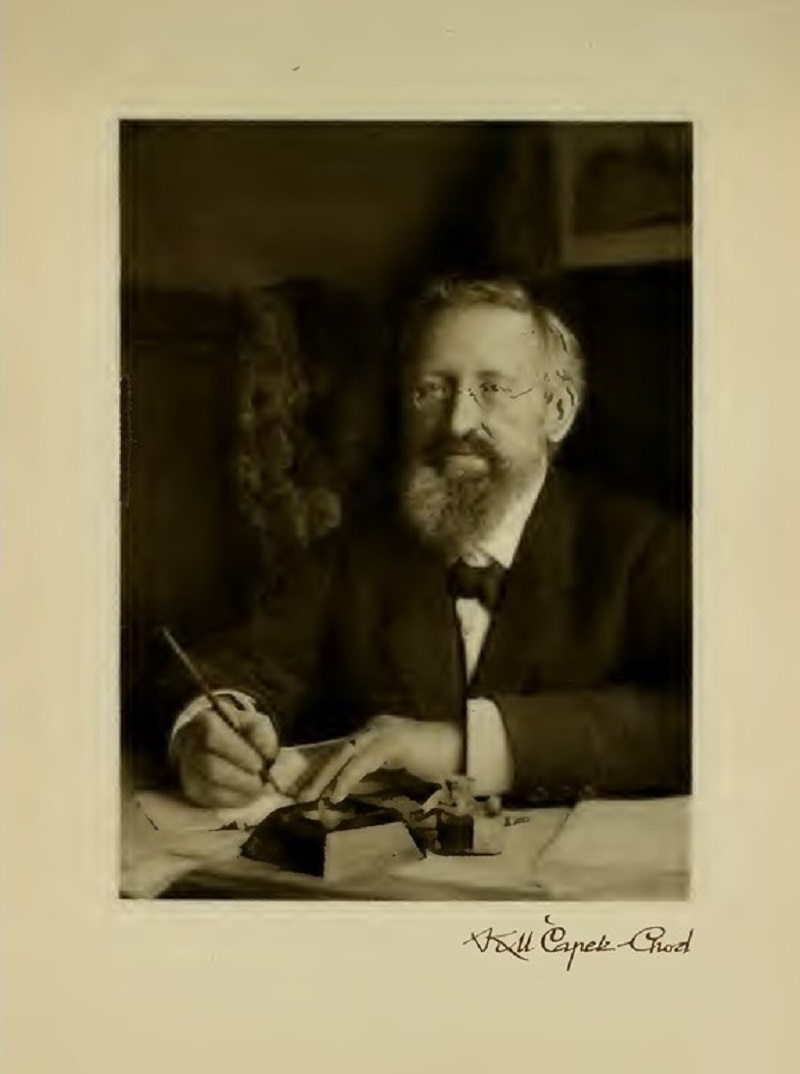 Source: https://en.wikipedia.org/wiki/Karel_Mat%C4%9Bj_%C4%8Capek-Chod
22) Dr. Servéc Heller
Servác Bonifác Heller (13 May, 1845 – 2 September, 1922) was a Czech journalist, writer and young Czech politician. For over fifty years (1867-1922) he worked with the Národní listy – first as an external correspondent, and since 1870 as assistant editor. He was eventually made editor in chief (1912-1916). He was also a publisher; he referred, for example, to the ethnographic (1867) and polytechnic (1872) exhibition in Moscow and the Russo-Turkish War (1877-1879). In March 1914, he revealed on the pages of the Národní listy that the national-social MP Karel Šviha is giving secret police (the so-called Švihova aféra). He was also regularly published by Lumír and Květy. He made trips to Russia, Slovakia and the Balkans. He was the author of a series of novels, usually embedded in exotic environments, in which he sought to attract readers with a thrilling story line, romance, and the external curiosity of human fates at the expense of depth and psychology. In his later years, he began to lose his memory. In the 1880s and 1890s he was elected to the Reich Council and the Czech Parliament. He suffered from heart disease, and died during a medical stay.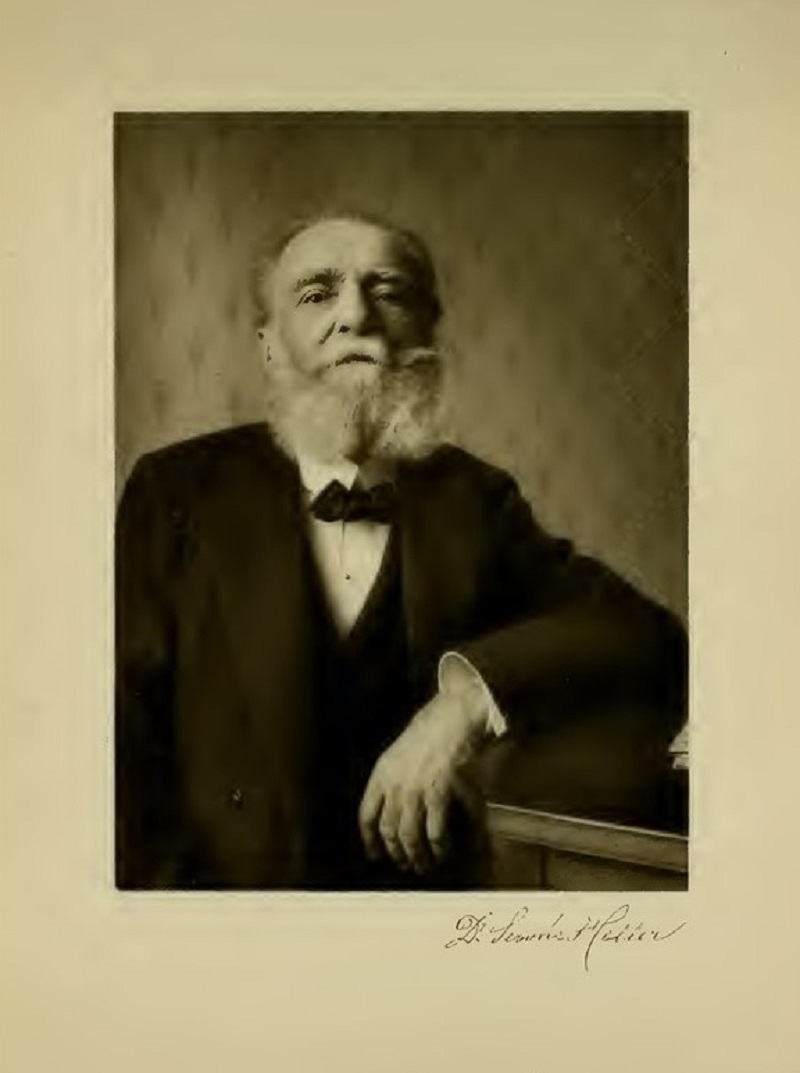 Source: https://cs.wikipedia.org/wiki/Serv%C3%A1c_Heller
23) Dr. Jan Herben
Jan Herben (7 May, 1857 – 24 December, 1936) was a Czech and Czechoslovak politician, journalist, writer and historian. Jan graduated from History and Geography and from the Faculty of Philosophy of the Charles University in Prague from 1878-1883. He was a student of Václav Tomek, Jaroslav Goll, Antonín Rezko, Martin Hattaly, Jan Gebauer, Antonín Gindely, Josef Emler, Johann Kelle, Jan Palacký, Josef Durdík, and most of all, Tomáš Garrigue Masaryk had a great influence on him. Between 1885-1886 he was a journalist of the Národních listů. On Christmas 1886, he founded the biweekly Čas (Time), a list of realists (Josef Kaizl, Karel Kramář, Tomas Masaryk), which had few readers but was quite influential.
In 1889, Čas was transformed into a weekly magazine. In 1901, Čas was transformed into a daily publication. In 1915, Čas was stopped. Herben then briefly published the newspaper, and from 1917 returned to the Národní listy. In 1918-1920 he was editor of the satirical magazine Nebojsa. From 1925-1927 he was editor of Lidové noviny. In 1900, he and Masaryk participated in the formation of a political formation emerging from the Realist Movement (Czech Popular Party). He later engaged in the progressive Czech party. During the First World War, he was a member of Maffie. In 1918 he worked in the National Committee, then in the Revolutionary National Assembly of the Czechoslovak Republic for the Czech State Democracy, or for the Czechoslovak National Democracy. From 1925 he was a member of the National Labor Party (a new pro-party that was supposed to compete with national democracy), for which he was elected to the Prague central assembly in 1927 and in 1928 to the Czech provincial council.
Jan Herben was a representative of Czech realism in both writing and politics. His works are characterized by rational sobriety, cold criticism and resistance to the convention. The author does not reveal reality, pursues truthfulness and objectivity, which is constantly accompanied by love for the earth and the people. He drew his suggestions from collected papers and landscapes that were the basis for his realistic narrative about the fate of rural people and local traditions. He endeavored to make the reader, thanks to his works, orientated and understand the economic, political and social changes of the present. The novels showed the readers – especially the South Moravians – how they lived and how they should live after the revolutionary year of 1848.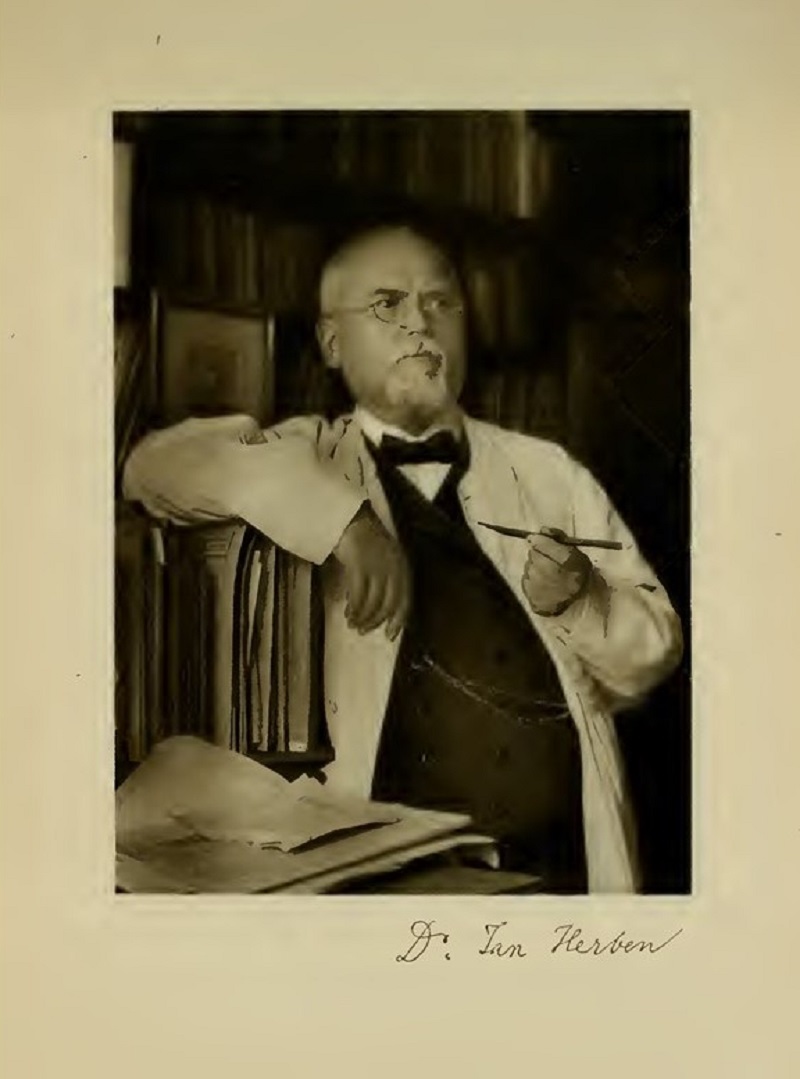 Source: https://cs.wikipedia.org/wiki/Jan_Herben
24) Frant. Herites
František Herites (27 February, 1851 – 19 January, 1929) was a Czech pharmacist, account editor, poet, editor and writer. He was born in Vodnany as the son of a local pharmacist. He worked as a pharmacist practitioner first in Graz, then in Rožnov, Netolice and Prague. He was well traveled, visiting the Tatras, Slavic south of Europe, Italy and America. He lived a while in Argentina working as a journalist. He was the Vodňanský Mayor for a while, and was responsible for connecting the South Bohemian Vodňany to the railway and for starting the reconstruction of the church.
In 1895 he organized an ethnographic exhibition, which led to the establishment of the Municipal Gallery. He preferred to write over the pharmacy business and when he got indebted, he sold the pharmacy and his birth house in 1896 to pay his debts. He returned to Prague hoping to get a permanent position as an editor in a magazine. In vain, he became a pharmacist accountant, a secretary of the Pharmacy Bureau, and an editor of the Czech Pharmacists Magazine where he stayed until he was retired. However, he was also the editor of May (1903-1914) and worked in this publishing house. He was also an editor of the Anemonka almanac (1871) with J. Káal and J. Dunovský. He wrote many short stories and magazines in various popular magazine of the times – Lumír, Zlatá Praha, Květy, Máj, Světozor . His simple short stories with small-town stories were popular with some of the public for their sake of ease. He is included in the so-called Lumiere generation which is the Bohemian, Moravian, Slovak and Czech version of the Golden Age or the Belle Époque.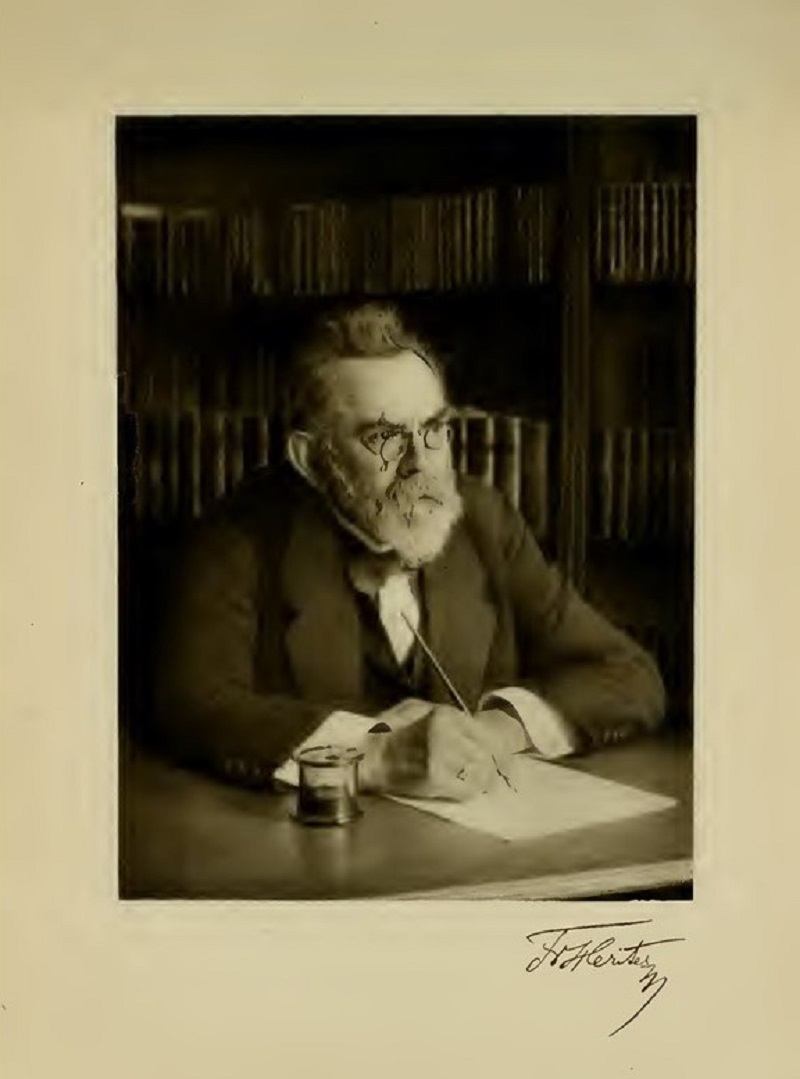 Source: https://cs.wikipedia.org/wiki/Franti%C5%A1ek_Herites
25) Jos. Holeček
Josef Holeček (27 February, 1853 – 6 March, 1929) was a Czech writer of the realism and ruralism movements who wrote about his native South Bohemian Region, a journalist and translator. He studied in Písek, České Budějovice and Tábor (the oldest park there is named after him Holečkovy sady) and since 1926 there is a monument there in his honor. Having befriended several South Slavs in Tábor, he became interested in their folklore and also in literature, art and history in general. After his studies, he worked in Zagreb and in 1875 he became a correspondent of the Prague newspaper Národní listy in the Balkans. He was a Slavic patriot; in 1887 he visited Russia and in 1889 he traveled through Anatolia and visited Istanbul.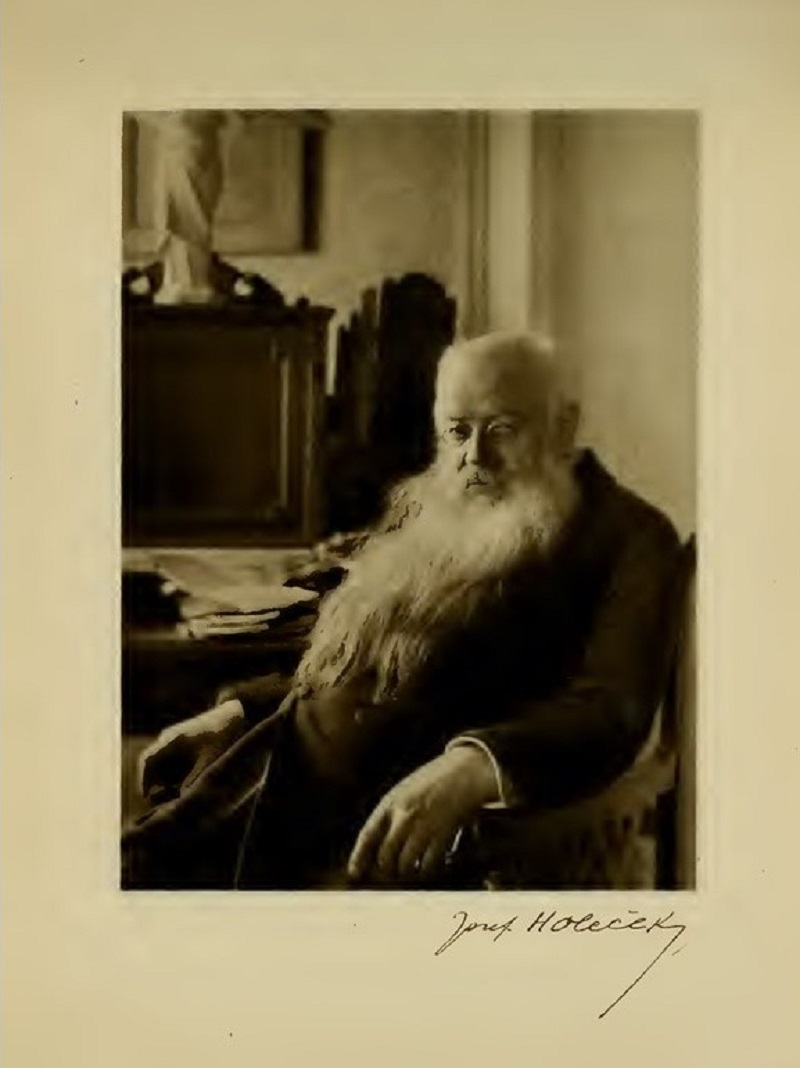 Source: https://en.wikipedia.org/wiki/Josef_Hole%C4%8Dek_(writer)
26) Ant. Klášterský
Antonín Klášterský (25 September, 1866 – 3 November, 1938) was a Czech poet and translator. His origin of the noble family of the Klosters of Rosengarten. He was born in Mirovice near Pisek as the eighth of 11 children of Antonín Václav Klástecký and Marie Rozené Vlková. Antonin graduated from Prague from the Faculty of Law and he held various official duties. In his free time he wrote and translated the poetry. He first published in magazines and later wrote books. In 1897 he was elected as a correspondent member of the Czech Academy of Sciences and Arts. In 1923 he became a full member and later Secretary. His poems (with mostly lyrical or natural lyrics) are simple, quiet and smooth. He was highly valued at his time, though he is almost completely forgotten today. He was also a successful translator, mostly from English, and his most significant work is William Shakespeare's Sonnets, published in 1923. He also translated other Shakespeare's works as well as several Byron poems (for example Mazeppa). He also translated Anglo-Saxon poets (for example, Oscar Wilde).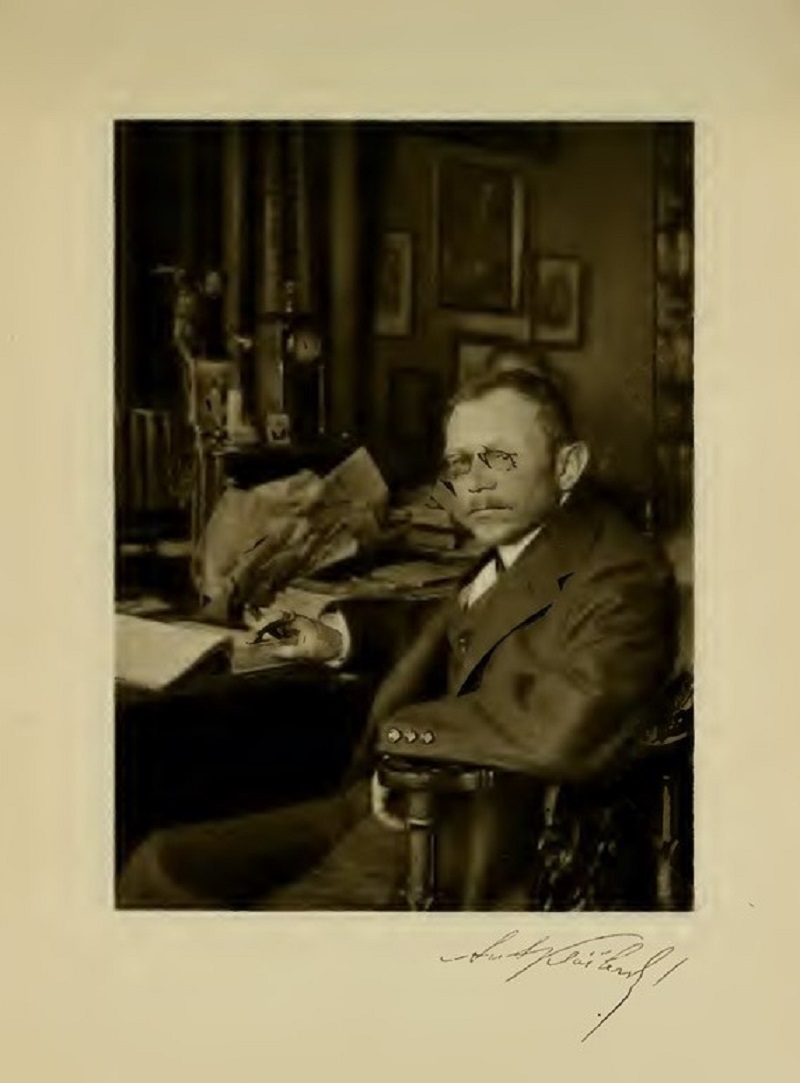 Source: https://cs.wikipedia.org/wiki/Anton%C3%ADn_Kl%C3%A1%C5%A1tersk%C3%BD
27) Jan Klecanda
Jan Klecanda (5 March, 1855 – May, 1920) was a Czech teacher, writer and journalist. His sons were the writer and diplomat Jan Havlas (1883-1964), historian Vladimír Klecanda (1888-1946) and legionnaire Jiří Klecanda (1890-1918). After graduating from high school, he studied engineering. In 1875 he was called to the army and became a teacher in a military school. In Teplice in the summer of 1883 he came up with the proposal to open the first pedagogical school with teaching in the Czech language. With this step he became a prominent figure in the community of local teachers. During this period he started writing his literary works. The first of these works was the local literary almanac.
In 1887, as a result of a nervous disorder, he ended his teacher's career, and then devoted himself to journalistic and literary work. In his journal articles, novels and short stories, he described people's lives. He wrote 21 books on the topic of Germanization in the North Bohemian Region. During World War I, with his sons, he played an active role in the anti-Arab movement, seeking national self-determination, which ended with the emergence of a new independent republic. Klecand's literary work is forgotten for moral schematics. An outstanding journalist act which remain are the images through a newsletter from the battlefield, Obrazový zpravodaj z bojiště which brought both word and image twice a week of news from the Russo-Japanese War, the first conflict of the 20th century. Although the Czech sympathy for the Russians after the incident at Dogger Bank had cooled somewhat, the readers' attention persisted until the end.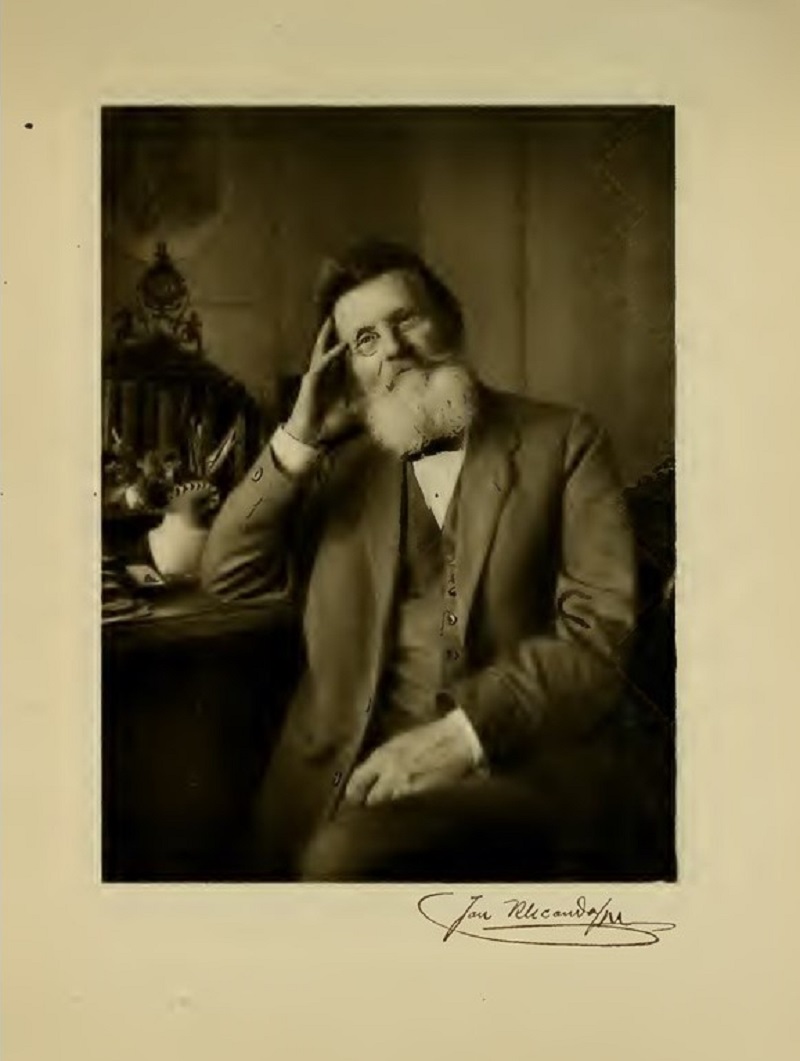 Source: https://cs.wikipedia.org/wiki/Jan_Klecanda
28) Aug. Eug. Mužík
Augustin Eugen Mužík (15 May, 1859 – 31 March, 1925) was a Czech poet, translator and playwright. He studied at the Philosophical Faculty of Charles University, but did not finish his studies. Instead, he spent his entire life writing, working as a publishing editor. With the support of Svatobor he traveled to Slovakia and Galicia in 1896, in 1890 he received 150 zl. "to his journey to Moravia, to the Alps and to the Adriatic Sea." His first collection, elegantly debated
Spring Storm (1883), is highly influenced by Byronism and Romanticism at all, but in other collections, this character retreats into a resigned calm inspired partly by the Czech countryside (Voices of the People 1883, Field Flowers, 1887), and then into religious fervor, as well as the sympathy with the suffering poor (the most beloved collection of the Song of Life, 1894). His poems are inspired by the Hussite movement (the poem of the Spirit of Hus), but also by the current social theme (poems The Temple of God and Epistle to the Czech Workers). He also wrote epics, poems in prose, short stories, and novels, all of which were published by magazines. In addition, he wrote frequent occasional verses for various jubilees or cultural events.
At the end of his life he also tried drama. In his time he was highly prized for "the vast horizon of his thinking and the ability of the exact form", but since 1921 his work had not been published. He also dealt with translations, especially from German, English, French, Polish and Russian.
Source: https://cs.wikipedia.org/wiki/Augustin_Eugen_Mu%C5%BE%C3%ADk
29) Ant. Sova
Antonín Sova (26 February, 1864 – 16 August, 1928) was a Czech poet and the director of Prague Municipal Library. Sova was among the writers who established the first Czech official literary association, called Máj. His first published poetry collections were Realistické sloky (Realistic strophes, 1890), Květy intimních nálad (Flowers of 
Intimate Moods, 1891), Z mého kraje (From My Country, 1893), Soucit a vzdor (Compassion and Defiance, 1894), and Zlomená duše (Broken Soul, 1895). Sova was a supporter of the progressive national movement of the 1890s connected with the Omladina Trial. Together with 11 other writers he signed the manifesto called Česká moderna in 1895 to demand free speech, social reforms and individualism in art. The reflection of the manifesto in Sova's work is the collection Vybouřené smutky (Uprisen Griefs, 1897).
In 1897 Theodor Mommsen wrote a nationalist letter addressed to Germans in Austria (An die Deutschen in Österreich) and it was published in Vienna's Neue Freie Presse. Mommsen called Czechs "apostles of barbarism" and wrote that "the Czech skull is impervious to reason, but it is susceptible to blows". Antonín Sova wrote an answer in verses, To Theodor Mommsen. The poem, in which he calls Mommsen a "covetous dotard" and an "arrogant spokesman of slavery", became the national answer to the German imperialism of that time, and Sova started to be one of the most famous poets of his generation.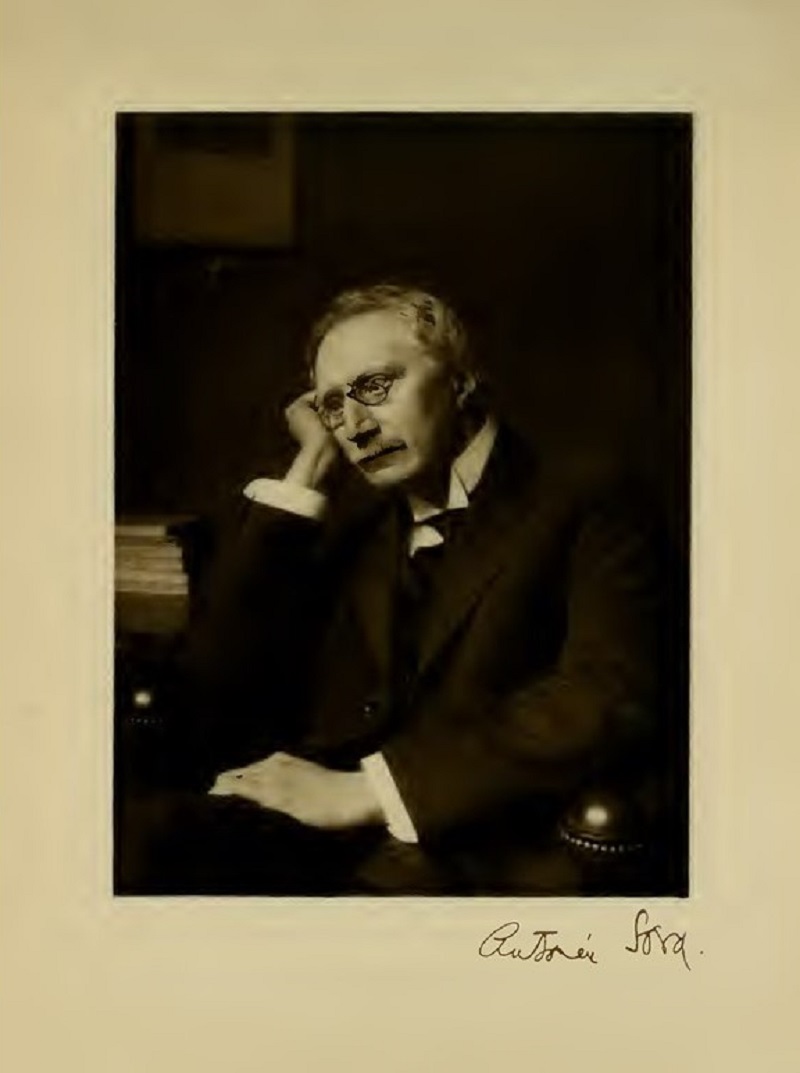 Source: https://en.wikipedia.org/wiki/Anton%C3%ADn_Sova
30) Antal Stašek
Antal Stašek (born Antonín Zeman) (22 July, 1843 – 9 October, 1931), was a Czech writer and lawyer. He was born in the village of Stanový in the Jablonec nad Nisou District of northern Bohemia. From 1877, Stašek was a successful barrister in Semily. His work is mainly set in the area around the Krkonoše mountains that straddle the today's border between the Czech Republic and Poland. Stašek was heavily influenced by socialism and social justice and was perhaps the first Czech writer to work with these themes.
His best known novel is Matusch the Shoemaker and his Friends, published posthumously in 1932. Stašek worked briefly in Mohelnice before moving in 1913 to Prague, where he spent the rest of his life. The writer Ivan Olbracht was his son.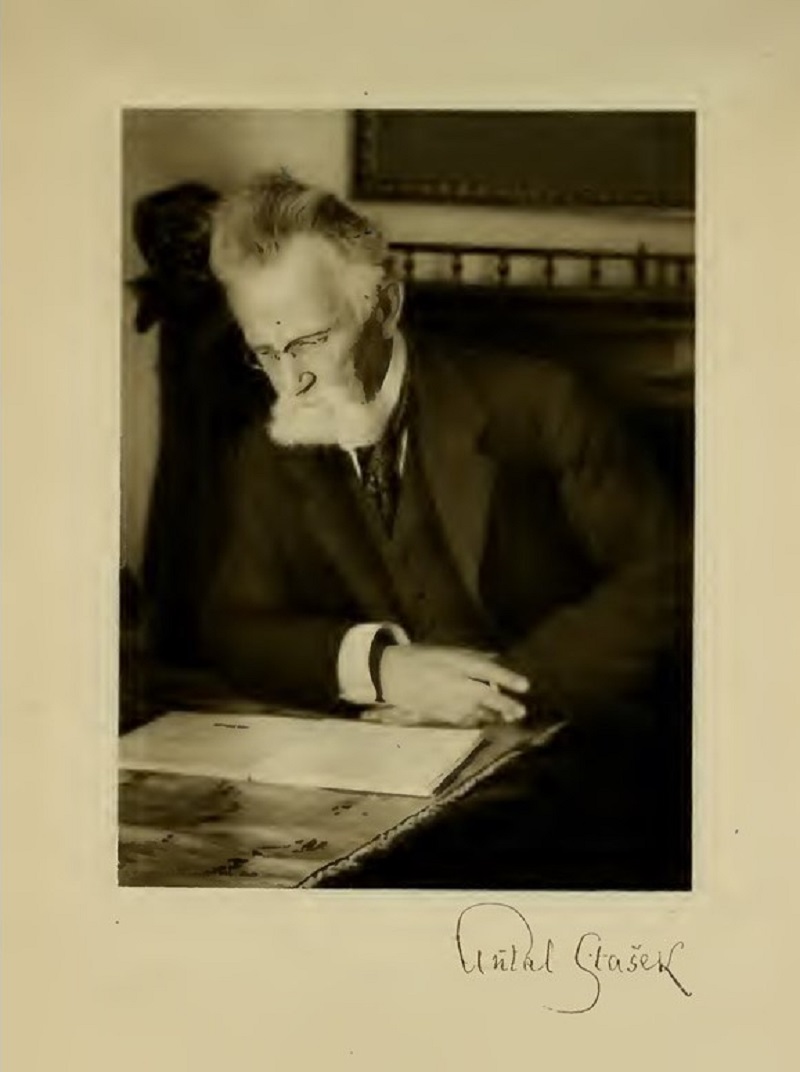 Source: https://en.wikipedia.org/wiki/Antal_Sta%C5%A1ek
31) Dr. Jos. Štolba
Josef Štolba (3 May, 1846 – 2 May, 1930) was a Czech playwright, educator, lawyer and writer. He first began his studies at the grammar school in his native Hradec Králové, and finished his studies in Prague studying law. In 1869 he debuted as the author of theatrical plays at the Prazatímní divadlo. In 1870 he took the place of educator at the noble family of Kounic. With Count Arthur Desfours-Walderode, he made an annual voyage to America in 1873, and later he traveled all over Europe with other people, reaching the West Indies and the Kořenský traveler for a polar circle. After returning home, he worked at the National Theater and also received a doctorate in law in 1874. He served five years of law and practice. He was a trainee in a notary's office and, in time, a notary in Nechanice, Pardubice and Královské Vinohrady. In Pardubice, he was involved in the theater for the establishment of a theater house in 1880.
In his travels, he could colorfully portray his experiences of foreign travel. He participated in the foundation of the Paleček magazine. The dramatic work was mostly comedic, but he also tried other genres. Many of his plays are still performed today. He debuted with them in the Provisional Theater and later he also performed at the National Theater. Dr Josef Štolba also wrote an autobiography.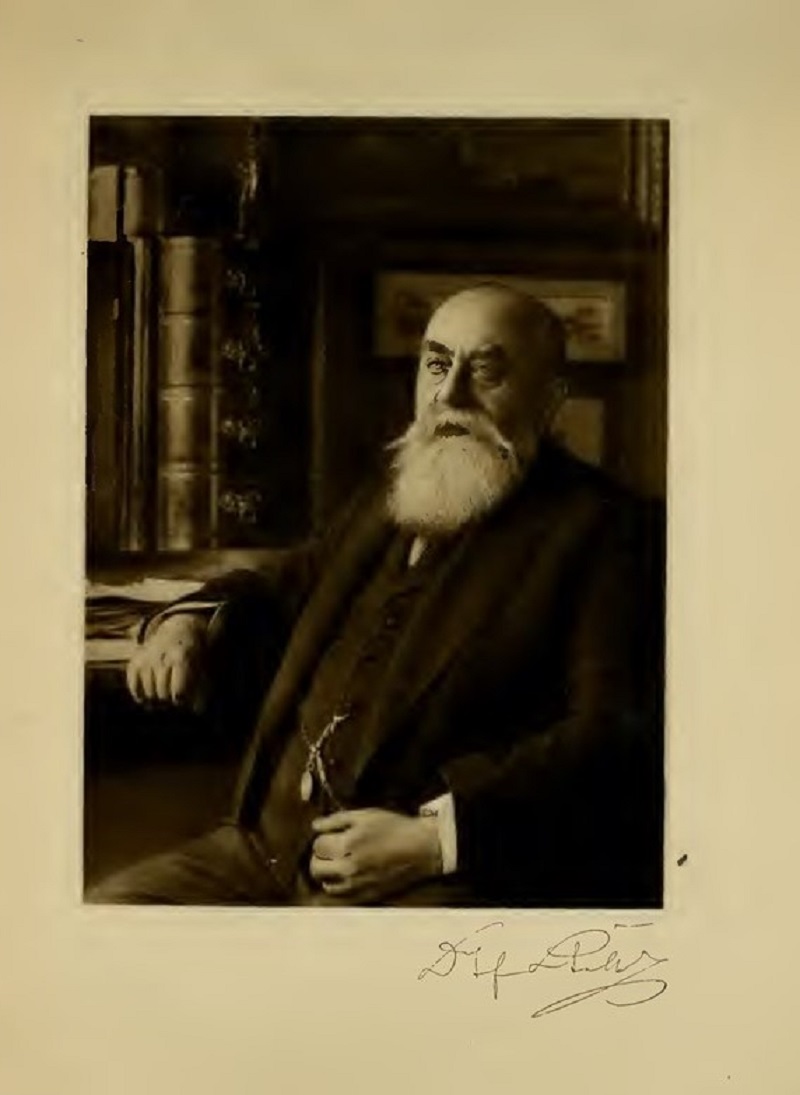 Source: https://cs.wikipedia.org/wiki/Josef_%C5%A0tolba
I hope you have enjoyed 31 Bohemian, Moravian and Slovak Writers You Never Knew Existed and that you now know a little more about what your grand parents, and great grandparents may have been reading…
If you have not already subscribed to get TresBohemes.com delivered to your inbox, please use the form below now so you never miss another post.
---
Remember, we rely solely on your donations to keep the project going.
Become a friend and get our lovely Czech postcard pack.