The Last Trick (Czech: Poslední trik pana Schwarcewalldea a pana Edgara) is a 1964 Czechoslovak animated short film by Jan Švankmajer. It was Švankmajer's first film. Jan Svankmajer's debut film extends the madcap spirit of his Prague-based Theatre of Masks.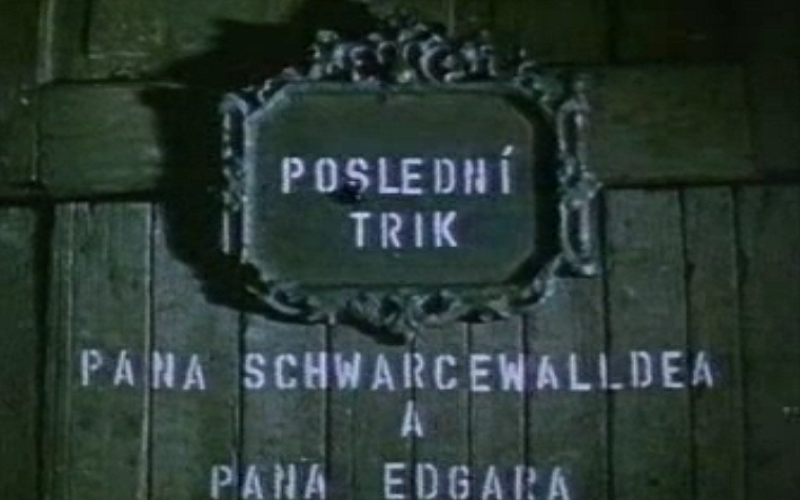 The play depicts two mime-like magicians (with heads made out of papier-mâché and clockwork machinery, who are portrayed by both costumed actors and Kuroko style puppets) named Mr. Edgar and Mr. Schwarzwald.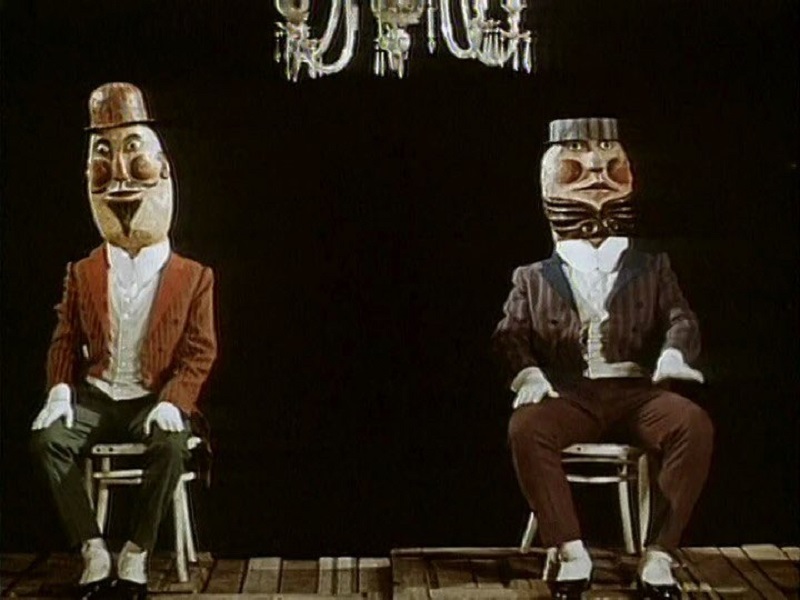 The magicians perform an escalating series of tricks trying to outdo each other for the pleasure of an unseen audience on a bare wooden stage against a pitch-black backdrop.
Most of these tricks involve strange objects entering or exiting their plaster heads.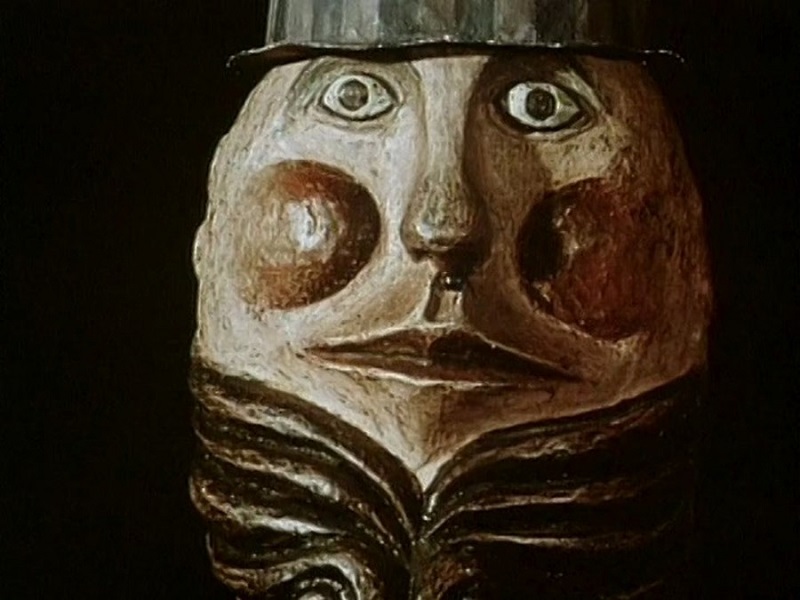 Each insists with a raised hat and a hand gesture that the other should perform first.
Each wags a finger in refusal.
The exchange has all the signs and mimes of polite cordiality, but the stiff movements suggest that these are insincere formalities.
During the title sequence, the cast and crew are seen backstage preparing for their performance.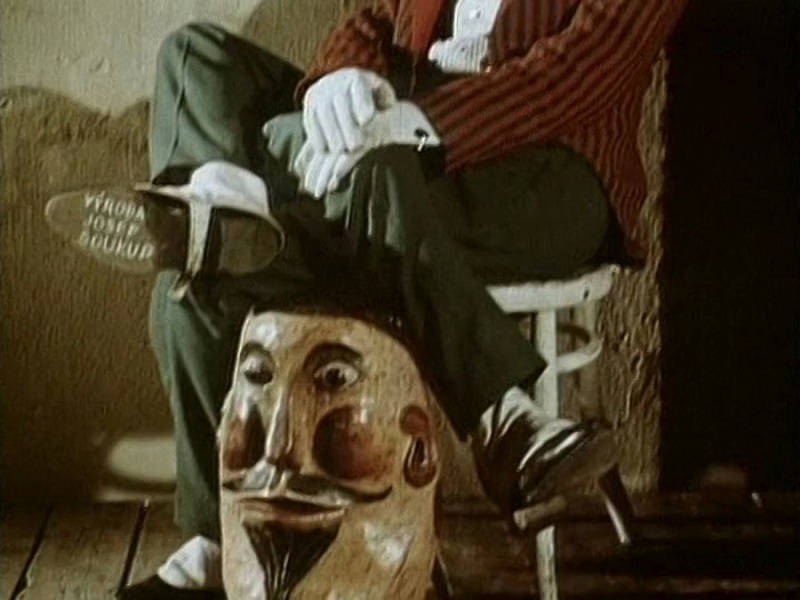 For his first trick, Edgar removes his hat, he reaches into it and pulls out a large fish.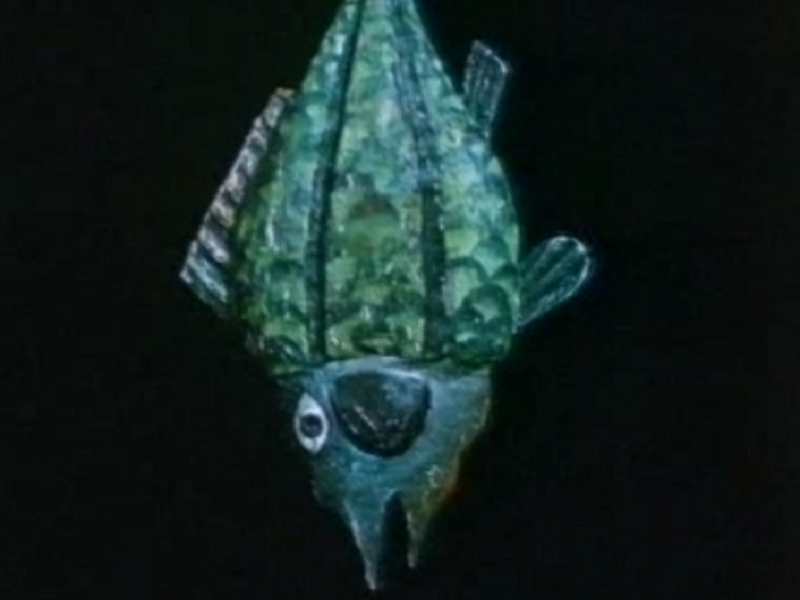 He then skins the fish by placing it inside his papier mache head.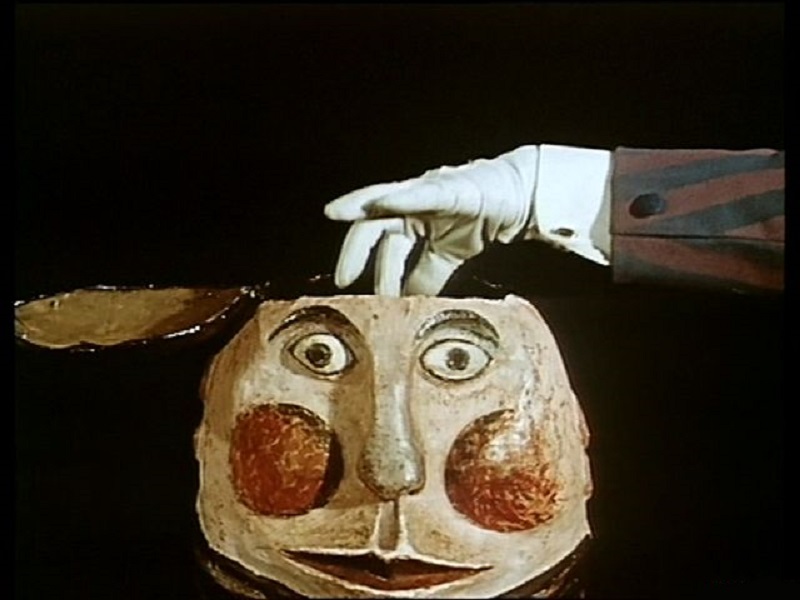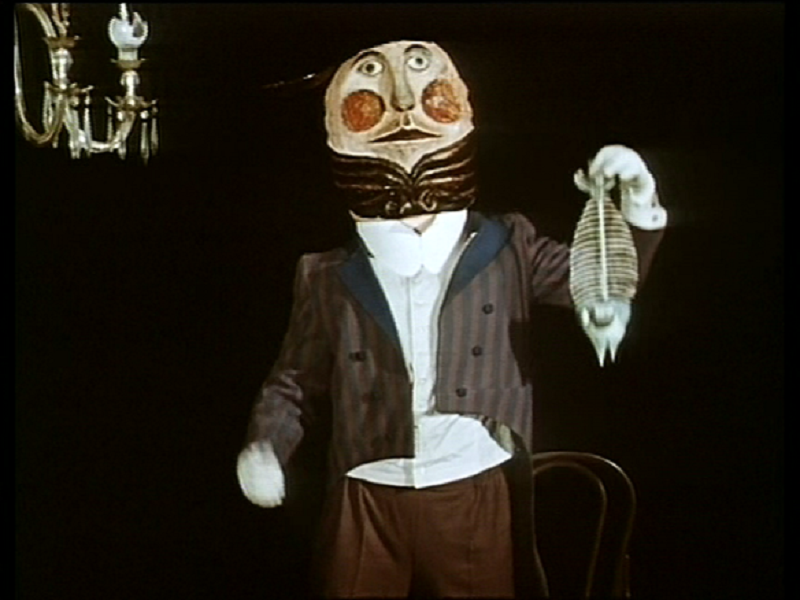 Schwarzwald one ups him by pulling out his violin.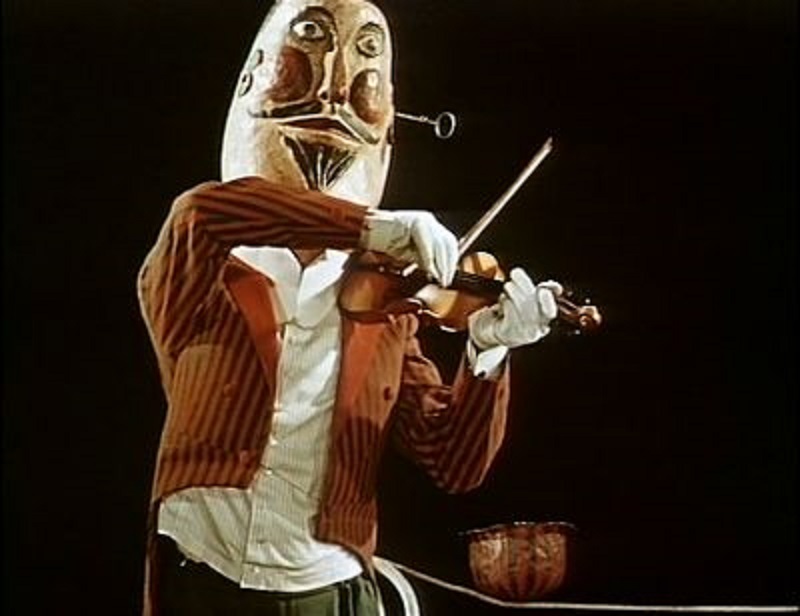 Creating a tightrope…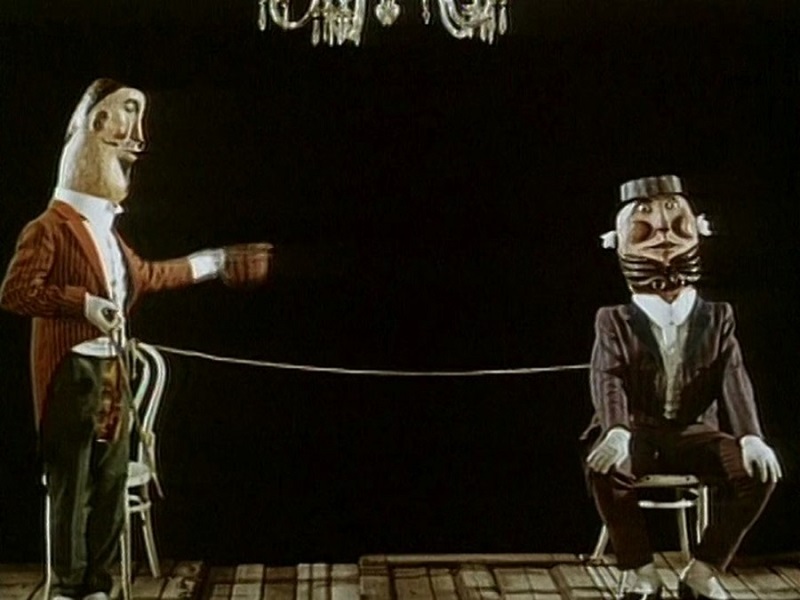 And then making a dog puppet perform various tricks on the tightrope.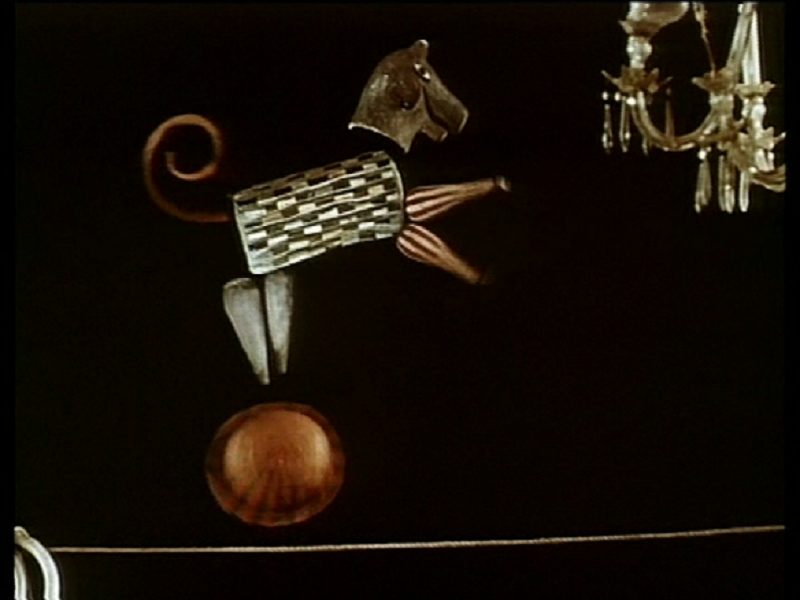 After each act, the two performers congratulate each other with a handshake.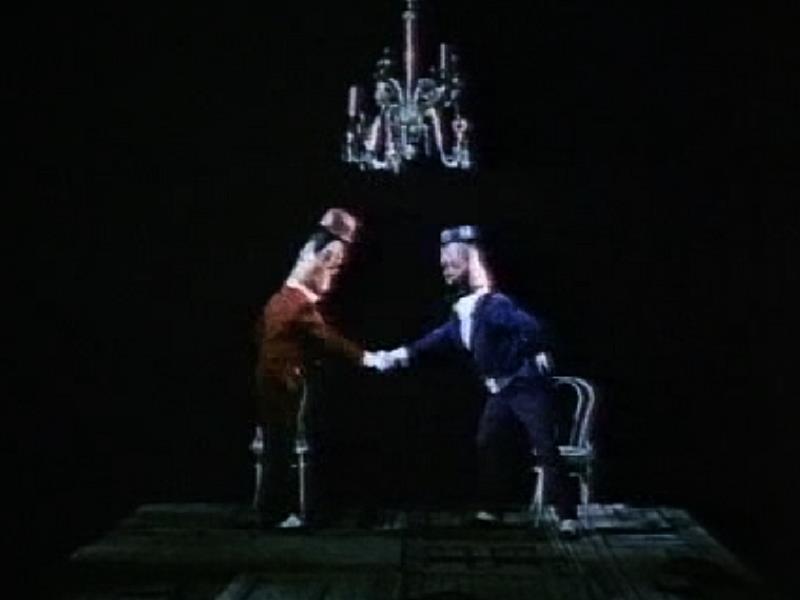 However, as tensions rise…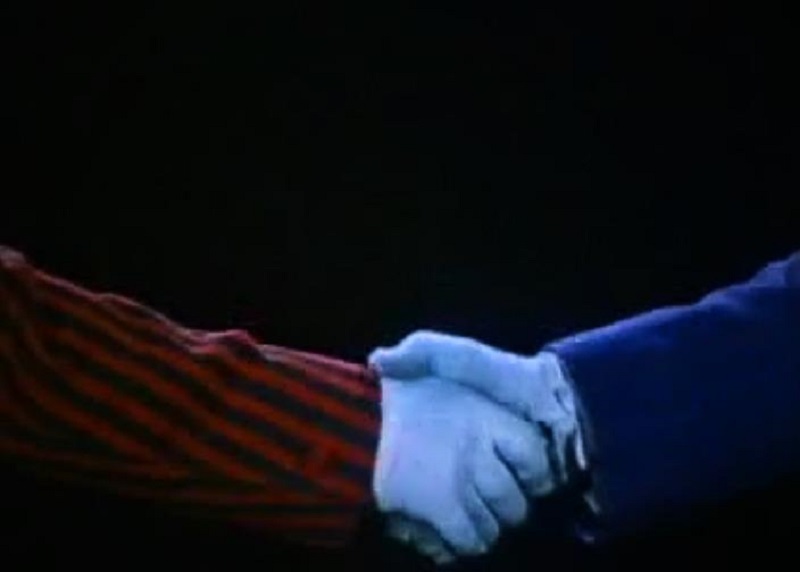 The handshakes become less friendly and even violent.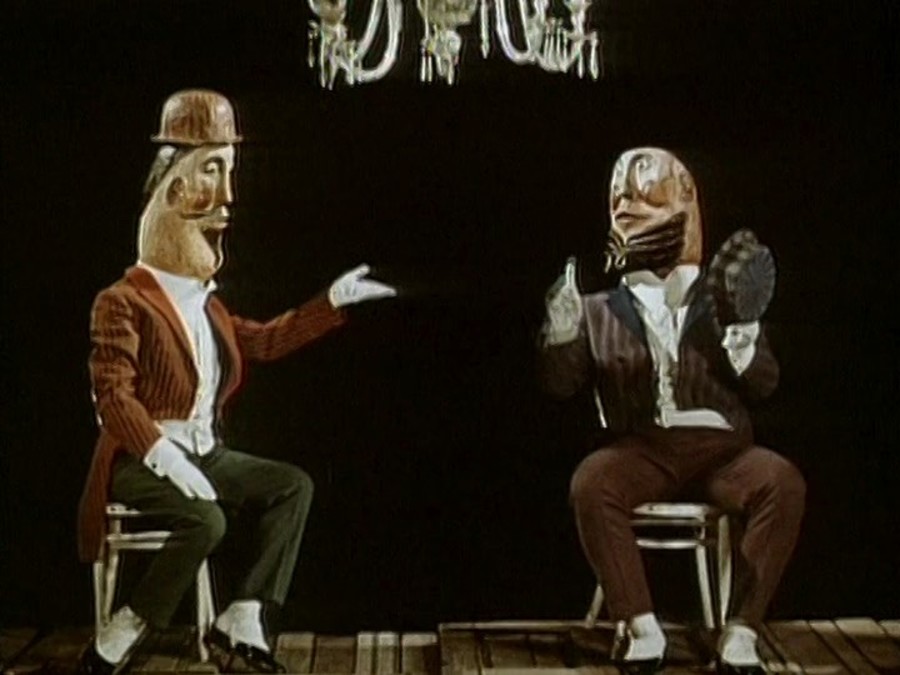 Edgar in turn grows several arms and begins playing various instruments simultaneously.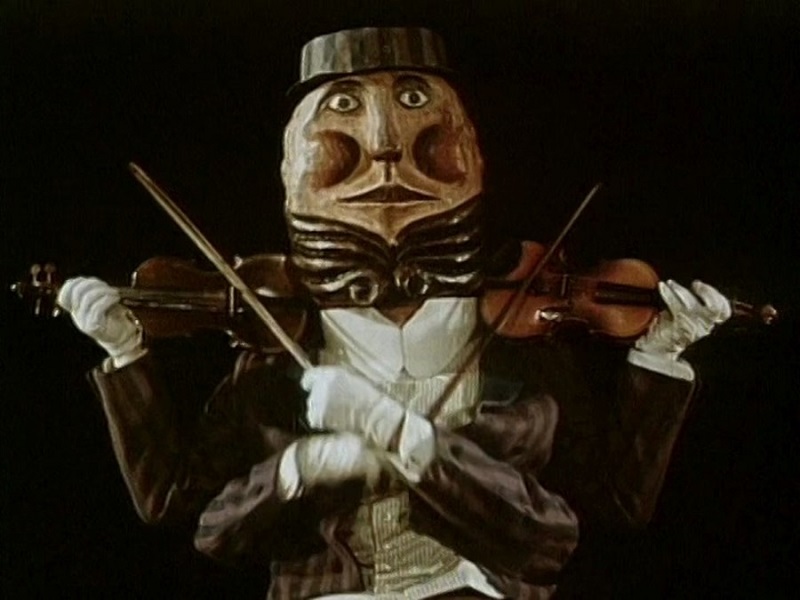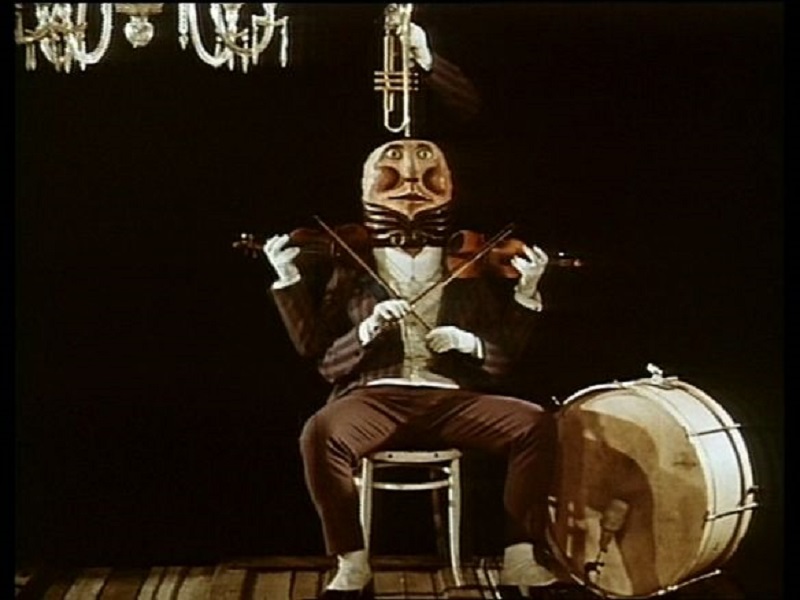 Schwarzwald imitates this trick by growing several heads.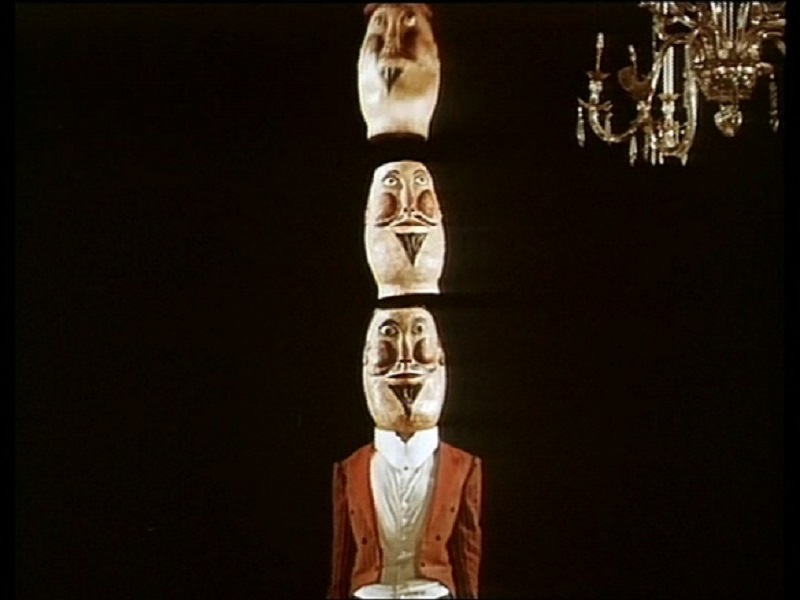 Then he attempts to juggle them.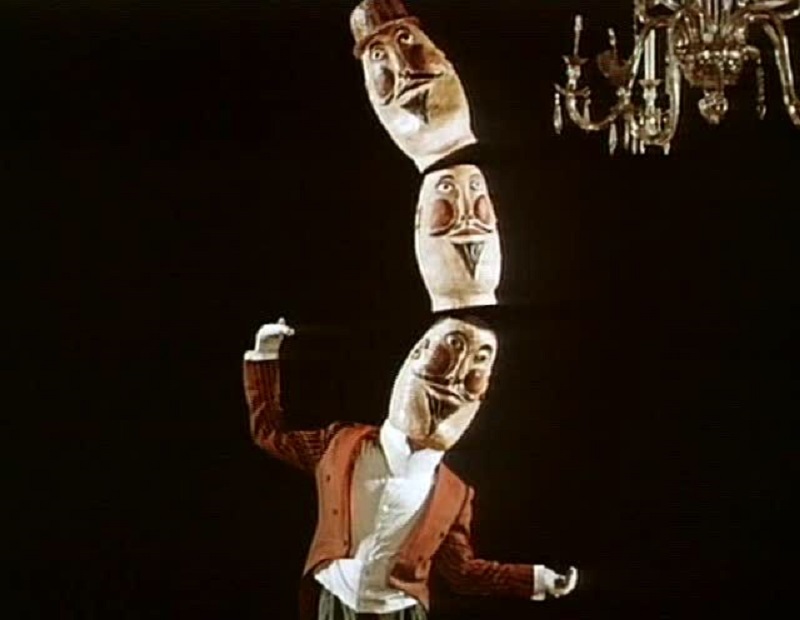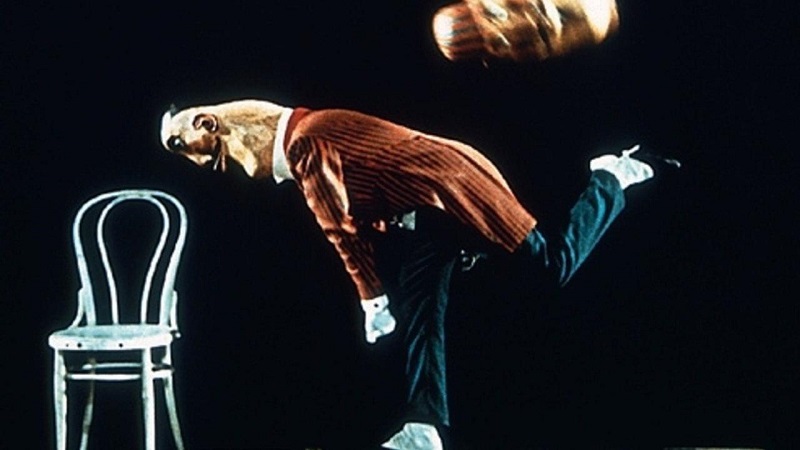 Edgar causes several chairs to come alive and perform tricks at the crack of a whip.
Of course, once pried open, we quickly realize that all that resides in their heads resemble surrealist cabinets.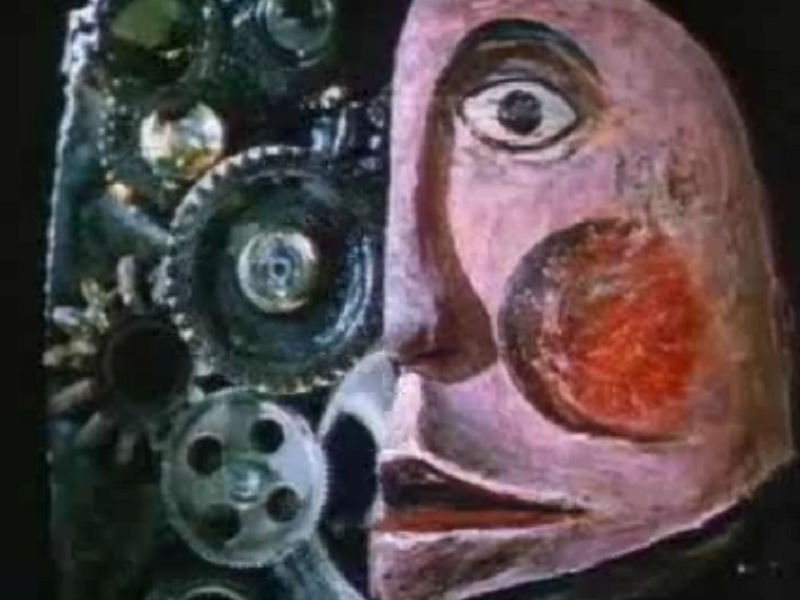 Cabinets stuffed with grinding gears, violins and insects creating a cubist barrage of imaginative discontinuities once the magic gets going.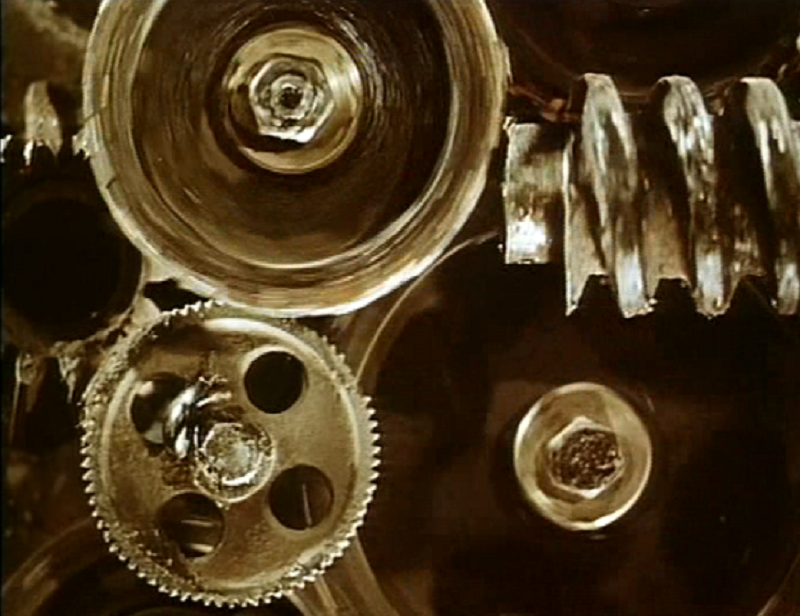 For the magicians' last trick, and ending on a rather violent note, Edgar and Schwarzwald literally make themselves disappear by tearing each other to pieces after a series of particularly aggressive handshakes.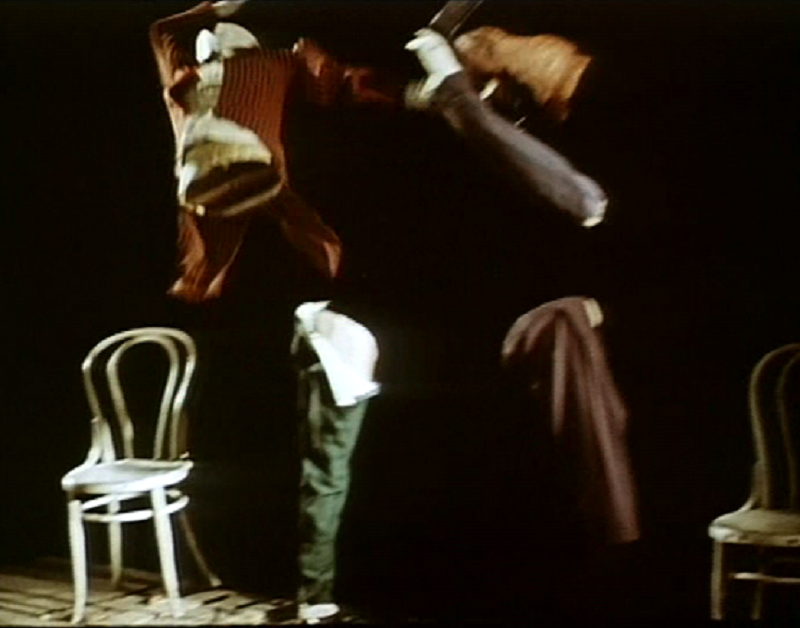 The pair quite literally tears each other apart, until all that remains are two floating arms fiercely grasping each other.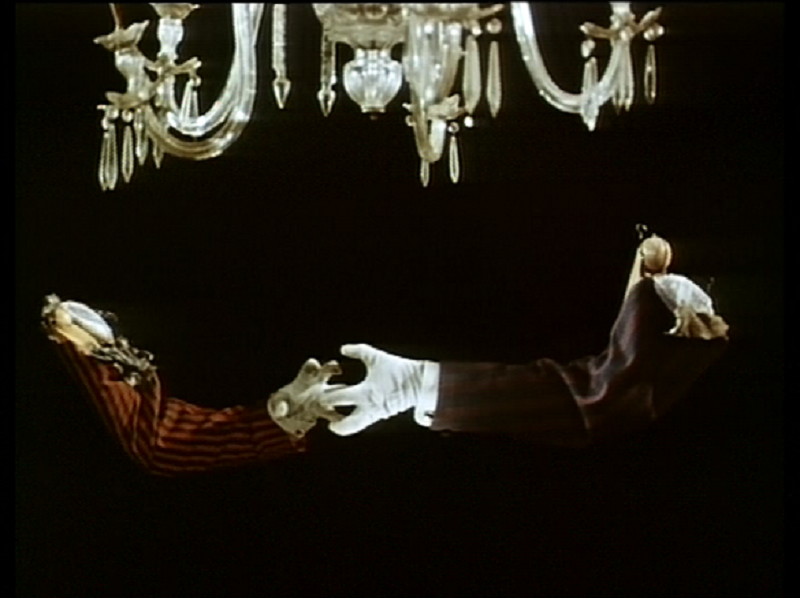 This film shows some of the themes that would reoccur in his later work – violence, destruction, and a breakdown of communications, the style of film that can be noted to prelude his turn towards surrealism.
However, while there is stop-motion animation in this film, it is hardly to the same extent as used in his later films.
The resulting film leaves us with a collection of unsettling images, both repulsive and fascinating at once, with a series of visuals which add layers of meaning and depth.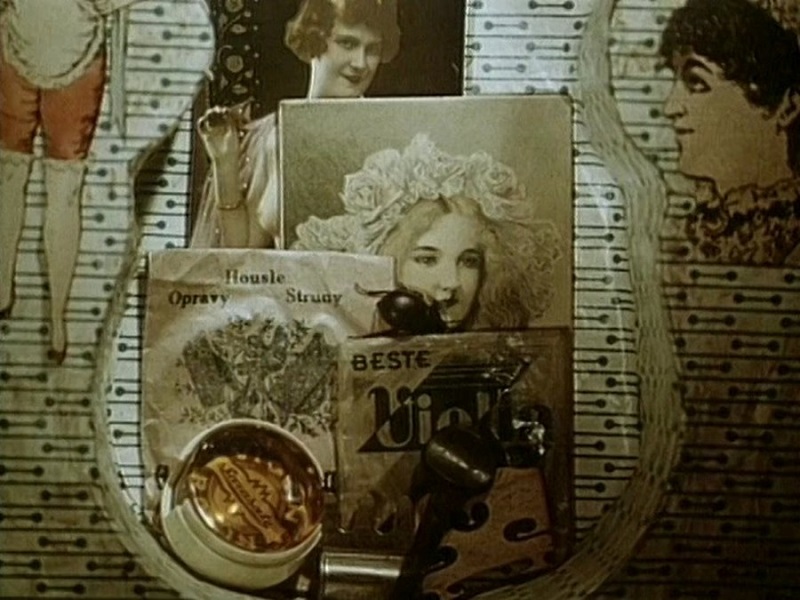 This is not simply some 'trick' film, but a perfect blend of humor and the grotesque that give powerful and unique insights to human experience and relationships.
In 1964, it won the Prix de la Première Oeuvre au Festival de Tours.
You can watch the entire 12 minute film short below…
"Jan Švankmajer is a renowned Czech filmmaker, who has been continually cited as an immensely influential Eastern European animator. His influence can be said to have had an impact on the western cinema of animation as a whole, even though at the start of his career as a filmmaker his work was screened by the Czech communist government, and later nearly completely repressed from 1970s to the 1980s – in fact it was only after that period in which he expanded from his short films into full feature-length films. In terms of origins, his inspirations rise from his childhood experiences, Czech surrealism, communist censorship suffered and the folk tradition of Central Europe, especially notable for drawing on Gothic influences." – David Guerrini-Nazoa
The Last Trick (Czech: Poslední trik pana Schwarcewalldea a pana Edgara) Starring Juraj Herz and Jirí Procházka. Written and Directed by Jan Švankmajer. Produced by Josef Soukup. Cinematography by Svatopluk Malý. Editing by Milada Sádková and Music by Stepán Konícek and Zdenek Sikola.
If you have not already subscribed to get TresBohemes.com delivered to your inbox, please use the form below now so you never miss another post.
---
Remember, we rely solely on your donations to keep the project going.
Become a friend and get our lovely Czech postcard pack.