Today we are going to make a very quick and easy recipe. Czech egg salad open-faced sandwiches or chlebíčky as they are called in Czech. These small, two- or three-bite, open-faced sandwiches, served at parties as tapas with wine are the quintessential Czech snack food.
Thin slices of baguette are covered with various spreads (i.e. cream cheese, crab or lobster paste or potato or egg salad, and topped with various piquant toppings (i.e. capers, slice of pickle, deviled eggs, brie, mozzarella, tomatoes, pepperoni, salmon, caviar, etc.).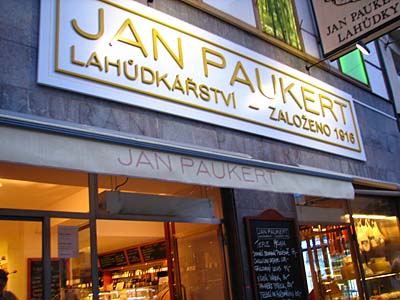 While there are open-face sandwiches made throughout the world, these are special because of the combination of ingredients, their wide variety of tastes, and mostly their aesthetic arrangement and presentation.
It is believed that Obložené Chlebíčky were invented near the beginning of the 20th century by Jan Paukert, and introduced at the Paukert Deli that opened in Prague in 1916.
Outside of the Czech Republic, we have only seen something similar in a deli in Salzburg.
The original Chlebíček consisted of Prague Ham, eighth of a hard-boiled egg, a slice of good Emmental cheese, Hungarian salami, slice of tomato on a bed of piquant potato salad made with home-made mayonnaise, the recipe for which went with Jan Paukert into his grave.
In pre-WWII Prague, the Paukert Deli became a favorite hangout of famous actors and actresses from the nearby National Theather, such as Zdeněk Štěpánek, Hugo Haas, Emma Destinová, Vlasta Burian and Lída Baarová.
(The above from the following website: Kolarsky.com.)
When the deli was restituted after the fall of communism, it was taken up by Mr. Paukert's son-in-law, Richard Švec, who has been keen to restore its former glory and he's been doing so by the book: not only is the atmosphere authentic, the Paukerts had the old recipes subjected to analyses to make sure their roast beef and duck galantine is as close as possible to that which graced the table of the first president of the new republic, T. G. Masaryk, in the 1920s.
Learn more by listening to the interview at Radio.cz.
Today we are making Czech egg salad open-faced sandwiches. This is our personal recipe, passed down by our mother and grandmother. The addition of the butter adds a much richer texture and we like the extra spiciness using a little more of the Dijon mustard.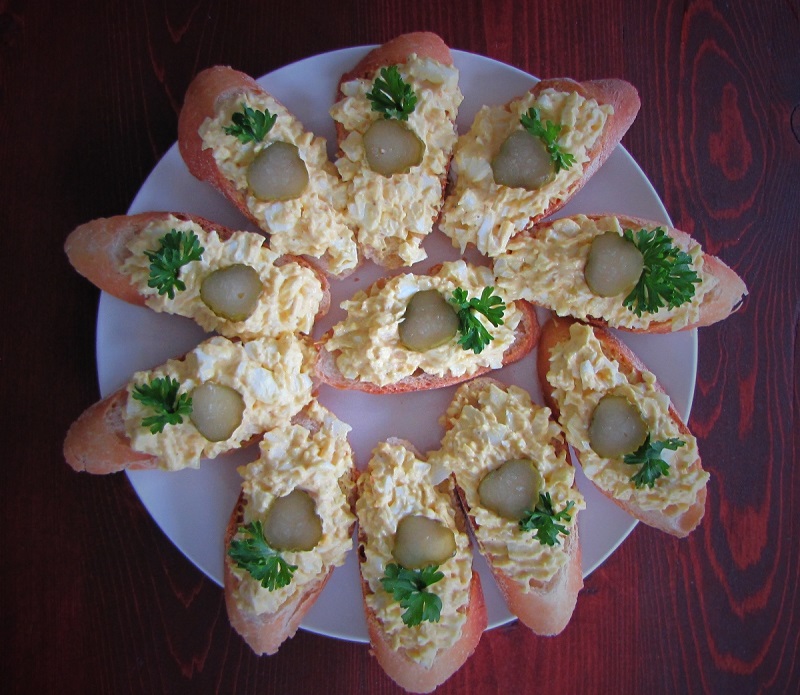 Ingredients
1 large baguette
1 dozen eggs (hard boiled)
1 small onion
2 teaspoons Dijon mustard
1/3 cup mayonnaise
2 or 3 tablespoons quality butter
salt and pepper to taste
garnish items to your preference
Directions
Hard boil eggs and let cool.
Break yolks out of eggs and place into deep bowl. Set whites aside.
Using a fork, mash egg yolks with salt, pepper, butter and mayonnaise.
Chop egg whites into small pieces. If you like them even smaller, you can grate them.
Add chopped onion and chopped whites to yolk mixture and stir well.
Slice baguette into 3/4″ slices. If you cut at a diagonal, your bread will be larger and have more of that "Czech chlebíčky" look.
Place a scoop of egg salad on to each slice and spread around. How thick you want it depends o your personal taste.
Use parsley, pickles, cheese, a sprinkle of paprika or your imagination to garnish.
Serve.
A quick and relatively easy take on chlebíčky that will wow your guests.
Read the rave reviews and see more photos on TripAdvisor.
Dobrou Chut!
If you have not already subscribed to get TresBohemes.com delivered to your inbox, please use the form below now so you never miss another post.
---
Remember, we rely solely on your donations to keep the project going.
Become a friend and get our lovely Czech postcard pack.