Karel Husa, one of the most distinguished and admired composers of the second half of the 20th century, was honored in 1969 with the Pulitzer Prize.
Karel Husa was born in Prague on August 7, 1921. He learned to play violin and piano at an early age and after the completion of the high school, he studied at Prague Conservatory and at the Academy of Musical Arts under Jaroslav Řídký. He then went to Paris, where he studied composing and conducting under Arthur Honegger, Nada Boulanger and Andre Cluytense.
Husa saw his early compositions performed throughout Europe in the early 1950s. Husa's 'String Quartet No. 1' received its premiere in June 1950, and won him international attention, as well as the 1950 Lili Boulanger Award and the 1951 Bilthoven Festival Prize. Other performances in the aftermath of these prizes included the International Society for Contemporary Music in Brussels (1950), festivals in Salzburg (1950), Darmstadt (1951), and the Netherlands (1952) as well as at various concerts in Germany, France, Sweden, England, Switzerland, Australia and the United States. Other compositions written by Karel Husa during his time in Paris include 'Divertimento for String Orchestra,' 'Concertino for Piano and Orchestra',' Évocations de Slovaquie,' 'Musique d'amateurs', 'Portrait for String Orchestra,' 'First Symphony,' 'First Sonata for Piano', and Second String Quartet.' Throughout this period, the composer's underlying preoccupation and interest was style, which was primarily influenced by Vítězslav Novák, Leoš Janáček, Béla Bartók and Igor Stravinsky.
In 1954, he moved permanently to America, becoming a US citizen in 1959. From 1954 until 1992, Husa was a professor at Cornell University, Ithaca, NY, eventually holding the Kappa Alpha chair in music. He was also a lecturer at Ithaca College from 1967 to 1986, and served as the first Director of the Cayuga Chamber Orchestra from 1977 to 1984. Composers who studied with Husa include Steven Stucky, Christopher Rouse, John S. Hilliard, Jerry Amaldev, Christopher Kaufman, David Conte, and Byron Adams.
He conducted major orchestras throughout Europe, Asia and the US and composed more than 90 works for orchestra, concert band, chamber ensemble, winds, chorale and keyboard, and three ballets. He composed 'Festive Ode (for an Academic Occasion)' in 1964 for Cornell's Centennial Celebration.
Many of Husa's compositions entered the modern repertoire, including "Divertimento" for various ensembles (1948-1995); "Eight Czech Duets" for four-hand piano (1955); and "Apotheosis of This Earth" (1970), which he said was "motivated by the present desperate stage of mankind and its immense problems with everyday killings, war, hunger, extermination of fauna, huge forest fires and critical contamination of the whole environment."
Husa won the Pulitzer Prize in Music in 1969 for his 'String Quartet No. 3', and the 1993 Grawemeyer Award for his 'Concerto for Cello and Orchestra,' and many other composition prizes over his career.
His best-known work is the four-movement 'Music for Prague 1968,' written after the Soviet occupation of Czechoslovakia and featuring such symbols of resistance and hope as a 15th century Hussite war song and the sound of bells. The Ithaca College Concert Band commissioned the piece, which premiered in January 1969 and has been performed more than 7,000 times since.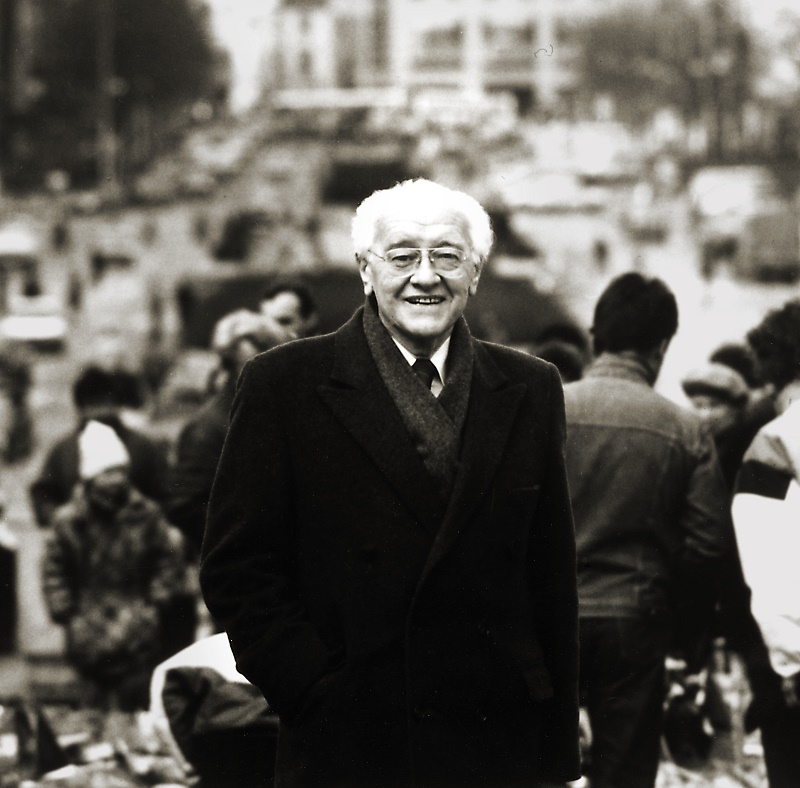 Husa also composed 'The Trojan Women', a ballet, commissioned by Louisville Ballet and Orchestra; the composition 'Recollections for Wind Quintet and Piano,' commissioned on the occasion of 200th Anniversary of the relations between the US and the Holland, which had its premiere in December 1982, for which Husa was awarded the Sudler Prize in 1983. He composed three new compositions for solo clarinet for the Clarinet International Contest, held within the Prague Spring Festival in 2008.
He received numerous commissions from major orchestras and arts organizations including the New York Philharmonic, the Chicago Symphony and the Koussevitzky Music Foundation; nine honorary doctoral degrees, and prizes and fellowships from UNESCO, the Kennedy Center, the Guggenheim Foundation and other institutions.
The Washington Post fittingly characterized Karel Husa's music in these words: "A Czech native, Karel Husa is a composer, who found a way, how to apply the best discoveries of modernism. He plays all instruments with unbelievable skillfulness and resolute handling toward romantic ideas.
In October 1995, he received, as the first Czech composer a State recognition, when he was given a Medal for Merit of First degree, by President Václav Havel. In 1997 he was honored with a Silver Medal by the Mayor of Prague. In 2000, Karel Husa was awarded an Honorary Doctorate by Masaryk University in Brno, and another Honorary Doctorate by the Academy of Musical Arts in Prague. The composer received the first World Association of Symphonic Band Ensembles (WASBE) Lifetime Achievement Award at the conclusion of WASBE's International Conference in Cincinnati, OH, July 6-11, 2009.
In his final years, Husa resided in Apex, North Carolina, where he died on December 14, 2016
– – – – – – end of guest post.
We are including a short video interview with Karel Husa.
There is also an excellent written interview here.
---
Guest Post Author
Miloslav Rechcígl, Jr. is one of the founders and past Presidents of many years of the Czechoslovak Society of Arts and Sciences (SVU), an international professional organization based in Washington, DC. He is a native of Mladá Boleslav, Czechoslovakia, who has lived in the US since 1950.
Read his entire profile here.  Discover Mila's many books on Amazon.
* * * * *
Thank you in advance for your support…
You could spend hours, days, weeks, and months finding some of this information. On this website, we curate the best of what we find for you and place it easily and conveniently into one place. Please take a moment today to recognize our efforts and make a donation towards the operational costs of this site – your support keeps the site alive and keeps us searching for the best of our heritage to bring to you.


Remember, we rely solely on your donations to keep the project going.
We appreciate you more than you know!
If you have not already subscribed to get TresBohemes.com delivered to your inbox, please use the form below now so you never miss another post.