Czech Sauerkraut Soup, Moravian Cabbage Soup, Wallachian Sauerkraut and Sausage Soup, Zelňačka, Valašská kyselica, a soup known by many names is the subject of today's post.
First, let's look at the region where this delicious soup comes from.
Moravian Wallachia (Moravské Valašsko in Czech), is a mountainous area in the easternmost part of Moravia, located in the Czech Republic including the cities of Rožnov pod Radhoštem, Vsetín and alašské Mezirící. It lies near the Slovakian border.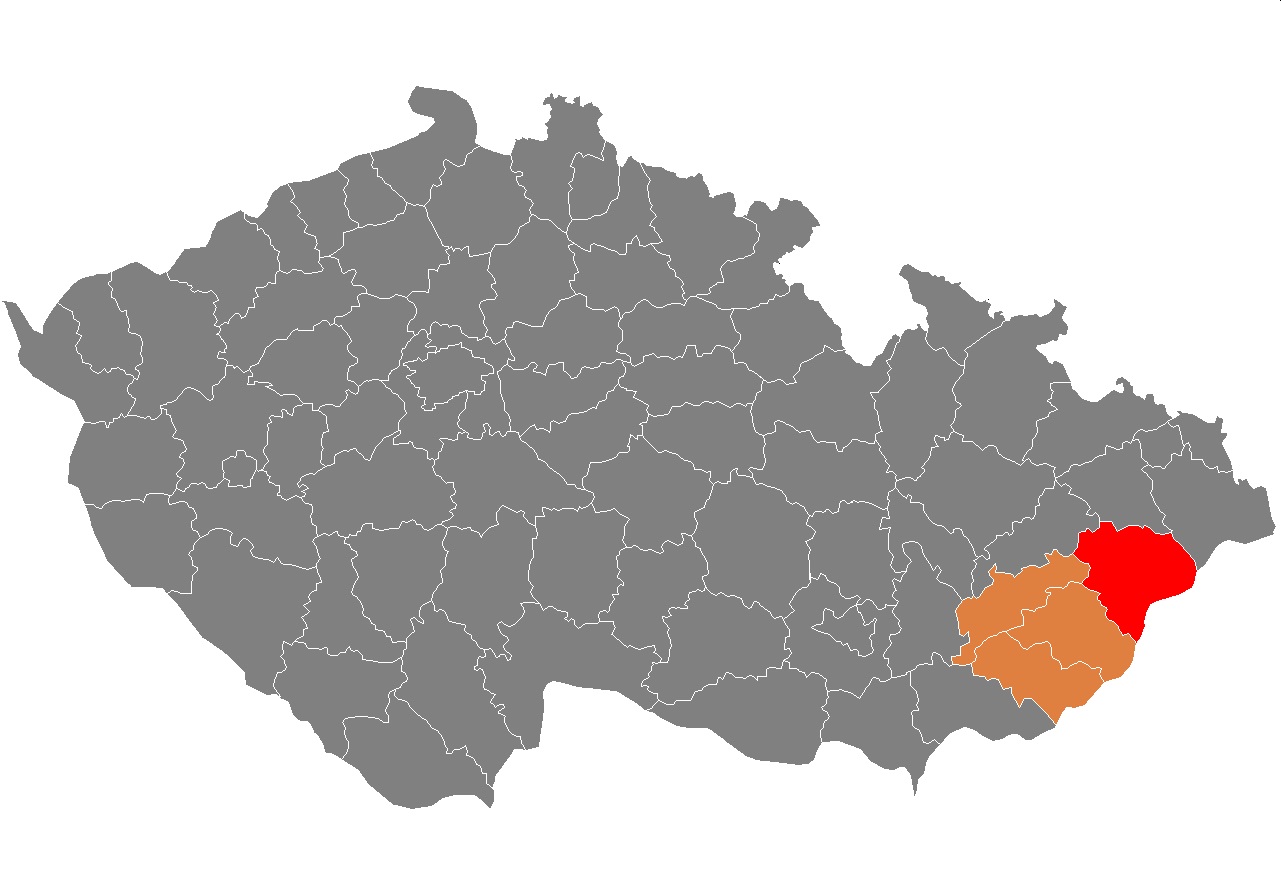 The name Valašsko or Wallachia is what all the highlands of Moravia and neighboring Silesia were called in the past. In the late 19th century, a smaller area came to be defined as ethno-cultural Moravian Wallachia.
The traditional dialect (which is rarely heard these days) represents a mixture of elements from both the Czech and Slovak languages. It has a distinct lexicon of Romance and Balkan origin relating to the pastoral economy of the highlands. The name originated in the "Vlachs", an originally Romance-speaking community that migrated to Moravia from the Balkans.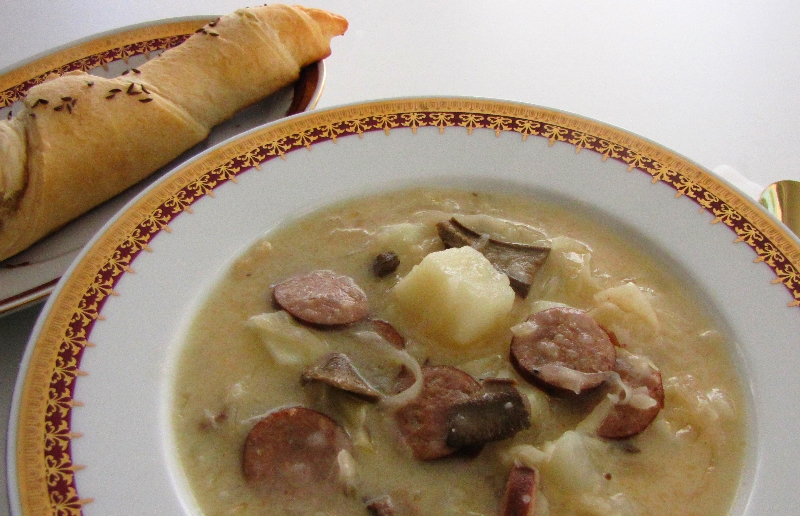 On the Moravian side of the mountains, it's made with pickled cabbage, aka sauerkraut.
Always.
On the Slovak side of the mountains, it's made with fresh grated cabbage.
Always.
Historically eaten for breakfast, this dense soup ensured that the men of the village had enough strength to work in the forest. It's said that one plate is so abundant there is no room for lunch. In other words, serve this as a meal with hearty bread or rohliks on the side.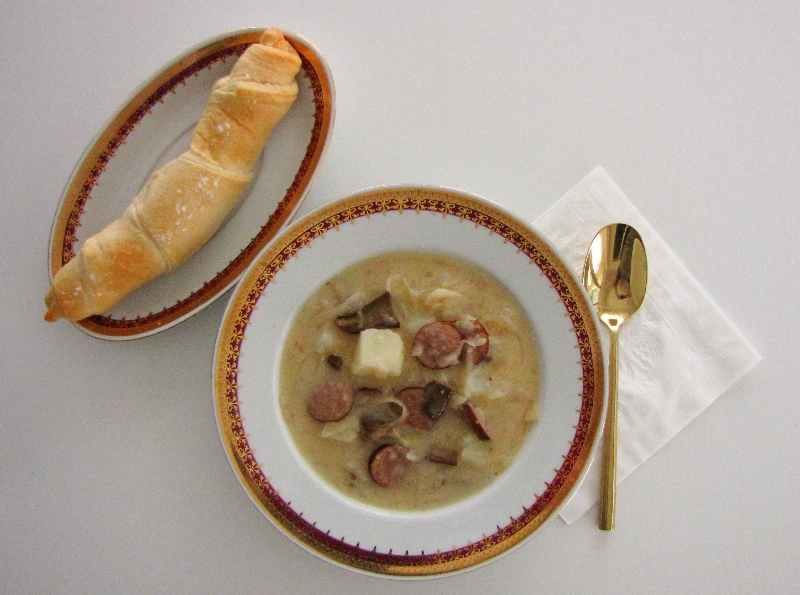 There are a few variables to how this soup is made which include the following:
Mushrooms, some people use them, others don't.
Bacon, some people use them, others don't.
Onions, some people use them, others don't.
Paprika, some people use it, other's don't.
Sausage, kielbasa, smoked sausage. (We use a spicy cajun sausage as there are no sausages in the U.S. that are spicy like the Czech and Hungarian ones we would normally use and it works perfectly.)
Treasured family recipes are arguably 'the best' and have been a staple of the Moravian cuisine for decades. No one can claim to know exactly which version was 'the original' version of this delicious and hearty soup but we do know that sometime between the 14th and 17th centuries shepherds from Romania immigrated to the area. It is believed that they brought the recipe for this soup with them.
Here is the version we have come up with by creating a mix to our own tastes based on several cookbooks over the years.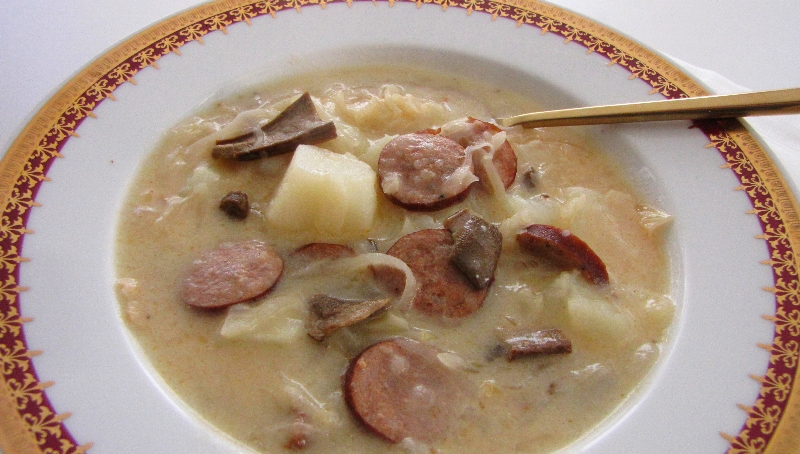 Ingredients
1 bag sauerkraut, rinsed
4-6 large potatoes, cubed
1 large spicy kielbasa, sliced
1 large onion
3 Tbsp. butter
1 cup sour cream
¼ cup milk
¼ cup flour
Bay leaf
8 balls of allspice
1 tsp. caraway seeds
Handful of Czech dried mushrooms (porcini mushrooms)
sugar, salt & pepper to taste
lemon or vinegar to taste
Directions
Roughly chop and place the dried mushrooms in a bowl and cover with boiling water, set aside.
Rinse the sauerkraut and chop into smaller pieces. Put into a large saucepan with caraway and 2 cups of water and boil on medium heat until tender.
In a large soup pot (we use our Dutch oven) fry the chopped onion for 8 minutes on medium heat. Then add and fry the sliced sausages for 8 minutes more.
Strain and squeeze any moisture out of the mushrooms and add them to the pot. Add the allspice, bay leaves and 2 quarts of water (8 cups). Cook for 10 minutes.
At this point, add rinsed diced/cubed potatoes and cook for 20 minutes allowing potatoes to cook.
Remove the bay leaves and floating allspice.
Add the sauerkraut to the soup pot (with any remaining liquid).
Empty the sour cream into a bowl and add milk and flour. Also add two ladles of liquid from the soup and whisk to break up all flour.
Slowly pour into the soup mixture, stirring to incorporate.
Cook on low for 15 more minutes, allowing the soup to thicken and then adjust to taste, adding sugar, salt, pepper and a splash of vinegar or lemon to taste to balance the sweet and sour taste as desired.
Pour into bowls and garnish with any (or all) of the following; parsley, dollop of sour cream, crumbled cooked bacon or fresh dill.
Serve with bread, rolls or rohliky.
Not only is this hearty soup the perfect meal for a cold evening, it is also rumoured to be a miracle cure for a hangover (especially in the Valašské region).
For us, it's a winter favorite!
Here it is, appearing later in the day for second serving…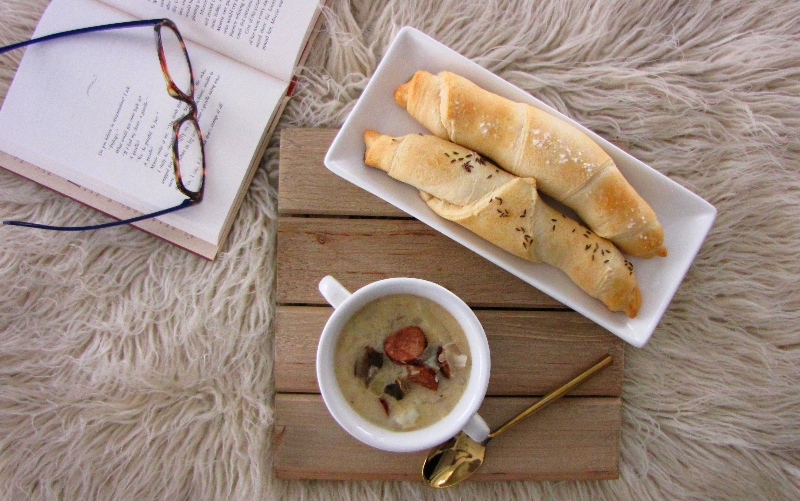 Dobrou Chut!
Thank you for your support – We appreciate you more than you know!
We know that you could spend hours, days, weeks and months finding some of this information yourselves – but at this website, we curate the best of what we find for you and place it easily and conveniently into one place. Please take a moment today to recognize our efforts and make a donation towards the operational costs of this site – your support keeps the site alive and keeps us searching for the best of our heritage to bring to you.


Remember, we rely solely on your donations to keep the project going.
Thank you in advance!
If you have not already subscribed to get TresBohemes.com delivered to your inbox, please use the form below now so you never miss another post.