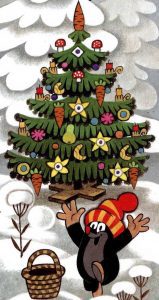 Written by Hana Doskočilová and illustrated by Zdeněk Miler, Krtek A Vánoce, is a Czech children's book written about a little mole who is named Krtek, who is very famous in The Czech Republic.
The first film from then called Czechoslovakia was called Jak krtek ke kalhotkám přišel (or How the mole got his trousers in English) had premiere on Venice Film Festival in 1957, where it was awarded two Golden Lions.
Krtek was first seen in Prague in 1956 when Miler wanted to create a children's cartoon about how flax is processed. He wanted a strong Disney influence to the cartoon by choosing an animal for the leading role, and decided to pick a mole after stumbling over a molehill during a walk.
This little character not only has a television show, but also has had numerous books and memorabilia made about him. Children all over The Czech Republic recognize his friendly round face, and in some homes you might even find a homemade drawing of this sweet mole hanging on the refrigerator.
Miller is a Czech born illustrator and animator who is best known for his work on Krtek, a classic Czech character. He became an animator partly because of the Nazi occupation and escaped being sent to a concentration camp. Instead he ended up working as an animator.
Images of Krtek can be found all around the Czech Republic, whether his he can be seen painted as a mural on a wall, or sold in the form of a backpack in one of the many tourist shops along Prague's cobblestone streets. And believe it or not, on May 16, 2011 a plush toy of Krtek was present on board the Space Shuttle Endeavour where it accompanied the U.S. astronaut Andrew Feustel, whose wife is of Czech ancestry, on the STS-134 mission. So we could say he's even known in space!
Krtek A Vánoce is a story about no other than Krtek. In Krtek A Vánoce Krtek waits for all of his forest friends (who have never had a real Christmas) to fall asleep so he can surprise them with a beautiful traditional Christmas, complete with a decorated, gifts, and carols.
As you can imagine his friends are most delighted and they spend the day around the tree celebrating. This is a lovely holiday children's book which also has a big lesson, be kind to others!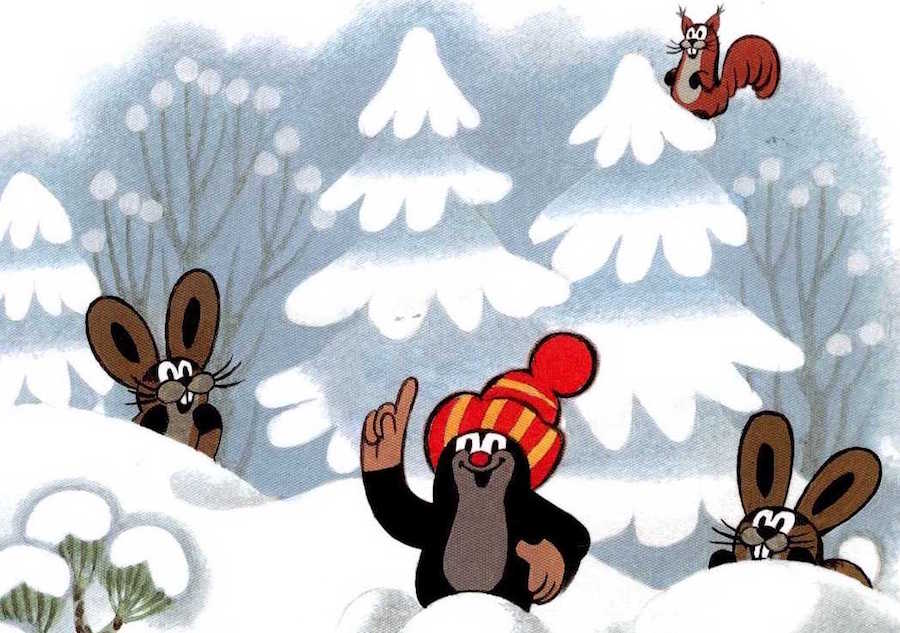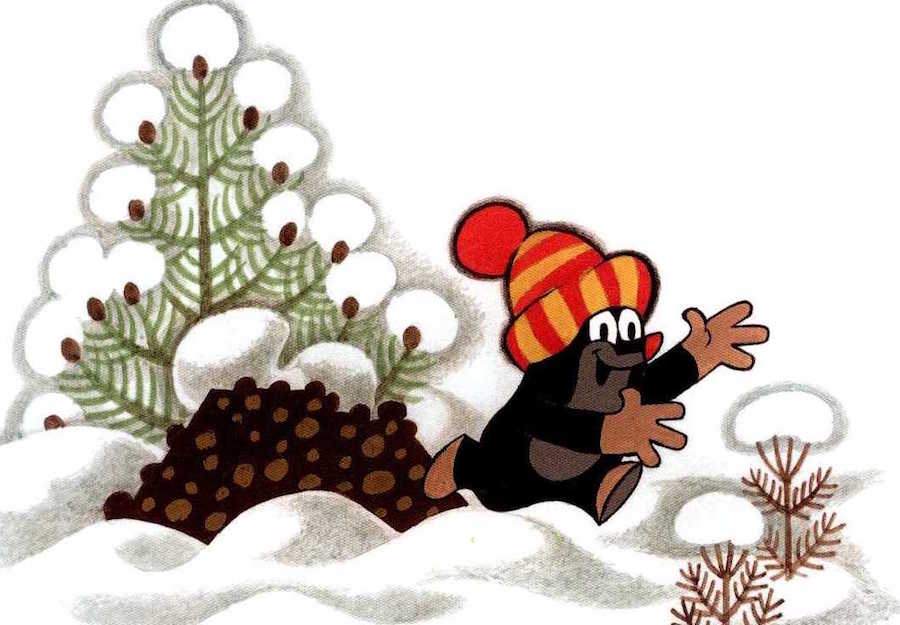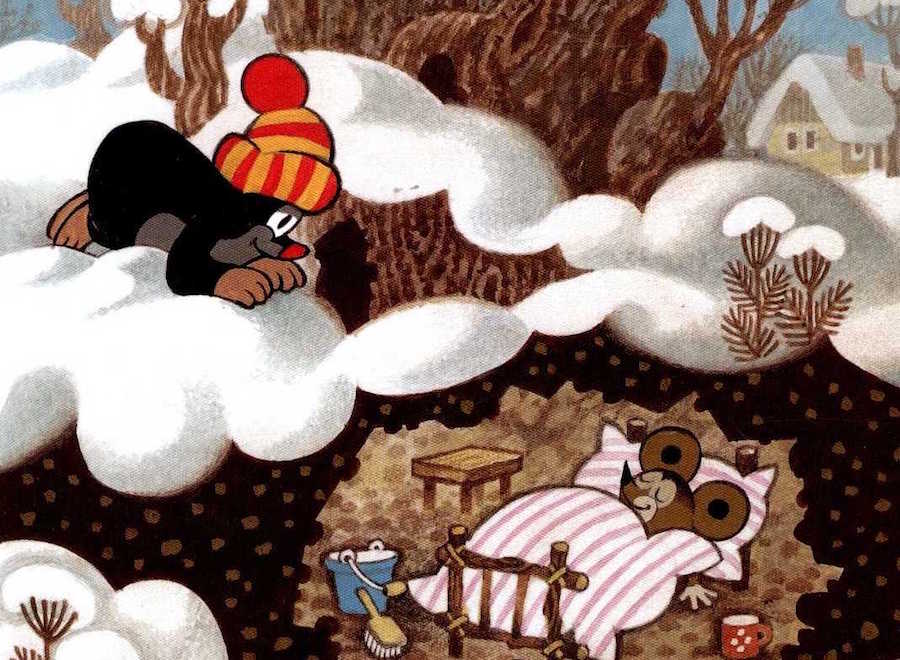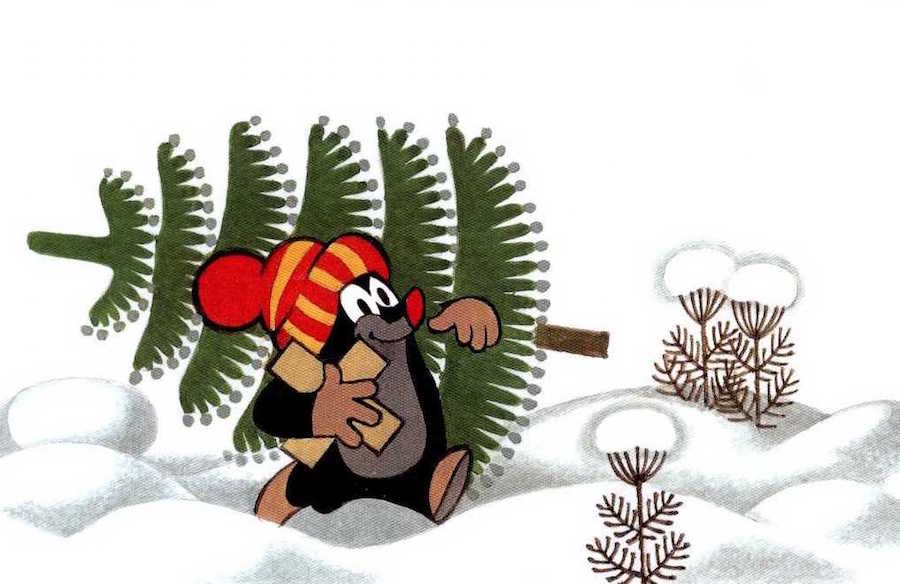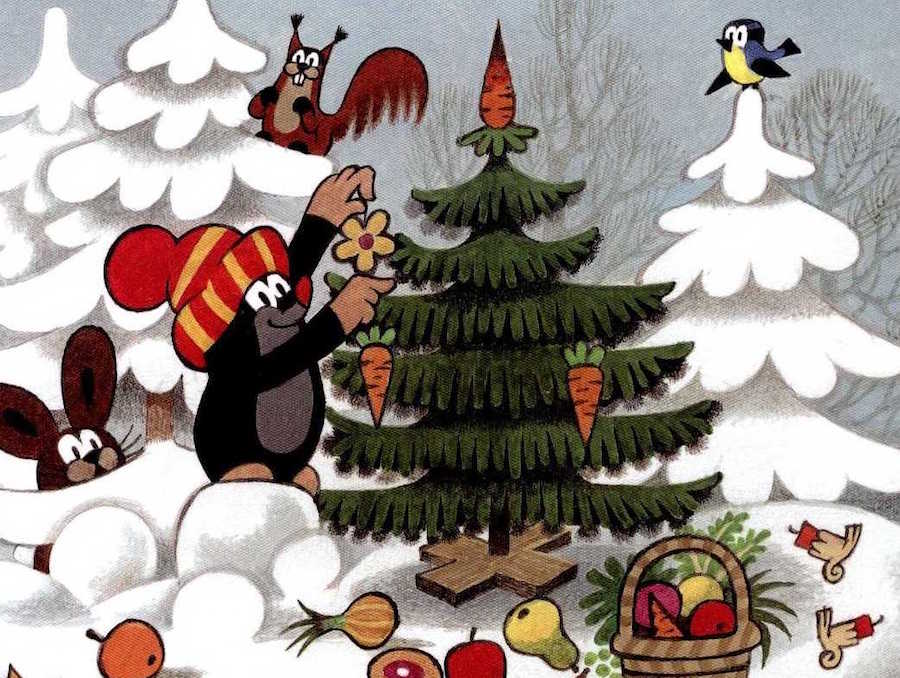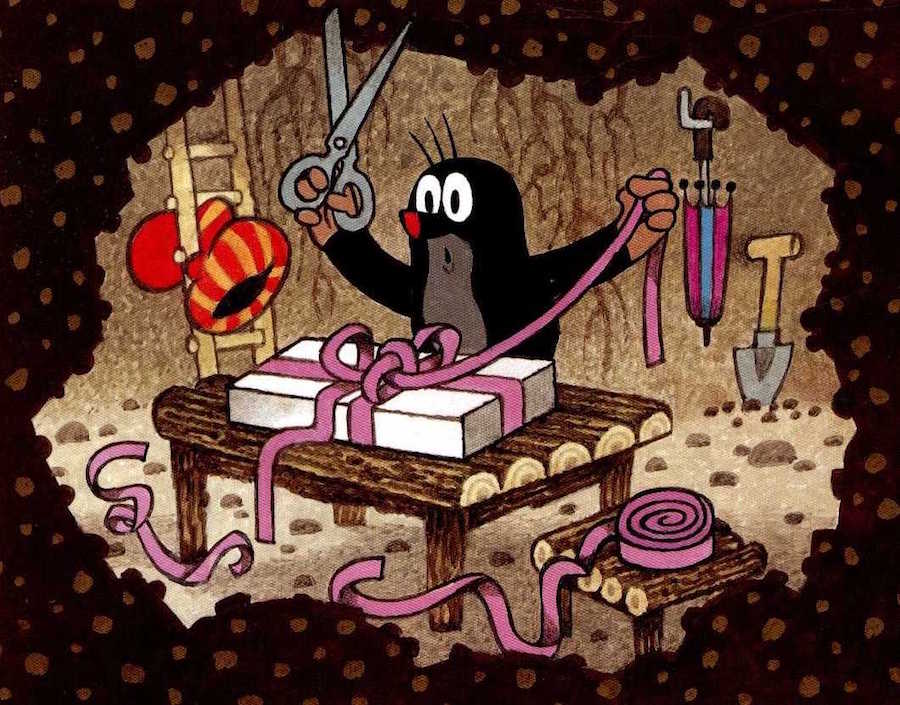 To purchase a Czech copy of Krtek A Vánoce, click here.
For those wanting Krtek in English, unfortunately at this time we do not know of any translated version of the books, but several DVDs exist of his sweet animated adventures and most of them have no talking, only a musical score with some animal sounds.
Currently, we see 14 such films available on eBay, and we recommend CzechMovie as the seller – we've purchased over 100 films from them ourselves and they package carefully, ship quickly and we've always been most satisfied with them. Again, that link to the movies is here.
Enjoy!
If you have not already subscribed to get TresBohemes.com delivered to your inbox, please use the form below now so you never miss another post.
---
Remember, we rely solely on your donations to keep the project going.
Become a friend and get our lovely Czech postcard pack.