For Czechs, bread is a way of life. Everywhere you go, fresh bakeries on town squares send delicious aromas to the street, luring in people for their earthy and hearty loaves. Czech bread is known the world over for its delicious taste and texture.
I'll share a little family story…
After my grandmother Marie divorced my paternal grandfather (Vlastimil Hilmar, March 17, 1920 – May 9, 1970),
she married a baker, Gustav Hodza (February 20, 1925 – July 18, 2003), who was known for his Czech bread.
Here is a photograph of them when they were married…
In 1968, he and my grandmother, my parents and I and my aunt and uncle all emigrated to the U.S.A and he went to work immediately making his delicious Czech bread.
Almost immediately, he and my grandmother opened a bakery in Watertown, Massachusetts.
I found these old advertisements from that location among her treasured photographs, letters and papers.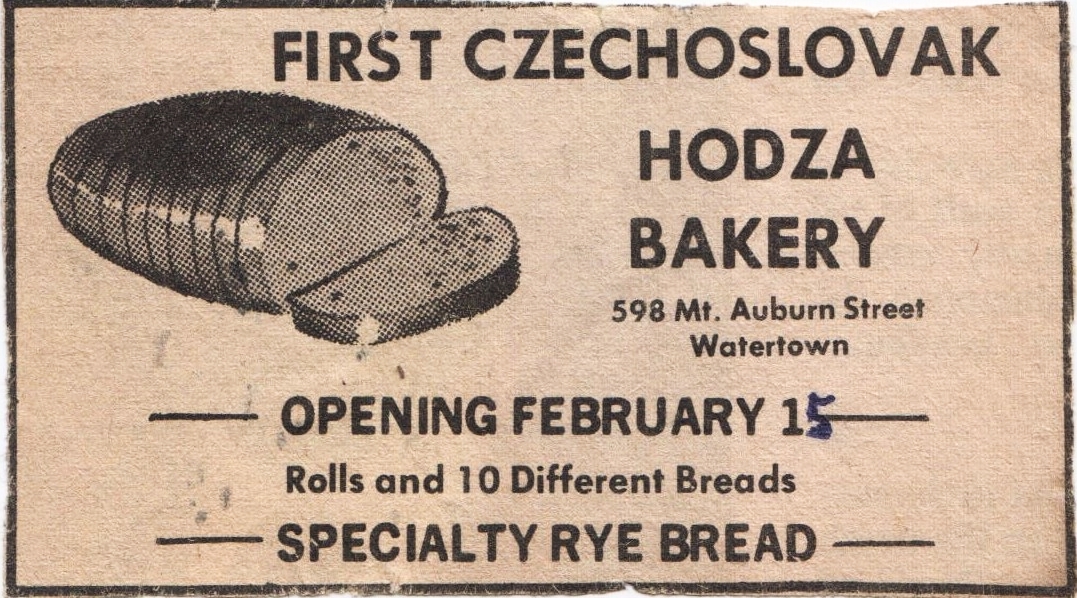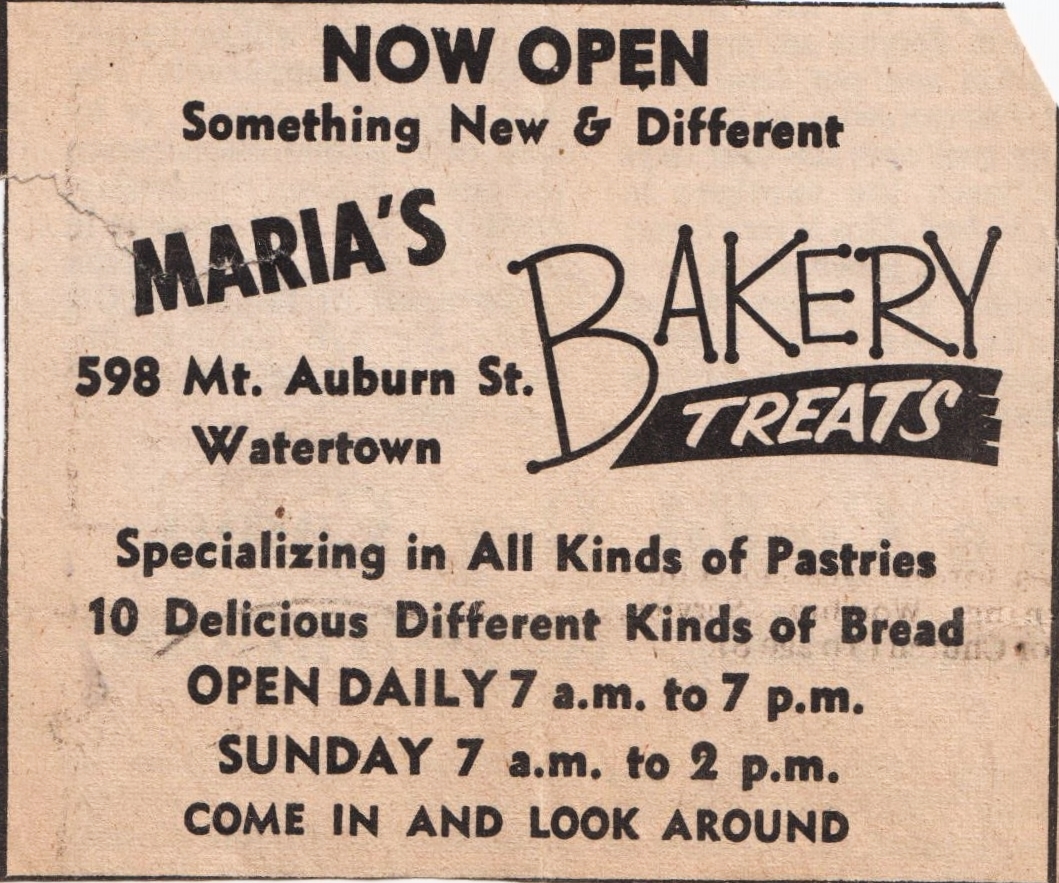 I found an old check!

She even had these photos (with my cousin Tom and aunt Helen).
As the deliciousness of their Czech bread spread, visitors came from all over Massachusetts and eventually even New York to buy bread for their businesses.
They made more commercial loaves than bread selling in the bakery location.
One day, they received an offer to go to California and make Czech bread there for someone who owned a chain of restaurants, so they took the offer and went to California. They opened a bakery there and phone calls of the sunshine paradise soon followed. After all, there was Hollywood, Malibu, Beverly Hills and the gorgeous Pacific Ocean.
Shortly after, my family and my aunt and uncle followed.
California here we come….
Their bakery opened in Hermosa Beach where my parents and aunt and uncle also worked part time.
Eventually, my grandmother and Hodza divorced. They sold the bakery and she then worked with my Uncle Vlasta in Redondo Beach, at a location facing the old pier.
They opened and called The Deli. I spent many hours there helping my grandmother and I loved it.
A few years ago I posted about the place on a Facebook group from the area and a young woman wrote me a long letter how one morning she was sitting outside The Deli and my grandmother brought her in, cooked for her, talked to her and gave her some money to get home. The girl had been partying and was on the wrong path in life and she wrote that the kindness of my grandmother made her go home and focus on the right things and reconnect with her parents. She wrote that my grandmother's generosity changed her life. And she wrote that when she saw the pictures, she immediately remembered that moment because she would never, ever forget that beautiful smile…
I cried. I wish she was alive so I could have shared that story with her…
Maybe someone reading this today will remember the bakeries in Watertown or Hermosa and will also share!
But back to the Czech bread…
Both had their own style and way of making bread, and their own recipes which were perfected through years of experience. All of the Czech breads they made were delicious, regardless of who made them.
One important thing I have learned over the years is that Czech bread is a living thing, and everything in and around the bread affects how the loaf will come out. By this I mean the yeast, the temperature, what it comes in contact with, how long it is kneaded and probably the very skin and DNA of the person kneading the bread!
I have a large KitchenAid – Professional 600 Series Stand Mixer that does most of my dough work, but I still make sure to take at least 2 minutes to also work it with my hands.
I also make sure to use something old in my Czech bread.
Let me explain…
Until the day she died, my grandmother made Czech bread. In her refrigerator one could always find a large pitcher of kvas (ferment, yeast) with a wooden spoon sitting in it. She swore that mixing with the wooden spoon helped the yeast and she always used some of the old kvas to make a new bread, and would take a pinch of the new bread dough and throw it into her pitcher for next time. She'd add a little water, a little flour and violently beat the kvas for a few moments before returning to the mixer.
This was her own way of making what most would recognize as a sourdough starter.
I learned many lessons from my grandmother and I have many of her recipes – but I never paid much attention to her Czech bread while she was alive.
I wish I had…
And even though she must have baked over 100,000 loaves in her life, at the bakery and then at the rate of two sometimes four loaves a day for friends and neighbors, I never once captured an image of her or her bread.
I do have a picture of her pulling Vánočka out of the oven.
I miss her so much
Since she passed away (November 12, 2005), I have gotten all sorts of cookbooks and watched hundreds of videos on making bread and never yet have I gotten it to taste like her bread. Why, at this point I am convinced that it was the pitcher of her kvas that she nurtured and fed for all those years that gave it the rise and the flavor. That and the fact that she beat it with a wooden spoon and kneaded it by her hand all those years.
But I keep trying, and I experiment in all kinds of ways.
Just yesterday I came up with this recipe which turned out quite well despite the fact I added carob syrup – a funny addition I read about somewhere…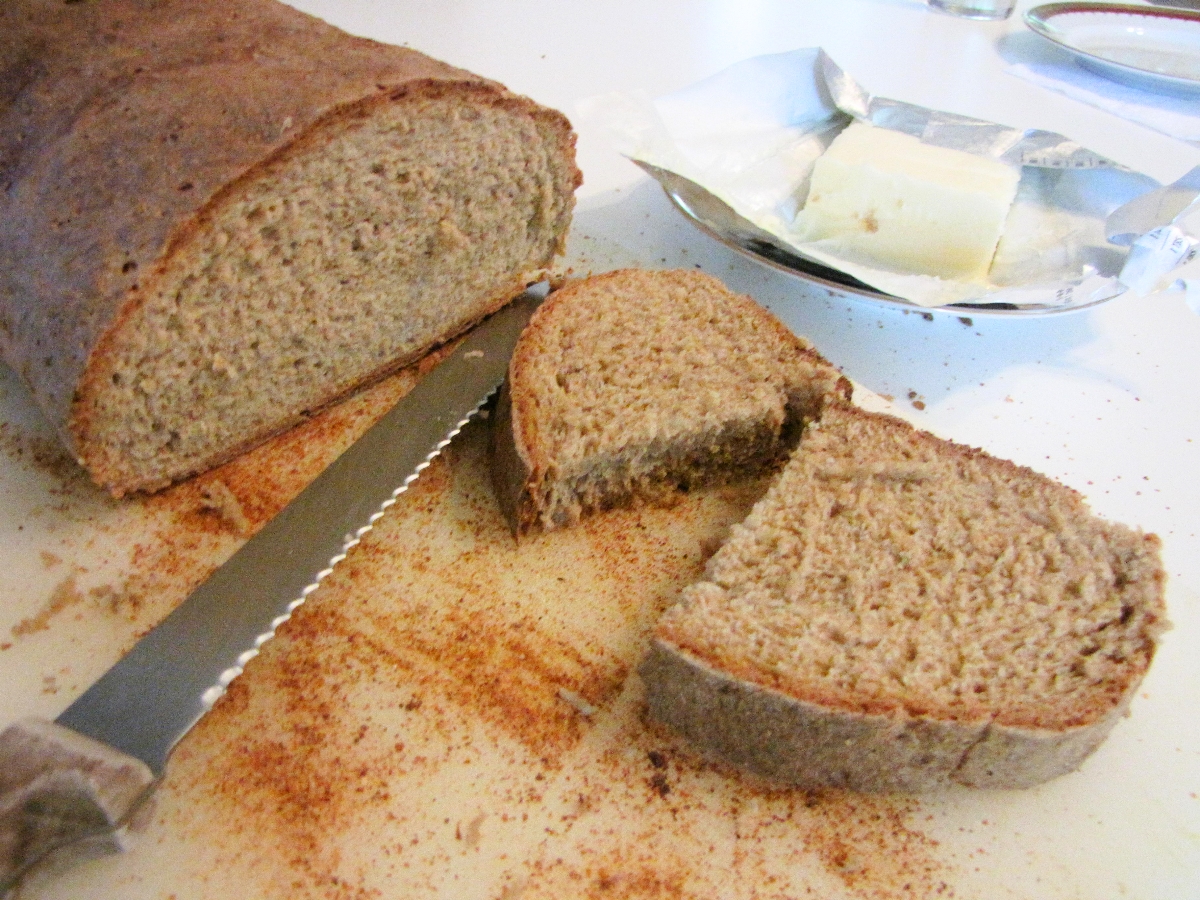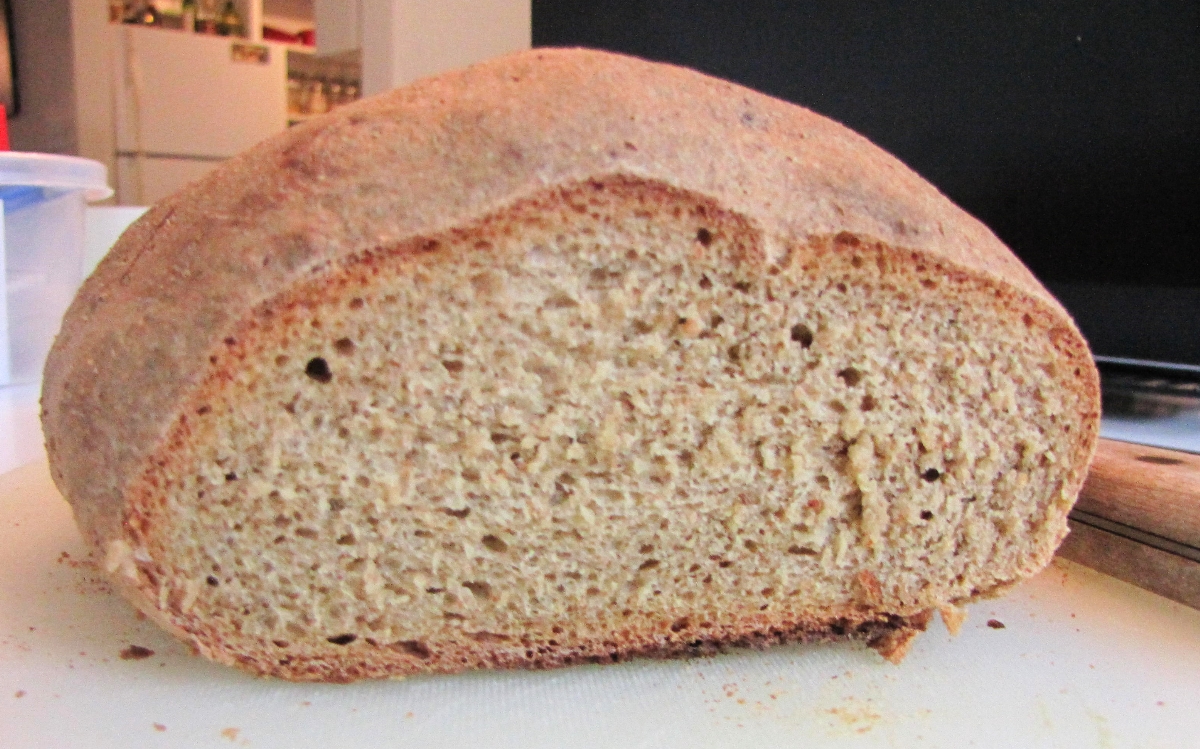 Ingredients
1/2 cup wheat flour
1/2 cup rye flour
3 – 3 1/2 cups unbleached flour
1 Tbsp Carob syrup (you can use molasses but it's not the same.)
1 bag yeast
1 tsp sugar
1 tsp ground caraway seeds
1-3 Tbsp salt (to taste)
Directions
Proof bag of yeast in 1/2 cup of the water with pinch of sugar for at least 10 minutes. (Set the other 1 1/2 cups of water aside) Add wheat and rye flour and 2 cups of the unbleached flour to the bowl and mix well. Add salt and caraway and mix again.
Pour the carob syrup and molasses into the remaining water and mix well. Pour that and the yeast mixture over the flour and begin to work your dough. Add more unbleached flour as needed until a soft dough is formed.
If you have kvas in the fridge, add a pinch. If you have a wooden spoon, use it the first 3-4 minutes of mixing.
If making this in your stand mixer, use the dough hook and process until the dough is soft a pliable.
If you want, pinch a piece off and add to your kvas mixture for next time.
Put a few drops of oil into a bowl and put the dough in, cover it with a dishcloth and set it by a warm window to rise. After about 2 hours, punch it down and form your loaf.
It's good to sprinkle a little bit of bread crumbs onto a baking sheet to prevent sticking!
After placing your loaf on the baking sheet, allow to rise another hour.
Preheat the oven to 450 for 10 minutes, and place the bread into the oven at that temperature for 10 minutes.
Lower the heat to 350 and bake approx 35-40 more minutes.
This recipe creates a darker looking loaf that looks very earthy and rustic.
I got the idea of using carob syrup from my friend Majkl and his bread making video.
The recipe turned out well, in fact, it was delicious!
But alas, it was not the delicious Czech bread my grandmother always made.
Dobrou Chut!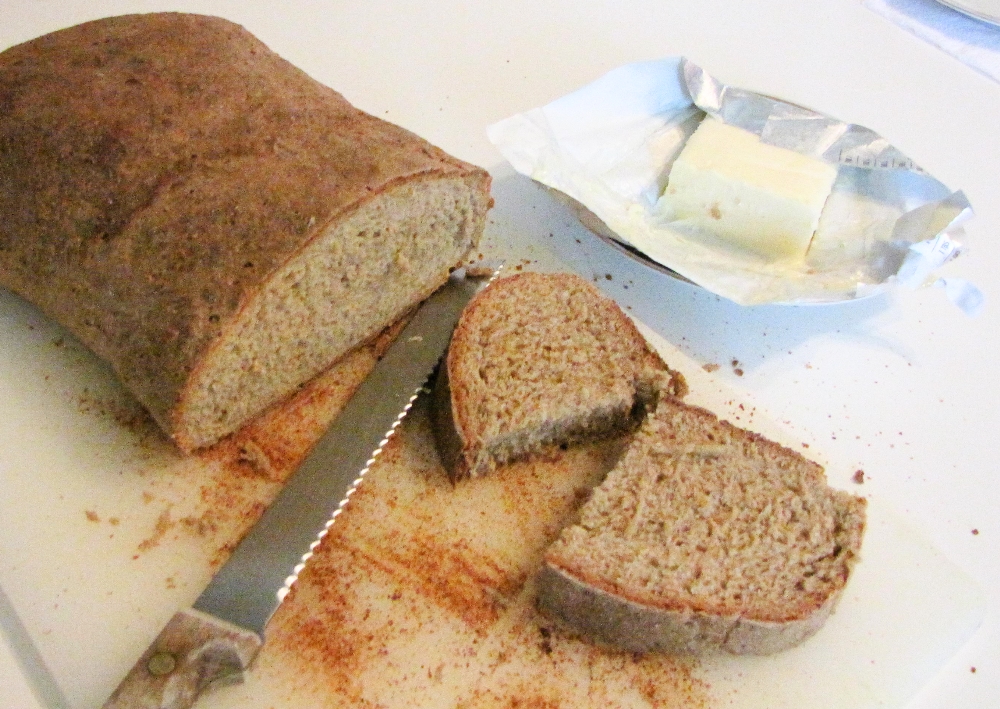 I hope you enjoyed today's post!
Those of you continuing to subscribe and send your support – we appreciate you more than you know!
We know that you could spend hours, days, weeks and months finding some of this information yourselves – but at this website, we curate the best of what we find for you and place it easily and conveniently into one place. Please take a moment today to recognize our efforts and make a donation towards the operational costs of this site – your support keeps the site alive and keeps us searching for the best of our heritage to bring to you.

Remember, we rely solely on your donations to keep the project going.
Thank you in advance!
If you have not already subscribed to get TresBohemes.com delivered to your inbox, please use the form below now so you never miss another post.