Today we're going to focus on incredibly detailed hand-painted eggs and miniature works of art known as Kraslice, the Czech word for Easter Egg. Throughout the Czech Republic, the beautiful Easter egg designs are elevated to a different level in the country.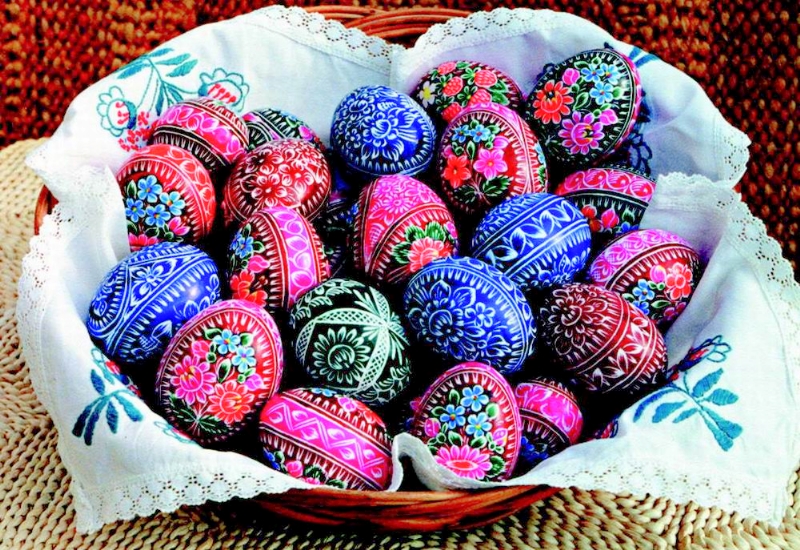 The egg is a popular symbol in many cultures. This ancient symbol is often associated with rebirth or fertility and new life. Legends involving the egg exist in almost every culture. Many of these stories focus on the egg as an instrument for the creation of the earth.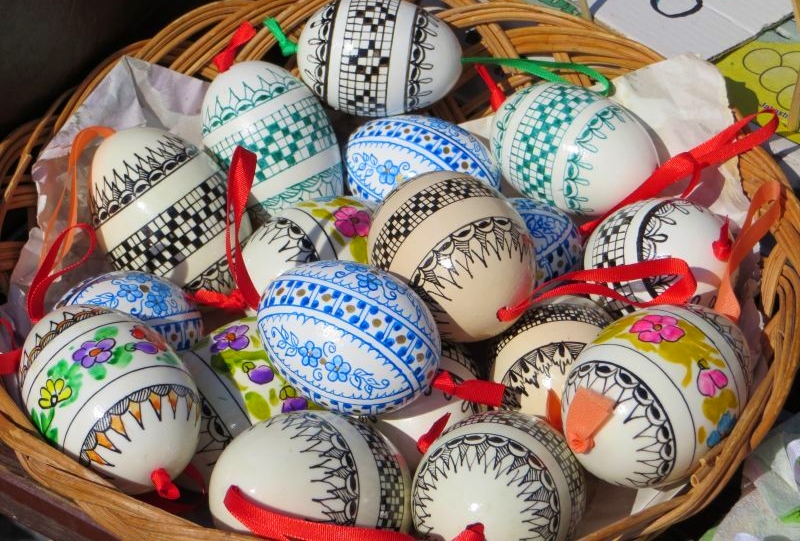 Among many people the egg also symbolized fertility. Because of this belief eggs were used in rituals related to agriculture. Germans and Slovenians, in order to guarantee a good harvest, smeared an egg mixture on their plows on Maundy Thursday (the Thursday before Easter). On St. George's Day, which is celebrated in early spring, Ukrainians rolled dyed eggs in green oats. The eggs were then buried so that they would bring a rich harvest.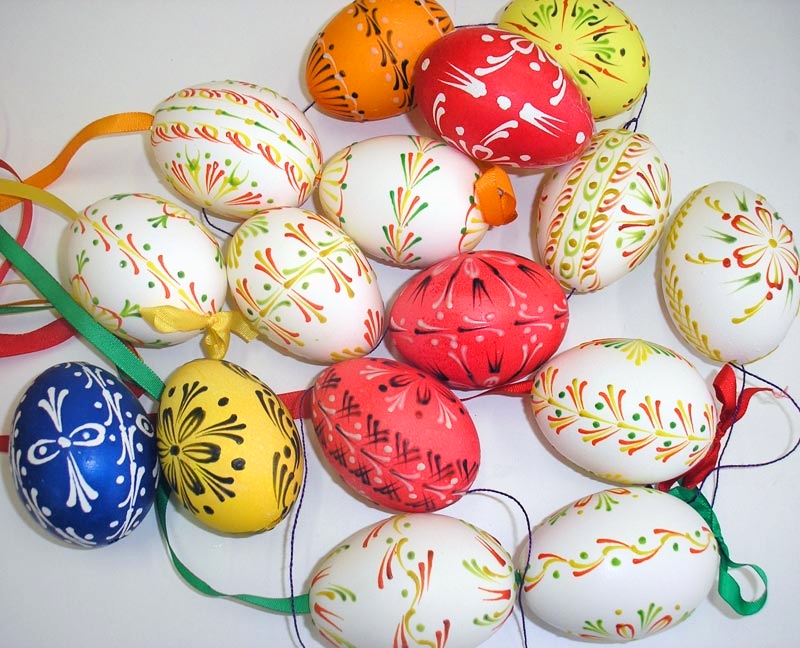 It was also a common belief that eggs possessed healing and protective powers. It was believed by some in the Ukraine that it was possible to cure blood poisoning by touching an egg to the infected part of the body. If an egg was laid on Good Friday, the Pennsylvania Dutch believed the egg could prevent sores in a baby's mouth. Early in German history people made egg trees to celebrate spring.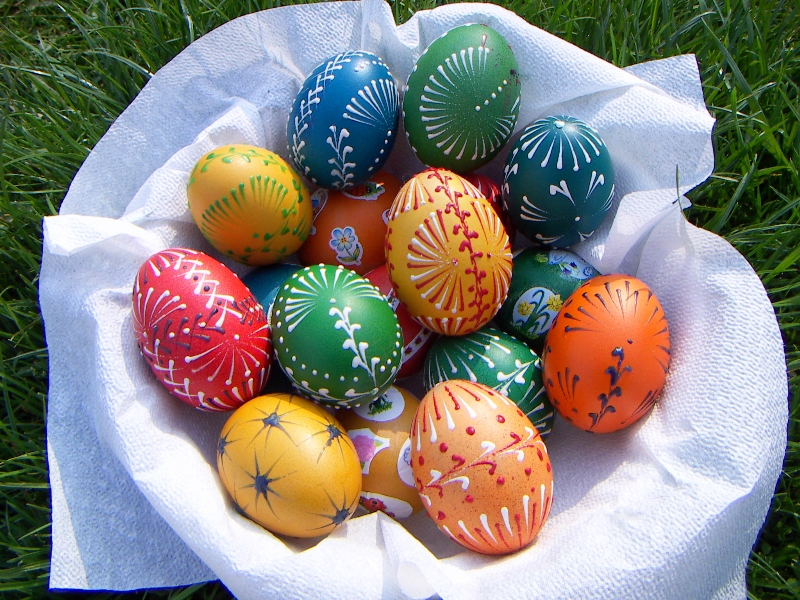 Although it is not known exactly when or how the tradition of coloring eggs at Easter began, it is known that in many cultures red eggs were thought to hold particular powers. It can be speculated that red-dyed eggs are one of the earliest examples of decorated eggs.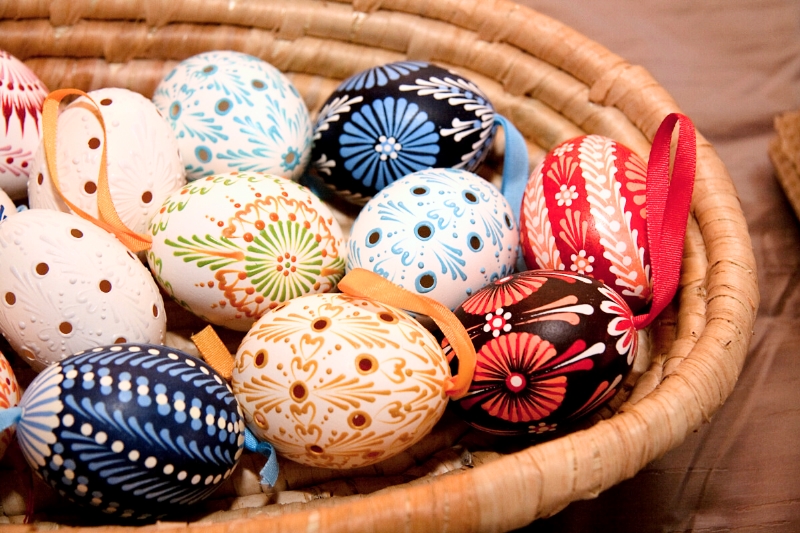 In Czechoslovakia eggs were exchanged by everyone for a new beginning, a symbol of love, friendship, and good things to come. Children would give their most beautiful eggs to their special best-loved friend.
These days, they are usually made en masse by professionals and you can buy them at the many Easter markets all around Prague at Easter time.
In the past, women in the countryside used to paint them and on then would give them to the men on Easter Monday as a gift (usually in exchange for getting whipped!).
Look at these historic images…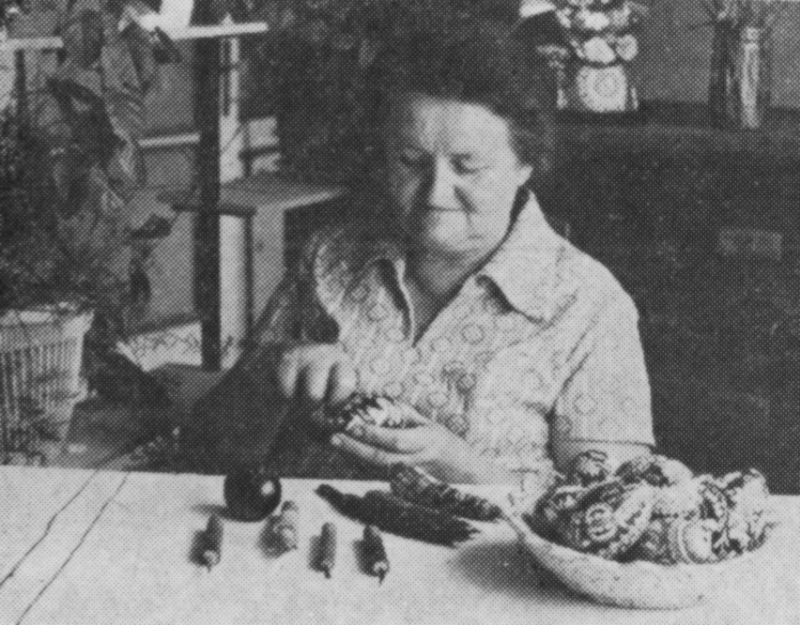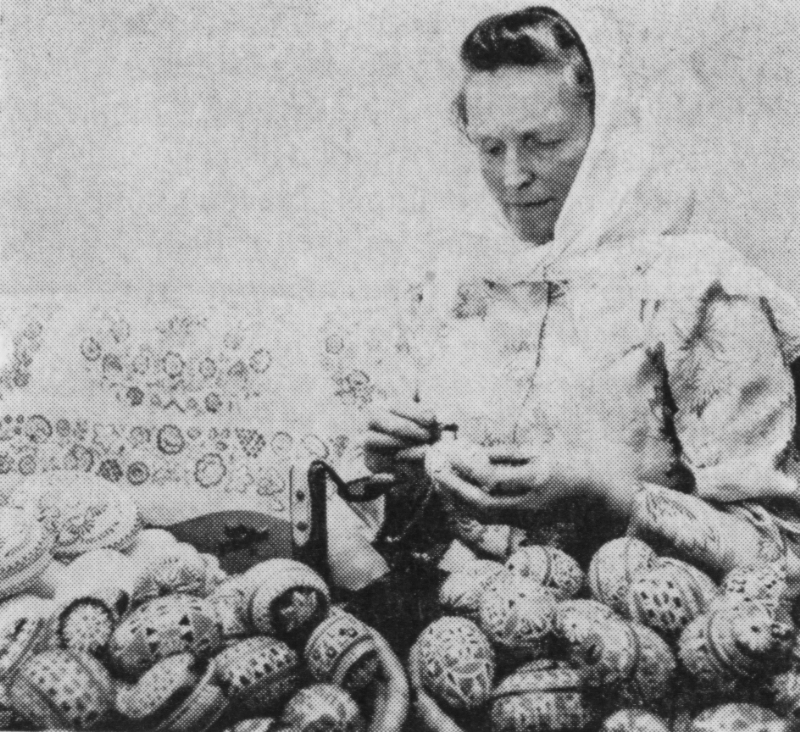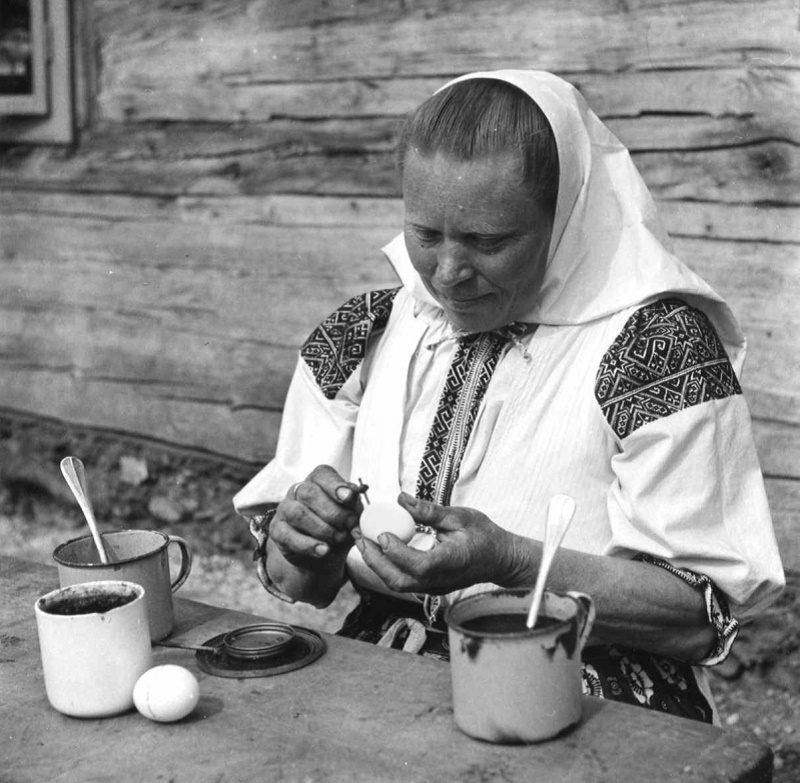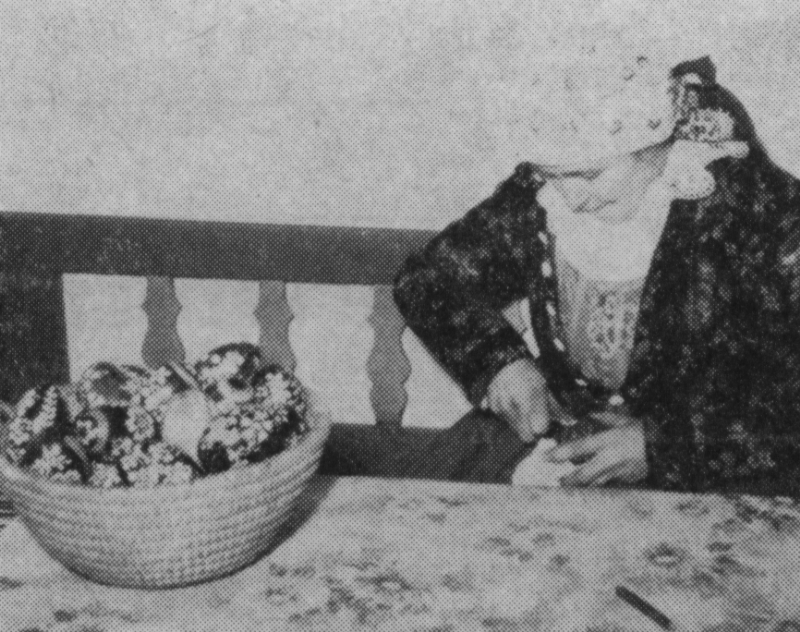 The Czech Method
Before they are decorated, eggs are divided into sections or fields, with the basic lines running lengthwise and/or crosswise around the egg.  Motifs are placed within these sections.  Designs are drawn on the egg with a special stylus dipped in melted beeswax.  Beeswax is used because it has a high melting point, gives better coverage, and has a greater resistance to dyes.  The process is closely related to batik.
Originally, eggs were colored using natural dyes.  Several basic colors could be obtained from various vegetables and plants.  Prominent colors depended on the ease of obtaining the dyes.  Since the finished kraslice has several layers of dyes, it is best to start with lighter colors and gradually go to darker colors.
Cooked eggs are never used for kraslice.  When the design is complete, eggs are blown by making a hole in each end of the egg, stirring the contents to break the yoke, and blowing it through one end.  Traditionally, the contents were usually not wasted; they were used in baking or cooking.  However, some dyes used today are toxic, and the eggs should not be eaten.
In areas where the art of kraslice is practiced, each region has its own rituals, symbols, and dye formulas for the eggs.  These have been carefully preserved and passed along from one generation to the next.
Several European Easter egg decorating tools and supplies are available here including lathes, beeswax, natural dyes and more. I also saw some very nice Czech Easter eggs.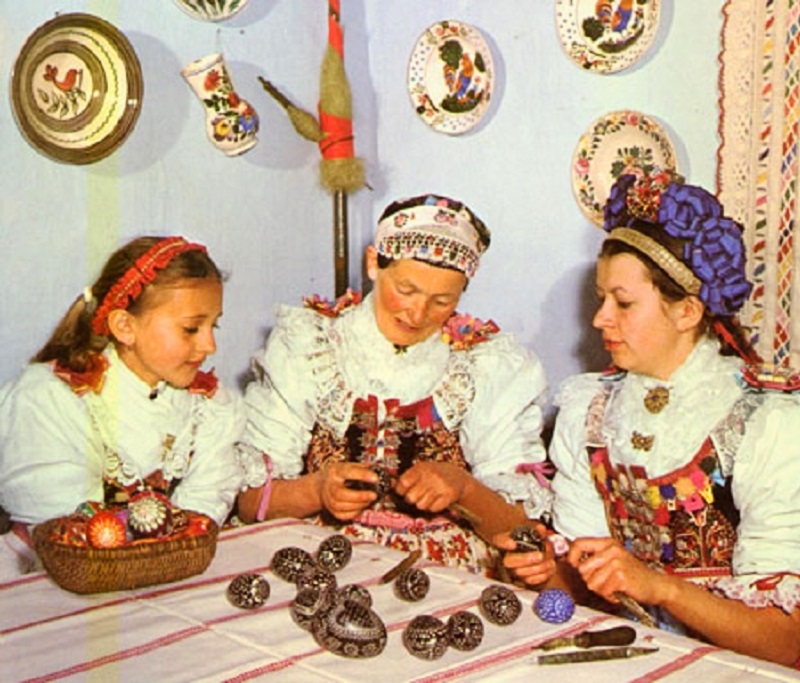 Czech Symbols and Motifs
One of the most popular Czech symbols is the eight-pointed star.  It was believed that with every birth, a star is born so that each person has his or her own star.  The star is believed to be a person's guardian and fate.  Stars found in Czech folk art have an even number of points.  An odd number was believed to symbolize death.  For protection, stars were often placed on house gables.
The butterfly is another symbol used in kraslice.  It can represent the idea of reincarnation.  It was once believed that good souls would become birds, small beasts, and butterflies.  At one time in Moravia it was thought that seeing a butterfly with eyes in its wings meant happiness.  With the belief in Christianity, the meaning of Christ's resurrection became associated with the butterfly.
Many other motifs or symbols are traditionally found on kraslice.  The heart could symbolize love and compassion.  The wheel found on decorated eggs was associated with the bride's traditional wedding cart.  When wavy and curved lines as well as dots were used on decorated eggs, it represented a new year or new beginning.  A radiating design such as the sun or a daisy could mean good fortune.
Here are some pattern motifs for you to use…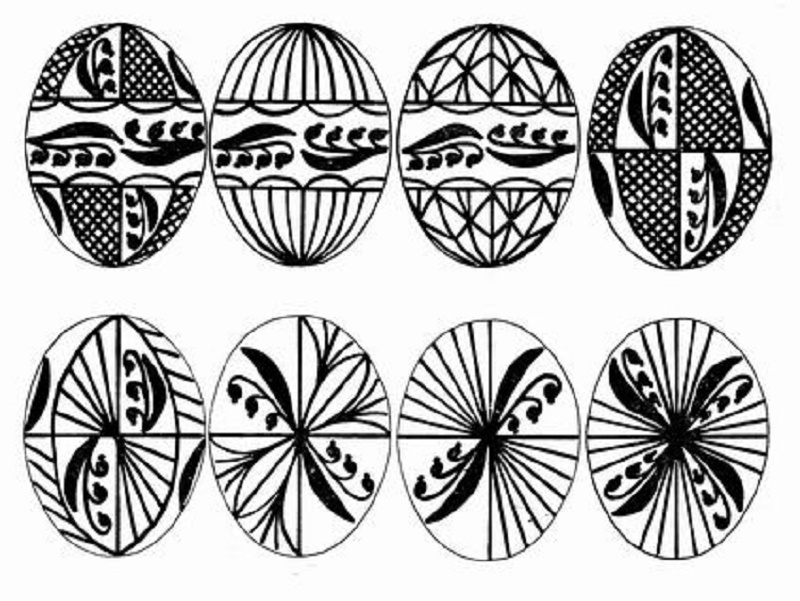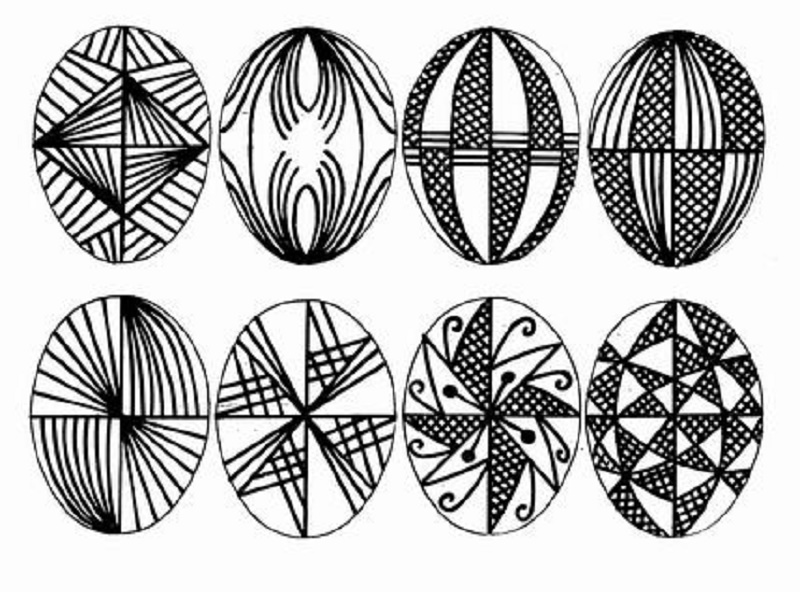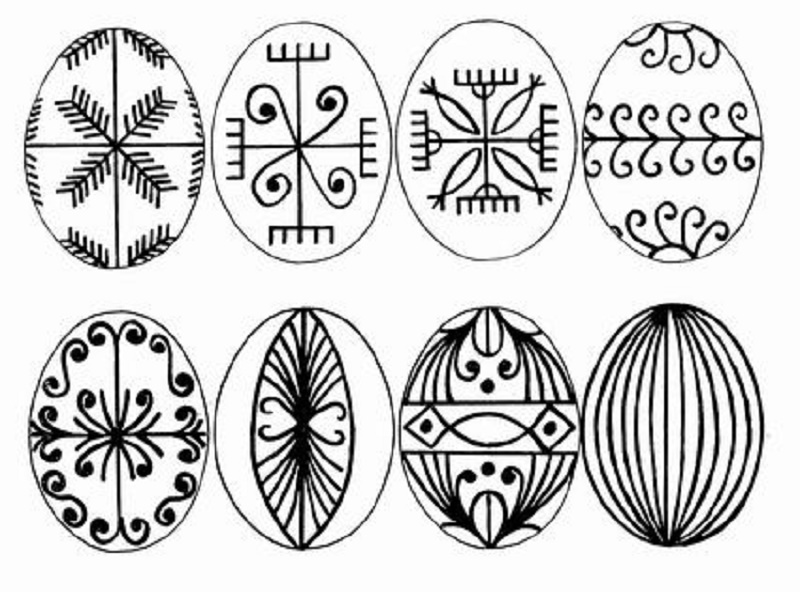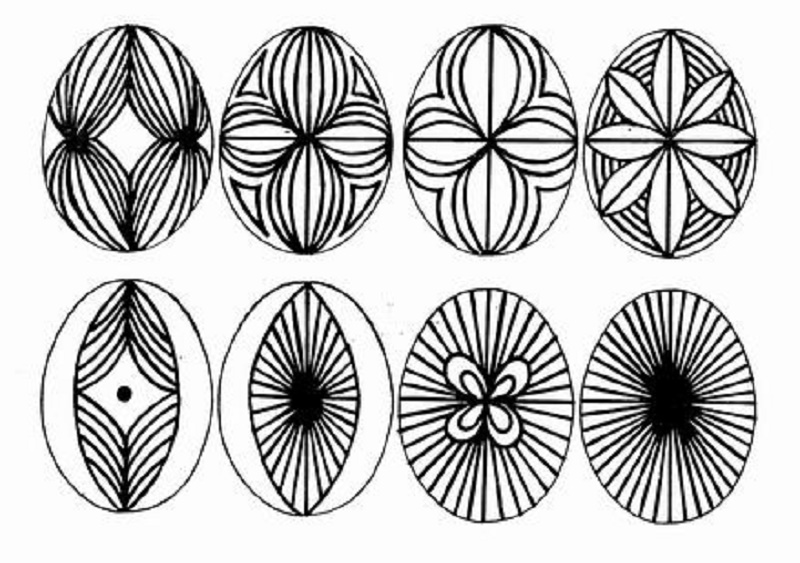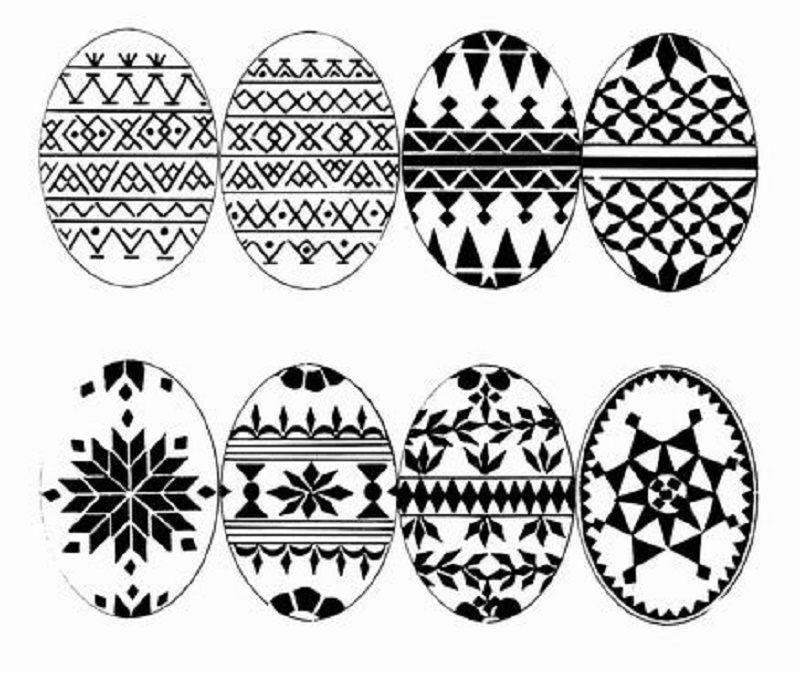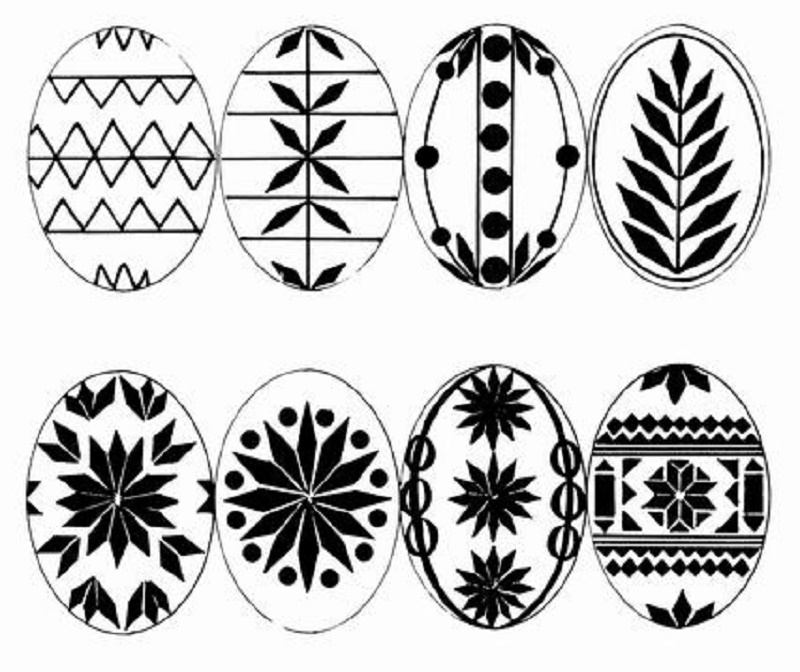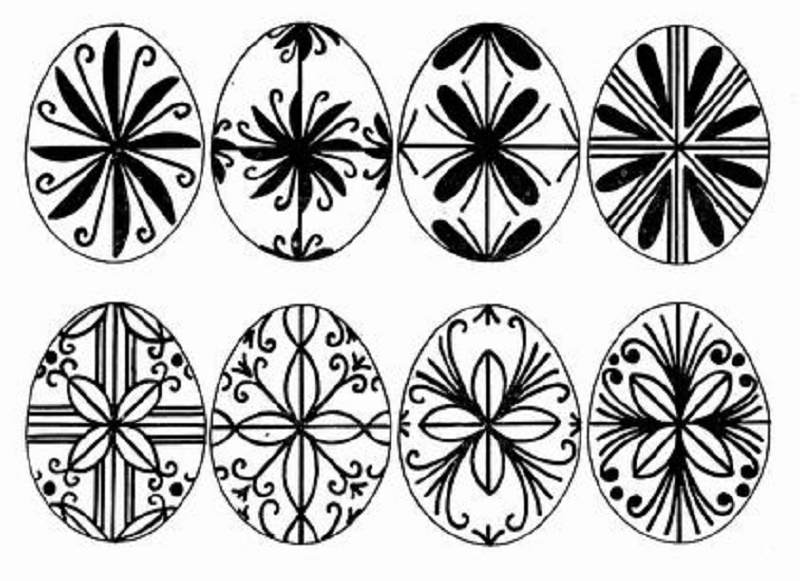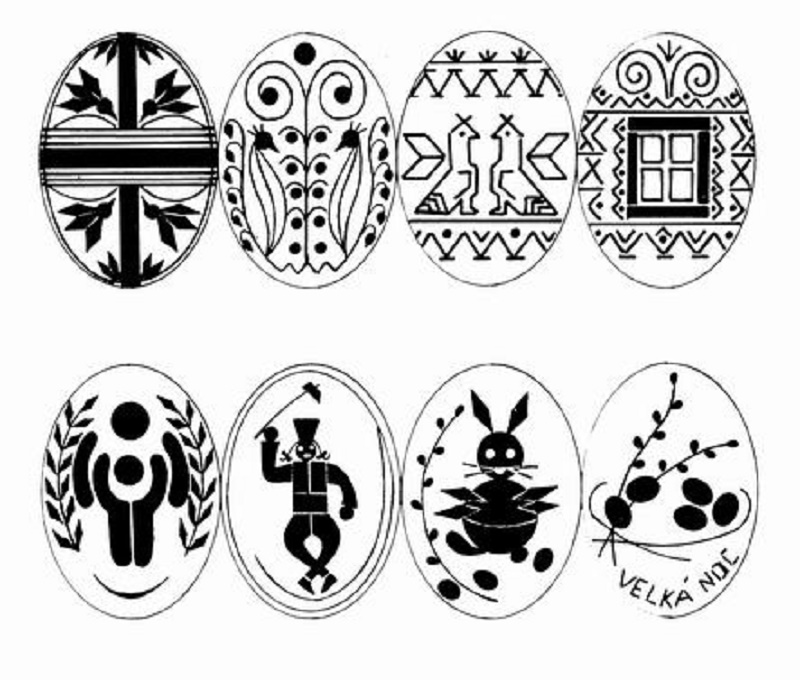 Colors
As with motifs, colors traditionally had meanings as well.  The Czechs always considered red to be an important color.  At one time Bohemians referred to Easter as the red holiday.  This color is easily obtained from nature which is probably one of the reasons early decorated eggs were red.  Red can symbolize health, strength, and beauty.  This color was believed to protect against evil and therefore played a part in popular ceremonies of the family.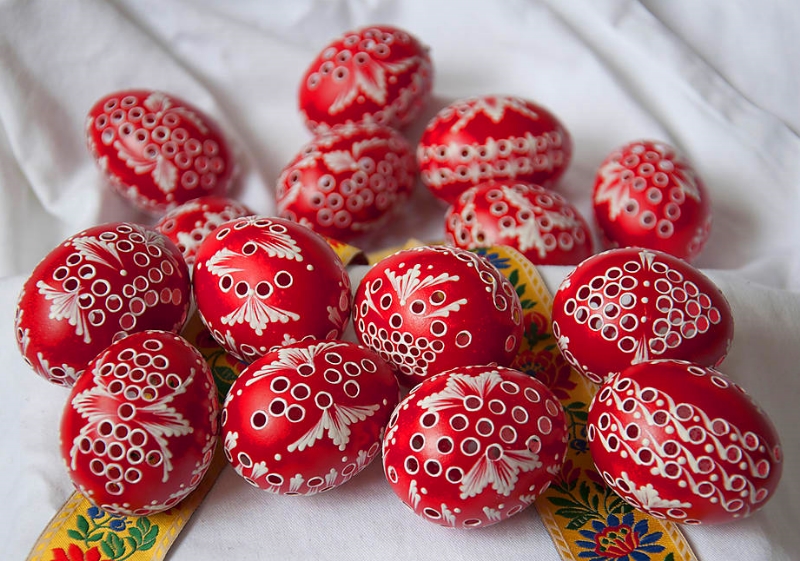 Blue was not a popular color in kraslice for several reasons.  The dye was difficult to obtain, and in folklore blue often symbolized death and suffering.  Moravian and Slovakian men wore red ribbons on their shirts, but widowers wore blue ribbons.  With the Protestant Reformation and the Hussite movement, the color blue began to be seen as a heavenly color.  Around the 16th century indigo was imported, and the use of blue increased in popularity.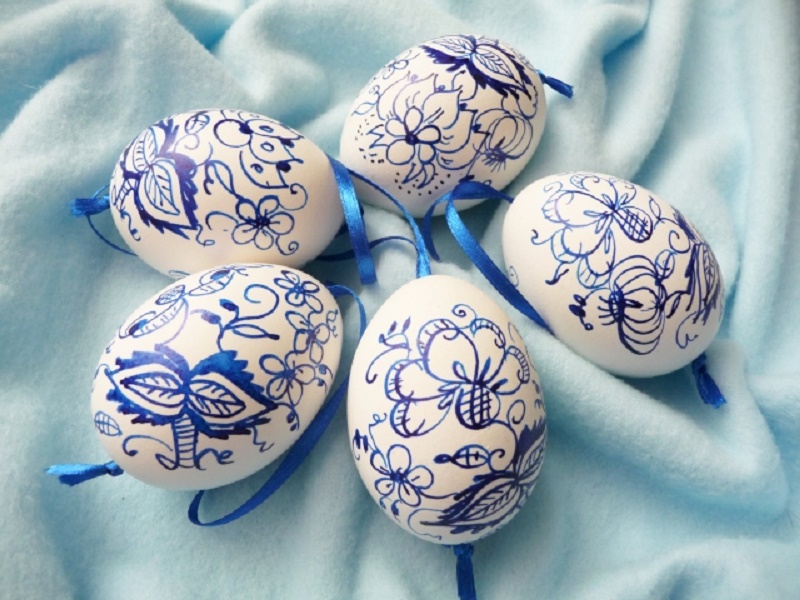 Green, as the color of trees, could symbolize growth.  It was believed that the strength of a tree was a safeguard against sickness.  In folklore the apple tree was associated with the woman's role in the family ceremonies.  Apple twigs were often put into house foundations to protect the health of the inhabitants.  During the 19th century in Moravia and Slovakia, brides wore green skirts or bodices and caps embroidered in green.  Green came to symbolize weddings.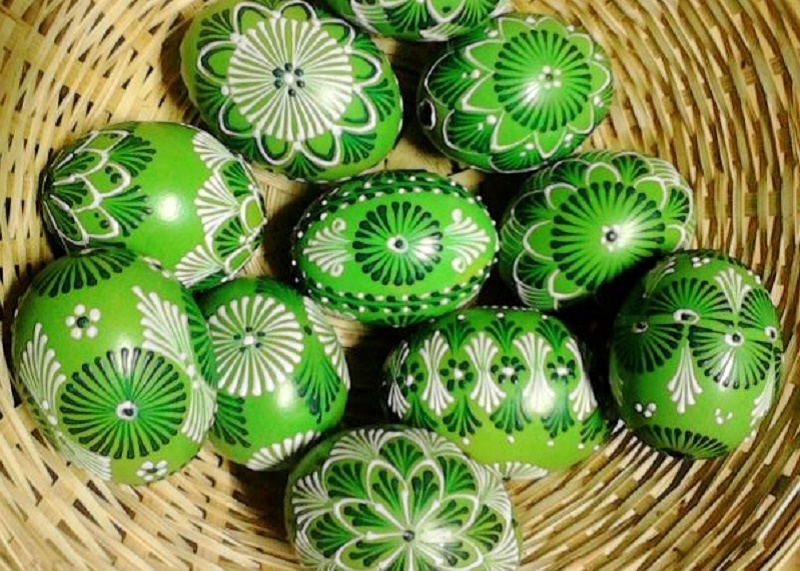 Because yellow is the color of ripening grain and gold, it is considered a symbol of good fortune.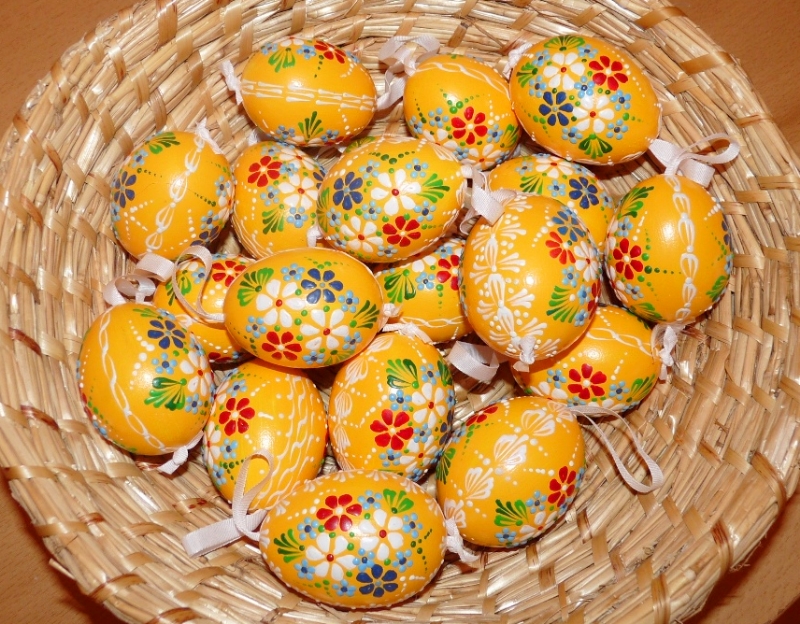 White was originally a mourning color.  However, after the acceptance of Christianity, white stood for purity.  And in some areas black was seen as a ceremonial color.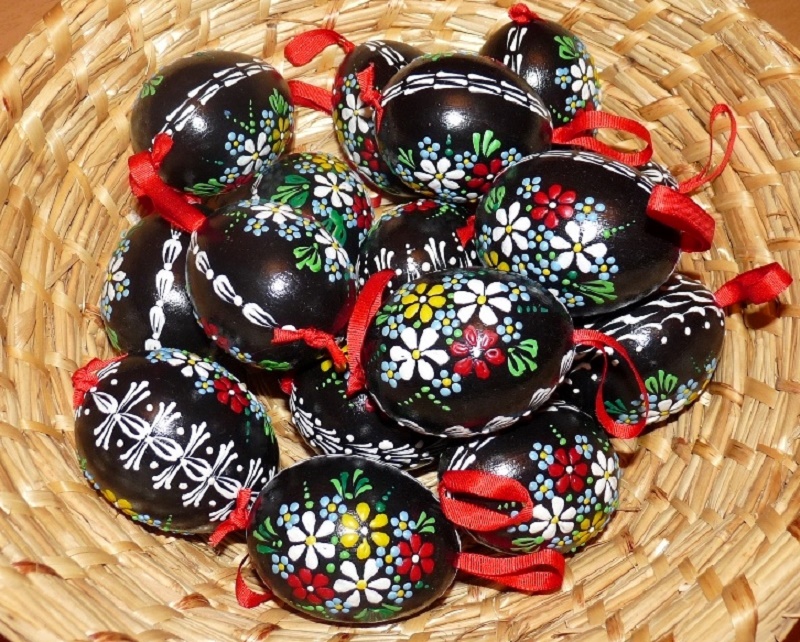 There you have it – a wonderful example of gorgeous Czech Easter eggs and their designs…
Happy Easter week!
Source: Kansas State Historical Society
If you have not yet subscribed to get TresBohemes.com delivered to your inbox, use the form below now so you never miss another post.
---
Remember, we rely solely on your donations to keep the project going.
Become a friend and get our lovely Czech postcard pack.