According to Wikipedia, "Goulash is a soup or stew of meat and vegetables, seasoned with paprika and other spices. Originating from the medieval Kingdom of Hungary, goulash is also a popular meal in Central Europe, Scandinavia and Southern Europe."
Supposedly the origin of this delicious dish traces back to the 9th century to stews eaten by Hungarian shepherds. Back then, the cooked and flavored meat was dried with the help of the sun and packed into bags produced from sheep's stomachs, needing only water to make it into a meal.
It is one of the national dishes of Hungary and a symbol of the country. But enough about Hungary. Czech make, love and eat goulash too.
A lot if it.
So good we had it plain…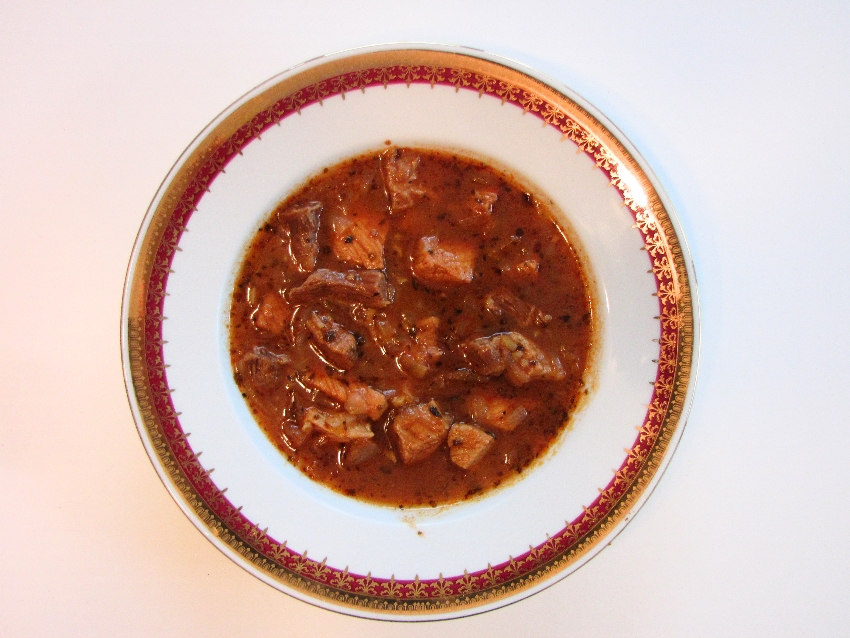 And then with potatoes…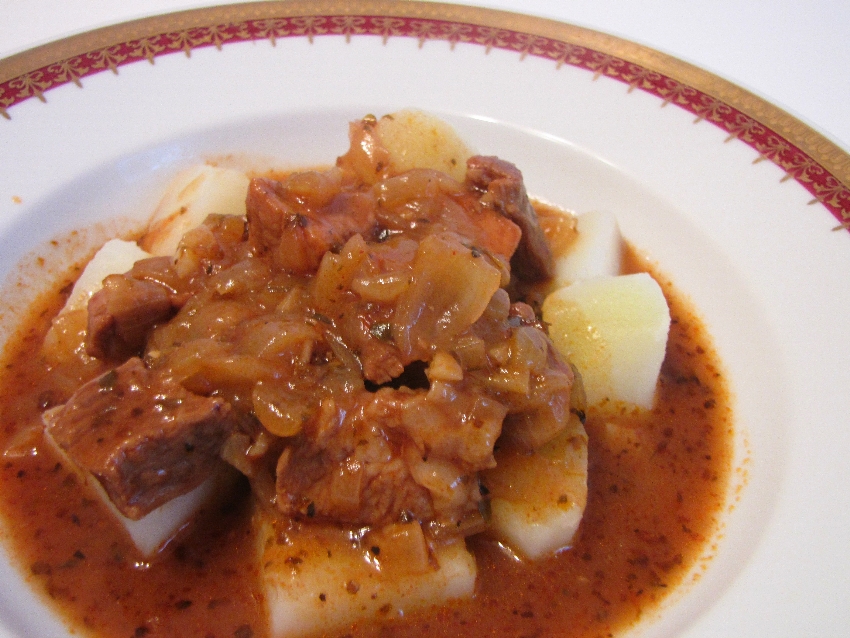 In the Czech and Slovak Republic, goulash (guláš) is usually made with beef, although pork varieties exist, and it is typically served with bread dumplings (in Czech hovězí guláš s knedlíkem) or potatoes.
In Slovakia, it is more typically served as a stew and with bread.
It's a popular pub food and in most pubs it is often garnished with slices of fresh onion, and is typically accompanied by beer.
You know Czechs and beer. Some recipes even call for beer to be added to the stew in the process of cooking. Seasonal varieties of goulash include venison or wild boar goulashes and another popular variant of guláš is segedínský guláš (Szeged goulash), which is made with sauerkraut.
We love them ALL!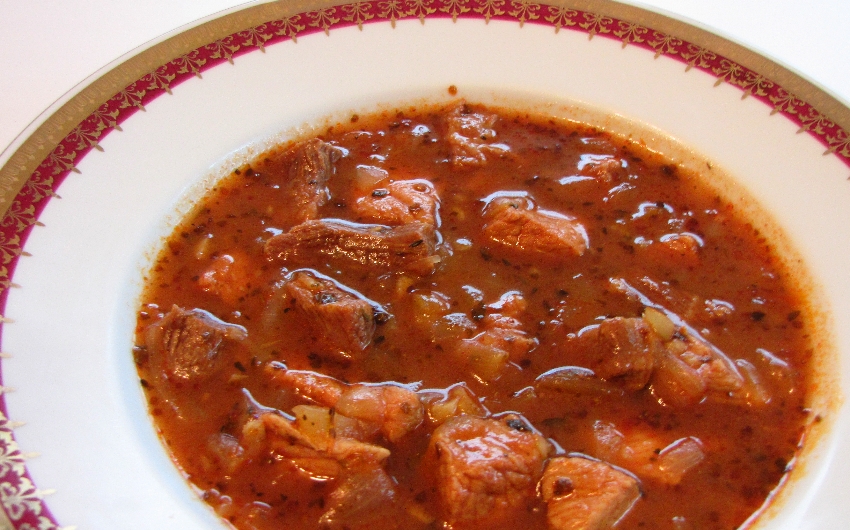 Ingredients
4 large onions, chopped (or thinly sliced if you prefer)
1 Tbsp sugar
2 Tbsp olive oil or butter
5-6 garlic cloves, minced
1 Tbsp caraway seeds, ground
2 Tbsp Hungarian (Sweet) paprika
1 tsp spicy (hot) paprika
1 bay leaf
2 Tbsp marjoram
1 tsp thyme
3 Tbsp tomato paste
2 Tbsp white vinegar
4 cups stock (If you are making soup, you can make this 5-6 cups of stock)
2 pounds beef shank (or pork) cut into 1-inch cubes
salt & pepper to taste
Directions
In a large pot (dutch oven is best), heat the butter or olive oil. Immediately add the onions and saute with the sugar until nice and caramelized, 8-10 minutes.
Add the herbs, garlic and bay leaf and cook for 2 minutes more.
Add the tomato paste and saute another minute, stirring the entire time. It will be nice and fragrant right about now. As the paste heats up, you'll notice it's beginning to stick, so deglaze with the vinegar.
Add the meat and saute for about 5 minutes, until the fat from the meat begins to release its own juices. Then add the stock, salt and pepper and bring to a boil.
Once it's boiling, lower the heat to a nice simmer and cook until the meat is tender, normally at least 2 hours, making sure to stir ever 15 minutes or so.
Taste and reseason with salt and pepper if needed.
If you like a thicker gravy, you can add a nice roux at this point (jíška) and cook for 5-7 minutes more.
Serve with bread dumplings, boiled potatoes, egg noodles or spaetzle, or with a heart Czech bread (making use to use all of the bread to sop up all of the goodness!)
Dobrou Chut!
Thank you in advance for your support…
We know that you could spend hours, days, weeks and months finding some of this information yourselves – but at this website, we curate the best of what we find for you and place it easily and conveniently into one place. Please take a moment today to recognize our efforts and make a donation towards the operational costs of this site – your support keeps the site alive and keeps us searching for the best of our heritage to bring to you.


Remember, we rely solely on your donations to keep the project going.
We appreciate you more than you know!
If you have not already subscribed to get TresBohemes.com delivered to your inbox, please use the form below now so you never miss another post.