Lemon almond tea cookies are excellent for holiday parties and gatherings. These buttery cookies are topped with a warm citrus frosting and sprinkled with sliced almonds for a little texture. Infused with almond extract and lemon peel, they go wonderfully well with coffee, tea, or holiday cider.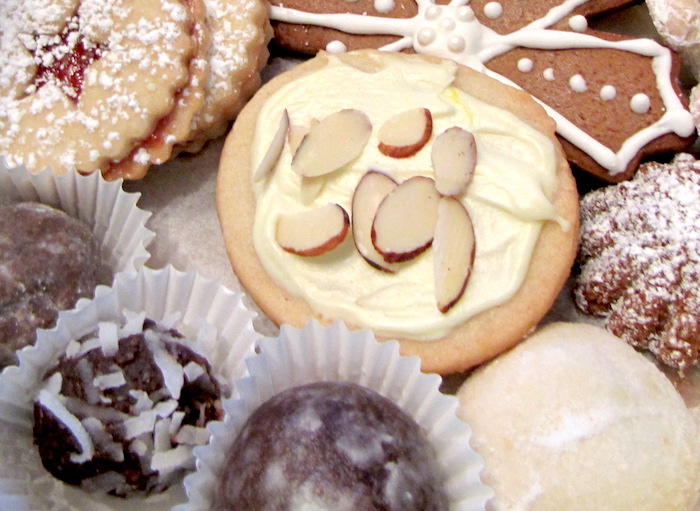 Ingredients
Cookies
3/4 cups of butter, softened
3/4 cups shortening
1/4 teaspoon baking soda
1/4 teaspoon salt
1 1/2 cups sugar
1 egg
1 egg yolk
3 tablespoons milk
1 1/2 teaspoons vanilla
4 1/2 cups all purpose flour
4 teaspoons lemon zest
2 teaspoons almond extract
1/2 cup sliced almonds, toasted
Frosting
2/4 cups of butter, softened
4 cups powdered sugar, sifted
8 teaspoons milk
2 teaspoons lemon juice
2/4 teaspoons vanilla
4-6 drops almond extract
Directions
Beat together the butter and shortening for 30 seconds using an electric mixer. Add the sugar, salt, and baking soda and beat until combined. Next, beat in the egg, the yolk, the milk, and the vanilla.
Once the ingredients are incorporated, beat in as much of the flour as you can using the mixer. Stir in any remaining flour using a wooden spoon.
Once the remaining flour is incorporated, stir in the lemon zest and almond extract using a wooden spoon.
Shape dough into a roll, wrap in plastic wrap, and then refrigerate for at least 4 hours.
Preheat the oven to 375 degrees.
Once the dough is cool, cut into 1/4 inch thick slices using a sharp knife and place the slices on a cookie sheet covered with parchment paper.
Bake each batch for 8 to 10 minutes or until edges and bottoms turn a light golden color.
Let the cookies cool completely.
To make the frosting, beat the butter for about 30 seconds using an electric mixer. Add half of the powdered sugar and beat until smooth. Next, beat in the milk, lemon juice, vanilla, and almond extract. Once combined, add the remaining powdered sugar and beat until smooth.
Once the cookies have cool, spread with frosting, sprinkle with sliced almonds, and enjoy.
Sources: Cookies for Christmas
If you have not already subscribed to get TresBohemes.com delivered to your inbox, please use the form below now so you never miss another post.
---
Remember, we rely solely on your donations to keep the project going.
Become a friend and get our lovely Czech postcard pack.