Snickerdoodle cookies are a classic American treat. They have a warm taste and make a great addition to any Christmas table. These sweet snickerdoodle pinwheels put a new spin (literally) on the traditional snickerdoodle cookie. With a sweet whirl of cinnamon at the center, these pinwheels are a fun version of the classic snickerdoodle cookie.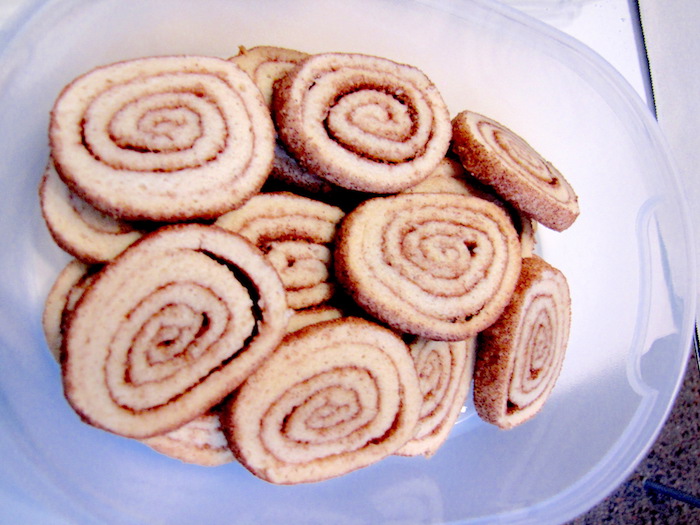 Ingredients
3 ounces cream cheese, softened
1/2 cup butter, softened
1 cup sugar
1/2 teaspoon baking powder
1 teaspoon vanilla
1 egg
2 2/3 cups flour
Filling
1/3 cup sugar
1 tablespoon cinnamon
1 tablespoon butter, melted
Directions
Beat together the cream cheese and butter for 30 seconds with an electric mixer. Add the sugar and baking powder and beat until combined. Next, beat in the vanilla and egg, scraping the sides of the bowl occasionally.
Once the ingredients are combined, beat in as much of the flour as you can using the mixer. Stir in any remaining flour using a wooden spoon.
In a separate bowl combine the cinnamon and sugar for the filling and set aside.
Divide the dough in half. Roll out one half of the dough between waxed paper. Once the dough is rolled into a rectangle, remove the top sheet of waxed paper and brush the dough with 1/2 tablespoon of the melted butter. Sprinkle with 2 tablespoons of the filling and roll the dough up, removing the waxed paper as you go. Seal the edges.
Repeat the process with the remaining dough.
Once the rolls are finished, roll each of them in the remaining cinnamon and sugar mixture, wrap in wax paper, and refrigerate for at least 4 hours.
Preheat the oven to 375 degrees.
Once the dough has cooled, cut into 1/4 inch thick slices using a sharp knife.
Bake each batch for 8 to 10 minutes on an ungreased cookie sheet.
Let the cookies cool for 1 minute on the cookie sheet. Then transfer to a wire rack and cool completely.
Sources: Cookies for Christmas
If you have not already subscribed to get TresBohemes.com delivered to your inbox, please use the form below now so you never miss another post.
---
Remember, we rely solely on your donations to keep the project going.
Become a friend and get our lovely Czech postcard pack.