Slepované linecké koláčky are traditional (and delicious) Czech Christmas cookies. They are not overly sweet and have a soft buttery taste. They are made with vanilla sugar and have a pleasantly mild vanilla flavor. They are deliciously delicate and taste best when sandwiched together with a layer of currant jam and dusted with powdered sugar before serving, giving them a sweet, tart flavor.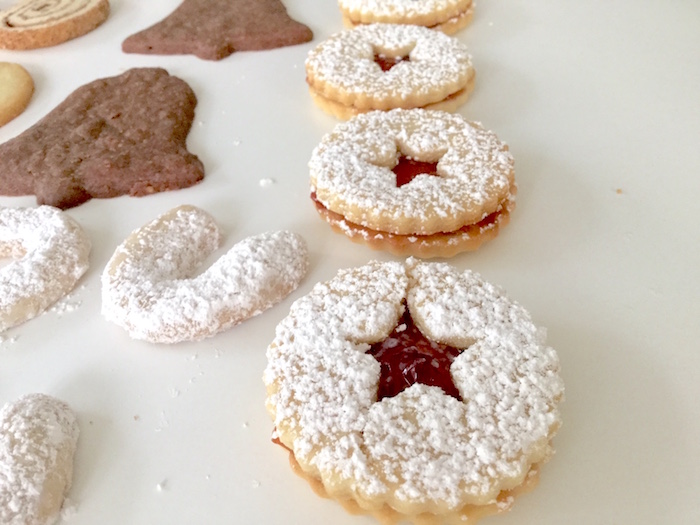 Ingredients
3 1/2 cups all purpose flour
3/4 cups powdered sugar
1 packet vanilla sugar
2 1/2 sticks of butter, softened
5 yolks from hard boiled eggs, cooled
1 jar of Currant jam
Directions
Sift the flour and powdered sugar together in a large bowl. Then add the vanilla sugar and stir until combined.
Add the softened butter to the bowl of dry ingredients and cut the butter into the flour mixture as you would when making a pie dough. Once the butter is incorporated transfer the dough to a clean flat surface and knead until smooth.
Once the butter is well incorporated, crumble the cooked egg yolks into the mixture and knead until blended.
Wrap the dough in plastic wrap and refrigerate 1 to 2 hours or until thoroughly chilled.
Preheat the over to 350 degrees.
Once the dough is cool, roll it out and cut out circles using a cookie cutter. Make a smaller cutout in the center of half of the circles. The solid circles with be the bottom of your sandwiches and the circles with the cutouts will be the tops.
Bake each batch for 7 to 10 minutes or until the edges turn a light golden color.
Let the cookies cool completely.
Once cooled, spread a layer of currant jam over each of the solid cookies. Then, place the cookies with the cutouts on top to form sandwiches.
Dust with powdered sugar before serving.
If you have not already subscribed to get TresBohemes.com delivered to your inbox, please use the form below now so you never miss another post.
---
Remember, we rely solely on your donations to keep the project going.
Become a friend and get our lovely Czech postcard pack.