Authors, you can stay in John Steinbeck's cottage. Yes. You read that correctly. Who hasn't read John Steinbeck?  Remember In Dubious Battle, Of Mice and Men, East of Eden, The Pearl, The Grapes of Wrath, and Travels with Charley, to name only a few.
Now you have a chance to get some of your own inspiration by spending the night (or weekend) in this sweet little hideaway which was once owned by the great American author.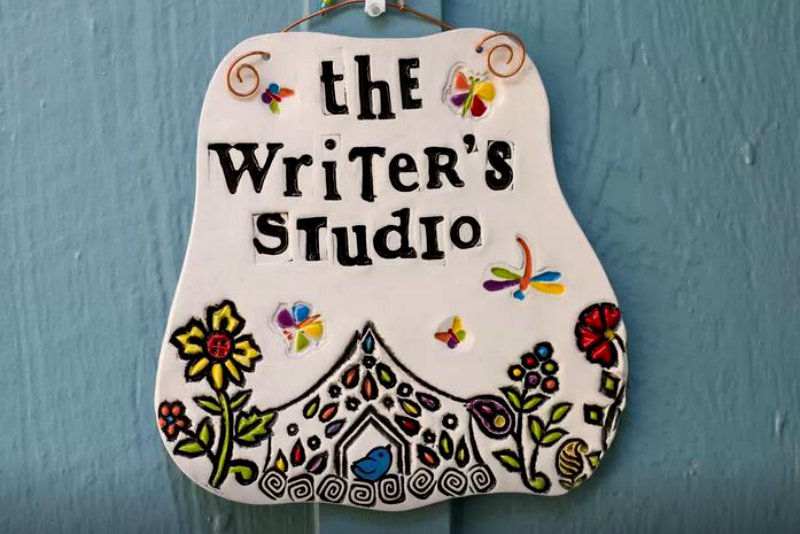 Doesn't it look absolutely picture perfect and comfortable?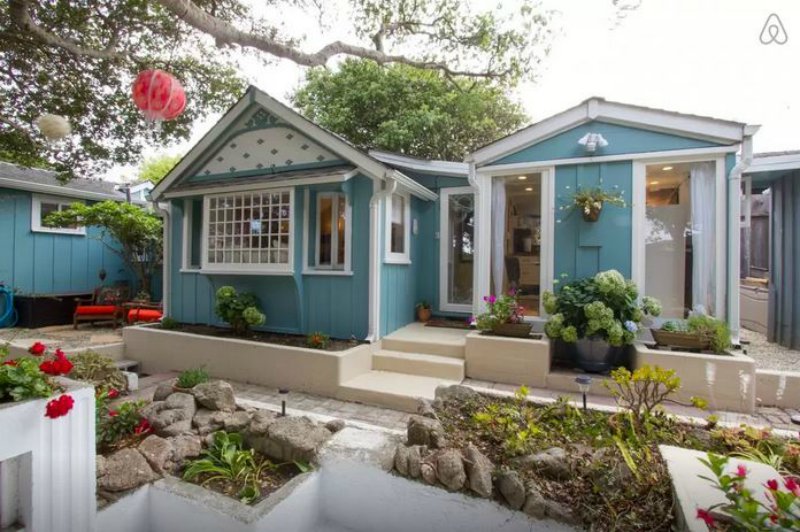 We think so!
Especially that little writing table…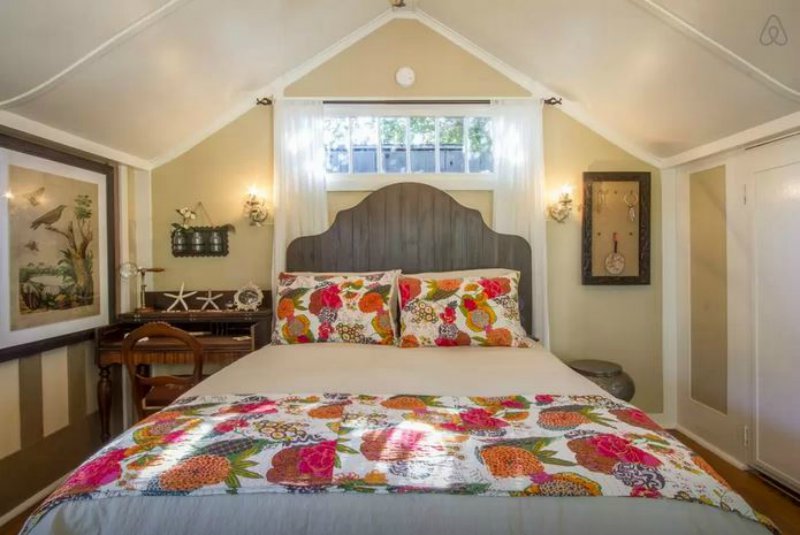 This particular studio has a very unique and rich literary history, having belonged to John Steinbeck in the early 1940's and all.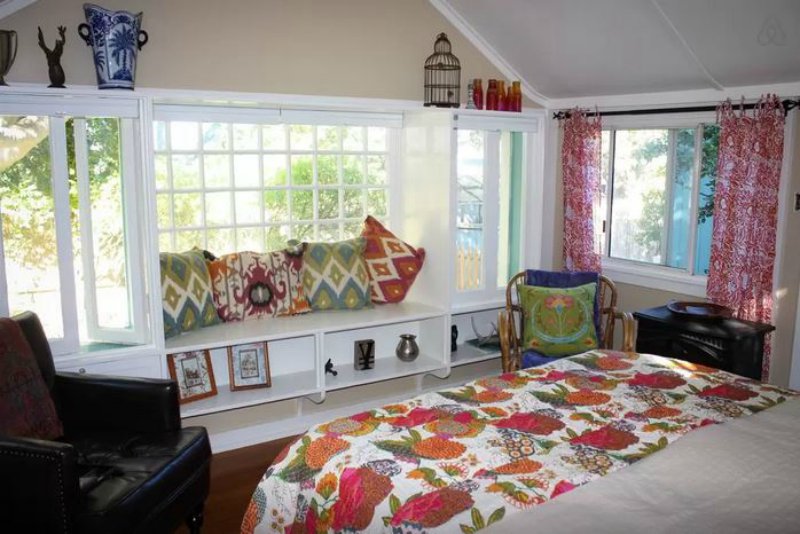 Maybe you'll get some writing inspiration by staying there.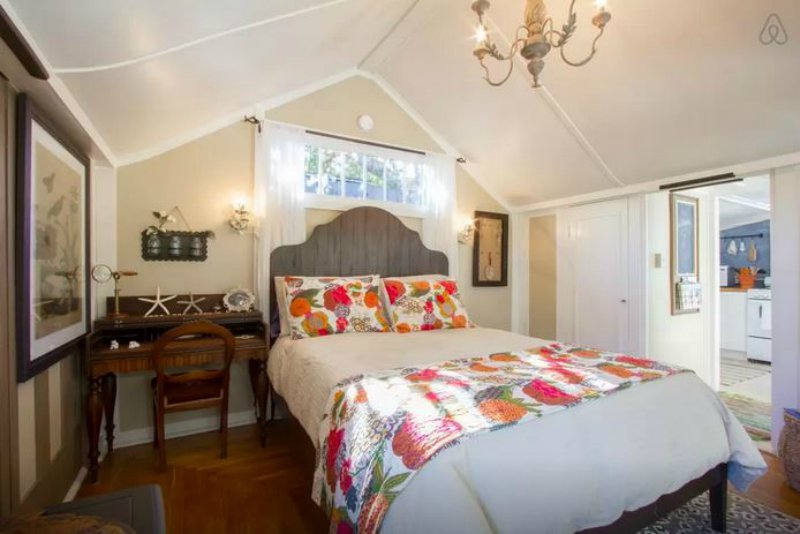 One thing is for certain… You will love its charm.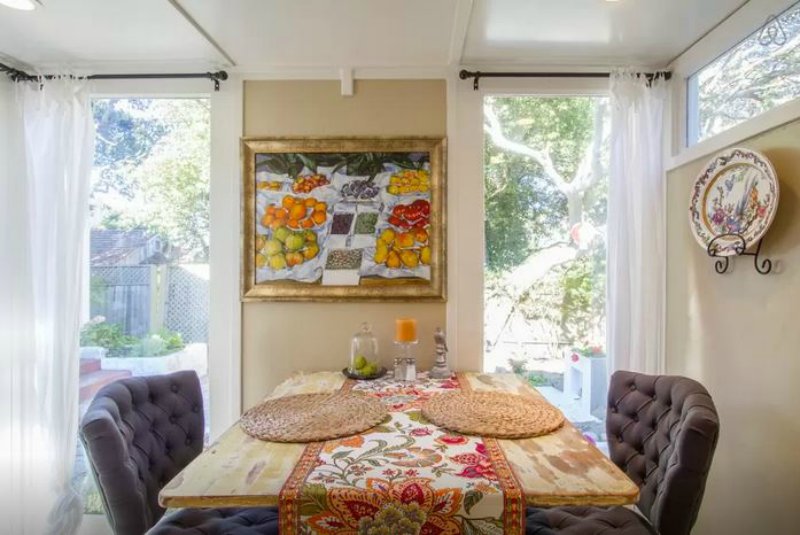 Steinbeck used this cottage as his writing studio and worked on novels including The Sea of Cortez while living here.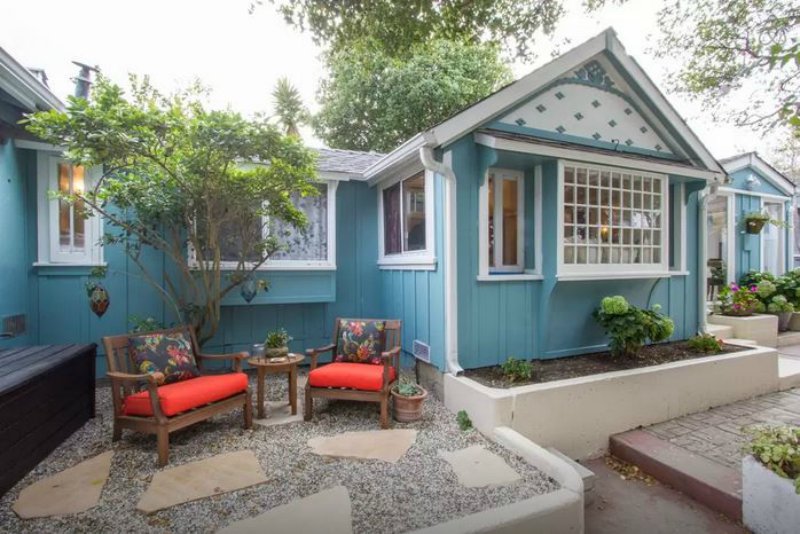 It has been renovated to pay homage to the period and history of the property.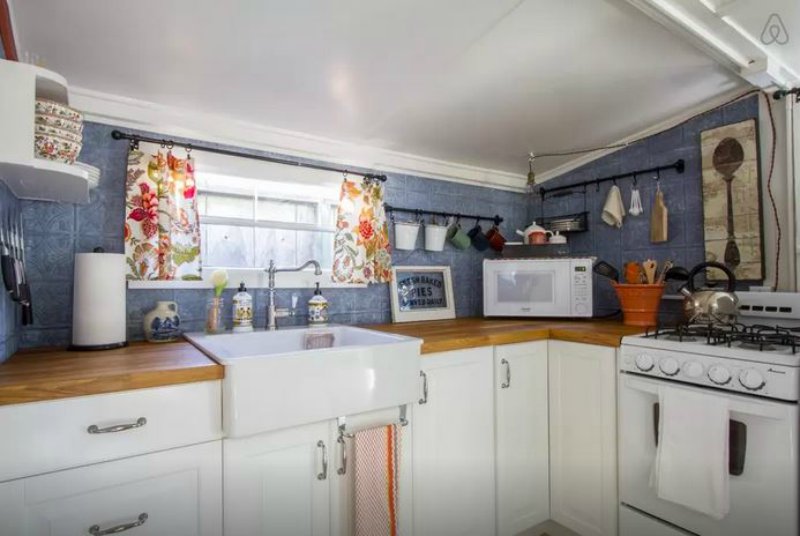 It has a masculine and sophisticated, yet romantic feel.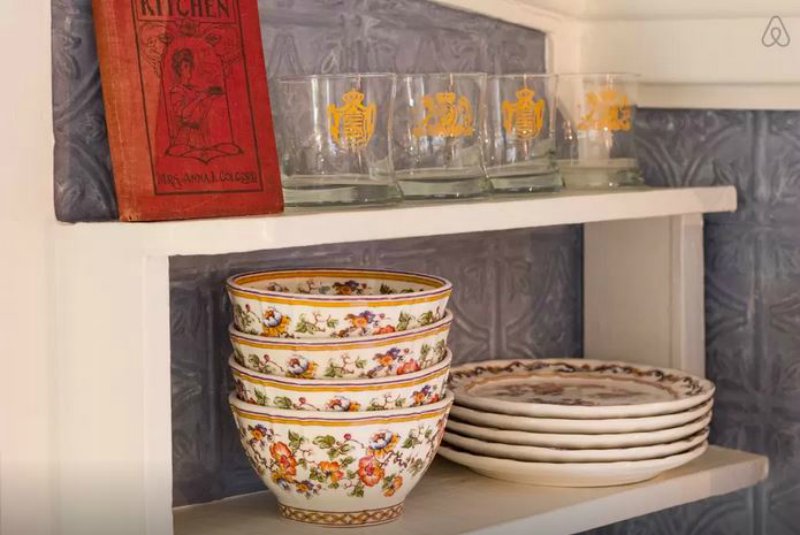 With all of the comforts of your own writer's cottage.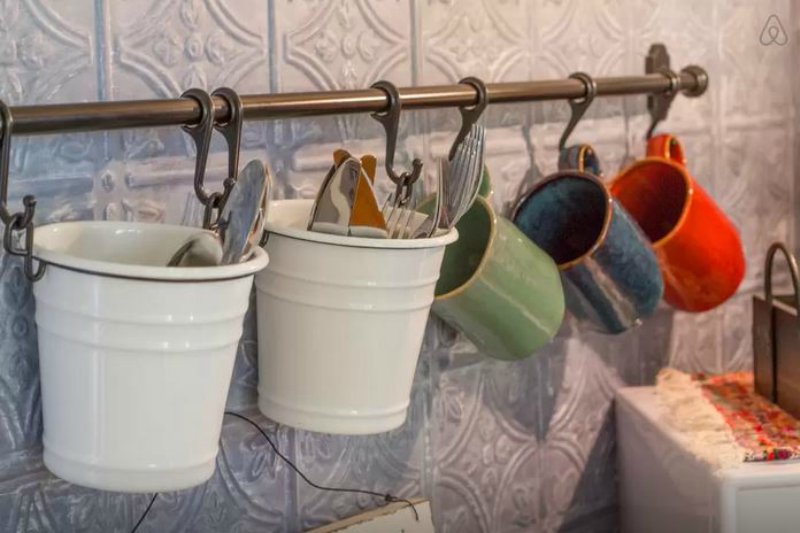 Can you imagine a better place to stay when visiting Pacific Grove?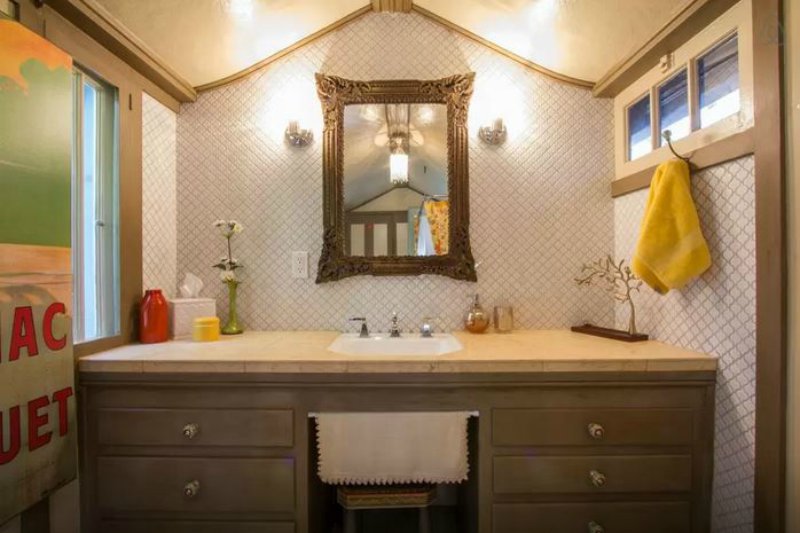 Pacific Grove has been called "Butterfly Town U.S.A.," "The Most Romantic City in the U.S.," "A Dreamy California Destination, " as well as an idyllic place to get married, to honeymoon or to just hang out. Some of it is self-proclaimed, some the acclaim of people who have actually visited Pacific Grove.
You will find Pacific Grove on the very tip of the scenic, tree-shrouded Monterey Peninsula with a rocky coastline and an ambiance of charm, grace and beauty.
Founded in the 1870s as a Methodist summer retreat, Pacific Grove still bears the look and feel of yesteryear. As you stroll the residential streets admiring the charm of home after home, you will notice little plaques on many of the homes that bear the name of the original owner and the year in which it was built. To qualify for a plaque from the Heritage Society of Pacific Grove, a structure must look like it did when it was originally built.
Among its visitors are brightly colored orange-and-black Monarch butterflies, who overwinter in Pacific Grove after traveling up to 2,000 miles, arriving by the thousands starting in October, peaking around Christmas and departing by March.
Besides its scenic beauty and idyllic neighborhoods, Pacific Grove offers an eclectic downtown experience, with small boutiques, gift shops, art galleries, antique stores and more. Other vibrant shopping areas are along Central Avenue at the entrance to Pacific Grove from Cannery Row and at the top of Forest Avenue on Forest Hill.
We've written more about the area in our Dramatic Drives – Pacific Coast Highway North post.
The lovely little cottage has been featured in several articles including 20 Romantic AirBnB Getaways and Get Cultured While You Sleep at These AirBnBs That are Historical Landmarks.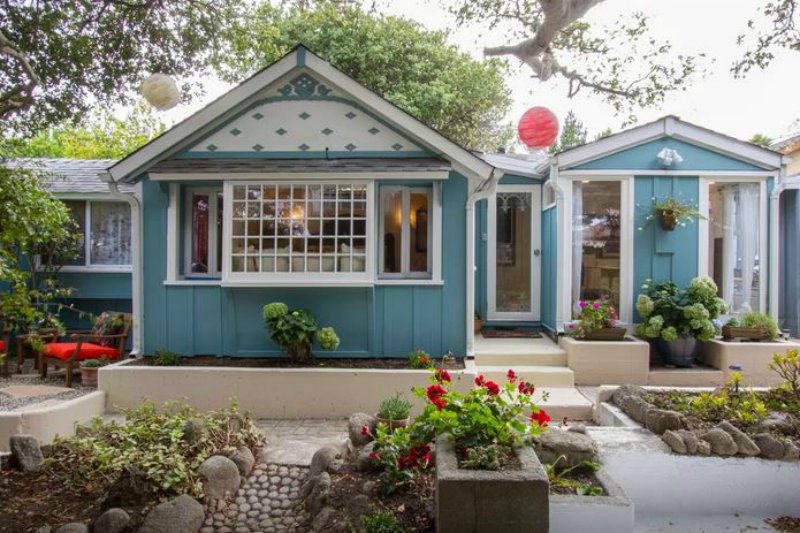 Visit the Steinbeck Cottage
*No, we do not get paid if you stay at the cottage. We just wanted to tell you about it in case you are a serious Steinbeck fan and wanted to stay in the area.
Thank you for your support – We appreciate you more than you know!
We know that you could spend hours, days, weeks and months finding some of this information yourselves – but at this website, we curate the best of what we find for you and place it easily and conveniently into one place. Please take a moment today to recognize our efforts and make a donation towards the operational costs of this site – your support keeps the site alive and keeps us searching for the best of our heritage to bring to you.


Remember, we rely solely on your donations to keep the project going.
Thank you in advance!
If you have not already subscribed to get TresBohemes.com delivered to your inbox, please use the form below now so you never miss another post.