Václav Havel, former president of the Czech Republic, liked to take visiting politicians to Prague pubs. This is for the obvious reason that a known Prague specialty is without a doubt the local pubs, taverns, taprooms and beer-drinking establishments of all kinds. Of course, there is no better place for the meeting of presidents, politics & pubs than Prague.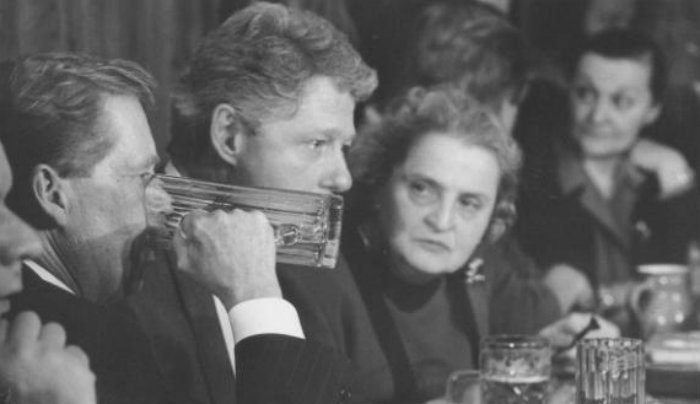 Never one for stuffy meetings, President Vaclav Havel often slipped out to local bars with visiting heads of state. In contrast to the cafés and wine bars, which are equipped with fancier furnishings and often located on the upper floors of town houses, pubs are located on the ground floor or in the cellar. One could say that the pub has a truly democratic spirit.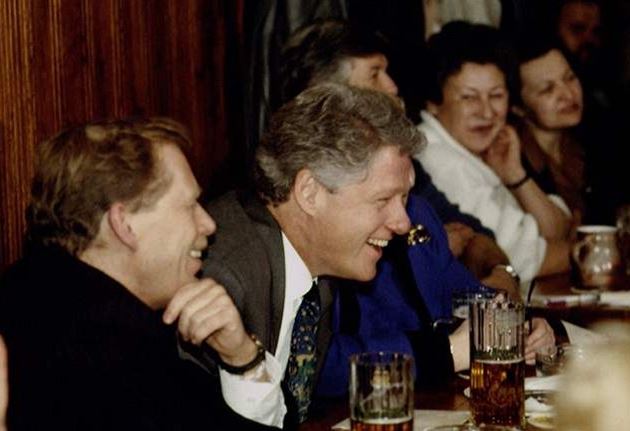 Next to a worker sits a minister or the head of government, and next to him sits an actor or visual artist. Everyone is equal. And while the wine bars and cafés have always been the haunt of poets and the home of lyricism, the pubs are the site of storytelling and epic poetry. The images you see here of President Havel and US President Bill Clinton were taken at Pivnice U Zlatého Tygra* (At the Golden Tiger).  U Zlatého Tygra is a name that resonates with all Czech beer lovers on Tuesday, January 11, 1994.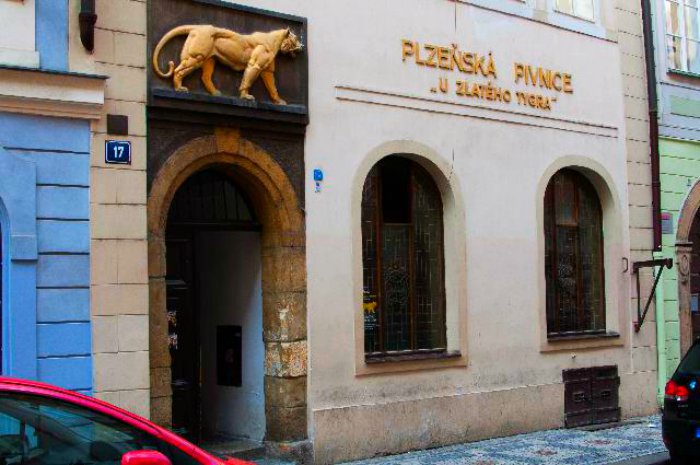 The iconic pub is located on Husova Street in Prague's Old Town and is one of the oldest pubs in the centre of the city. This was the second place in the entire capital to serve the renowned Pilsner Urquell beer. When Bill Clinton visited the Czech Republic in 1994, Havel took him and Madeleine Albright to U Zlatého Tygra (The Golden Tiger) to show them a real Czech pub.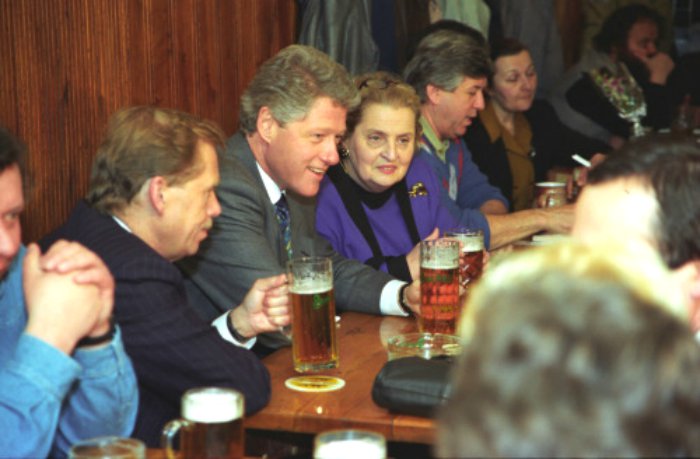 And they later sat at a table with the famed Czech writer Bohumil Hrabal* who once wrote:
"For me the pub is not only too loud a solitude, not just a place to drink beer, but it is where beer sets language in motion, to creation. The pub is a place … where a barroom story absorbs what yields the Hegelian Geist der Zeit. Here in the pub the anonymous anecdote is created as a collective expression."
I'm sure there was a lot of "Cheers" and "Na Zdravi" as the beer continued to flow. The press reported that President Clinton enjoyed three beers and a schnitzel, and that he skipped his regular jog the following morning.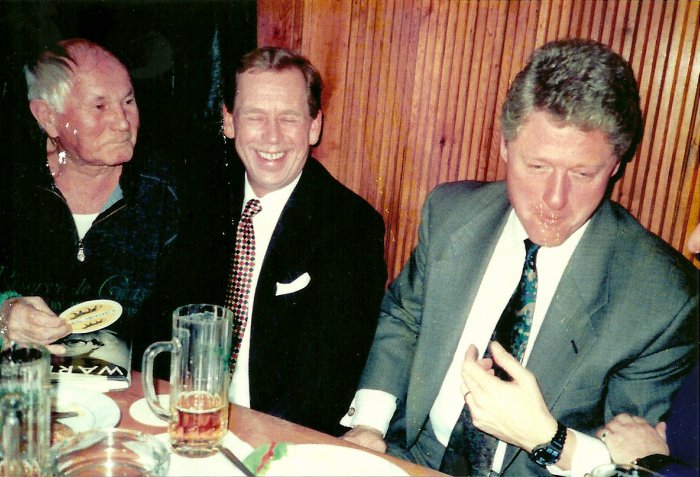 Apparently, prior to that evening, aides were sent to check out the pub and it was restricted to just anyone coming in that evening. My favorite part of the story is that Clinton was not supposed to eat and yet after a couple of beers, he could no longer resist and ordered a nice Schnitzel despite his security team saying "over my dead body [will you eat that]".
It just goes to show the power and allure of delicious Czech food when combined with a great beer!
Look at how much Bill is enjoying his meal…
Nothing like delicious Czech food!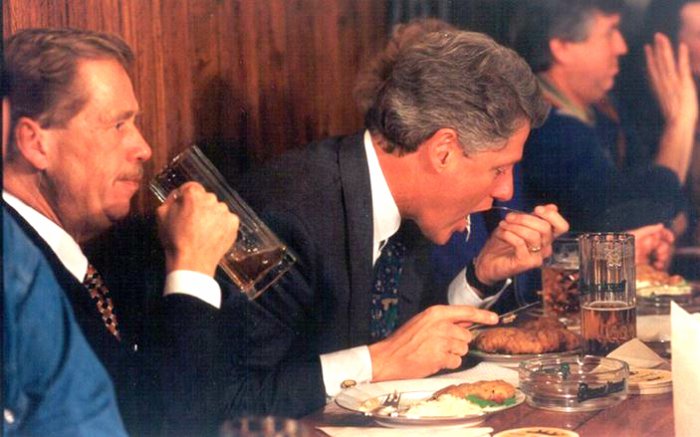 Havel was an influential anti-communist dissident, playwright, and politician before becoming the first democratically elected president in 44 years. Perhaps this is why he was known to take heads of state and other leaders to pubs. Because pubs are to men the places for the ritual of conversation, which runs the gamut from idle chat to far-reaching political ruminations (as we can see in the images above).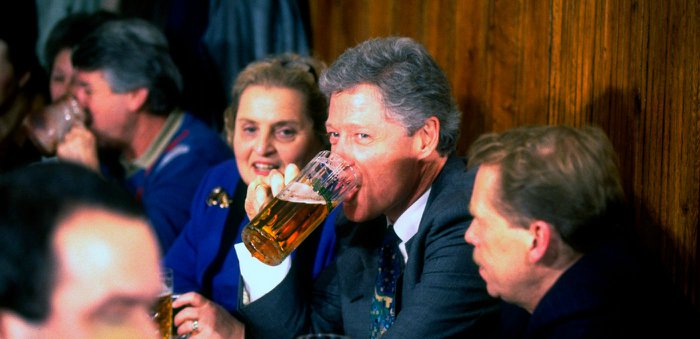 At a pub people meet to relax and talk about art, sports, politics, philosophy, history and life. I am sure that Clinton enjoyed Havel's company in a way that other country presidents have not shared – and they share a love of rock and roll.
Vaclav Havel is not your 'typical' president. He spent a total of five years in prison  between the 1970s and 80s because of his writings. While he was in prison, he wrote his most famous essay entitled, The Power of the Powerless. It is a devastating critique of totalitarianism. It completely dissects the nature of the communist regime of the time, life within such a regime and how by their very nature such regimes can create dissidents of ordinary citizens. It is powerful reading which we highly recommend.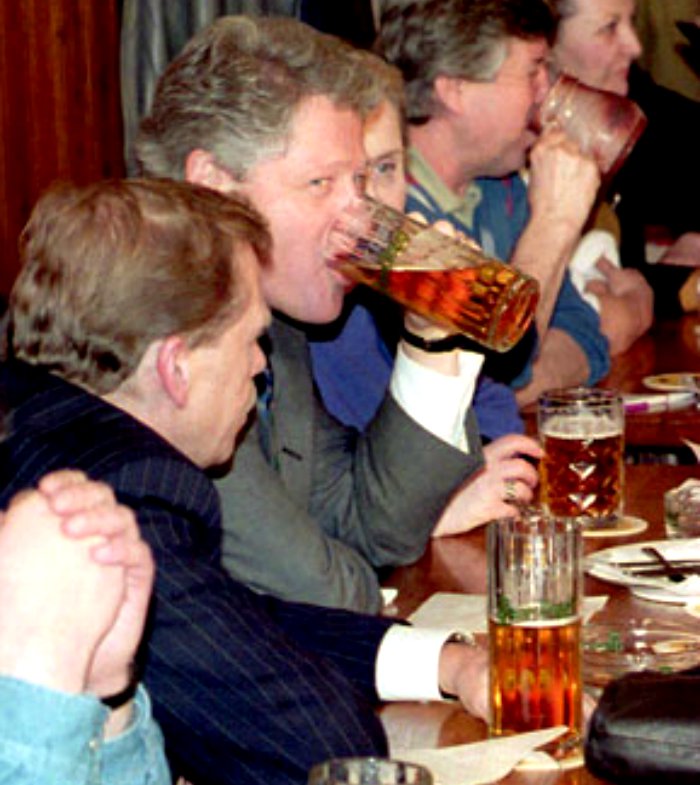 Traditional table communities can be found in many of Prague's pubs and many Czechs are open to outsiders who may have interesting information to share. Just go up and ask to join them if there is a vacant seat.
Na Zdraví!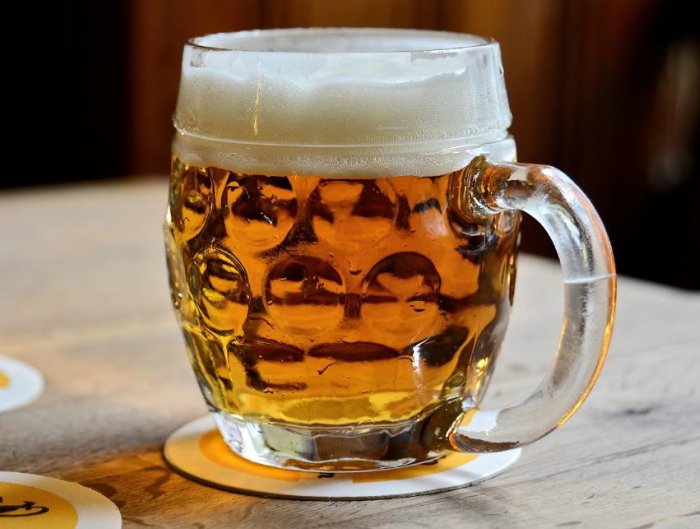 Watch the video:
Notes:
Pivnice U Zlatého Tygra, Husova 228/17, 110 00 Praha – Staré Město, Czech Republic
Bohumil Hrabal (March 28, 1914 – February 3, 1997) was a Czech writer, regarded by many Czechs as one of the best writers of the 20th century.
Sources: Ceska Televize, iDnes, Our Presidents, Radio CZ, Cultura CZ, Oldies Radio CZ, iDnes, Czech Tourism, Free Beacon, Slate.
Thank you for your support – We appreciate you more than you know!
We know that you could spend hours, days, weeks and months finding some of this information yourselves – but at this website, we curate the best of what we find for you and place it easily and conveniently into one place. Please take a moment today to recognize our efforts and make a donation towards the operational costs of this site – your support keeps the site alive and keeps us searching for the best of our heritage to bring to you.


Remember, we rely solely on your donations to keep the project going.
Thank you in advance!
If you have not already subscribed to get TresBohemes.com delivered to your inbox, please use the form below now so you never miss another post.