It's the kind of day that I sit and daydream about all of the new places I will go to in Prague next time I am there. Today as I was browsing hotel rooms, I stumbled across the lovely Hotel Yasmin. Perhaps the world's first high-fashion funhouse, the Hotel Yasmin supposedly has a far-out foyer feature what can only be described as giant 10-foot tangerine-coloured cats' tails and a bedazzled bar flashes brash baubles hanging from the ceiling.
As I sip my tea and drift off into fantasy land, I realize that I've finally arrived and this is the entrance way that greets me.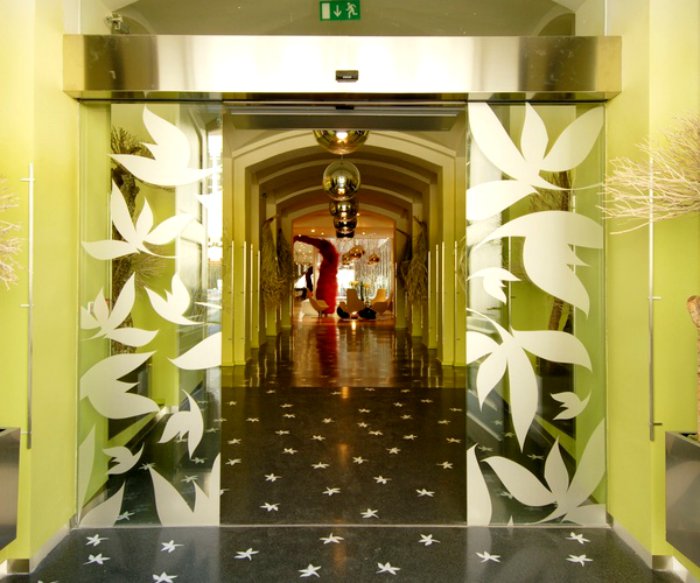 After walking down the long corridor I arrive at the lobby where a very pleasant young woman with a beautiful and warm smile welcomes us.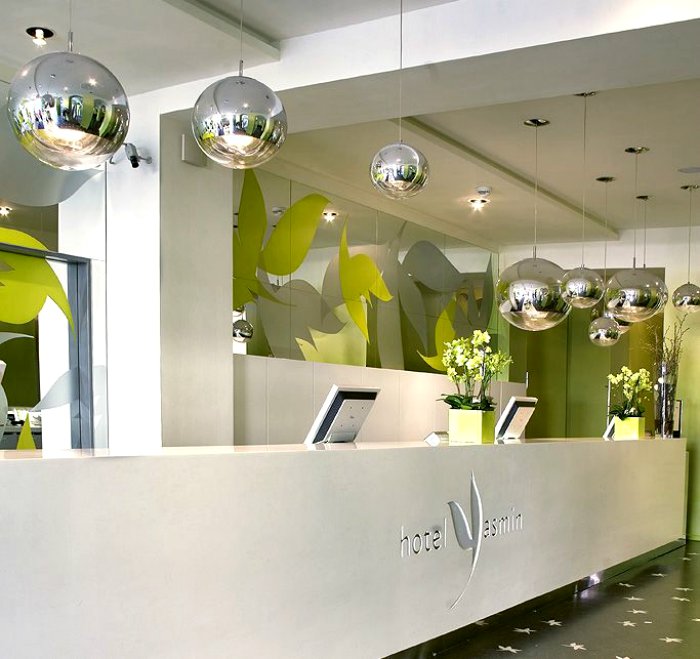 As she's checking me in she tells me about the hotel features and to make sure to take lunch in the garden as the weather is supposed to be lovely all week. I walk further to the elevator to my room and pass this interesting space.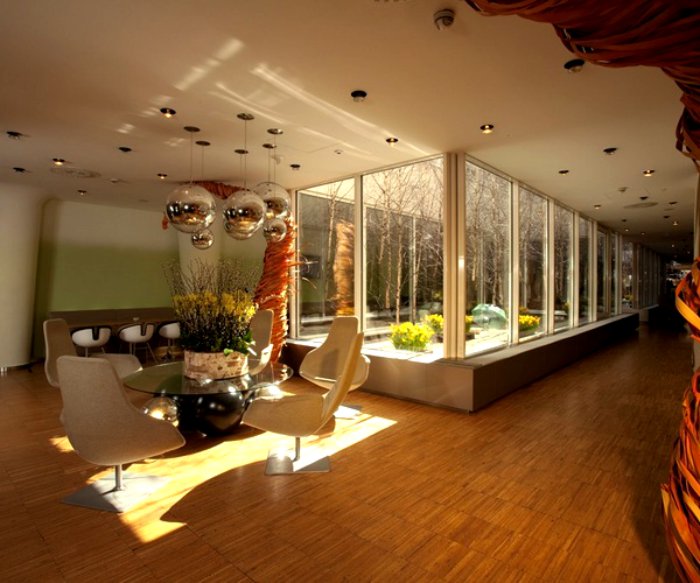 Nice. Isn't it?
The door to my room opened, I walk in and see this lovely space.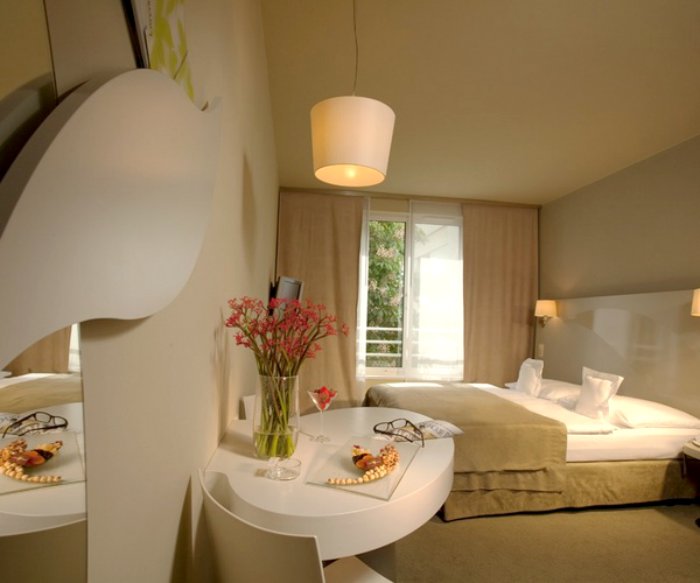 So pretty. The stylishly sparse rooms encourage us to zone-out in a zen-like setting and relax a while.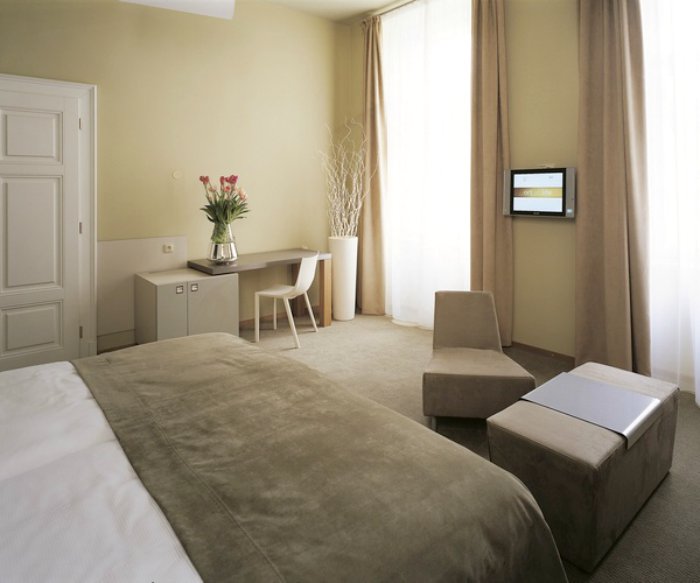 Light and bright and just what the doctor ordered.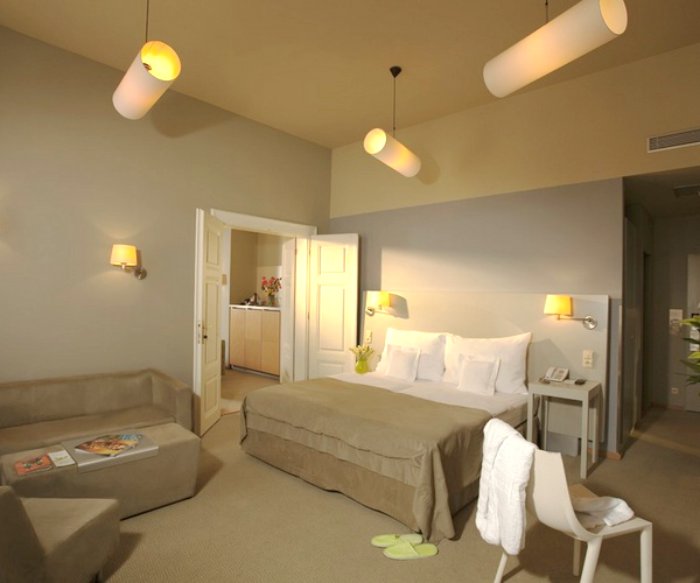 The girls room is lovely as well.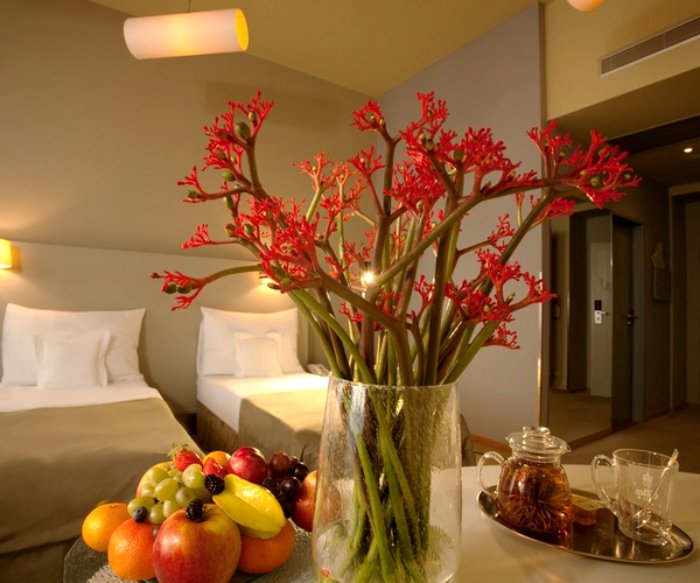 I learn that their rooms are all unique in how they are set up and make sure to remember to reserve a room on the top floor the next time I visit.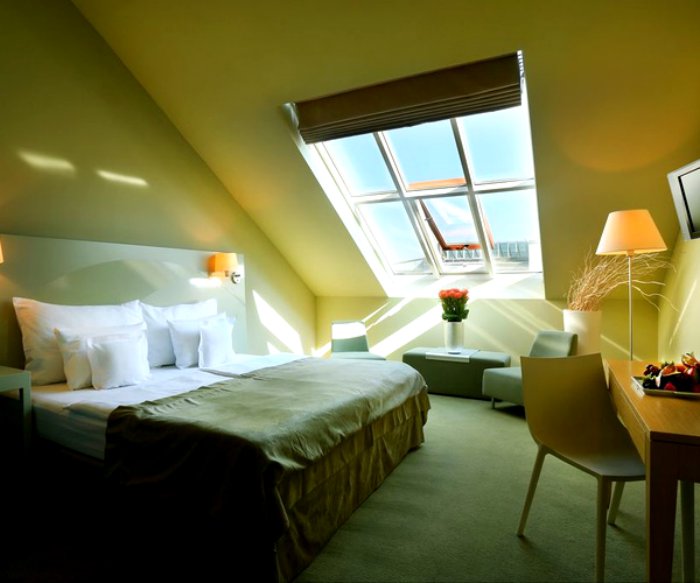 We unpack, relax and take a walk downstairs. We walk past the bar area on our way to the garden.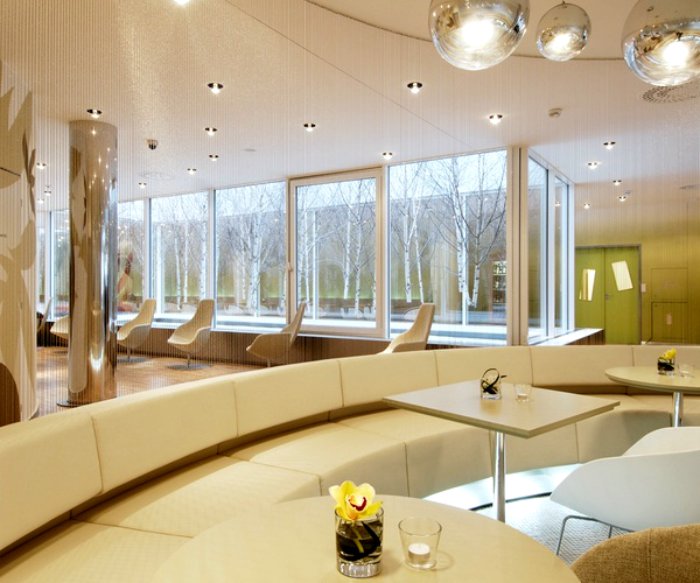 It moved into a more closed in area and it looks like a nice place to have a drink later.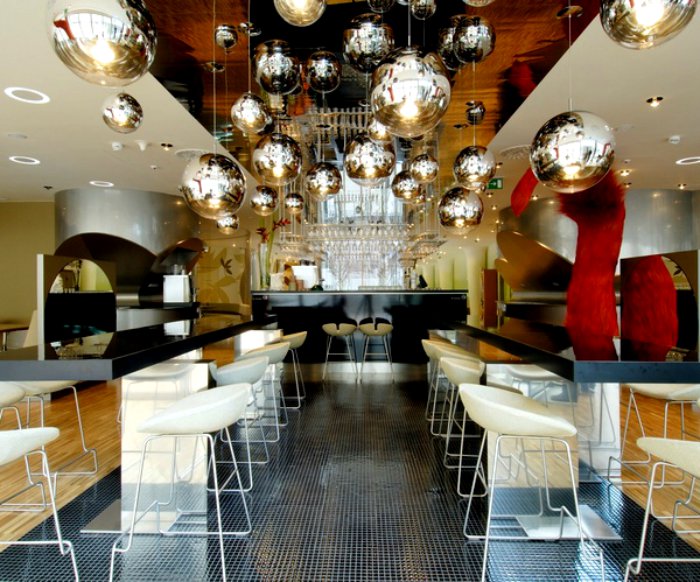 Finally we are outside in the garden.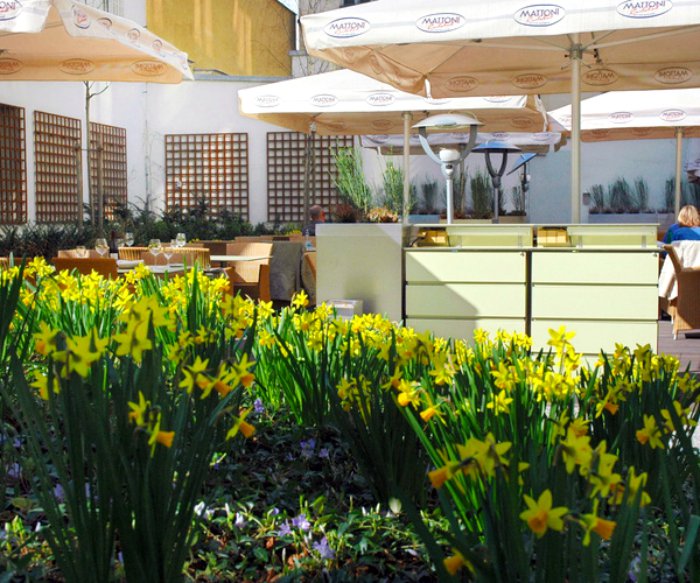 It's lovely and we have some refreshments and then decide we want to eat inside because believe it or not, it's actually a bit warm in Prague today.
Inside, we visit Restaurant Café Bar Noodles.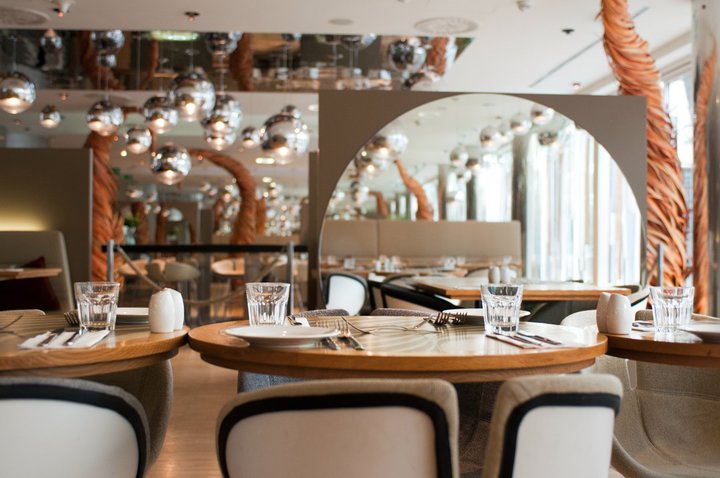 It's an interesting space… kind of difficult to describe, but beautiful nonetheless.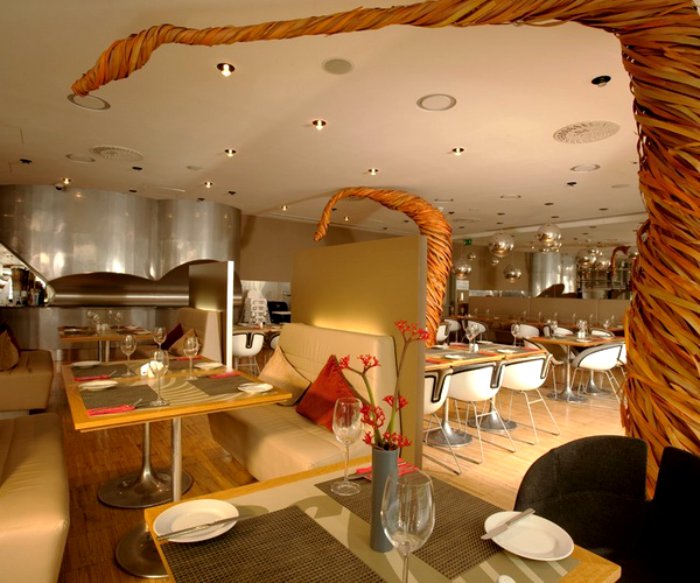 Especially these.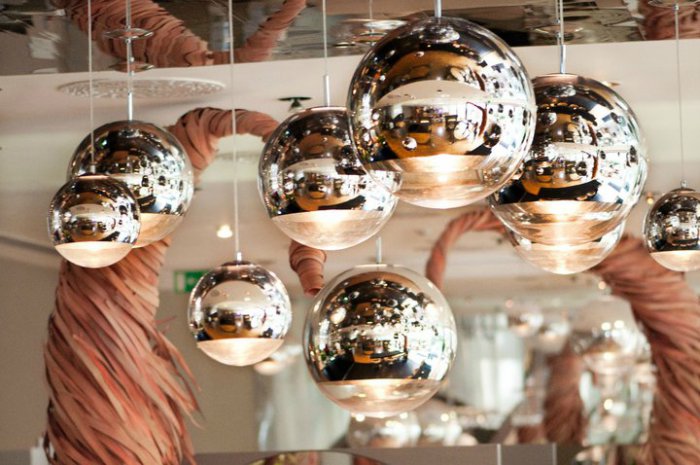 I order a slowly stewed pork, cooked over beech wood served with an  egg custard made of of green peas covered with a sauce of root vegetables. Delish!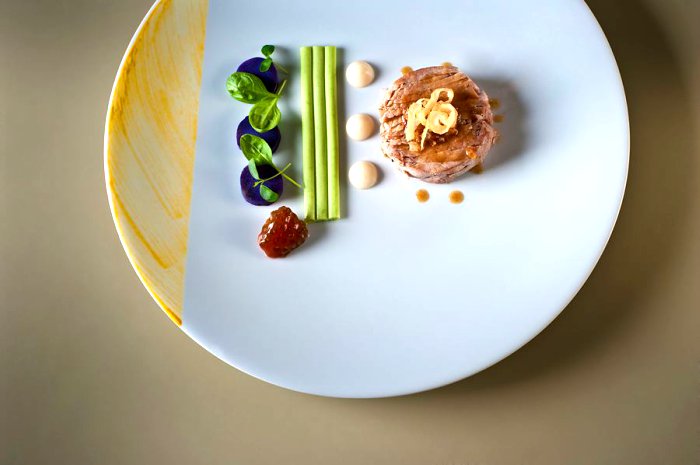 Back at the room we all decide to catch up on some writing and then relax a bit.
I decide to take a bath because I simply cannot resist…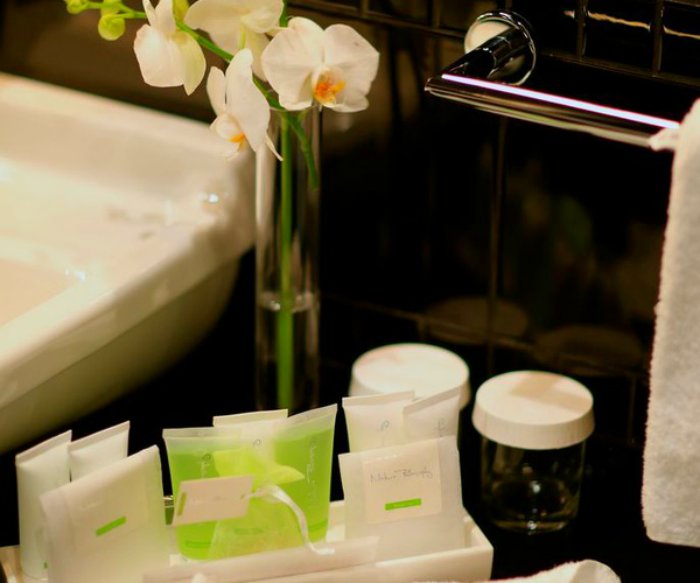 Feeling rested and refreshed, we take a walk on Wenceslas square before returning for dinner.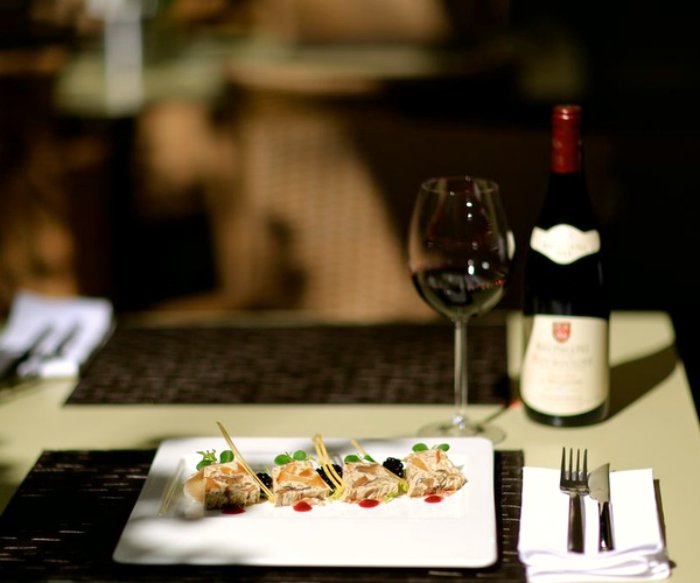 Which is delicious of course, but we see the desserts and cannot imagine leaving without at least trying something so we decide on this.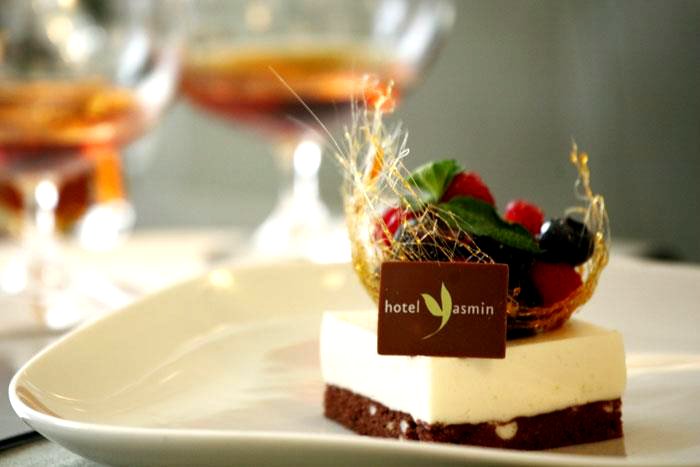 Satisfied and feeling quite full, we walk some more at the nearby square before settling in for the evening.
In the morning, we order room service consisting of fruit, croissants and tea.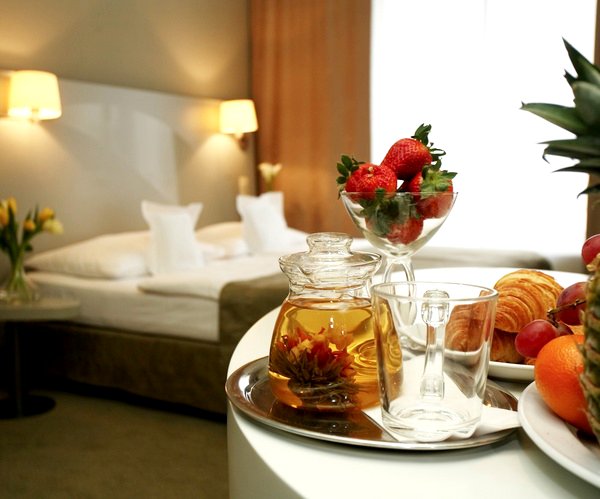 The experience is wonderful, of course – as it is in all fantasy stays. But from reading the reviews on several sites, we believe this is one fantasy that will come true – and soon.
We'll keep you posted.
Make sure to book a stay at Hotel Jasmin and get special offer booking deals through Mr & Mrs Smith. Plus this hotel offers a nice 'Smith Extra'.

They guarantee to have the lowest prices and if you find it cheaper, they will match it, and give you a US $75 voucher too! We always book through them and have always had a great experience so far each and every time.
And no, we did not get paid to say that or to suggest this hotel – it's just a part of what we love doing when we are not actually traveling.
Fantasy travel is the next best thing.
If you have not already subscribed to get TresBohemes.com delivered to your inbox, please use the form below now so you never miss another post.
---
Remember, we rely solely on your donations to keep the project going.
Become a friend and get our lovely Czech postcard pack.