Czech Fried Meat Patties aka Karbanatky refers to Czech patties which are made of ground meat which is then breaded and fried. They are made in many European kitchens and have many different names. For the Danish they are known as Frikadeller. In Germany, they are known as Frikadellen, Buletten, Fleischküchle or Fleischpflanzerl. In Austria they call them Faschierte Laibchen. In Hungary they are known as Fasirt and people recognize (and eat) them in Russia, Norway, Denmark, the Faroe Islands, Poland, Estonia, Ukraine, the Netherlands, Lithuania and even in South Africa, where they form part of the Afrikaner culinary heritage.
In other words, fried meat patties are a global food and it's probably because they are so darn tasty!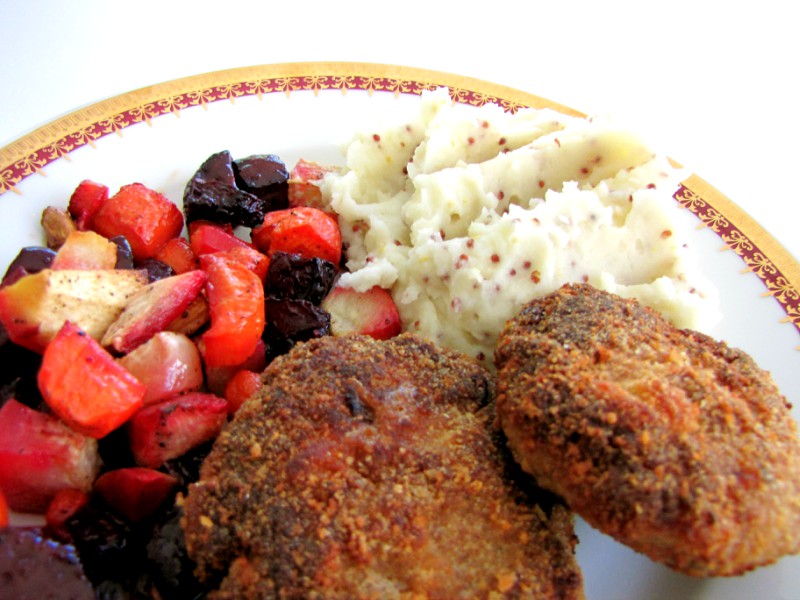 There are numerous variations that exist but traditionally they are made of minced meat which can be pork, beef or veal and chopped onions, eggs, milk and bread or bread crumbs. They are then formed into patties or balls, covered in more bread crumbs and pan fried in lard or oil.
They are a main dish and are usually served with potatoes which can be boiled, mashed or smashed and a vegetable.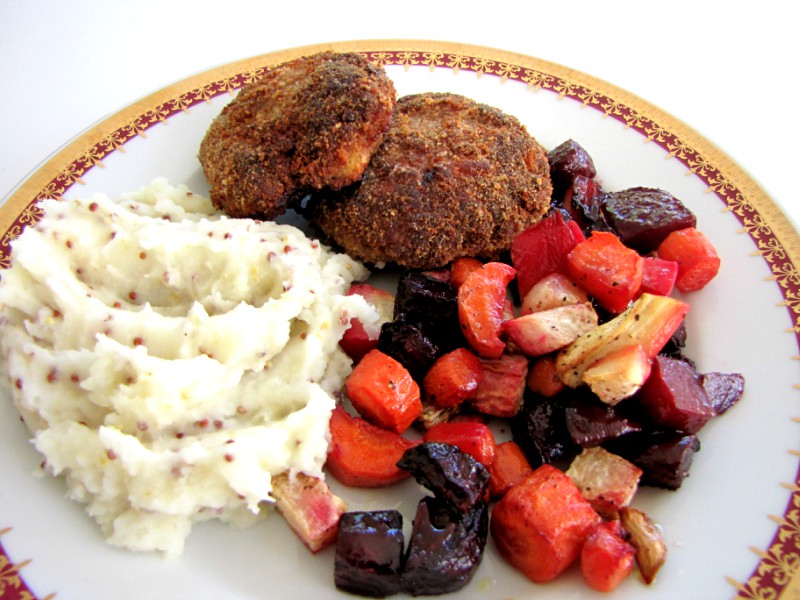 They make a good hearty dinner and the next day, they can be served cold, sliced thinly as a base for open face sandwiches on rye bread. Czechs make these as much as Germans make Schnitzels and they are very popular served with cold potato salad at parties, potlucks and picnics.
Hot or cold, lunch or dinner – we love them!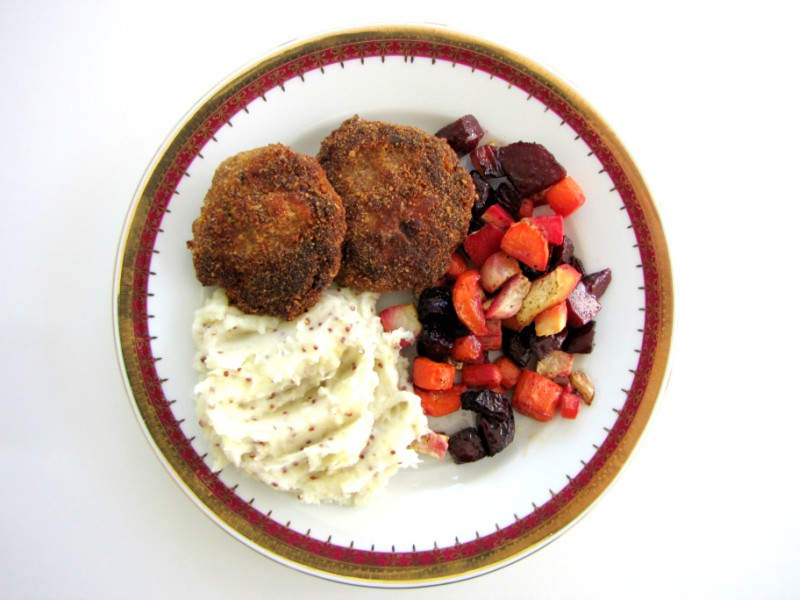 I have a bit of a different take on these because we don't eat beef but all of our friends and family who have eaten them like this absolutely love them.
Ingredients
1 pound ground pork
1 pound ground turkey
1 large onion, finely chopped (you may want to saute this until it's clear in a separate pan before you begin – that's what I do if I have time.)
4 cloves of garlic, crushed
4 sliced rye bread (or any bread)
3/4 cup milk
1/2 cup bread crumbs
1 egg
1 Tbsp Worcheshire Sauce
1 tsp of marjoram
salt and pepper to taste
1 cup breadcrumbs for coating
lard, shortening or vegetable oil for frying
Directions
You may want to saute the onions in a separate pan, first. I like them soft in the meat.
Cube the bread and soak it in the milk, stirring every now and again so it is good and soggy.
Mix the first 11 ingredients together. Forget the wooden spoon, get your hands in there and mash it all together. The more you work it, the better the meat patties will taste. Really.
You may have to add breadcrumbs to the mix to have a better texture if it's too 'wet'.
Then shape it into patties, balls or whatever other shape you like and bread on all sides and place into the hot oil.
When making patties, I cook them about 8-10 minutes on each side on medium heat.
We like them well, so I pull them off the oil, drain them a few minutes and then put them into the oven while I clean up and finish off the mashed potatoes.
That extra 10-15 minutes in the oven just does something magic to them.
Mmmm, mmmm, good.
Look at the caramelization on those veggies.
And you're probably wondering what those dots are in our mashed potatoes…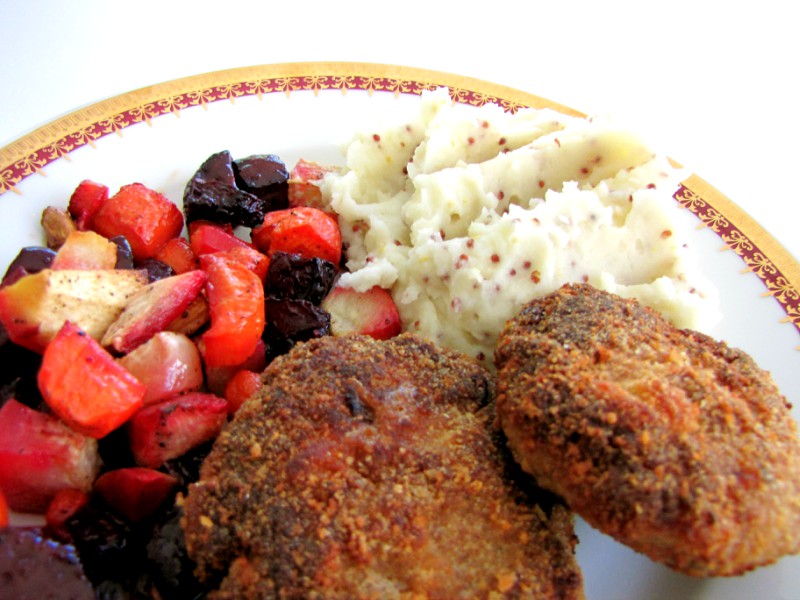 Well, I am going to tell you.
Are you ready for our yummy mashed secret?
Mashed Potatoes
I took 5 large potatoes, peeled them and cubed them. Then I boiled them in water for 30 minutes. I drained the water and added salt, 1 stick of butter, 1/2 cup of milk and 1 tsp. of whole mustard seed mustard. For whatever reason, the mustard seeds make the mashed potatoes taste extra awesome with Karbanatky, so I make it this way with this meal each time. Obviously this is not your typical Czech mashed potato – but we like it.
Roasted Root Vegetables
I take out a large baking pan and any root vegetables I have. In the photo you are looking at 3 beets, 3 turnips, 5 carrots and 4 parsnips. Other times I add onions, garlic cloves, or celery – it just depends on my mood. I place some olive oil in the pan and wash, peel and chop the vegetables and place them in the pan on the oil. I like them plain, with only salt and pepper as root vegetables release a sweet goodness when they cook and I don't think they need any other spice, but I have added marjoram, thyme, rosemary and/or sage. It really depends on your personal taste. I put this in the oven before I begin the Karbanatky – so it bakes at 350 for about 40-45 minutes. I turn them 2-3 times during the process and I like them when they get that sweet glaze on them and are a little on the drier side. Yum!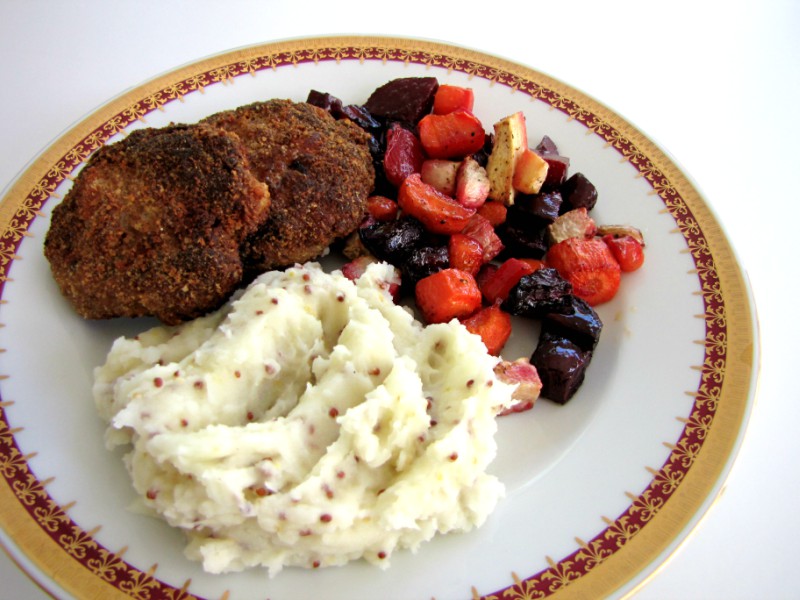 So what do you think of our take on this yummy classic?
Try it and let us know…
Dobrou Chut!
Thank you for your support – We appreciate you more than you know!
We know that you could spend hours, days, weeks and months finding some of this information yourselves – but at this website, we curate the best of what we find for you and place it easily and conveniently into one place. Please take a moment today to recognize our efforts and make a donation towards the operational costs of this site – your support keeps the site alive and keeps us searching for the best of our heritage to bring to you.


Remember, we rely solely on your donations to keep the project going.
Thank you in advance!
If you have not already subscribed to get TresBohemes.com delivered to your inbox, please use the form below now so you never miss another post.