At one time, resting like a gem in a crown, Zámek Jezeří (Castle Jezeří) distinctively rested on a hill once densely populated with a wide myriad of flora. Shaped in an prominent 'H', you can see two watch towers on either side. It was once the home of Bohemian Nobles and was considered one of the most beautiful Baroque buildings in all of Europe, but sadly, today it's an apocalyptic castle in the Czech Republic.
These days, the castle looks more like something fit for a location for a Halloween horror film with it's abandoned looking interiors and overgrown exterior.
What was once so beautiful, spent many, many years neglected and forgotten.
While that in itself is a scary sight, scarier still is the view that haunts this once noble jewel. A century before, and you would have been witness to a breathtaking panorama of a beautiful and natural landscape filled with a lake, rolling hills and an abundance of flora and fauna.
Today, the area is completely ravaged and the landscape drastically changed by the years of damaging coal mining, power plants and chemical factories.
When we first saw these photographs while visiting the Czech Republic, we wept.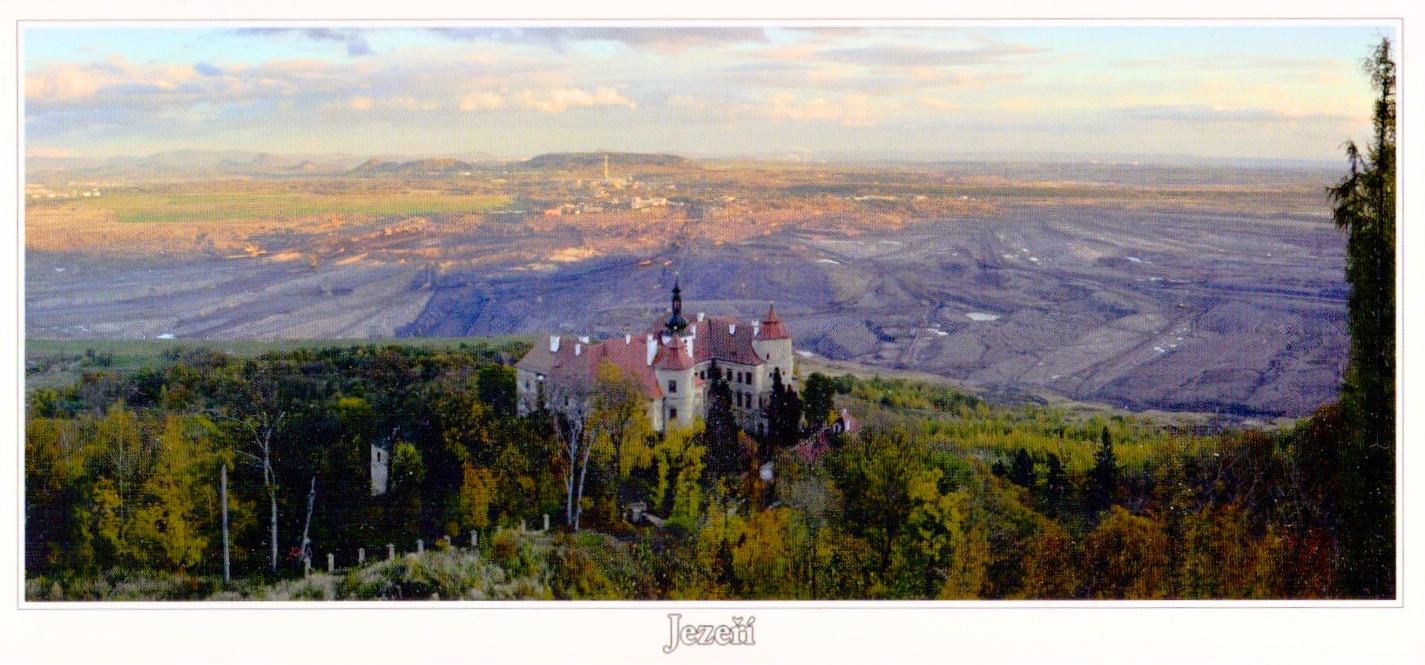 Seriously. We became members of the Lobkowicz Collection and began to research all of their other properties after we spent time at the Lobkowicz Palace in Prague.
An online search only led to despair.
Here is what we saw…
Can you believe the devastation?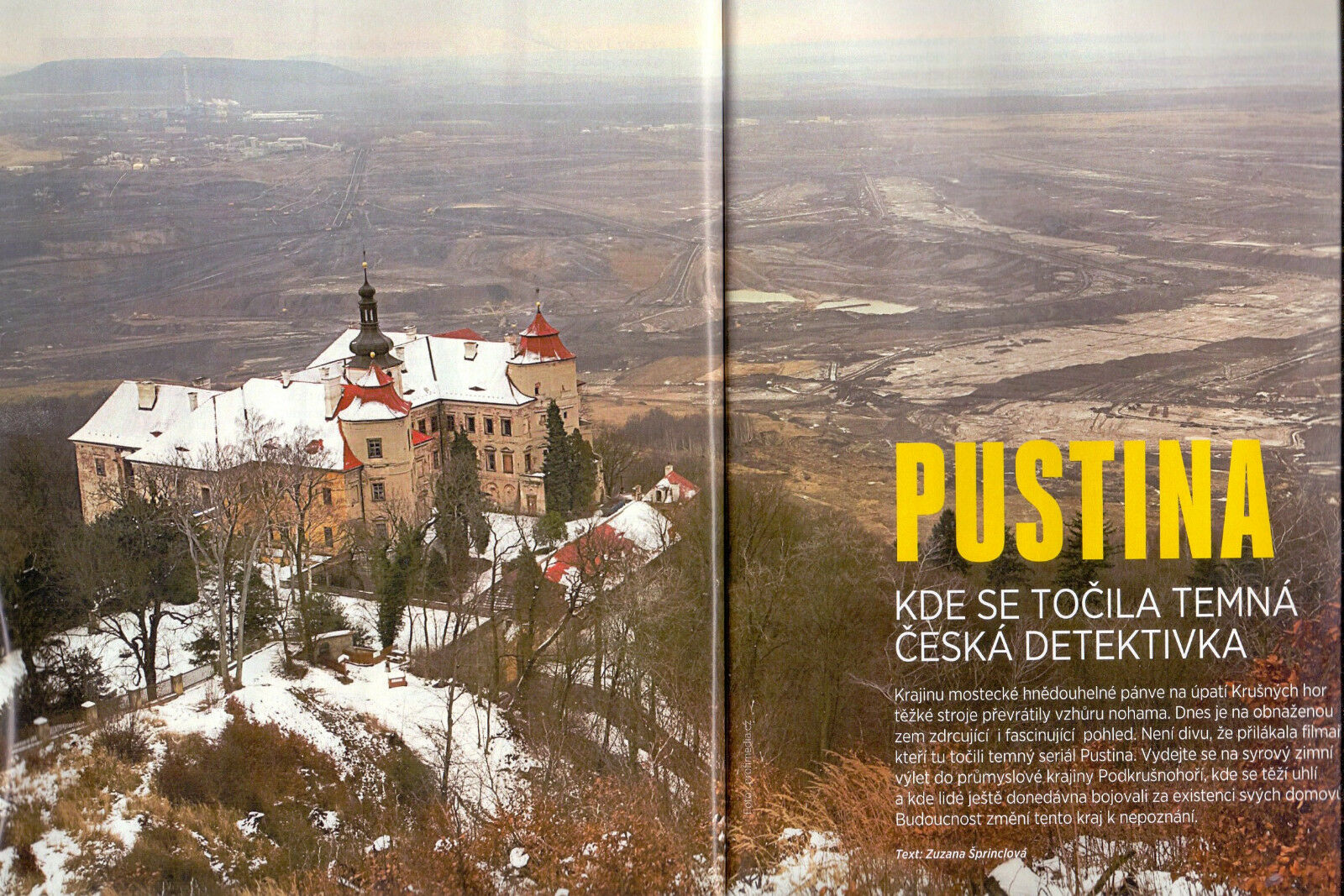 An absolute attack on Mother-Earth. The environmental impact of mining includes erosion, formation of sinkholes, loss of biodiversity, and contamination of soil, groundwater and surface water by chemicals from mining processes.
Take a quick look at this short video to really grasp the impact.
Erosion of exposed hillsides, mine dumps, tailings dams and resultant siltation of drainages, creeks and rivers can significantly impact the surrounding areas. Destruction of the habitat is the main component of biodiversity losses, but direct poisoning caused by mine-extracted material, and indirect poisoning through food and water, can also affect animals, vegetals and microorganisms. Soils' texture and water content can be greatly modified in disturbed sites, leading to plants communities changes in the area.
But perhaps it is habitat destruction, which is one of the main issue of mining activity. Huge areas of natural habitat are destroyed during mine construction and exploitation, forcing animals to leave the site. These animals can also be poisoned directly by mine products and residuals.
Ach jo… a heavy sigh.
But you can see the greening beginning to creep down the mountain ever so slightly in this newer video…
We did hear that there are plans include building one of the 'greatest lakes in Central Europe' by 2030, but today, it still looks more like an Apocalyptic wasteland, an unreal set from some horrible movie where the humans have ruined every last place on earth. (At least that's what it felt like looking at these photos!)
To be fair and disclosing more updated news, they have been doing major renovations to the property and are working to bring it back to it's former splendor – but with such a magnitude of devastation, it will be a long while yet.
But thank heavens at least it's in the planning.
You can see the improvements at the photo gallery for the property itself: Exterior, Interior.
Remember, the property belongs to the Lobkowicz family and they have been working hard to restore everything that they've gotten back after restitution – but it's a vast task and because of the location and the level of devastation, this property is not #1 on their list – but every little step is a step in the right direction.
But it is in their history to work to preserve Czech culture. In fact, the Lobkowicz family has played a role in preservation for over seven centuries.
We're proud sponsors and members of the Lobkowicz Collection and the last time we were in the Czech Republic, we attempted to visit several of their properties. Unfortunately, it was winter, and many were closed for the season but we loved what we did see and recommend that you check out their properties.
You can learn more about them here.
This is probably a different kind of scary on Halloween than you expected to see – but we felt it fitting to share nonetheless.
Update: As part of HBO's plan to showcase its popular international content, U.S. audiences are treated to this original HBO Europe production from the Czech Republic. The eight-episode psychological/crime drama tells of how a close-knit, multi-generational mining village is torn apart by the disappearance of a 14-year-old girl.
Pustina or Wasteland
It sets off a series of mysterious, shocking events that involve a foreign coal-mining operation and the town's mayor, Hana Sikorová, who is also the missing girl's mother. As Hana begins doubting and suspecting everyone around her, the once-peaceful community begins to fracture and residents start showing their true colors.
Sources: Official Website, Lidove Noviny, Lobkowicz Collection.
Thank you for your support – We appreciate you more than you know!
We know that you could spend hours, days, weeks and months finding some of this information yourselves – but at this website, we curate the best of what we find for you and place it easily and conveniently into one place. Please take a moment today to recognize our efforts and make a donation towards the operational costs of this site – your support keeps the site alive and keeps us searching for the best of our heritage to bring to you.


Remember, we rely solely on your donations to keep the project going.
Thank you in advance!
If you have not already subscribed to get TresBohemes.com delivered to your inbox, please use the form below now so you never miss another post.