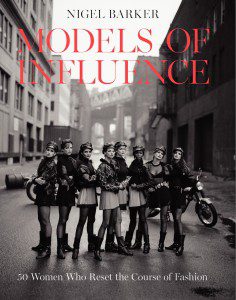 This New York Times Bestseller is filled with loads of inspiring people and stories, not to mention all things modeling. Written by TV personality and former model Nigel Barker, it was published on February 10th of 2015. This one of a kind book is an instant classic. The 256 page book features 50 models, from the 1940's all the way to the influential models of today. Not only beautiful to look at, including over 200 full color photographs, it also documents the styles of the different eras. The book is a perfect gift for fashion lovers or normal women who want to learn more about their role models. What really makes this a go-to coffee table book is not only the fact that you will be learning so much but it truly shows that you are a person with chic taste and a classy home. From vintage photos of Twiggy, to facts you never thought you would know about Bohemian model Paulina Porizkova, this book has it all.
Above all, models have moved us over the years to think and see the world differently. They hold up a mirror to society and show us where we are and where we still have room to grow. – Nigel Barker
If you have not already subscribed to get TresBohemes.com delivered to your inbox, please use the form below now so you never miss another post.
---
Remember, we rely solely on your donations to keep the project going.
Become a friend and get our lovely Czech postcard pack.