One of my all time favorite roads to drive is the SR1. I've driven this gorgeous stretch of highway over 10 times and I'd love to be able to drive it at least that many more times. The Pacific Coast Highway, also known as State Route 1 (SR 1) is a major north-south state highway that runs along most of the Pacific coastline of the U.S. state of California. The entire route was officially designated as Highway 1, but because of it's scenic beauty it's now known as SR1.
Its southernmost start is at Interstate 5 (I-5) near Dana Point, Orange County and it continues northward to U.S. Highway 101 (US 101) near Leggett, Mendocino County. What lies in between? Only some of the most spectacular views along the West Coast of the United States.
The first gorgeousness you encounter if you are starting out from the south end is Crystal Cove State Park just north of Laguna in Newport Beach. The 3,936-acre park was officially established in 1979.
The entire park hosts a total of 3 miles of beaches and tide pools, a 1,400 acre marine Conservation Area as well as underwater park, 400 acres of bluffs, and 2,400 acres of canyons. Soon you will pass through several affluent neighborhoods and see the tall palm trees of Huntington Beach.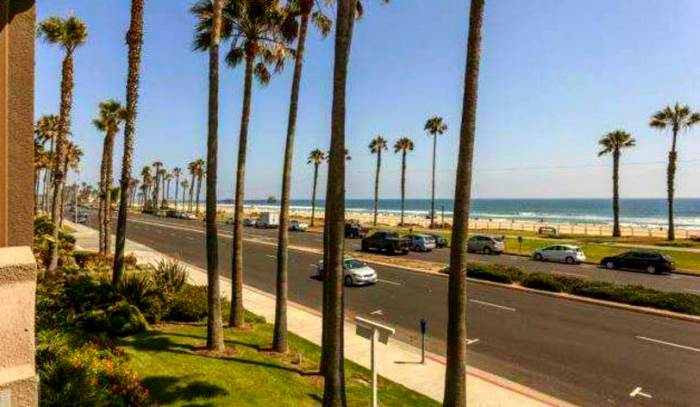 Continue on up the coast to Seal Beach and make sure to stop and walk the pier.
Through most of Los Angeles, SR1 does not go along the immediate coast, but you will get plenty of ocean glimpses, especially in Santa Monica where the cliffs will most likely surprise you.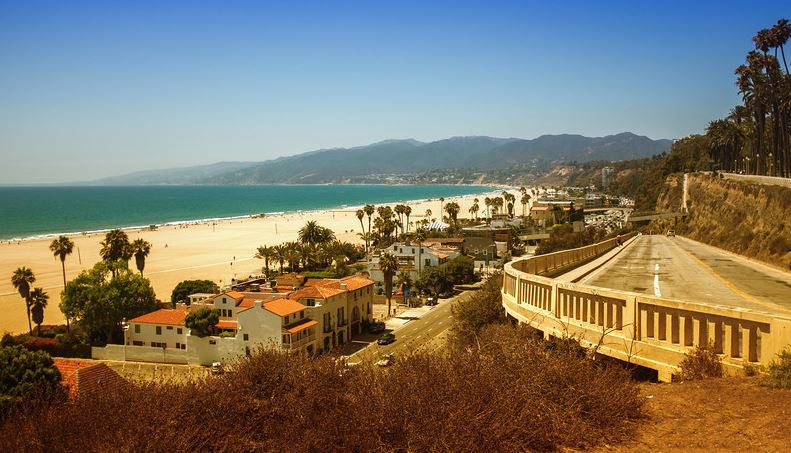 After taking in all of the beach bodies, you'll soon be in Malibu, the famed beach of the celebrities that live in Los Angeles. There are numerous luxury homes along the ocean side but what you want is to keep your eyes out on the more chic bistros and shops on the hills. Stop in for a coffee and maybe you'll get lucky seeing your favorite celebrity!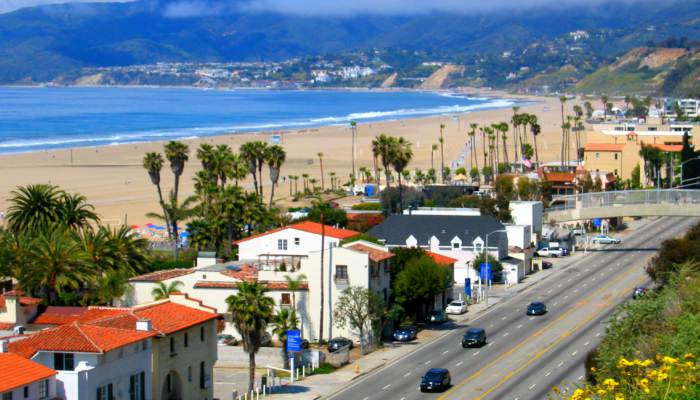 When you leave Malibu, you will begin to see the coastline as it was meant to be seen. Stop at Point Mugu State Park and enjoy over 5 miles of oceanfront beaches, palisades, chaparral-covered mountains, two major canyons with seasonal rivers, grassy valleys highlighted with oaks, sycamores, and the occasional native walnuts trees.
The US 101/Highway 1 concurrency from the Mobil Pier Undercrossing runs for 54 miles, passing through the City of Santa Barbara and its neighboring communities along the coast of Santa Barbara County.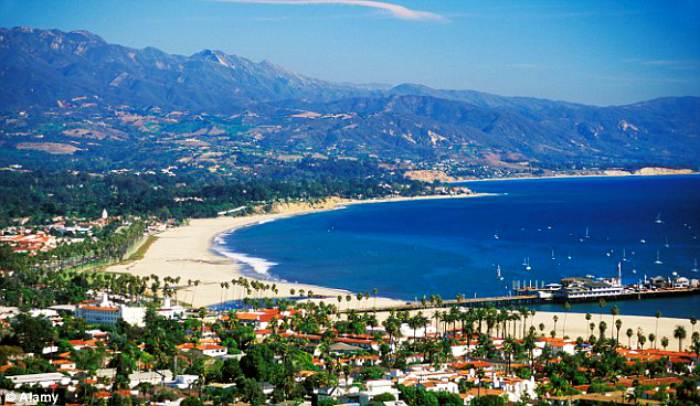 The route then turns away from the coast at Gaviota, avoiding Point Conception, and heads due north through Gaviota State Park and the Gaviota Tunnel.
If you have time, make sure to check out the Gaviota Wind Caves.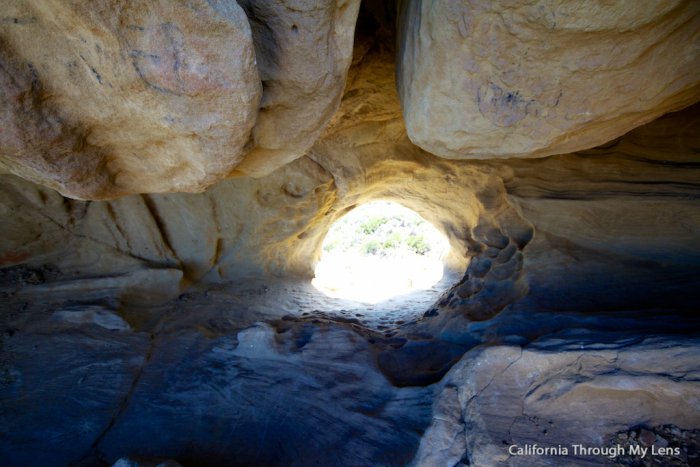 The Gaviota Wind Caves are a sandstone formation located a mile from the Pacific Ocean in the Santa Ynez Mountains west of Santa Barbara. The hike to the wind-swept caves is 2.5 miles round trip with 600 feet of elevation gain.
In Las Cruces, SR 1, now named Cabrillo Highway, splits again from US 101 and heads northwest to the city of Lompoc. You'll be moved away from the coast because of Vandenberg Air Force Base, located 9.2 miles northwest of Lompoc, California.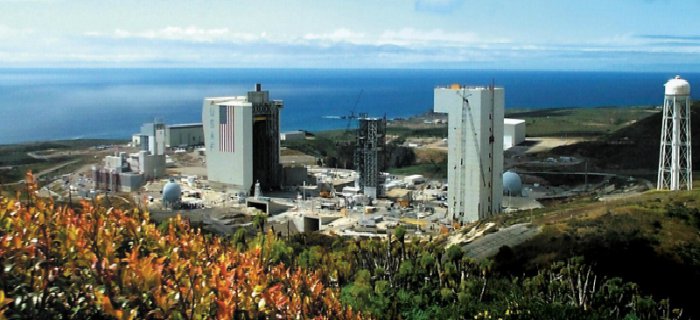 Passing through the little historic city of Guadalupe, you're now in the County of San Luis Obispo. I'd recommend seeing the dunes. They are really otherworldly and unexpected, really.
A view of the Guadalupe-Nipomo Dunes complex, from its southern tip at Mussel Rock.
Beyond Mussel Rock is Rancho Guadalupe Dunes Park (the closest flat beach), the Santa Maria River, then the Guadalupe-Nipomo National Wildlife Refuge. Oceano Dunes lie beyond.
You'll also want to visit the Morro Bay docks.
And don't forget Pismo Beach which locals refer to as 'Classic California'. Surfers, horseback rides, body boarding or fishing from their 1200-foot pier – make sure to take a walk on the boardwalk. Pismo Beach is halfway between Los Angeles and San Francisco and it a really cool place to spend the night – and they're uber dog-friendly!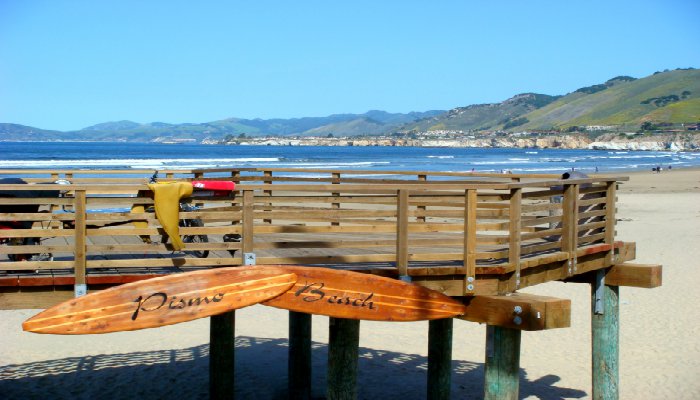 And if you time it right, a great place to stop is the Monarch Butterfly Grove where you can see around 30,000 butterflies in Pismo Beach.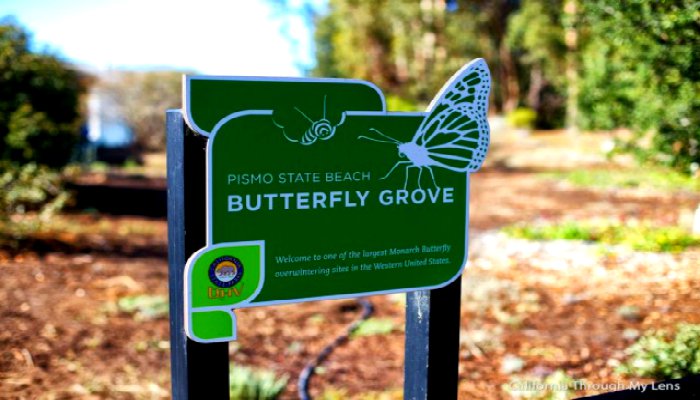 Driving near the beach where you can, you will definitely see elephant seals. The Piedras Blancas State Marine Reserve (SMR) and Piedras Blancas State Marine Conservation Area (SMCA) are two adjoining marine protected areas that lie offshore of San Luis Obispo County on California's central coast.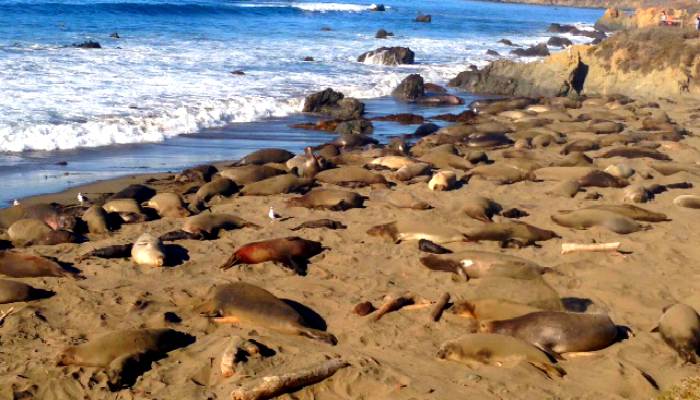 The combined area of these marine protected areas is 19.68 square miles and encompasses a rich nearshore, including extensive tidepools, two species of kelp, and both sandy and cobble beaches.
Offshore, a high relief deepwater rocky structure attracts large forage fish populations and provides shelter for rockfish. These habitats support a particularly high diversity of birds and marine mammals including California sea lions, elephant seals, harbor seals, northern fur seals and sea otters. Historically this area was one of the most productive abalone beds in California.
And while you are here, you have to visit Hearst San Simeon State Historical Monument. It's right on Highway 1 and really worth the time to take the tour. Hearst Castle's history begins in 1865, when George Hearst purchased 40,000 acres of ranchland. In 1919, William Randolph Hearst inherited what had grown to more than 250,000 acres, and was dreaming of ways to transform it into a retreat he called La Cuesta Encantada—Spanish for "Enchanted Hill."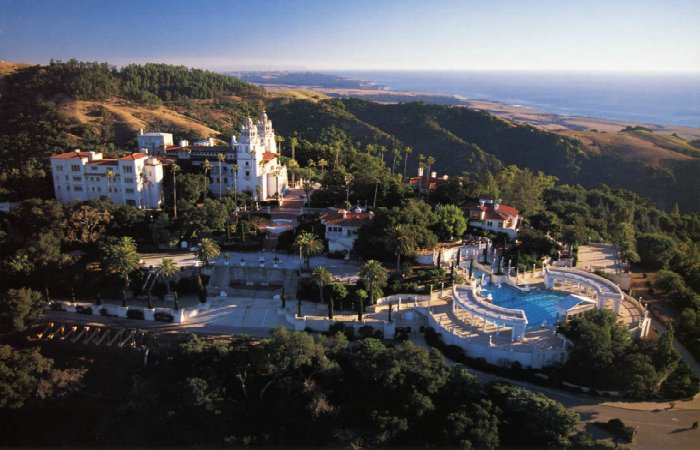 In the building of the castle, craftsmen labored nearly 28 years to create La Cuesta Encantada. It is a stunningly magnificent estate of 165 rooms, and 127 acres of gardens, terraces, pools, and walkways. All of the interior rooms were furnished with an impressive collection of Spanish and Italian antiques and art.
Watch the aerial video tour. It is truly amazing!
All tours include a half mile walk and 150 to 400 stairs. Daytime tours take about 1 hour and 45 minutes, including bus trips to and from the Visitor Center. Make sure to monitor the weather conditions as the fog can be crazy there!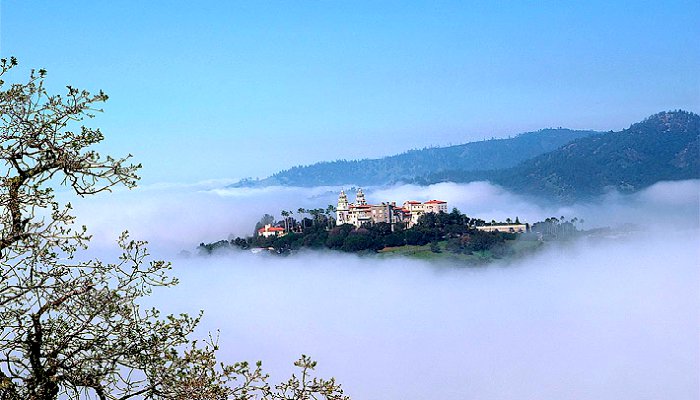 Located on a rugged windswept point of land 6 miles north of Hearst Castle along California's scenic Highway One, you can take a tour of the Piedras Blancas Light Station. The lighthouse was built in 1875 and a Victorian dwelling was later completed.
It's a great way to see some of the beautiful shoreline of the area.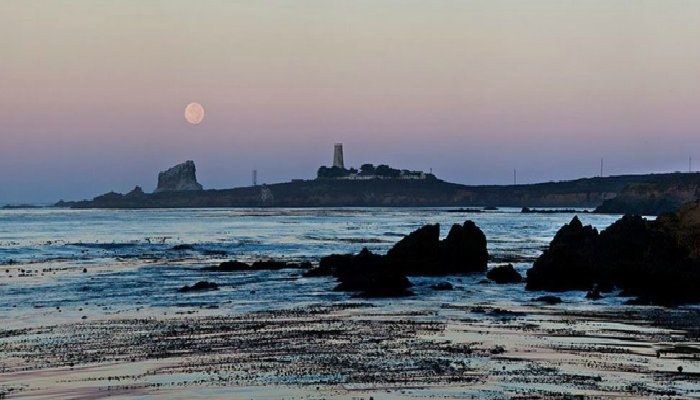 Highway 1 then enters the Big Sur region, crossing the San Carpoforo Creek just south of the Monterey County line.
This rugged and relatively pristine area will make an impact which you will never forget. This is God's country and homes to huge ranches like the El Sur Ranch. Spirit, beauty and a sense of strength in the wilderness describe this windswept coastline and will leave it's mark on you forever.
Traveling further, you'll want to stop at the Point Sur Light Station. It's quite a hike but also very worth it. Point Sur Lightstation is a lighthouse at Point Sur, on a 361-foot-tall rock at the head of the point. It was established in 1889 and is part of Point Sur State Historic Park. The lighthouse is 40 feet tall and 270 feet above sea level. As of this blog post, the light is still in operation as an aid to navigation.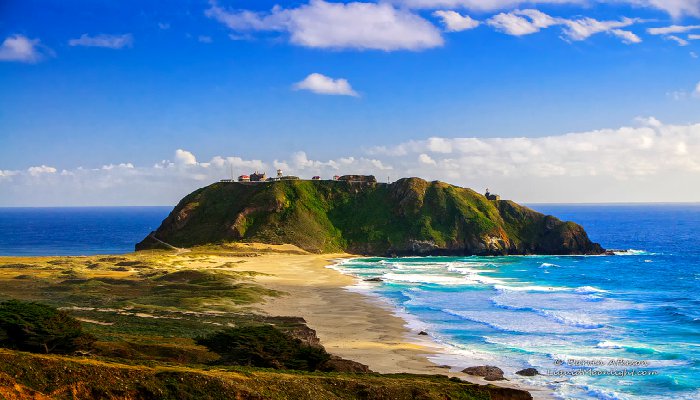 Life on Point Sur was very isolated. The only road, which led to Monterey, was long and often dangerous. The keepers received goods and bulk supplies by boat roughly every four months. A "lighthouse tender" brought the supplies, but to get them ashore, the supplies were transferred to skiffs and floated to land in barrels.
Highway 1 was completed in 1937, connecting Big Sur with Monterey to the north and San Luis Obispo to the south. Prior to the construction of Highway 1, the California coast south of Carmel and north of San Simeon was one of the most remote regions in the state, rivaling nearly any other region in the United States for its difficult access.
For about 90 miles from the San Carpoforo Creek to the Carmel River, the road winds and hugs the cliffs of Big Sur, passing various beautiful and breathtaking coastal parks in the area. This part of the drive really requires ample time to see everything. We stayed in the area for a week!
Make sure not to miss the McWay Falls in Julia Pfeiffer Burns State Park. McWay Falls is an 80-foot waterfall that flows year-round. This waterfall is one of only two in the region that are close enough to the ocean to be referred to as "tidefalls", the other being Alamere Falls.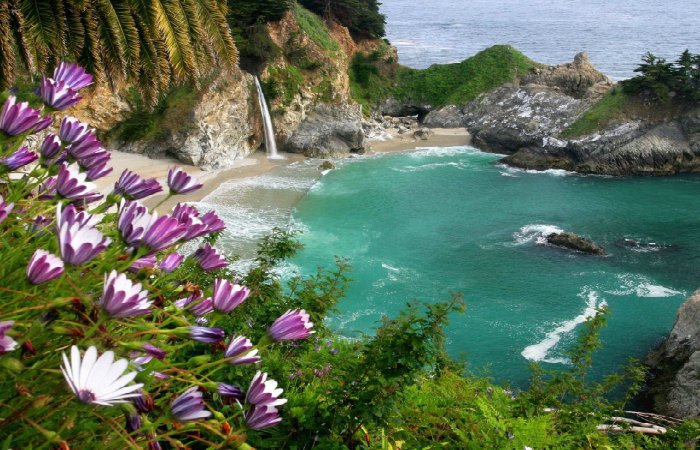 As you can see in the image, it is beautiful and should not be missed.
Believe it or not, the first section of the highway built was in the 1930s along the Big Sur region.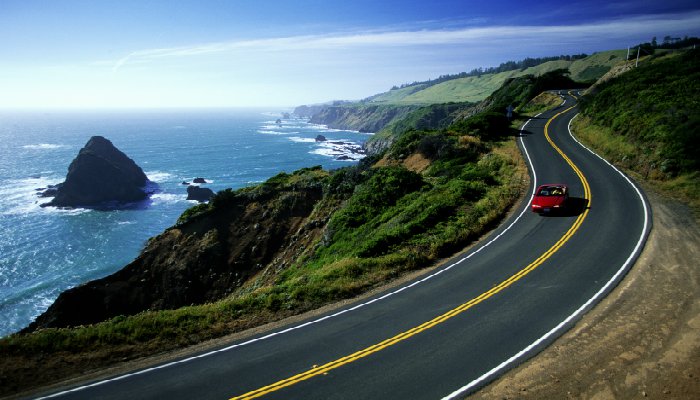 This is the most iconic part of the highway and arguably the most beautiful. This segment of the highway, built between 1919 and 1937, also crosses several historic bridges, including the scenic Bixby Creek Bridge, a reinforced concrete arch with a 320-foot (98 m) span that passes over the Bixby Creek gorge, and the Rocky Creek Bridge.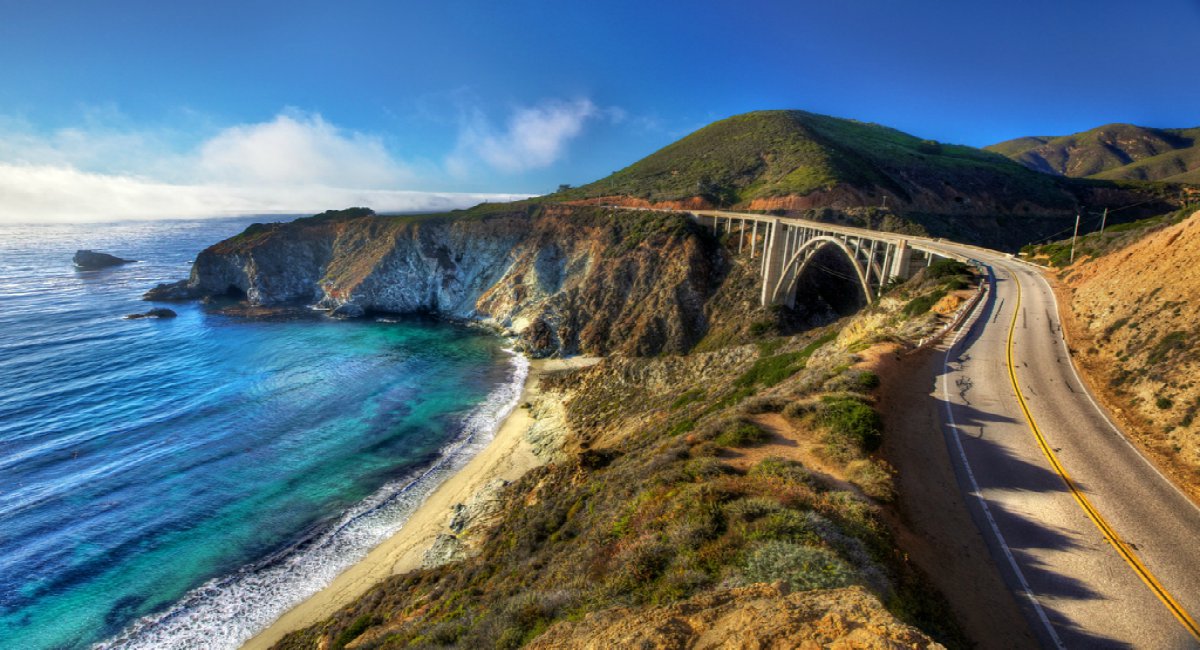 The bridge is located 120 miles south of San Francisco and 13 miles south of Carmel in Monterey County along State Route 1.
Prior to the opening of the bridge in 1932, residents of the Big Sur area were virtually cut off during winter due to the often impassable Old Coast Road that led 11 miles inland. At its completion, the bridge was built under budget for $199,861 and was the longest concrete arch span at 320 feet on the California State Highway System.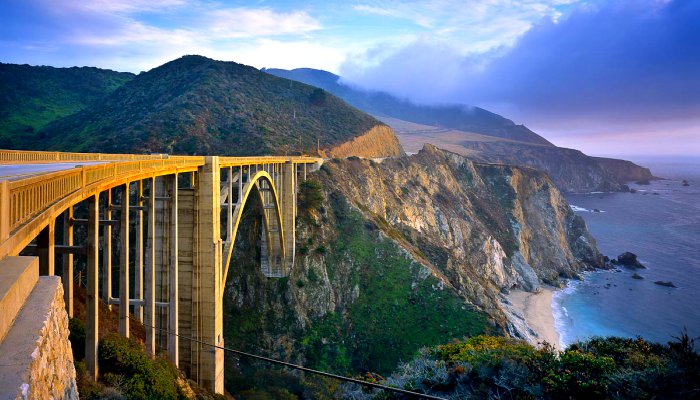 It is one of the tallest single-span concrete bridges in the world and one of the most photographed bridges along the Pacific Coast due to its aesthetic design and location.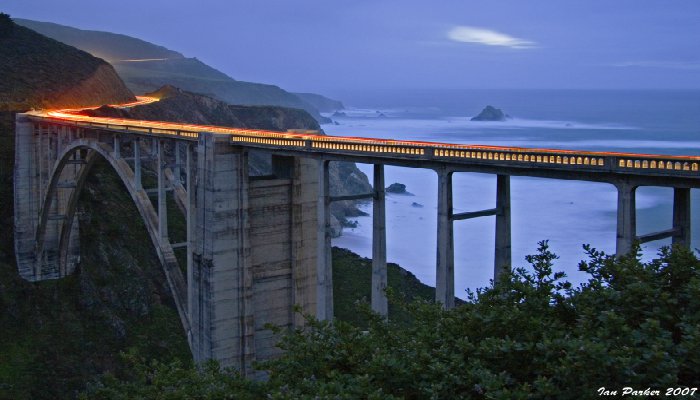 The road briefly leaves the coast for a few miles and goes through a redwood forest in the Big Sur River valley. Redwood, also known as Coast Redwood, grows in a very narrow strip along the coast of California from the extreme southwestern corner of Oregon to 150 miles south of San Francisco in the Soda Springs drainage of Big Sur.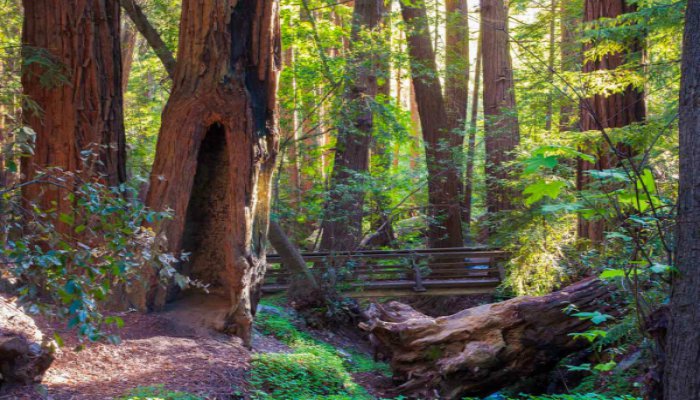 This area is about 500 miles long and rarely more than 20 or 30 miles wide in a region of frequent thick -summer fog, moderate year-round temperature, and considerable winter rainfall. Redwood does not grow naturally anywhere beyond the belt affected by this combination. We recommend the Pfeiffer Falls trail.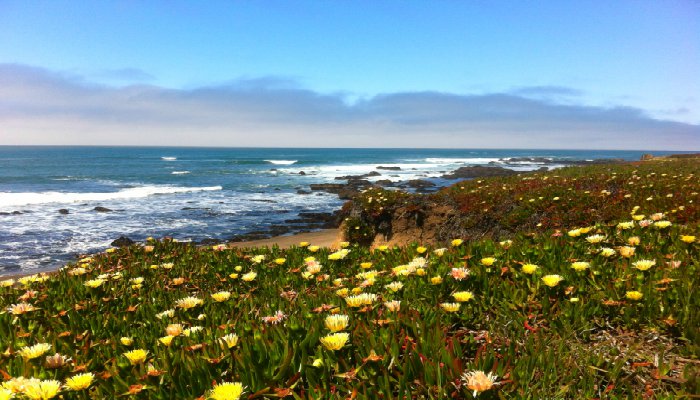 After crossing the Carmel River, Highway 1 turns inland and runs along just outside the eastern boundary of Carmel-by-the-Sea, often called simply Carmel, a city in Monterey County.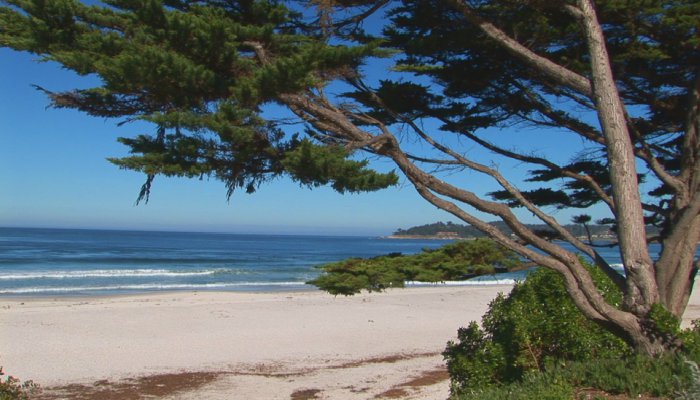 After bypassing the immediate coastline of Pebble Beach and the rest of the Monterey Peninsula, the freeway heads north along the coast of Monterey Bay through Sand City, Seaside, and Marina.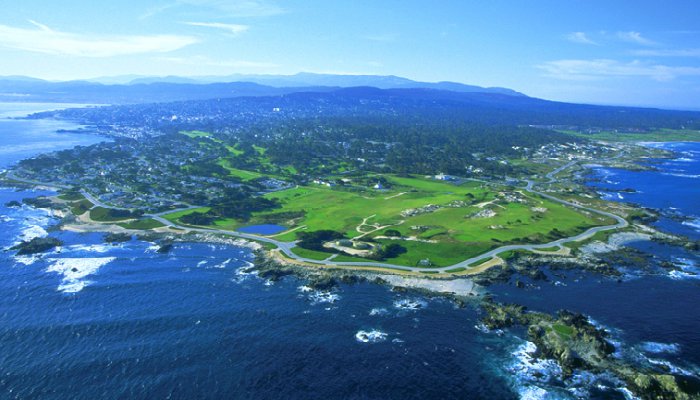 Standing on a granite hillside off California's scenic 17-mile drive in Pebble Beach, the Lone Cypress is a western icon, and has been called one of the most photographed trees in North America.
The tree is located between Cypress Point Golf Course and the Pebble Beach Golf Links, two of world's most well known golf courses. Possibly as old as 250 years, the cypress has been scarred by fire and held in place with cables for 65 years. The Monterey Cypress grows naturally only in Pebble Beach and Point Lobos.
At the interchange with Highway 156 near Castroville, Highway 1 continues north as a two-lane rural road to Moss Landing. Moss Landing is located 15 miles north-northeast of Monterey, at an elevation of 10 feet.  It's located on the shore of Monterey Bay, at the mouth of Elkhorn Slough, and at the head of the Monterey Canyon. It's not pretty – mainly because of the power plant.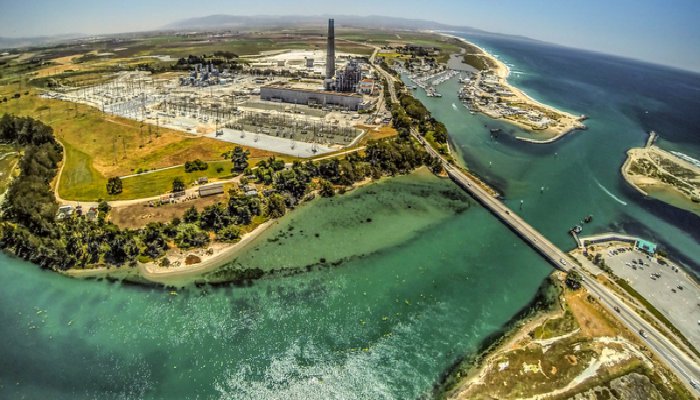 The plant's large stacks used to be visible throughout the Monterey Bay Area. The power plant is a natural gas powered electricity generation plant located at the midpoint of Monterey Bay. Starting in 2000, the eight 225-foot stacks and 19 fuel oil storage tanks were removed, and two new units were built on the former site. All of the former glory and natural beauty gave way to the industrially ugly plant.
Highway 1 becomes a freeway once again just before entering into Santa Cruz County.
Santa Cruz County has several beautiful beaches – and when we say several we mean it. Click the interactive map to see them all.
Trust us, you will want to visit to get your nature fix back on after seeing the ugly power plant. Waves crash along the sandy shores of Four Mile Beach as part of Wilder Ranch. Numerous photographers spend time here with their tripods and you can understand why the moment you capture it's beauty.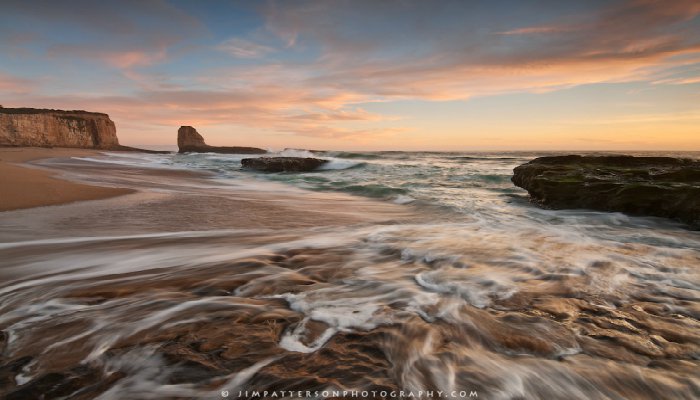 Joshua Cripps takes some beautiful images of many of these beaches. Make sure to check out his website.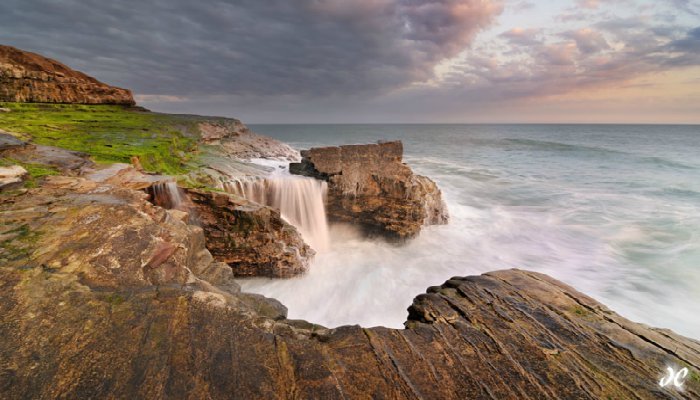 Many of these beaches are isolated and therefore nude. If you're prone to being a prude, you'll not want to stop. Otherwise, enjoy the eye candy!
About 10 miles north of Santa Cruz on Hwy 1 is Panther Beach / Hole in the Wall. This picturesque beach is one Santa Cruz's nude beaches and features some of the best sand in the area. There are no facilities and no permanent trails. Bring good walking shoes to explore the crumbly rock paths and caves along the southern end of the shore.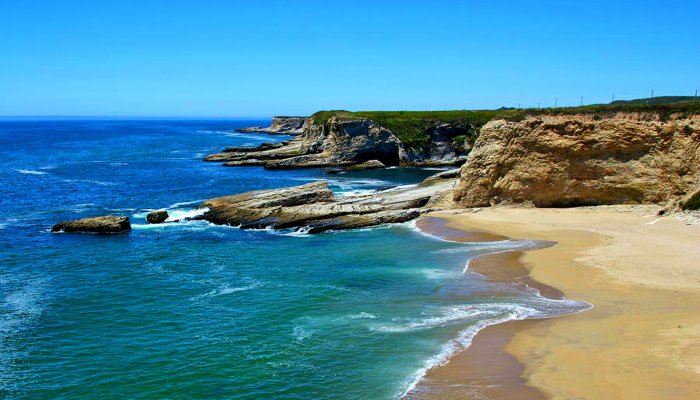 It's a beautiful beach. And can you figure out the 'hole in the wall' part?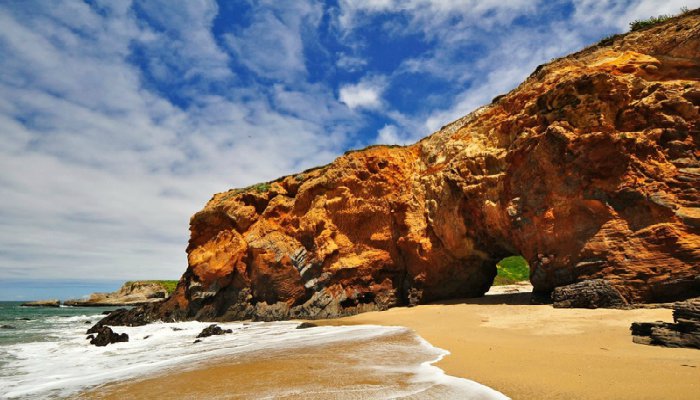 Gorgeous sands and nice water here. It's about a mile south of Davenport so fairly easy to access except for the climbing up and down. Bring shoes and don't stay after dark.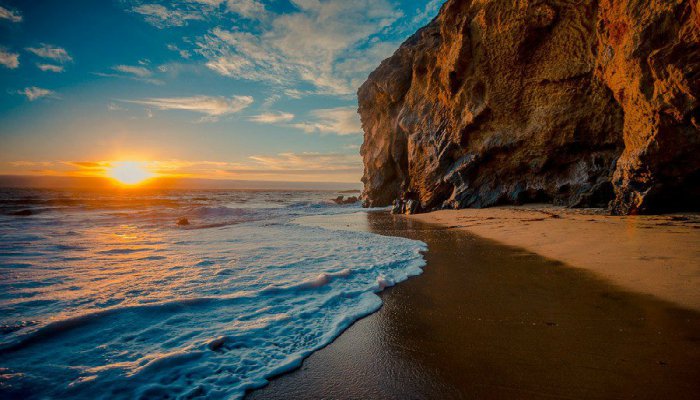 Bonny Doon Beach has a reputation for being a peaceful and relaxing beach. It is the type of beach where you won't be bothered if you don't want to be and can just truly relax.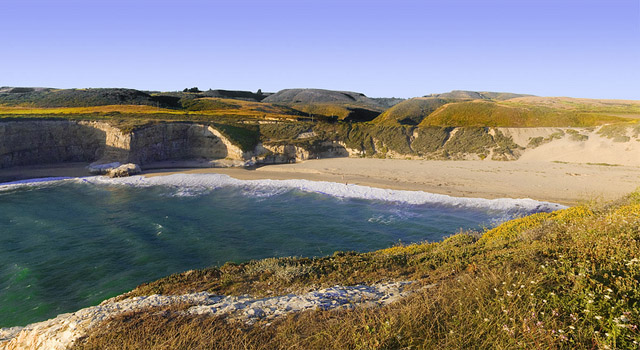 Oh, and did we mention that Bonny Doon is amother nude beach? Bring sunscreen so your parts don't get burned!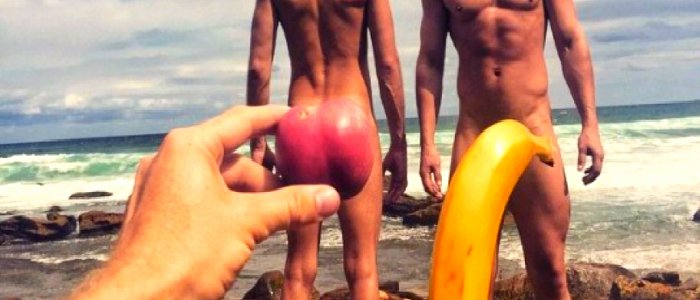 Entering San Mateo County, Highway 1 follows the west coast of the San Francisco Peninsula, passing by the marine mammal colonies at the Año Nuevo State Reserve, and the historic Pigeon Point Lighthouse before reaching Half Moon Bay.
It's a beautiful area with many photo opps along the way. Half Moon Bay and the coastside are proud of their agriculture & floriculture center where roadside stands sell locally grown fruit, artichokes, greens, root vegetables, beans and herbs. You also cannot top the fresh seafood available everywhere in restaurants- so make sure to stop and get some eats!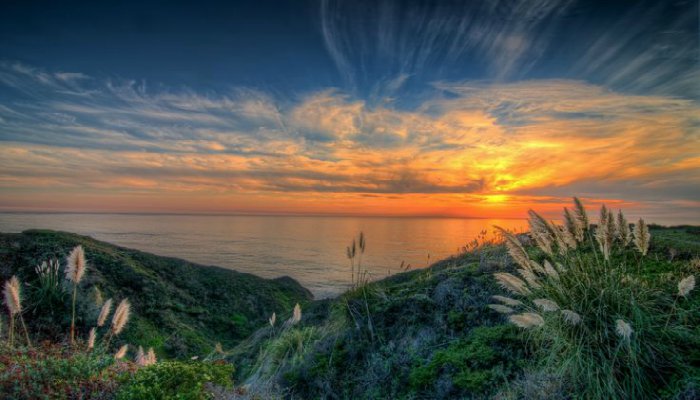 Residents of this charming community live a lifestyle that many think no longer exists in California. Neighbors care about each other, schools are important, and there is a sense of real community. In other words, really nice folks live there.
Between Half Moon Bay and Pacifica, the highway bypasses a treacherous stretch known as Devil's Slide which you access via the Tom Lantos Tunnels.
Devil's Slide is a name given to a steep, rocky coastal promontory located about midway between Montara and the Linda Mar District of Pacifica. The terrain is characterized by steep, eroded slopes with natural gradients ranging between 30 and 70%. Devil's Slide was the location of a military triangulation station and observation site used during World War II as part of the harbor defense of San Francisco. There are small coastal valleys throughout along the major drainages within the Montara Mountain watershed. The climate of the area is Mediterranean with a strong maritime influence.
Immediately east of Devil's Slide was a former stretch of California State Route 1, famous for closures and landslides, which also was called "Devil's Slide". Construction of the road began in 1935 and was completed in 1937, replacing the steep, narrow, and winding Pedro Mountain Road.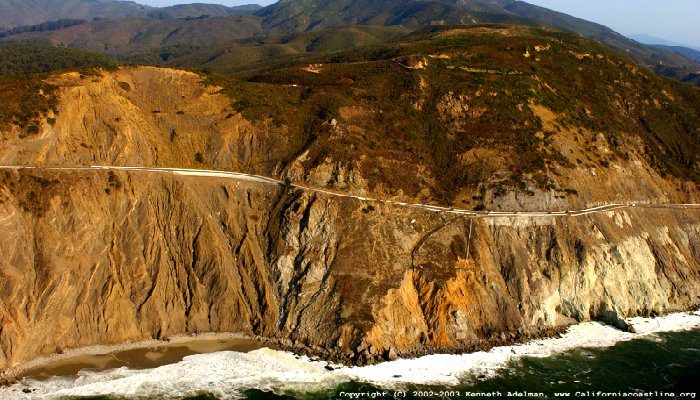 It was known for the landslides and erosion that often occur during winter storms, sometimes making the road impassable. The first major landslide destroyed much of the road in 1940, and a cycle of building and destruction has prevailed since.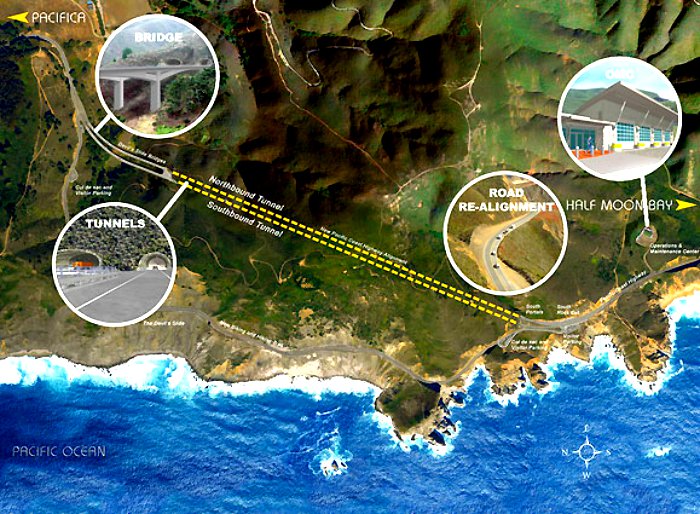 The Tom Lantos Tunnels are two tunnels located within the coastal promontory of Devil's Slide in California, United States, allowing State Route 1 to bypass the treacherous Devil's Slide stretch.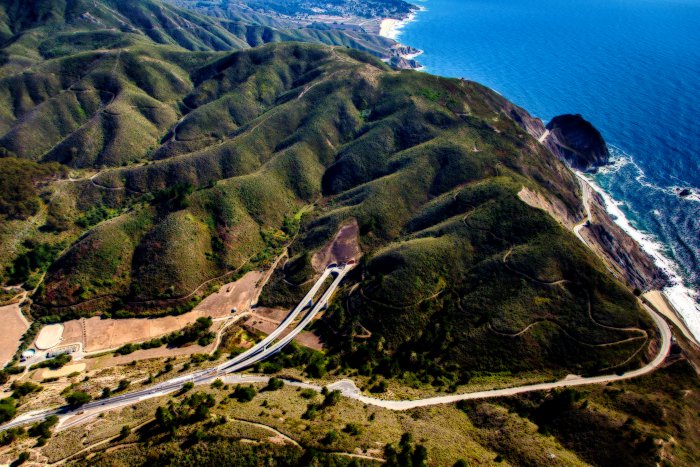 Soon after you exit the tunnel, you will be headed towards Pacifica.
Highway 1 then becomes a freeway once again at Sharp Park in Pacifica before turning inland to join Interstate 280 in Daly City. Just short of reaching the City and County of San Francisco, Highway 1 splits from Interstate 280, where the road becomes Junipero Serra Boulevard. Shortly thereafter, the highway makes a slight left, becoming the six-lane wide 19th Avenue. Highway 1 then turns into Park Presidio Boulevard after it passes through the city's Golden Gate Park. After entering the Presidio of San Francisco, it goes through the MacArthur Tunnel before joining US 101 for a fourth time on the approach to the Golden Gate Bridge known as Doyle Drive.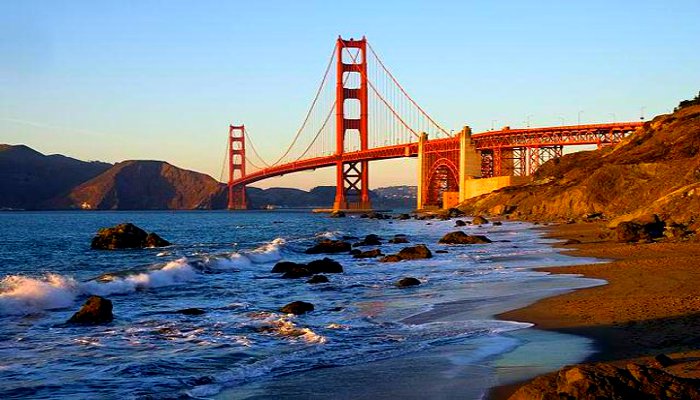 We ended our Highway 1 journey in San Francisco even though the route does continue further north… Maybe a post for another time.
Our final shot is of the old Coast Guard Station and Golden Gate Bridge. Fog wafts over the Marin side of the Golden Gate Bridge, bringing an end to an awesome road trip and a truly dramatic drive.
Some history behind the Pacific Coast Highway is featured in this short documentary feature.
https://www.youtube.com/watch?v=g9qOzzkbigQ
Drivers… Please remember that California's coastline is constantly changing and continually presents motorists with challenges so remember to wear your seatbelts and drive carefully!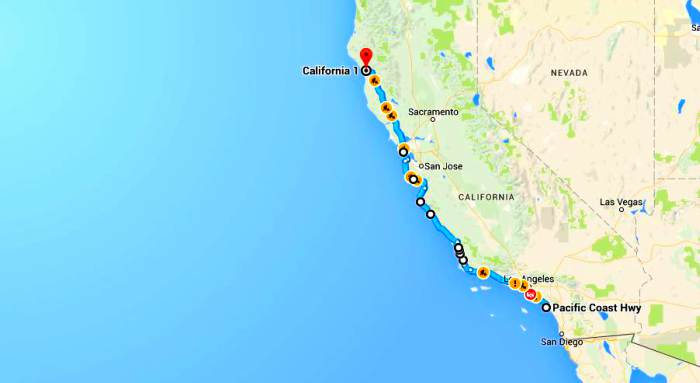 Route information
Length: 655.845 miles or 1,055.480 kilometers
Existed: 1934 – present
Routes: Route One, Big Sur Coast Highway and Route One, San Luis Obispo North Coast Byway. The highway is broken into 5 pieces by U.S. Route 101.
Sources: 1, 2, 3, 4, 5, 6, 7, 8, 9, 10, 11, 12, 13, 14, 15, 16, 17, 18, 19, 20, 21, 22, 23, 24, 25, 26, 27, 28, 29,
If you have not already subscribed to get TresBohemes.com delivered to your inbox, please use the form below now so you never miss another post.
---
Remember, we rely solely on your donations to keep the project going.
Become a friend and get our lovely Czech postcard pack.