Last night we watched Dorothea Lange – Grab a Hunk of Lightning. Amazing. The footage in this film is breathtaking. You feel as you are there with Dorothea today, and yet the footage of her planning her exhibit at the Museum of Modern Art (MoMA) was taken in the 1960's.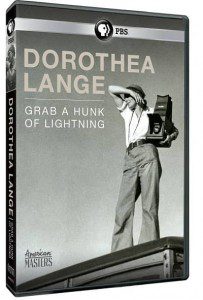 Such contemporary views, I was fascinated to learn of her personal journey through the Great Depression, the Japanese American internment and the death of Monticello, California. To learn about her husband's work and how very committed they were to their causes, was a testament to true dedication and the human spirit.
For more than five decades of the 20th century, her lens brought subjects alive, transmitting raw emotions and capturing the human condition.
The footage in this film is breathtaking. You feel as you are there with Dorothea today, taking pictures and having the privilege of an intimate look into the people's lives.
I was intrigued and hypnotized by this film and it's slow and yet strong sense of purpose and presence. As you watch, you will begin to feel a familiarity for her work, and you'll learn that she is the woman responsible for the photograph entitled "Migrant Mother".
Arguably the most iconic photo of the Depression, and one of the most familiar images of the 20th century.
Here she is in another, less popular photograph.
Florence Owens Thompson, born Florence Leona Christie, was the subject of Dorothea Lange's famous photo Migrant Mother. It is an iconic image of the Great Depression.
Migrant Mother was photographed in February 1936 in a pea pickers' camp in Nipomo, California, while on assignment as a photographer for the Resettlement Administration (RA), which soon would become the better-known Farm Security Administration (FSA).
Other woman she photographed…
Dorothea's Notes: Young migratory mother, originally from Texas. On the day before the photograph was made she and her husband traveled 35 miles each way to pick peas. They worked 5 hours each and together earned $2.25. They have two young children . . . Live in auto camp. Edison, Kern County, California.
Dorothea's Notes: Migrant family from Arkansas playing hill-billy songs. Farm Security Administration emergency migratory camp. Calipatria, California.
Dorothea's Notes: Drought refugees from Oklahoma camping by the roadside. They hope to work in the cotton fields. The official at the border (California-Arizona) inspection service said that on this day, August 17, 1936, twenty-three carloads and truckloads of migrant families out of the drought counties of Oklahoma and Arkansas had passed through that station entering California up to 3 o'clock in the afternoon.
Dorothea's Notes: On U.S. 99. Near Brawley, Imperial County. Homeless mother and youngest child of seven walking the highway from Phoenix, Arizona where they picked cotton. Bound for San Diego, where the father hopes to get on relief "because he once lived there."
Dorothea's Notes: Fifty-seven year old sharecropper woman. Hinds County, Mississippi. Black beads hung between the breasts are good for heart trouble.
Dorothea's notes: Age 70, she came from near Greeley, Nebraska, with sister age 65, nephew age 30, and brother age 68.
Finally, an image of Dorothea atop a 1933 Ford Model C, 4 door Wagon.
Images link to source.
If you love photography, then this film is truly a must see. It is a poignant, slow-moving documentary that builds in power and ably captures a great artist at work.
Watch the trailer.
If you have not already subscribed to get TresBohemes.com delivered to your inbox, please use the form below now so you never miss another post.
---
Remember, we rely solely on your donations to keep the project going.
Become a friend and get our lovely Czech postcard pack.