Czech Ecstasy shocked the world in 1933. Yes, Czechs are known to expand limits, break barriers and stretch the boundaries of the world. Always on the cutting edge and forward thinkers, even the first president Tomas G. Masaryk, (the Father of Czechoslovakia) talked about being able "to see and hear without any wire… just imagine".
Did he, on November 29, 1929, imagine and explain wireless technology?
Yes, I believe he did. Read more here and listen to him!
But this post is about going where no man (or woman) has gone before on film and that is exactly what Gustav Machatý (May 9, 1901 – December 13, 1963) did.
The 1933 Czechoslovakian film Ecstasy (Ekstase) shocked not only a nation but the world. It is one of the most notorious titles in all cinematic history. In the mid-1930s, Ecstasy was a great conversation piece, for its scandalous acknowledgment of sexual passion in women and its revelation of the naked form of new actress Hedy Kiesler, who would go on to become the Hollywood star we all remember as Hedy Lamarr.
Coming out of the age of silent film, Machatý constructed the movie as an almost wordless shadow play of symbols and signs, mostly sexual (there are many close-ups of heavy-breathing horses and nude statues, cut together for maximum erotic impact). It is amazing to consider Machatý's nerve in depicting the first orgasm to hit the movies. It is perhaps the first non-pornographic movie to portray sexual intercourse and female orgasm, although never showing more than the actors' faces.
A beautifully photographed and, for 1933, unabashedly erotic drama, Ecstasy, also known as Symphony of Love is just that – a dreamy, nearly wordless sexual reverie. Even today, Ecstasy is most notorious for 15-year-old Lamarr's scenes of nude bathing and lovemaking which the actress claimed were not in the original script, but which director Gustav Machaty sprung on the actress during shooting outside Prague. But more on that later.
It's the wedding night of Eva Herrmann (Hedy Lamarr), who has just been married to the older Emile (Zvonimir Rogoz), but though he is happy to carry her over the threshold of their new apartment, he is more concerned with getting his tight shoes off than getting into bed with her.
She tries to seduce him in the bathroom as he brushes his teeth, but while he is affectionate enough, what he ends up doing is pulling a frumpy sleeping cap on to protect his hair. Yes, Emile fails to respond to Eva's seductive overtures, instead falling asleep in there while she awaits him in the bedroom, sprawled on the sheets.
It's safe to say marriage for Eva is not what she expected…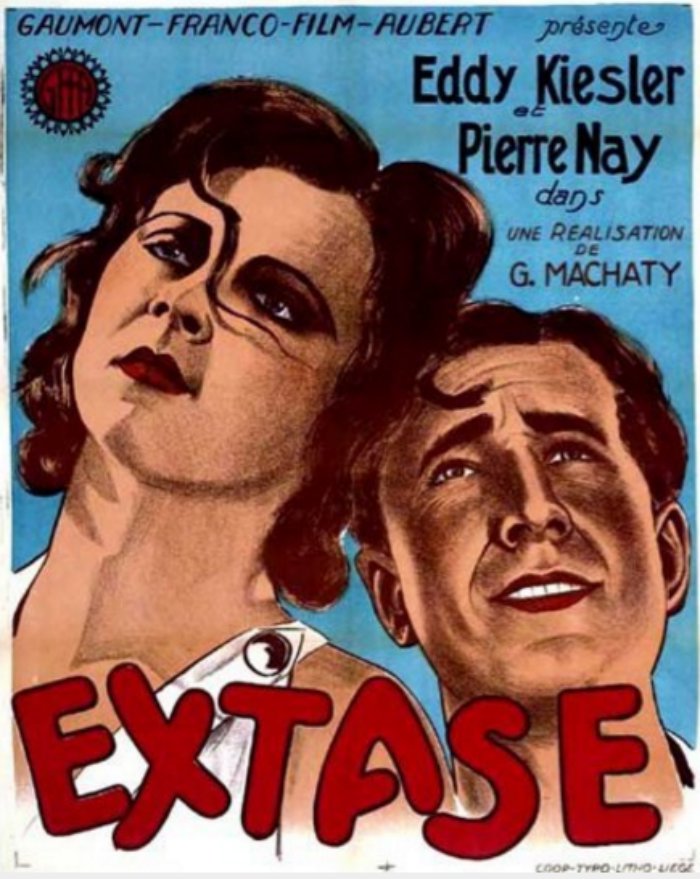 Frustrated, she runs away and meets a younger man who responds to her unfulfilled yearnings.
Called "the most whispered about picture in the world" at its release, "Ecstasy" shocked moviegoers with its erotic depiction of sex, particularly scenes of a young Lamar swimming naked and its images of this unknown beauty at the height of passion.
Ekstase was a film whose notoriety went before it, eclipsing the work of Czech director Gustav Machatý, who had made an international impact with his silent Erotikon a few years before, by regarding all his careful stylings as nothing more than a sensational softcore pornographic film.
Yet while sex and a woman's fulfilment in that area was ahead of its time as a subject for a movie – there is still a certain amount of unease depicting that on screen in anything but the most opaque terms – this wasn't an hour and a half of future Hollywood star Lamarr romping in the nude, although that's the reputation it wound up with, being censored across the globe and decried by the moralists as "wicked".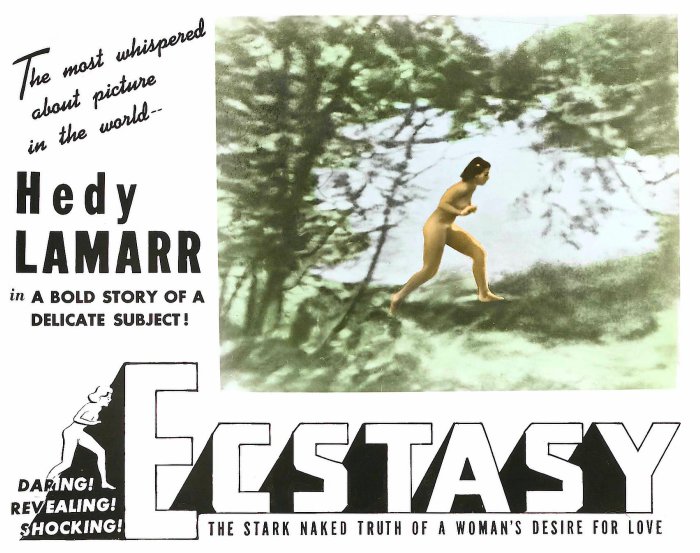 Actually, there's only one scene where Hedy got naked and that was when her character went riding, halting her horse next to a lake and whipping off her clothes for a nude swim.
By this stage she is already divorced from Emile since their marriage went unconsummated, so when the horse gets skittish and runs off, she has no choice but to run after it naked; it looks tame now even if the novelty of seeing an actress who would go on to star alongside superstars like Charles Boyer and Bob Hope in a state of utter undress was not to be dismissed lightly, but back in 1933 this was absolutely scandalous!
And that is exactly what made it very popular in cinemas, especially those willing to show it uncut. Even after the Second World War it was a draw for soldiers from both sides.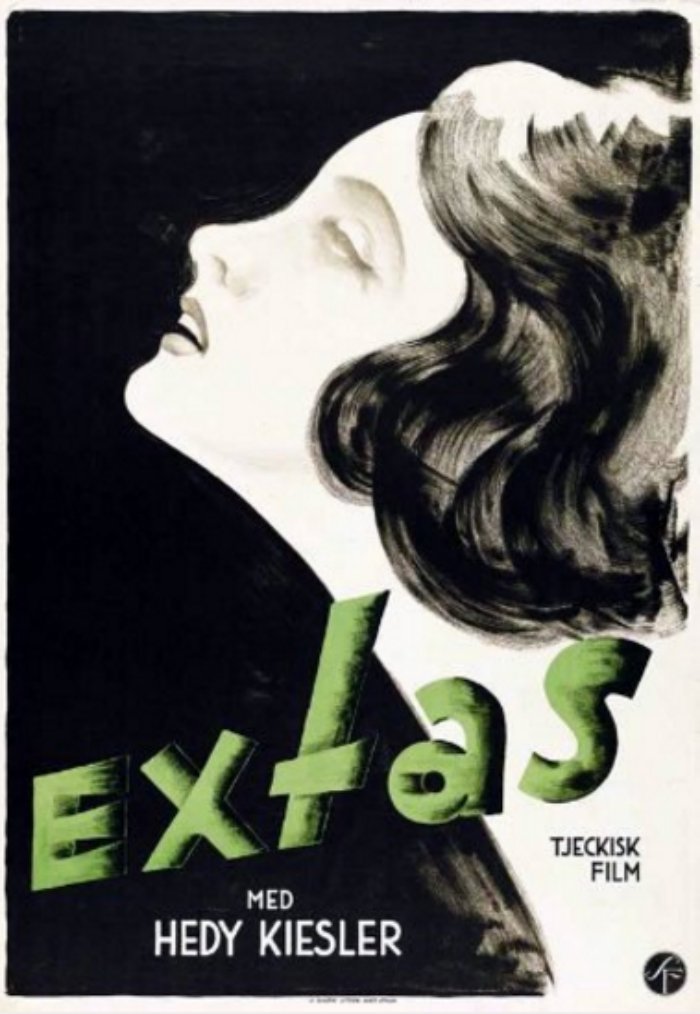 But back to the plot of the film itself…
It's not Eva who catches the horse, but nearby labourer Adam (Adam and Eve-a, get it?) who brings the steed back to her as she hides in the bushes. At first she's annoyed to be in such a compromising position, but once he hands the clothes over and is nice to a bee, she begins to thaw, as she was dismayed to see Emile kill such an insect earlier.
This connection with nature is an important one, and referred to again and again, so that we are in no doubt that Eva must give in to her natural desires, and Adam is the fellow to supply that satisfaction. This happens in a screen first: not the first woman shown full frontally naked, as Hedy was here, but the first woman shown having an orgasm.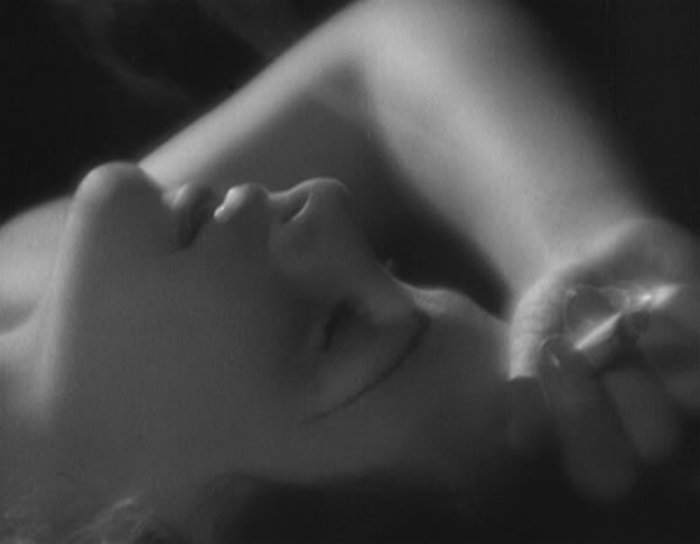 Lamarr was acting of course, but even the acknowledgement of such an experience was shocking at this time, which was more to do with its banning across the globe than the skinny dipping.
The European film propelled Lamarr into Hollywood stardom and became an internationally-known classic hailed for its sophisticated approach to sexuality, maintaining a special place in movie history.
In her autobiography, Ecstasy and Me, the actress wrote, "If you have ever seen Ecstasy, I can only say that in the close-up section, you may have seen me agonizing over pinpricks! And I have seen that section once myself in which the emotion on my face was pure exhaustion. Because there were takes when I just had nothing left, and could hardly focus my eyes."
After much cajoling and tears, Lamarr finally agreed to do the scene if a camera was placed at some distance on a hilltop, though the actress was unaware that the camera was equipped with a telephoto lens.
For the indoor lovemaking scenes, Lamarr's desired ecstasy was achieved via Machaty's pricking of Lamarr's buttocks with a safety pin and the enthusiastic ministrations ("his vibrations of actual sex" Lamarr called them) from costar Mog.
Hmmm, doesn't sound very ecstatic to me!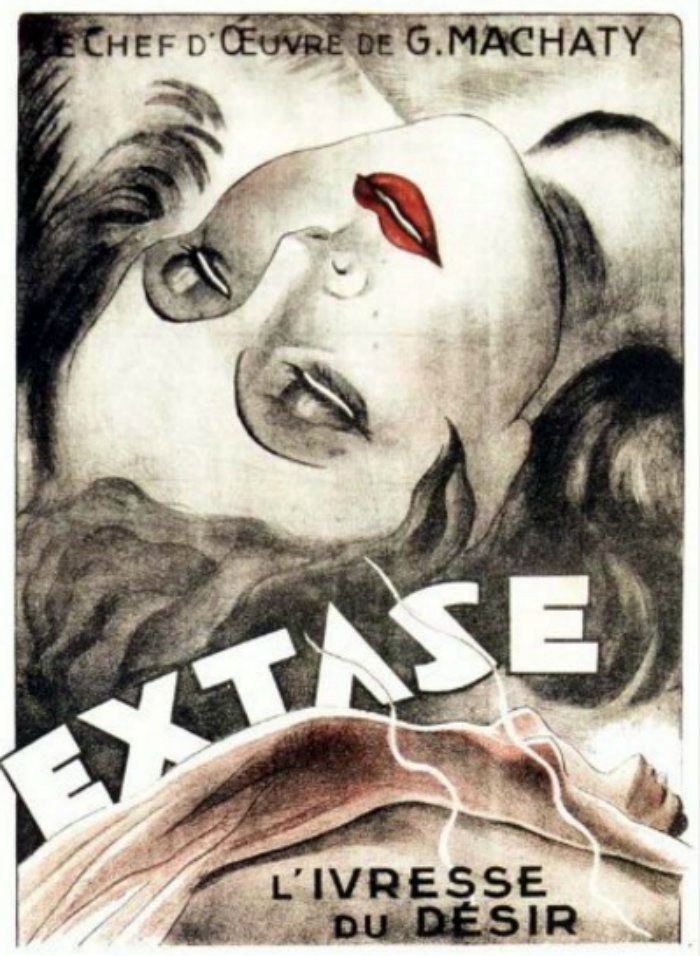 Ecstasy had even more trouble from American censors.
When the film was first imported to America in 1935 a federal marshal burned the film, the first time customs laws had been invoked to keep a film out of America. It was only after significant features of the film were altered that customs allowed the film to pass.
The film's initial eyeful of Lamarr's naked body was replaced with the German version featuring Lamarr's hidden nudity. Scenes of copulating horses were removed. Any implication of an adulterous affair between Adam and Eva was removed by tacking on a "happy" conclusion in which a baby made Eva and Adam's married union clear.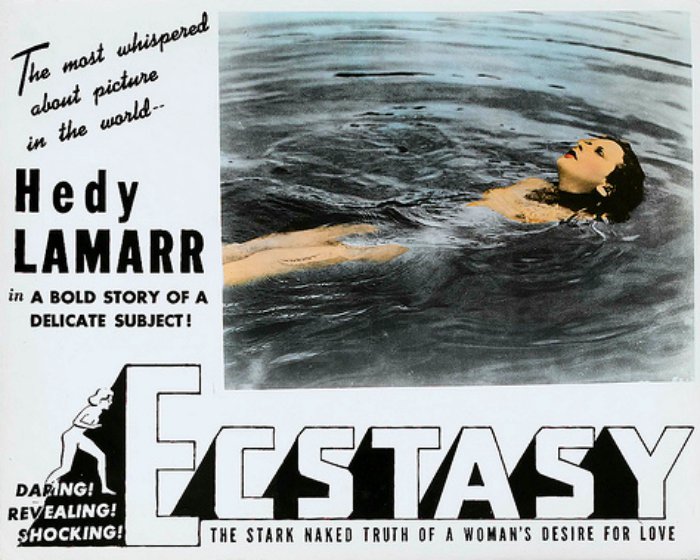 However, though the film now passed customs, the Production Code Office was less forgiving and refused to grant Ecstasy its Seal of Approval.
Production Code head Joseph Breen reported the film "highly–even outrageously-indecent." And many states refused to show the film. The New York State Board of Regents rejected Ecstasy calling it "indecent, immoral, and tends to corrupt youth."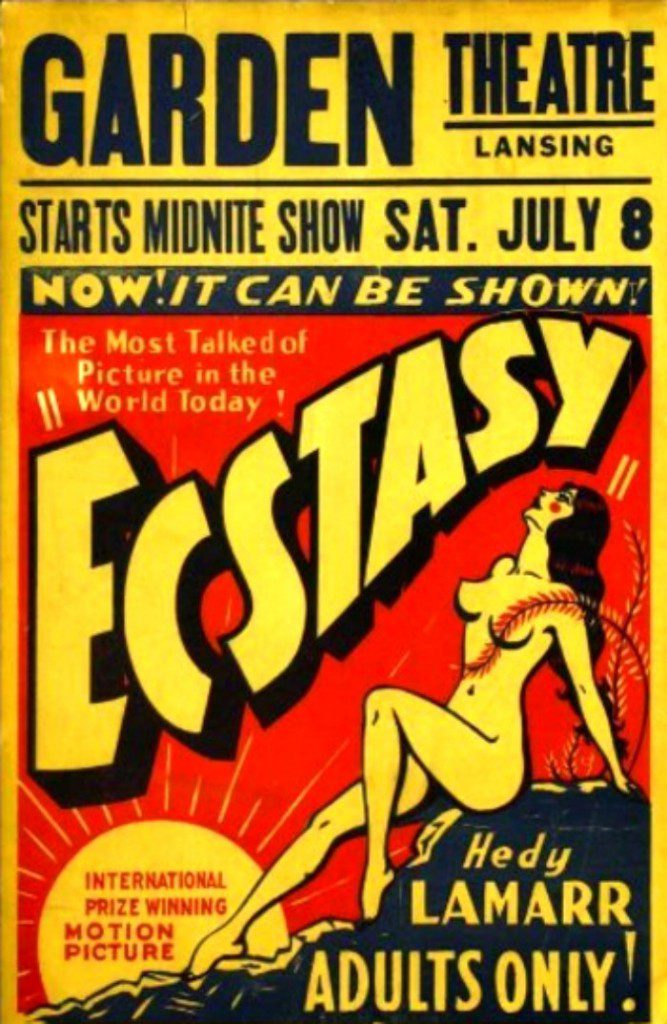 The censors were not so much disturbed by the nude bathing, Lamarr stated in her autobiography, but by a close-up of the "love-starved bride in the act of sexual intercourse." Distributors booked the film in Washington, Newark, Los Angeles and Boston in art theaters to get around Code disapproval.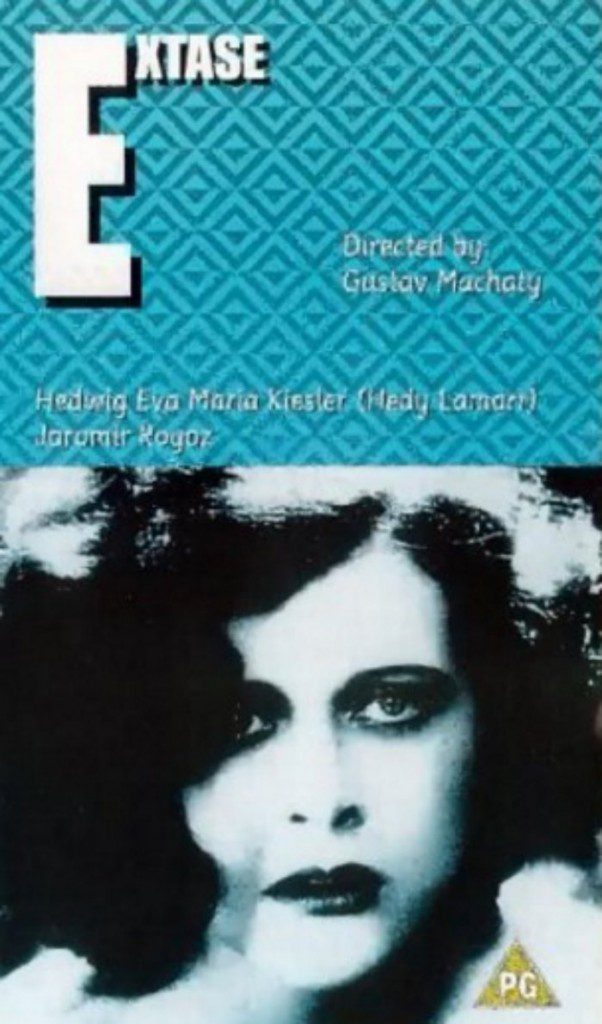 Ecstasy caused almost as much turmoil in Lamarr's private life.
The film so infuriated her new husband, business tycoon and munitions manufacturer Fritz Mandl, he ordered his staff to buy up every print of the film in existence, spending some $280,000 in the process.
But films like this don't just go away. In fact, we just saw one on Amazon for $148.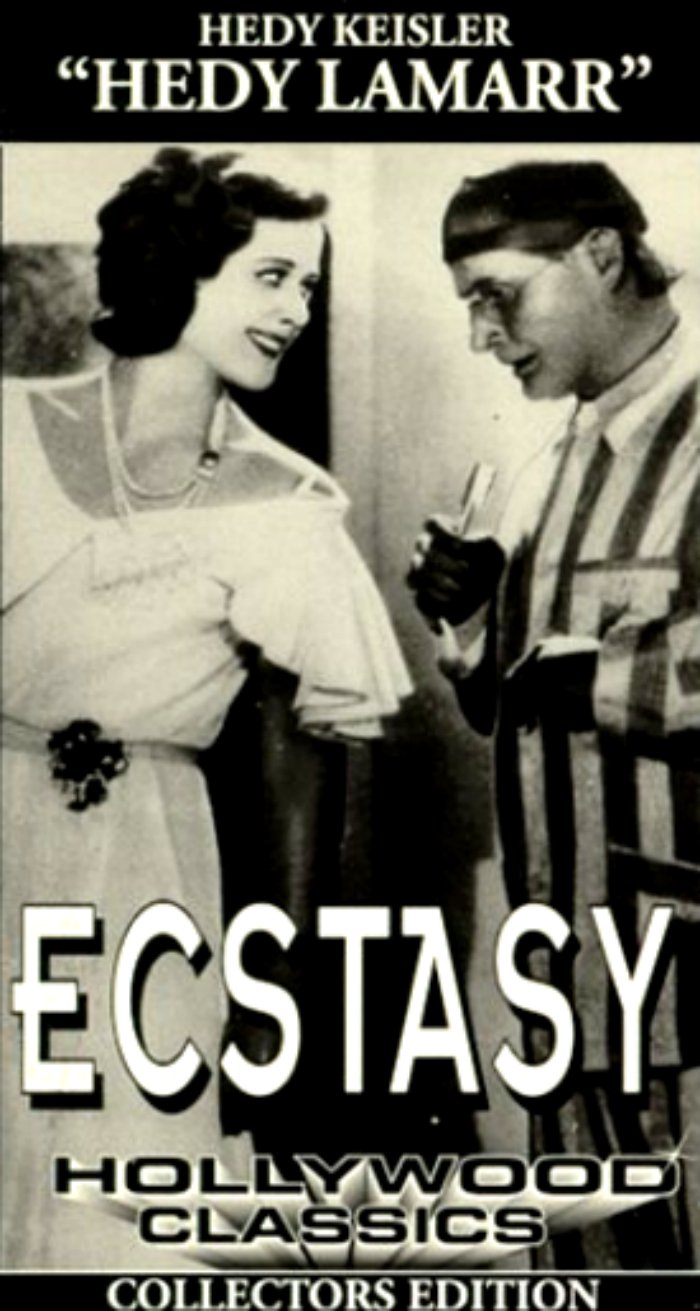 Ecstasy was such a key component in Lamarr's professional identity, she entitled her autobiography Ecstasy and Me and said of the notorious film "I had no idea of the humiliation it would cause me…or that it would catapult me out of my Middle-European circle into world fame."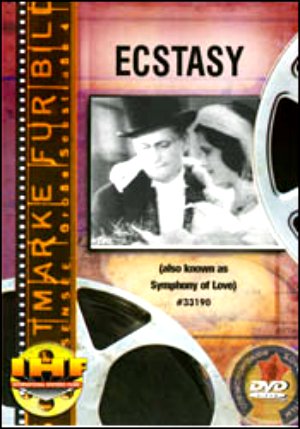 After fleeing her hometown of Vienna and her controlling husband Mandl – who Lamarr said kept her under lock and key – the actress had a fateful meeting in London with MGM mogul Louis B. Mayer. The MGM mogul was captivated by her beauty, but disturbed by her nudity in Ecstasy warning her, Lamarr recalled, "no more dirty movies. We make clean pictures at MGM."
Lamarr was eventually signed to MGM after shrewdly negotiating a contract that upped Mayer's initial offer of $125 a week to $500, though Mayer did add a "morality" clause in her contract, to keep the European sophisticate in her place.
Lamarr waited anxiously to be cast in a film at MGM, but eventually got her lucky break outside of MGM when she met actor Charles Boyer at a party. Boyer thought she would make a perfect co-star in producer Walter Wanger's American adaptation of Pepe Le Moko (1937), to be titled Algiers (1938), Lamarr's first Hollywood film. It proved to be a smash hit and confirmed Lamarr's superstar potential at MGM.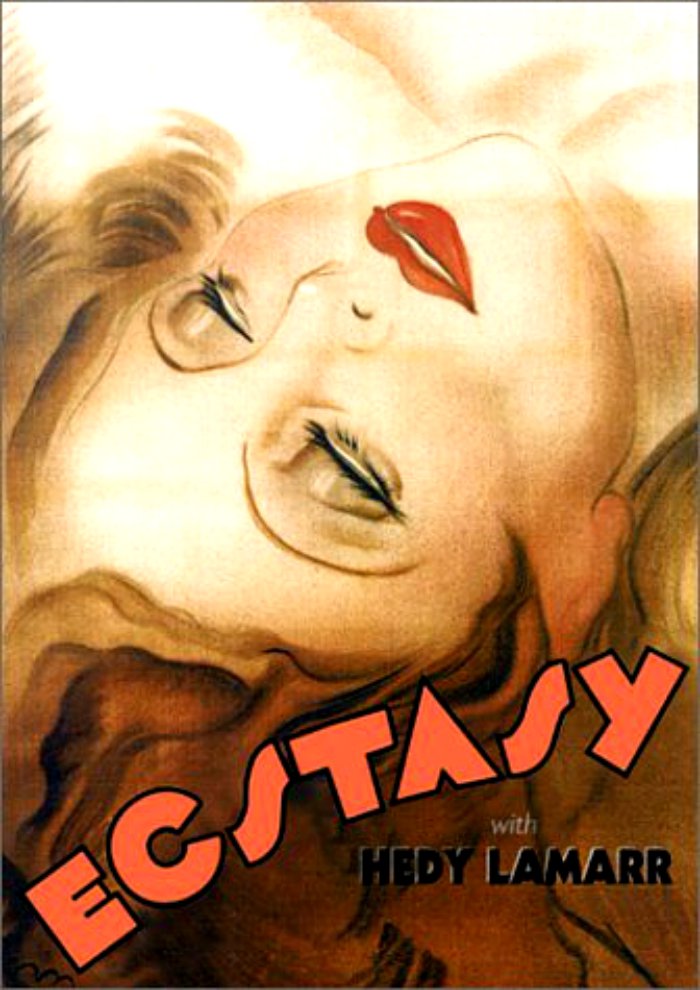 What most people do not know is that Hedy Lamarr (born Hedwig Kiesler) may be one of the greatest unsung heroes of twentieth century technological progress. An opportunistic Austrian immigrant driven by curiosity and a desire to make it as a Hollywood actress in the early years of World War II, Hedy worked with avant-garde composer George Antheil to create the technology that we depend upon today for cell phones and GPS: frequency hopping. Can you say mobile phone? Read about that here and here.
You can also read some interesting reviews on Amazon. Much of this text came from Turner Classic Movies in an article by Felicia Feaster.
Film facts: Ecstasy was filmed in the summer of 1932, with a German language script that contained only five pages. The outdoor scenes were filmed in and around Prague, Czechoslovakia. The indoor scenes were filmed in the Atelier Schönbrunn studios in Vienna, Austria.
https://www.youtube.com/watch?v=_8uEaa6KFwY
Director: Gustav Machaty, Producer: Frantisek Horky, Moriz Grunhut, Screenplay: Gustav Machaty, Frantisek Horky, Vitezslav Nezval, Jacques A. Koerpel, Cinematography: Jan Stallich, Hans Androschin, Production Design: Bohumil Hes, Music: Giuseppe Becce,  Cast: Hedy Kiesler/Lamarr (Eva), Zvonimir Rogoz (Emile), Aribert Mog (Adam), Leopold Kramer (Eva's Father). Black and White, 87 minutes.
For Czech speakers, you can and hear read about it here.
If you have not already subscribed to get TresBohemes.com delivered to your inbox, please use the form below now so you never miss another post.
---
Remember, we rely solely on your donations to keep the project going.
Become a friend and get our lovely Czech postcard pack.