Who knew you could find a Picasso on a tiny little world traveling piece of paper? By the end of June of 1937, Pablo Picasso had completed his painting entitled Guernica, a mural-sized oil painting on canvas. It was huge and combined a palette of gray, black, and white. This specific work of art is known as one of the most moving and powerful anti-war paintings in all of history and in 1966, the Czech Republic (then called Czechoslovakia) issued the artwork on a stamp with the caption "30 Anniversary of the International Brigade in Spain".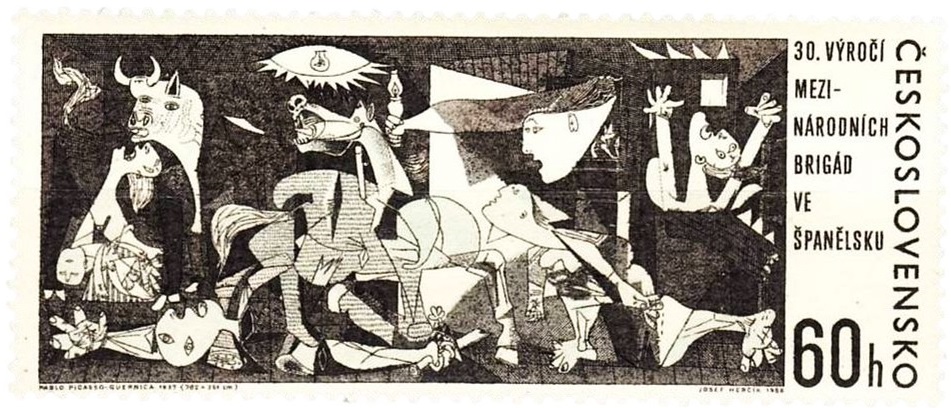 I miss stamps. In fact, I miss letter writing altogether. I do still get to indulge in my stamp fetish, kind-of. When we travel by sticking them to postcards, but it's not quite the same. As I thought about the beautiful letters my parents have given me for safekeeping and the stamps on them, I realized that Czech people (being the Bohemians that they are) have always put out beautiful stamps.
Just before the end of World War I on October 28, 1918, a new state was founded in Prague from part of the Austrian-Hungarian empire named Czechoslovakia. Several weeks later, on December 18, 1918, the new state issued its first stamp.
Historically, their earliest stamps were designed by Czech Art Nouveau artist Alphonse Mucha (1860-1939) who was the best known artist in the country. Simple little stamps with adorable patterns, the newly founded postal administration of Czechoslovakia gave the order for designing its first stamp – to the best known artist in the country. There probably isn't any other country in the whole world which has had an artist of such stature as a creator of its first stamp. When I searched for it, I found his and several other early stamps and while they look simple, the history behind them is quite awesome.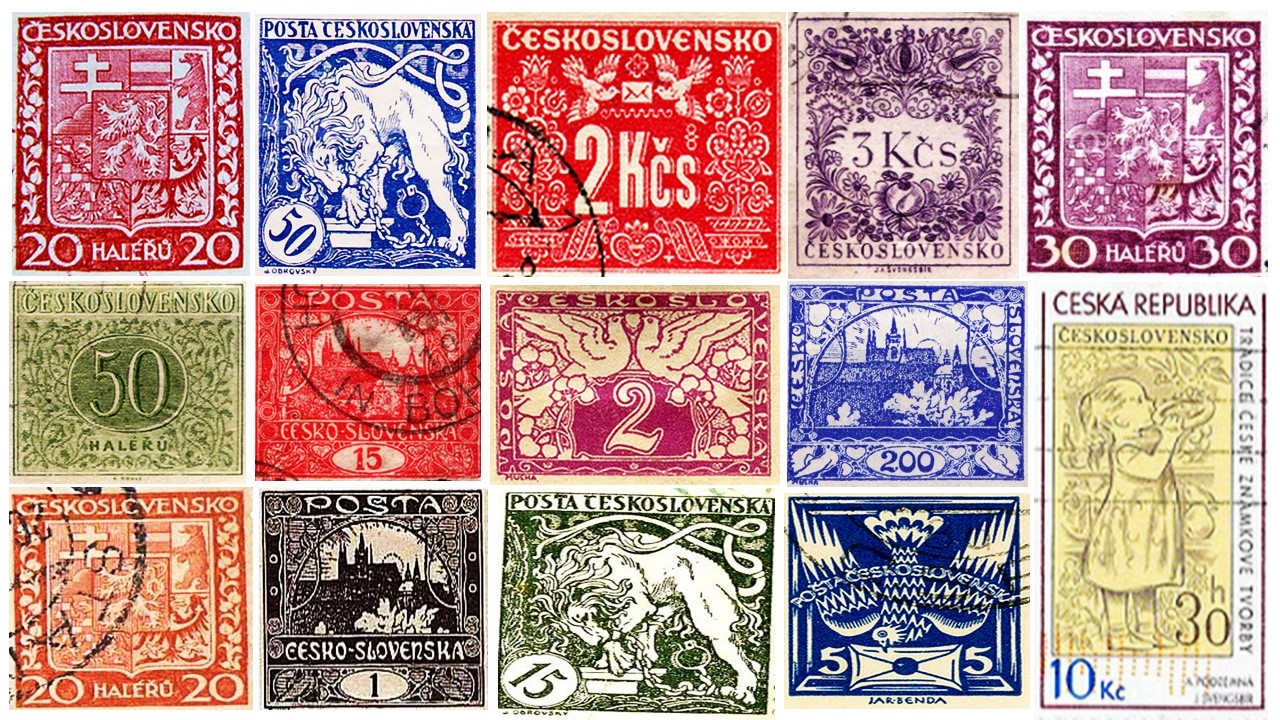 Mucha said of the Hradcany Castle motif,
"Every nation has a palladium of its own embodying past and future history. Ever since my boyhood I felt and saw in the architectural lines of St. Vitus Cathedral built so close to the castle, a powerful interpretation of our national symbol. I could, therefore, select no other subject for my design then Hradčany Castle and the surrounding architecture of the Middle Ages."
Can you recognize his signature art deco swirls in the bottom row, the black one above?
Of course, searching for stamps brought me to other vintage styles with a distinctively Bohemian flair. These would be gorgeous prints on light and breezy summer BoHo dresses even today! Stylish!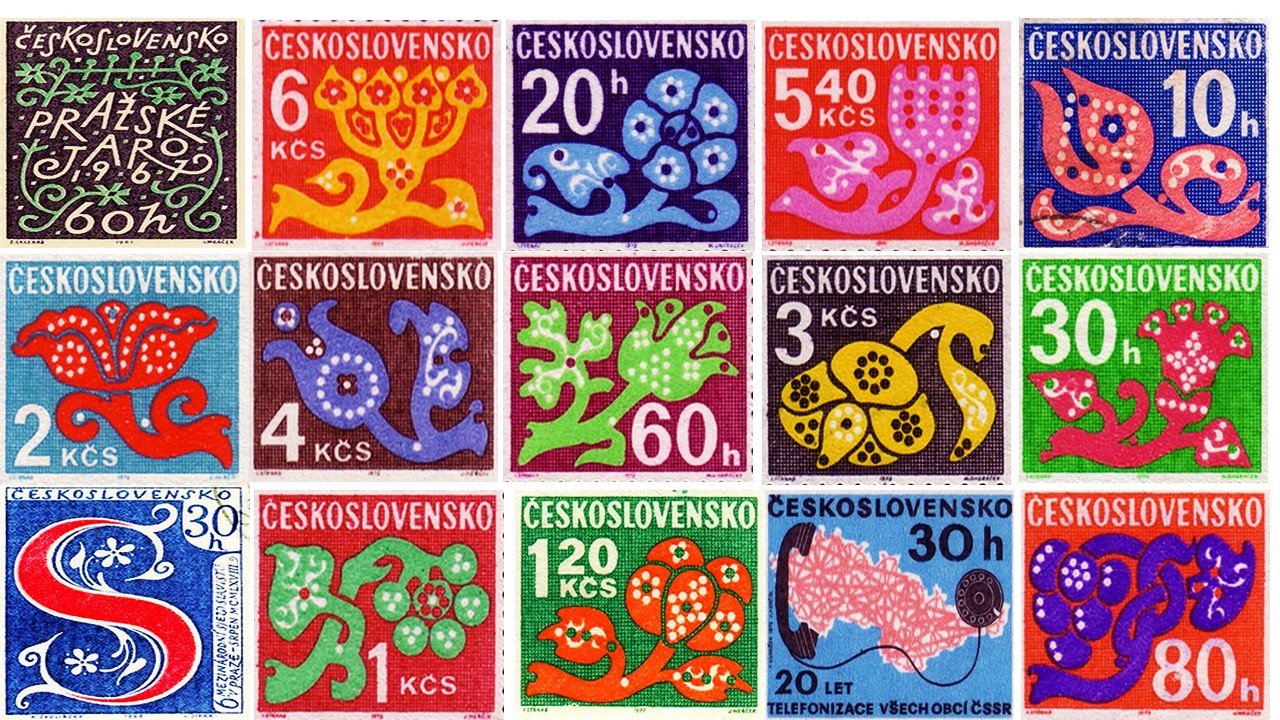 Stamps tell a tale of the history of the time, the place and the people. They express their heritage and their culture and are sometimes so artistic and beautiful that I envision a stamp museum where some of these beautiful stamps would be blown up to 500x their size and hung elegantly on bare white walls. (The Smithsonian had sheets of stamps on display in 2003-2004 and called the exhibition Art of the Stamp, I would have loved to have been there!) Stamps carry the faces of heroes, legends, inventors, politicians, entertainers and even ordinary people.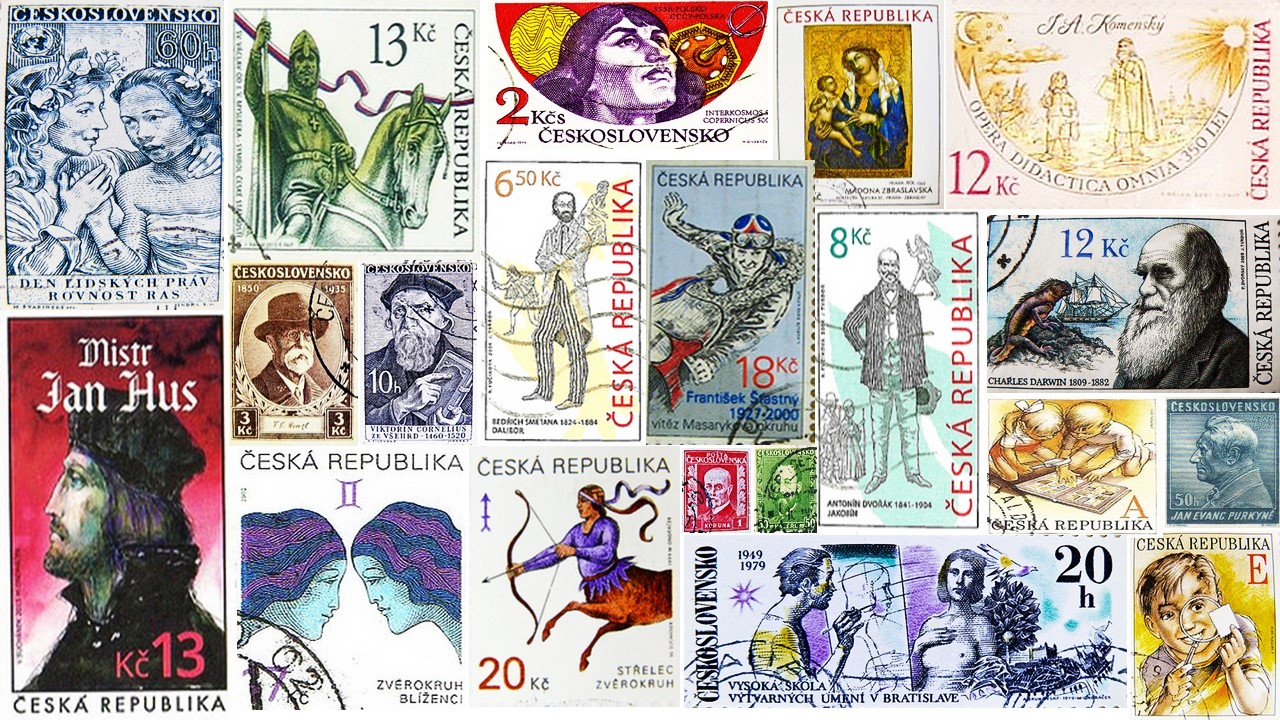 Bohemians are naturally artistic – I think it's in our DNA – and that is why it's natural that we gravitate towards artistic and creative stamp designs.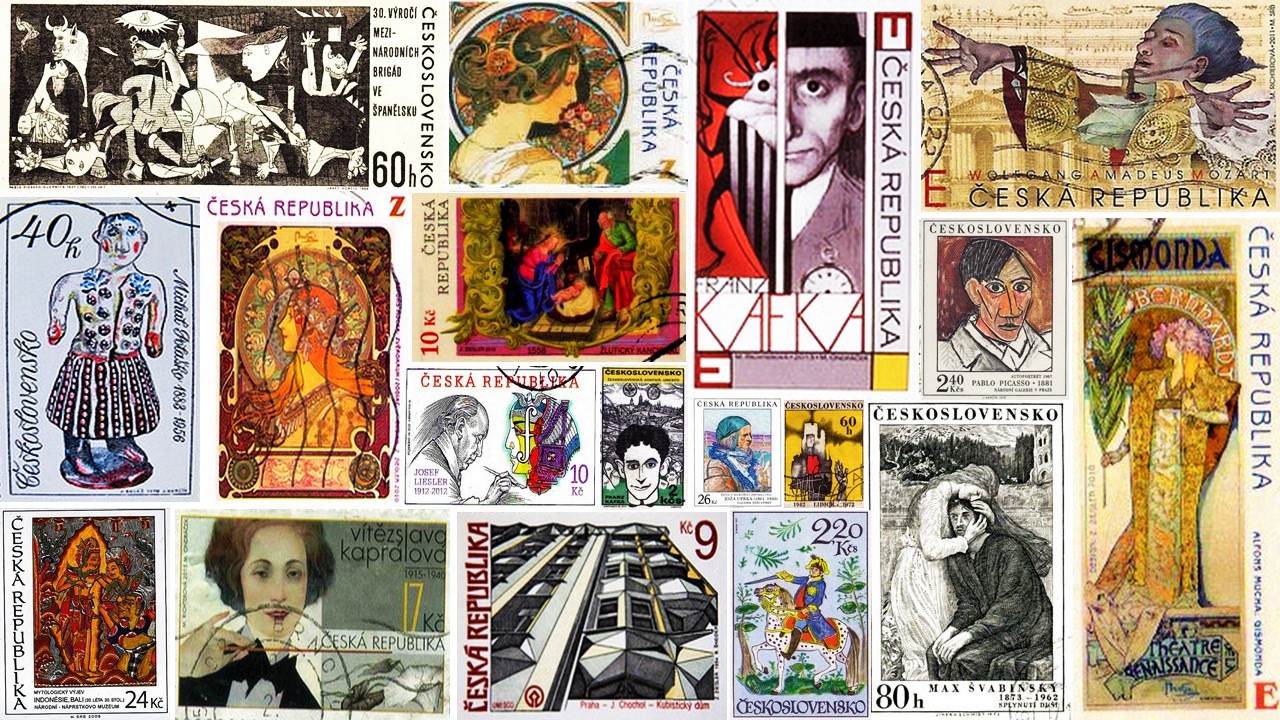 But nothing says Bohemian more than their often playful, whimsical and satirical illustrations. Many such works are created for adults as well as for children because most Czechs retain much of their playfulness their entire lives. Czechs believe that illustrations in books for children play a very special and important role in completing the imaginative and exploratory process of young readers. Artists such as Josef Lada, Helena Zmatlíková, Zdeněk Miler and Ondřej Sekora are just a few of the more known artists.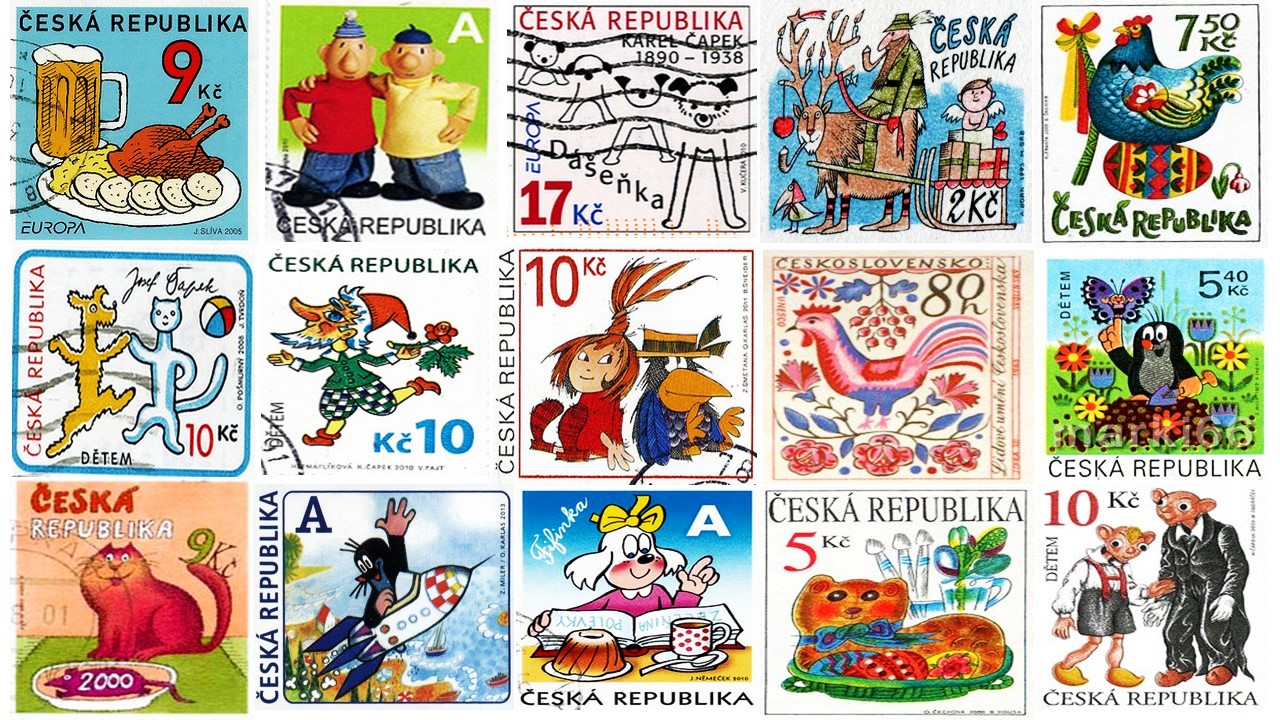 They share their landmarks, historical sites, cathedrals, government buildings and geographical wonders.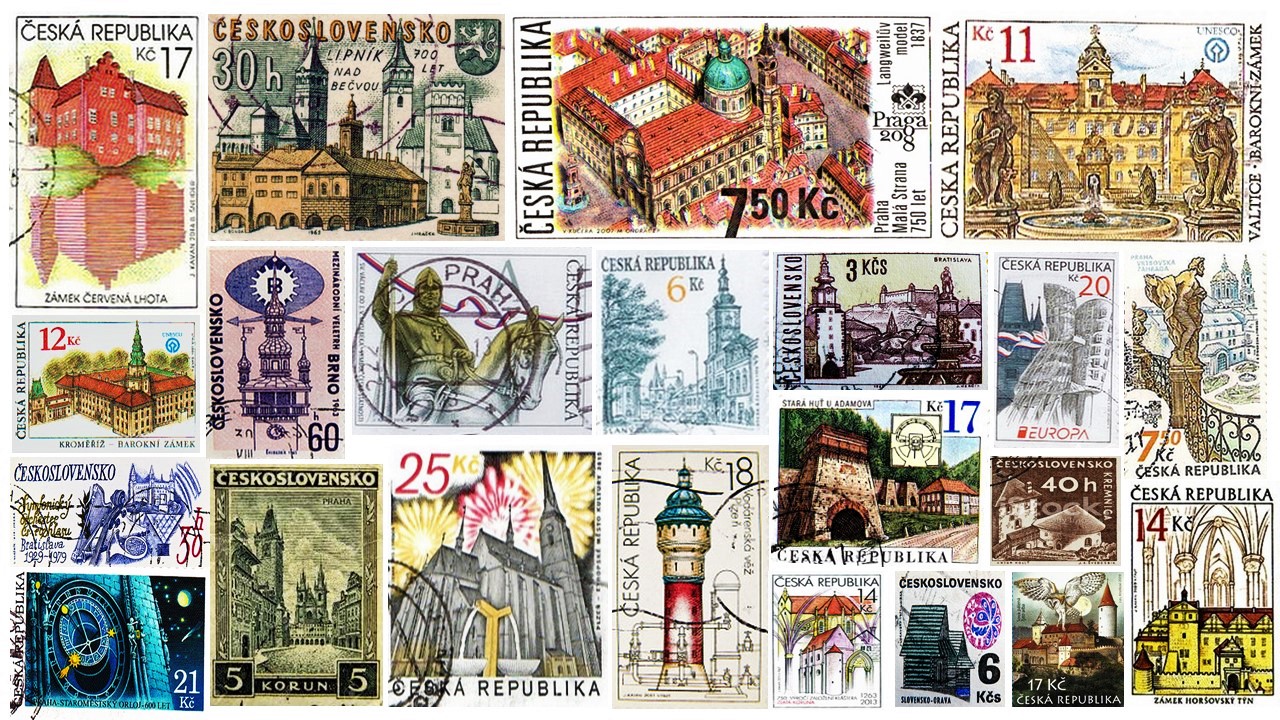 They celebrate the diversity of their flora and fauna (and sometimes the fauna of other places too!)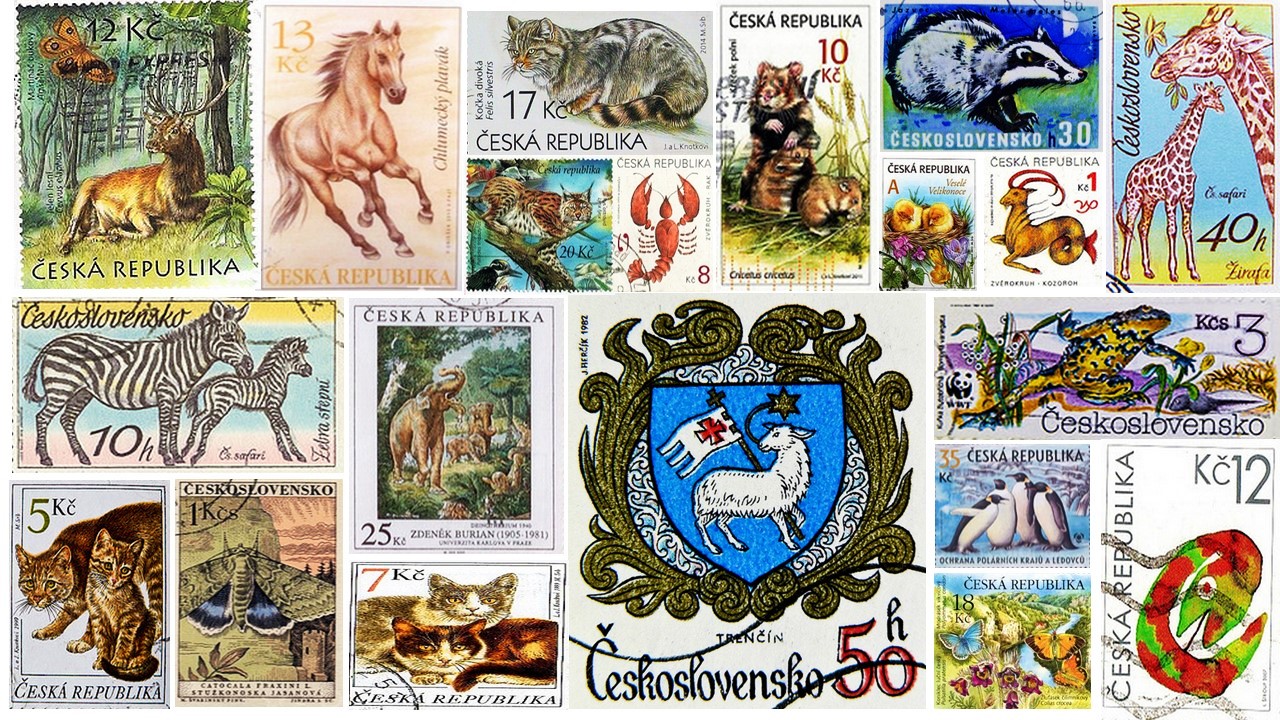 Like a snapshot in time, they immortalize athletes, sports heroes and heroines and celebrate their triumphs and dedication to their sport.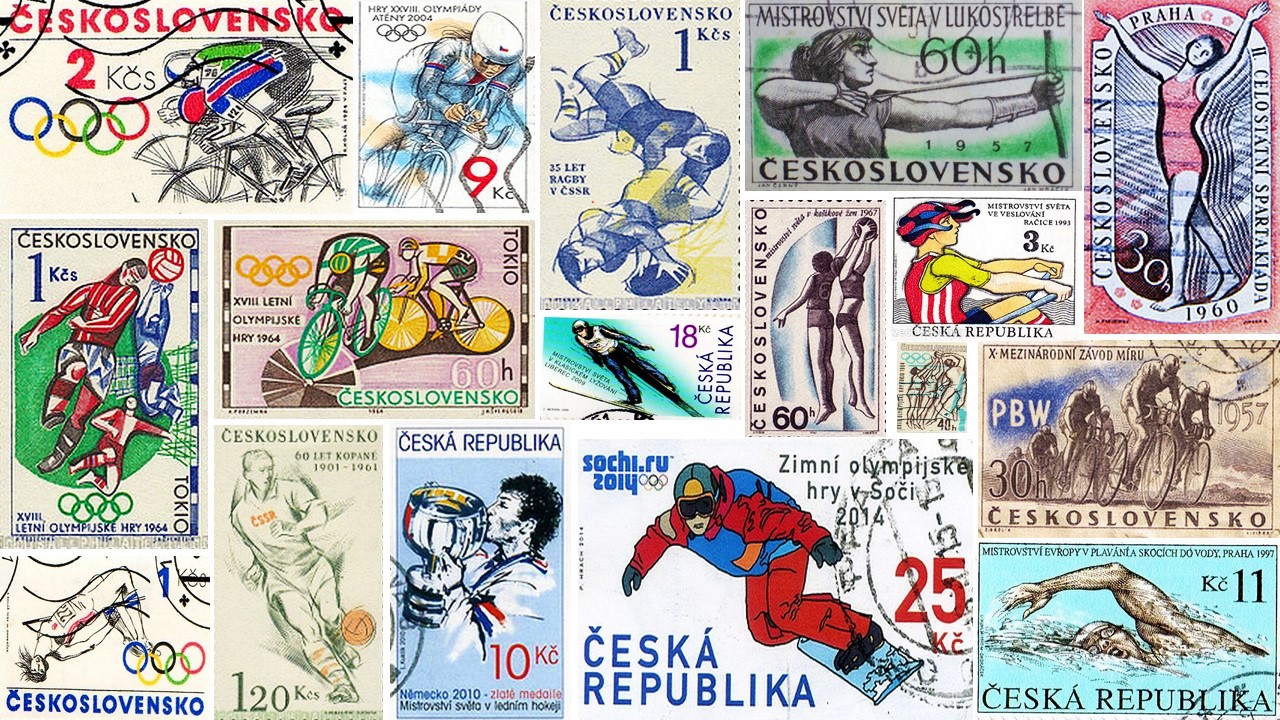 And they celebrate science, technology, commerce, transportation, aviation, travel and even share their dreams about getting into space.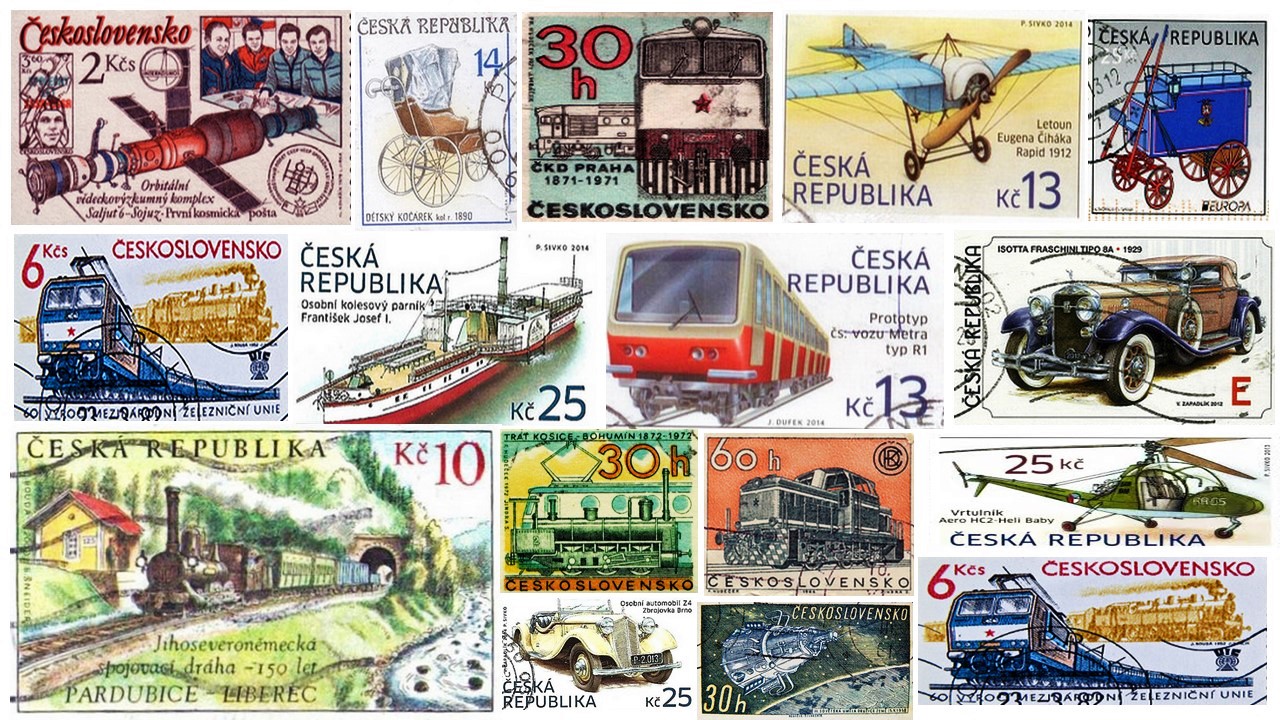 Sometimes you see hidden messages from the artists and when you look now, oftentimes many years after the stamps have been issued, you can see hints of repression, control, celebration or turmoil. If you look close enough, you can learn a lot about the people of a certain place.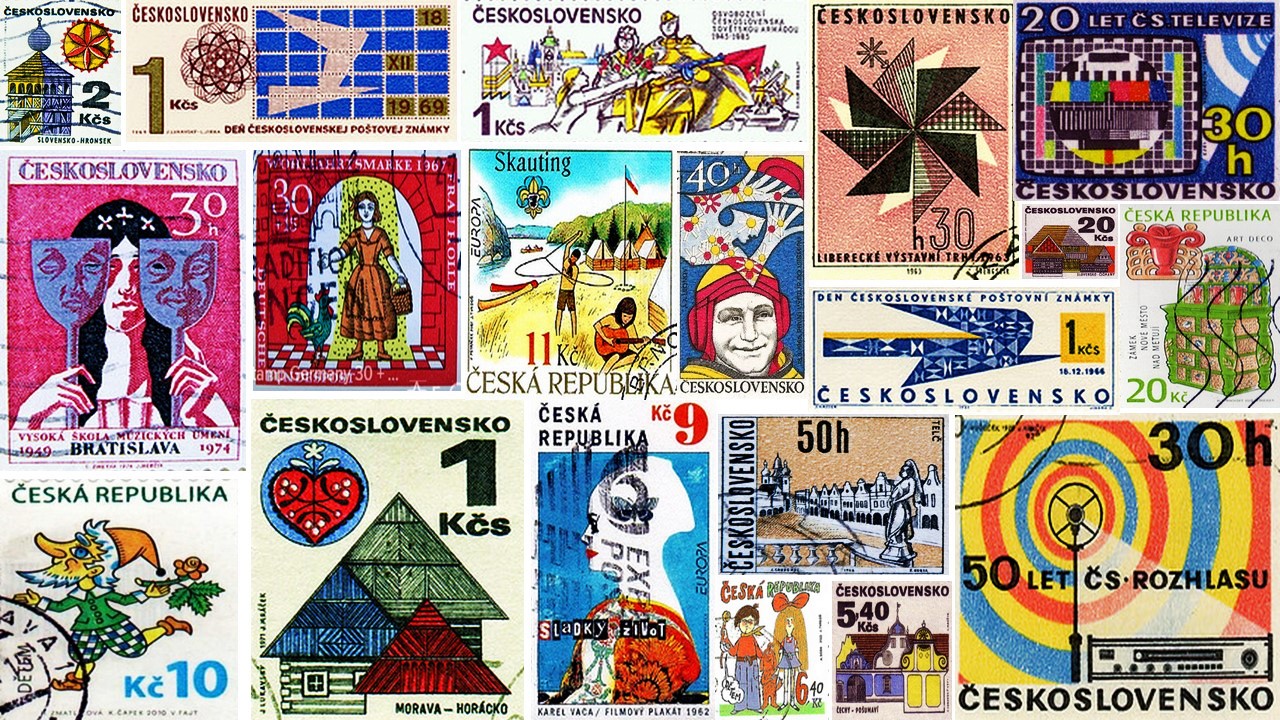 Of course, if a country like Czechoslovakia happens to have Soviet interference and oppression, then you can look at the stamps and see evidence of that as well as a similar style showing freedom.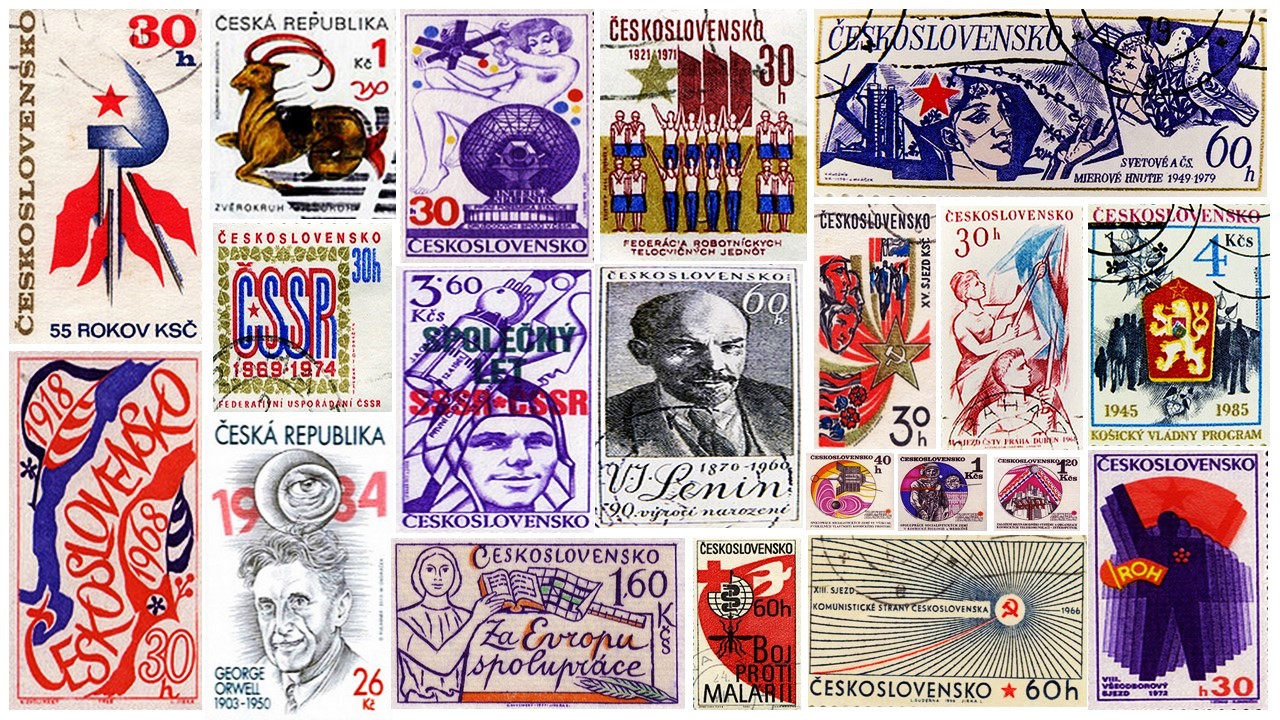 I began this post with the intention to share a few stamps. But after slipping into the internet vortex and spending hours pouring over stamps while sipping my coffee, I decided to arrange the stamps as collages or "stamp quilts" as my mom called them. Now there's a DIY idea!
And for the record, in the Czech Republic, December 18th is still known as the "Day of the Stamp", and on this day in the years 1948, 1958, 1968, 1978 and 1988 commemorative stamps or sheets depicting the Hradčany stamp and/or Alfons Mucha have been issued. The final stamp of a country known as Czechoslovakia was issued on December 18, 1992 and marked Stamp Day. Since then all new stamps have been marked Czech Republic, because Czechoslovakia doesn't exist anymore.
Do you share my intense interest in the subjects that appear on stamps? If you are as stamp obsessed as I am then you can drool over many more beautiful stamps at Fotalia.
Sources: Mucha Stamp History, Czech Stamp History, Stamps and More Stamps
If you have not already subscribed to get TresBohemes.com delivered to your inbox, please use the form below now so you never miss another post.
---
Remember, we rely solely on your donations to keep the project going.
Become a friend and get our lovely Czech postcard pack.