Zelary is a Czech film that begins in Prague during World War II where we are introduced to two doctors and Eliska. Eliska is a nurse who works alongside a respected surgeon named Richard who is also her lover. Eliska is a courier and has to learn different stories each time she takes messages or documents to other members of the resistance. One evening that they are together, Richard receives an emergency call involving a patient in need of a risky operation. Because Eliska is there and has the same blood type, she takes part in the transfusion giving her own blood to a sawmill worker from the countryside who is at the verge of death. Eliska's blood saves his life. The following day she makes a delivery and grows suspicious from the strange man watching her on the stairs. When she arrives at Richard's apartment later that day she is told by Slavek that Richard has emigrated but he has left her with some money and papers giving her a new identity and she must leave Prague immediately, not even returning to her own apartment because the Gestapo are on to them.
We learn she will be going to the rural country with Joza, the man whose life she saved, who has agreed to hide her. He is large, quiet, oaf-like and seems slow to speak or write but fortunately for her, he has agreed to help her. They arrive in a small village where immediately the townspeople are curious. Many have never seen the likes of a woman like her before, and they wonder what could she possibly be doing with Joza? They are highly suspicious, especially the school teacher who is an angry many and quite xenophobic. Knowing that the Nazi's immediately kill anyone who helps those who they consider an enemy to their cause, bringing Eliska to their tiny town places all of them in grave danger. She attempts to run away and return to Prague but is apprehended at the train station by the village doctor who informs her that her friend Slavek has been executed by the Nazi's. He tells her that all of them risk the same fate unless she marries Joza and moves to his mountain cabin in the remote village of Zelary. This is the only option to keep everyone safe.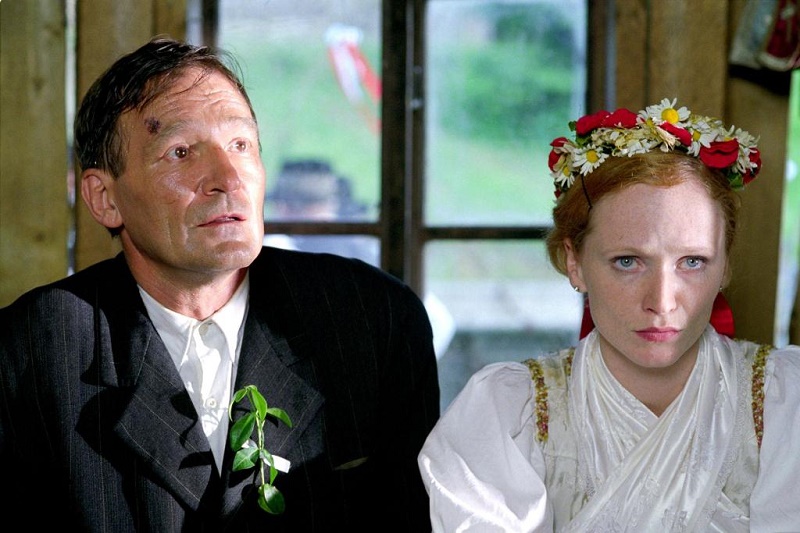 Imagine a sophisticated and educated woman, studying to become a doctor herself, suddenly being sent to a folk hamlet surrounded by mountains where the people still follow customs from generations past. There is no running water, a rustic cabin with a dirt floor, flies everywhere and an outhouse. The local folks have customs to follow and to blend in, she must marry Joza to make the illusion complete. Of course, at first she is devastated. She never smiles, closes herself in her room and sleeps with the door blocked by furniture and scissors in her hands.
Eliska does not want to go through with it but is told that they will not accept her unless she blends in so she finally agrees and the two go to speak to the priest who realizes upon discovering that she has no papers, what is happening. He prays for them and marries them. At the wedding, we meet the neighbors and learn more about them. There is an abusive drunk, a wife-beater, a midwife, a young hoodlum, a bright little girl, a single mom and an elderly man living with his daughter-in-law. Each character is richly developed and you understand them as the movie unfolds.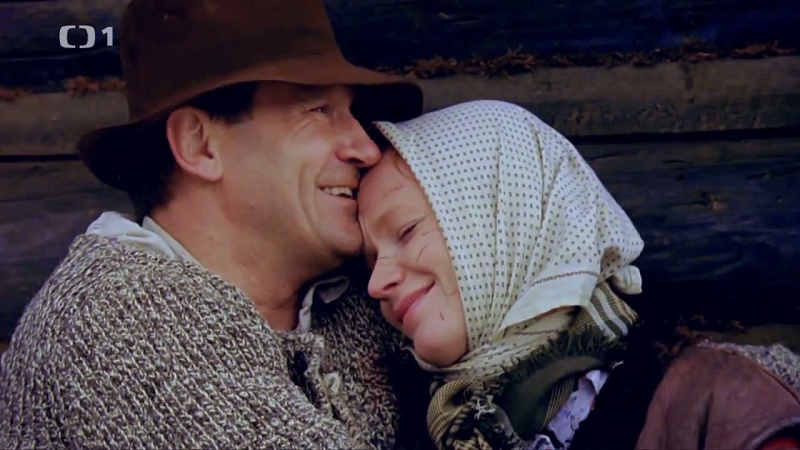 Eliska feels trapped and frustrated in her new country life and she misses home. The villagers seem primitive and crude, especially the drunk who makes inappropriate advances at her but as time passes, she begins to assimilate. One evening, she breaks the oil lamp and fearing a beating, she cowers in the corner only to see Joza's gentle response. He also came home bearing books, understanding her loneliness for more the more civilized ways she must be homesick for in Prague. He comforts and reassures her and she finally lets her guard down. One day he asks if she would like to meet his mother and she agrees, only to see that he has taken her to his mother's grave.
Eliska is deeply moved by the love and kindness inside of him and she begins to see him for the man he truly is.
She asks him to buy soap and to bathe and when he does, she snuggles to him in bed and they consummate their marriage.
Joza is a good man, a gentle protector and Eliska can't help but fall in love with him. The people around them become her friends and her love grows for all of them. She has accepted this as her new life and sees the beauty and peace in the simplicity.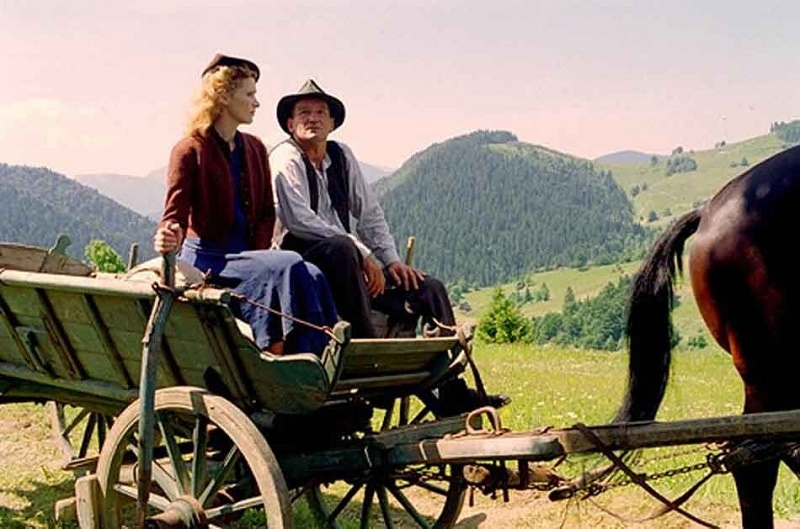 As the years pass, we scarcely witness the effects of war, until one day when she wanders too far from home while picking currant berries. She sees a house burned and an entire family hanged for hiding partisans. She and Joza are also pulled from the church with the other townspeople to witness the execution of a man.
Eliska begins to fear that the Nazi's or Gestapo will find her and is reminded of the fact that she is an outsider in hiding when the town drunk Michal corners her in the back room of the sawmill where she has gone to take a hot shower. Fortunately, the little girl, Helenka, sees what is happening and runs for help to Joza who attacks Michal and breaks his arm (in a way that makes it look like he is literally ripping his arm out of it's socket!) Because his is unable to work, the women around him have to do the heavy labor and as a result, Aninka has a miscarriage and is left unattended the entire day. By the time the midwife and Eliska arrive, it is too late. Aninka dies. (Aninka is the mother of Lipka, the little "hoodlum" who we realize is really the other star of this film, a wonderful young man who has been mistakenly outcast but who is loved by all and a hero of the film by the end.) All of the other characters in this film are excellent as well and they show is what life looked like during World War II in the country of Prague. Surrounded by beautiful green forests, the hillsides are beautiful and filled with color, a cinematic delight.
In the spring of 1945, we see that the the old midwife and wise woman Lucka is teaching Eliska herbal medicine and folk healing and Eliska is happy to be a nurse once again. One evening, soldiers from the Red Army (who fought against the Germans) arrive with news that the war is over. There is a night of celebration and everyone gets drunk. As they stumble home, Joza and Eliska decide to lay on the grass to rest. Joza tells her she is free to leave and she tells him she wishes to stay with him for always and they fall asleep on the side of the mountain in each other's arms. They are awakened by the sound of gunshots because the soldiers are still heavily intoxicated and desensitized from the war and they come upon one of their own killed. (What they do not know is the circumstances under which it happened) and they see the killing as an act of fascists and they decide to wage war and attack on all of the villagers.
Young Lipek begins to take all of the villagers to the abandoned structure in the swamps where he as been living and before long, they are all there. Lucka and Eliska are tending to the wounded and Joza and Lipka keep leaving to collect more villagers. Sadly, in the interim, the village priest is killed. The school teacher, who had come to speak to the priest discovers what is happening and goes back to the larger town for help. The following morning, just as the soldiers finally discover the hiding place of all the remaining villagers, the teacher comes with doctors, nurses and soldiers of their own to save the people. As everyone celebrates the end of this night of hell, we realize that Joza, who was shot earlier, has collapsed, his faithful dog at his feet.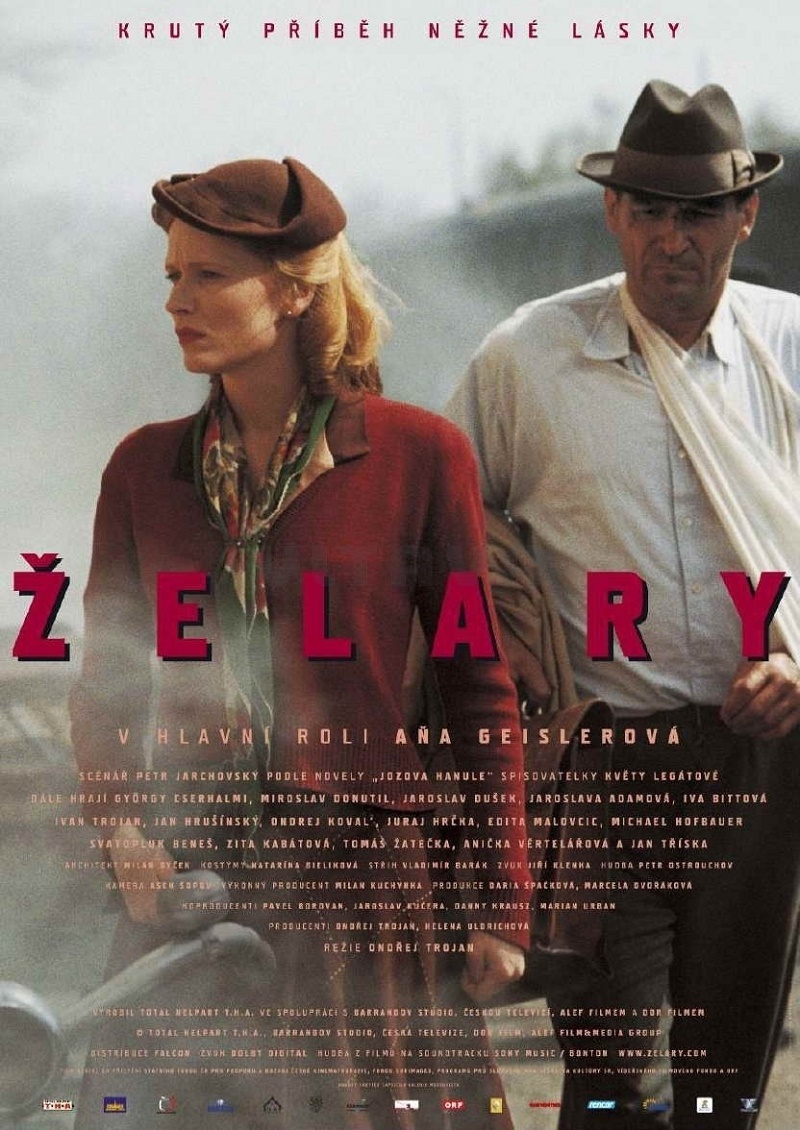 Eliska kneels beside Joza's lifeless body and weeps, realizing that her love for him was stronger than even she had known. Many years later, she returns to Zelary which is abandoned. She is older and with Richard, the surgeon from the beginning of the film and she is saddened to see the cottage she once shared with Joza collapsed and broken down. As she mourns and wipes the dog's dish clean, Lucka appears from behind the cottage. Eliska is shocked and surprised to see her, "Is it really possible? You're alive?" and Lucka answers, "I'm none too sure. I'm none too sure at all." The two women laugh and the film ends…
This gorgeous film was shot in Malá Fatra, a mountain range in the Western Carpathians in the north-west of Central Slovakia. Interestingly enough, György Cserhalmi who played Joza is a Hungarian actor who spoke in his own language for the filming, his voice dubbed over in Czech.
Watch the trailer or get your copy on eBay.
This beautiful film was nominated at the 76th Academy Awards for Best Foreign Language Film (Czech) and won the Golden Kinnaree Award for Best Film at the 2005 Bangkok International Film Festival.
If you have not already subscribed to get TresBohemes.com delivered to your inbox, please use the form below now so you never miss another post.
---
Remember, we rely solely on your donations to keep the project going.
Become a friend and get our lovely Czech postcard pack.