Today we are looking at Czech Avant Garde – Constructivism. In the period between the two world wars, artistic movements in Czechoslovakia produced outstanding examples of avant-garde book cover design, layout, and typography. Czech artists, designers, and architects adopted and developed trends from the avant-garde in other parts of Europe and created what they saw as a new approach to book cover design and typography.
Rejecting the bibliophile tradition of book design, these artists sought instead to use avant-garde aesthetics to create simply produced books that could be made available to all. This was not merely an attempt to put modern art on a book cover but rather to rethink the entire aesthetics and so produce a modern book and book cover.
In direct contrast to Poetism, Constructivism stressed objectivity and machine production. Optimistic and sometimes even utopian, Constructivist design celebrated technology, progress, and the future. Bauhaus and de Stijl influences can be seen in Czech Constructivist book design, which was particularly dominant in the mid- to late 1920s.
Photography, typography, and theater sets provided rich areas of activity for Constructivist designers, and architecture was also an important source of inspiration. Ladislav Sutnar's design for a 1932 translation of George Bernard Shaw's Captain Brassbound's Conversion [1932] utilizes many devices characteristic of Constructivism: photomontage; functional, sans serif typography; a strong grid structure with diagonal orientation; and the presence of a circle, an important iconic element for many Constructivist designers and a characteristic of all book designs for Devetsil by Odeon Press, their publisher from 1925.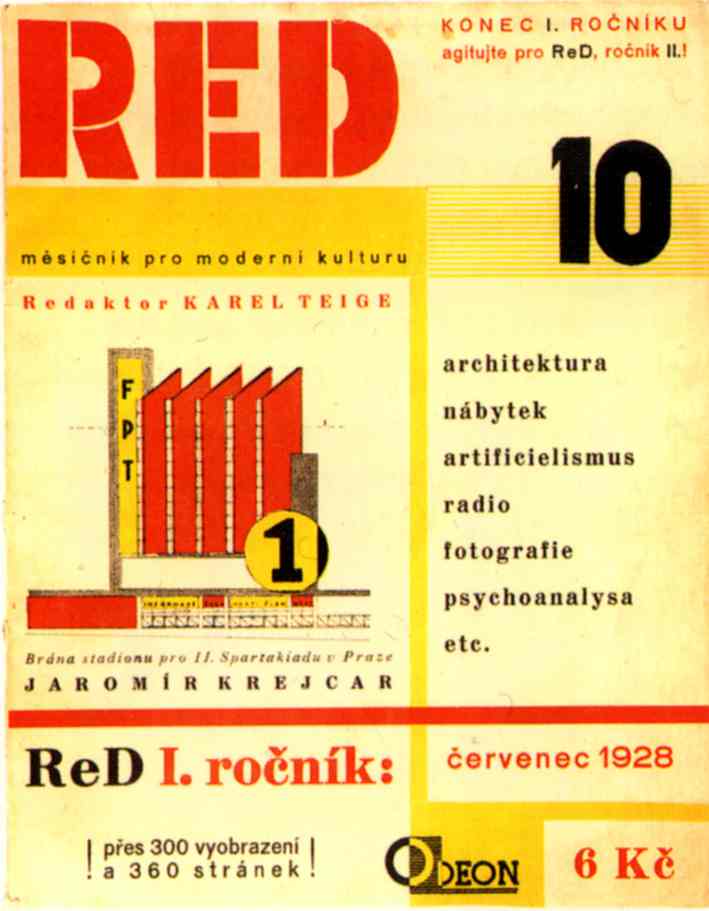 1. Constructivism. Avant-garde Czech book design sprang from the Devětsil Artistic Union, a highly influential group of avant-garde poets, writers, artists, and designers active from 1920 to 1931. ReD, the most important of Devětsil 's journals, published work by leading names in the fields of writing, art, and architecture, among them poetry by Mallarmé and Apollinaire; prose by James Joyce; reproductions of art by Arp, Chagall, Kandinsky, Brancusi, Mondrian and El Lissitzky; and articles on the architecture of Le Corbusier, Gropius, and Frank Lloyd Wright.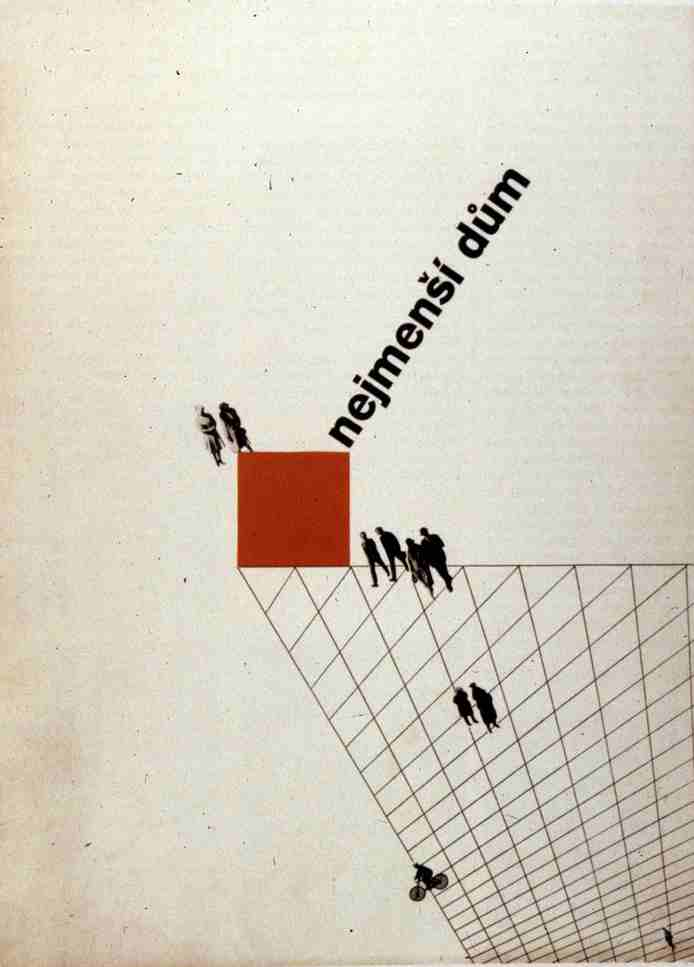 2. Constructivism. Book cover design and typography by Ladislav Sutnar for Nejmenší dům (The Smallest House) edited by Oldřich Stary and Ladislav Sutnar. Praha, Svaz československého díla, 1931.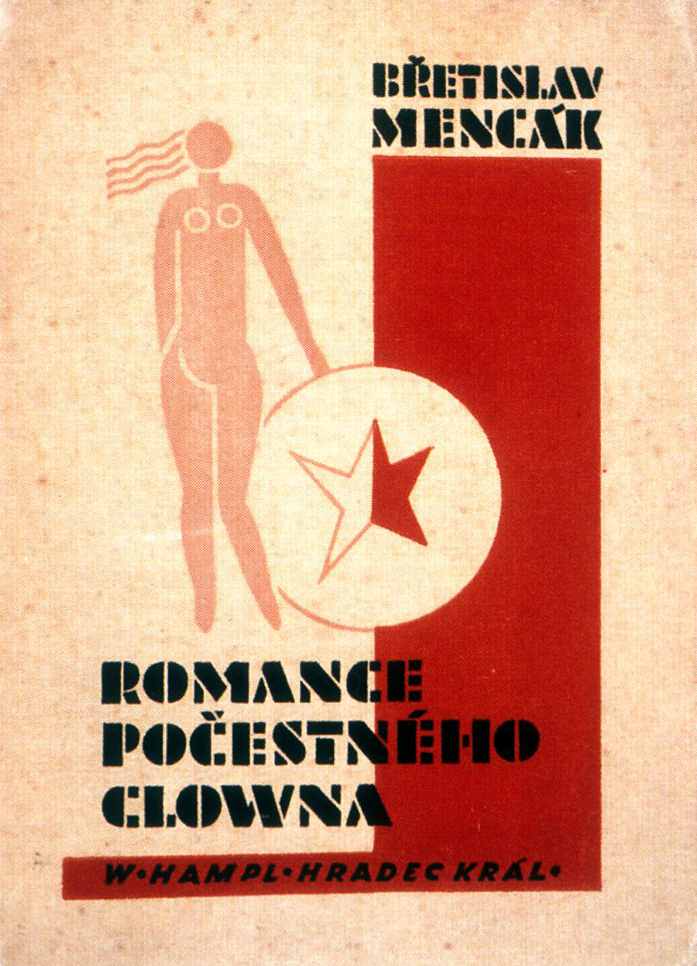 3. Constructivism. Book cover design, typography, and illustrations by August Tschinkel for Romance počestného clowna. Sbírka milostné lyriky z let 1925-1929 (Romance of an Honorable Clown: Love Poems 1925-1929) by Břetislav Mencák. Hradec Králové, William Hampl, 1929.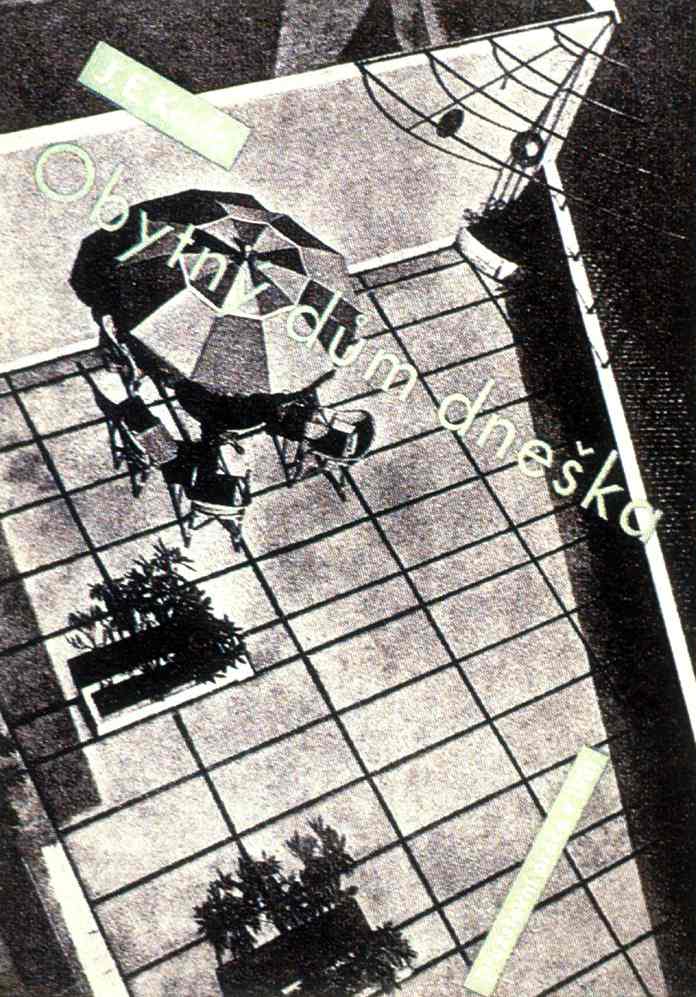 4. Constructivism. Ladislav Sutnar for Obytny dům dneška (Residential Building of Today) by Jan Emil Koula. Praha, Družstenví práce, 1931.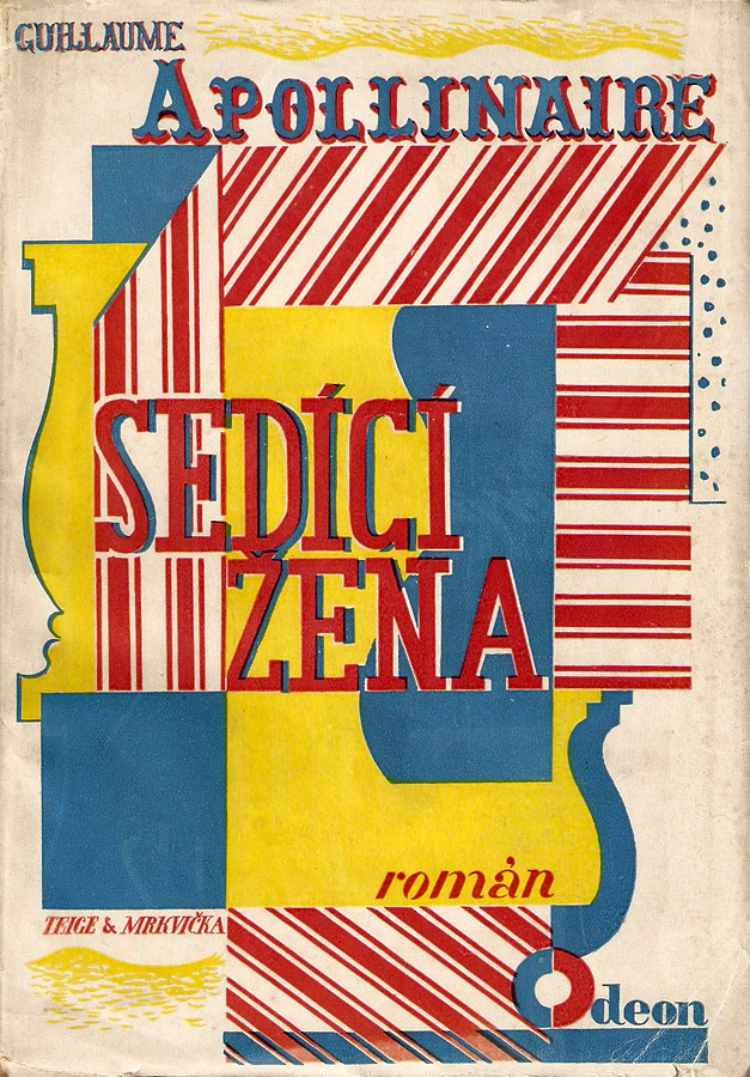 5. Constructivism. Czech avant-garde book cover design by Karel Teige and Otakar Mrkvicka for Apollinaire's 'La Femme assise' (The Seated Woman). It was published by Odeon, Prague in 1925.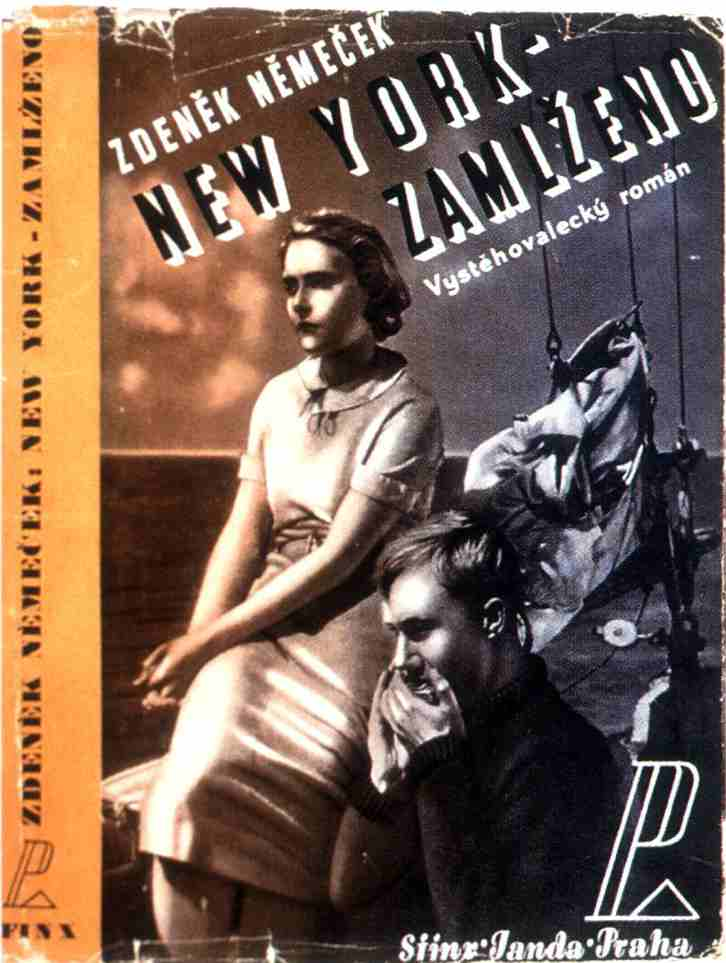 6. Constructivism. Book cover design by Jindřich Štyrsky for New York—Zamlženo. Román (New York—Fogbound: A Novel) by Zdeněk Němeček. Praha, Nakladatelství Sfinx, B. Janda, 1932.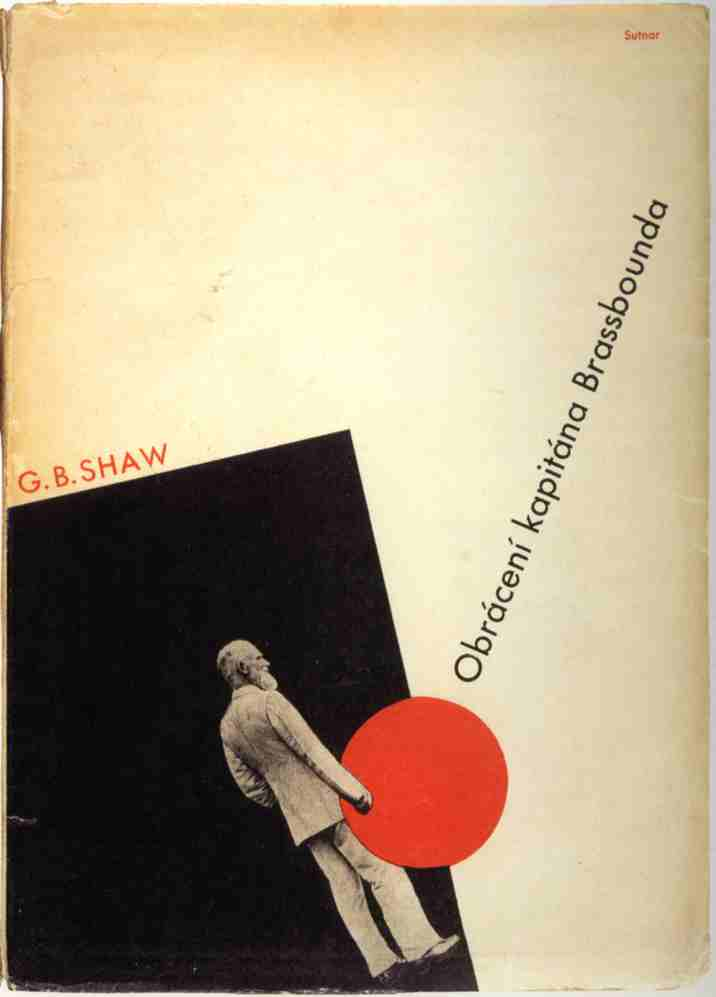 7. Constructivism. Cover design and typography by Ladislav Sutnar; drawing on title page by Zdenĕk Kratochvíl forObráceni kapitána Brassbounda (Obráceni kapitána Brassbounda) by George Bernard Shaw. Praha, Břetislav M. Klika, 1932.
8. Constructivism. Book cover design and typography by Karel Teige for Skleněny havelok. Básně z roku 1931 (The Glass Inverness Cape: Poems from 1931) by Vítěezslav Nezval. Praha, František Borovy, 1932.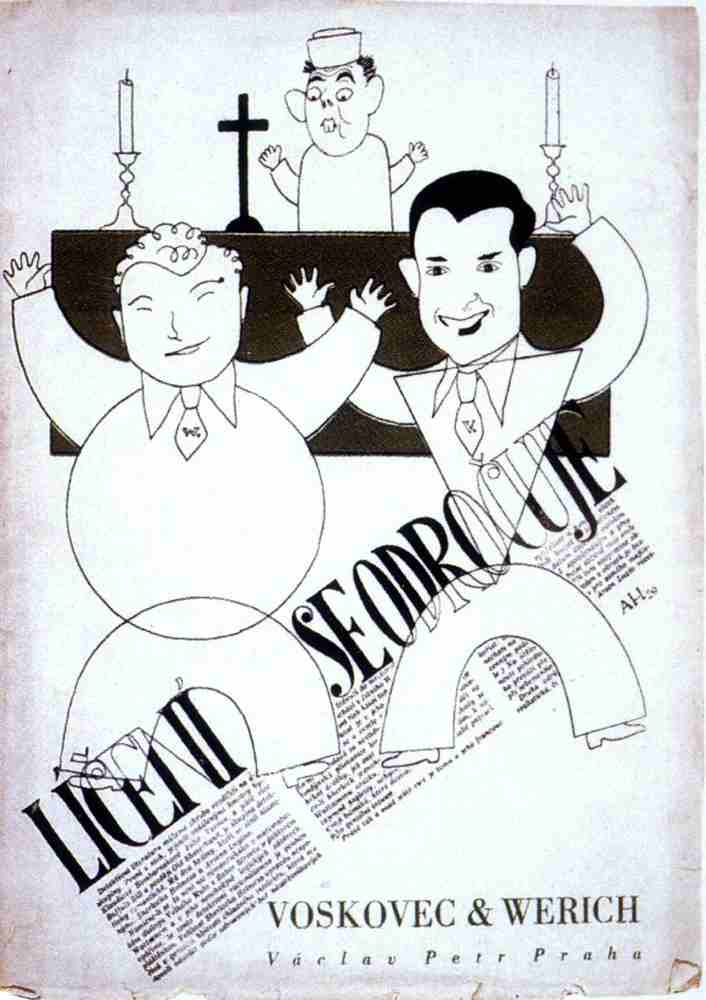 9. Constructivism. Book cover design by Adolf Hoffmeister for Líčeni se odročuje. Detektivní komedie o 3 jednáních (Court is Adjourned. A Detective Comedy in 3 Acts) by Jiŕí Voskovec and Jan Werich. Praha, Václav Petr, 1929.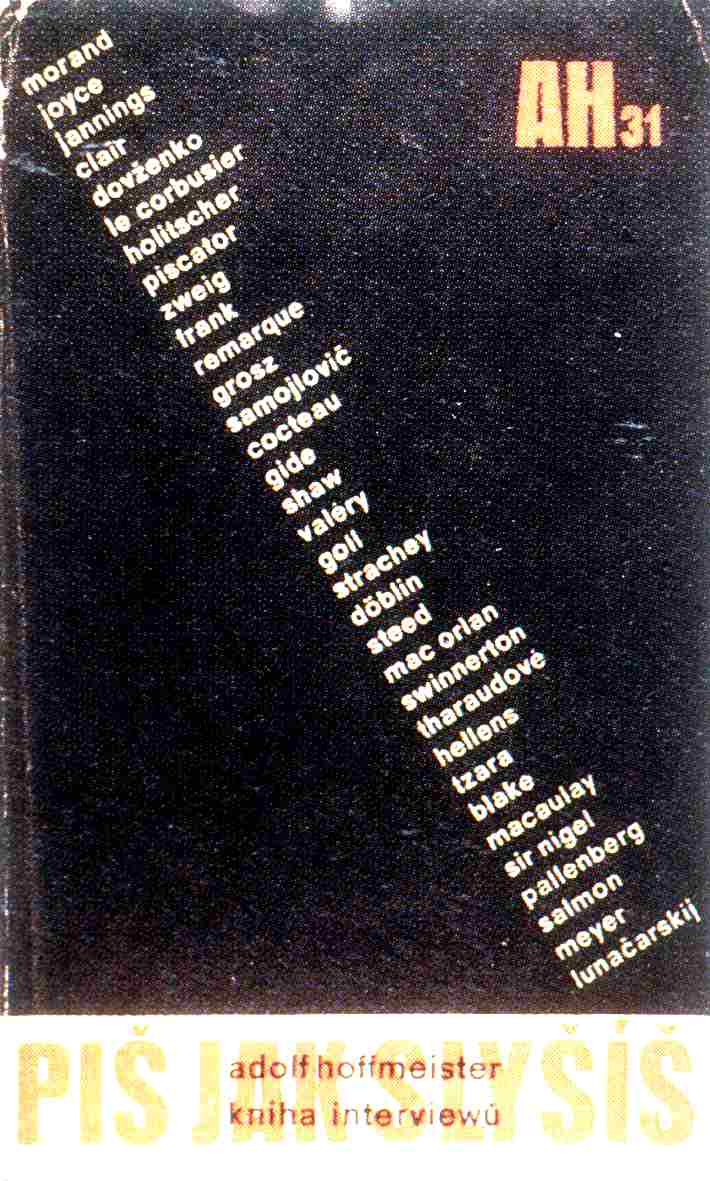 10. Constructivism. Book cover design by Adolf Hoffmeister for Piš jak slysšiš. Kniha interviewů (Write What You Hear. A Book of Interviews) by Adolf Hoffmeister. Praha, Družstevní práce, 1931.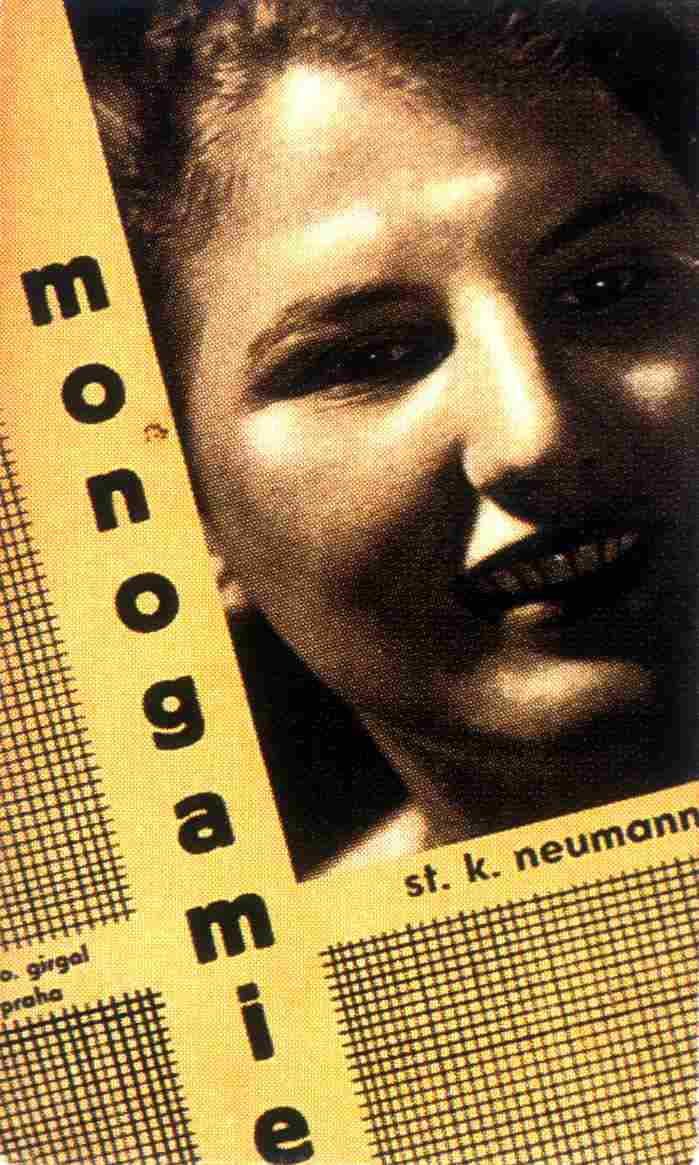 11. Constructivism. Book cover design by Antonín Smazík forMonogamie. Od Masaryka k Russelovi, od Russela socialismu (Monogamy: From Masaryk to Russell, from Russell to Socialism). Praha, Otto Girgal, 1932.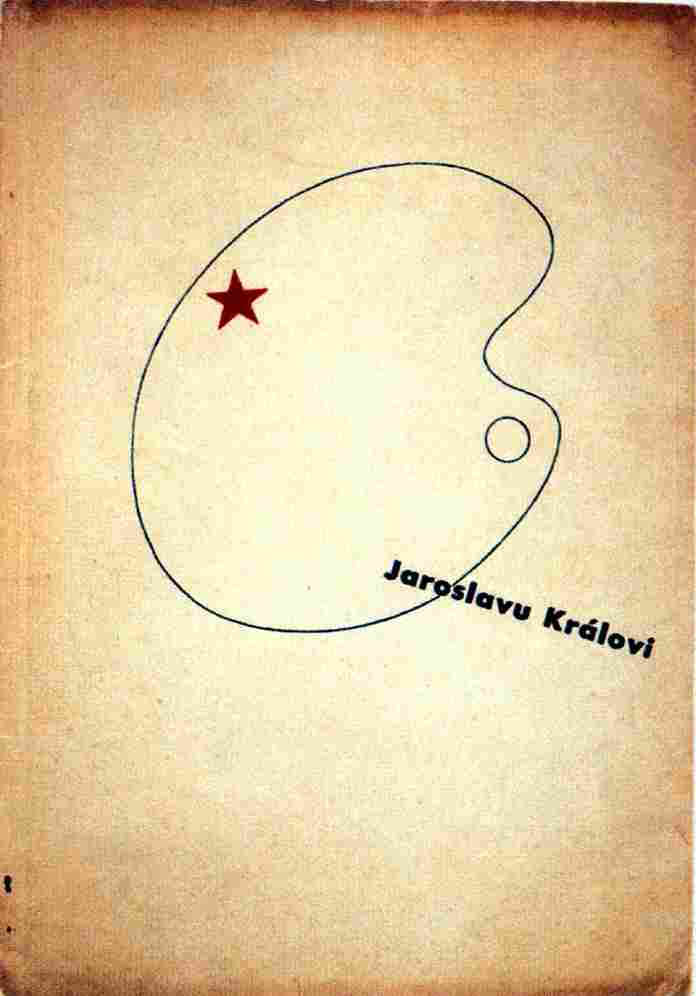 12. Constructivism. Book cover design and typography by Zdeněk Rossmann for Jaroslavu Královi k padesátinám (For Jaroslav Král on his Fiftieth Birthday) edited by Bedrick Vaclavek (?). Brno, Index, 1934.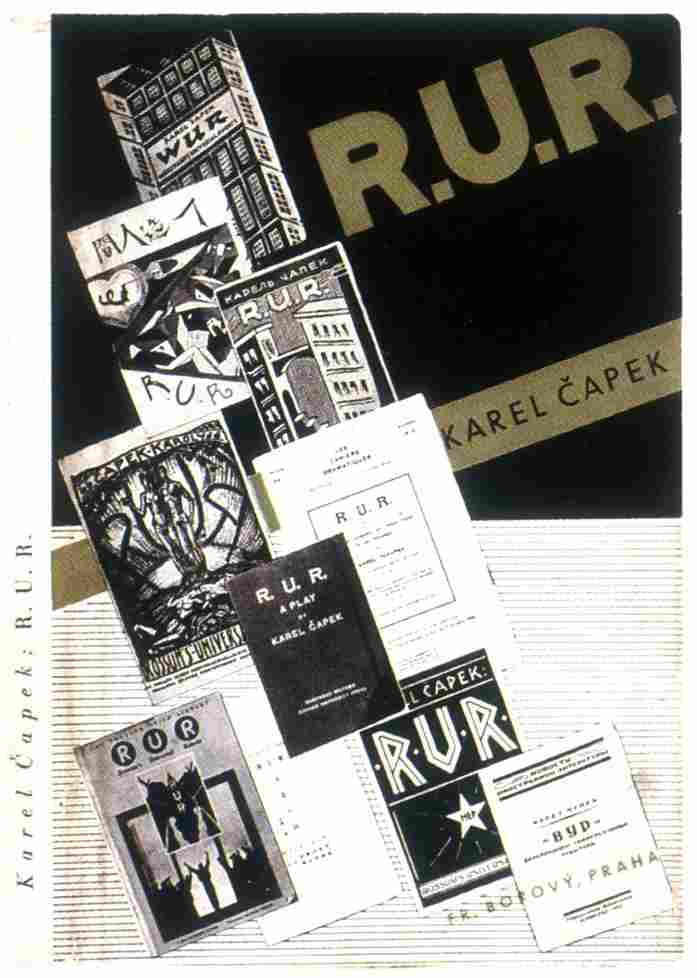 13. Constructivism. Book cover design by František Muzika for R.U.R. by Karel Čapek. Praha, František Borovy, 1935.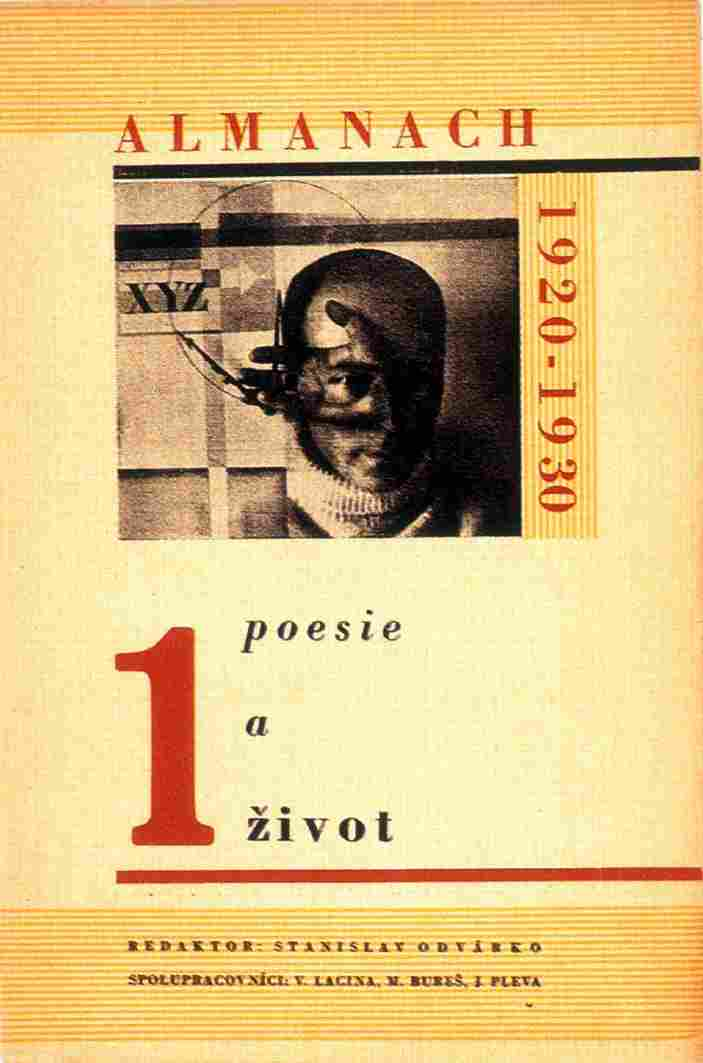 14. Constructivism. Book cover design by Stanislav Odvarko for Almanach 1: pro poesil a život 1920-1930 (Almanac 1 of Poetry and Life 1920-1930) edited by Stanislav Odvarko. Praha, St. Odvarko, 1930.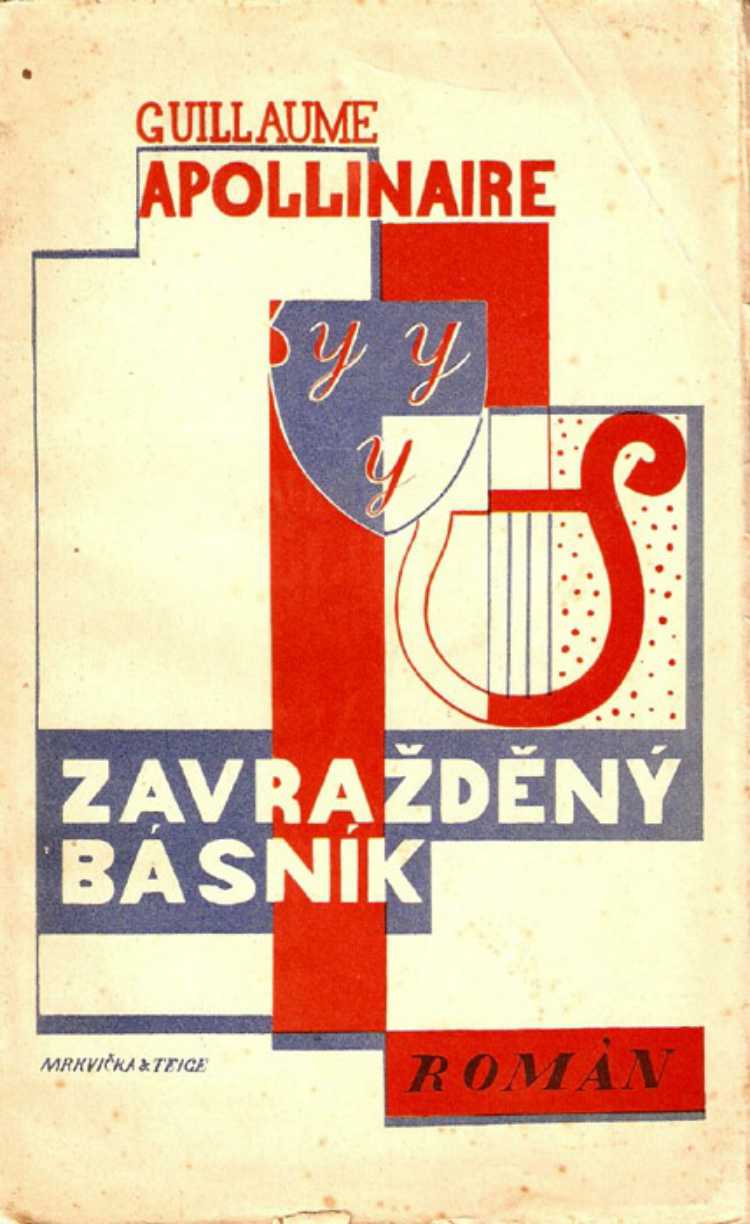 15. Constructivism. Zavrazdený básnik (Le poète assasiné) by Guillaume Apollinaire. Czech edition published by Aventinum, Prague in 1925, with covers designed by Karel Teige and Otakar Mrkvicka.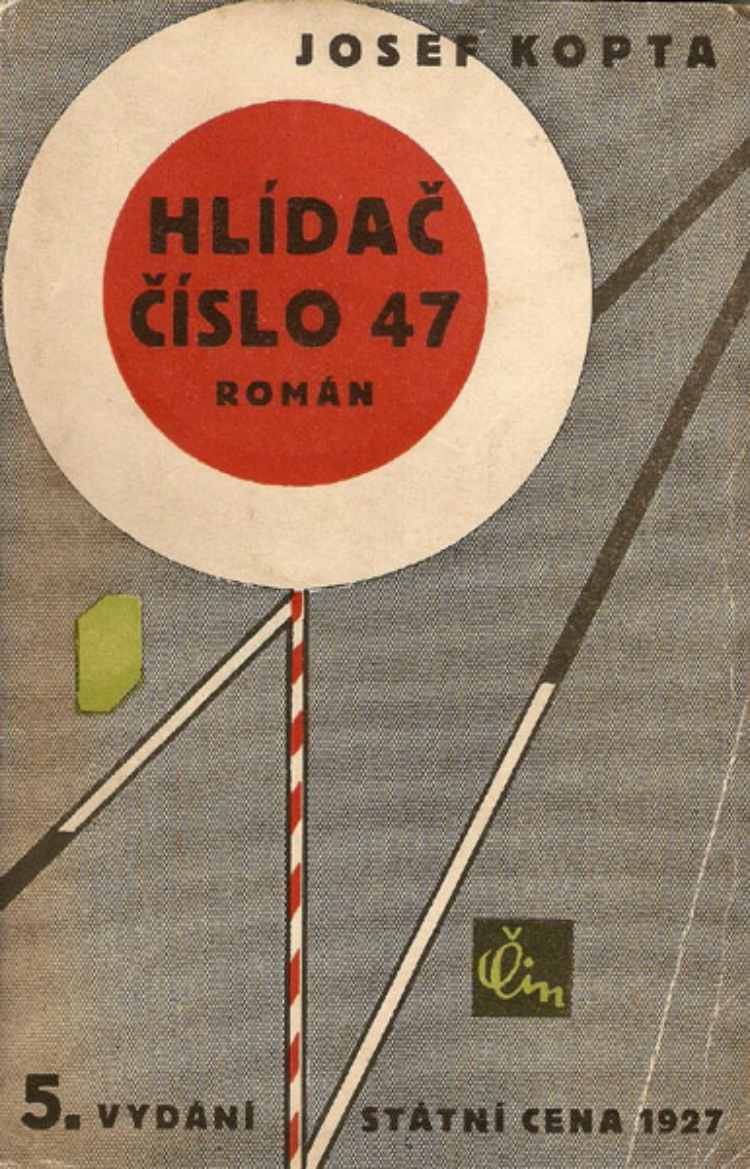 16. Constructivism. This is Hlidac cislo 47 (Watchman Number 47) by Josef Kopta; a novel about a lonely Czech railwayman. The cover is Josef Čapek's, created for an edition published by Čin, Prague in 1927.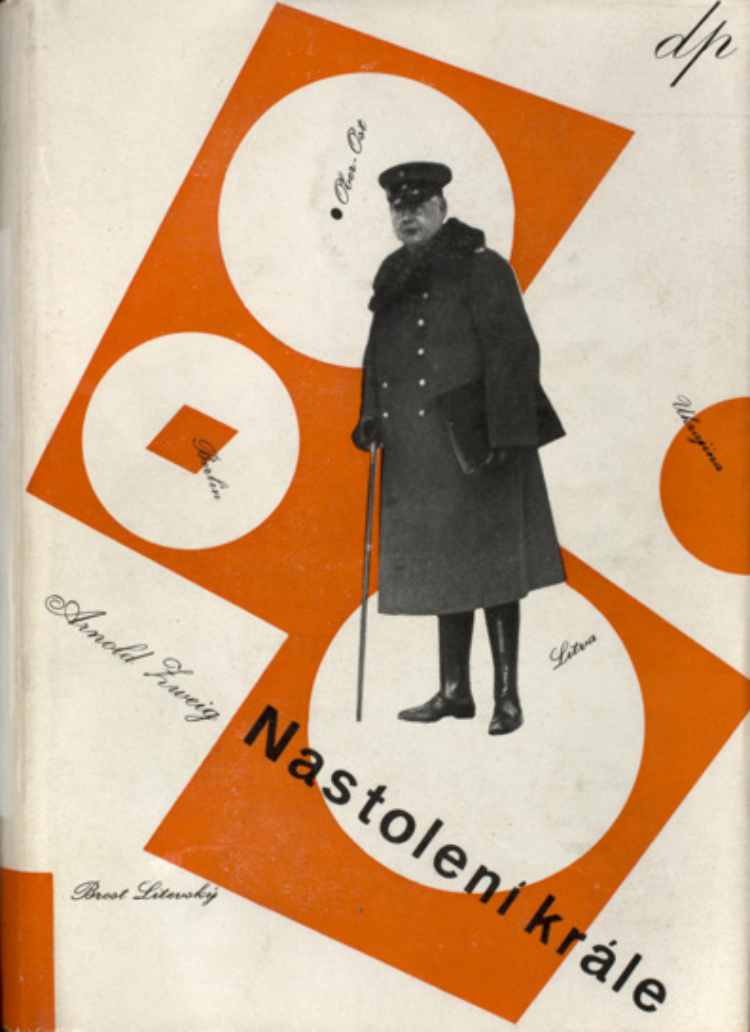 17. Constructivism. Arnold Zweig, Nastolení Krále (Einsetzung eines Königs). Prague: Družstevní práce, 1938.
Notes: 
Avant-garde is French for "vanguard". The term is commonly used in French, English, and German to refer to people or works that are experimental or innovative, particularly with respect to art and culture.
Avant-garde art can be said to begin in the 1850s with the realism of Gustave Courbet, who was strongly influenced by early socialist ideas. This was followed by the successive movements of modern art, and the term avant-garde is more or less synonymous with modern.
Although the term avant-garde was originally applied to innovative approaches to art making in the nineteenth and early twentieth centuries, it is applicable to all art that pushes the boundaries of ideas and creativity, and is still used today to describe art that is radical or reflects originality of vision.
Avant-garde represents a pushing of the boundaries of what is accepted as the norm or the status quo, primarily in the cultural realm. The notion of the existence of the avant-garde is considered by some to be a hallmark of modernism, as distinct from postmodernism. Postmodernism posits that the age of the constant pushing of boundaries is no longer with us and that avant-garde has little to no applicability in the age of Postmodern art.
Finally, because of its radical nature and the fact that it challenges existing ideas, processes and forms; avant-garde artists and artworks often go hand-in-hand with controversy.
The Devětsil was an association of Czech avant-garde artists, founded in 1920 in Prague. From 1923 on there was also an active group in Brno. The movement discontinued its activities in 1930 (1927 in Brno).
Founded as U. S. Devětsil (Umělecký Svaz Devětsil – Devětsil Artistic Federation), its name was changed several times. From 1925, it was called the Svaz moderní kultury Devětsil (the Devětsil Union of Modern Culture).
The artistic output of its members was varied, but typically focused on magic realism, proletkult, and, beginning in 1923, Poetism, an artistic program formulated by Vítězslav Nezval and Karel Teige.
The group was very active in organizing the Czech art scene of the period. Members published several art magazines – ReD (Revue Devětsilu), Disk and Pásmo, as well as occasional anthologies (most importantly Devětsil and Život) and organized several exhibitions.
For the most part, Devětsil artists produced poetry and illustration, but they also made contributions to many other art forms, including sculpture, film and even calligraphy.
Czech Avant-Garde:  Poetism, Surrealism, Constructivism, Soviet Realism
Sources: Smithsonian Libraries, Wikipedia, Art Institute Chicago, Room 606, Pinterest,
If you have not already subscribed to get TresBohemes.com delivered to your inbox, please use the form below now so you never miss another post.
---
Remember, we rely solely on your donations to keep the project going.
Become a friend and get our lovely Czech postcard pack.