Czech Dream asks some powerful questions. Can capitalism have a human face? Sure it can. Student filmmakers Vít Klusák and Filip Remunda had an idea. They invented the "Czech Dream", a marketing campaign about the grand opening of a super mega (or hyper) market. They position themselves as businessmen and locate a public relations and advertising agency to create a marketing campaign for them. The campaign is about the opening of this super store. They create billboards and pamphlets, radio jungles and a television commercials. The advertisements said "don't shop", "don't come", "don't spend" and so on. Yet even though the ads said DON'T – more than 2,500 shoppers appeared at the "grand opening". As they waited behind a partition, they looked longingly at the "building" in the difference.
DON'T GO, DON'T RUSH, DON'T BUY, DON'T SPEND.
What appeared as a huge market from a distance was really just a canvas facade held up by scaffolding. When the ribbon cutting ceremony was complete and the ribbons cut, shoppers ran madly towards the facade, believing it to be a real store with too good to be true prices. Of course, when they got there, they saw it was all just a hoax.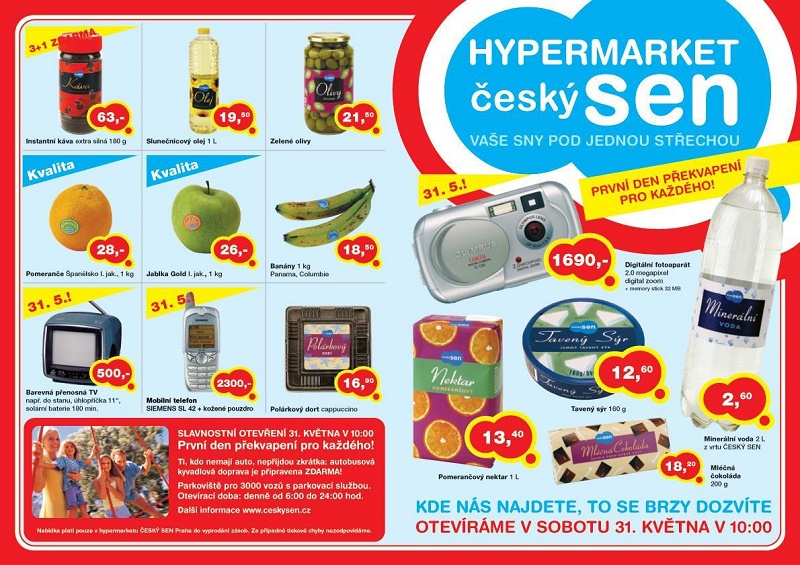 Many of the people were sad, others very angry. The people reacted in many different ways, all based on their own unique life experience and belief systems. They began to see the connection with how media can influence our beliefs, and if we hear something to good to be true and we want to believe it, we will – even so much as to travel 2-3 hours to save a dollar on a jar of pickles. Many of the Czech are bitter and cynical and compare it to the government and discuss joining the European Union. Most blamed the government and were surprised that a couple of students were behind it all.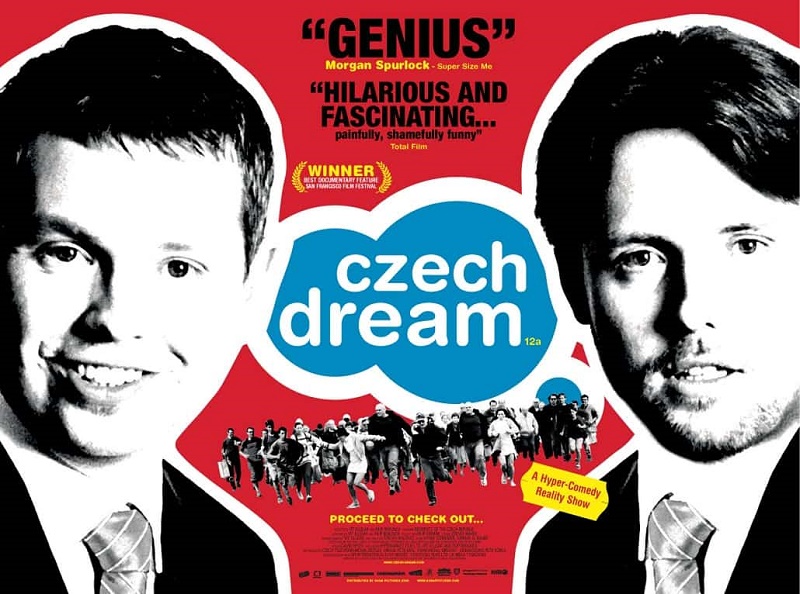 The students made a very interesting point and study on how the growth of advertising and marketing – almost everywhere – influences our decision making and behaviors in an age of rampant consumerism. This film is best summed up by an article in the Economist where they state "The practical joke, which took place last summer, was so vast and baffling as to verge on surrealism. It made the headlines for days and fed debates about whether the Czechs' post-communist fascination with consumerism was undermining society, and whether other publicity campaigns—notably the one under way at the time in favour of European Union membership—could be equally misleading."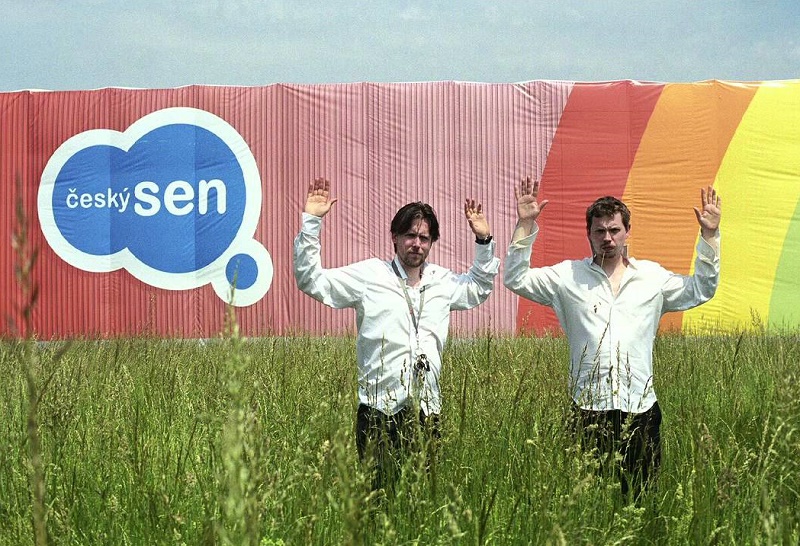 This is an awesome film to show the stupidity of some people and at the same time, it's a poignant look at how people want to believe. The filmmakers got their asses kicked – but the film made a great point.
Here is the trailer…
Do you know any other films like this?
We thought it was so creative – but the poor people who went expecting the sales…
Get your copy on Amazon today, it will surely get you thinking about marketing!
If you have not already subscribed to get TresBohemes.com delivered to your inbox, please use the form below now so you never miss another post.
---
Remember, we rely solely on your donations to keep the project going.
Become a friend and get our lovely Czech postcard pack.