Midnight in Paris is beautiful film opens with a three minute postcard styled montage of Paris, showing the iconic tourist sites filmed with a filter so colorful it almost makes the scenes look like a painting.
The artist's job is not to succumb to despair but to find an antidote for the emptiness of existence. – Gertrude Stein
There is a nice scene at Monet's gardens at Giverny and we also visit John XXIII Square (near Notre Dame), Montmartre, the Palace of Versailles, the Opéra, the Sacré-Caeur, the Île de la Cité itself, and streets near the Panthéon, and the street from which Gil is taken back into the past by the Peugeot Type 176 is the Rue Saint-Étienne du Mont.
The main character Gil finds himself in Paris with his fiancee and her family. He is a Hollywood scriptwriter who does not seem to excited by his work and instead dreams of being a great novelist. His favorite period in time is the 1920's and especially the "lost generation" which includes distinguished artists such as F. Scott Fitzgerald, T. S. Eliot, John Dos Passos, Waldo Peirce, Isadora Duncan, Abraham Walkowitz, Alan Seeger, and Erich Maria Remarque. Being in Paris, of course, he focuses on those who were in the city during the 1920s.
Just pay attention. You might learn something.
Late one evening, Gil leaves his party, a little intoxicated and wanders the back streets of Paris and gets lost. We hear the clock chime midnight and a 1920s Peugeot Type 176 car draws up beside him. The passengers ask him to join them. The car seems to transport him back in time and he ends up at a party thrown in honor of Jean Cocteau where he encounters Cole Porter, Alice B. Toklas, Josephine Baker,Djuna Barnes, F. Scott Fitzgerald and Zelda.
Later he meets Ernest Hemingway and Gertrude Stein. He also meets Henri Matisse and Pablo Picasso and falls for his mistress Adriana. But the fun does not end there, he spends some time with surrealists Salvador Dalí, Man Ray, and Luis Buñuel and then travels back even further, to the 1890s Belle Époque, where he goes to Maxim's Paris and eventually to the Moulin Rouge.
There, of course he meets Henri de Toulouse-Lautrec, Paul Gauguin, and Edgar Degas.
There are some interesting parts mixed in, like were he shows up in Adriana's book and where he gives inspiration to a young Luis Buñuel for a movie plot, which we know became "The Exterminating Angel".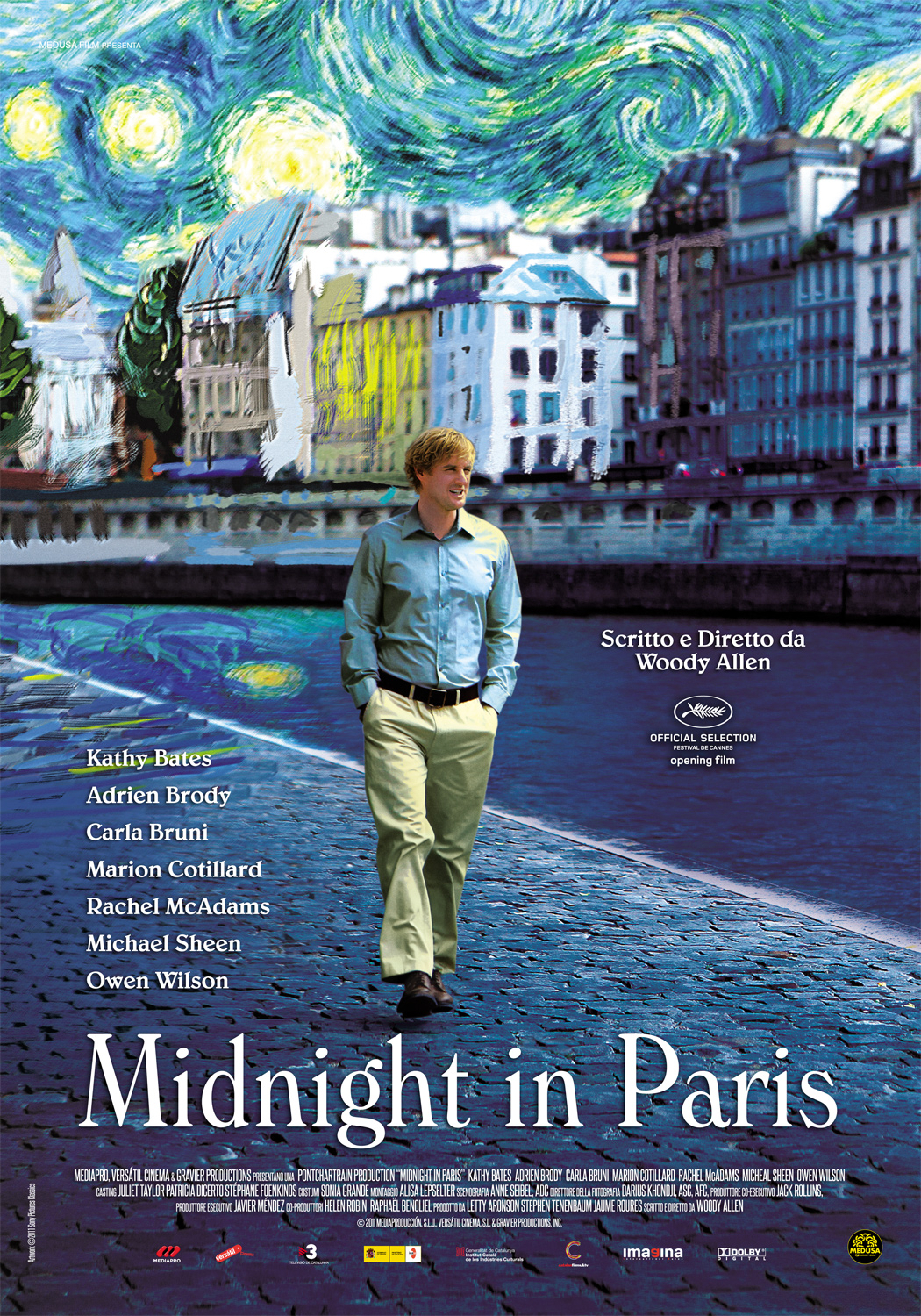 I personally hated the Paul Bates character, especially when he contradicted the Paris tour guide at the Rodin museum. His character was insufferable and made it painfully obvious why the French do not like most Americans. The only character I loved to hate more than Paul was Inez, Gil's fiancée and her parents. These people just took away from the film. I understand that it was to formulate a contrast in Gil's life but I personally would have just had Gil take this adventure alone, completely without these other people in the film at all.
Of course, being a Woody Allen film, I understand why they were there. Inez is the most unsupportive, rude, arrogant, selfish and unfaithful. She even admits to sleeping with Paul "a couple of times" and waves it off as some meaningless fling and tells Gil to get over it.
I was happy that he connected with the gal who sold things from the past and that her character brought Gils story full circle with telling him she loved to walk in Paris in the rain.
Watch the trailer.
In a word, this film was enchanting…
If you have not already subscribed to get TresBohemes.com delivered to your inbox, please use the form below now so you never miss another post.
---
Remember, we rely solely on your donations to keep the project going.
Become a friend and get our lovely Czech postcard pack.