Today's post is about the Czech connection to September 11, 2001. There are several Czech connections to the tragic events that happened that day we all remember. The truth is that nobody who still has a memory can fail to forget where they were the first time they heard about the attack on the World Trade Centre on September 11th 2001. It was this generation's "where were you when President Kennedy was shot" moment.
On September 11, 2001, nearly 3,000 people were killed in a terrorist attack on The World Trade Center in New York. Two Czechs, who were in the World Trade Center building at the deadly moment, also died. They were Alena Sešínová and Lukáš Rambousek. Strangely enough, neither of them should have been there when the towers collapsed.
The only known video of both planes hitting the Twin Towers was made by a Czech immigrant. A Czech flag was found in the rubble of the collapsed towers. And in the Czech Republic right after the attacks occurred, there was a solemn response on Sept. 13, 2001, when all of the church bells rang across the whole of the Czech Republic. People left flowers, candles, and notes in front of the U.S. Embassy in Prague. Then-President Václav Havel expressed solidarity with the U.S. and said the event was an "attack on freedom and democracy."
Today we remember…
Remembering Alena Sešínová
Alena Sešínová was born on June 16, 1944 in Prague, but spent most of her childhood in the Central Bohemian village of Karlštejn, where her grandmother and grandfather lived.
She worked at Marsh Insurance Company. She was offered a job in their computer tech department which was located on the 94th floor of the North Tower of the World Trade Center. When the first of the planes crashed into the North Tower on Sept. 11 at 8.46, Alena shouldn't have been there. She had gone in early to check out the computer networks because she liked her job so much and was passionate about her work.
The following article appeared at Cesky Dialog website. It was entitled, The story of Czechoslovak exile Alena Sešínová, who perished in the World Trade Center. It was written by Jan Krondl of Brooklyn, New York.
I've translated it here for you.
Alena Sešínová was a typical exile who left Czechoslovakia after the occupation in 1968. She struggled as hard as she could, doing everything to  get a foothold in the free world. When I went to visit her longtime friend (and life partner) Barbara Cattano in the morning to tell me more about her, I happened to have the tape in my car set to the song mentioned in the introduction. I believe that Alena would like her, because according to everything she told me about her, Alena was a cheerful and sociable person who liked life and music, mostly Karl Gott, but also Charles Aznavour and the music of the 60s in general, "None of what's playing today," as Barbara said.
Alena left Czechoslovakia in 1970 and did not tell her family or her brother Peter where she was going, so as not to get them into trouble in case of interrogation. She took the train to Paris, even though she didn't know a word of French. She worked there as a family's maid and housekeeper. "Although," as Barbara said with a laugh, "cooking and cleaning were not her forte". The lady she was employed by was kind to her and not only did she not  fire her, but she herself allegedly taught her these skills.
After a year in France, Alena saved up for a trip to the United States. In America, she struggled similarly at first. She lived in the Bronx with three other people and worked in a factory adding handles to women's purses—even though she was an information technology engineer at home. She took English classes at the Junior Women's League and eventually got promoted. She got a job at Macy's department store making sandwiches at the buffet. Sometimes she didn't understand what kind of sandwich a customer wanted, but she solved it simply by giving him tuna, whether he liked it or not… (This story appeared on October 16, 2001 in the New York Times, in an article about Alena called "When In Doubt, Serve Tuna").
She eventually saved enough money to enroll at Borough of Manhattan Community College, where she majored in computer science. From then on, her life began to improve. She worked as a programmer and later as a systems analyst at the Marsh Insurance company on the 96th floor of the World Trade Center.
She and Barbara Cattano visited Czechoslovakia before the revolution. Since the revolution, Alena went there 2 or 3 times a year. They traveled all over the world together. Barbara Cattano, a petite, brown-eyed lady whose Italian surname suits her, has a house full of Czech crystal and porcelain. It is said that at one time she and Alena wanted to set up a store with these products in New York.
They had a lot of plans—for example, they were planning to buy a house by the sea. But Brighton Beach in Brooklyn—where I live—was out of the question because Alena still hated Russians, who are at home there.
Alena lived in a 7-room apartment in Brooklyn Heights, one of the most expensive neighborhoods in New York. She attributed her ingenuity, persistence and tenacity to her mother, Johanka, who always told her that she could do anything she wanted in life.
Barbara Cattano is the executor of Alena's last will and testament, and you can see that she takes great care of this joyless task. To say goodbye, she gave me a small gift package that was given to everyone who attended the memorial service for Alena which she organized for her. It has a small American flag, hot candies, two beautiful seashells and a small bottle of vodka with a collapsible plastic glass.
It is said that Alena never learned proper English, for many years she thought that the popular song "Cherish" was about cherries. But she felt happy and content here. She even drove around with an American flag in her car, as another longtime friend of hers, Nanette Shaw, recalled in her obituary published in the New York Times.
She said that this land gave her life.
When I got home, I checked the dictionary to find out exactly what the word "cherish" meant. I knew it had something to do with love, but I couldn't translate it. Otto's dictionary from 1922 translates it as follows: "to love, to cherish (in love, in the heart)". I firmly believe that this is what the Lord God is doing now for Alena.
Alena Sešínová may not have known the exact meaning of the word, but her family, relatives and friends know it, as do all of us, who also went through a time when everyone served their own "tuna" to everyone we didn't understand.
Alena Sešínová, a member of the exile wave after 1968, lives in our hearts.
A symbolic grave of Alena Sešínová is located in the cemetery in Karlštejn-Budňany.
Alena Sešínová at 911 Living Memorial.
Remembering Lukáš Rambousek
Lukáš was only 27 years old when he died. Lukáš Rambousek was the grandson of writer Ota Rambousek. (The author who participated in the struggle for radio during the Prague Uprising. After 1948 , he went into exile, where he began to cooperate with the foreign anti-communist resistance.) Lukáš should not have been at work on that deadly day, but his boss had asked him to arrive an hour earlier.
He was a temporary worker at brokerage firm Cantor Fitzgerald, via United Staffing. The office was on the 103rd floor of the North Tower of the World Trade Center. It's where he held the temp position of computer technician. Cantor Fitzgerald was located on the 101st to 105th floors. None of the employees present survived the terrorist attack. Nearly 700 of his colleagues at cantor also died along with Lukáš Rambousek.
He inspired to be a great disc jockey one day. Luke, as he was known to his American friends, would sometimes spin records as a D. J. at a Brooklyn dance club during his off-hours.
Every year in late September, Lukáš Rambousek would invite his friends to his parents' vacation house in the woods in Pennsylvania. They would sleep in tents or in a trailer. They'd eat junk food all day and at night Lukáš would spin trance and dance records.
Four minutes before Flight 11 hit his building, Lukáš, a fan of throbbing techno and trance music, had sent an e-mail to a friend about the upcoming Junkfest, an annual all-night music-and-junk-food party at his parents' place in Pennsylvania, for which he had served as D.J. for years. He practically lived for the Junkfest; he would often practice two hours a day for it in his home studio, using two turntables and a mixing board. Junkfest grew out of the parties that Lukáš had at his parents' house in Williamsburg, Brooklyn, just about every Friday.
"It was the best thing," said Jesica Vilett, his longtime friend and sometime girlfriend. "Five or 10 people in the apartment and Luke in the bedroom with his turntables."
Lukáš, who was working as a computer temp at Cantor Fitzgerald on Sept. 11, was obsessed with what his mother, Jindra Rambousek, calls "that crazy music" — techno, trance —  anything with a huge beat. He once worked as a quality-control checker for a record-pressing company, listening to CD's all day long.
Junkfest 2001 was scheduled for Sept. 28. Mr. Rambousek's father decided it should go on, as a tribute to him. A big bottle of dandelion wine, made by father and son, sat on a table in the trailer. "We were all sitting around the fire and I went into the trailer and got 12 cups out," Ms. Vilett said. "We all packed into this little trailer and we all did a little toast to Luke. It was good. The wine messes you up. It's got a bitter aftertaste."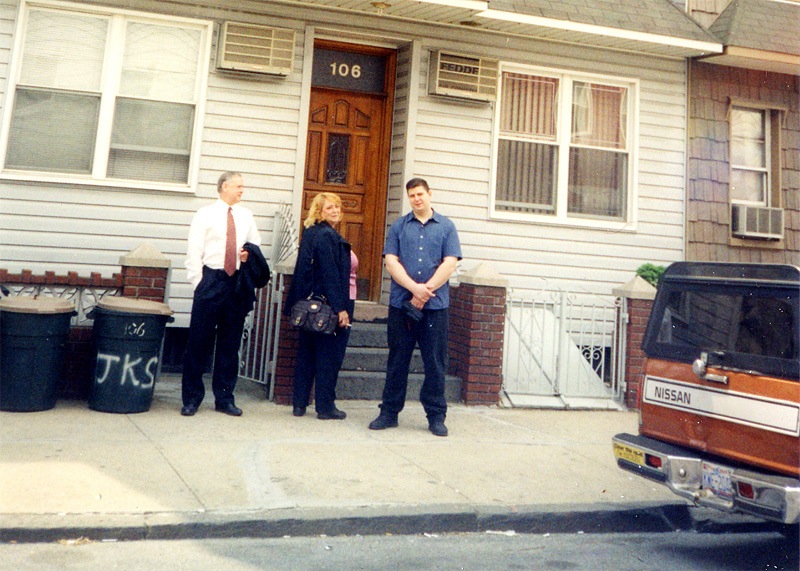 The following is excerpted from Watching the World Change, by David Friend.
The world was able to witness, understand, and respond to the horrors of September 11 largely through the medium of photography. The 9/11 attacks, in fact, were the most widely observed breaking-news event in human history, seen that day in still photos, on the Internet, or on television by an estimated two billion people, nearly a third of the human race. The following is the tale of one man, Mike Rambousek, who lost his son Luke that morning, five years ago this month. Rambousek, oddly enough, was able to channel Luke's memory through the power of a single, horrific picture.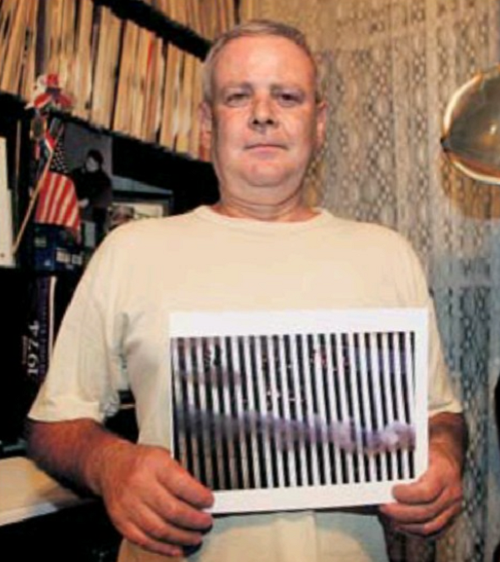 Mike Rambousek sits in front of his Hewlett-Packard computer, pulling up a chair for a visitor. He fiddles with a file on the desktop and clicks on a photo, the one that he says is "not a bit pleasant." It shows people standing in the windows of the north tower of the World Trade Center a few minutes prior to the building's collapse.
Before discussing the picture, though, he stops to talk about waking up on September 12, after the longest day of his life.
That Wednesday, Mike Rambousek arose, alone, in his cramped Brooklyn apartment. His wife, Jindra, was at their summer mobile home, in Damascus, Pennsylvania, unable to return to the city because of security roadblocks. Lining the apartment's walls were his and Jindra's collections from their native Czechoslovakia: delicate marionettes, antique clocks, and coffee cups, some dating back 150 years. And there, near the far window, were row after row of vinyl records that their son Luke would spin as a D. J. at a Brooklyn dance club during his off-hours. For a day job, Luke, 27, was a computer-maintenance temp at eSpeed, a Cantor Fitzgerald subsidiary, working on the 103rd floor of 1 World Trade Center. The Rambouseks' apartment was quiet that morning, and Luke's bed was empty.
The day before, says Rambousek, "I saw the picture [on TV] at nine o'clock. People thought, Cessna. I called Luke's office and the phones were ringing. And I thought, He's O.K. I'll go pick him up and bring him lunch." Mike assumed that the office would dismiss Luke after a plane accident, so he packed the usual—pepper steak and diced watermelon—and planned on sharing a meal near the towers, to be followed by a "walkabout," as Mike called it, a ritual stroll around the nearby streets that father and son had enjoyed for years.
Mike and Luke were especially close. Both were enamored of electronics; Mike, now 59 and retired, had been a computer-systems engineer. Both worked in the World Trade Center—Mike during the 1990s, Luke starting in early 2001. Both revered Mike's father, Ota, a virulent anti-Communist, now in his 80s and living in Prague. Ota, who had taken part in the Prague uprising against the Nazis, in 1945, had been jailed after the war on charges of spying for the U.S. He would later take part in the reform movement during the Prague Spring, of 1968. Following the Soviet crackdown that year, he escaped to Italy, then to the States. (Ota would later be decorated by President Ronald Reagan "for his outstanding patriotism.") Having faced down both the Nazis and the Communists, Ota encouraged his son and grandsons, Luke and his older brother, Martin, to take challenges head-on, and to stand up for their principles.
Only one other period in Mike's and Jindra's lives had been as long and as anguished as September 2001 would prove to be: a stretch in the late 1970s when they were stripped of their Czech citizenship, forced onto a plane, and eventually allowed to immigrate to America. "I had a quite decent job as a chemist, but they tried to put me into the slammer," Mike recalls. Neighbors and strangers turned out to be informants, he says; potential promotions were quashed. "Because we were relatives of American spy," he says, "we were on the top of party shitlist." His existence in those days had seemed like a passage torn from Kafka or Solzhenitsyn.
On Tuesday, September 11, Rambousek re-entered that world of the surreal. On his way into Manhattan, at five minutes past ten, he became trapped in his subway car, which had stopped at the Fulton Street Station, a block from the World Trade Center. He was disoriented when he saw that the station platform was completely empty. "It was suddenly pitch-black," he says. "People tried to stay cool, but it was getting hot in the train. Smoke was getting in, too. People began banging on the driver's door." The darkness, he later calculated, coincided with the collapse of the south tower. Over the next half-hour, the passengers in his car managed to exit and make their way toward a turnstile. As they reached the stairway, Rambousek heard a woman yell, "Oh, my God, we're going to die here." The north tower, it turned out, had just caved in. "It was like somebody [took] a bucket of ashes and just pour it on me," he says. "If you remember these figures from Pompeii—I thought, that's how we're going to end up." In the black squall of ash, a powerful sensation overtook him, he says, his eyes welling up at the memory of it. Groping up the stairs on his hands and knees, he recalls, "I suddenly got a feeling that Luke's gone. We didn't know that the tower had gone, but I suddenly knew [about Luke] somehow. There must be particles of him in that stuff we are breathing there."
Rambousek says he reached into his lunch sack and squeezed the watermelon into his shirt in order to breathe through the wet cloth. He then emerged near a church, hoping to set out again to find Luke, though sensing the search would be futile. He did not find Luke. Nor did he find out what really happened to Luke, he contends, until several months later, when he came across an image on the Internet.
In silence, he sits at his screen, four years after the attacks. He clicks his mouse and calls up the picture. It shows some three dozen Trade Center occupants, having smashed through the glass, standing clustered on windowsills on the north side of the north tower. Many seem to be straining for air. Some have collapsed, possibly dragged to the windows. Others appear to be propped up by colleagues. A thin ribbon of smoke, blown sideways by the wind, rings the building like a lasso. The tall wall panels that separate the window banks give the impression that these figures are clamoring at the bars of a prison. The hazy shapes, and the exhaustion and desperation in the faces, evoke Dante.
"I suddenly got a feeling that Luke's gone… I suddenly knew."
The photo was a revelation—even to the photographer. "I didn't know I had that picture until I blew it up on my computer," says Jeff Christensen, a freelancer for Reuters, who took the shot with a 300-mm. lens from six blocks away. "It's only about one-tenth of the original [frame]. In the whole image you can see where the plane went into the building." Christensen, whose shot ran in various publications before being largely relegated to the Internet, estimates that it was taken at a horrendous juncture: 15 minutes after the south tower fell and 15 minutes before Luke's building would do the same.
Though Rambousek has no idea how his son met his end that day, he has this remnant. The picture seems blurry, Rambousek having used Photoshop software to enlarge the image to its grainy limit. He holds up a digital print and points to a smudge in one of the precarious perches. It shows a man with Luke's dark-brown hair, stocky frame, bare upper torso.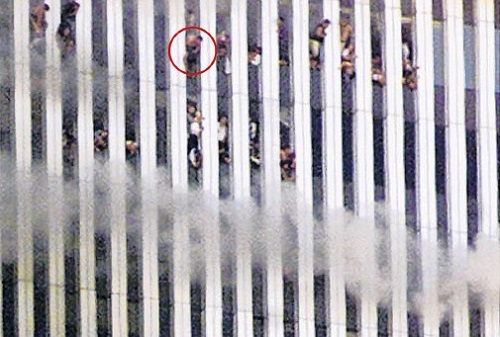 Luke, his father posits, might have removed his shirt in the extreme heat, or used it to help a colleague handle the smoke. He believes the photo reveals Luke cradling a woman who has passed out.
Luke would not have jumped, his father reasons; he was too altruistic a spirit. "He was holding somebody, so he wouldn't [have] quit," says Mike. Jindra agrees. "He had a gold heart," she says. "He was always like that. He was helping everybody, giving $20 when he got paid to [an old woman] down the street."
She insists the figure is her son. "He used to lift weights," she says.
"He got very big shoulders. Sometimes if I forgot keys, he threw them out on the street without [wearing] a top. So he leaned out the window and he'd throw keys—in [that] same position."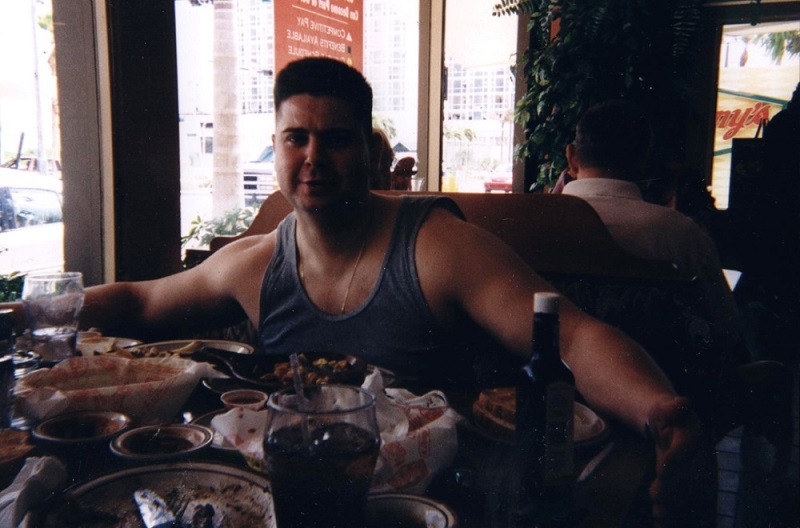 The Rambouseks sound neither irrational nor dogmatic. They just believe what their eyes and hearts tell them. They claim to have tracked down other images and, counting story by story, the figure in Christensen's shot seems to be located on the 103rd floor, where Luke had reported for work on September 11, an hour earlier than usual.
Such digital detective work was not uncommon after the attacks. In the absence of any hard information about their loved ones, some families tried to contact news photographers, hoping to find glimpses of their relatives in unpublished frames or in blowups of pictures they had seen in print or online. Jean Coleman, a real-estate agent from Westport, Connecticut, believed she could see her two sons, Keith and Scott— both of whom worked on the floor above Luke's—in Christensen's picture. "Who knew what [we] were looking for?" she says. "I guess for me it was important to have a sense that they didn't go into oblivion, that the essence of the person you knew was somewhat intact…. I do a lot of soul-searching: Do you think this picture was Scott or do you want it to be Scott? [The figure that looks like] Keith, sitting back, inside the building… his posture, and what you intuit from the picture, spoke to me as Keith."
Mike Rambousek, staring at the same image, says he has never received even a trace of his son's remains. "This the closest place to him." Despite its gruesome reality, the photo, he says, affords him neither comfort nor closure, but a kind of stark certainty. "Before this picture, he was 'Hi, bye' in the morning, and just vanished. At least we [now] have some idea. For almost an hour and a half they were surviving and hanging out the windows, waiting, waiting."
Photography, in other ways, has helped Mike Rambousek begin to accept Luke's loss. Soon after 9/11, Rambousek was out of a job. He says he struggled to hold on to his rent-stabilized apartment; went on disability; sought treatment for anxiety. In the course of his counseling he started to carry around an Olympus D-490, he says, "to keep my mind off things and to keep me busy and to keep my mind on things." He uploaded pictures to his computer; he created photo albums to share with his counselor. "Nine-eleven," he says, "pushed me to create something—something people like to look at." But always he came back to memories and photos of Luke, and of the tragedy itself.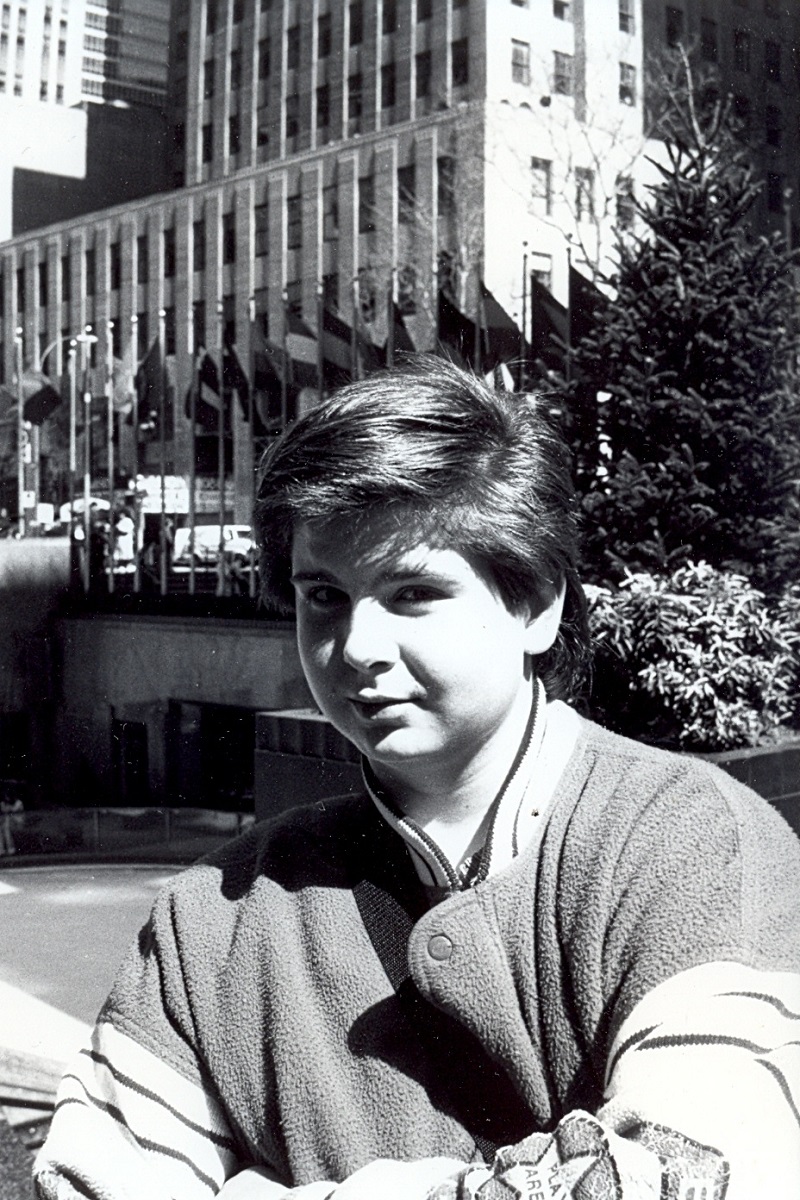 He would listen to Luke's music and, trawling the Internet, would collect pictures of devastation and regeneration.
Four minutes before Flight 11 hit his building, Luke, a fan of throbbing techno and trance music, had sent an e-mail to a friend about the upcoming Junkfest, an annual all-night music-and-junk-food party at his parents' place in Pennsylvania, for which he had served as D.J. for years. Luke practically lived for the Junkfest; he would often practice two hours a day for it in his home studio, using two turntables and a mixing board.
These news photos are Mike's sackcloth and ashes.
Rambousek slips in a DVD and double-clicks on a desktop icon. Up springs a music video, edited by Mike himself and set to a soundtrack from one of his son's favorite trance songs. Pictures skitter along—the Twin Towers in fleecy clouds, twinkling at night, orange at sunset—playing off the melancholy strains of a techno version of the old standard "Autumn Leaves."
News photos begin to barrel across the monitor. The plane attacks, smoke spills out, bodies plummet. Each frame, plucked from the Web, is pin-sharp, hi-res, technicolor. Tugged taut against an electronic backbeat, one picture pulses up for one to three seconds, then twirls into the next, like a horror-theme thrill ride. The refrain weaves in mournfully, in counterpoint: "But I miss you most of all … my darling / When autumn leaves … start to fall." And then come the faces in split-second flashes. Osama bin Laden. Mohammed Atta. Lukas Rambousek. Osama, Mohammed, Luke. Luke's track blaring: "But I miss you most of all … "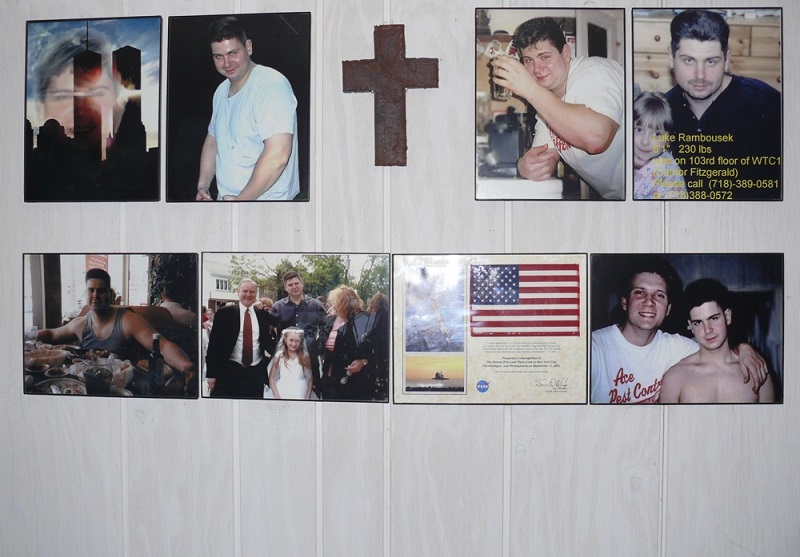 Six minutes and eleven seconds of black clouds and orange flames, terrorist headshots and figures crouched in windows. Then the Twin Towers in fleecy clouds. Then silence.
Rambousek spent three months making the video. "Days, nights, months," his wife says, with a note of pity. But what has driven him to burn such visions of violence onto DVD? "I didn't want a shrine," he explains. "I've seen a lot of memorials. Everybody's making shrines, candles, and playing 'touchy' music. So I said, 'Let's make it to Luke's music [from his] all-night rave parties."
At first, one wonders if Mike hasn't dropped down a hole, obsessively re-envisioning the particulars of Luke's death. Perhaps he is "stuck" in the trauma of the subway car. Instead, the more we talk, the more I see these news photos as his sackcloth and ashes, harsh scenes he must revisit in order to accept them and move on. Luke's music is Mike's blues. "It's my personal view of it," he says of the video. "We better remember it was dirty. It was smelly. Probably a reason for this view is my experience in the subway. Bin Laden is [the] guy we're chasing around, unsuccessfully. The video should remind people he was there in the first place. I get a feeling that officials in government are not crazy about showing these pictures. I think they want people to have idealized memories of it. Everything's clean, [everything's] flags. But people should see how it really was."
The blues, said Ralph Ellison, "is an impulse to keep the painful details and episodes of a brutal experience alive in one's aching consciousness, to finger its jagged grain, and to transcend it." Luke's techno blues, and these high-tech pictures, have helped his father conquer his own demons by consuming them. Once he takes it all, digitizes it, paces it, makes it his own, he emerges, empowered, at the other end. This is how Mike's father, Ota, might have stared this devastation down.
Mike inserts a second disc. This one—a slide show of 70 shots— recounts Luke's life in pictures. Baby photos, first haircut, first trip to the Trade Center. This time the music is transporting, enveloping. Appropriately, Mike has chosen Dvorak's New World Symphony. And Luke is beaming in the photos: at his graduation, on vacation, spinning discs at Junkfest. With a crescendo comes Luke's death certificate, his ID picture, a hazy figure trapped in a window cradling a woman's limp frame. The New World plays on. And Mike and his guest watch and listen, together, in tears.
Excerpted from Watching the World Change, by David Friend.
Lukáš Rambousek's body was never found. His father, Michael Rambousek passed away on December 2, 2019.
This is a video of Lukáš. It's heartbreaking.
Lukáš  Rambousek at 911 Living Memorial, on CNN.
Jiří Boudník, the Czech that Survived
Architect Jiří Boudník survived the attacks on September 11, 2001.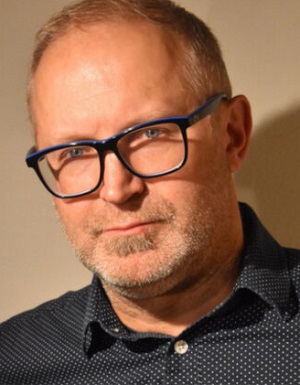 Jiri Boudnik, born in Pilsen, emigrated from the Communist Czechoslovakia in 1987, just turned seventeen, with his mother and ten year old sister. They arrived in the USA in 1989. Jiri was educated first as an artist at the Munson Williams Proctor School of Art in Utica, NY, and later transferred to The Cooper Union in Manhattan, where he received his degree in architecture. He later worked as a structural engineer and architect on many New York high-rise buildings, including NYU Palladium and the Federal Courthouse in Brooklyn.
On the morning of September 11, 2001, Jiří Boudník was working across the East River from the World Trade Center, on the Brooklyn side of the Brooklyn Bridge. He wanted to warn rescue teams of a potential collapse of the World Trade Center Towers.
"I was working as a project manager for a big construction company. We were building a federal courthouse in Brooklyn, and that day, we had our meeting with the subcontractors. When I received the first phone call that someone flew into one of the towers, which at the time looked like an accident, I didn't pay any attention to it. And I said, I will call you later. Fifteen minutes later, the superintendent of the building busted the door open and ordered us to evacuate the building, because it was a federal building, a potential target.
"And when I left the building, I saw the towers on fire and realized that there may be some partial collapse. I remembered that eight years ago, in 1993, I had gone to visit someone who worked in the World Trade Center, and all the fire trucks and ambulances were parked right underneath the buildings.
"So that flashback came to me and I realized, someone has to go and warn them. The first tower fell when I was halfway over the bridge, I had decided to just grab my hardhat and try and warn them. And the second tower collapsed when I was at City Hall already, so I didn't make it there on time. But from the second day, I decided to help the firemen search for survivors in the debris."
In another interview he recalled, "I saw when they were burning that there would be some kind of collapse. I didn't know that they would fall down completely, but I knew at least partial collapse would happen. I was concerned about all the fire trucks and police cars rushing towards the towers."
Crossing the Brooklyn Bridge on foot, he reached the World Trade Center site too late.
"There were thousands of people walking in the opposite direction, against me."
"When I finally reached City Hall that's when the second tower collapsed. There was dust everywhere, so I couldn't get through to the Center. At that point it was kind of… pointless, it was too late."
In the early hours of the next day, he helped recover bodies and began surveying surrounding buildings for collateral damage.
"The next morning I went back to my construction site and we got together a group of engineers and construction workers and convinced the police officers who were guarding the bridge to escort us to the WTC. We told them we were coming to help clear the debris and in the rescue effort."
He spent six months taking part in the clean-up operation at Ground Zero, experiencing horrors that stay with him to this day.
Jiří Boudník was the man, who within days, began developing a series of 3D physical models of the 'aftermath' World Trade Center site as a communication tool for all the rescue and recovery teams involved.
"We had daily meetings at the command post. There were some engineers, crane operators, firemen who came from outside of the city. They were part of these meetings and they didn't know very well the footprint of the towers, they didn't know the subterranean level. So when they were looking at the plans they were confused. Suddenly in one of the meetings a flashbulb kind of lit up and I realized these guys need three-dimensional models, so that they can actually understand and orient themselves visually and also physically, spatially."
"The first model was a chipboard model, which was followed by a computer, 3-D digital model – it allowed explosion views, sections, walk-throughs, animated views. That model was helpful. Obviously it was not instrumental in finding anybody alive, because at that time we knew everybody was dead. But it was helpful in placing some of the heavy equipment, cranes, on columns that were still physically intact. In the computer model they were noted as green, whereas the compromised columns, those that were somehow damaged, were in red. We were able to rotate the model, and decide what the best location for some of this heavy equipment was."
As a form of a PTSD therapy, he wrote the book Towers – 9/11 Story, recently published as an audiobook narrated by Daniel Hauck. It includes the voice of an FDNY fireman, Tiernach Cassidy, who saved thirteen survivors out of the Towers' debris. The book by the Czech-American architect and author Jiří Boudník is described as a love letter to the New York City and its people.
"The book has three layers. The first layer is written from the point of view of an architect who loves New York City, the history of the island, its people. And that is the kind of the basis of the book, the rigid structure. And on top of that is really what happened on September 11th and the months that followed. This is I would say the meat of the story. And then there is a third layer, which is a layer of dreams, because we all had dreams. The fact that we were inhaling some bad fumes there, maybe some of us had hallucinations, but it certainly affected our dreams, and we shared them every night, after our work at ground zero, when we would go to a bar and talk about that."
Remembering that day, Jiří Boudník says, "There was a lot of chaos. I think some of the top ranks of the police and fire people were lost, with the collapse. So the chaos was sort of compounded because the people who came to the rescue after were kind of second-tier people."
"I saw the debris, but also I saw body parts and among the debris, and that's something that still haunts me, whenever I think about it. I have trouble sometimes watching movies where there is a lot of violence and blood, because I always get flashbacks to the images… We had to pick up the body parts, we couldn't just leave them lying among the debris. We had no choice, we just had to get gloves, plastic bags and pick them up. I still have flash-backs to those moments."
"In the months and even years after 9/11 I've experienced a mixed bag of feelings. I feel bitter, I feel proud, I feel disgusted, I feel honored. It kind of fluctuates from year to year, especially when it becomes commodified as an…event. There are souvenirs being sold with 9/11 images – I kind of cringe. Those who make decisions at the government level have the opportunity to use it for their benefit. So I'm bitter about the fact that it's being misused and somehow cheapened."
"At the government level…I think the idea of patriotism and pride is being exploited. Because this is first and foremost a tragedy. These were civilians who didn't ask to be killed and died horrible deaths. I saw people jumping out of the windows and I realized what heat they had to…they had to decide, OK, I'm going to jump…So this kind of tragedy should not be exploited as it is now."
Below, you can watch Unsung Heroes which aired on ABC News.
(From the video: Jiri Boudnik and Michael Bellone, two volunteers at Ground Zero, the WTC site after the collapse of the Twin Towers. Their work protected lives during the rescue and recovery as well as the debris removal process. ABC News has produced this piece called UNSUNG HEROES, introduced by Peter Jennings and produced by Michele Norris in 2002, for the first anniversary of the 9/11 attacks on the World Trade Center in New York.)
Question – What is it like, after having been a New Yorker for so many years, to be here on this day?
"Actually, it helps me to be away. For the past eight years, I cannot bring myself to go to Ground Zero anymore. It is a totally different place, it doesn't feel like Ground Zero and it is a connection that was completely severed by the clean-up and the rebuilding process. So I keep Ground Zero more in my head, in my memories and my relationships to some of the firemen and engineers I know from that time. We are still good friends. So Ground Zero for me exists more in my heart, in my head and in memories."
Below is a recording of a Zoom presentation by Arch. Jiri Boudnik. It was moderated by Christopher Harwood, president of the New York chapter of the Czechoslovak Society of Arts and Sciences in New York (on Sept 11, 2021).
Since 9/11, Boudnik has worked as an architect, specializing in high-rise residential buildings in Manhattan. He has recently relocated to Pilsen, Czech Republic, working as an architect and a designer for Czech and American clients, keeping close ties to New York, his second home.
Sources:
A Czech Flag was Found in the Rubble of the Collapsed Towers
Below is the Czech Flag which was found amongst the rubble of the World Trade Center by the New York Police Department. The NYPD presented the flag to representatives of the Czech government in 2006. The flag was then restored in the Czech Republic and is now proudly displayed in our historic Bohemian National Hall in New York.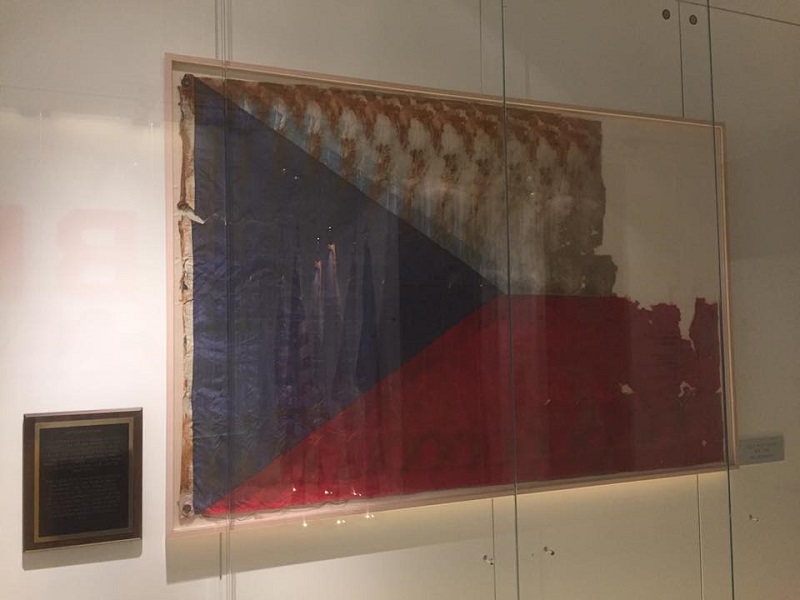 Czechs have always been with America in that hard time and always will be.
Pavel Hlava Captured Both Plane Impacts
The only known video of both planes hitting the Twin Towers was made by Pavel Hlava, a Czech immigrant who was making a video of his journey from New York to Pennsylvania for a job. The video didn't become public until 2003. Pavel Hlava was filming the Twin Towers by chance as the first plane hit, and didn't even notice what had happened. By the time he and his coworkers emerged from Brooklyn-Battery Tunnel, the first tower was in flames. He continued to film as the second plane flew almost overhead and hit the second tower.
From the Baltimore Sun:
They did not see the airplane streak across the corner of the video camera's field of view at 8:46 a.m. But the camera, pointed at the twin towers from the passenger seat of an SUV in Brooklyn, kept rolling as the plane disappeared for an instant and a billowing cloud of smoke and dust emerged from the north tower.
The SUV, carrying an immigrant worker from the Czech Republic who was making a video postcard to send home, then entered the tunnel and emerged a few minutes later – to the shock of the men in the vehicle – almost at the foot of the burning tower. The camera, pointed upward, zoomed in and out, and then, with a roar in the background that built to a piercing screech, it locked on the terrifying image of the second plane as it soared, like some awful bird of prey, into the south tower.
It was not until almost two weeks later that the worker, Pavel Hlava, even realized that he had captured the first plane on video. Even then, Hlava, who speaks almost no English, did not realize that he had some of the rarest footage of the World Trade Center disaster. His is the only videotape known to have recorded both plane impacts, and only the second image of any kind showing the first strike.
Video is in Czech:
You can read the entire article here. The story of why the video took so long to be seen is a bit convoluted, but the language barrier seemed to have played a role. Hlava did try to sell the video just after the attacks, but seems to have not been able to communicate what he had. A bartender who had obtained a copy of the tape told someone about it, and eventually it came to the attention of a freelance news photographer who brought it to the attention of the New York Times. Hlava used the money he received from the sale of the rights to the video to return to Brno, South Moravia, where bought a flat and opened a nightclub.
We Won't Forget
Jakub Kulhanek, Czech Ambassador to the UN and Former Czech Foreign Minister, Ex-deputy Minister of Interior & Defense tweeted the following, "Alena Sešínová and Lukáš Rambousek – Czech compatriots among the victims of the terrible terrorist attacks of September 11, 2001. I bowed to the victims at Ground zero, where the WTC buildings stood."
The following three images are from his Twitter page.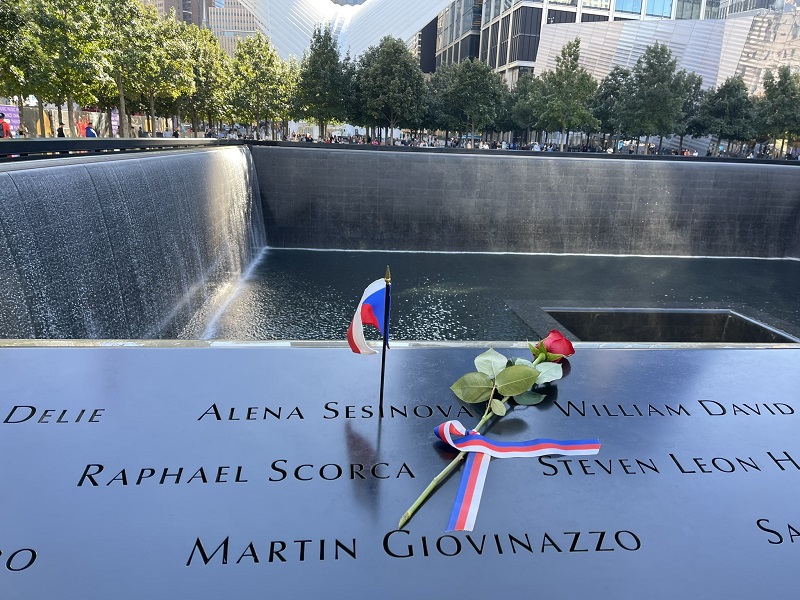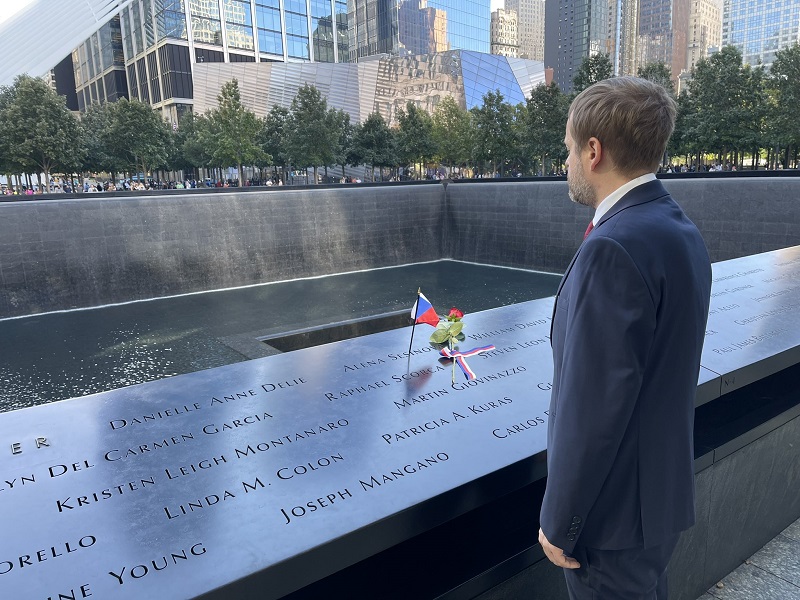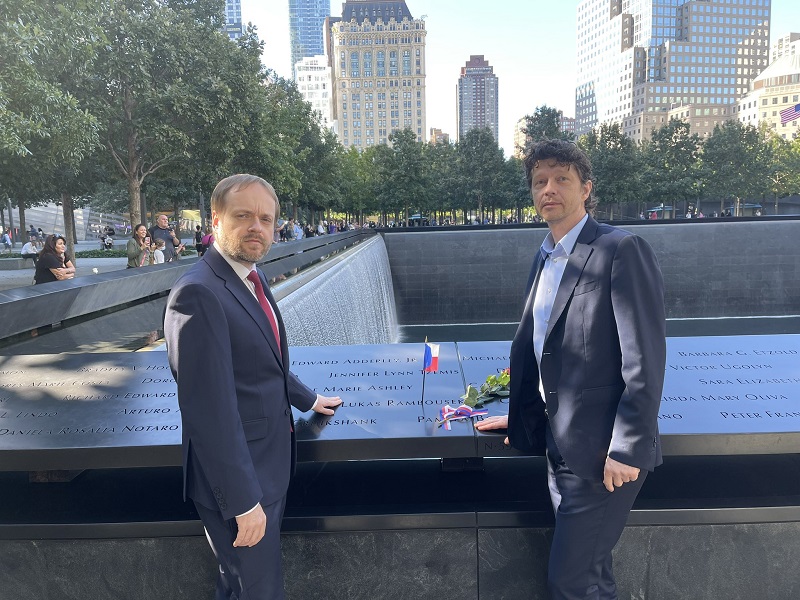 Last year, during his official trip to New York, Prime Minister Bohuslav Sobotka said, "As part of my working trip to the United States, I paid tribute in New York today to two Czech victims of the terrorist attack committed on 11 September 2001. The atrocious act resulted in thousands of casualties among people from dozens of countries around the world and foreshadowed one of the principal threats of this century. The terrorist attack in New York as well as those perpetrated in Washington, London, Madrid, Paris, Copenhagen, and many other places around the globe, have shown that security, freedom, democracy, tolerance, and respect for human rights and human dignity do not happen as a matter of course and need to be collectively defended. Terrorism is a concept that despises human life and attacks the fundamental values shared by all people in the civilized world. It is only through broad international cooperation, which includes security issues as well as prevention of radicalization and extremism, that we can in the future prevent such tragedies as the one that took place here." (Bohuslav Sobotka is a Czech politician and lawyer who served as the Prime Minister of the Czech Republic from January 2014 to December 2017 and Leader of the Czech Social Democratic Party from 2010 until his resignation in June 2017.)
Last year, Arnošt Kareš, the Consulate General of the Czech Republic in New York said, "The unprecedented terrorist attack, which caused the loss of nearly 3,000 lives in the heart of New York City alone twenty years ago, has affected the entire world and represents one of the most terrifying moments in modern American history. For each of us, it is also a personal reminder of the harrowing scenes of the fall of the two high-rise buildings Twins. Our project is also a tribute to the two Czech-born victims and a thank you to all those who put their lives on the line in the first moments after the attacks. Many of them had Czech roots."
Memorial at Kampa
The plaque is actually a metal fragment from the superstructure of the World Trade Centre. there is a website that tracks 9/11 memorials that include fragments/material from the WTC.
Location: Prague, Prague, Czech Republic
Dedication Date: September 11, 2010
Creator: Commissioned by Volunteer Firefighter's Brigade of Prague 1
Medium: Stone, metal (WTC fragment)
Description: Stone mounted with plaque metal plaque and firefighter hat casting commemorates the 343 firefighters who died in the 9/11 attack on New York.
Text: "Hasič je člověk, který žije na světě dvakrát, pro sebe a pro druhé. A právě proto je život hasiče pravým příkladem správného pochopení lidského života.
Věnováno památce 343 hasičů a záchranářů newyorského hasičského sboru, kteří položili své životy 11. září 2001.
Nikdy nezapomeneme.
Translation –
A firefighter is a person who lives two lives, one for themselves and one for others. Therefore the life of a firefighter holds a true understanding of all that is human.
Dedicated to the memory of the 343 New York firefighters who lost their lives on the 11th September 2001.
We shall never forget.
Read more about the Prague New York Firefighters Memorial at Living in Prague and Memorial Mapping.
The 9/11 attacks caused 2,977 fatalities and over 25,000 injuries as well as substantial long-term health consequences. Two commercial airliners were hijacked and forced to crash into the World Trade Center in New York. A third hijacked plane hit the Pentagon in Washington, D.C. A fourth hijacked crashed near Pittsburgh, after the passengers tried to take back control. The terrorist group al-Qaeda was behind the attacks.
Recommended Reading
Thank you in advance for your support…
We know that you could spend hours, days, weeks and months finding some of this information yourselves – but at this website, we curate the best of what we find for you and place it easily and conveniently into one place. Please take a moment today to recognize our efforts and make a donation towards the operational costs of this site – your support keeps the site alive and keeps us searching for the best of our heritage to bring to you.


Remember, we rely solely on your donations to keep the project going.
We appreciate you more than you know!
If you have not already subscribed to get TresBohemes.com delivered to your inbox, please use the form below now so you never miss another post.