Czech children love to play pexeso. Pexeso is a memory game and it really is a great family card game because you can play it with a regular pack of cards, or with picture cards that your child might like. The best part of this game is that younger players are often able to compete with older players because they can be very good at memory-based games. Truth be told—they usually win!  The objective is to collect the most pairs of cards.
These days in Prague, many of the tourist shops sell Prague or Czech-themed cards. They are usually printed on large cardstock and you can cut the 40 or 60 cards out at home. The last time we went to Prague, I purchased several sets. Today, I am sharing a set which is called, Praha. The set is illustrated by Mařenka Urbanková. It features popular things you can see and experience in and around Prague.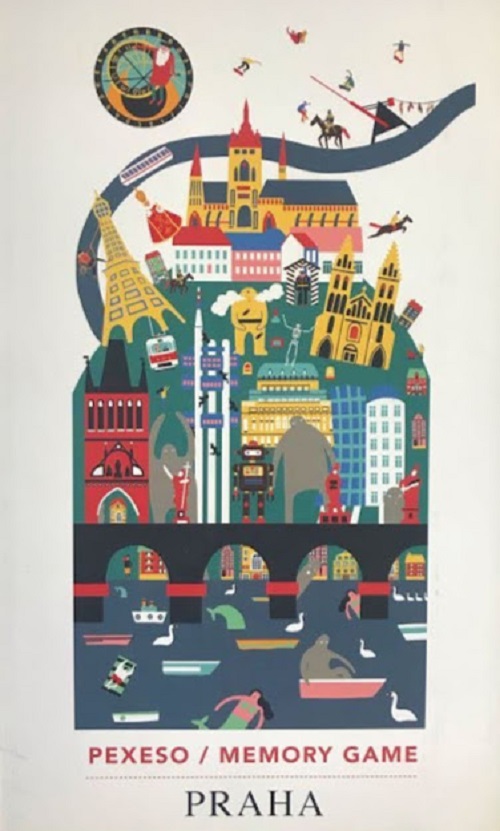 Can you identify the following from the set? Golem, Žižkov television tower, castle guard, Prague's infant Jesus, a tram, the coronation jewels, Prague castle, Petřín lookout tower, a robot (a word invented by Josef Čapek), Czech beer, the astronomical clock, riverside along the Vltava river, Vyšehrad, the National theater, the Jewish cemetery, Charles bridge, Rudolf II during the alchemy era, the Metronom at Letná, the dancing house, and of course, Vepřo Knedlo Zelo, which literally means Pork, Dumplings, Sauerkraut… Three things all Czechs love.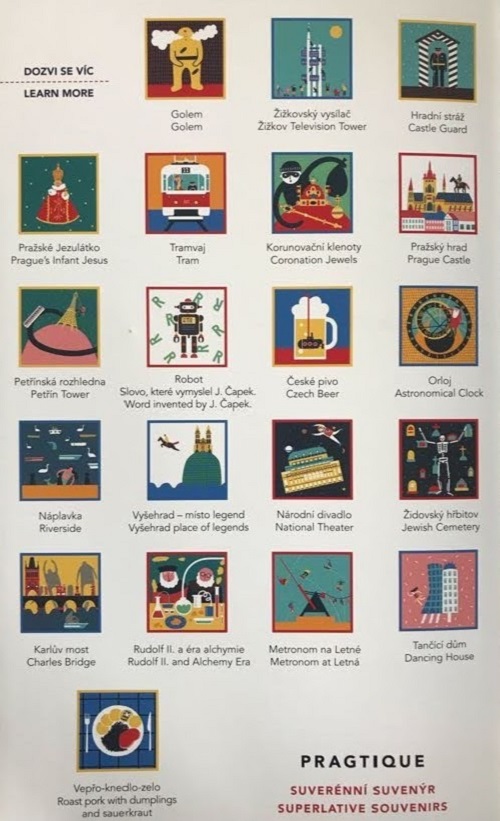 Playing the game is quick and very easy. You simply shuffle the cards and lay them on the table, face down, in rows.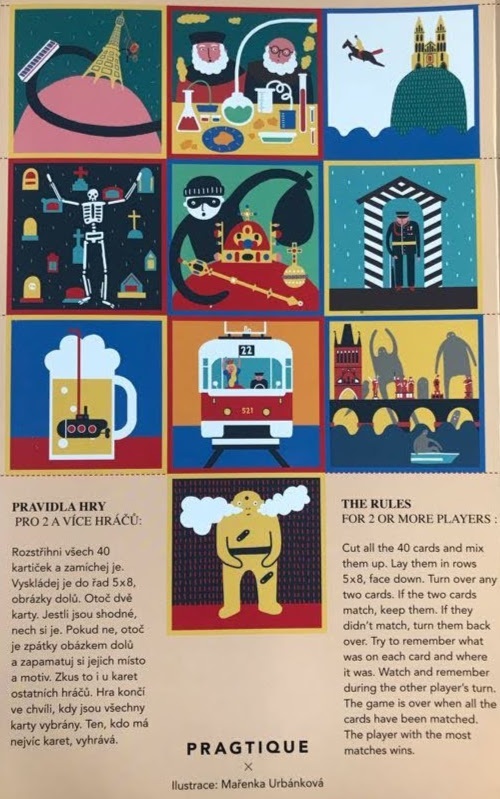 The youngest player goes first. Play then continues in a clockwise direction.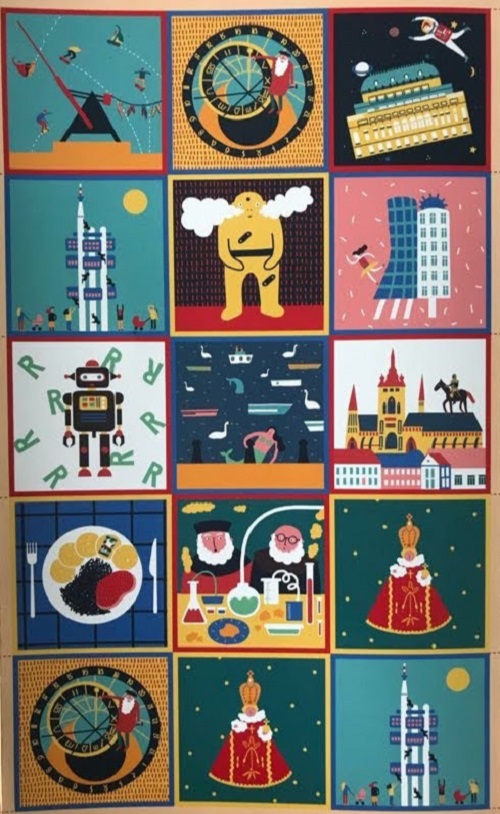 On each turn, a player turns over any two cards (one at a time) and keeps them if the cards match (for instance, two kings – and yes, you can play with a regular deck of cards.)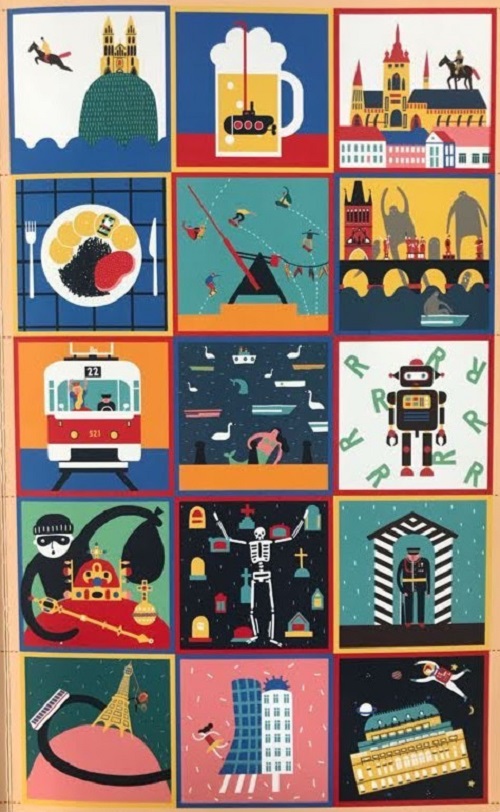 If they successfully match a pair they get to keep the cards, and that player gets another turn.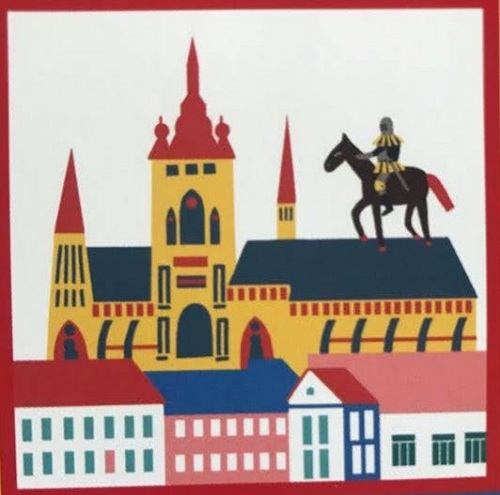 When a player turns over two cards that do not match, those cards are turned face down again (in the same position) and it becomes the next player's turn.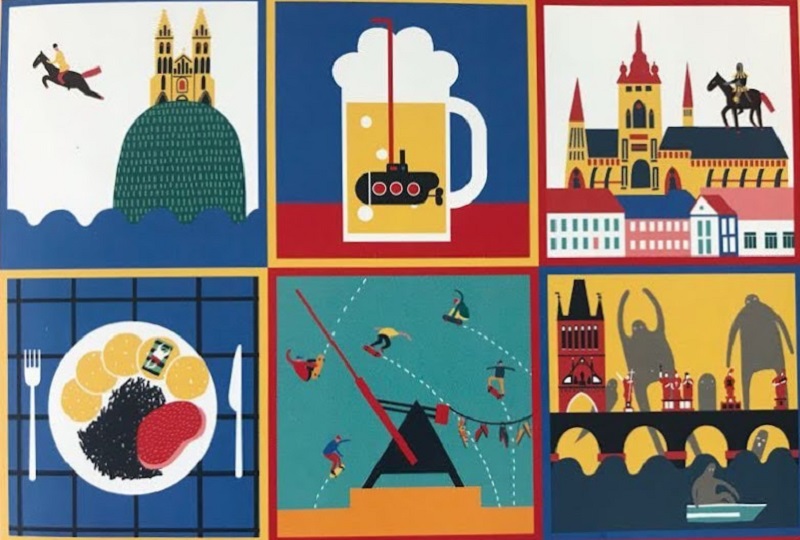 The trick is to remember which cards are where.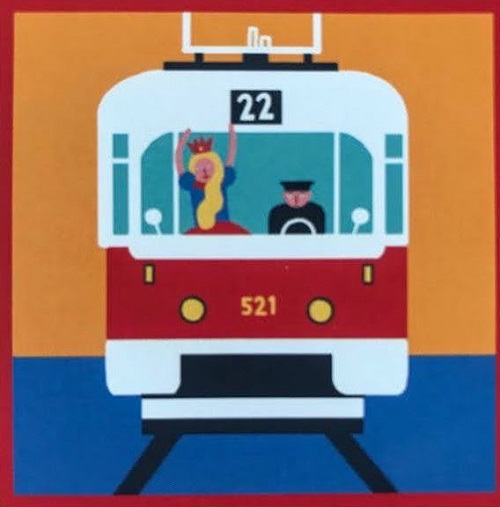 The person with the most pairs at the end of the memory game wins.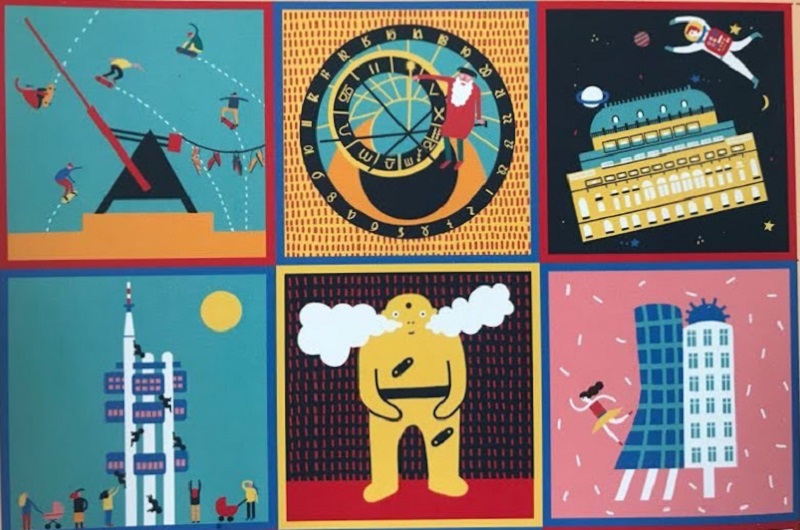 It's a very fun game, for all ages and it's played rather quickly. In English it's simply known as Memory. I grew up on this and remember making my own memory game by coloring the same picture twice on index cards, or using regular playing cards.
Later, I would use a glue stick and paste cut out pictures of things from magazines and use the picture on one and the pair was whatever the picture was, but written. Lots of creativity went into my games.
I thought these simple drawings were so cute, I just had to share them—especially going into a long 3-day weekend. I hope I've inspired you to play this memory game with your children, grandchildren, nieces, nephews, etc.
Thank you in advance for your support…
We know that you could spend hours, days, weeks and months finding some of this information yourselves – but at this website, we curate the best of what we find for you and place it easily and conveniently into one place. Please take a moment today to recognize our efforts and make a donation towards the operational costs of this site – your support keeps the site alive and keeps us searching for the best of our heritage to bring to you.


Remember, we rely solely on your donations to keep the project going.
We appreciate you more than you know!
If you have not already subscribed to get TresBohemes.com delivered to your inbox, please use the form below now so you never miss another post.