How many of you remember growing up with Czech Christmas chocolate collections? You know, the ones that came in the large box which included hooks for hanging on your Christmas tree? The chocolates themselves were wrapped to resemble all sorts of Christmas ornaments. In our house, Christmas was not complete unless we had these included on the tree.
The brand I grew up with was Orion, and to this day, not a Christmas goes by that my father doesn't mail a special package from Prague with these lovely chocolate ornaments for our tree.
This much-loved chocolate brand came into existence in 1896, when the Maršner family started a small confectionery business in Prague. The brand quickly gained popularity and within a short time represented one-third of all chocolate production in the Czech Republic.
In 1991, like many other Czech brands after the fall of communism, the company sold. It was acquired the Nestlé corporation (I'm not a fan and I've boycotted all of their products since 1992 except the once-a-year box of Czech Christmas Chocolate Collections my father sends!) Since their acquisition, the Orion brand known for craftsmanship, quality and localness, has gained even more popularity with Czech and Slovak consumers (not because they made it any better but because this global conglomerate has millions to spend on marketing!)
History of the Orion Chocolate Company
As mentioned, Orion was founded more than 120 years ago by František Maršner. By 1896, Maršner, who had devoted his whole life to creating chocolate delicacies which would melt on your tongue.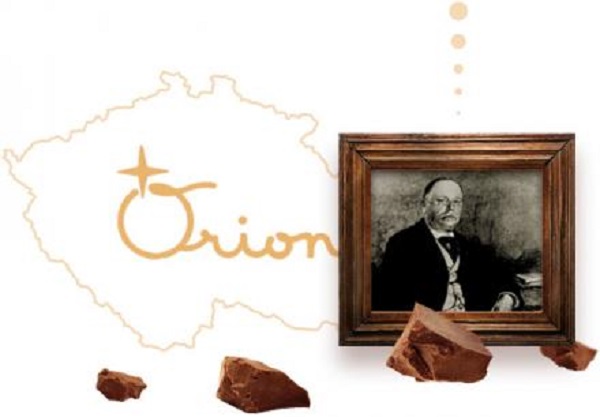 Initially, his chocolates were produced in Prague's "Orionka", and gradually the production was divided into several factories throughout the country.
Lentilky Before M&M's
A popular item they produce is an M&M's style candy called Lentiky. You know, the little round color-varied sugar-coated chocolate confectionery. coated chocolates. Most people don't know that M&M's were introduced on September 10, 1941, while Lentilky were created in 1907. This means that the Czechs had this candy style 34 years sooner.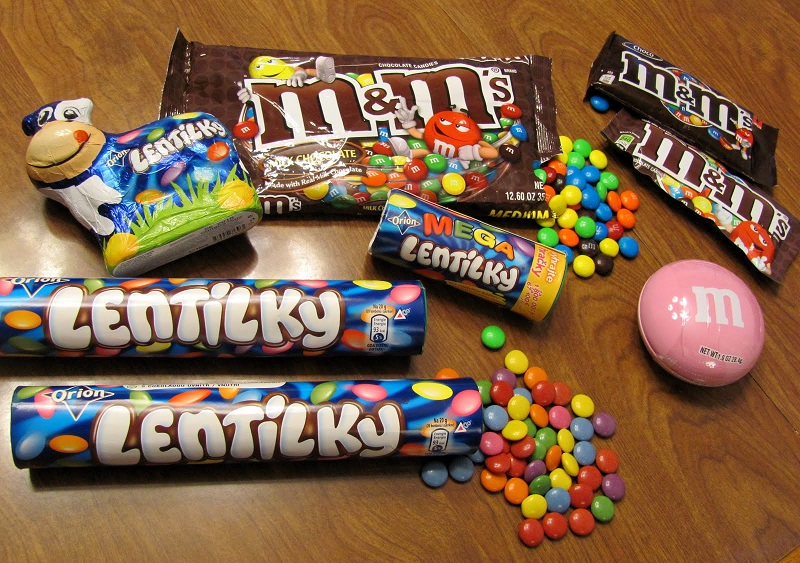 In 1914, just a few months before the beginning of the First World War, the Orion brand was first registered. During the war, the candies were sent to the front lines for their high nutritional value and durability. They also kept ordinary people at least a little saturated during the war and widespread lack of food. The nutrient yield of 85 grams of chocolate was then compared to that of 100 – 250 grams of meat or four eggs. You can purchase Lentilky at this link (and your purchase supports our website!)
The Orion Star – Advertising Pioneers
In 1921, the Orion company unknowingly pioneered Czech advertising. The young promising painter, Zdeněk Rykr, was admitted to the factory to take care of the visual appearance of all chocolate packaging and the production plant. His familiar star and 'ORION' has been shining on us in the same form for almost a hundred years.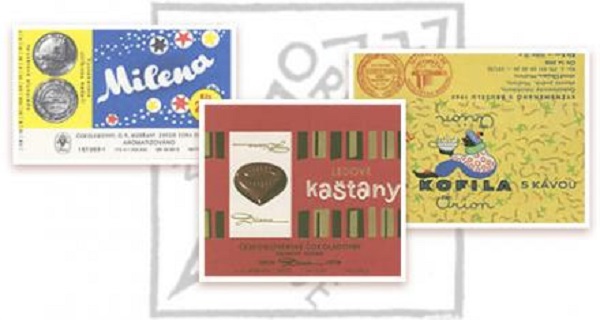 In 1923, the company created one of it's first chocolayte bars with the handwriting of Zdeněk Rykr. It was the Kofila bar, which to this day shows the dark man on a yellow wrapper enjoying delicious chocolate in an unmistakable combination with coffee.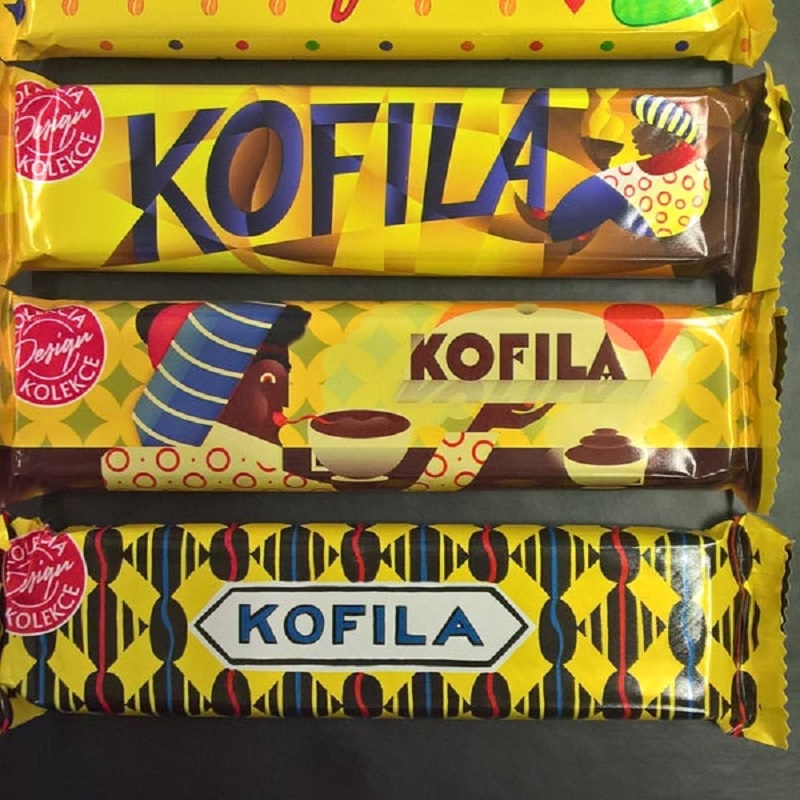 A delicious candy bar, you can purchase Kofila at this link.
Orion aimed to make people feel an escape when they enjoyed their confections. Eating their chocolate was meant to help you escape the hard realities of everyday life at the time. Thus, in 1944, they created the Margot candy bar. This time, the wonderful smell of a tropical distance came from the original coconut flavor.
In 1966, the company jumped into the future by being the first food company in the Czech Republic to buy its own computer, the "Minsk 22" for the plant located in Modřany. Many changes were happening rapidly. In 1969 Neil Armstrong was the first man to walk on the moon. But there was also a Czech in space. In fact, Eugene Andrew Cernan traveled into space three times; as pilot of Gemini 9A in June 1966, as lunar module pilot of Apollo 10 in May 1969, and as commander of Apollo 17 in December 1972, the final Apollo lunar landing. I wonder if he was carrying Orion chocolates with him? ;)
Possibly even more popular than their Christmas Chocolate collections is their Students brand of chocolate bar. The first Studentska chocolate bar was created in 1975.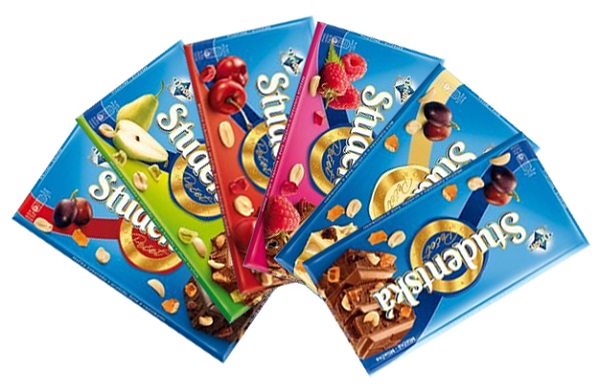 Anyone who has eaten this will never forget the delicious combination of fruit and nuts. The great thing is that we can buy them in the United States. Make sure to see what's available at this link.
In 1978, the company introduced its Orient Desserts followed by adding many different flavors for their Studentska brand in 1980. And in 1989, after the fall of the iron curtain, Czechs could celebrate their love for chocolate through the freedom of having a choice to savor whatever chocolate bars or candies they liked and not just whatever was left in the factories.
Orion, Our Chocolate Star
In 1993, Orion presented it's first jingle and television advertising. Do you remember Chocolate town and the magical animation with the new Orion jingle? The song by Ondřej Havelka would draw us into a fairy-tale world designed to remind us of the "old golden days" with its atmosphere and nostalgia. It also revealed the tradition of the art of chocolate production to which the company is clearly rightly proud. They continue to use original music in various variations for their ads even to this day, always utilizing their slogan "Orion. Our Chocolate Star ".
After 2002, many new and exciting creations were added, including Modré z nebe (Blue from Heaven), 8 eight kinds of chocolate pralines and they took Studentska to white chocolate in 2004. Then they began to refine and resurrect some of the old classics while at the same time creating large-packaged boxes of chocolates for various occasions. Including new packaging on my personal Orion favorite (aside from the Christmas chocolates) the wonderfully delicious dark chocolate pralines filled with rum flavored liqueur, Pralinky rumové.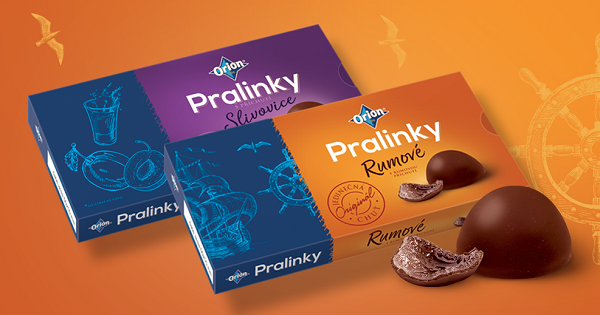 Czech Christmas Chocolate Collections
Now that you know a little about the history of the company, let me move on to sharing what my father sent to us this Christmas… The moment I see my father's writing on a package – I know that the Czech Christmas is here.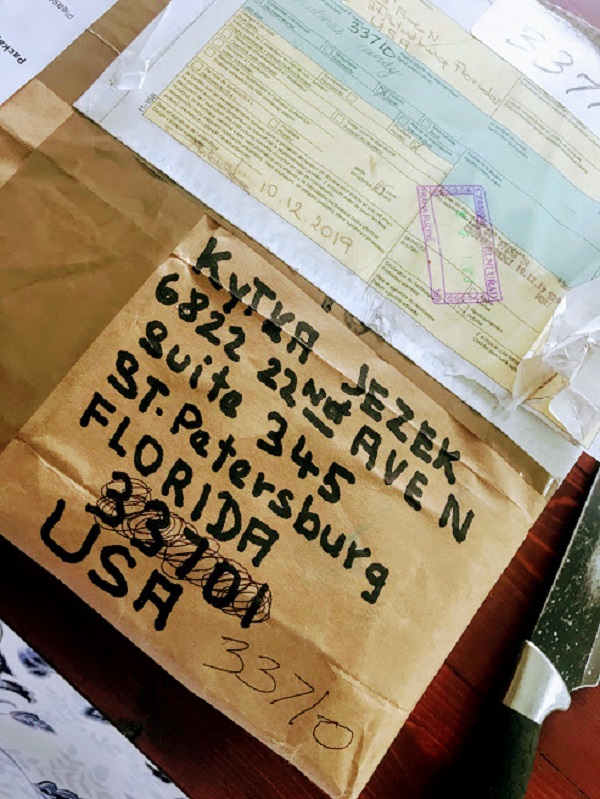 He always includes a Czech Christmas card…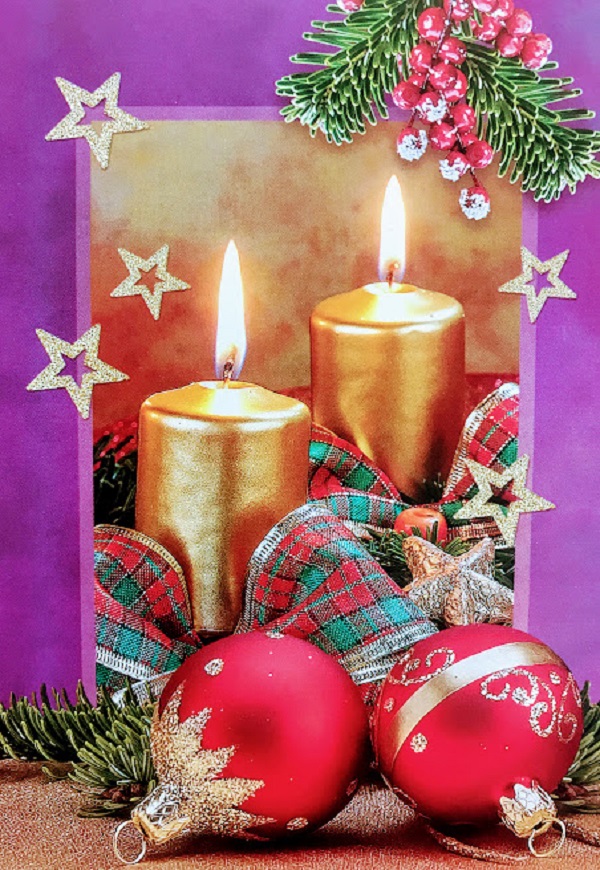 Which has a short but sweet Christmas message…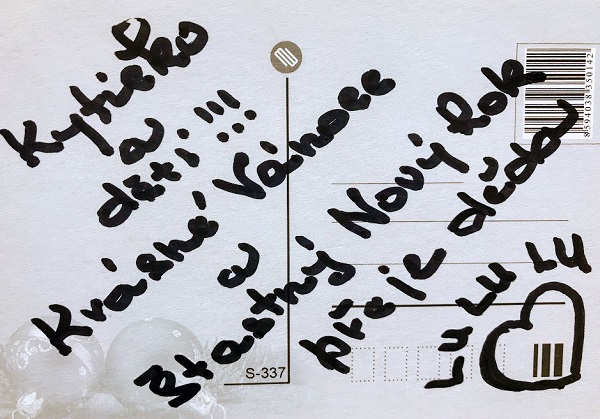 This year he sent FOUR wonderful collections. Two blues and two golds…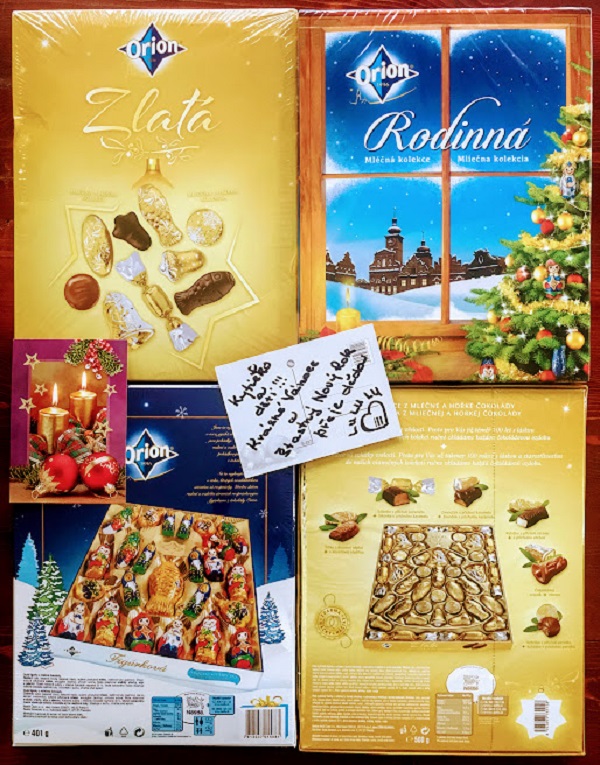 I love how they almost always have a carp inside. :)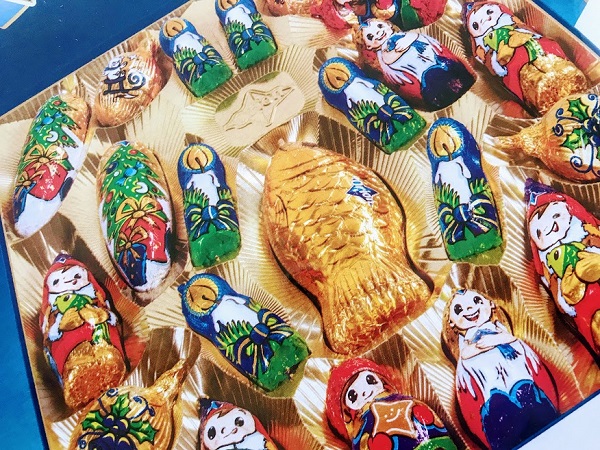 And the little faces painted onto the characters just look so… Czech!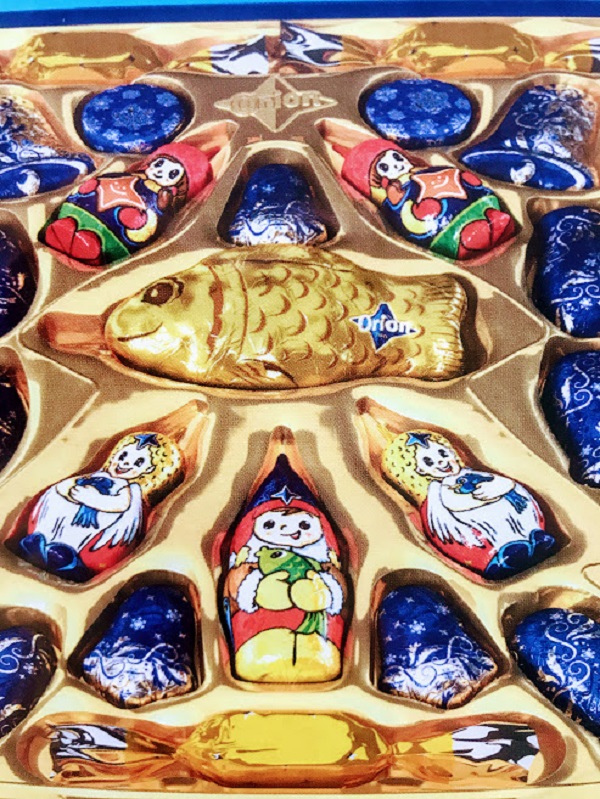 The chocolates within come with all sorts of fillings and flavors. I still love the ones that have the berry jelly on the inside. Oh, soooo good!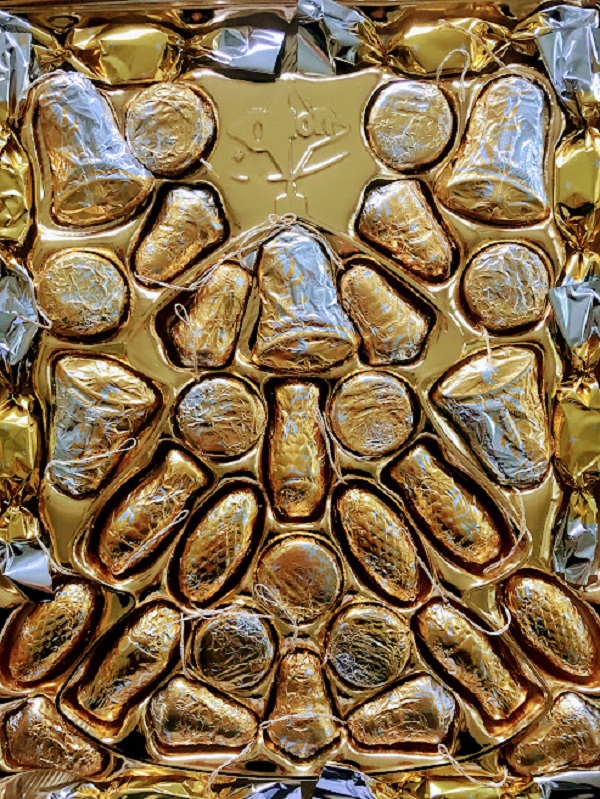 The little candles in this year's collection are precious.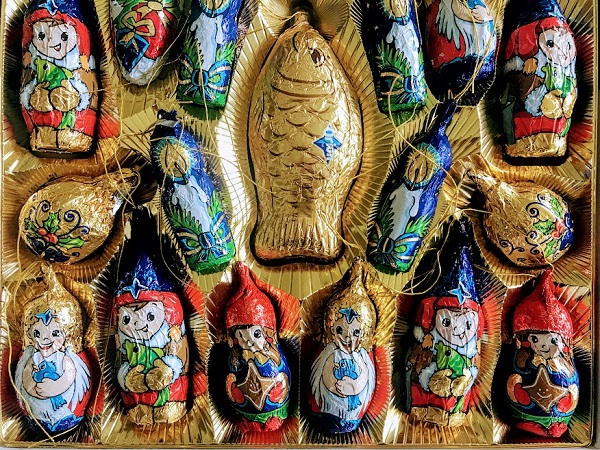 The flavors in the gold collection… Oh my!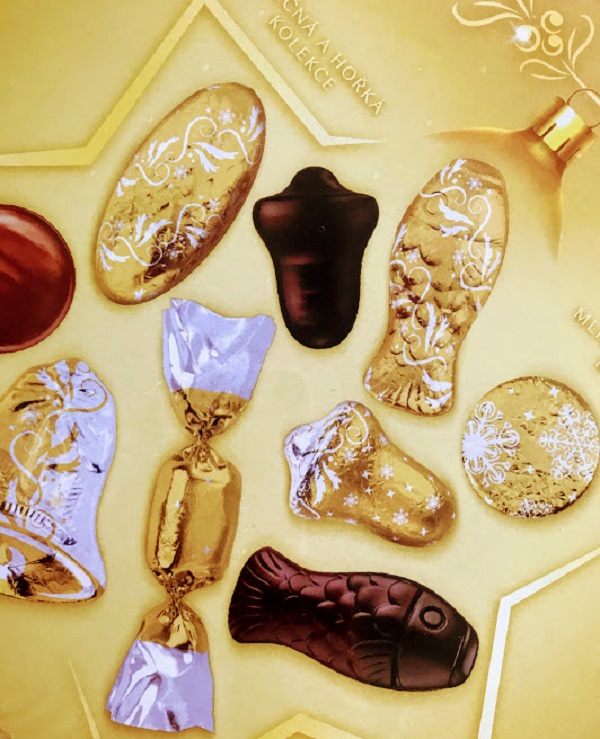 You can see the company's entire Christmas candy collection at their website.
A wonderful old documentary film of how Orion made their chocolates (in Czech) is available in 2 parts below. It shares some very interesting (and historical) footage and is really worth the viewing.
I'm so lucky to have these each year even when we're not in the Czech Republic.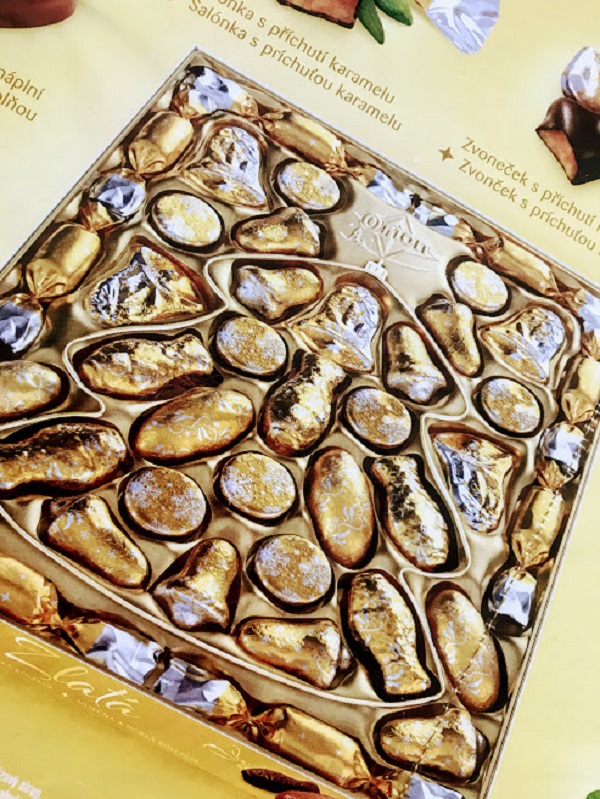 The following Czech commercial asks us "What kind of Christmas would it be without Orion Chocolates?"
You can sometimes find Orion Czech Christmas Chocolate Collections at this link. (And remember, your purchase helps support this website.)
Below is a quick video showing a Czech style craft project out of the box of Christmas chocolates. (Why throw the box away? Czechs use everything!) And you can see how each and every box comes with hooks to hang these on your Christmas tree as the Czechs do.
Thank you Tato, for these wonderful boxes of Czech Christmas chocolates and for keeping up the tradition for so long. We love you!
If you have not already subscribed to get TresBohemes.com delivered to your inbox, please use the form below now so you never miss another post.
Unfortunately, there is no place we know of to purchase these in the United States, but below are some other ideas.
We tirelessly gather and curate valuable information that could take you hours, days, or even months to find elsewhere. Our mission is to simplify your access to the best of our heritage. If you appreciate our efforts, please consider donating to support this site's operational costs.
See My Exclusive Content and Follow Me on Patreon
You can also send cash, checks, money orders, or support by buying Kytka's books.
Your contribution sustains us and allows us to continue sharing our rich cultural heritage.
Remember, your donations are our lifeline.
If you haven't already, subscribe to TresBohemes.com below to receive our newsletter directly in your inbox and never miss out.