You know we love sharing Czech recipes and today we're sharing another from a Czech pohádka (fairytale) movie called Honza Málem Králem (How Honza Almost Became a King). Czech and Czechoslovak fairytale films, known locally as pohádky are especially popular during the holidays.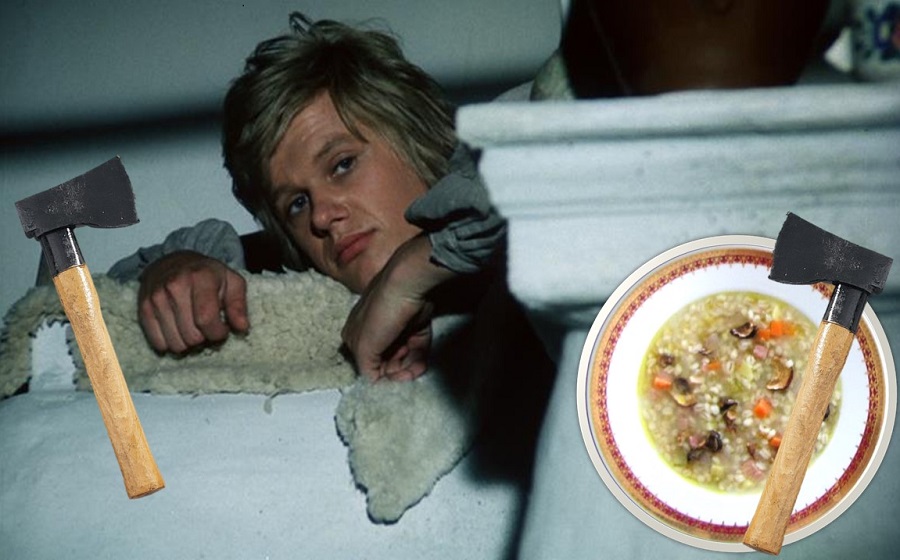 This specific fairytale soup is called Sekyrková polévka (Ax soup).
I have elaborated a bit, added to it and made it a little tastier…
Stir it with an ax for authenticity! ;-)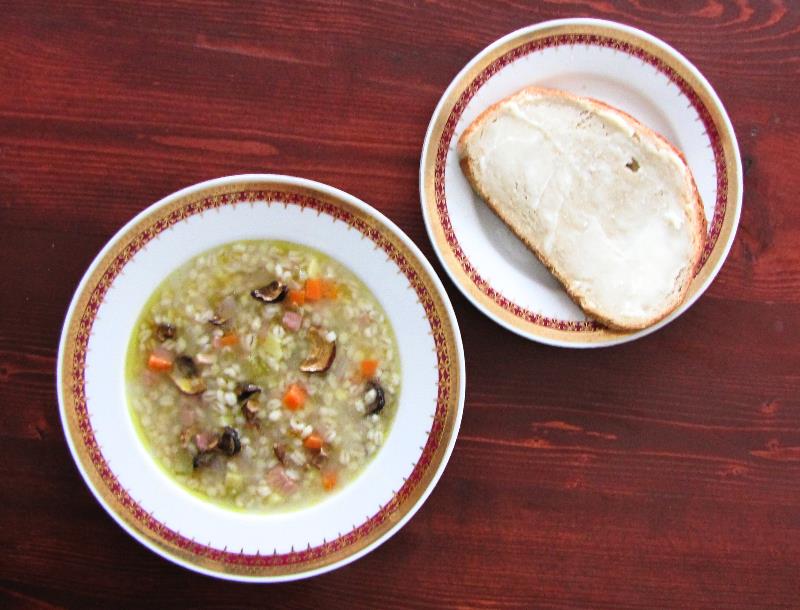 Honza's Ax Soup
Ingredients
1 1/2 cup of smoked meat
8 cups water or broth
4 balls of allspice
4 balls of pepper
1 bay leaf
1 large onion, chopped
2 Tbsp lard (or oil)
1 cup of barley (soaked)
1 small handful dried mushrooms
1 carrot, chopped
2 celery stalks, chopped
1 parsnip, chopped
1 clove of garlic, crushed
2 tsp. marjoram
salt to taste
Directions
Place the dried barley into warm water and allow to soak at least an hour. Also place the mushrooms into a different bowl and allow them to swell for 30 minutes. In a large pan add lard, chopped onion, carrot, celery, parsnip, smoked ham, and the spices and cook for 8 minutes.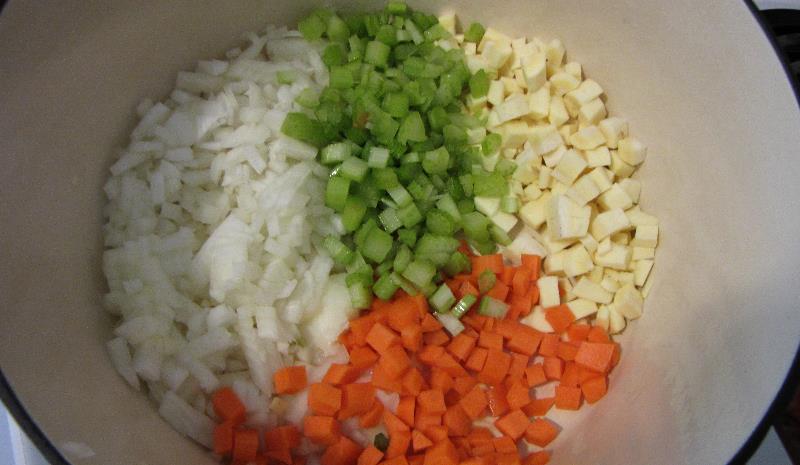 Then add the water or broth and rinsed barley. Bring the soup to the boil, and then lower the flame to medium, cover and cook for about 45 minutes until the barley is soft and tender.
Add salt, garlic, and marjoram.
Finally, stir the second spoon of lard, let it warm and serve.
We eat this with Czech bread slathered with even more lard and salt.
So tasty!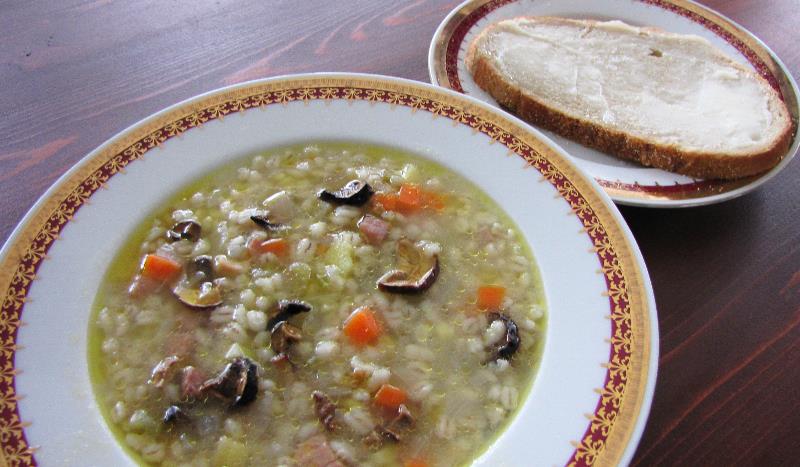 About the Film
A fun film by Bořivoj Zeman. Instead of a standard prince, this tale offers a young Honza. To understand, a typical Czech Honza character is usually rather silly, ridiculous or a simpleton, but the Honza in this story turns out to be cheerful, resourceful, brave, and handsome. He is not stingy and he has a huge heart.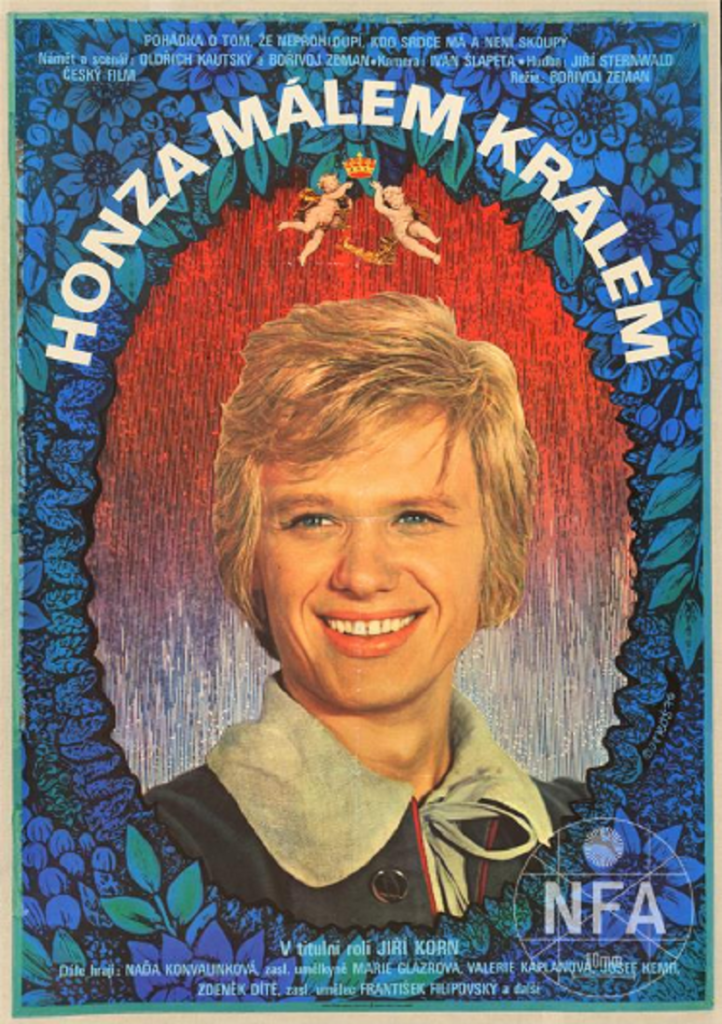 Bořivoj Zeman is today assured of his place in the history of Czech fairy tales thanks to the cult films Pyšná princezna (The Proud Princess, 1952) and Byl jednou jeden král (Once Upon a Time, There Was a King, 1954). In 1968, he added to these movies with the fairy tale musical Šíleně smutná princezna (Incredibly Sad Princess), in which the lead roles were played by Helena Vondráčková and Václav Neckář, who were popstars at the time.
The storybook tale Honza málem králem (How Honza Almost Became a King) tries to follow up on this success by casting Jiří Korn in the lead role (although the popular singer was dubbed by Michal Pavlata.)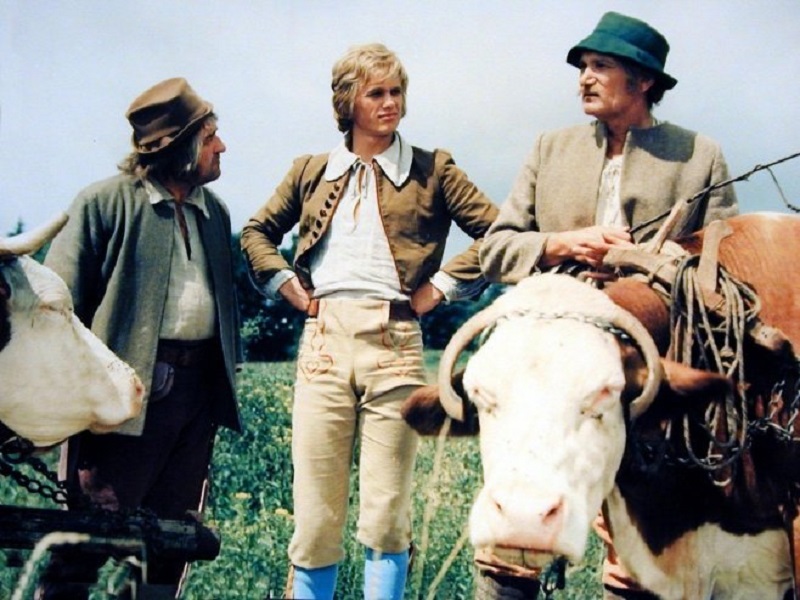 The film, however, does not rely on musical numbers – it contains only three songs by Jiří Sternwald.
Despite the fact that the screenwriter was Oldřich Kautský, as was the case for the aforementioned Zeman films from the 1950s, How Honza Almost Became a King from 1977 did not enjoy the same mass popularity as some of the director's other movies (including, among others, two comedies about a curmudgeonly Prague ticket inspector Dovolená s Andělem (Holiday with Angel, 1952) and Anděl na horách (Angel in the Mountains, 1955)).
In the last title from his filmography, the then 65-year-old screenwriter and director offered a comic variation on the classic story of Hloupý Honza (Silly Honza – a kind of Czech version of Simple Simon).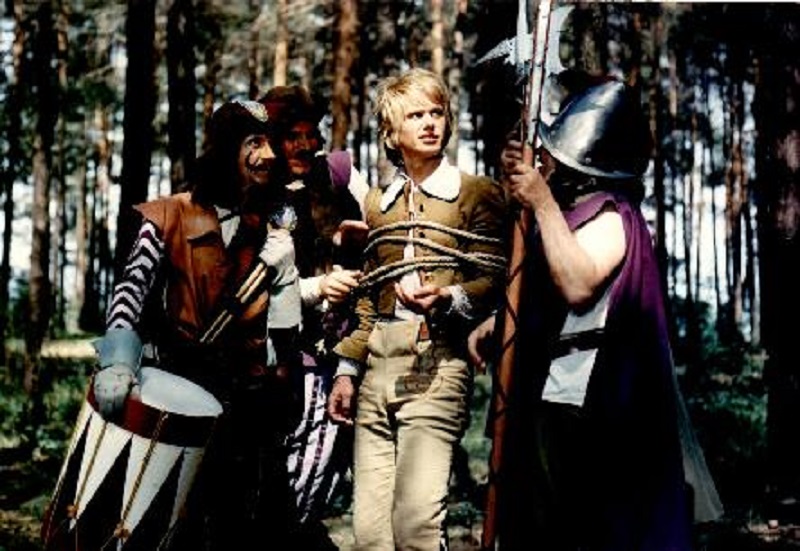 In Zeman's film, however, the folk hero turns out to be a clever and energetic young man, who teaches a lesson to a stingy farmer, a jealous royal drummer, and a conceited princess, who pretends to be mute and takes the lives of her suitors. However, even the light-hearted and convivial Honza comes to realize that his love for the simple village girl Mařenka is more important than adventure, property, a princess and half a kingdom…
Some of the motifs in the story are vaguely reminiscent of the French costume drama romance Fanfan la Tulipe (1952).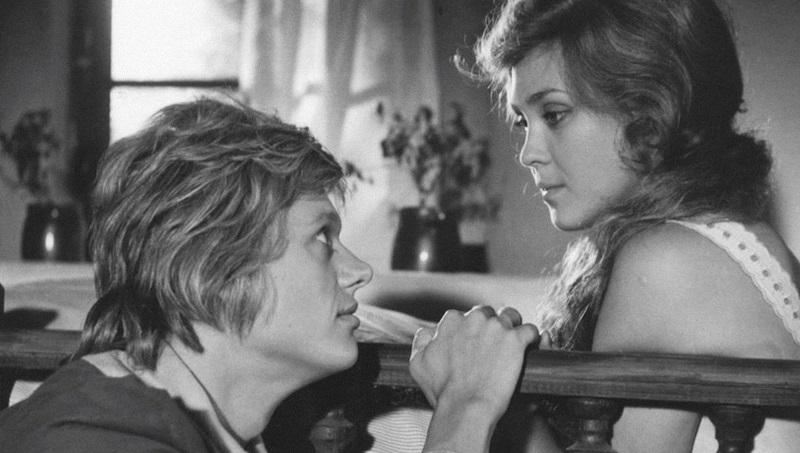 Besides casting Jiří Korn in his first major film role, the director also used experienced professionals.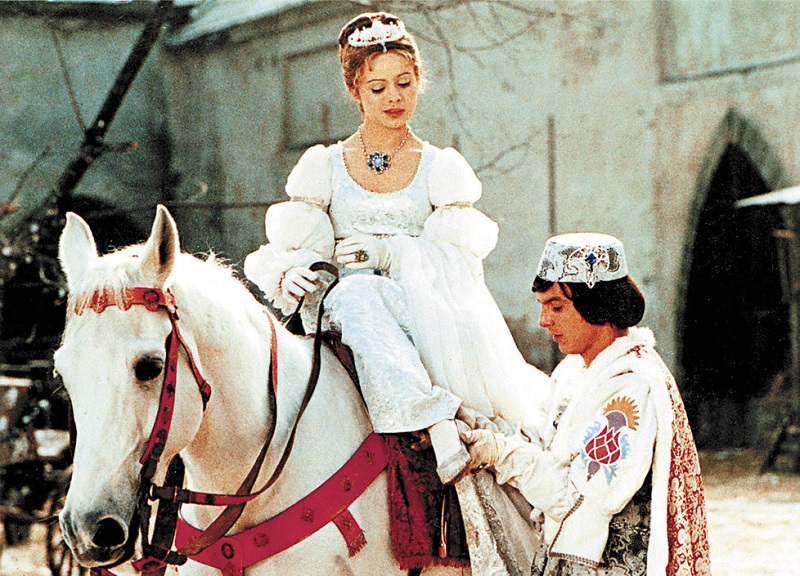 Naďa Konvalinková took the role of Mařenka, Honza's mother was played by Marie Glázrová, the part of the proud princess was filled by Jorga Kotrbová, and her father, the king, was played by František Filipovský.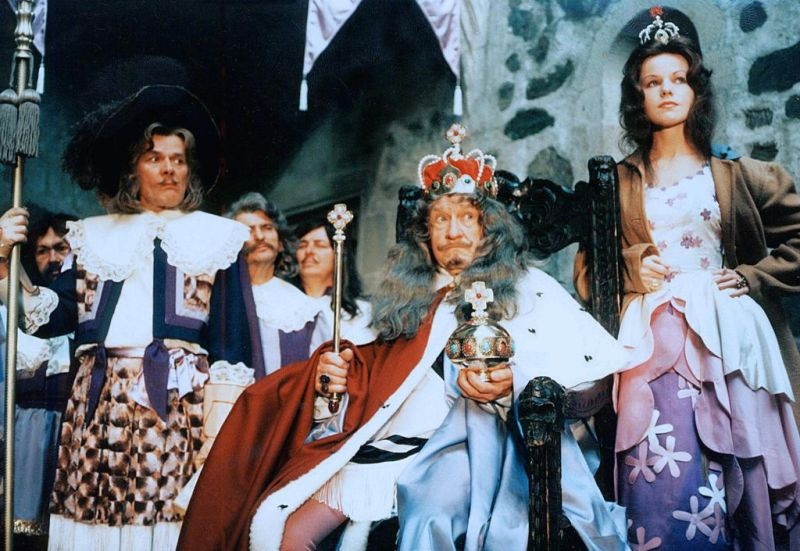 References
Honza is a Czech fairy tale hero, sometimes called Hloupý Honza (Dull Honza), Líný Honza (Lazy Honza) or Chudý Honza (Poor Honza).
Honza may also be grammatically correctly translated as Jack. In Czech language, Honza is traditionally used as the diminutive form of the name Jan (English: John) (Jan → Honza → Honzík → Honzíček).
In original uses, Líný Honza is the lazy and inept son of village farmers. His parents send him "to the world" to take care of himself and get experience. On his way, he meets seemingly impossible obstacles (often involving dragon) but outsmarts them all and returns home with fame, riches and a princess as his wife.
While sometimes called Hloupý Honza (Dull Honza), he is not really dull and in more modern fairy tales he often loses other negative characteristics too.
Such figures became national personification – often suggested as mirroring the national character of Czechs (the nation had unexpectedly risen up, from low classes, struggling to establish itself as an independent entity).
Comparison of "dull" Honza with lot of "common sense" (as opposed to knowledge obtained by studying) with aristocracy portrayed by princes which are unable to overcome obstacles Honza did overcome might also refer to fact that for big part of history (most of) Czech aristocracy was separated from people and often not really Czech (but German and Austrian).
Literature
Chytrý Honza z Čech (The clever Honza from Bohemia), collection ISBN 978-80-85606-05-8
Český Honza (Czech Honza), collection, ISBN 978-80-242-1411-5
Theatre
Films
Source: Wikipedia
Watch the Entire Film
Thank you for your support – We appreciate you more than you know!
We know that you could spend hours, days, weeks and months finding some of this information yourselves – but at this website, we curate the best of what we find for you and place it easily and conveniently into one place. Please take a moment today to recognize our efforts and make a donation towards the operational costs of this site – your support keeps the site alive and keeps us searching for the best of our heritage to bring to you.


Remember, we rely solely on your donations to keep the project going.
Thank you in advance!
If you have not already subscribed to get TresBohemes.com delivered to your inbox, please use the form below now so you never miss another post.