We are calling this post Staročeské lívance aka Old Bohemian Pancakes Fit for a King because of the appearance they made in a classic Czech film, Byl Jednou Jeden Král (There Was Once a King).
The 1955 Czech film is based on a fairy tale by Božena Němcová, Salt Above Gold. In the Czech Republic, it belongs to the traditional films of the Christmas season.
The story is about a selfish self-centered widowed ruler, barely tolerated by his subjects and called appropriately enough, 'King Myself, First'. He asks his three daughters to name the measure of their love for him. When one of them says, "I love you more than salt", he banishes her from the kingdom.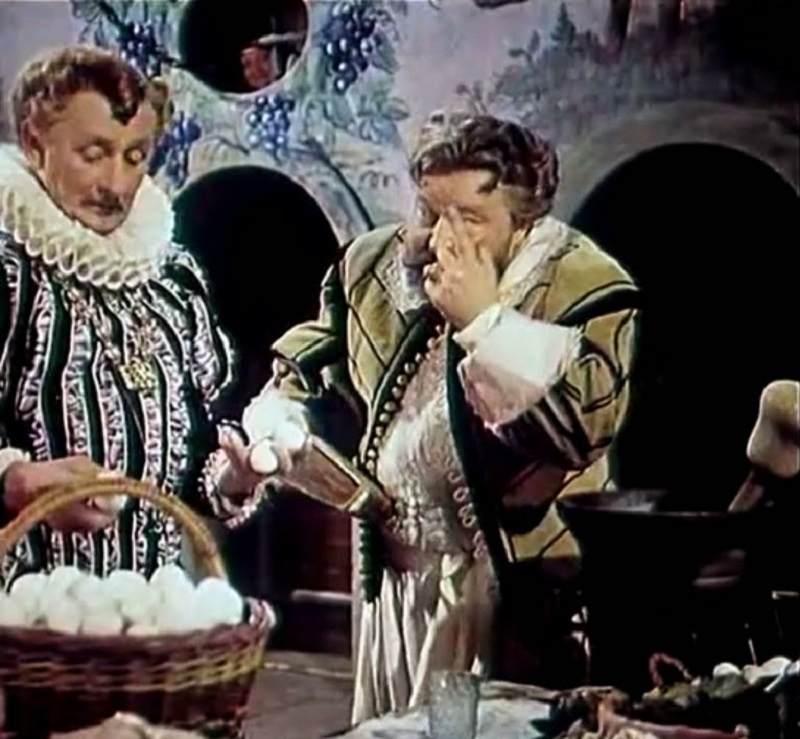 Not understanding what she meant, the King assumes love can only be measured by precious metals or one's own talent, the 'correct' answers from his other two daughter, one who says more than gold and the other more than song.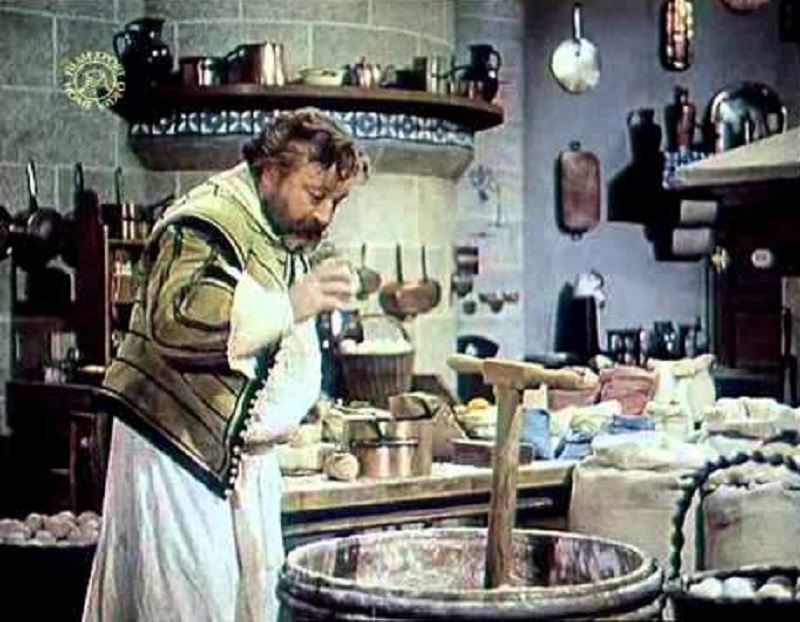 The arrogance of the King leads him to gather all the salt in the kingdom and destroy it. Of course, this backfires as he slowly learns the universal value of the substance, and of course, the essence of his daughter's reply.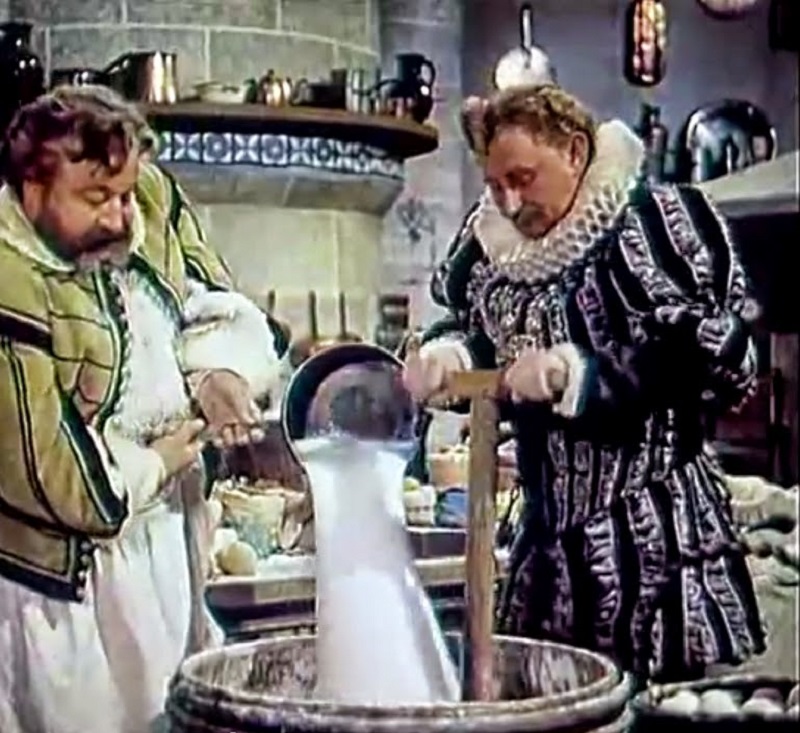 With the help of the wise and magical old 'herb woman', the King also learns what it means to be a true and wise ruler.
The film is available here, several versions with English subtitles.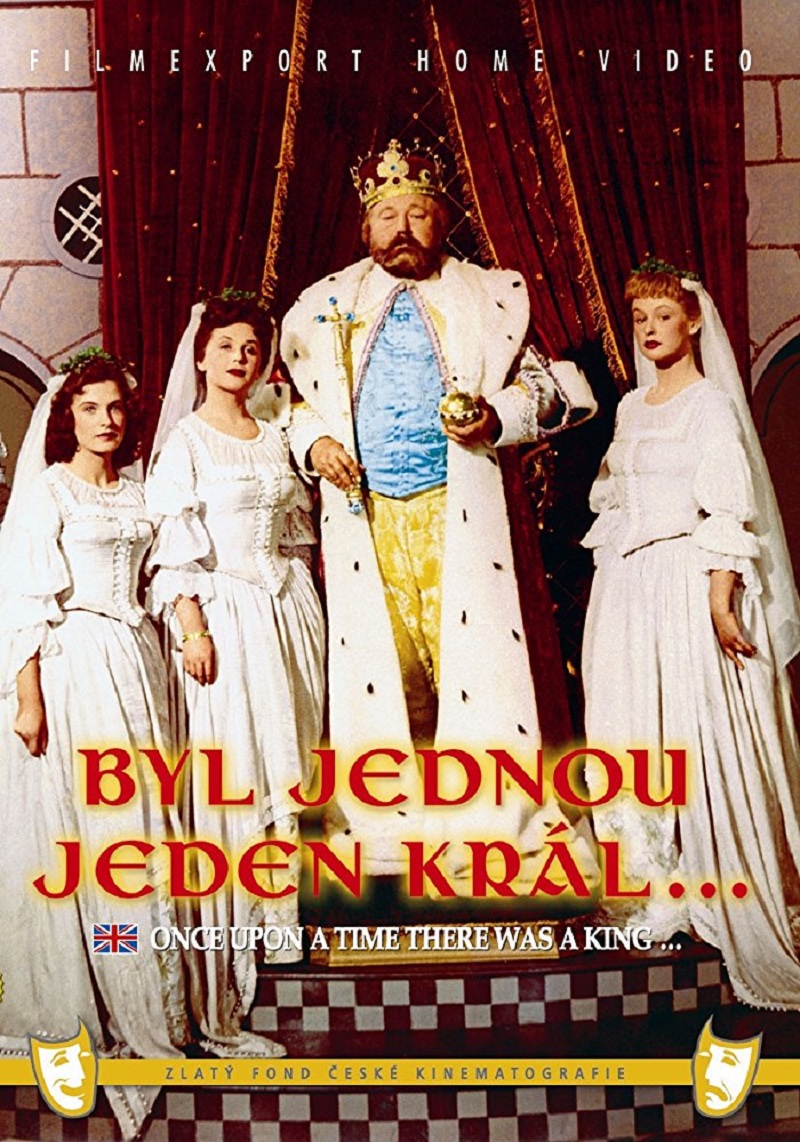 The lívanec is a dainty kind of dessert, similar to pancake, which is made by frying a blend of flour, milk, yeast or baking powder, and eggs or potatoes, and it is very popular, especially in the Czech lands.
Lívance (we'll refer to them as pancakes) were once a special occasion or festival meal, which was mainly enjoyed by children. In each kitchen of the olden times, there was also a lívanečník – a special pan with four circular depressions.
These specific pancakes are almost forgotten under the banner of "healthy eating". But today we've made them and you can too, though you may have to improvise on an ordinary pan instead of lívanečník.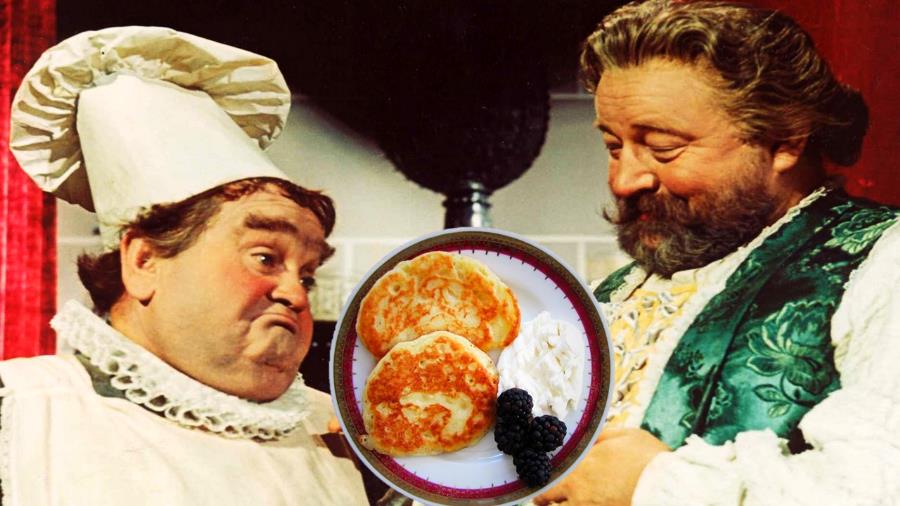 In this post, we are focusing on lívance from a very old Bohemian recipe.
The recipe is over 150 years old…
Ingredients
4 cups + 3 Tbsp. whole milk
1 potato, boiled and then cooled, peeled and grated
1 tsp. of salt
1 dkg of fresh yeast (in our case, 1 envelope of dry yeast, proofed)
4 cups of fine flour (we used equal parts unbleached white and wondra)
1/2 cup of butter or lard
1 egg yolk
Toppings
stewed prunes, cooked fruit or preserves to your liking
grated curd (Farmers Cheese or Ricotta Cheese is a good substitution)
sour cream
You can get most of the ingredients on our shopping list (click here).
Directions
We like to boil potatoes in advance of any breakfast we make, usually keeping them in the oven for quick home fries or hash browns. Therefore, we boiled our potato the night before. But if you are specifically musing just one for this recipe, make sure to give yourself enough time for the boiling and the cooling.
Proof the yeast with a little of the lukewarm milk and then mix all of the ingredients together in a large bowl. Make sure to use a wooden spoon, the yeast likes it and will get a better rise.
Leave it for about an hour in a warm place to rise.
It should look like this: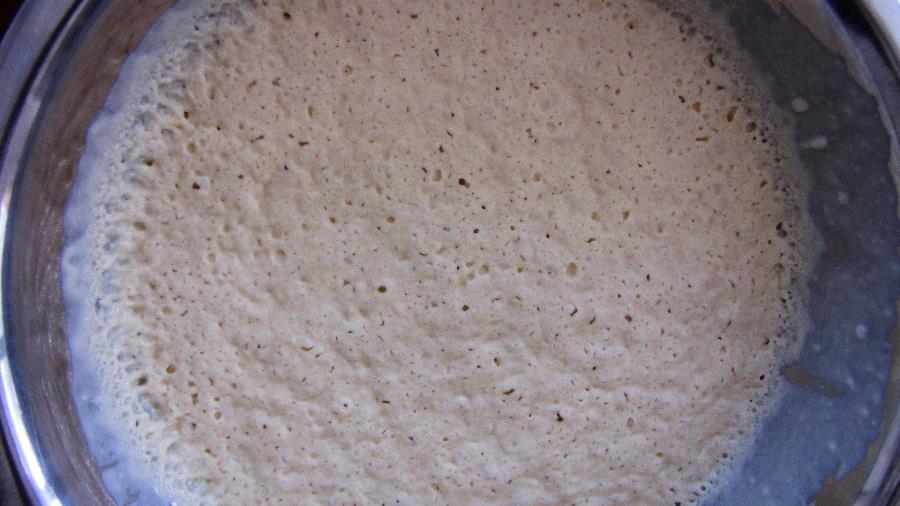 Traditionally these were cooked on the top an old wood stove.
One like this…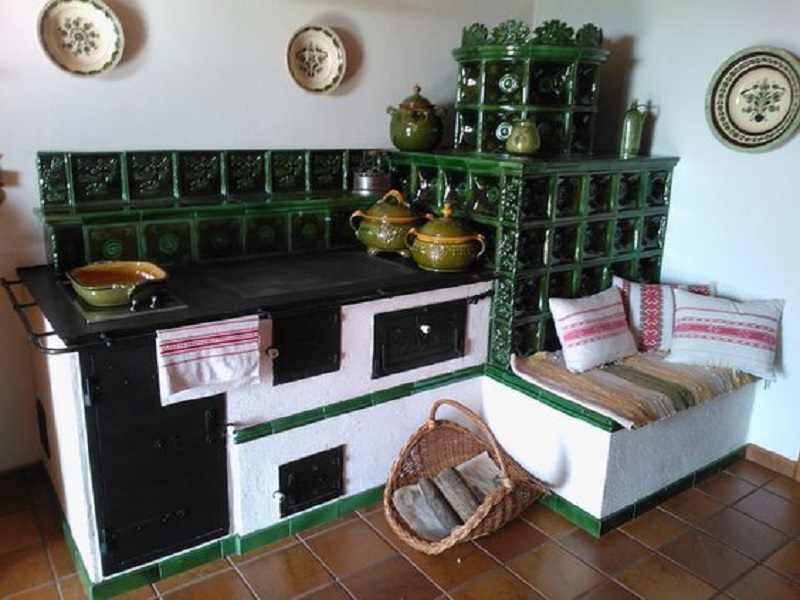 You'll notice that there's a flat surface, much like a griddle. That is exactly where these were cooked back then.
At our house (with a modern electric stove), we use a non stick pan and just lightly oil it.
Make sure the pan is hot when you add the oil, and then make sure the oil is hot when you add the batter.
Use a ladle or your measuring cup to make three or four equal rounds in your pan.
Properly made lívance have roasted brownish edges, but the middle remains yellow.
These delicious pancakes don't taste anything like their American counterparts.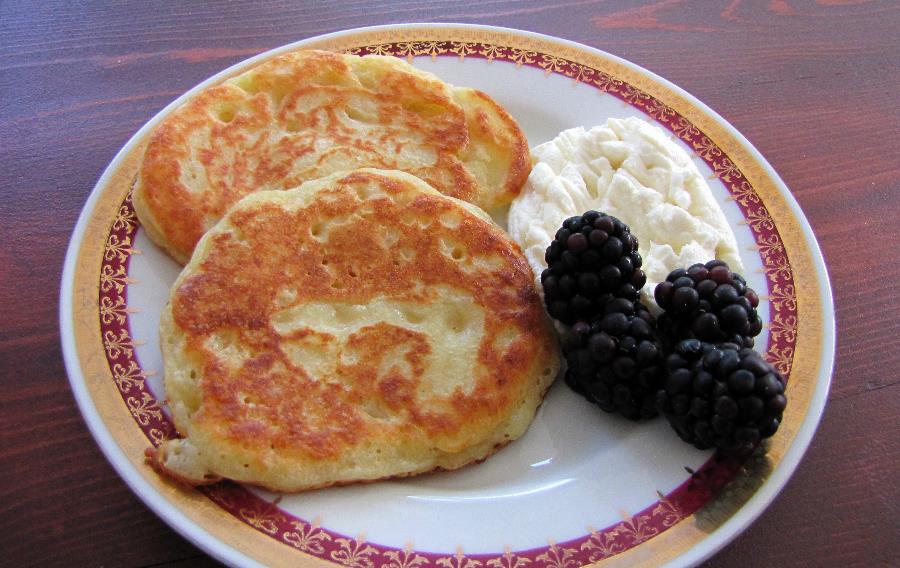 Traditionally, they have been topped with cooked plums or prunes, then sprinkled with grated farmers cheese and topped with a spoonful of sour cream.
Why change tradition?
In the summer, freshly picked fruit, such as blueberries or strawberries, were also added.
Depending on the time of year and the flavor you enjoy, various jams can also be used. (We also think they're delicious with apricot jam or red currant jam, as pictured below!)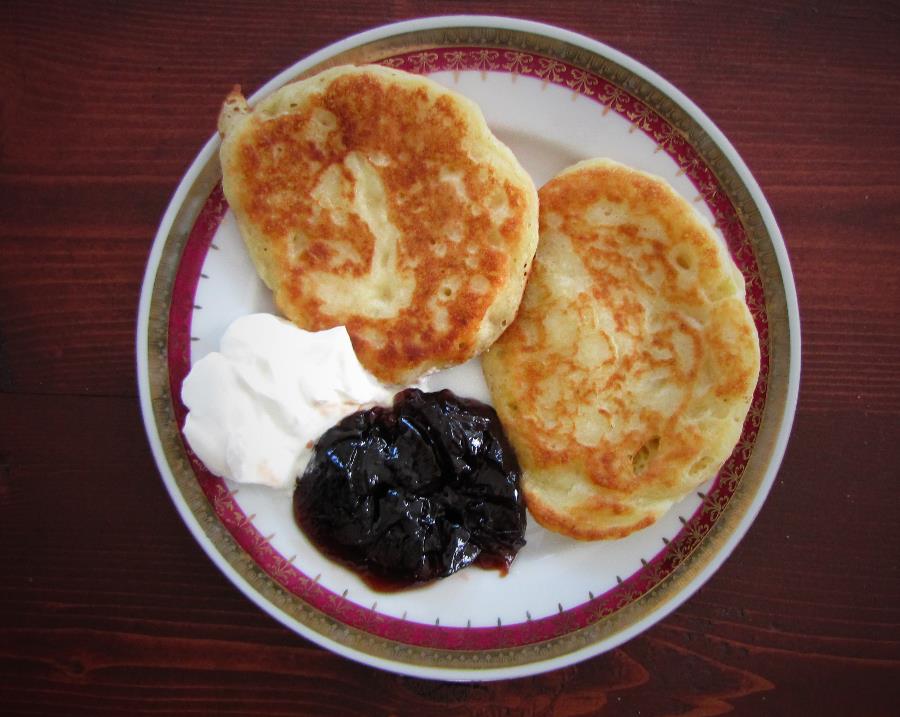 Another option is to sprinkle them with cinnamon and sugar.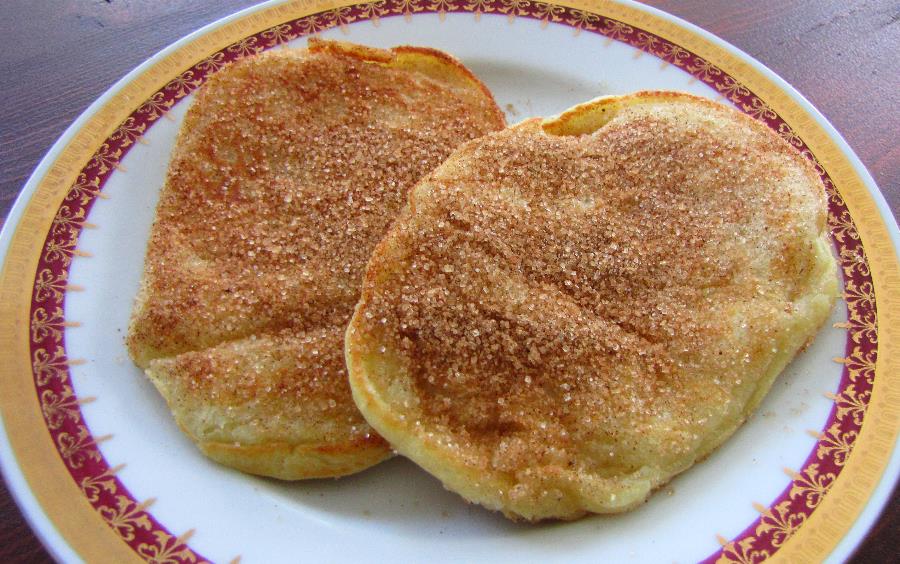 If you'll notice, the recipe has no sugar in it. Hence the need for the sweet fruit topping.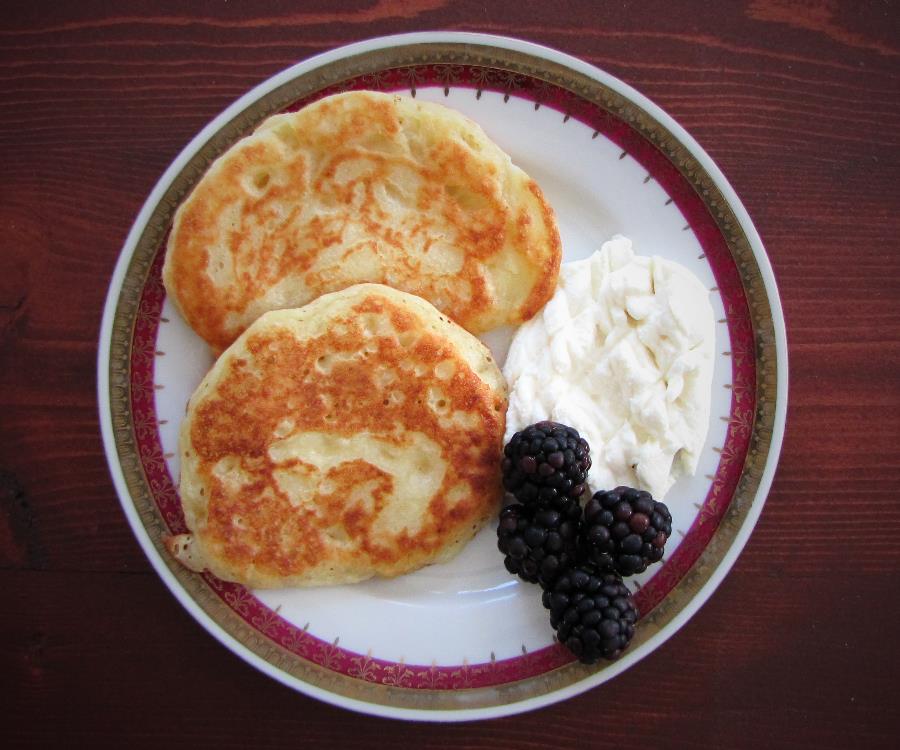 But these were also a savory staple, covered with meat sauces. Cold leftover ones were likely cubed and scrambled  with onions and eggs.
Note: This recipe is over 150+ years old. There are much newer recipes available, some adding vanilla, using more eggs, some substituting the yeast for baking powder, adding honey or yogurt, and most omitting the potato altogether. Believe it or not, we've even seen gluten-free and vegan versions of lívance recipes.
If I were to change anything, I would substitute the yeast with a teaspoon of baking powder. Also, they're not like American pancakes. They have a more rawish, chewy texture.
The kings recipe from the film calls for yeast, eggs, sugar, flour, warm milk, lemon rind, and salt.
Here is a hilarious clip of the pancake making from the film…
Wanting to remain traditional, we decided to share and publish this old recipe.
After all, we believe that these Old Bohemian pancakes are fit for a King!
Dobrou Chut!
If you have not already subscribed to get TresBohemes.com delivered to your inbox, please use the form below now so you never miss another post.
---
Remember, we rely solely on your donations to keep the project going.
Become a friend and get our lovely Czech postcard pack.