In 1988 Grete Winton climbed into the attic of her home in Maidenhead, England where she found a scrapbook she had never seen before. The scrapbook contained lists of names, photographs, and multiple addresses. In that scrapbook, she discovered something about her husband, Nicholas Winton, which up until that point she had been unaware of.
The truest hero does not think of himself as one, never advertises himself as such and does not perform the acts that make him a hero for either fame or fortune.
Nicholas Winton was a British stockbroker who, in the December of 1938, was planning a ski trip to Switzerland for the Christmas Holidays. Before his trip, he received a call from his friend Martin Blake. Blake, who was in Prague as an associate of the British Committee for Refugees from Czechoslovakia, had called Winton to ask him to assist in Jewish welfare work in Czechoslovakia. At that time, Czechoslovakia was in the process of being occupied by Germany. Winton canceled his ski trip and agreed to go to Prague and help Blake.
Once he arrived in Prague, Nicholas Winton established an organization that would eventually save lives. He secured the freedom of multiple Jewish children. Operating from a makeshift immigration office in the dining room of his hotel room at the Grand Hotel Europa on Václavské Náměstí, he raised money and found homes for the children. He raised enough money for about 670 children to be transported to the UK and raised by British families.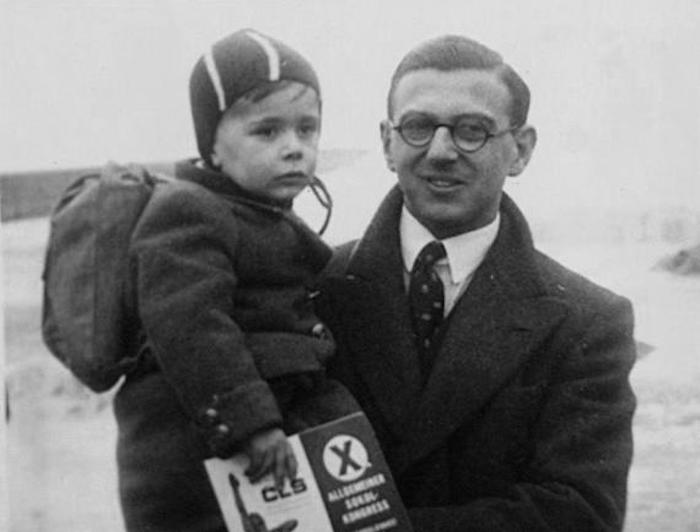 The first 20 of "Winton's children" left Prague on March 14, 1939. Hitler's troops overran all of Czechoslovakia the very next day, but the volunteers kept working, sometimes forging documents to slip the children past the Germans. By the time World War II broke out on September 1, the rescue effort had transported 669 children out of the country in eight separate groups by rail. The ninth batch of 250 more children would have been the largest of all, but war prompted the Nazis to stop all departures. Sadly, none of those children lived to see the Allied victory less than six years later.
Incredibly, as a 29-year-old tourist who could have easily turned the other way and resumed his skiing trip plans, Nicholas Winton instead quietly organized the rescue of over 669 children, most of whom were Jewish. Of the 15,000 Czech Jewish children taken to the camps, only a handful survived. Winton was responsible for saving a major part of that generation of Czech Jews. He found homes and provided them with safe passage from Czechoslovakia to Great Britain.
Why did Nicholas Winton do it?
It certainly was not for the plaudits it might bring him. Indeed, he never told anyone about his achievement for over half a century.
Winton's wife was not the only one who remained ignorant of her husband's unique mission. Nicholas Winton remained quiet about his involvement in saving lives and it was not until over 40 years later when his wife discovered her husband's scrapbook detailing his efforts to save the children, that the world found out what he had done for the children of Czechoslovakia.
The world found out the meaning of a true hero. Nicholas Winton stayed quiet for 50 years because a true hero doesn't feel the need to bring attention to their heroism.
Winton said he kept quiet about the rescue mission because "it was such a small part of my life." Indeed, the operation spanned only eight months, while he was still working at the stock exchange, and it was prior to his marriage.
The only reward Sir Nicholas Winton ever wanted was for those children to live their lives and he got it in spades. Meanwhile, he did not only save those 669 children but even those great-great-grandchildren who are living today…
Since then, he has been honored with a knighthood and the Order of the White Lion, the highest order of the Czech Republic. The Order of the White Lion was presented to him in October 2014 by Czech President Miloš Zeman.
Below is a 15-minute clip from 60 Minutes: Sir Nicholas Winton, "Saving the Children"…
On September 1st, 2009, a statue of Winton was unveiled at the Hlavni Nadrasi in Prague. The statue shows Winton carrying a boy in his arms. A young girl is standing beside him.
During commemorative events, people come to place flowers and candles at the feet of the sculpture.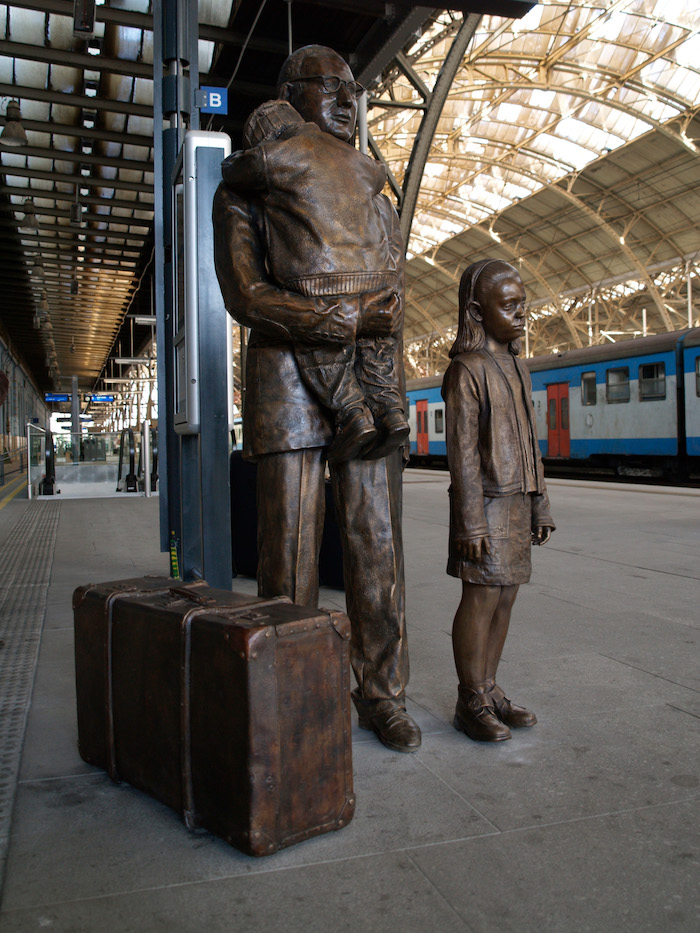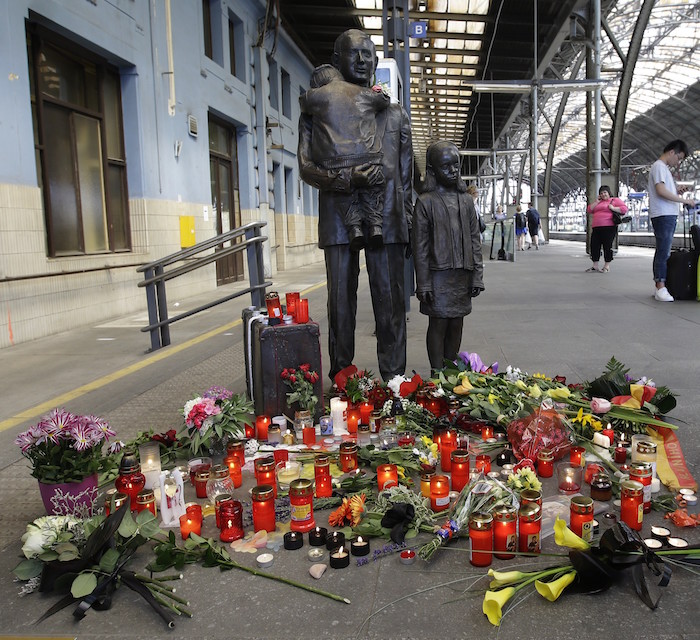 Last year, the Czech post office issued a stamp to honor him. The stamp shows Winton in the foreground. Behind him, some of the children he saved stand before a train, awaiting their departure. He arranged a total of nine trains with children, eight of which made it to Britain. The Ninth could not leave because World War II had started.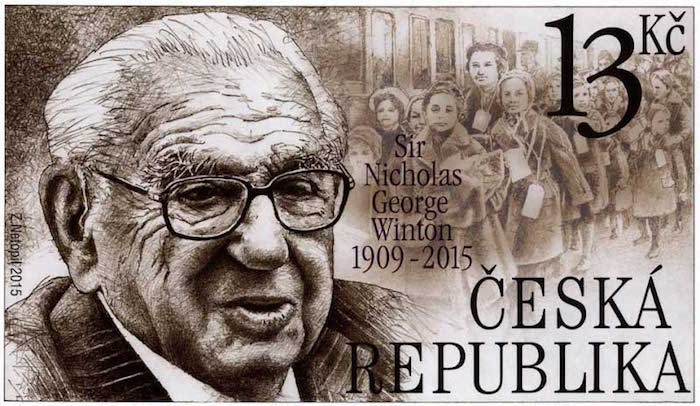 If Nicholas Winton had not secured departure permits from the Germans, and entry permits from the British and arranged for trains to take the children to Britain before the outbreak of the Second World War, the children would have ended up in concentration camps where they would have had a slim chance of surviving.
More recently, Britain issued a stamp to honor him as part of a set honoring British Humanitarians. Issued on March 15th, 2016, the stamp shows an elderly Winton and bears a message reading, "Nicholas Winton saved the lives of 669 Kindertransport children."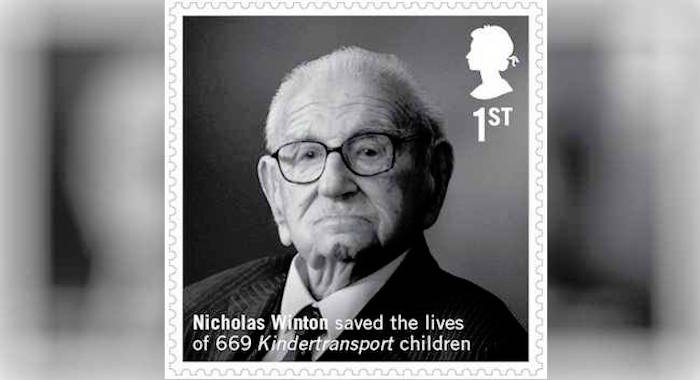 His mission is documented in the documentary The Power of Good: Nicholas Winton.
Nicholas Winton died at the age of 106 on July 1, 2015. His heroism wasn't public knowledge for decades. According to the US Holocaust Museum, it only became widely known after 1988, when Winton's wife happened upon a notebook with photos and names of the children. That year, Winton went on the British television show That's Life, which reunited Winton with some of the now-grown children that he'd saved from the Holocaust. The footage is just extraordinary:
In the words of Miloš Zeman, he gave Czech children, "the greatest possible gift: the chance to live and to be free".
It was the scrapbook, a memento put together by his volunteers when the operation shut down, that was filled with documents and pictures of so many Czech children. For all those decades, the children and the families who took them in knew little more than the fact that some kind soul, some guardian angel, had saved their lives.
"Because it was the thing to do and I thought I could help." – Nicholas Winton
"Wherever they were, I had good reason to assume they were safe and cared for," he said. Indeed, among their ranks in later life would be doctors, nurses, therapists, teachers, musicians, artists, writers, pilots, ministers, scientists, engineers, entrepreneurs, and even a Member of the British Parliament. Today they and their children, grandchildren, and great-grandchildren number about 5,000.
All My Loved Ones
I recommend you take time to watch a beautiful Czech film, All My Loved Ones (Czech: Všichni moji blízcí, 1999). It is available on YouTube below. It is a beautiful Czech-language film directed by Matej Mináč. All My Loved Ones is a warm and poignant movie that focused on a happy Jewish family in pre-war Bohemia. The father is an eternal optimist who believes that honesty, decency, and tolerance will prevail in the face of the Nazi threat. As grim reality sets in, he sends his son, who is destined to be the family's sole survivor, on one of Winton's kindertransports to freedom in England.
Mináč got the idea for "a film about what preceded the war from the perspective of a child" from stories recounted by his mother. For further inspiration, he visited Prague's Jewish Museum and read Vera Gissing's Pearls of My Childhood, which briefly mentioned Nicholas Winton rescuing hundreds of children before the war. From this Mináč wrote a treatment. When he asked Alice Klimova to translate the treatment into English, she informed him that she was one of the rescued children and that Winton was still alive.
After meeting him, Mináč became determined to not only make his original film idea (All My Loved Ones, above) but also to make the documentary Nicholas Winton: The Power of Good.
Nicholas Winton: The Power of Good
The Power of Good is actually a documentary about this incredible man and his amazing gift to mankind. This warm and inspiring film explores the life of Mr. Winton, the man who inspired the award-winning film All My Loved Ones.
The Power of Good documentary used archival footage and touching interviews with Winton survivors.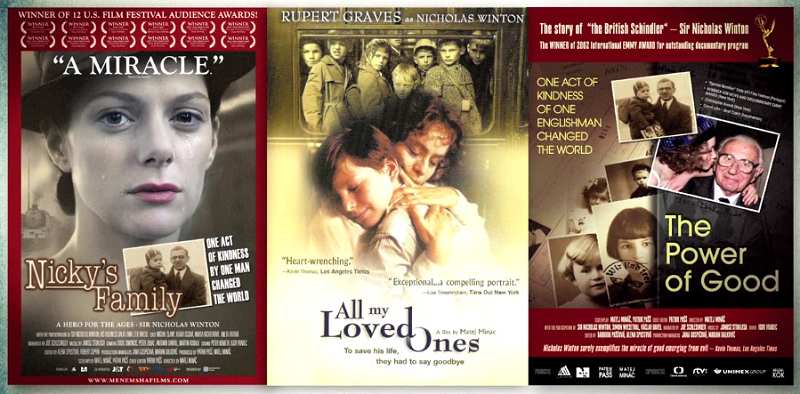 Nicky's Family
Another gripping documentary from the International EMMY AWARD-winning film director Matej Minac is about the rescue operation of Sir Nicholas Winton who saved 669 children during the outbreak of WWII. The film features dramatic re-enactments and never before seen archival footage (one-third of the film) as well as interviews with a number of rescued "children" and Sir Nicholas Winton himself. His fascinating story, even 70 years after the events, continues to inspire people to make this world a better place. World personalities His Holiness Dalai Lama and Nobel Prize winner Elie Wiesel also took part. Nicky's Children is a 96-minute-long English-speaking documentary with dramatic reenactments.
Check out the following titles – 
Over 50+ years ago he saved 669 children. Then for the last 50 years, he was helping mentally handicapped people and building homes for the elderly. In a world wracked by violence and cruelty, Nicholas Winton's selfless actions nearly eight decades ago should give us all hope.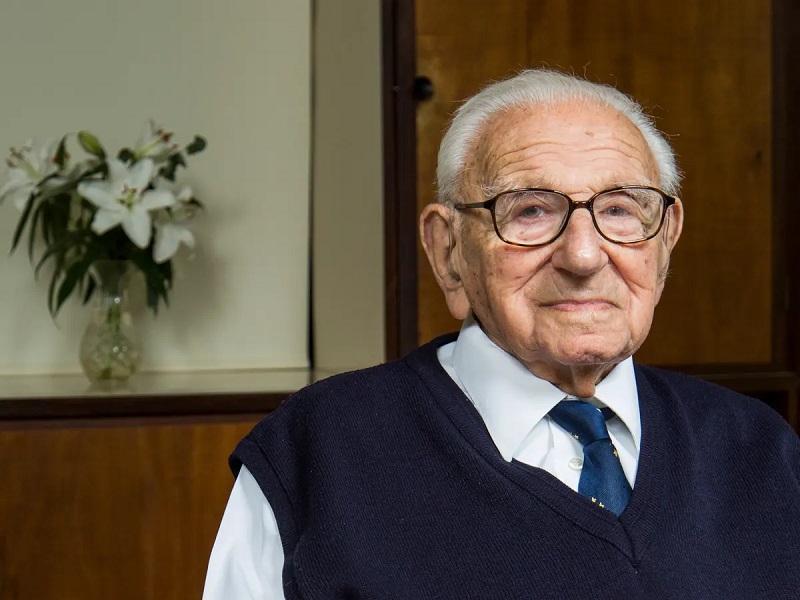 Godspeed Sir Winton!
Thank you in advance for your support…
You could spend hours, days, weeks, and months finding some of this information yourselves. On this website, we curate the best of what we find for you and place it easily and conveniently into one place. Please take a moment today to recognize our efforts and make a donation towards the operational costs of this site – your support keeps the site alive and keeps us searching for the best of our heritage to bring to you.


Remember, we rely solely on your donations to keep the project going.
We appreciate you more than you know!
If you have not already subscribed to get TresBohemes.com delivered to your inbox, please use the form below now so you never miss another post.