It's Oscar night! Let's dish about the Juvenile Oscars, Shirley Temple, Leonardo with old Hollywood, and how this all ties to our Czech roots. As movie lovers we can't wait for the fun to begin. I used to watch every year because I saw every movie nominated – but the last 10 or so years, I have missed the tradition because I just could not get into the current films. But this year, this year is different. We've seen most of the Oscar worthy performances and it's a good year to watch who is going to win.
Up for Best Picture this year…
The Big Short
Bridge of Spies
Brooklyn
Mad Max: Fury Road
The Martian
The Revenant
Room
Spotlight
All of them excellent films but we want Leonardo to win.
Poor guy has to endure all of those Oscar memes and he has such an amazing body of work starting when he was just a child. Leo has been nominated for six Academy Awards but they keep eluding him but I confess, he is our personal favorite this year. We just love the way he brings the feeling of "Old Hollywood" back to his acceptance speeches and how he looks…
He surely invokes Gatsby when walking towards the stage, doesn't he?
Speaking of Old Hollywood, who remembers the "Junior Oscars"?
The Academy Juvenile Award, also known as the Juvenile Oscar, was a Special Honorary Academy Award bestowed at the discretion of the Board of Governors of the Academy of Motion Picture Arts and Sciences to specifically recognize juvenile performers under the age of eighteen for their "outstanding contributions to screen entertainment".
The trophy itself was a miniature Oscar statuette which stood approximately 7 inches tall. It allowed the Academy to recognize outstanding child performers without forcing them to compete against the grown-ups.
The honor was first awarded by the Academy in 1935 to 6-year-old Shirley Temple for her work in 1934.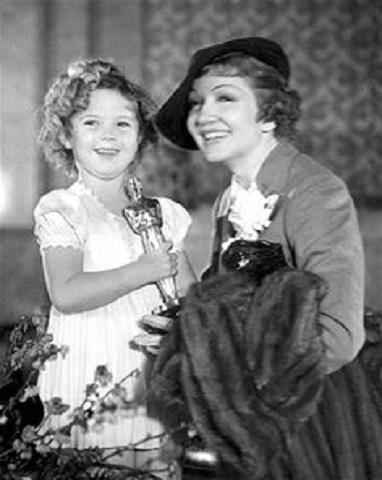 From 1935 until 1961, special Juvenile Oscars—which, at seven inches tall, were about half the size of the adult versions—were awarded for exceptional performances by child actors ranging in age from six to 18.
These could be awarded for a role in one film, or for general excellence over a calendar year.
The last award was presented in 1961, when 12-year-old Hayley Mills became the last recipient to be awarded the child-size statuette for her role in Pollyanna.
Interestingly, Shirley Temple was there to give the award, but Haley was not there to accept it.
Accepting on her behalf was Annette Funicello.
I love that Shirley is photographed holding both the first and last Juvenile Oscars.
I just think that all Czechs have a special love for Shirley Temple in general because of her special position as the first female U.S. Ambassador to Czechoslovakia. When she was appointed to her post in Prague, it was a tumultuous time for the nation. Though her diplomatic career was two decades old at that point, her appointment was still something of a surprise.
As the New York Times put it at the time: "If Prague were Rome or Paris, it would be easy to see George Bush's decision to ask her to be Ambassador to Czechoslovakia as simply a political reward for long, loyal service to the conservative Republican cause. But Prague is a difficult post that has usually been held by career diplomats with a background in Eastern European affairs."
Just months after she was named, Czechoslovakia's Velvet Revolution was underway.
Vaclav Havel was elected President shortly after. The country was still in the process of stabilizing as it moved away from a Communist government to a new parliamentary system.
There were three reasons why Black's on-screen history was particularly crucial at that point in Czech history:
She was instantly recognizable and known.
From her earliest age, she was a prodigy in her confidence and her ability to take command of any situation. She awed her co-stars with that quality on the set and the same was true on the stage of world affairs, as the eyes of the world looked to what was then Czechoslovakia.
She was most famous as an actress for her sunny confidence and optimism, and she really infused the United States' role — as our representative here, in the Velvet Revolution — with that good cheer and that hope.
Norman Eisen said, "Her optimism was crucial to the success of the U.S. support for the Czech-led effort — the foundation of a relationship that remains strong to this day. Black would hold glamorous parties at the Ambassador's residence; her inclusion in such events made an impression on the leaders of a political group that had, until shortly before, been enemies of the state. Her ability to forge friendships with the former dissidents led her to take such extra steps, too, such as flying on the same plane as President Havel when he made his first official trip to the United States so that she could personally make the necessary introductions."
"Normal diplomatic practice", Eisen says, "would be to fly separately or to not attend at all." And though Eisen never met her, he says that many of the embassy staffers who have been working there for decades have fond memories of the former star.
Shirley Temple Black in 1995. She used to tease the Czech communists by using her initials, STB, on license plates, sweatshirts and this red sign that hung on on her door when she was U.S. ambassador to Czechoslovakia. The letters "STB" were also the initials of the dreaded Czech secret police.
But back to Junior…
Another interesting piece of trivia is that the Junior Oscar is the only one Judy Garland ever received.
While only 12 stars have been awarded the rare miniature statuette, a total of 14 Juvenile Oscars are actually known to exist.
1934 – Shirley Temple – In grateful recognition of her outstanding contribution to screen entertainment during the year 1934. (She managed to appear in 10 films made in 1934, including Bright Eyes, Stand Up and Cheer! and Baby Take a Bow.)
1938 – Deanna Durbin & Mickey Rooney – For their significant contribution in bringing to the screen the spirit and personification of youth, and as juvenile players setting a high standard of ability and achievement.
1939 – Judy Garland – Outstanding performance as a screen juvenile during the past year (including The Wizard of Oz and Babes in Arms).
1944 – Margaret O'Brien – Outstanding child actress of 1944 ( for her role opposite Judy Garland in Meet Me in St. Louis).
1945 – Peggy Ann Garner – Outstanding child actress of 1945 (A Tree Grows in Brooklyn).
1946 – Claude Jarman, Jr. – Outstanding child actor of 1946 (The Yearling).
1948 – Ivan Jandl – Outstanding juvenile performance in The Search. (Jandl appeared alongside Montgomery Clift in The Search, a World War II film in which his character, Karel Malik, is separated from his family, sent to Auschwitz, then taken to an American orphanage. Traumatized and unable to speak beyond the phrase "I don't know" in Czech, Malik searches for his mother and gradually learns to trust the American soldiers. Many of the scenes were shot amid the real-world ruins of German cities where Word War II battles took place. Tragically, he was not permitted to travel to the U.S. to accept the award and later wrote in his autobiography that the Soviet regime punished him for getting a splendid award from the 'capitalist West.' He was forbidden from working in any more films and not allowed to accept foreign contracts or travel abroad.
1949 – Bobby Driscoll- Outstanding juvenile actor of 1949 (So Dear to My Heart, and The Window).
1954 – Jon Whiteley and Vincent Winter – Outstanding juvenile performances in The Little Kidnappers.
1960 – Hayley Mills – Outstanding juvenile performance in Pollyanna.
Surely if these awards were still around, then tonight 9-year-old Jacob Tremblay, who played Jack in Room, would surely be walking up to the stage.
So why did they stop the Juvenile Oscar? In 1963 Patty Duke (16) was nominated for the Best Supporting Actress award for her performance in The Miracle Worker. She won. It was because of this performance that the Academy took as proof that the Juvenile Award was no longer needed. Though since then only two other children have won (Tatum O'Neal for Paper Moon in 1974 and Anna Paquin for The Piano in 1994).
Only ten others have been nominated – I'd like to see the Juvenile Award be brought back.
But it's time to get ready for the Oscar party and start making snacks…
As we prepare to watch the 88th Academy Awards, please do share… who will you be voting for tonight?
Thank you for your support – We appreciate you more than you know!
We know that you could spend hours, days, weeks and months finding some of this information yourselves – but at this website, we curate the best of what we find for you and place it easily and conveniently into one place. Please take a moment today to recognize our efforts and make a donation towards the operational costs of this site – your support keeps the site alive and keeps us searching for the best of our heritage to bring to you.


Remember, we rely solely on your donations to keep the project going.
Thank you in advance!
If you have not already subscribed to get TresBohemes.com delivered to your inbox, please use the form below now so you never miss another post.