This traditional Czech sweet bread called Vánočka is sold all year round in the Czech Republic, but Czechs mostly buy and eat it on Christmas morning with a hot cup of káva (coffee) or čaj (tea). This simply delicious bread is similar to a panettone with raisins, lemon, and slivered almonds on top. Easy to make, today I will be sharing with you this fantastic recipe that turns out very time!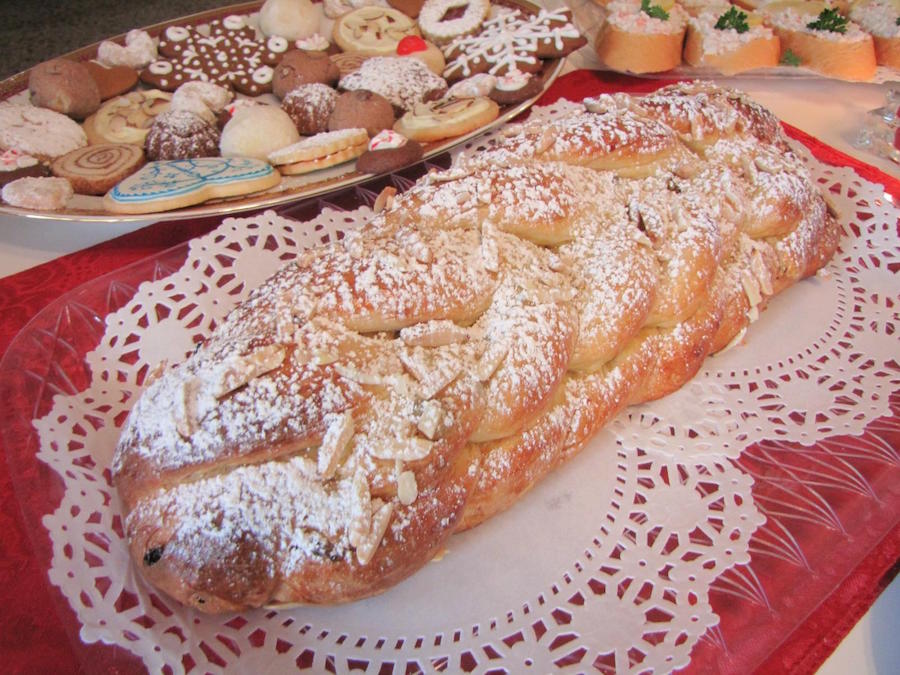 Ingredients:
1 1/4 cup milk
3/4 cup sugar
3 tsp yeast
4 cups all purpose flour
1/2 tsp salt
lemon zest
2 egg yolks
1 stick of melted butter
1/3 cup raisins
Topping:
1 egg
1/4 cup slivered almonds
powdered sugar
Directions
Preheat over to 350°F.
First, warm milk. Make sure it is not too hot so it does not kill the yeast. Once your milk is warm, put it in a bowl and add 1 teaspoon of sugar and 3 teaspoons of dry yeast. Set aside and let rise for about 10 minutes.
While your yeast is rising, put all of your dry ingredients (flour, sugar, salt, and the zest of one lemon) into a large mixing bowl and mix. Once the dry ingredients are well mixed add the egg yolks and mix. Then pour in the melted butter and mix again.
By this time your yeast should be bubbly and frothy, that means it has risen. Add the yeast mixture into your dry mixture along with the raisins and combine using a wooden spoon until the dough is sticking together and starting to form a ball. Once this happens, set the spoon aside and begin kneading the dough with your hands. The longer you knead the fluffier and tastier your vánočka will be.
Once you are finished kneading, dust the inside of a large bowl with flour (this will ensure your vánočka dough will not stick to the bowl when it rises) and add the dough. Cover the bowl with a kitchen towel and set in a warm area to rise for 2 hours.
After 2 hours, take your dough out of the bowl and lay it on a surface which is lightly dusted with flour. Cut your dough in half and then cut one of the halves into 4 pieces and the other half into 5 pieces. Take each piece one by one and roll them out into logs.
After you have rolled out all 9 pieces, pick out the 4 that are medium in length, set them side by side and connect them at the top. Then, simply make a 4 strand braid, if you are unsure how to do this, try finding a tutorial on YouTube. Set aside your 4 strand braid, pick out the 3 shortest strands and make a normal braid. Now take the last 2 strands, which are the longest, and twist them around each other.
Once all your braids are done, wisk one egg up and brush the top of the first 4 strand braid and set it on a baking sheet with parchment paper, then set the 3 strand braid on top of the 4 strand braid and brush it with egg. Finally, put the 2 strand twist on top and tuck the edges underneath the other braids. Cover yet again with a kitchen towel and let rise for 1 hour.
After rising the second time, brush the entire thing with egg, add the sliced almonds, and stick 3 sandwich toothpicks into the center of the braid stack so it will not tip over. Cover with aluminum foil and let bake for 45 to 50 minutes. Pull it out, let it cool, and dust with powdered sugar.
Enjoy a slice with some honey butter or jam!
If you have not already subscribed to get TresBohemes.com delivered to your inbox, please use the form below now so you never miss another post.
---
Remember, we rely solely on your donations to keep the project going.
Become a friend and get our lovely Czech postcard pack.