Škoda Auto, more commonly known as Škoda, is a Czech automobile manufacturer founded in 1895 as Laurin & Klement. Not too glamorous of a car, there was one photographer who bought a certain level of style to it. Today we're looking at Skoda Glamour in the 50s by Vilem Heckel.
It is headquartered in Mladá Boleslav, Bohemia, Czech Republic. In the 1950's photographer Vilém Heckel photographed many models of the vehicle. Here is the collection…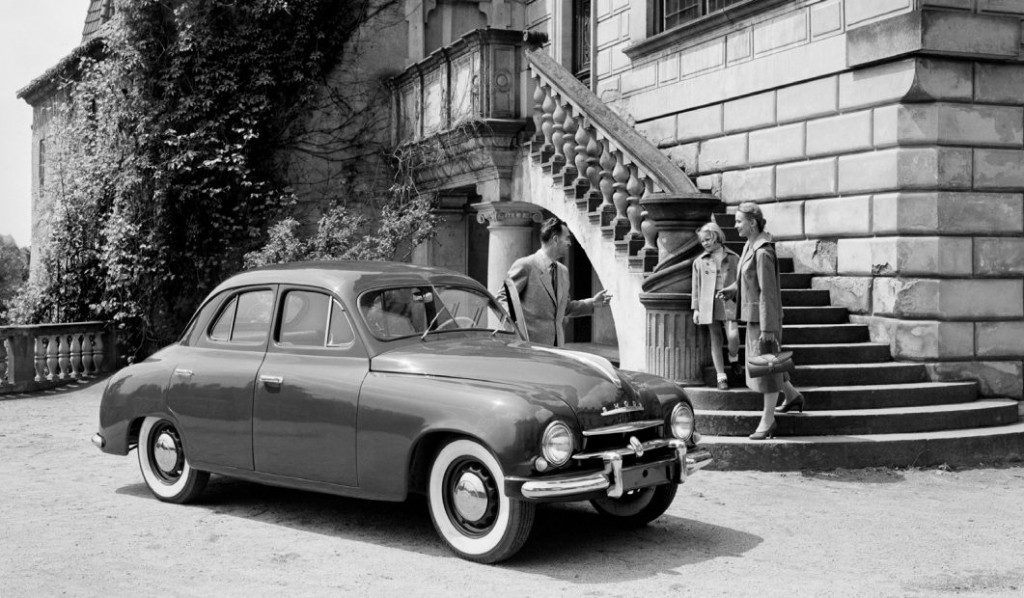 In 1955 came the slide sedan Škoda 1201.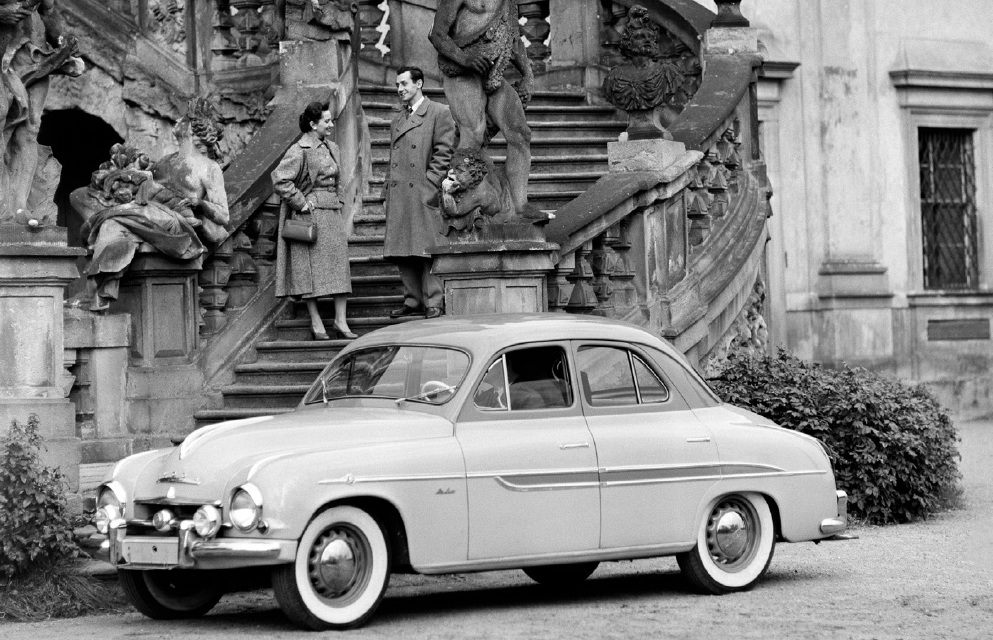 In 1956, Skoda Export prepared a sedan version of the 1201. The car got additional headlights, roof and painted a different stripe on the side and a number of other accessories.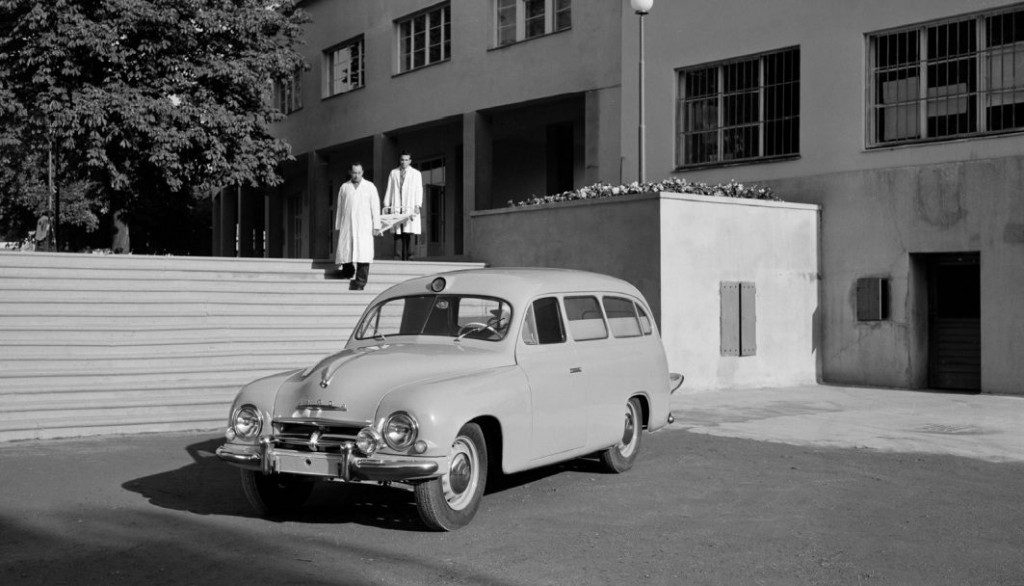 Škoda 1201 also created an ambulance design.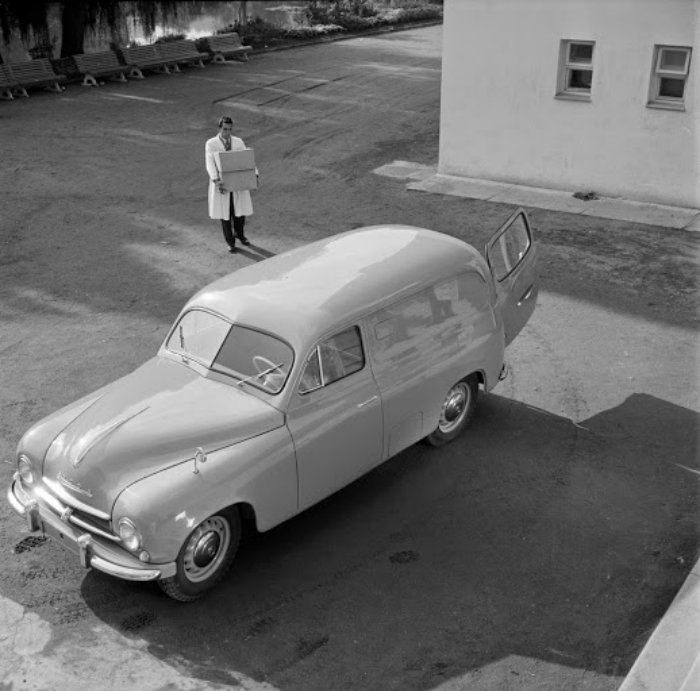 Strong and sturdy.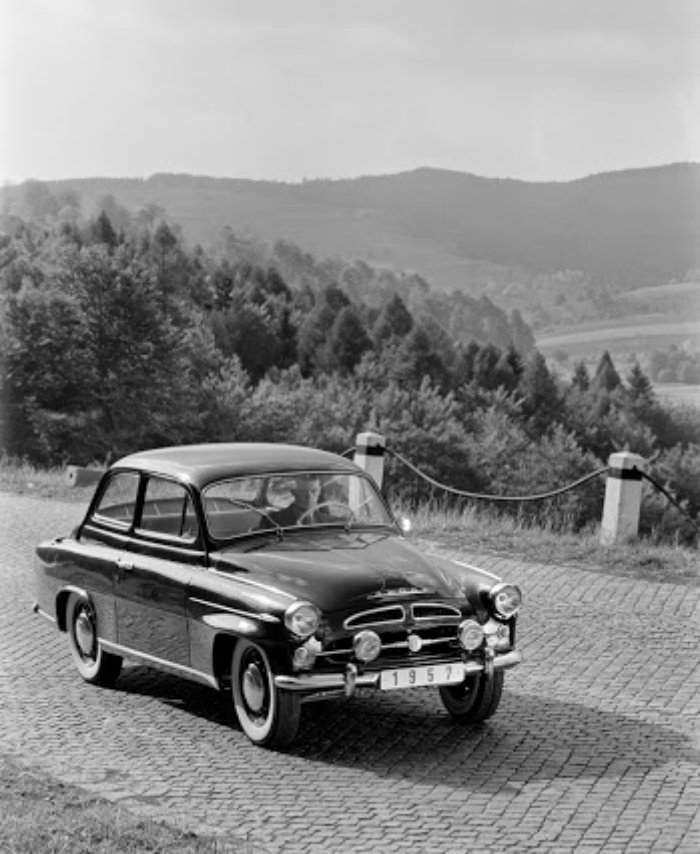 The car could go anywhere.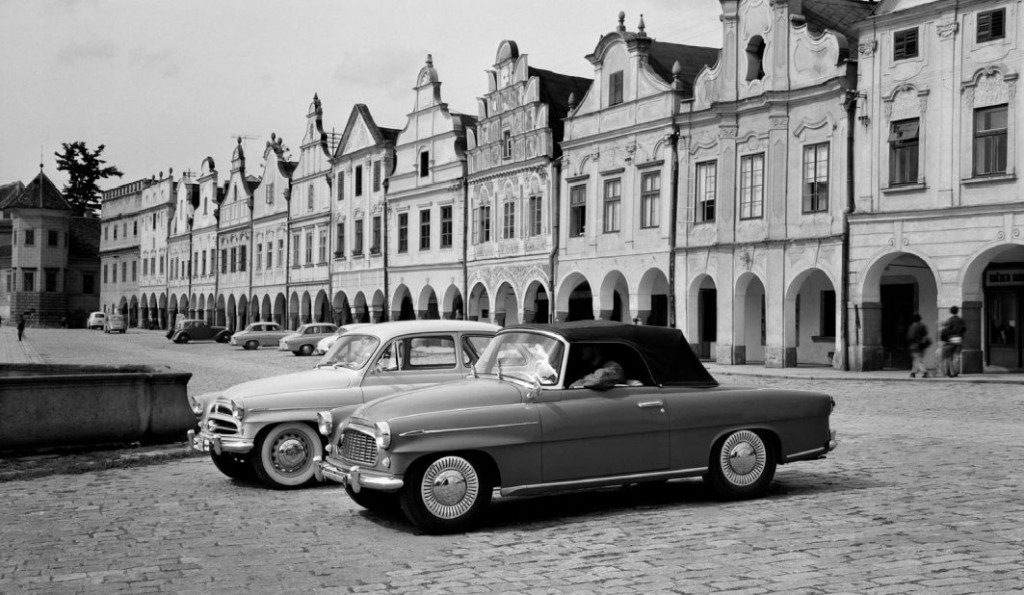 The Škoda 445 and 450 convertible, parked on the square in Telč.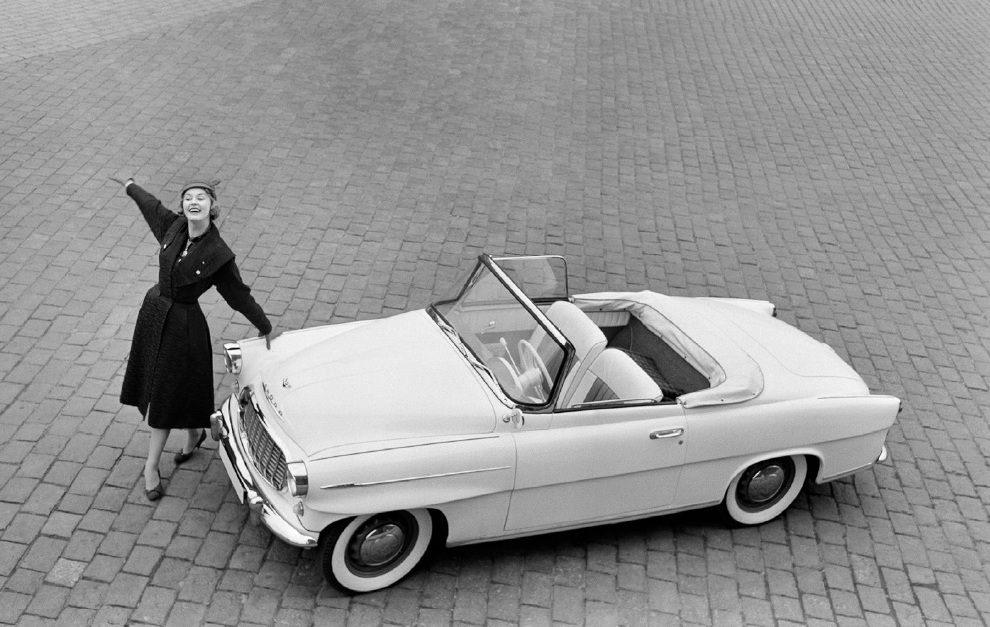 Miss USA of 1957, first runner up who wore the crown because the winner lied about her age and marital status, Miss Charlotte Sheffield of Utah.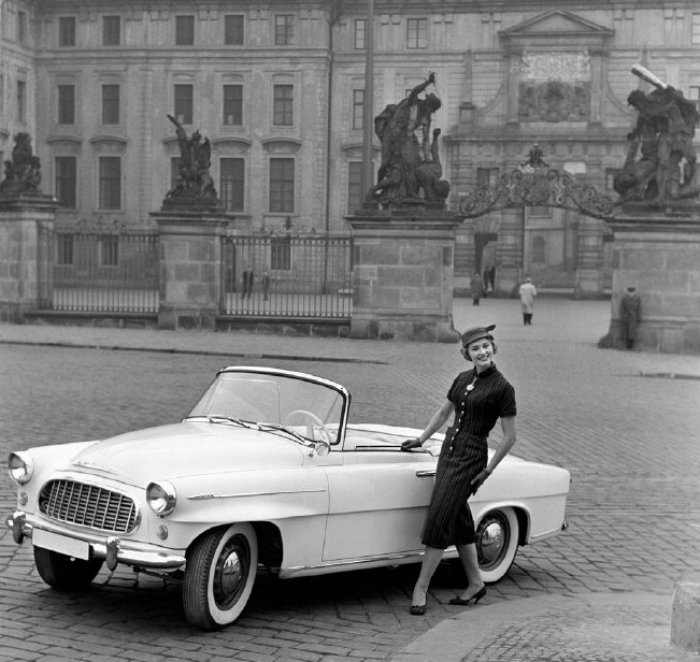 Miss USA of 1957 posing with the Škoda in front of the Matthias Gate at the Prague Castle.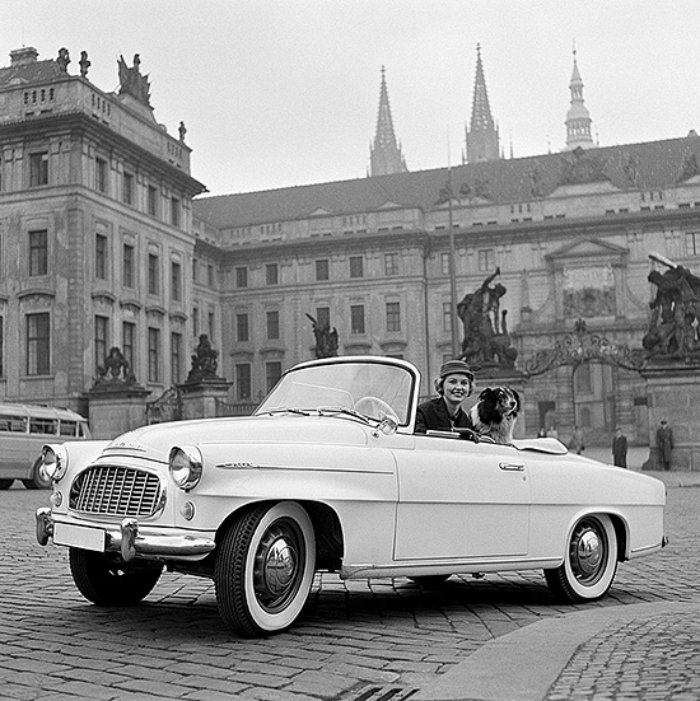 …And she made a friend.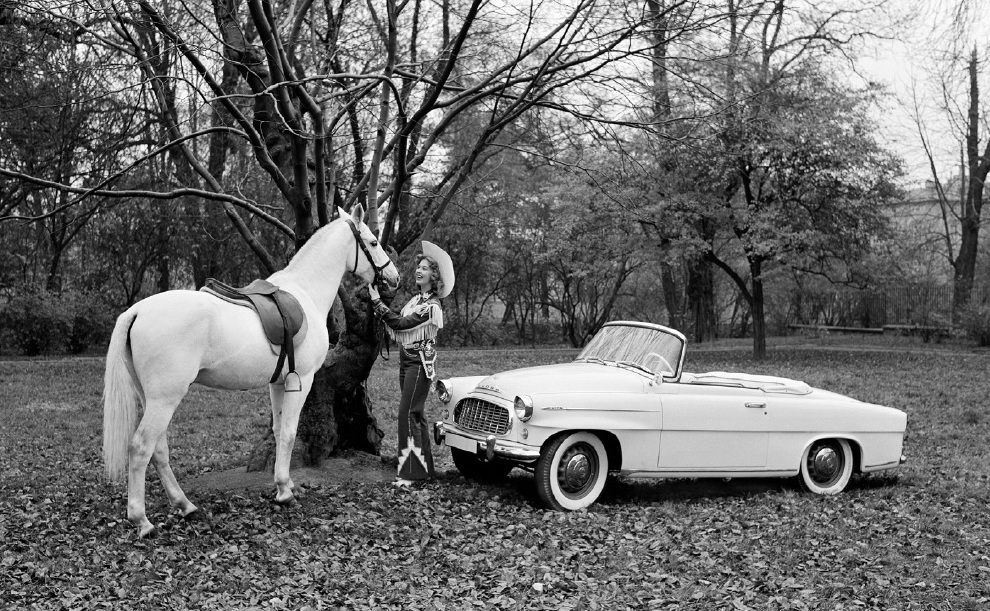 Bringing the American Wild West to Czechoslovakia.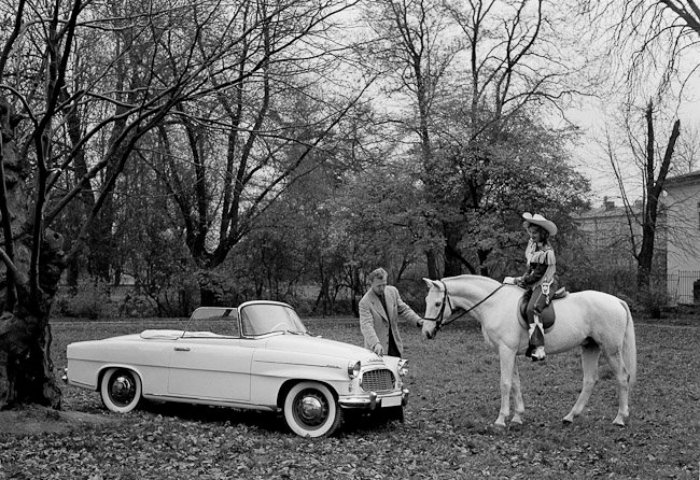 Miss USA 1957 continues to pose with the Škoda.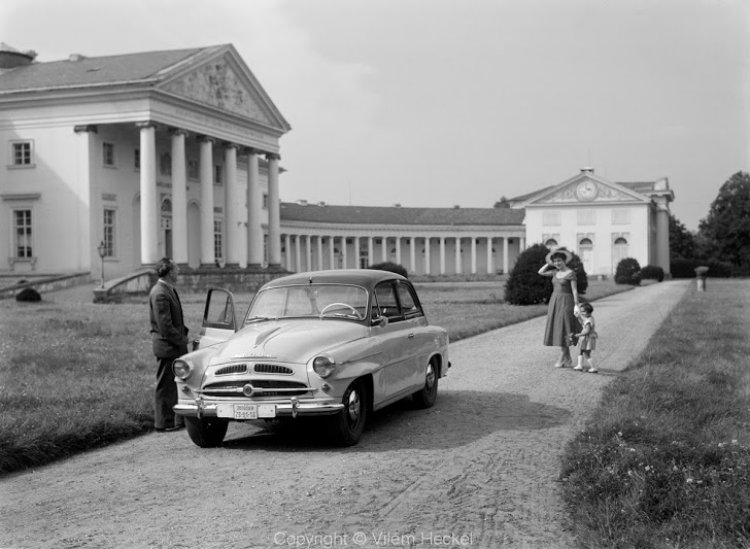 The Škoda 440 (Spartak) was a domestic beauty for Czechs.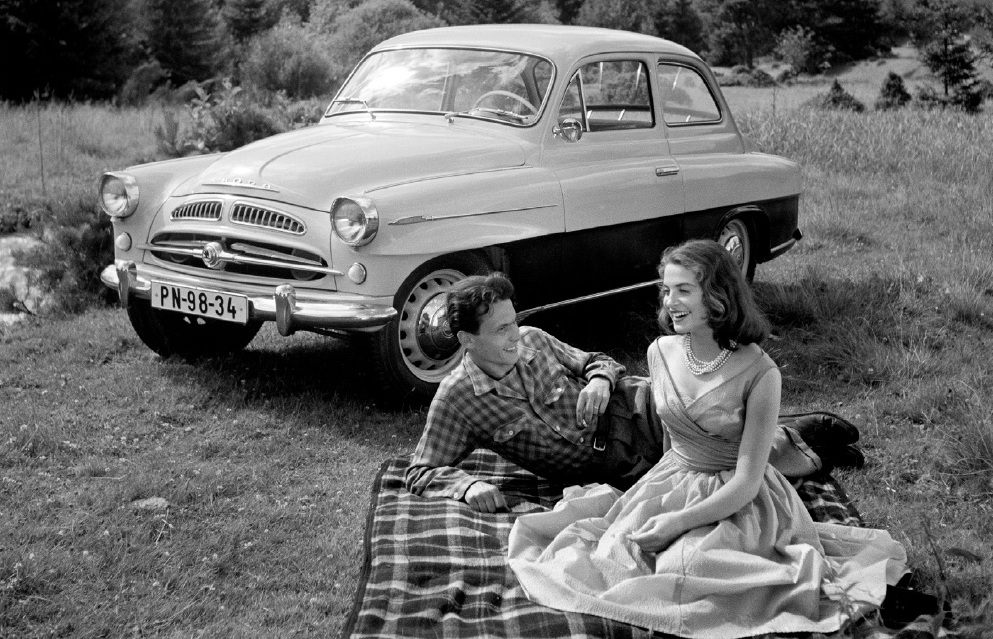 The actress Milena Dvorská was photographed for a promotion under the High Tatras mountains.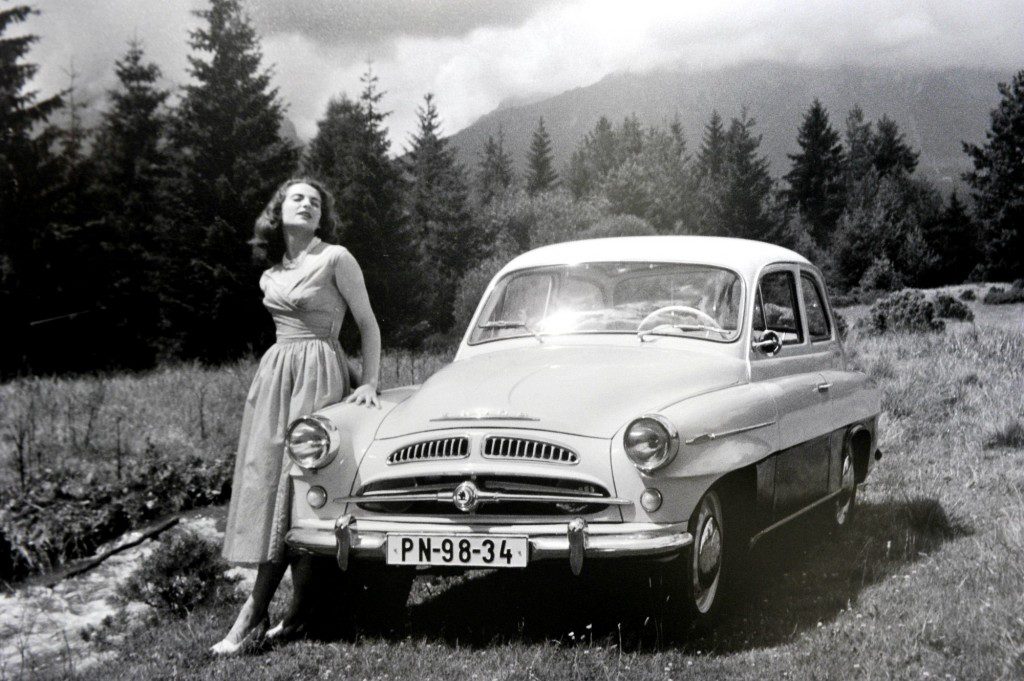 Milena Dvorská was a Czechoslovak film actress.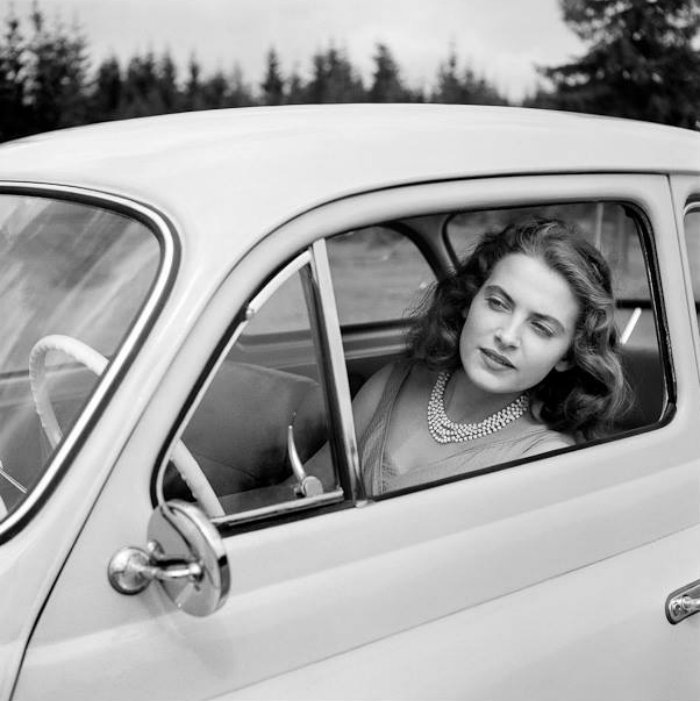 She appeared in 70 films and television shows between 1955 and 2009.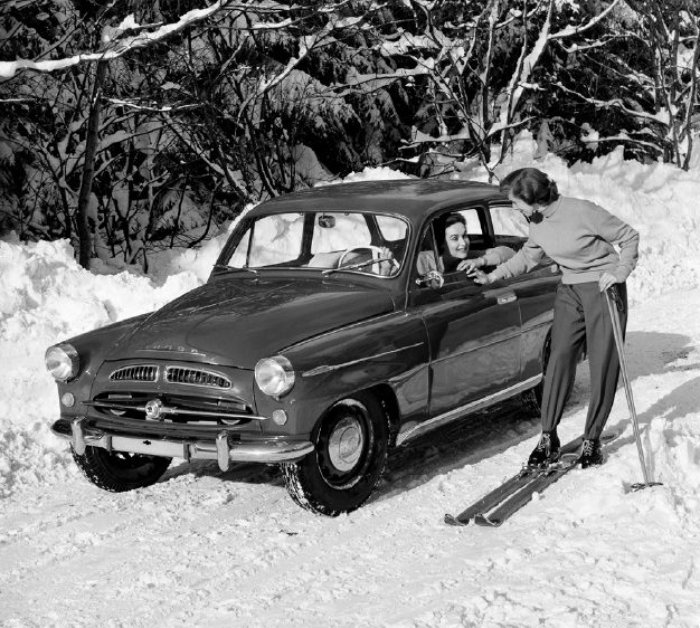 Meeting in a snowy landscape, this ad shows that the Škoda can handle all weather conditions.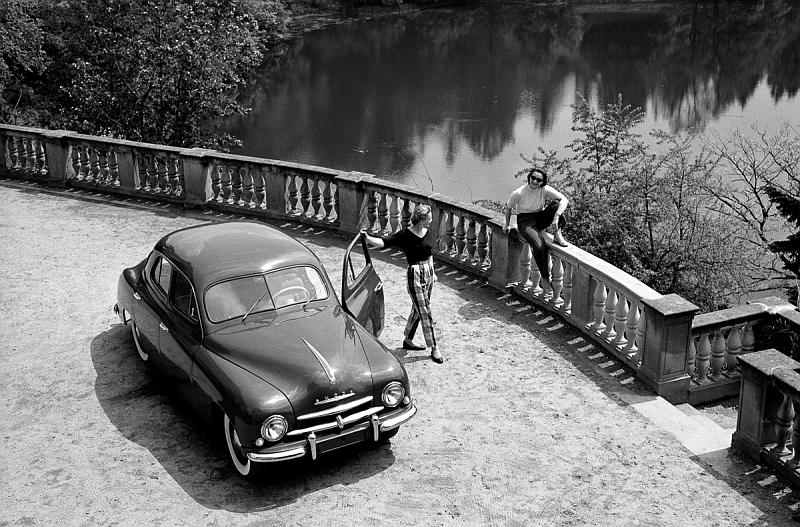 As I look at the photographs, I realize that Vilém Heckel succeeded at bringing First Republic glamour to communist advertising.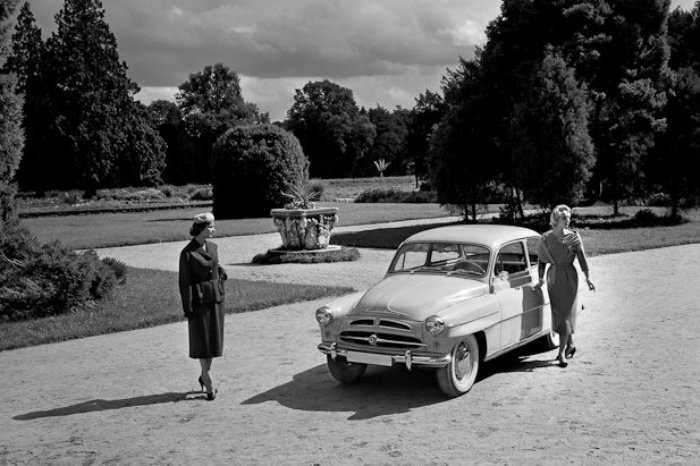 Everything looks so sleek, modern and fresh.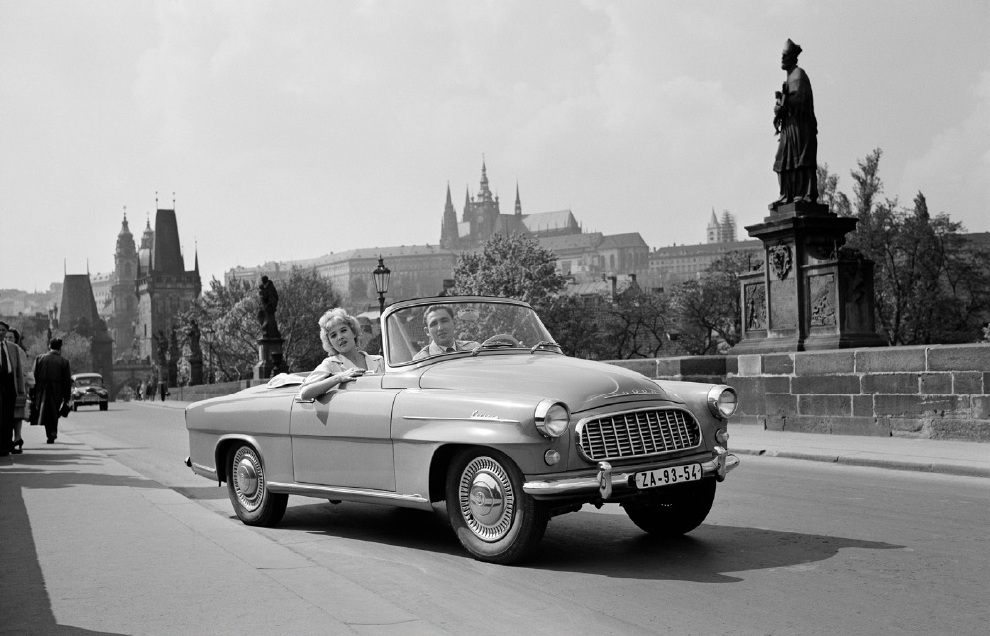 Here we have an interesting photograph. It shows clear evidence that during the late fifties, the Charles Bridge was used for vehicular traffic.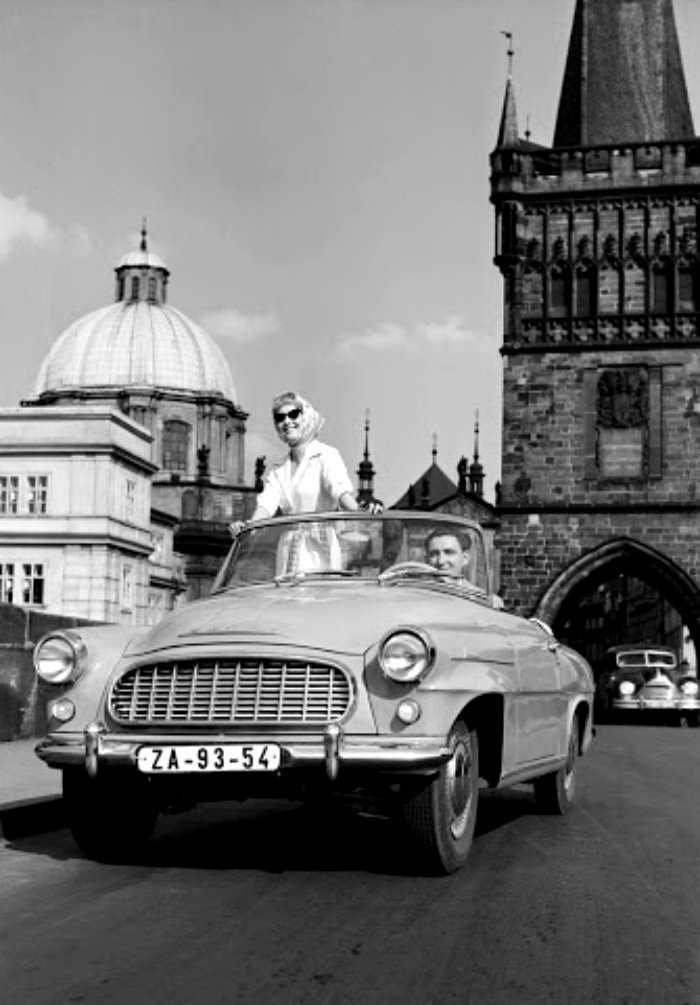 And it looked like a lovely ride, on a lovely day with a lovely view.
The Škoda Felicia truly complements the typical silhouette of Prague.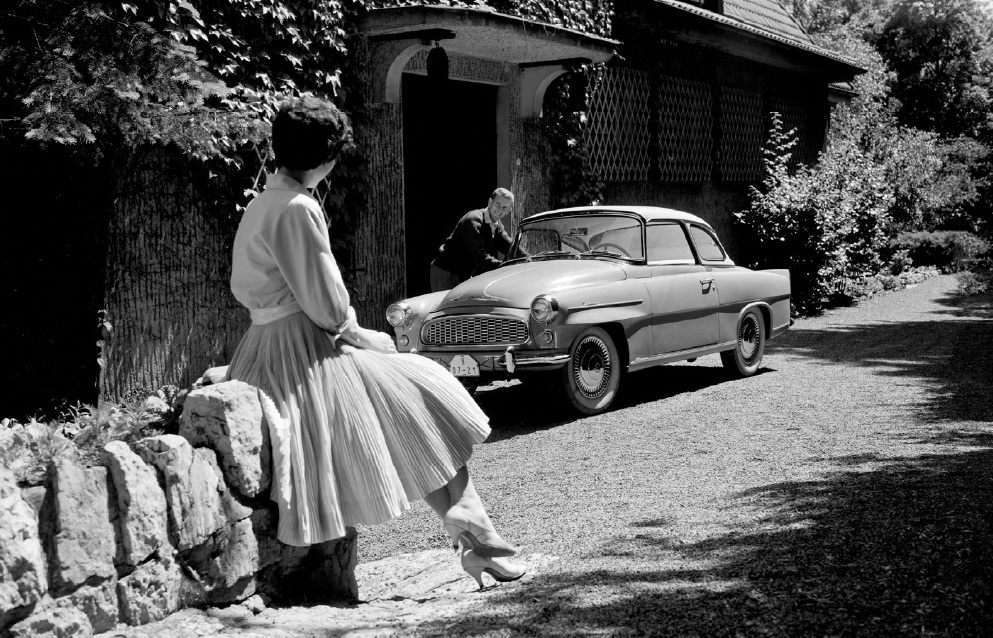 Two lovely ladies, a rendezvous with a brunette and a 1961 Škoda Felicia.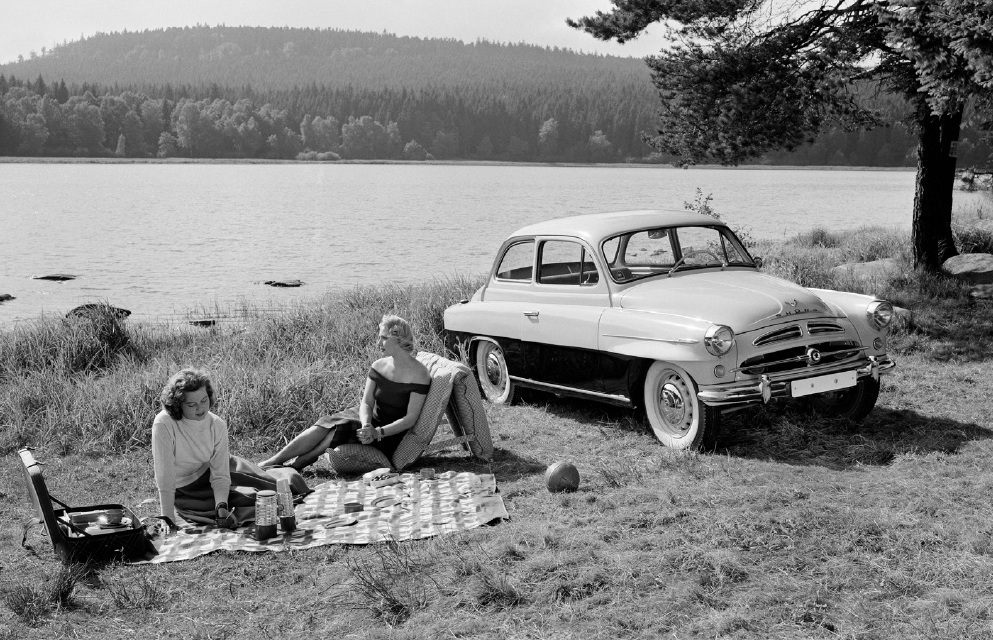 The perfect car, in the perfect location with the perfect picnic hamper.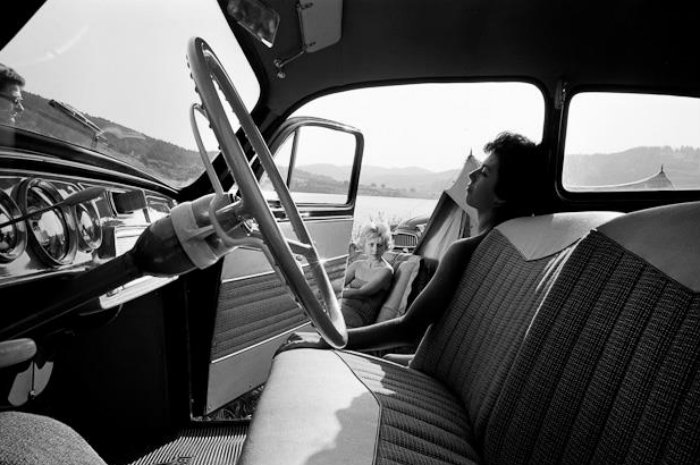 Looks like the makings of a perfect day.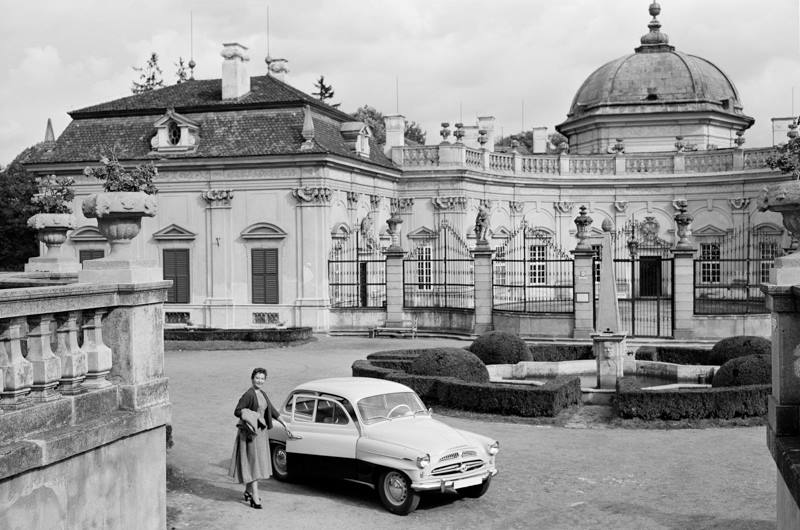 His photographs are sophisticated and make Prague look like the center of where you want to be.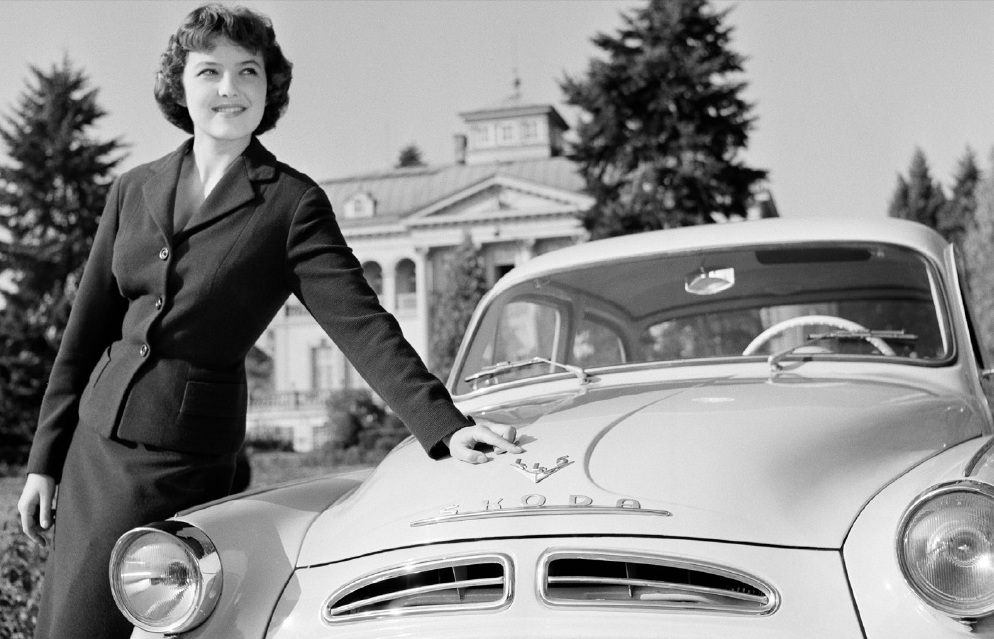 Some of the advertising photos for the Škoda were set up to tell a story. This lady is standing next to a Škoda 445, also known as Spartacus.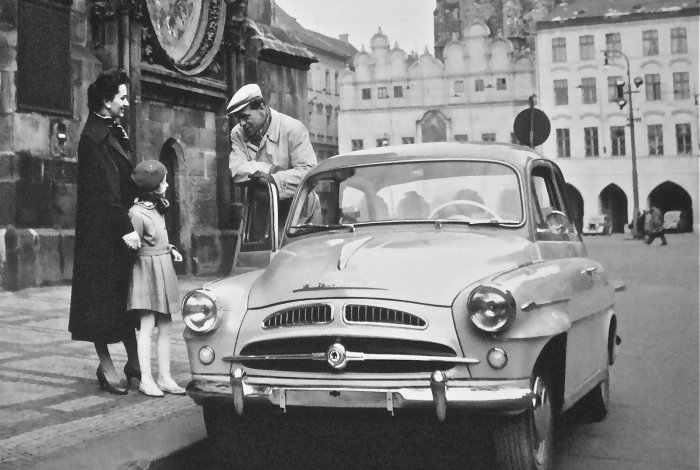 Škoda 440 Spartak (Spartacus) Type 970.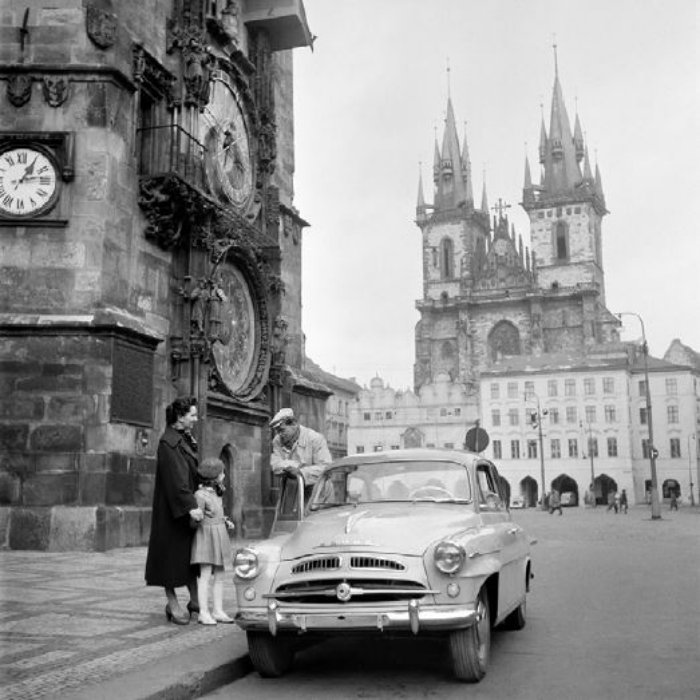 In the center of Prague at the Astronomical Clock.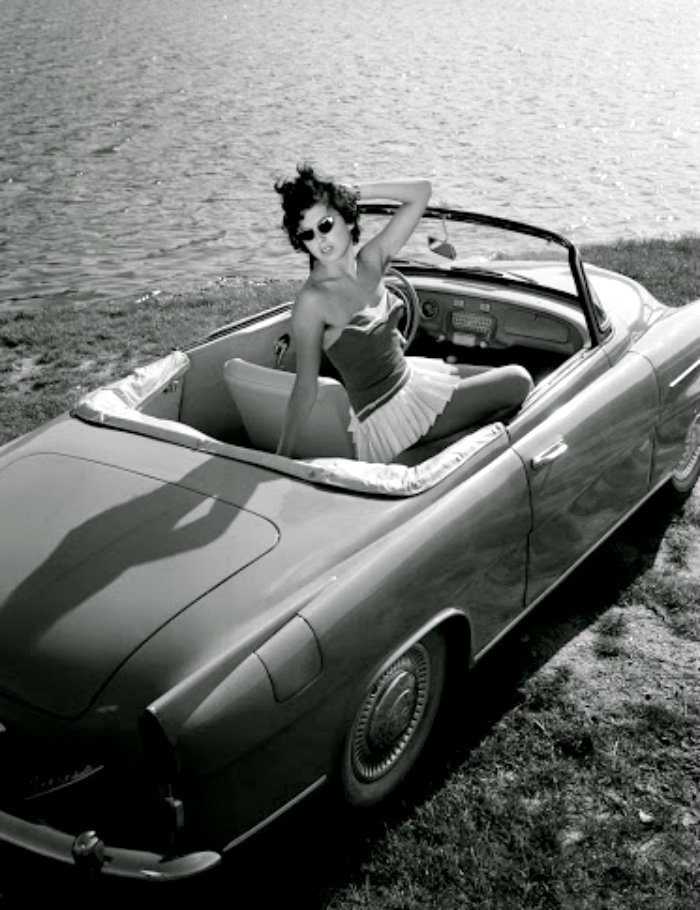 Glamour… American pin-up girl style.
The Škoda Felicia did not only come with a classic convertible, it also had a solid removable fiberglass roof which these two chaps are removing.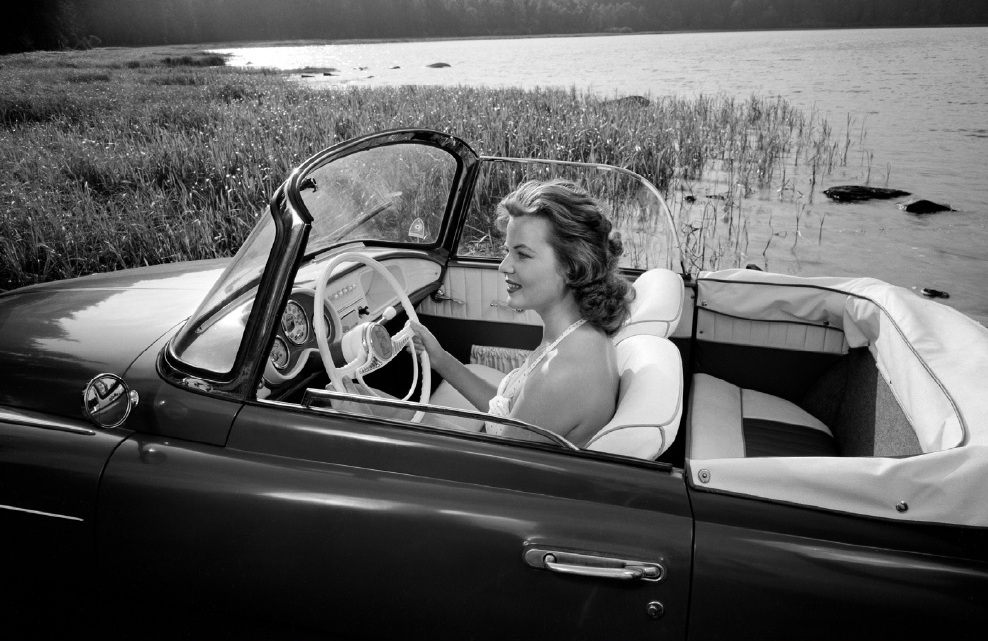 Needing to show off the interior of the Škoda 450 a pretty Czech model certainly makes the photograph more interesting.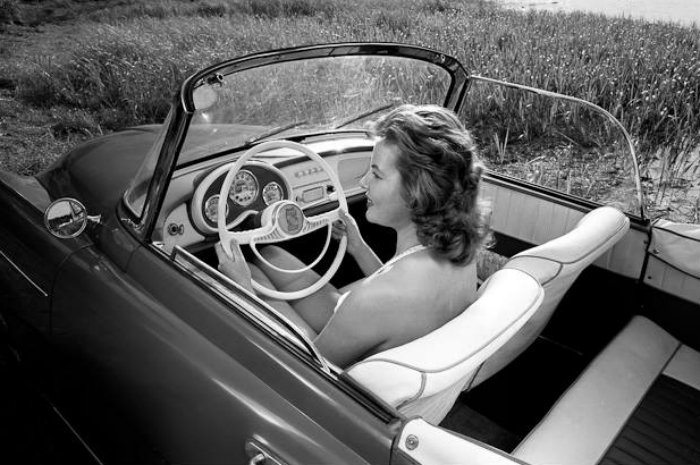 Lovely interior.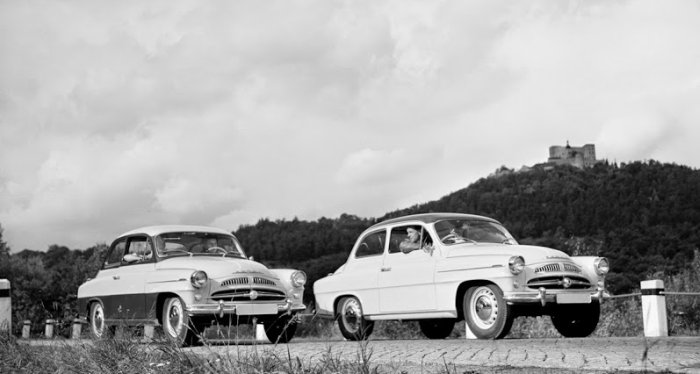 When I first saw these photographs, I was surprised how very Western they looked. I could easily imagine them appearing in an American glossy magazine at around the same time. But in Communist Czechoslovakia?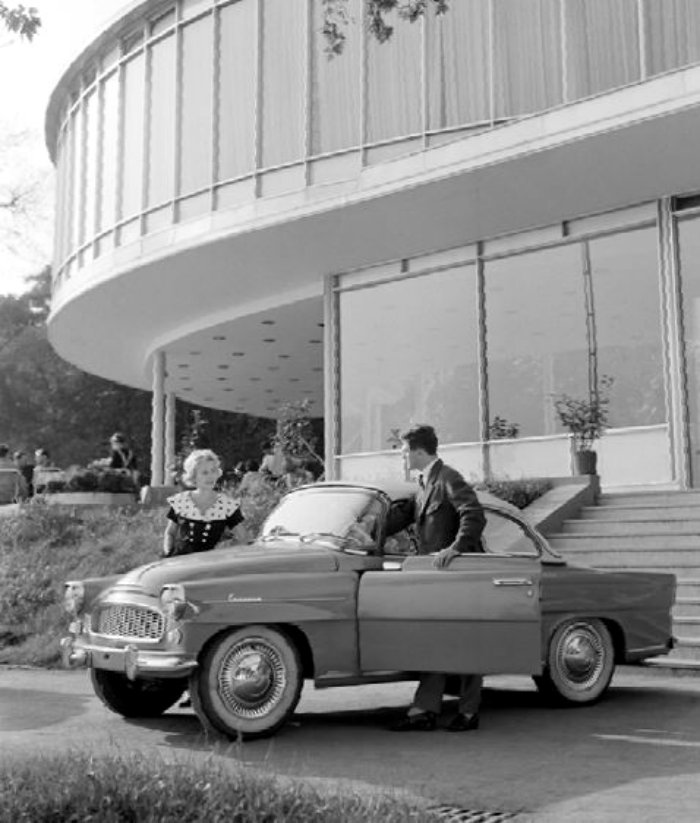 The secret of them is that he shot them primarily for export. Many Czechs never new these photos even existed.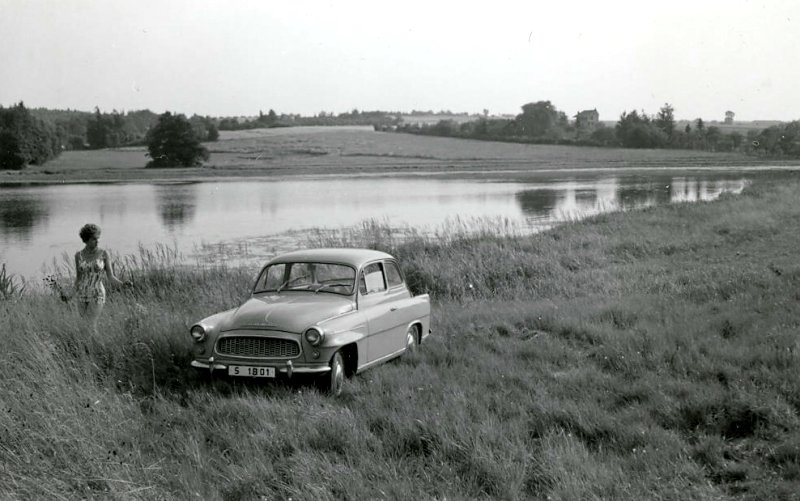 Lakeside with the Škoda Oktavia.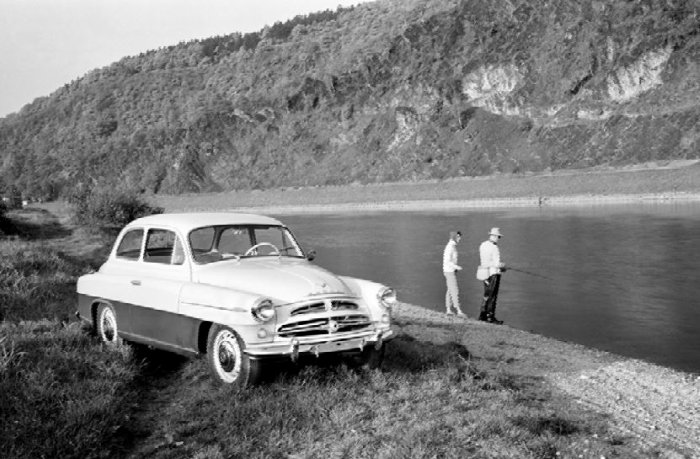 The car really shows itself as being a versatile ride.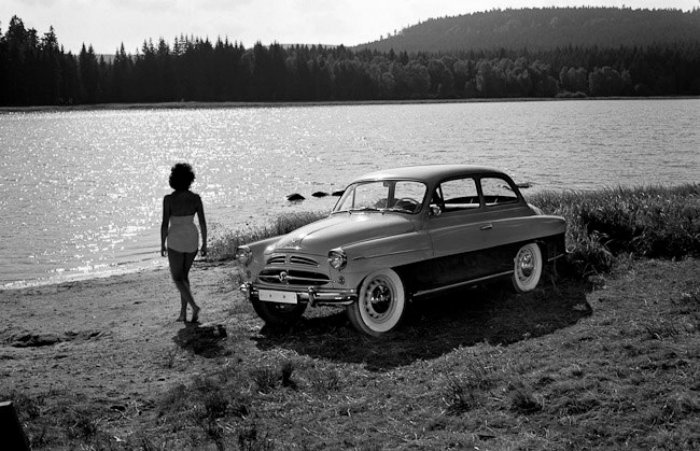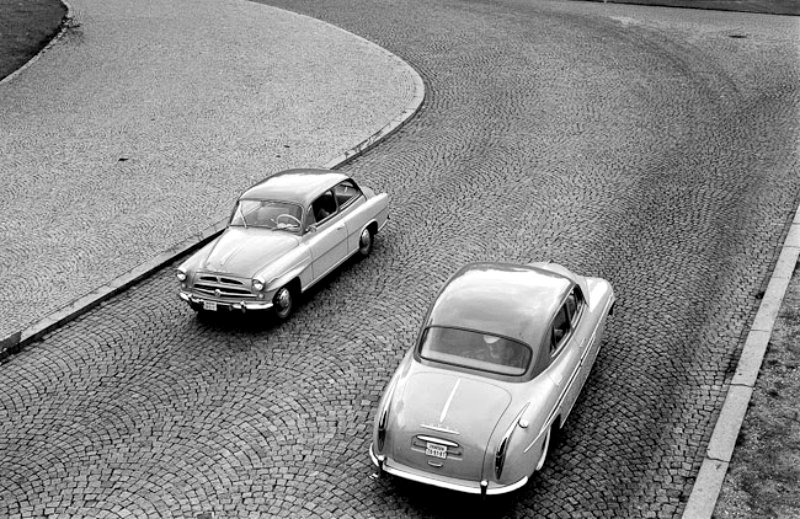 In nature or in the city, Vilem sure had an eye for advertising and commercial photographs. Believe it or not, he was mostly known of his mountain photographs.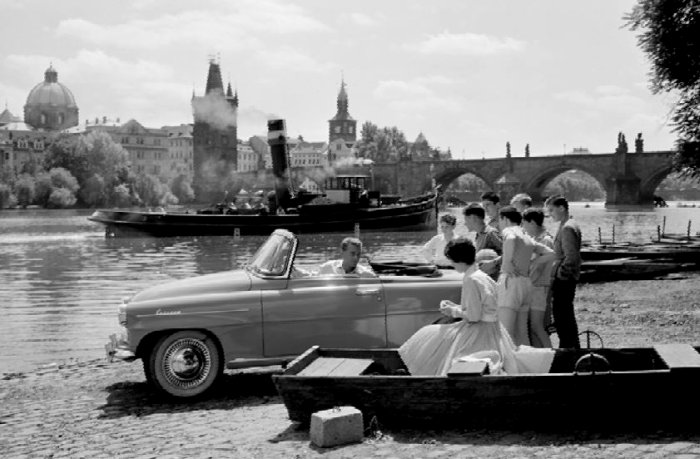 Few Czechs even knew he did commercial work.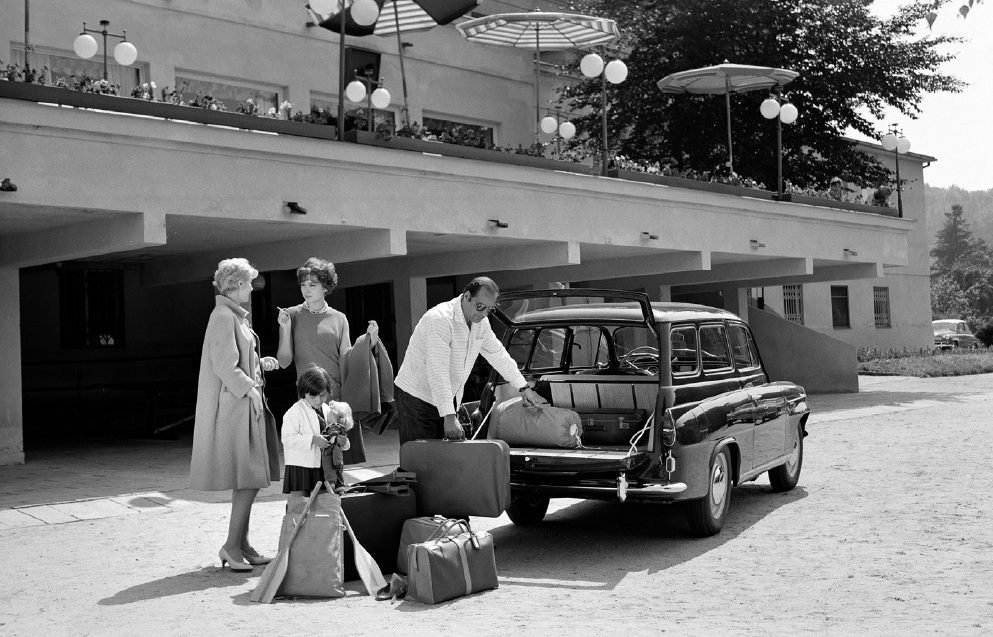 It has been more than fifty years and the Škoda ad team was highlighting the advantages of station wagons by photographing them with a lot of luggage.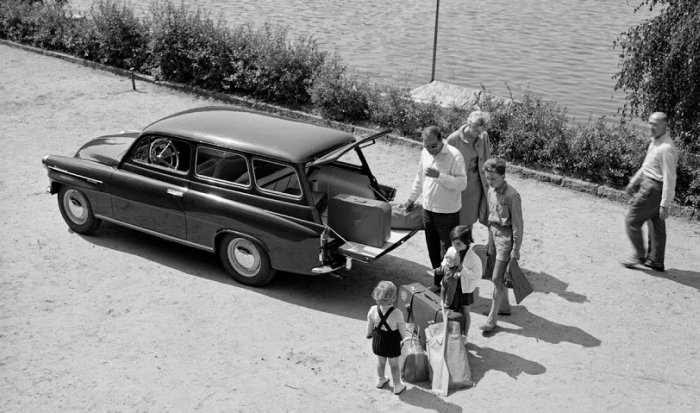 Pictured is a family going on vacation and the first generation of the Škoda Octavia Combo.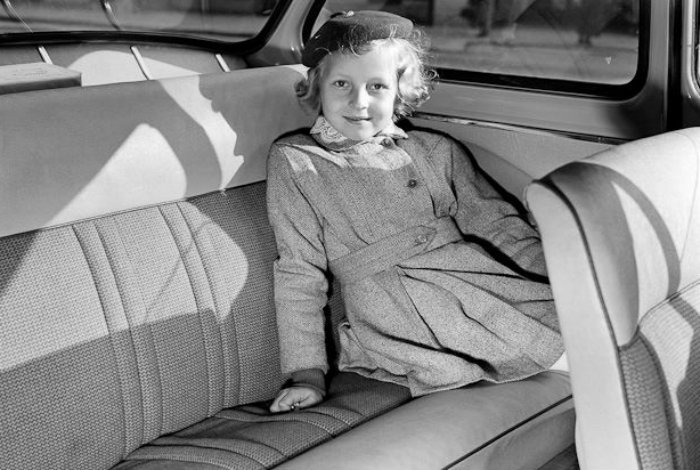 Of course, there is a lot of room on the inside too.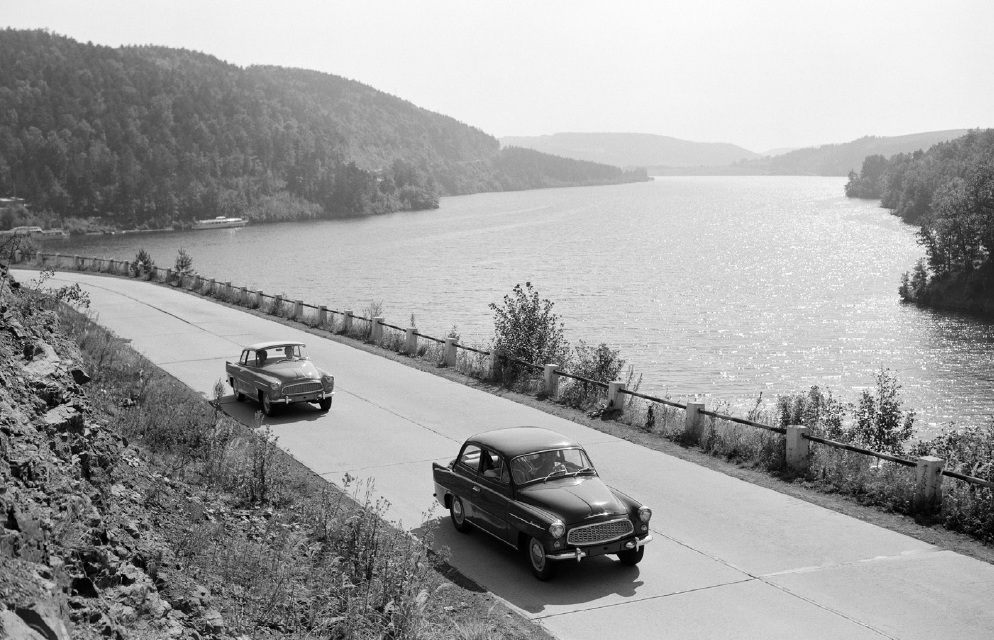 In this image we see both the Škoda Felicia and the Octavia following each other on a roadtrip passing the edge of the Vltava river.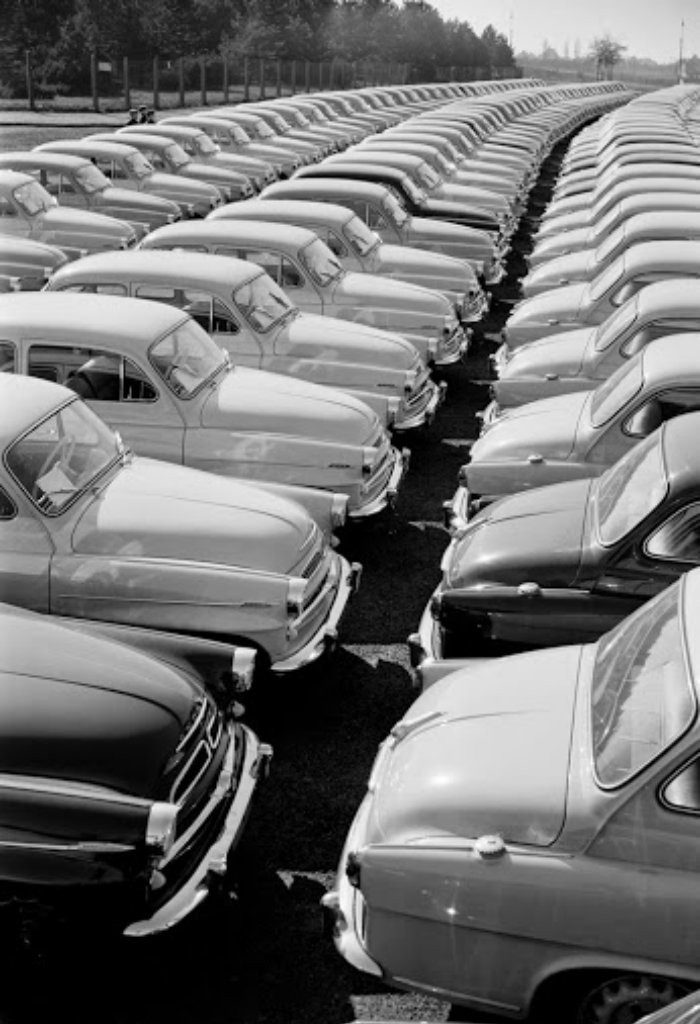 No matter how you lined them up – the commercial photography made them look stylish, modern and elegant.
Vilém Heckel devoted himself mainly to landscape photography, with special focus on the photography of mountains. In 1970, he died at Huascarán, Peru. He is now recognized as one of the founders of the genre of industrial and promotional photography in Czechoslovakia.
Heckel and his colleagues were killed by avalanche caused by Great Peruvian earthquake which buried their camp under Huascarán on May 31, 1970. All of the members of the expedition he was with died.
Sources: Radio CZ, Actualne CZ, Wikipedia, Vilem Heckel Photo Archive.
Thank you for your support – We appreciate you more than you know!
We know that you could spend hours, days, weeks and months finding some of this information yourselves – but at this website, we curate the best of what we find for you and place it easily and conveniently into one place. Please take a moment today to recognize our efforts and make a donation towards the operational costs of this site – your support keeps the site alive and keeps us searching for the best of our heritage to bring to you.


Remember, we rely solely on your donations to keep the project going.
Thank you in advance!
If you have not already subscribed to get TresBohemes.com delivered to your inbox, please use the form below now so you never miss another post.