What happens when you put 12 angry men into a closed room and put them in charge of deciding the outcome of another man's life?
Eventually… you get 12 angry men.
But first it's important to understand who these 12 men are:
DESCRIPTIONS OF JURORS
FOREMAN
A small, petty man who is impressed with the authority he has and handles himself quite formally. Not overly bright, but dogged.
JUROR NUMBER TWO
A meek, hesitant man who finds it difficult to maintain any opinions of his own. Easily swayed and usually adopts the opinion of the last person to whom he has spoken.
JUROR NUMBER THREE
A very strong, very forceful, extremely opinionated man within whom can be detected a streak of sadism. A humorless man who is intolerant of opinions other than his own and accustomed to forcing his wishes and views upon others.
JUROR NUMBER FOUR
Seems to be a man of wealth and position. A practiced speaker who presents himself well at all times. Seems to feel a little bit above the rest of the jurors. His only concern is with the facts in this case, and he is appalled at the behavior of the others.
10th Juror: Then what do you want?
8th Juror: Nothing. I just want to talk.
7th Juror: Well, what's there to talk about. Eleven men here agree. Nobody had to think twice about it, except you.
JUROR NUMBER FIVE
A naïve, very frightened young man who takes his obligations in this case very seriously, but who finds it difficult to speak up when his elders have the floor.
JUROR NUMBER SIX
An honest but dull-witted man who comes upon his decisions slowly and carefully. A man who finds it difficult to create positive opinions, but who must listen to and digest and accept those opinions offered by others which appeal to him most.
JUROR NUMBER SEVEN
A loud, flashy, glad-handed salesman type who has more important things to do than to sit on a jury. He is quick to show temper, quick to form opinions on things about which he knows nothing. Is a bully and, of course, a coward.
JUROR NUMBER EIGHT
A quiet, thoughtful, gentle man. A man who sees all sides of every question and constantly seeks the truth. A man of strength tempered with compassion. Above all, a man who wants justice to be done and will fight to see that it is.
JUROR NUMBER NINE
A mild, gentle old man, long since defeated by life and now merely waiting to die. A man who recognizes himself for what he is and mourns the days when it would have been possible to be courageous without shielding himself behind his many years.
JUROR NUMBER TEN
An angry, bitter man. A man who antagonizes almost at sight. A bigot who places no values on any human life save his own. A man who has been nowhere and is going nowhere and knows it deep within him.
JUROR NUMBER ELEVEN
A refugee from Europe who had come to this country in 1941. A man who speaks with an accent and who is ashamed, humble, almost subservient to the people around him, but who will honestly seek justice because he has suffered through so much injustice. (Played by Czech actor, George Voskovec.)
JUROR NUMBER TWELVE
A slick, bright advertising man who thinks of human beings in terms of percentages, graphs, and polls and has no real understanding of people. A superficial snob, but trying to be a good fellow.

The film begins with an eighteen year old boy from the ghetto who is on trial for the murder of his abusive father. A jury of twelve men are locked in the deliberation room to decide the fate of the young boy. All evidence is against the boy and a guilty verdict would send him to die in the electric chair. The judge informs the jurors that they are faced with a grave decision and that the court will not entertain any acts of mercy for the boy if found guilty.
His life is in their hands.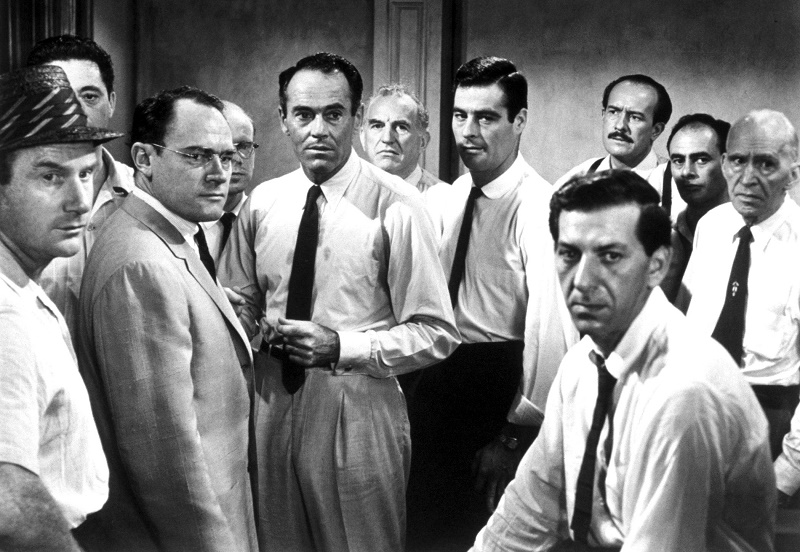 Even before the deliberation talks begin it is apparent most of the men are certain the boy is guilty. However, when the initial poll is taken Juror #8 (Henry Fonda) registers a shocking not guilty vote; Immediately the room is in uproar.  The rest of the jury resents the inconvenience of his decision.
This better be fast. I got tickets to a ball game tonight. – Juror Number Seven
After questioning his sanity they hastily decide to humor the juror #8 (Henry Fonda) by agreeing to discuss the trial for one hour. Eventually, as the talks proceed juror #8 slowly undermines their confidence by saying that the murder weapon is widely available to anyone, and that the testimony of the key witness is suspect. Gradually they are won over by his arguments and even the most narrow minded of his fellow jurors hesitantly agrees with him. Their verdict is now a solid not guilty.
Suppose you talk us all outa this and the kid really did knife his father? – Juror Number Six
This is a timeless classic that deals with how our own belief systems cause us to project outwards, even when a man's life is at stake. It is a brilliant film that has withstood the test of time, and I feel this original version is much better than the 1997 remake.
An excellent character study and brilliant film,  I think Juror Number Eight said it best when he said…
"It's always difficult to keep personal prejudice out of a thing like this. And wherever you run into it, prejudice always obscures the truth. I don't really know what the truth is. I don't suppose anybody will ever really know. Nine of us now seem to feel that the defendant is innocent, but we're just gambling on probabilities – we may be wrong. We may be trying to let a guilty man go free, I don't know. Nobody really can. But we have a reasonable doubt, and that's something that's very valuable in our system. No jury can declare a man guilty unless it's sure."
The greatest point of the film is that every man (and woman) has the right to a fair trial. As the movie closes the not guilty verdict is handed down. It is never known if the boy is guilty or innocent – that will forever remain. Henry Fonda's character  (Juror Number Eight) entered the trial with an open mind and he managed to convince the others to do the same. This movie illustrates that everything is not what it appears to be. Being aware of this is always the first step to better understanding for us all.
Watch the film – and make sure it's the classic and original version.
Here's the trailer. Get yours on Amazon.
This is a classic that should not be missed…
If you have not already subscribed to get TresBohemes.com delivered to your inbox, please use the form below now so you never miss another post.
---
Remember, we rely solely on your donations to keep the project going.
Become a friend and get our lovely Czech postcard pack.