What is the first spring fair in Europe? How about the most popular and biggest fair in Prague? In the Czech Republic? The answer is Matějská pouť or for our English speaking friends, St Matthew's Fair.
The earliest record of the St. Matthew's Fair in Prague dates back to the year 1595. It is the first known Spring fair in Europe, and it is held to honor Prague's patron saint. Depending on the days of each specific calendar year, it begins as early as the last week of February and runs until the last week of April. It takes places each year in Holešovice in the area of Prague 7 at a place called Výstaviště which translates to exhibition grounds.
(If you love graphics as much as I do, you have to check out this site plan from 1891.)
Founded in 1891 for the General Land Centennial Exhibition (aka the World's fair) at that time Prague was part of the Austria–Hungarian Empire. Today, the grounds are used for exhibitions, concerts and other cultural events. It's located right next to Tesla Arena, the home stadium for our favorite hockey team, HC Sparta Praha.
Note to self: write a post on the hot and handsome hunks we watched play hockey all winter.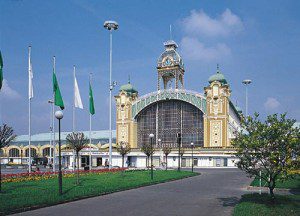 Most people familiar with Prague will immediately recognize Průmyslový palác (Industrial Palace) which was constructed in 1891 by Bedřich Münzberger. It is a gorgeous example of Art Nouveau design.  Constructed of glass and steel, it is comprised of three different parts, a left wing, a right wing and a grand middle hall. The clock tower stands 51 meters tall.
The fairgrounds were built on a royal hunting ground called Stromovka (strom = tree) which was reserved for – well, royalty… until it became designated as a public park in 1804. Today it is a much smaller parcel of woodland, weeping willows, duck ponds and lakes which provide a pleasant alternative to the sometimes hot and dusty city streets in summer and it is definitely one of the best places to escape crowds.
Thousands of people from all over Czech Republic gather in Prague for the fair. They do so to welcome spring and to celebrate the life and work of St. Matthew.
Musical performances fill the programme for St Matthew's fair and overloaded stands sell all sorts of goodies for your whole family to have a wonderful time.
The highlight of the goodies is traditional Czech gingerbread shaped in a heart and with the name of your loved one on it.
There are also many other sweet treats, especially Turkish honey and cotton candy. For the adults, plenty of beer is on tap as well as shots of Slivovitz (a fruit brandy made from Damson plums, aka plum brandy) to wash down sausages, cold cuts and meats.
Svatej, milej Matěji, máme k tobě naději, abys nám udělil jablek, hrušek, švestek a všeho jinýho. – Traditional Czech Song
Translated:  "Sweet holy Matthew, We hope to you, that you give us apples, pears, plums and everything else. "
Carousels, roller coasters, bumper cars, high flying swings, ferris wheels, houses of horror, fun houses, cups that spin you around and around and so much more. In fact, one of the sites boasted over 130 attractions.
The kids will love it and for the adrenaline-junkie adults, make sure to try the Booster and the Rollover. Remember, there is no Six Flags or Disneyland in Prague so this is the once a year amusement park come to life. If you are in Prague for this traditional event and you have little ones, make sure to look for the little boat swings (which are not swings at all but rather little paddle boat type things!)
Saturday evenings is perfect for lovers because on that evening the Křižík Singing Fountain offers performances of Romeo and Juliet, the Little Mermaid and Carmen, all romantically set against the magical background of colourful dancing fountains that move to the music. Throughout its 1,100 year long history, Prague has always been a prominent cultural and religious European centre.
Did you know that Prague was the capital of the Holy Roman Empire during the Gothic and Renaissance eras and also home to two Holy Roman Emperors. The first was Charles IV (Karel IV in Czech) Born on May 14, 1316 and died on November 29, 1378. He was the second King of Bohemia from the House of Luxembourg, and the first King of Bohemia to become Holy Roman Emperor. The second was Rudolf II, Born on July 18, 1552 and died on January 20, 1612. He was Holy Roman Emperor from 1576 to 1612 as well as being King of Hungary and Croatia (as Rudolf I, from 1572 to 1608, King of Bohemia from 1575 to 1608/1611 and Archduke of Austria from 1576 to 1608.
But I digress… back to the future and the year 1891.
The dancing fountain was also built in 1891 by  František Křižík for the World Exhibition which was held in Prague that year.
It quickly became a very popular and unique European attraction at the time. 1300 multicolored reflectors and water circuits running through more than 2 kilometers of pipes with almost 3000 nozzles was a grand feat at the time. Remember, this was almost 125 years ago.
Can you imagine this grand display at the time? The black and white plate to the left is entitled Zlatá Praha (Golden Prague) from the year 1890-91, Issue 30, by Jan Vilímek. It's been digitized by Czech Academy of Sciences.
St. Matthews is the patron saint of construction and confectioners. Writing this it reminds me of home sweet home. This is a celebration we want to celebrate!
Matějská pouť is extremely popular among the locals and has become a long standing Czech tradition that everyone participates in. And when I say everyone, I mean 98% of the population.
Czechs are just that way.
They love family activities and to be outdoors, especially after cold winters. (Okay, they love to be outdoors even in the winter, but who wouldn't with the delicious aroma of sweet mulled rum on every street corner keeping you warm).
If you are in Prague during this time of year, then the St. Matthew's Fair is a "must experience" activity.
Sources: Welcome to Prague, Prague Guide, WikiMedia, Exhibition Hall website, Czech Tourism, Traditional song.
If you have not already subscribed to get TresBohemes.com delivered to your inbox, please use the form below now so you never miss another post.
---
Remember, we rely solely on your donations to keep the project going.
Become a friend and get our lovely Czech postcard pack.