I am Sam is a beautiful film which really demonstrates whey Sean Penn is a star. Sam is an autistic and mentally retarded man who has the intelligence level of a 7 year old. He grew up in an institution after his mother died. He now lives as much of a regular life as he can, in a small apartment with a job at Starbucks coffee. He has a few friends that are a constant in his life . These lovable characters include one who is very agreeing and sensitive, one who is very paranoid and negative and another who reminds us of Rainman. He also has a neighbor named Annie, played by Dianne Wiest who is some sort of musical genius but has been living like a hermit or recluse the last twenty or so years.
Conner Rhodes: Why does your father act like a retard?
Lucy: He is.
This cast of characters and his daily rhythm and routine make up Sam's life. The film begins with his boss saying 'it's time" and Sam running to the hospital. A woman gives birth and the nurses give him the baby. A moment later, the Sam, still holding the baby, and the woman leave the hospital going towards the bus where the woman ditches Sam. Later we learn, she was a homeless woman who only wanted a place to sleep – and we understand that she never cared for Sam, only used him for a bed. Sam and the baby who he names Lucy Diamond, after Lucy in the Sky with Diamonds bond and he grows to become the very best father anyone can be. (Sam loves the Beatles and there are so many awesome references and clues to their songs and lyrics that part almost makes a movie within a movie!)
The older girl is played by Dakota Fanning and she does a magical job with her huge understanding eyes.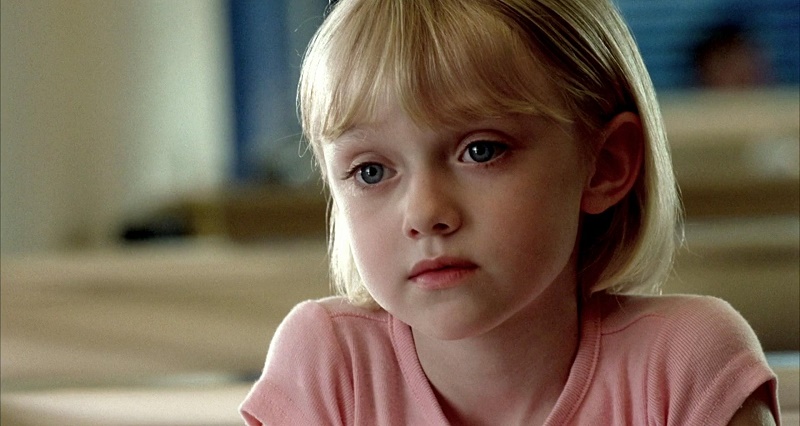 She and her father have a love and a bond that is so beautiful to watch, it almost makes one question their own parenting commitments and sacrifices. But as Sam is the mental age of 7, his daughter begins to outgrow him in intelligence and they begin to feel some growing pains. It is a difficult adjustment which culminates in a birthday party where Sam pushes a little boy and a social worker appears and takes the girl. If anything, this movie shows how the social system can also fail miserably when it gets involved with well meaning do-gooders that jump to conclusions and make decisions that play with people's hearts and lives.
All you need is love. – Lucy
Suddenly, Lucy is taken from Sam and his life drastically altered. His friends help him to find a high powered lawyer (played by Michelle Pfeiffer) who he visits until, after her colleagues tease and taunt her that she'd never take a pro bono case, she finally accepts him as a client.
We quickly see that this high income, well respected, intelligent attorney has a life so screwed up that she should be the one with a social worker looking after her son, who both she and her husband all but ignore. Her high price clients are just like her, to the point of one couple telling her that neither of them want their child. This is the true heartbreak of the film and the crime in our current system is that people are measured by their net worth and not their human worth because by the end of the film, Sam and his huge heart becomes the hero because of just a few things he can give, patience, kindness, understanding, compassion and love.
A large part takes place is the courtroom, where Sam, who doesn't do well under pressure really begins to come apart until they finally assign poor Lucy to a foster home. This wonderfully bright and happy child, torn away from her loving father because of the system who thinks it knows best. Meanwhile, the foster home is really a Hollywood version of one with a caring Laura Dern playing the 'mother'. I highly doubt such a fairytale home exists – but maybe that is just from my own experience and what I've seen. Sam moves closer and takes a "supplemental income" job caring for neighborhood dogs to continue building what the court wants so he can win back Lucy.
The last half of the film shows more depth into the Michelle Pfeiffer character and some touching moments between Sam and Lucy which include her climbing out the window each night and walking to her father's apartment, carrying her books so she can read him bedtime stories. (Where is social services now as a little girl in a nightie walks alone in the middle of the night?) until the foster parents put bars on her windows. (Jail for the child because she wants to see her father, whom she loves!).
Finally, in another Hollywood moment, the foster mom comes to the realization that the little girl loves and wants to be with her father and takes Lucy to Sam saying that she'll be on his side in court. His lawyer seems to be working her life into the right direction though if I'd change anything in this film it would be to show a bit more of the relationship between her and her son other than him being a silent prop for her character.
The movie has a happy ending with Sam getting Lucy back and a huge support network of friends (now including his lawyer and her son and the foster parents) to help him raise Lucy who clearly blossoms each and every time she is with her father who, as the entire films shows, loves her more than anything in the world. A deeply touching story and beautifully acted by Sean Penn who was nominated for an Oscar for this role in 2001.
Watch the trailer or purchase at Amazon.
By the way, Sean Penn… brilliant!
If you have not already subscribed to get TresBohemes.com delivered to your inbox, please use the form below now so you never miss another post.
---
Remember, we rely solely on your donations to keep the project going.
Become a friend and get our lovely Czech postcard pack.