If you have read Our Dining Room Remodel then you know about the room behind the room at our house. The strange place that had an outside window and door connecting you from the inside to the inside. Read it so you can see what the space looked like before we bag our guest room transformation.
First off, there was a mess to clean up.
Oops! Visual evidence shows that cleanup was preceded by some fun hula-hooping!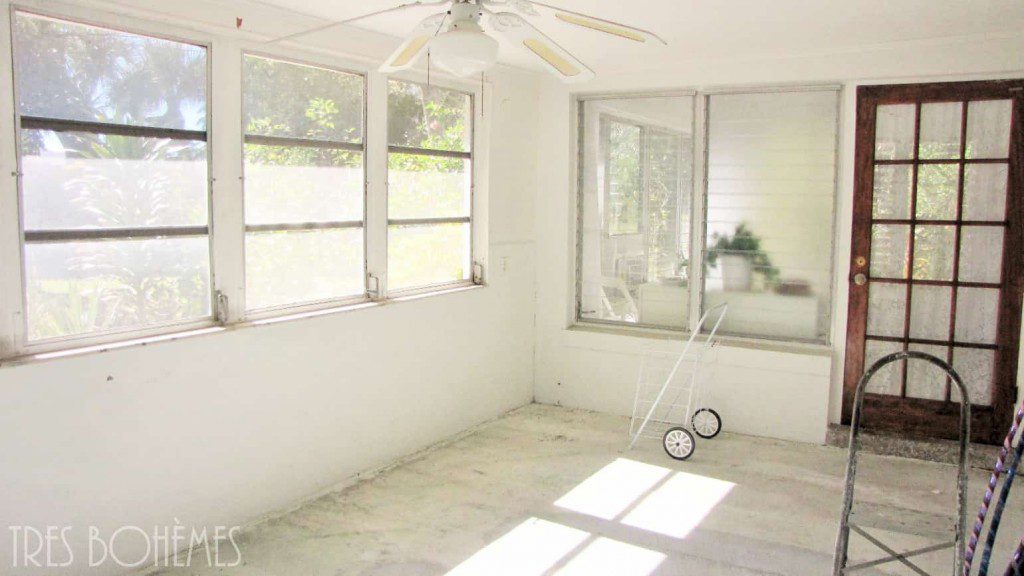 You can actually see into the sunroom, which we turned into our dining room in this image. That door and those windows just had to go. Especially since this is such a large space with such potential.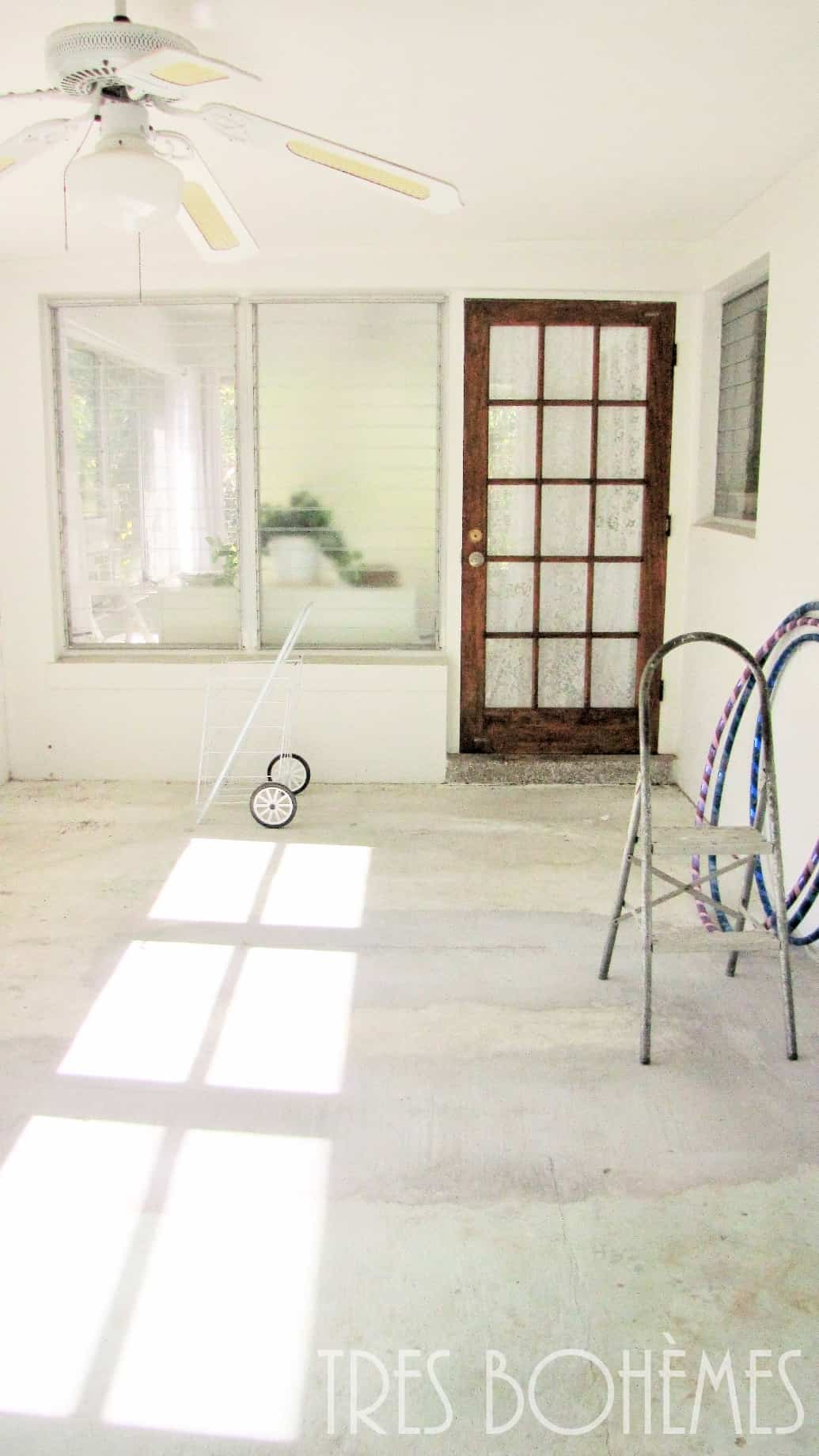 So the first thing we did was seal up the wall, paint the entire room and add some concrete to balance out the uneven and cracked concrete floor.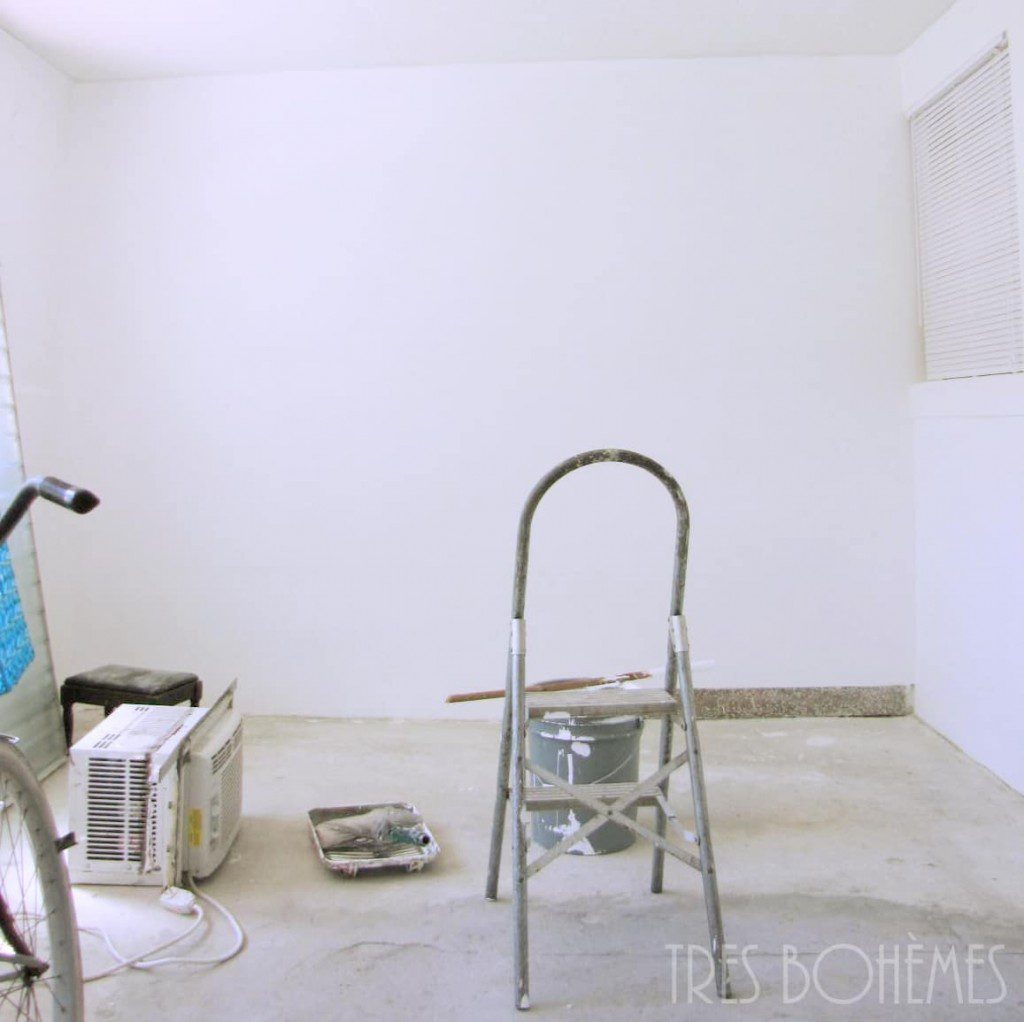 The air conditioner you see lying on the floor is the one we removed from the most unlikely place – in the window – of the sunroom, now dining room. We were lucky we didn't throw it away because it was perfect for this space and just the right size to keep it cool when we have guests in the summer.
Then we had to lay ceramic tiles since what we were faced with under the plastic grass which lived there glued to the floor before we scraped it off was rough concrete. I had been hoping for more Terrazzo, but this was probably an outside patio at one time.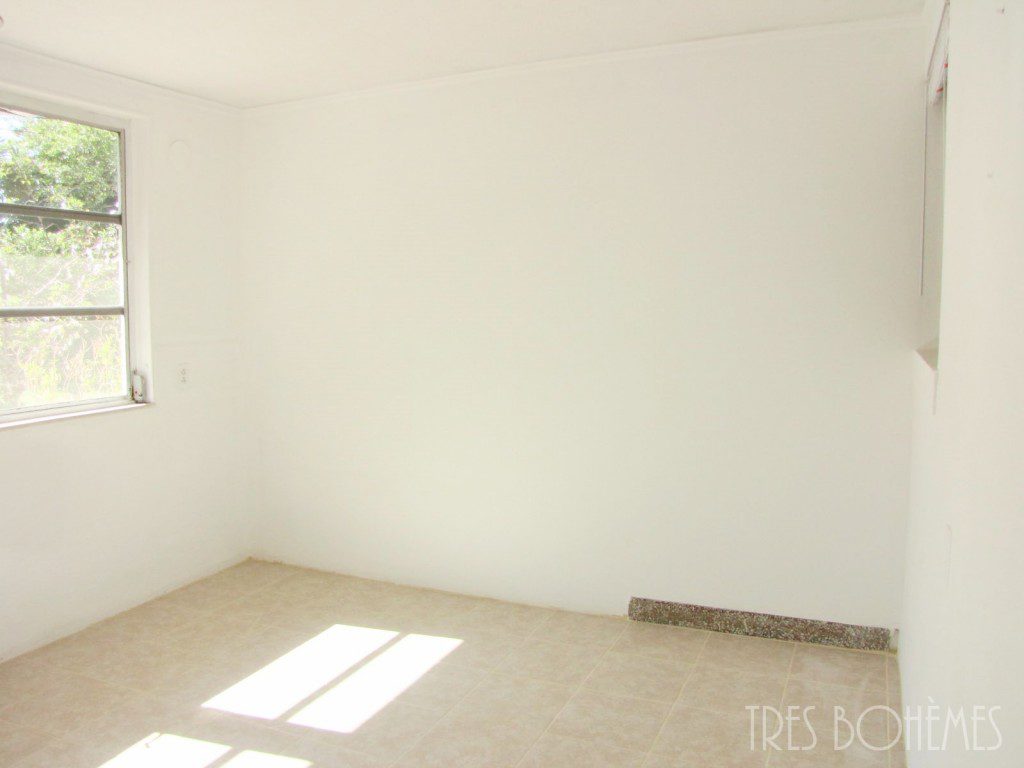 You may have noticed the window on the right which looks into our kitchen. We debated covering it up but then decided against it since 1) it made the kitchen too dark and we believe a kitchen should have lots of light and 2) when we have guests we can just close the shades for privacy. In the photo below, you can see the window connected to the door frame.
Strange, right? We rebuilt the doorframe to make it solid and closed up half of the space and placed the air conditioner unit in the top half of it. A perfect solution!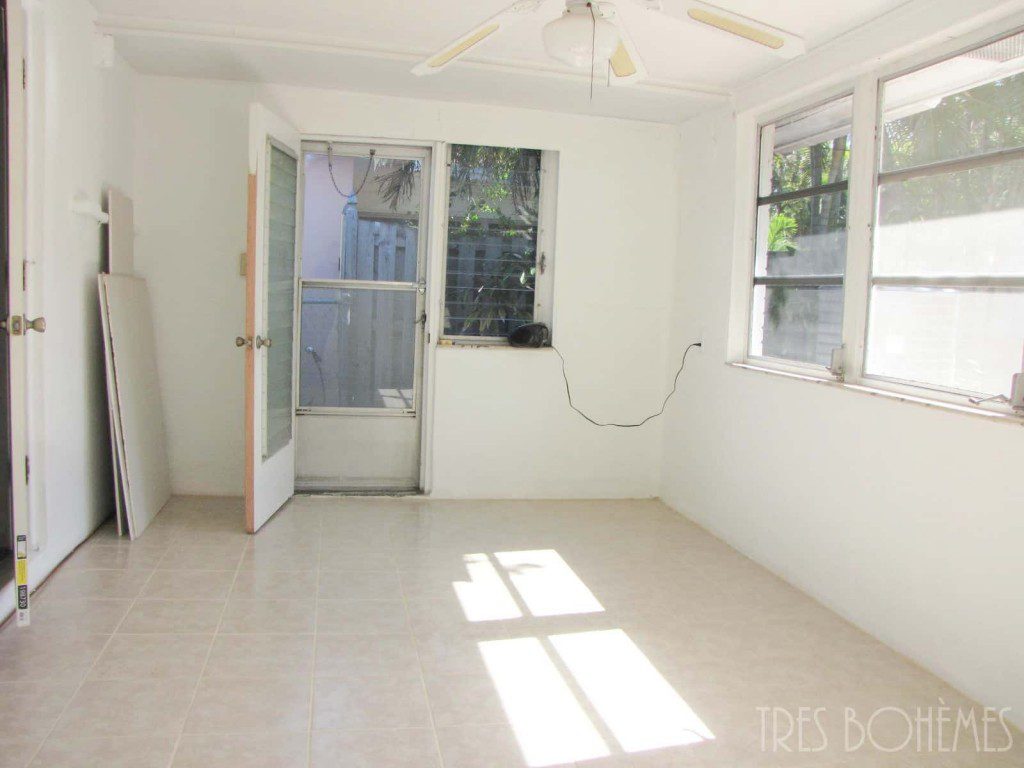 We also hung a new door which you can see on the left. This door goes into our pantry and also leads to the spare (guest) bathroom. The photographs don't really do the space justice but it's a very large room.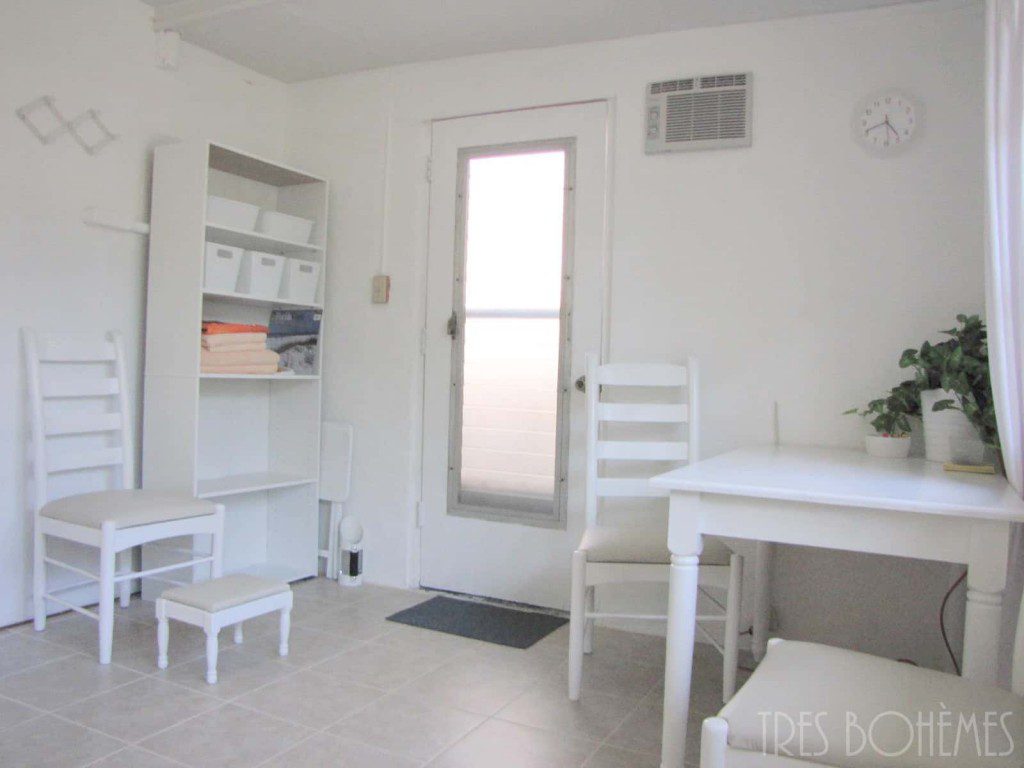 You can see that we recycled and garage sale shopped for the furnishings. Sturdy table, $20. Three chairs, $50. Pleather covering for chairs $12. Staple gun, $12. Walmart shelf, $22. Ikea clock, $1 and $1 matt at the door. Luckily we had plenty of wall paint left over for the table and chairs. We opted for the shelf instead of a dresser because when this space doubles as an office, a shelf can store things better than a large and bulky dresser. We also got the bins at the dollar store. When guests come, they put their socks and underpants into the bins and use the open shelving for their shirts and pants. It works perfectly.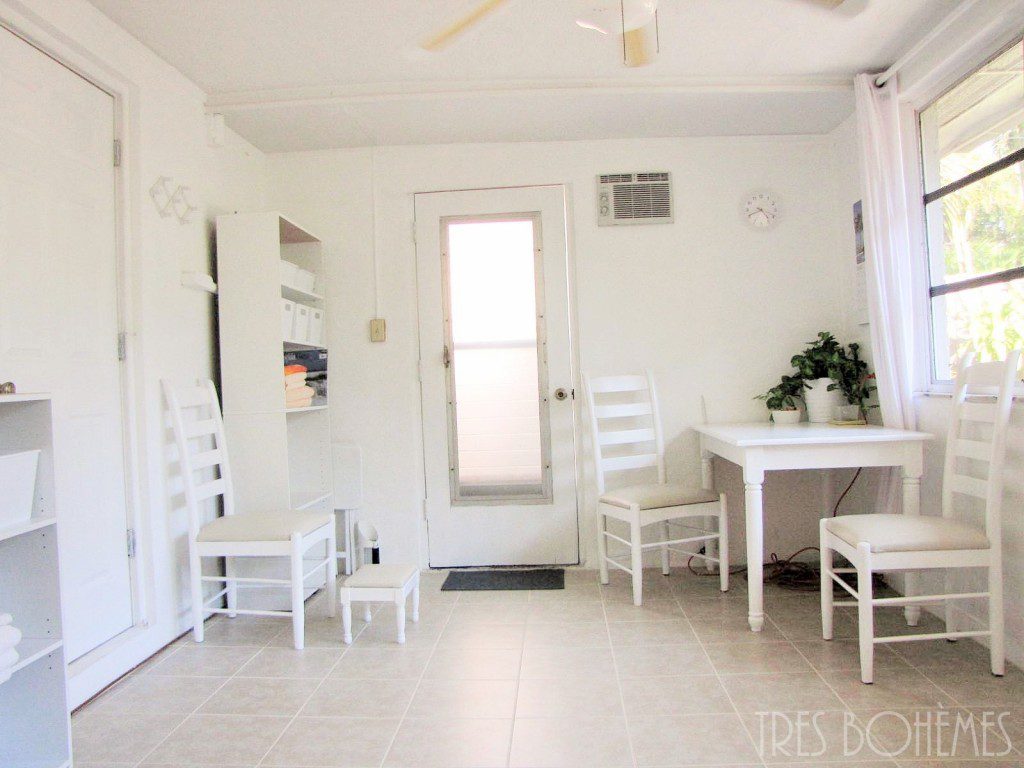 As I stepped back, you can see the length and space of the room. Notice the repurposed air conditioner? And we love the cotton window panels so much that we invested in 4 more for this room. Always think ahead and in terms of temporary. If we leave this house it will be much easier to pull these off the windows and fold them into a box.
The style really works anywhere, whether we move to a mountaintop bungalow in Santorini or a chic flat in Prague, such an item works well here, there, anywhere. The shelves, table and chairs can be recycled and given away. Who even has time for a garage sale? Maybe we'll eventually put it all into the front yard with a sign that says "free".
As far as the bedding, we got the least expensive bed frames from Ikea and painted them white. A couple of quality foam mattresses and a guest room is born.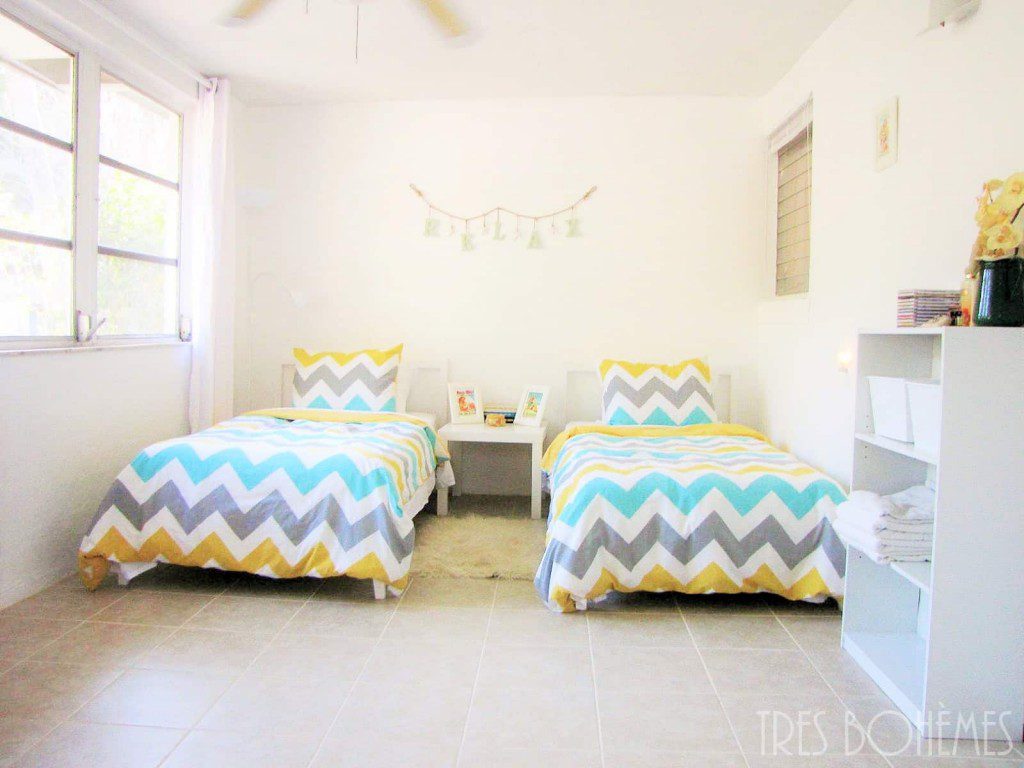 Guests say it's comfortable and so welcoming.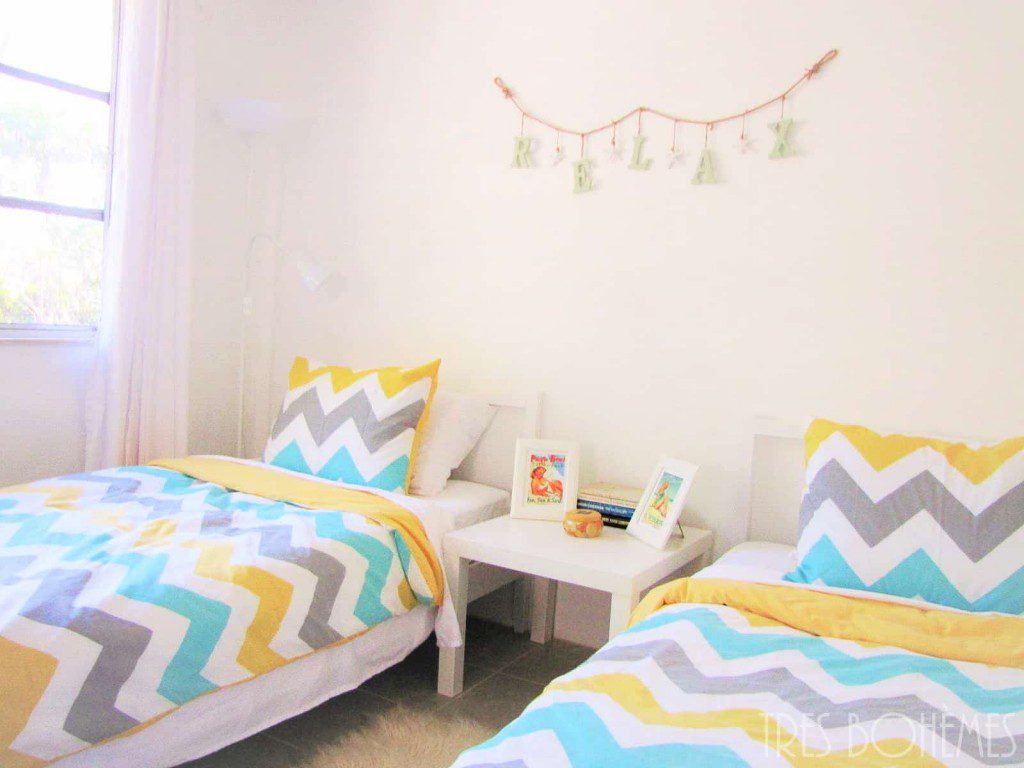 And they all love the sunny and beachy feeling.
You're also looking at a $7 Ikea table and two $2 Ikea frames with a couple of pin up girls that I scanned off the computer and sized to fit. The most expensive thing in this room is the bedding which is 100% Egyptian cotton with very thin goose down that ensures comfort. We think about saving on what's not absolutely necessary and then splurging on other things (like comfortable bed sheets).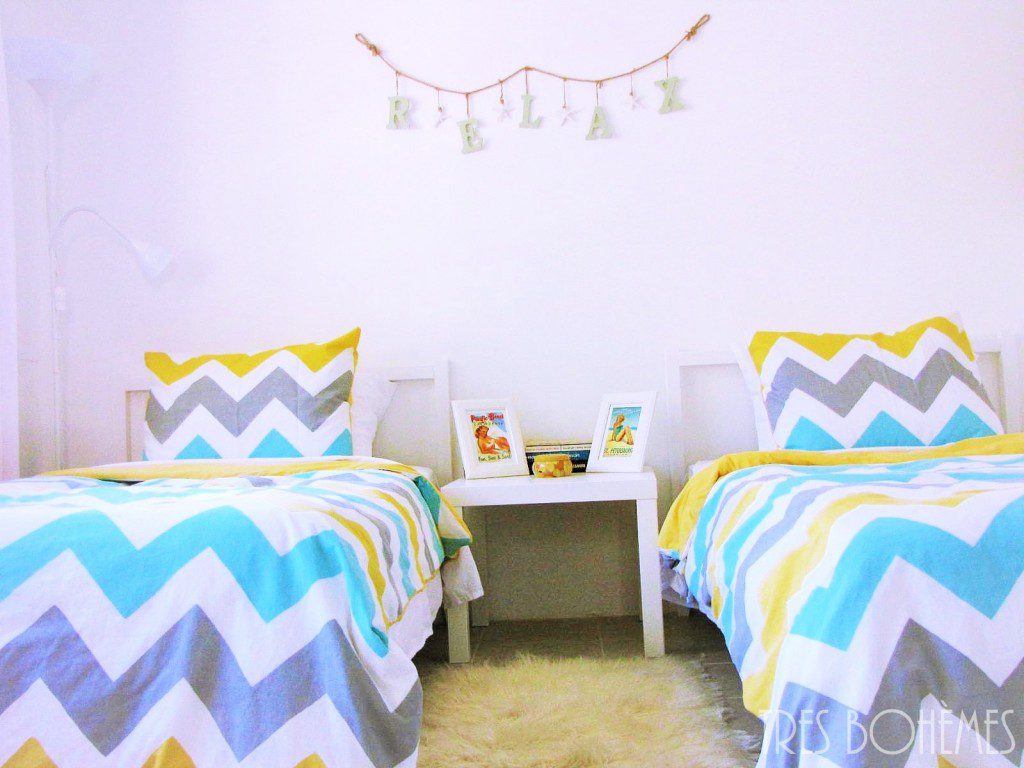 So what do you think of our little guest room transformation?
Maybe we'll see you sometime when we list it on Airbnb.
Until then, we hope we've inspired you – and if you haven't seen the rest of the house, you'll surely want to check out Our BoHo Pad.
If you have not already subscribed to get TresBohemes.com delivered to your inbox, please use the form below now so you never miss another post.
---
Remember, we rely solely on your donations to keep the project going.
Become a friend and get our lovely Czech postcard pack.