The first place we had to conquer was the kitchen. One just cannot live in a house where one cannot prepare food, especially if one loves to cook as much as we do!
And especially when the house looks like this…
Enter Project Kitchen Remodel.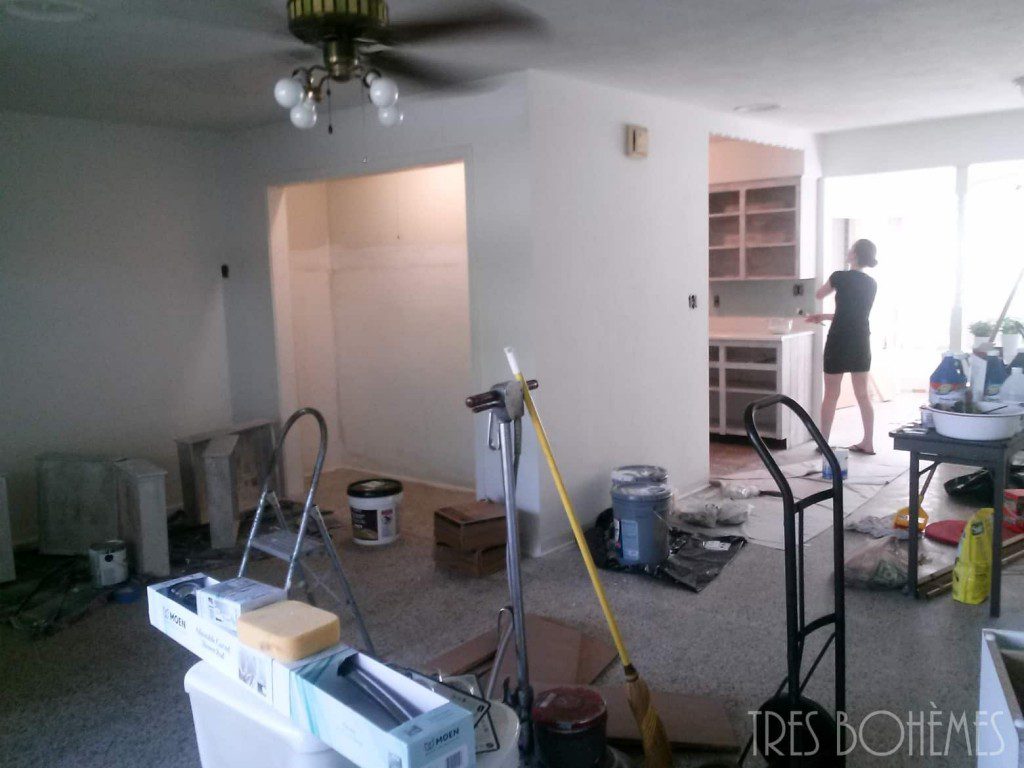 We began by pulling out the appliances and knocking the 1950s bathroom tile off of one of the walls. There was also an old wooden cabinet, so we got rid of that too. Who needs a rotting old unsalvageable cabinet, right? We'll figure out what to put into the space later.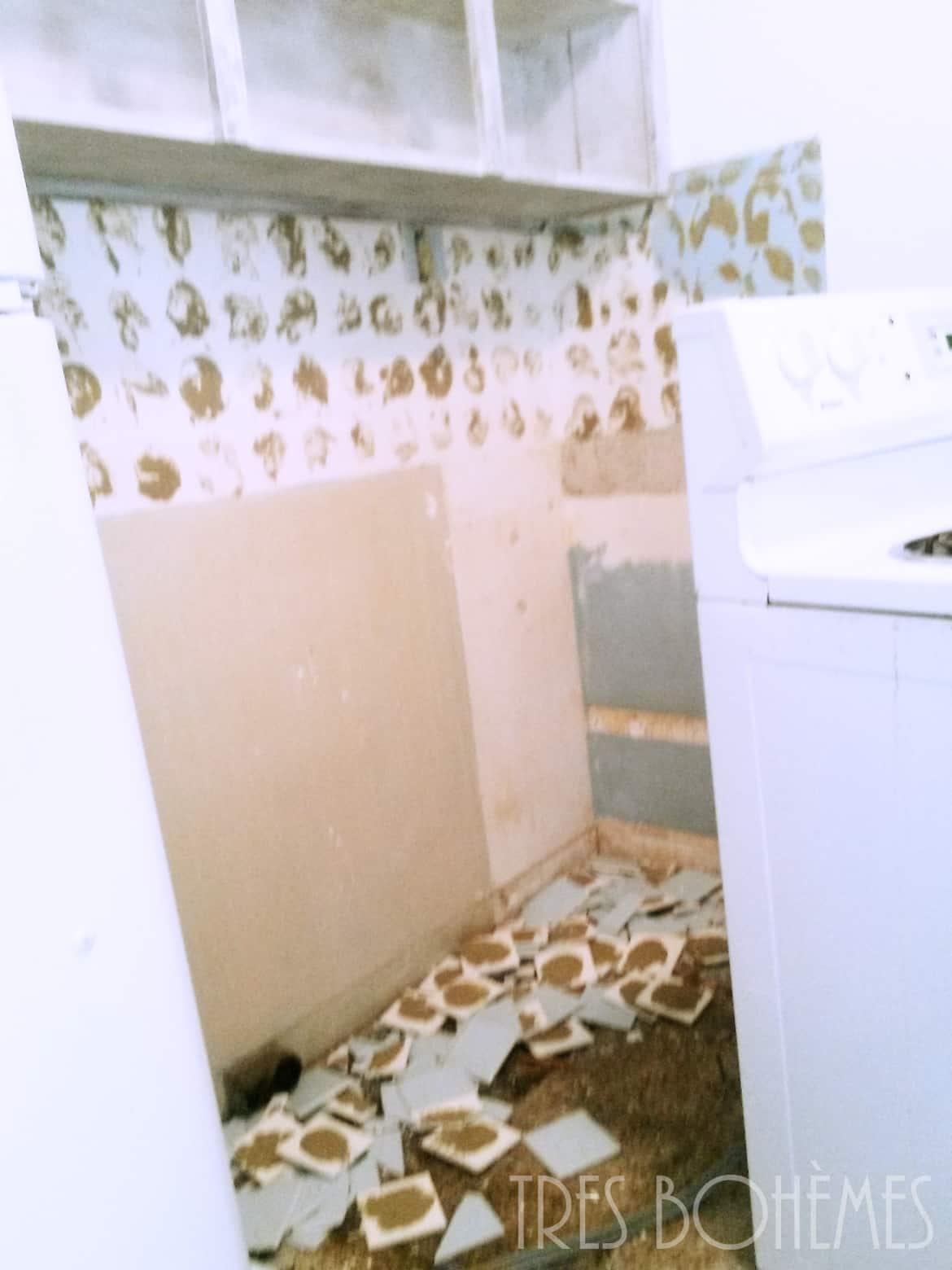 Zynnia did an awesome job on knocking off the not-pretty-in-pink bathroom tiles off the kitchen wall.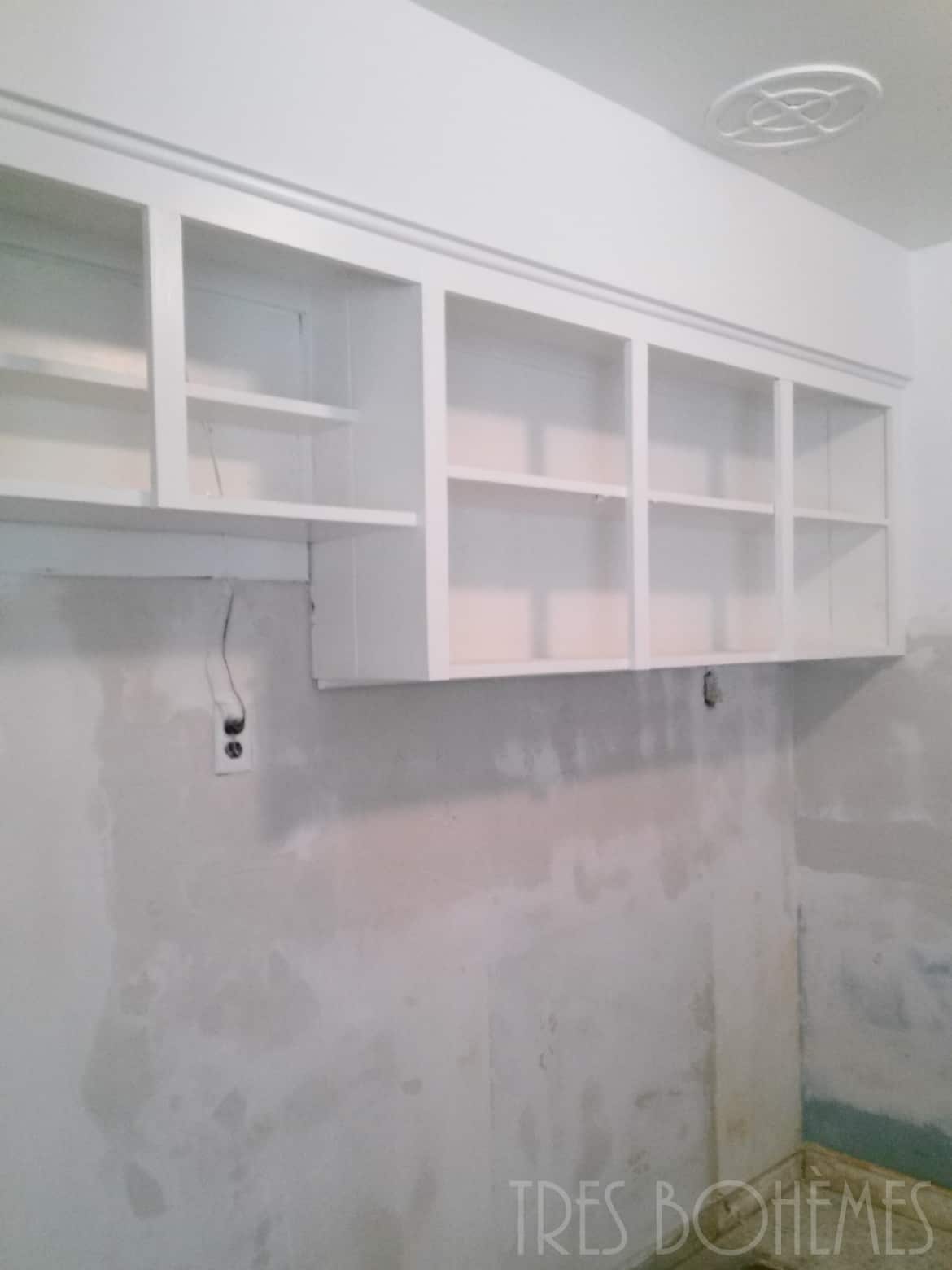 Then she and Zanna patched it up and smoothed it out.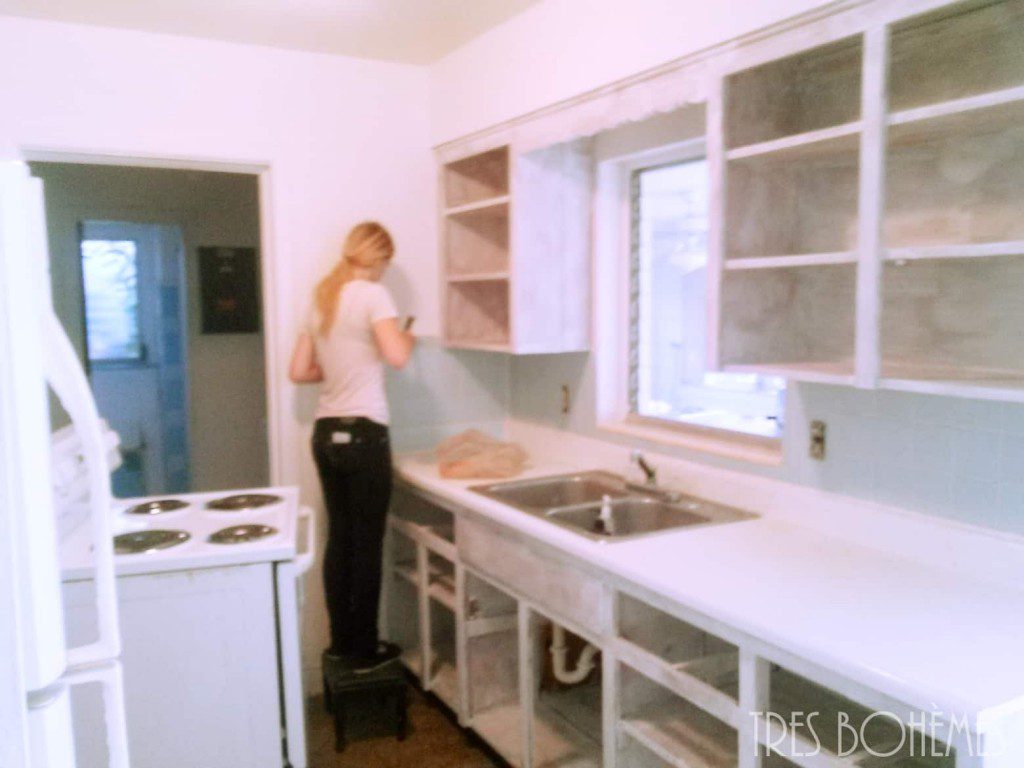 Soon after, the painting began. We figured things would go much faster if we took all of the dark doors off of the cabinets.
Now please note – these cabinets were a very dark brown stained wood.
Horribly dark and unclean!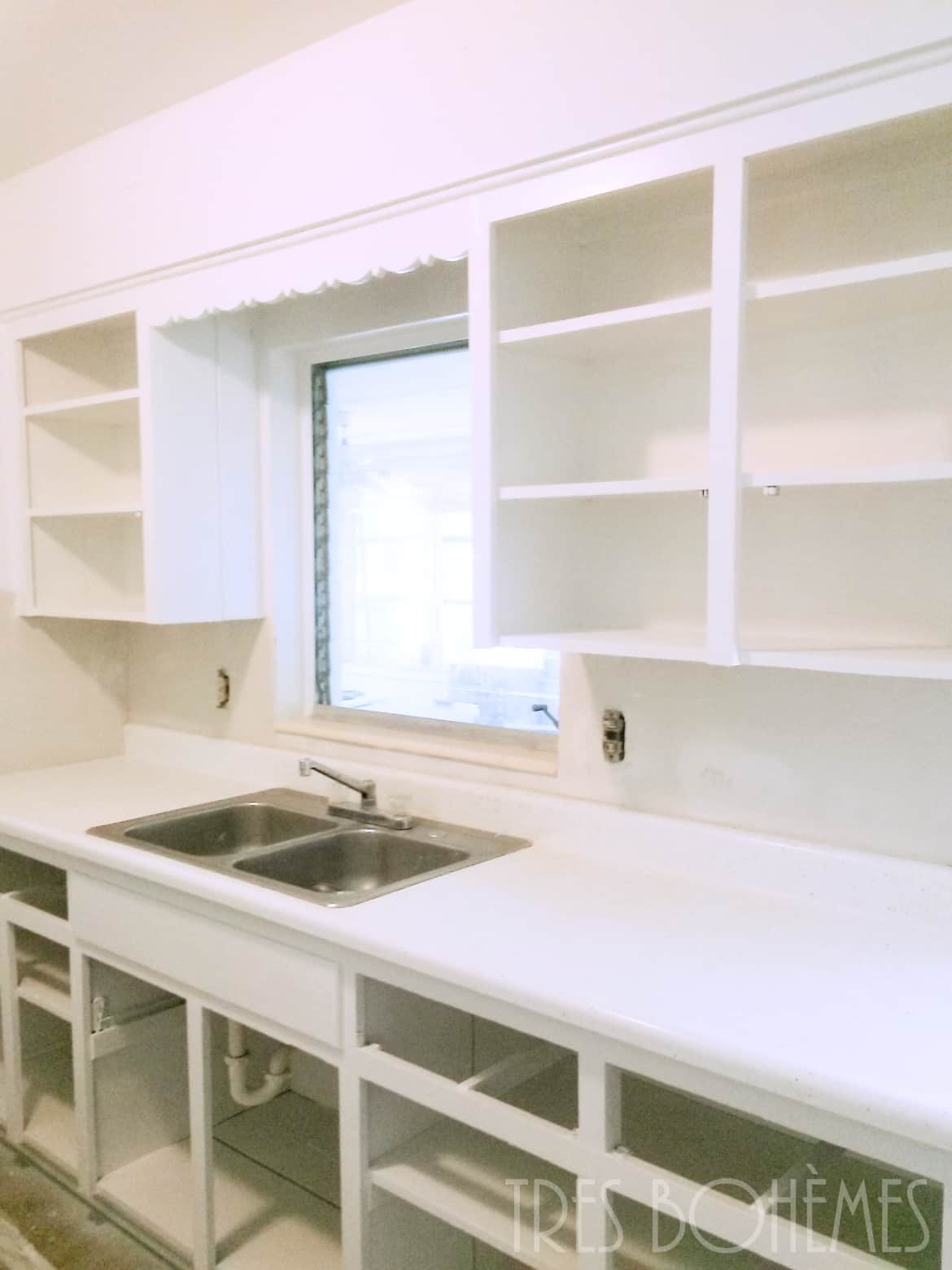 So we put on the primer and a coat of paint.
Then another coat of paint.
And another…
Oh. My. God. What were we thinking?
Until it was all painted and we moved the refrigerator and the stove back into place. And the space where the cabinet used to be? Nothing beats checking Craigslist to see what's available and finding the same butcher block we were eying at Ikea for $175 for only $25 and less than two miles away from home.
Proof that manifestation works.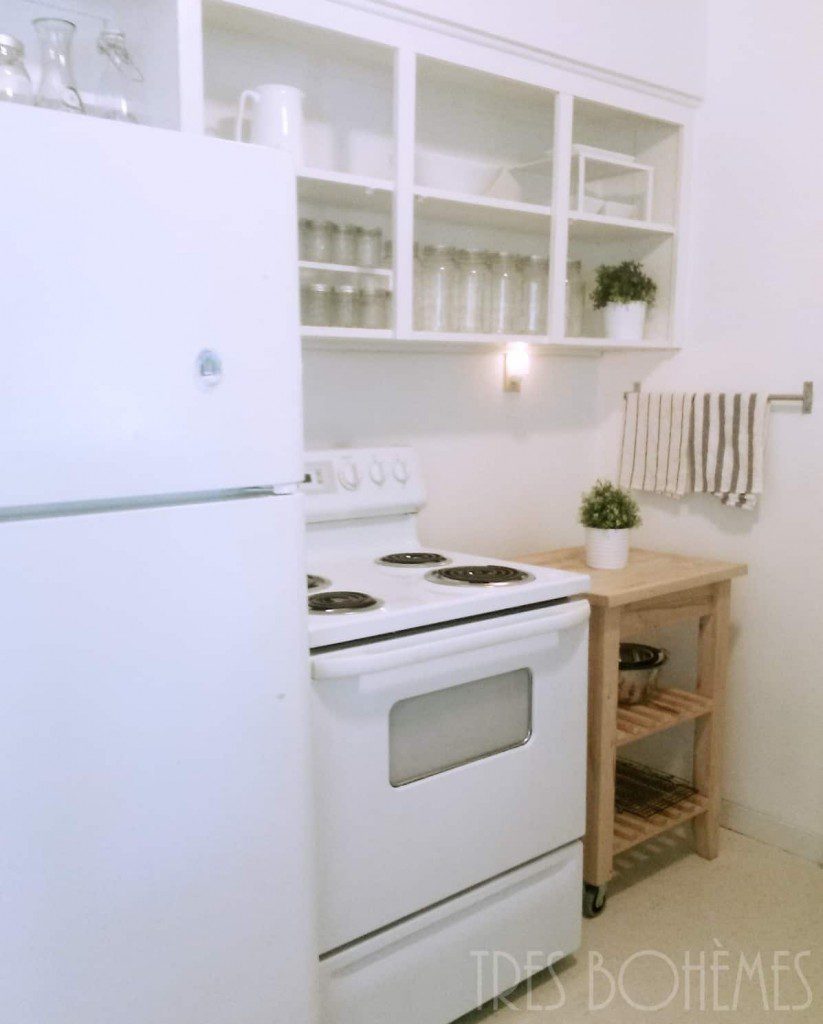 We all cringed at the thought of putting the cabinet doors back on.
Wait.
Do we have to have cabinet doors?
Is there, like a "cabinet door police" who will complain that our foodstuffs are not covered?
No. So we decided to keep them off. This wise decision also saved us another 25 hours of sanding, priming and painting cabinet doors!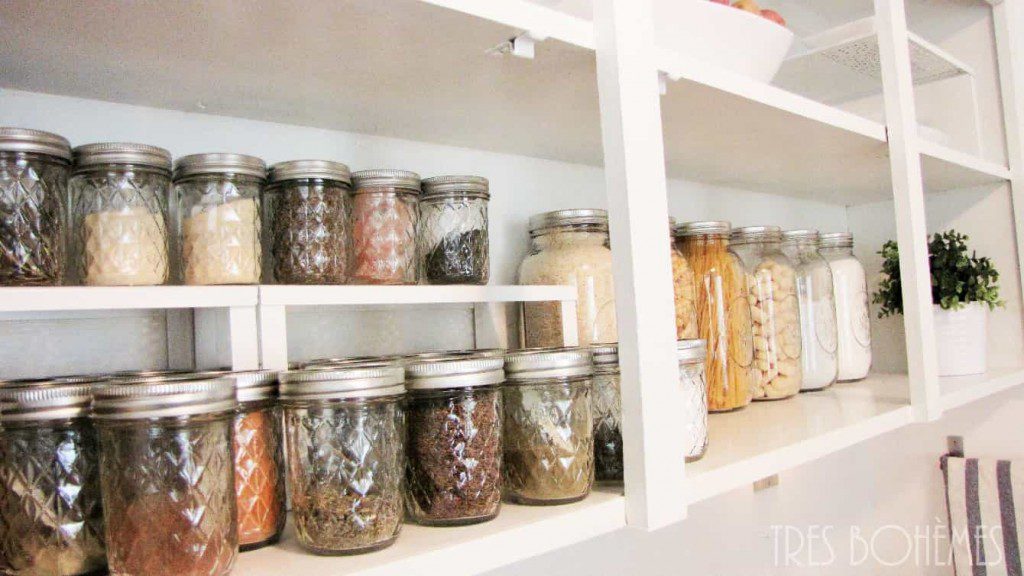 Looks pretty nice, doesn't it?
Maybe we will leave ALL of the cabinet doors off of everything in the house!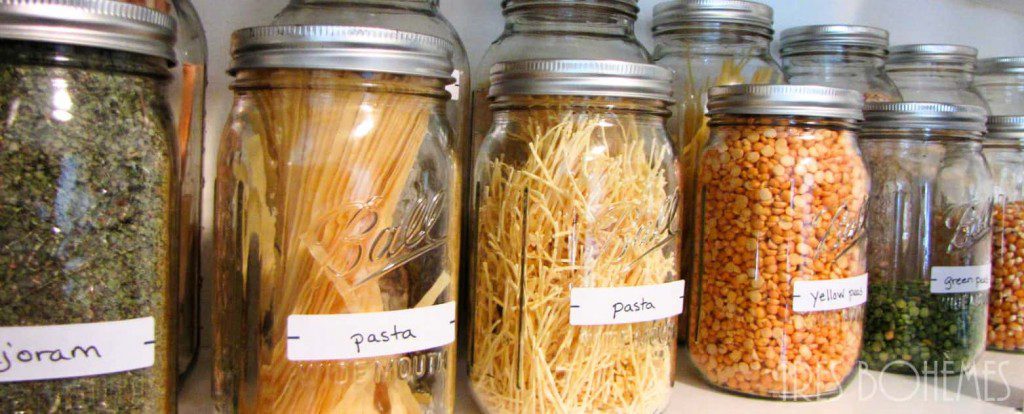 Another 50 hours of painting time saved!
This DIY stuff is really not that bad.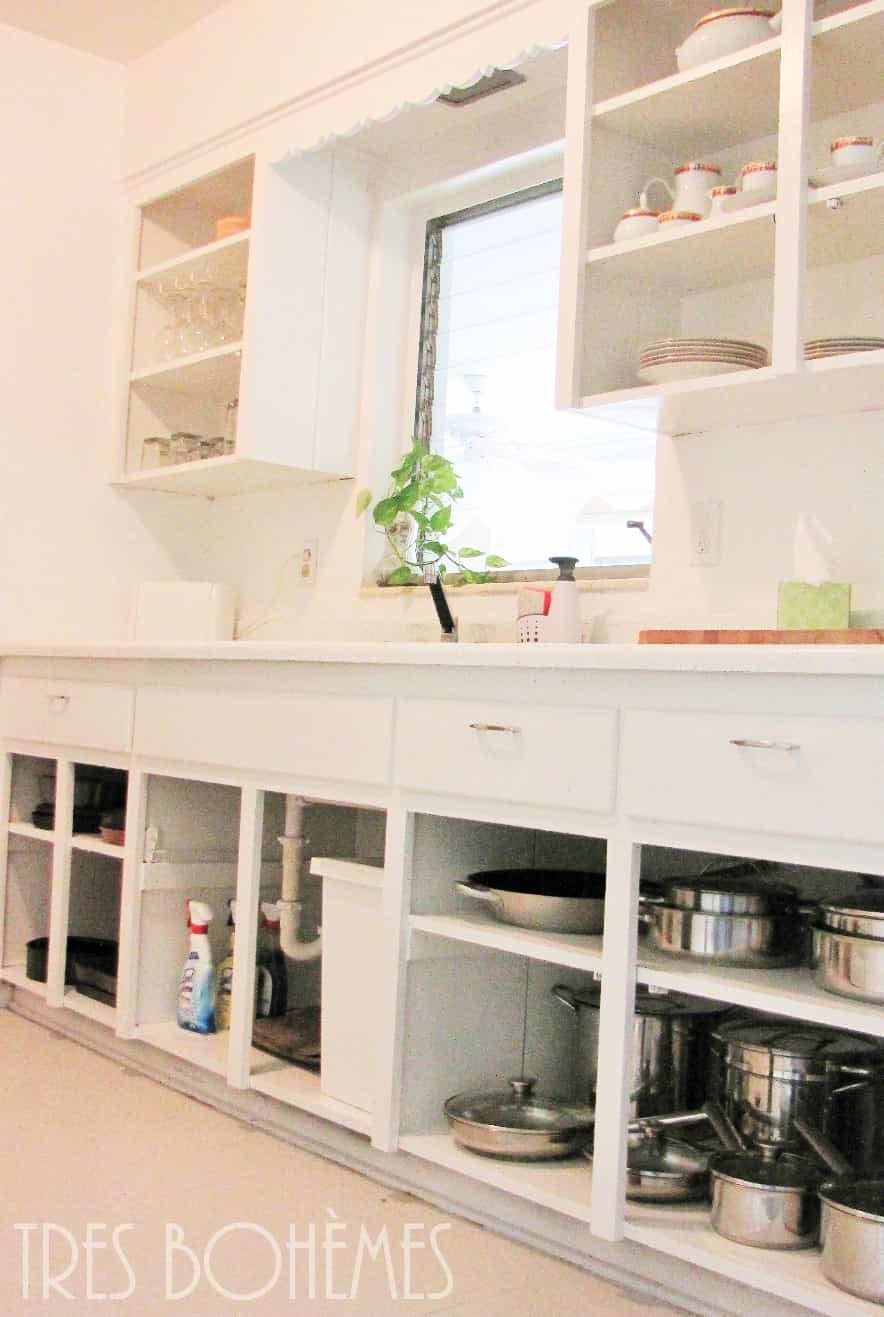 It doesn't look so bad. In fact, it looks like of trendy. Visitors will have comments and we'll take feedback and can always hang the doors later.
Now to unpack the dishes. We have four huge boxes of dishes. Two boxes of the dishes we've been using for the past 15+ years and 2 boxes of my precious Czech China that I hand carried all the way back from Prague in 1986. Thanks to Zanna, we donated the two boxes of everyday dishes and decided to celebrate each meal in style with the gorgeous Czech china.
Food tastes better on pretty plates. That's a fact.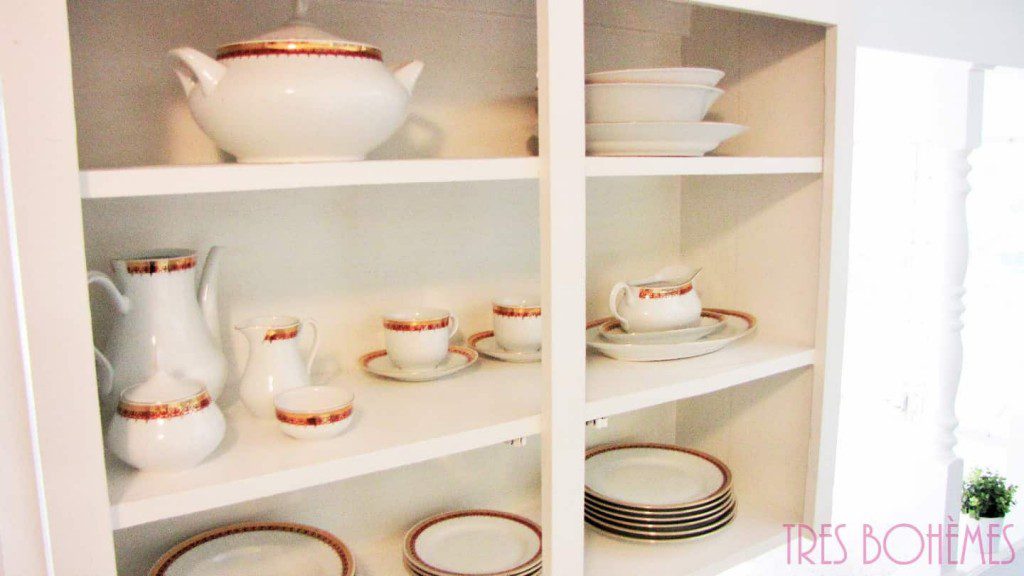 So now we have the kitchen and the sunroom, which we've decided to make into our dining room, complete. Now what to do with the real dining room?
Is there a dining room police? No.
We opt on leaving it as open space.
We can do yoga, or exercise or dance there.
In fact, a quick trip to Home depot's plumbing department and we have a ballet bar installed complete with cool wavy mirrors from Ikea.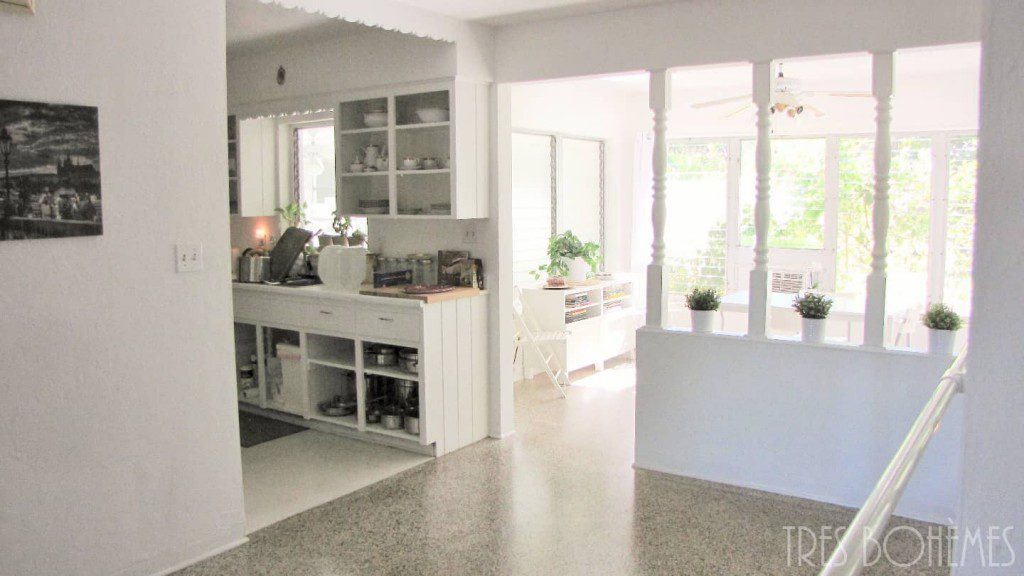 Ah… Zen.
After a couple of weeks, we realized that we had more wheat flour, white flour, rye flour, white sugar, raw sugar, brown sugar, bread crumbs, cornmeal, semolina, lentils, peas…
Do I need to continue?
We need another shelf.
A couple of mounted wall brackets, a few long cuts on a pieces of plywood and paint and we have a new handy dandy over-the-stove spice rack. People come visit and go wild over the kitchen.
Success!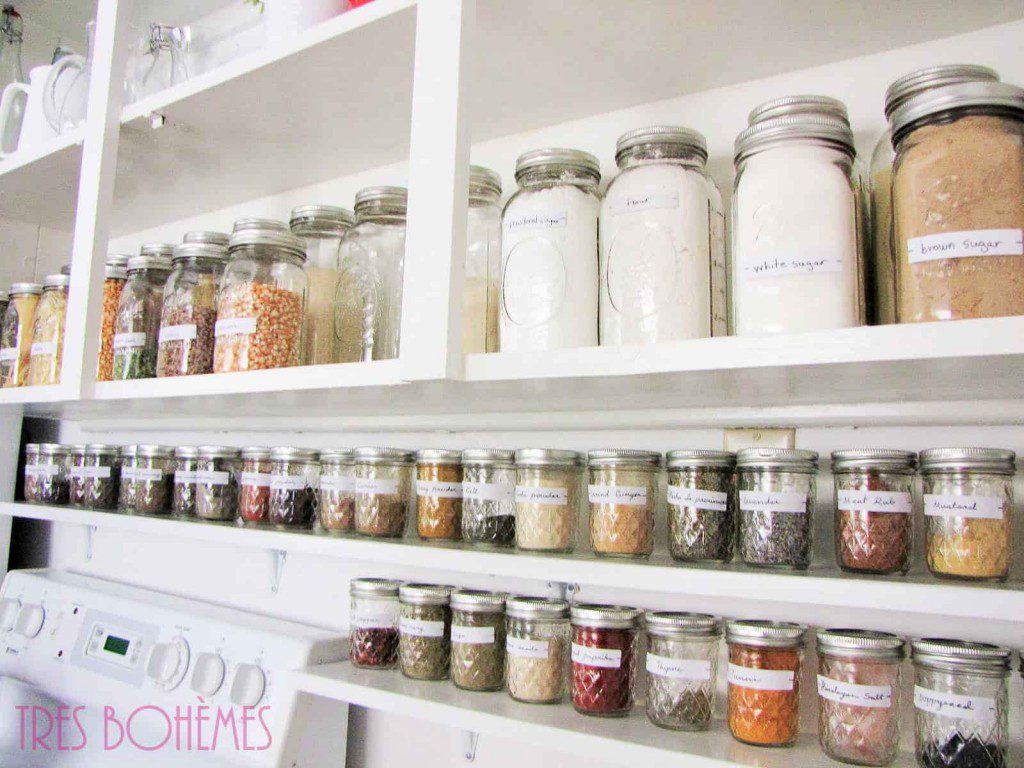 That solved part of the issue, but if you noticed, we have no canned goods, no jars of pickles or boxes of pasta.
Lucky for us there is a large room right off the kitchen that has the perfect length of wall to put in a pantry shelf. Everything is organized, it too is light and bright and the super sturdy shelf was only $58 at Home Depot.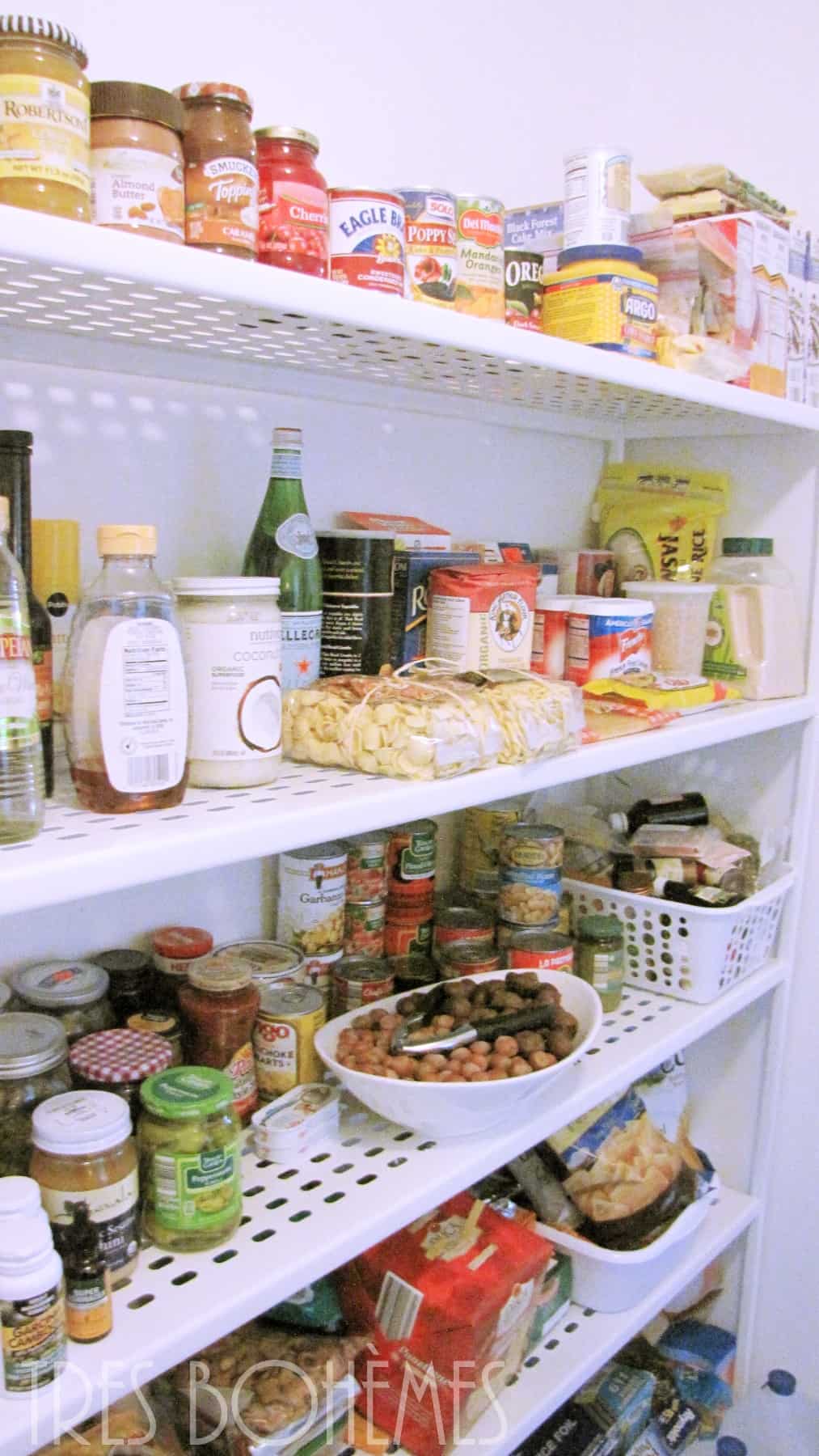 We didn't have to spend a lot of money, we worked with what we had and still we managed to transform a horribly dark old place into something light, bright and beautiful.
We hope we've inspired you to look at your kitchen and see what magic you can make happen.
Let us know what you think and if you want to see more transformations, check out Our BoHo Pad.
If you have not already subscribed to get TresBohemes.com delivered to your inbox, please use the form below now so you never miss another post.
---
Remember, we rely solely on your donations to keep the project going.
Become a friend and get our lovely Czech postcard pack.